October 18, 2017
Last Sunday over brunch two of VanRamblings' friends (yes, we have friends ... sheesh) indicated their strong desire and inclination to put their names forward as candidates in the October 20th, 2018 general municipal election in Vancouver. VanRamblings was none-too-enthusiastic about the prospect of either of our friends running for political office (causing no little consternation on the part of our friends). What is the basis for our lack of encouragement of our good-hearted, socially conscious, very bright friends to put their names forward for office, which when you get right down to it is the single most civically-minded activity one could possibly consider?
The answer is simple: hurt. Politics in this latter age has become an ugly and vicious business, entirely oriented to toxic identity politics and the politics of personal destruction. The electorate is bitter, disillusioned, cynical and spitting mad angry at our elected officials, no matter their party or political orientation. Even Justin Trudeau's "sunny ways" and entirely open and forthright style of governance meets daily with vicious pointed commentary from persons comprising the spectrum of political thought.
Whereas Donald Trump is entirely deserving of the social and mainstream media opprobrium to which he is subjected daily, such should not — and we would suggest — must not be the case with the hard-working and dedicated persons of conscience who are associated with and put their names forward for office under the banners, locally, of Vision Vancouver, the Non-Partisan Association, the Green Party of Vancouver, OneCity Vancouver, or for that matter any of the independents who choose to run for office — such as the entirely tremendous Jean Swanson, or Adi Pick.
VanRamblings is concerned with the state and nature of politics in Vancouver, and across British Columbia. When did the vast majority of the population become so cynical, alienated, apolitical and generally turned off to the decision-making that affects the quality of their lives on this planet?
In the coming year(s), VanRamblings will seek to address the issue of anomie in the political sphere, both as an academic consideration, but more importantly through action to ensure respectful democratic engagement.
PART TWO: THE MISGUIDED CANDIDACY OF JUDY GRAVES
Judy Graves (pictured above) was the affable, socially-conscious OneCity Vancouver candidate nominated to fill the Vancouver City Council seat left vacant when Vision Vancouver Councillor Geoff Meggs resigned his seat on Council to take on the position of Chief of Staff to Premier John Horgan.
From 2002 on, Ms. Graves was the homelessness advocate at Vancouver City Hall, a humanizing force of nature bent on service to Metro Vancouver's indigent population, and a strong advocate for social housing and services to the most vulnerable among us. Little wonder, then, that the nascent OneCity Vancouver civic party (largely an amalgam of principled, younger New Democratic Party-oriented persons of conscience) chose Judy Graves as their progressive values candidate for Vancouver City Council.
Too bad, then, that Judy Graves' OneCity Vancouver candidacy turned out to be a misguided candidacy, that effectively denied the progressive voice of Jean Swanson a very-much-needed place on Vancouver City Council.
On October 14th by-election night, Judy Graves secured a paltry 13.71% of the vote, while Jean Swanson — with whom Judy Graves had worked closely over the years — who ran as an independent candidate for Council, and whose election team had moved the sun, the moon, the earth, the stars to secure the endorsement of OneCity for Jean Swanson, garnered 21.36% of the vote, and a near-win, second place showing in the polls.
From the outset Ms. Graves had no chance of securing the vacant Council seat, and OneCity knew it, well before the campaign got underway.
From day one of the 2017 by-election campaign for Council, Ms. Graves was the subject of a take down campaign the likes of which Vancouver has never previously experienced — Vision Vancouver's Mike Lombardi, running for a third term at School Board, and to a somewhat lesser degree, COPE School Board candidate Diana Day, suffered a similar 'take down campaign', ensuring their loss at the polls, but nothing quite so vicious as was experienced by the otherwise recommendable Ms. Graves.
"Judy Graves, bought-and-paid-for: don't waste your vote" was the clarion message voters on the left and the right heard throughout the campaign.
COPE was upset with Judy Graves' candidacy (COPE endorsed Jean Swanson: VanRamblings seconded Alicia Barsallo's motion that COPE not run a candidate, and instead endorse Jean Swanson). Vision Vancouver was none-too-pleased, either, when the Vancouver & District Labour Council endorsed Ms. Graves over Vision candidate, Diego Cardona. And Jean Swanson's campaign team? They were apoplectic at Graves' candidacy! The NPA weren't happy with Ms. Graves' candidacy ("Vision. Boo, hiss."), but took succour from the probability her candidacy would "split the left", and thus secure a seat on Council for their candidate, Hector Bremner.
As the campaign for Council got underway in early September, word lit up social media and spread like wildfire that "Judy Graves is Vision Vancouver light, so developer-friendly that she puts Vision to shame, her consistently strong, entirely wrong-headed and vocal advocacy of any development that comes before Council containing even a bare component of social housing sure to garner her unthinking and fulsome support."
Many Vancouver citizens resident on the eastside, and particularly those in Grandview-Woodland and Chinatown, worked assiduously against Ms. Graves' candidacy. Grandview-Woodland residents who have long opposed the controversial Boffo Development at Venables and Commercial Drive — and have consistently derided Graves' support for the out-of-character, neighbourhood destroying, thin-edge-of-the-wedge market condominium tower development — worked overtime to ensure Graves' defeat. Same thing was true of the organizing team opposing the long controversial Beedie Development at 105 Keefer — which Graves initially supported, and only changed her mind on when she became a candidate for office, and thought better of her support for a development so widely opposed. For the folks working with the Chinatown Concern Group, Graves' conversion to opposing the Beedie Project was viewed as a matter of too little, too late. One only has to take a look at how Graves polled in Chinatown — or Grandview-Woodland, for that matter — to know just how much opposition there was to her candidacy in these two Vancouver neighbourhoods.
The 'active transportation' / bike folks were none-too-thrilled with Graves' insistence on the campaign trail that Vision Vancouver's 'bike lane advocacy' was just as wrong-headed as wrong-headed could be, and that the tens of millions Vision has spent constructing bike lanes would have been better spent building social housing for the thousands of our most vulnerable citizens who are in need of safe, secure and low-cost housing.
The icing-on-the-cake (or the shiv in the back, as the case may be) that ensured a no better than distant fourth place finish for Ms. Graves was the absolutely devastating Mainlander article titled, Rethinking Judy Graves: On Charity, Xenophobia, and Class Collaboration, as withering a take down piece as you'd never want to read.
"Judy Graves' candidacy seems to reflect OneCity's policy of silent support for the governing party and non-criticism of Vision policies, and longtime Vision luminaries have likewise supported the Graves campaign. Where Jean Swanson has directly challenged the 'common sense' tax-cutting agenda, Graves combines a charity approach and a class collaboration approach that has long been popular with developers and the wealthy.

In establishment circles, Judy Graves has been touted as Vancouver's Mother Teresa. Over the decades, Graves has emerged as an establishment figure, who has worked to individualize the fight for housing, and deny the larger forces that create homelessness and evictions on unceded Coast Salish territories. Phrases such as "hard to house," and related concepts that pin homelessness on homeless individuals — including the dominant framing of mental health and addictions — are indelibly associated with the Graves name and legacy.

Graves has been a mainstay on the side of government efforts to close down shelters and disperse tent cities, playing a continuous role in the City's yearly spring closure of homeless shelters, while standing by the intolerable evictions "relocating" people into substandard, unsafe, or non-existent housing.

We don't feel that Judy Graves represents the kind of transformative politics Vancouver needs. The current housing crisis provides an opportunity to radically re-think the foundations of the system — but instead Graves wants to bring back a discredited 'dream' that has consistently failed our most vulnerable citizens. Graves' candidacy pushes for the status quo. We believe it's time for something radically different."
David Chudnovsky, who has a long history of radical politics dating back to the 1970s — VanRamblings remembers when David, as President of the Surrey Teachers' Association, was considered 'too radical' by even the most left-wing folks in the BCTF; it is this very same David Chudnovsky who worked to create the principled, left-of-centre OneCity Vancouver.
Left-wing community activist Charles Demers, who is very much involved with OneCity and is just about as radical as they come (VanRamblings wants to live in a realized society imagined by the humanist Mr. Demers) worked closely, and is best friends, with Derrick O'Keefe, one of the key organizers of Jean Swanson's campaign for office. How is it that Derrick was unable to influence his friend sufficiently to ensure his bff's unadulterated and enthusiastic support for Jean Swanson's candidacy?
Surely Mr. Chudnovsky and Mr. Demers could have foreseen from the outset what the outcome of the 2017 Vancouver City Council by-election would be if OneCity refused the entreaties of the Jean Swanson campaign team to support their candidate: the election of right-of-centre NPA candidate Hector Bremner to Vancouver City Council. We know that neither one of them wanted Bremner to ascend to Council, but that's exactly what happened — and more's the pity for that deleterious election outcome.

No doubt the good folks at OneCity felt it necessary to run a candidate for Council, in order to raise the profile of their nascent civic party and give their very fine candidates for School Board — Carrie Bercic (who, in fact, secured a seat at the School Board table) and her running mate, Erica Jaaf — a better opportunity at the polls on election night, October 14th.
VanRamblings believes that should OneCity have supported Jean Swanson's energized, near-winning candidacy — in the process requiring the Jean Swanson campaign team work to ensure their full support for the two OneCity candidates for School Board — the outcome on by-election night might very well have seen Jean Swanson elected to Vancouver City Council, and both Erica Jaaf and Carrie Bercic seated at the School Board table at the inaugural meeting of the new Board this upcoming October 30th, 2017.
One more column to go on VanRamblings' wrap-up coverage of the 2017 Vancouver civic by-election: the new Vancouver School Board, from the political novices to the experienced politicos. We believe, for the most part, our newly-elected Vancouver Board of Education trustees are comprised of a thoughtful, and overall not-too-partisan group of folks who mean well, and will work in the best interests of our children, and grandchildren.
Part One of VanRamblings 'by-election wrap-up' may be found here.
October 16, 2017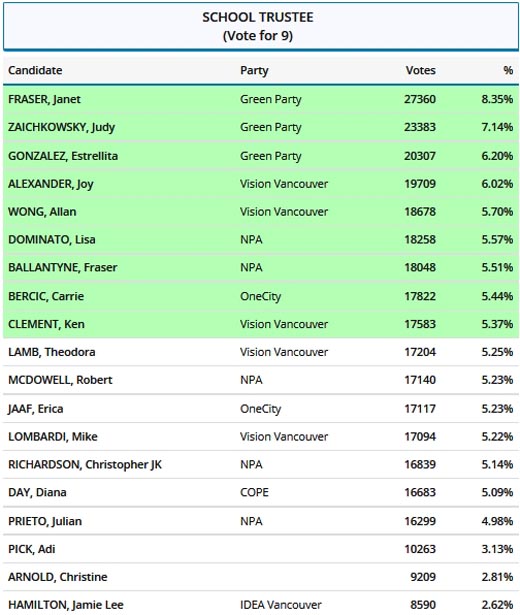 PART ONE: THE NPA, JEAN SWANSON and CARRIE BERCIC
In this 2017 Vancouver by-election wrap-up, VanRamblings will address the elephant in the room. Why did the Vancouver Non-Partisan Association (NPA) not poll as well as VanRamblings had predicted in our Friday post?
The NPA: Saturday morning at 1:28am, VanRamblings received the following brief note from a senior official in the NPA campaign ...
"Read your VanRamblings column calling for an NPA victory later today. Me? I think either the left split guarantees Hector's win, or we finally see the lack of a machine within the NPA laid bare."
In conversations throughout Saturday's voting day with members of a surprisingly none-too-happy NPA crowd, there were several messages received by VanRamblings, the key points that were being made including the fact that ...
Mark Marissen (Christy Clark's ex, a mover and shaker in the B.C. Liberal party, and de facto NPA by-election campaign manager) — despite everything VanRamblings had been told throughout the by-election campaign — ran a disorganized, untargeted, underfunded and generally confusing / losing campaign for Council / School Board. Most NPA folks who weighed in would rather have had Greg Wilson and his Purple Mafia — the political racounteur par excellence who ran Vision Vancouver's successful 2005, 2008 and 2011 campaigns, before he saw the light, pulling a reverse Bob Ransford and joining the NPA — who were the more experienced winning team, with better political instincts and a track record that many NPAers looked upon favourably. So, what happened?
A philosophical split within the ranks. Half of the members of the NPA fashion the party as the New Progressive Association, this group made up of younger, non-partisan, nominally right-of-centre folks (think: former Park Board Chair Sarah Kirby-Yung): bright, educated, driven, democrats to their core, folks who want power for the public good that can be done. Many of these folks are populist, Trudeau-style Liberals.

The other half of the NPA membership: Stephen Harper acolytes, decidedly right-of-centre, traditionalist Conservative / Reform party supporters, who believe less government is better government, folks who think God broke the mold after former provincial Finance Minister Mike de Jong and current B.C. Liberal party interim leader Rich Coleman were born. Never the twain shall meet, it would appear (there's the same push-pull going on in the B.C. Liberal leadership race, with Todd Stone targeted as a 'liberal' ... a nasty thing many B.C. Liberals believe).

Internal political warfare within the NPA cost them votes, as did their lack of a get-out-the-vote machine on voting day, October 14th — all of which saw Hector Bremner eke out a bare victory for the vacant Council seat, and saw two outstanding candidates in Christopher Richardson and Rob McDowell go down to defeat at School Board, as the last returns were reported to the Chief Electoral Officer at Vancouver City Hall.

The one bright light on the NPA campaign, and a person everyone in the NPA was enthused about: Mike Wilson, Hector Bremner's longtime friend and political associate and Bremner's 2017 Vancouver by-election campaign manager, about whom freelance journalist Bob Mackin has written, "Bremner is vice-president at veteran BC Liberal backroomer Norman Stowe's Pace Group and has Mark Marissen and Mike Wilson in his backroom. Marissen is the ex-husband of ex-Premier Christy Clark and was on the inner-circle of the party's disastrous 2017 campaign. Wilson is the former business partner of veteran BC Liberal and Vision message maker Don Millar at the FD Element advertising agency, which scored several no-bid contracts from Robertson's office and set-up a pro-Vision blog called Civic Scene." All said, Mike Wilson emerged as an NPA star-on-the-rise during the course of the 2017 by-election, and is a person whose career B.C. politicos will be sure to follow going forward.
A bitterly low voter turnout of 10.99% didn't help matters for the NPA, either. Once a poll-by-poll breakdown is completed by Vancouver City Clerk Janice MacKenzie (who was also the Chief By-Election Officer), results will likely show a depressed voter turnout in the traditional NPA strongholds of Arbutus Ridge, Yaletown, Dunbar, Kerrisdale, Shaughnessy and Point Grey.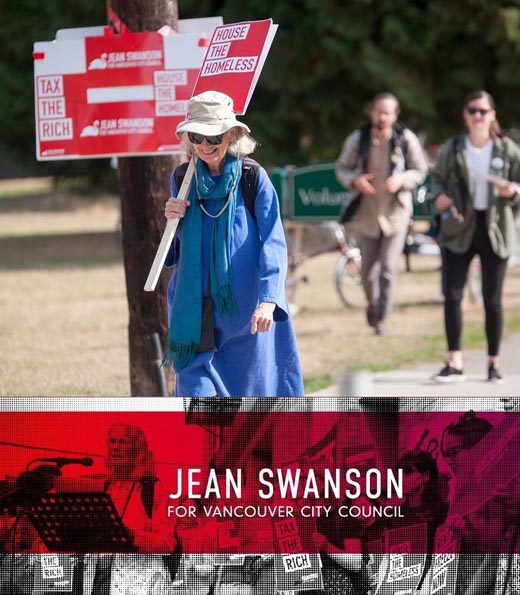 There were several good (and a few not-so-good) results and stories in the 2017 Vancouver City Council and Vancouver School by-election.
Let's start with the two most important outcomes of the by-election ...
Jean Swanson, the socialist, housing activist, revolutionary candidate running for a seat on Vancouver City Council, the only non-neoliberal candidate who put their name forward for the vacant Vancouver City Council seat, the candidate who ran on a platform of free transit, a rent freeze and a mansion tax that would raise $200 million annually to build housing for the most vulnerable among our citizens nearly took the prize on Saturday night, or the whole mcgillicuddy (as VanRamblings' mother used to say), reliant on a message of real, palpable change for the most vulnerable among us (renters, seniors, habitués of the DTES, the working poor, single parents), with the single most energized, organized, vibrantly alive, directed, enthusiastic, broad cross-section of activists election team — constituting everyone from humanist intellectual and community activist Daniel Tseghay, the heart-filled 'gets things done and always remains positive, directed and action-oriented' DTES activist Wendy Pedersen, to the good folks long involved on Vancouver's 'left front', as principled a group of folks as you'd ever want to meet and work with (Tristan Markle, Maria Wallstam and Nathan Crompton, just to name three key activists), former rabble.ca editor and current editor with the non-sectarian, progressive Canadian journal, Richochet, the co-founder of the late, lamented, Vancouver-based Seven Oaks magazine (with his best friend, the entirely tremendous writer, author, comedian, University of British Columbia writing instructor, and incredibly articulate and heart-filled, clear-minded political activist, Charles "Charlie" Demers), father and husband and means-to-make-a-difference Derrick O'Keefe, as well as Riaz Behra — longtime Vancouver political activist and VanRamblings friend and political associate, a co-founder of The Left Front Collective, and another person who means-to-get-things-done, who worked night-and-day on Jean Swanson's campaign, organizing marches, raising funds, assiduously working the line-ups outside the Vancouver International Film Festival venues, and everything and anything that needed to get done to ensure a victory for Jean Swanson, on October 14th, by-election voting day.
Jean Swanson might very well have won on Saturday night were it not for the misguided candidacy of OneCity Vancouver's Judy Graves, subject matter we'll explore in Part Two of VanRamblings' 2017 Vancouver civic by-election wrap-up coverage.
Part Three of our by-election wrap up will offer insight into the incoming Board of Education trustee contingent at the Vancouver School Board.
br>Vancouver School Board trustee Carrie Bercic with her daughter, Sarah and son, Jordan
On an otherwise disappointing Saturday evening, Vancouver's election day bright light is the woman you see pictured above with her children, the incredibly wonderful, bright, heart-filled, tough and tough-minded, informed, community activist, involved, humane, kind, generous, loved by everyone who has ever had the privilege of meeting or working with her, who just celebrated her 25th wedding anniversary to her just as incredible husband, John, a public education activist extraordinaire, and the first elected public official for Vancouver's nascent OneCity Vancouver civic party, your voice around the Vancouver School Board table — the incredibly lovely (c'mon now, everyone knows it to be the truth) Carrie Bercic.
If you haven't read Ms. Bercic's commentary in The Straight, you oughta do so now. Ms. Bercic and her came-so-close-to-being-elected OneCity Vancouver running mate, Erica Jaaf — who, together, were the dynamic duo among the 19 candidates for Vancouver School Board — ran on an activist platform of neighbourhood school preservation (where the NPA wanted to close 11 Vancouver schools this past term, as per a recommendation from VSB staff, which thankfully didn't pass given last November's Supreme Court of Canada ruling re-instating the 2001 BCTF collective agreement torn up by ex-Premier and former B.C. Liberal [mis]-Education Minister Christy Clark) — because neighbourhood schools are the heart of a vibrant, diverse, inclusive, healthy & well-educated community.
Carrie Bercic: working with provincial Minister for Social Development and Poverty Reduction, Shane Simpson, and his absolutely outstanding 'can do' Parliamentary Secretary for Poverty Reduction, Mable Elmore, to ensure that no child goes to school hungry. Check. Working with provincial Minister of Education Rob Fleming to ensure that Vancouver schools requiring seismic upgrading or replacement occurs (much) sooner than later. Check.
Restoration of the all-important VSB band & strings programmes. Check.
Working collaboratively with her fellow Board of Education trustees to ensure that the Vancouver School Board integrates community input and representation in decisions taken by the Board, ensuring that the voices of LGBTQ2S folks, cultural communities, urban Indigenous peoples, those with disabilities, women, people living in poverty, and other marginalized communities are heard loud and clear, while working to end social, political, and economic injustice, and ensuring that when new School Board initiatives are in their nascent planning phase the communities most affected by decisions taken at the Board table will be heard, while ensuring that parents and students and the community-at-large have the power to impact on how those decisions are made, and finally implemented. Check.
Vancouver voters got one thing very right on October 14th: 10.99% of Vancouver's most engaged political citizenry heard Carrie Bercic's clarion message of inclusivity, public education advocacy, reconciliation with our First Nations peoples (and our students enrolled in the Vancouver school system) to ensure the academic and social success of our indigenous students, and her commitment to ensuring the safety and preservation of our neighbourhood schools loud and clear, and on Saturday, October 14th cast their ballot for their advocate at the School Board table.
Congratulations to all those engaged citizens of conscience who cast a ballot for Carrie Bercic, and congratulations to Carrie Bercic herself for a hard-fought, well-deserved victory at the polls this past Saturday night.
Part Two of VanRamblings' 'by-election wrap-up' may be found here.
October 13, 2017
PART ONE: VANCOUVER CITY COUNCIL
For the very, very few of you out there who give a tinker's damn about the outcome of Vancouver's 2017 City Council / School Board by-election, the results of which will be broadcast late on Saturday evening, October 14th: the Vancouver Non-Partisan Association (NPA) will sweep to a massive victory, both at Council — where Hector Bremner will ascend to Vancouver City Council — and at the Vancouver School Board, where NPA candidates Fraser Ballantyne, Lisa Dominato, Julian Prieto, Christopher Richardson and Rob McDowell will find themselves celebrating long, long, long into the wee and early morning hours of Sunday, October 15th.
Why is that, you ask? Well, dear and cherished VanRamblings reader ...
The NPA were the only functioning political entity in the 2017 Vancouver by-election with a well-organized political machine. Which is to say, the NPA campaign was well-funded (much better funded than any other campaign), conducted daily burmashaves — you know, where candidates stand along the street or at the entrance or exit to bridges or viaducts madly waving signs for their candidature, employed an effective door knocking campaign in the polling areas where they secured more than 50% of the vote in the 2014 municipal election (read: Arbutus Ridge, Yaletown, Dunbar, West Point Grey, Shaughnessy and Kerrisdale — the only neighbourhoods where the NPA did at all well, and where voters got out in droves to protect their class interests and cast a ballot for NPA candidates), and drove a well-funded social media and expensive advertising campaign to help ensure their victory on October 14th.
Most of the by-election candidates / campaigns were downright verklempt at the probability of an overwhelming NPA victory come Saturday evening, but none more so than the woebegone folks associated with the Vision Vancouver campaign, who found at the door that the 2017 Vancouver city by-election (and this tragically applies to School Board, as well) has emerged as a referendum on the administration of Gregor Robertson. Turns out the right and the left have proven effective at the demonization of the Mayor and his Vision Vancouver party — reasonably, on Saturday night, voters can expect 7% to 10% support for sacrificial lamb Vision Vancouver candidate, Diego Cardona. Anger. There's nothing like it as a motivating force.
Underfunded, untargeted campaigns by Vision Vancouver, OneCity, COPE and the Greens. The good folks at One City Vancouver have a great candidate for Council in homeless advocate Judy Graves, and two of the strongest candidates for School Board in the spectacularly grounded and bright (not to mention, informed) Carrie Bercic and Erica Jaaf — but who among the electorate knows who they are? Not many. OneCity has a tough road to hoe in electing candidates given that they have no elected presence at the municipal level. The Greens are in somewhat better shape, but apart from former VSB trustee Janet Fraser — who will secure support at the polls from both the right and the left, and could very well emerge as the top vote-getter for School Board come Saturday night — the prospects for the Greens are dire.
A dastardly, disreputable bullying campaign of disinformation by the NPA would seem to have played right into the "throw the bums out" mood of the electorate, and as such will ensure their victory on Saturday night. And let's not forget, either, the red hot anger of the provincial Liberals for both Vision Vancouver and the Vancouver electorate in leading the charge against the Christy Clark government. Not for no reason has Hector Bremner — longtime executive assistant to current BC Liberal party interim leader, Rich Coleman — emerged as the NPA candidate. If you harbour any illusion whatsoever that the NPA is not the BC Liberal farm team, Mr. Bremner's candidacy ought to give paid to that notion.

Make no mistake, this is a payback election, Christy Clark and the B.C. Liberal party's revenge on the Vancouver electorate for turfing them from power in Victoria, a feeling that is only exacerbated by John Horgan choosing Geoff Meggs as his Chief of Staff. Why it is that Vancouverites — who overwhelmingly voted for the progressive forces of the NDP in May's provincial election — would allow the B.C. Liberal farm team to assume power at School Board, and elect a B.C. Liberal apparatchik at City Council beggars belief, but it's going to happen. C'est la vie.
All of the above said, the 2017 Vancouver City Council by-election result carries little weight politically, given that whoever is elected to Council on Saturday night to fill the vacancy created when Vision Vancouver City Councillor Geoff Meggs resigned his seat to take on the job as Chief of Staff to Premier John Horgan will not affect the majority that Vision Vancouver will continue to hold municipally — Vision Vancouver, whatever the outcome, will continue as the majority party at City Hall, with six of eleven decisive votes (including that of the Mayor) at Vancouver City Council.
The success of the respective campaigns in the 2017 Vancouver by-election (this applies both to Council and School Board) will occur as a function of voter turnout. The Justason Research poll above — even if it is a month and a half out of date — could in fact be right ... if, and only if, voters supporting the Greens' entirely tremendous Pete Fry, or OneCity's Judy Graves, or Jean Swanson's invigorating, well-organized grassroots and near revolutionary community-based campaign for Council turn out in droves.
Sad to say, in this era of Trumpian dysfunction, and an 'enemy of their own class interests' anomie among the voting populace that almost beggars belief (honestly, it's as if we're living in some perverse, latter day version of Orwell's 1984) voter suppression would seem to be the order of the day. Former Vancouver School Board Chair Patti Bacchus posited in her column in The Straight last week that we're likely to witness a 10% turnout at the polls once the votes are counted on Saturday night, while Vancouver Courier columnist Mike Klassen was telling anyone who would listen the very same thing. When the left & right agree, you know we're in trouble.
VanRamblings continues to believe that we're likely to see a 15% voter turnout — as we've suggested previously, a 7% turnout on Vancouver's eastside, with a 10% turnout in the West End and Kitsilano neighbourhood, and a 30% or better turnout in the neighbourhoods where the NPA has traditionally done very well. We, of course, hope we're wrong, and that the 20% - 25% voter turnout posited by Vancouver's City Clerk proves to be the case. But we don't think so.
VanRamblings has made our support of Jean Swanson well known, and we're pretty darned enthusiastic about Pete Fry's candidacy, as well.
The tale will be told on Saturday night.
Make sure that you get out to vote on Saturday, if you haven't already cast your ballot at the Advance Polls that were held on October 4th and 10th at Vancouver City Hall. Wondering where to cast your ballot? Just click on this link to be taken to the Vancouver.ca webpage, which will afford you the opportunity to place your address in a box made available to you. After clicking Submit, the locations where you may cast your ballot will come up, in this most crucial of elections (aren't they all?), particularly the School Board election, where the key issue is democratic and engaged advocacy for student interests vs partisan stasis. Remember: it ain't over til it's over.
PART TWO: VANCOUVER SCHOOL BOARD
If you believe that Vision Vancouver at City Council and Vision Vancouver at School Board are one and the same thing: give your head a shake. If you believe the malarkey that it is the Vision Vancouver trustees that were the bullies at School Board, and therefore you will not cast a ballot for the Vision Vancouver candidates for School Board: give your head a shake.
There are only 8 candidates who have placed their names forward in the 2017 Vancouver School Board by-election, who have a well-rounded and informed appreciation of the advocacy role that trustees must perform while sitting as elected Board of Education trustees on the Vancouver School Board, and these persons of conscience (for whom you must vote on Saturday, if you give a good galldarn about public education) are ...
Adi Pick. 20 years of age, a graduate of Magee Secondary (where she was the valedictorian in her graduating year), currently enrolled at UBC in her fourth year of studies as an international relations student, Adi Pick emerged as the star in the Vancouver School Board by-election: incredibly bright, articulate, down-to-earth, with an informed and fundamental understanding of all of the issues on which Vancouver school trustees must adjudicate, Ms. Pick gained support across the political spectrum during the course of her candidacy, and simply outshone all other candidates at the two Vancouver School Board all-candidates meetings, with her good humour, her pointed commentary, her reasoned passion, and her unrivaled advocacy for the interests of students.
br>Sarah Bercic asks you to save a vote for her mom, Carrie, for VSB trustee
Carrie Bercic. The other shining star in the Vancouver School Board candidate firmament, Carrie Bercic is the must, must, must vote in the current VSB by-election. Carrie Bercic has attended every meeting of the Vancouver School Board since 2014. Ms. Bercic has worked with her OneCity colleague Erica Jaaf (another must, must, must vote for in the current VSB by-election) on the Parent Advocacy Network (PAN) Board (they're both on leave at the moment), has sat as Parent Advisory Chair at both General Wolfe elementary school where her daughter was enrolled, and Parent Advisory Chair at Eric Hamber, where her son Jordan was enrolled. Quite simply, there is no more down-to-earth, better informed, more articulate public education advocate who has put their name forward for a position of trustee at the Vancouver School Board than is the case with Carrie Bercic. You would be doing yourself, and the students enrolled in the Vancouver school system a big, big favour by saving a vote for Carrie Bercic when you go to the polls on Saturday, October 14th.
Make no mistake: VanRamblings wishes for you to cast a ballot for Adi Pick, Carrie Bercic and her OneCity running mate, Erica Jaaf, COPE's Diana Day, and every cotton pickin' one of the incredibly talented, humane, community advocate, Vision Vancouver defenders of public education who have put their names forward to sit as Board of Education trustees on the Vancouver School Board. If you've not already, please read VanRamblings' initial column on the 2017 Vancouver School Board by-election.
br>
From l - r, the entirely tremendous Vision Vancouver school board candidate 'public education advocacy' team: newcomer to electoral politics Theodora Lamb, former VSB Chair Mike Lombardi, Ken Clement, Joy Alexander and Allan Wong, each one of whom deserve your vote October 14th.

br>From l - r, OneCity Vancouver's Carrie Bercic and Erica Jaaf, and COPE Vancouver's Diana Day
The eight candidates for Vancouver School Board whose photos you see above — and let's not forget Adi Pick either, who is most deserving of your vote at the polls on Saturday — are heartily endorsed by VanRamblings and constitute for any caring person who is at all concerned for Vancouver's and British Columbia's public education system, the only candidates for Vancouver School Board you should consider when casting your ballot.
You may read Part One of the actual election results column here.
October 11, 2017
Well, that's it — almost. The 36th edition of the Vancouver International Film Festival wraps late on Friday evening, October 13th with the "gory as f*ck" screening of Turkish director Can Evrenol's Housewife, at The Rio.
VIFF Repeats
Of course, as has been the case for many, many years the fine folks at VIFF have planned, and now released information on, their VIFF Repeats programme, which kicks off on Saturday, October 14th with Bosch: The Garden of Dreams at 11:45am, followed by Meet Beau Dick: Maker of Monsters at 1:45pm, The Farthest at 4:15pm, and two more festival favourites, Loving Vincent at 6:45pm, and the final screening of the first VIFF Repeats day, Indian Horse, at 8:45pm. All screenings will occur at the 175-seat Vancity Theatre. Tickets must be purchased, either online or at the door, for each screening (VIFF passes do not apply to the VIFF Repeats programme). VIFF Repeats run through until Thursday, October 19th.
Still and all, during the course of the final two days of VIFF 2017 there are some very fine films that will screen for a final time, films VIFF patrons and critics alike have simply raved about, and are certainly worthy of your time and consideration — as is the case with Janus Metz's Borg vs McEnroe, perhaps the finest sports-related drama since Bennett Miller's entirely tremendous Moneyball. Borg vs McEnroe screens for a final time at VIFF at 3:30pm at the Vancouver Playhouse on VIFF's last day, Friday, Oct. 13th.
On VIFF 2017's second-to-last day (Thursday, October 12th), you might want to turn your attention to the following VIFF patron favourites ...
And now onto the final day of VIFF 2017 ...
Friday, October 13th

Borg vs McEnroe, (Grade: A). Janus Metz's powerful, nuanced biopic while telling the story of one of the great tennis rivalries of all time creates a compelling and oft-times thrilling piece of entertainment. A must-see. Screens at 3:30pm, at the Vancouver Playhouse.
The Party. With a dream ensemble cast (at least to those of us that love indie filmmaking) and one of the big hits at VIFF this year, a film about which absolutely no one has anything negative to say (no mean feat, that), the new movie from director Sally Potter had Variety critic Guy Lodge writing in his review from Berlin, "Gleefully nasty, zinger-packed this deliciously heightened, caviar-black comedy sets up its brittle, bourgeois characters like bowling pins and gleefully knocks them down in 71 minutes flat, Potter's dark drawing-room comedy her zestiest work in ages." Screens for a final time at 5pm at The Centre.
Wonderstruck, the Closing Gala film, 7:30pm at The Centre, and 9:15pm at The Playhouse. Todd Haynes new film that took Cannes by storm. Stars Julianne Moore (who's been brilliant in every film she's ever starred in), about which critic Wendy Ide wrote in Screen Daily, "With first rate work from cinematographer Edward Lachman, costume designer / executive producer Sandy Powell, production designer Mark Friedberg and — particularly — composer Carter Burwell will ensure Wonderstruck, with its gradual swell of emotion that builds to a belter of a tear jerking climax, will emerge as a significant awards season contender."
And that will wrap the Vancouver International Film Festival for 2017.
Full VanRamblings coverage of VIFF 2017 is available by clicking here.
October 9, 2017
Today on VanRamblings, the must-see films screening in the final week of VIFF 2017, those films lauded by VIFF patrons, films with critical acclaim extraordinaire, films which will either provide you with early insight into what movies will be recognized by the Academy of Motion Picture Arts and Sciences at the Oscars ceremony on Sunday, March 4th, 2018, or provide you with the opportunity to see outstanding cinema for the final time at VIFF 2017, cuz these films ain't a-gonna be making their way back to our shores any time soon, or (in fact) ever again. So, you know what to do ...
Playing once and only once at the 2017 edition of the Vancouver International Film Festival, a last-minute addition to the VIFF lineup, the most talked about American début feature of the year, having taken both the Telluride and Toronto International Film Festivals by storm, and set for a raft of Oscar nominations come Tuesday, January 23rd, 2018 — including a Best Actress nod for Saoirse Ronan, and long overdue Best Supporting Actress recognition for Laurie Metcalf, not to mention Best Screenplay and Best Director nominations for — indie actress Greta Gerwig's Lady Bird ... Screens today, Monday, October 9th at 4pm at The Centre. See ya there!
Don't forget: Aki Kaurismäki's VanRamblings-recommended The Other Side of Hope screens directly after Lady Bird, 6:30pm at The Centre. At 9:15pm, VanRamblings' favourite film of 2017, Andrei Zvyagintsev's magnificent Loveless screens at the Vancouver Playhouse, on Hamilton Street.
On Tuesday, 6:15pm at the Vancouver Playhouse, you simply don't want to miss the single most buzzed about film at VIFF 2017, director Amanda Kernell's powerful multiple award winner, Sami Blood — the Grand Jury Prize and Best Actress (Lene Cecilia Sparrok) winner at last spring's Seattle Film Festival; Special Jury Prize winner and another Best Actress win for Sparrok at Tokyo's 2017 Film Festival, with a Best Director of a Début Film win for Amanda Kernell at this year's prestigious Venice Film Festival.
Nor do you want to miss Alain Gomis' Grand Jury Prize winner at the Berlinale this year, Félicité, a raw, near documentary-style music-infused reverie, an often dreamlike portrait of Félicité, a singer who is just barely scraping by in modern-day Kinshasa, a dirty, hardscrabble, lawless but irrepressibly energetic city. Screens twice at Cineplex International Village, both times in Cinema 10, on Tuesday, October 10th at 9:30pm, and the next day, Wednesday, October 11th at 4:30pm.
On Wednesday, October 11th there's a veritable cornucopia of fine cinema that will screen at VIFF 2017 on its third to last day ...
Ismael's Ghosts, VIFF fave Arnaud Desplechin's most daring film yet, a tour-de-force of mise-en-scène and a prismatic portrait of a filmmaker haunted by his past, starring Mathieu Amalric, Charlotte Gainsbourg, Marion Cotillard and Louis Garrel, which screens for the final time at 10:45am at Cineplex, Cinema 9;
Or, at 11:30am at Cineplex Cinema 9, you could take in British writer-director Francis Lee's remarkable, award-winning accomplished first feature, God's Own Country, about which VIFF patrons and critics alike have been raving, the story of a troubled, taciturn and volatile young man living on a remote Yorkshire farm that although it didn't court Brokeback Mountain comparisons directly enough with its tale of two young sheep farmers finding love in a hopeless place nonetheless seals the deal. Says VanRamblings critic favourite Guy Lodge in his review in Variety, "By the time the tightly controlled soundscape blooms into the widescreen baroque pop of Patrick Wolf for the closing credits, the resulting heart-swell feels thoroughly earned";
And let us take pains to remind you of how much we loved Alexandra Dean's kickass documentary, Bombshell: The Hedy Lamarr Story, which screens for a final time at 3:45pm at the Vancouver Playhouse.
And then there are entirely remarkable evening screenings on Wednesday, October 11th that are not-to-be-missed ...
And, heck, those are just the early evening screenings on Wednesday.
Indian Horse. A quintessentially Canadian story, adapted from Richard Wagamese's award-winning novel, Stephen Campanelli's moving drama sheds light on the dark history of Canada's residential schools and the resolute spirit of our nation's Indigenous peoples, focusing on the story of Saul Indian Horse of Manitoba's Ojibwe nation who, as a child, is separated from his family by Canada's reprehensible residential school system, where he and fellow Indigenous students suffer routine physical, sexual, and emotional abuse. Teachers do their best to destroy the children's identities, in the name of the Christian god and the Canadian state.Then, Saul discovers hockey, where his talent helps him escape the school, on his journey to becoming a professional player. Only through his passion for the game and his rapidly improving skills does he glimpse a path beyond the horrors that have confined him. But is hockey enough to save him, or will his struggles to come to terms with the traumatic experiences of his past continue to haunt him? One of the buzz films at VIFF 2017, Indian Horse screens for a final time at VIFF, 9pm at the Vancouver Playhouse.
A Fantastic Woman, (Grade: A). Chilean director Sebastián Lelio's follow up to VIFF 2014's Gloria offers a sensitive, expressive melodrama about grief and the cost of being authentic in a world that too often fails to acknowledge gender variance and the lived, non-binary experience. A working of searing empathy, A Fantastic Woman traces the emergence from devastating grief of Marina (Daniela Vega), the film's young transgender protagonist, who is treated like a criminal in the wake of her older partner's sudden death from an aneurysm. A certain Best Foreign Language Film Oscar nominee, there's even talk that Vega — who dominates virtually every mesmerizing frame of the film — will emerge as the first transgender woman to secure a Best Actress Oscar nomination, or as Guy Lodge writes in his review for Variety ...
Vega's tough, expressive, subtly anguished performance deserves so much more than political praise. It's a multi-layered, emotionally polymorphous feat of acting, nurtured with pitch-perfect sensitivity by her director, who maintains complete candor on Marina's condition without pushing her anywhere she wouldn't herself go. At one point in her mortifying police examination, a photographer demands that she drop the towel from her waist. She reluctantly complies, yet the camera respectfully feels no need to lower it gaze: A Fantastic Woman is no less assured than its heroine of her hard-won identity.
There are a great many films that will screen on Thursday and Friday, the final two days of VIFF, that we'll write about later in the week. We are looking forward to VIFF 2017's final screening, Todd Haynes' transcendent:
Full VanRamblings coverage of VIFF 2017 is available by clicking here.
October 7, 2017
Only seven days to go, including today, before the glorious 36th annual Vancouver International Film Festival fades into warm memory.
There are a great many VIFF films that will make their début this coming week, as well as VIFF films that will screen for a final time — films all that are deserving of your time, attention, dollars and the inevitable 'you've got to arrive an hour early' interminable (yet, friendly, warm and welcoming) ticketholder and passholder line-ups outside the various VIFF venues.
For instance ...
Loveless, (Grade: A+): The new masterwork from Russian director Andrei Zvyagintsev (Leviathan) was both the critical favourite at Cannes this year (there was a broad critical consensus that Loveless would win the Palme d'Or, which it didn't do — instead, the execrable The Square garnered that undeserved honour), and the winner of Cannes' Grand Prix award.
A withering, pitiless and devastating indictment of contemporary Russia (who knows why Russia has chosen Loveless as their Best Foreign Language Film Oscar nominee), as potent a cinematic exploration of anomie as you're ever likely to witness on screen, Zvyagintsev's Loveless emerges as nothing short of a masterpiece, not simply an apocalyptic study of a failed marriage and a failed system of justice involving the disappearance of a 12-year-old boy — about which not one character on screen cares a wit — set in the midst of a loveless modern Russia where residents exist at the mercy of implacable forces, Loveless' pristine, punishing and purgatorial narrative offers with crystalline perfection viscerally intelligent and merciless filmmaking, every shot chosen with care, the bitter stillness of the near black-and-white cinematography capturing lives in disintegration, as harrowing a film as will be released in 2017. All of which makes Loveless a VIFF 2017 must-see. There's one final VIFF screening of Loveless: Monday, Oct. 9th, 9:15pm, Vancouver Playhouse.
br>3-year-old Paula Robles & 6-year-old Laia Artiga, star in Carla Simón's Summer 1993
Summer 1993, (Grade: A): Although it has completed its run at VIFF 2017, VanRamblings wishes to have recorded for posterity that Spain's Best Foreign Language Film Oscar entry, Summer 1993, has emerged as our favourite film at VIFF this year. A polar opposite to the pitiless Loveless, Carla Simón's tender autobiographical directorial début is the single most humane childhood drama to grace the screen in years, the performance of 3-year-old Paula Robles the film's beating heart, who throughout embodies a sense of dread for what might, and does occur — which is to say that Anna is twice placed in harm's way, her life force in jeopardy — perhaps at the hand of 6-year-old Frida, as Frida attempts to recover from the devastating loss of her parents, the answer to all questions coming in the film's devastating final scene, which transforms Frida from a hard-to-read, enigmatic figure into a profoundly sympathetic figure, the film's final scene providing context for all that has occurred before, with an overwhelming sense of melancholy, yet transformative and even hopeful, every person in the audience with whom VanRamblings took in the screening of the delicate Summer 1993 on the floor, inconsolable, unable to catch their breath.
The two most moving and humane migrant dramas screening at VIFF ...
A Season in France, (Grade: A). Set to screen one more time, this upcoming Tuesday, October 10th, 1:30pm at Cineplex International Village's Cinema 9, Chadian director Mahamat-Saleh Haroun's deeply felt, dark yet profoundly compassionate tale of illegal immigrants struggling in the lower depths of Paris relates the heartbreaking story of two brothers who attempt to make a new life in a cold, grey, uninviting and unwelcoming France, their futures at the mercy of bureaucrats, their anguish portrayed with the sombre eloquence of humanity, the story centering around schoolteacher Abbas (Eriq Ebouaney) who arrived from his war-torn city of Bangui (in the Central African Republic) a year previous and who now works a menial job selling vegetables while his two young children (an exquisitely sympathetic Aalayna Lys, and Ibrahim Burama Darboe) always on the move while hoping to stay enrolled in school. The film's last, stark images are sure to prick the conscience of anyone who takes in a screening of this immensely touching, punch-in-the-gut proletarian tragedy.
The Other Side of Hope, (Grade: A). Set to screen two more times: this upcoming Monday, October 9th, 6:30pm at The Centre, and on VIFF's last day, Friday, October 13th, 6:30pm at SFU Goldcorp, master Finnish director Aki Kaurismäki's droll, deadpan migrant drama marks a nostalgic and ever-so-cheeky return to form, in a film that combines poignancy, breezy laughter and expansive humanism in relating the story of Khaled (Sherwan Haji), an illegal migrant who has escaped the rubble of Aleppo for Helsinki. A gruff, moral, complex, at times hilarious, engaging and near visionary fairy tale, The Other Side of Hope is well worth a VIFF screening.
Full VanRamblings coverage of VIFF 2017 is available by clicking here.
October 3, 2017
Each year for most of the history of the Vancouver International Film Festival, the prestigious, heavily juried and much smaller New York Film Festival kicks off on the same date as VIFF, creating something of a logistical problem for the print traffic folks at Vancouver's film festival (and New York's, as well), arising from the fact that the respective film festivals generally share 15 films (out of a total of 25) — as is the case again this year — and the logistics of transporting the one-and-only "print" of the film back and forth can be, and has often proved to be, something of a terrible, pull-your-hair-out nightmare for the print traffic folks at both film festivals.
Thanks to VIFF "print logistics co-ordinators" extraordinaire, Jackie Hoffart and Amanda Thomson — with able assistance from Kathy Evans (who did the job for years, along with Selina Crammond in recent years) — all has generally proved well, the DVD's on which the "films" are to be projected often set up at the last minute, just in time for the planned screening, the digital projection occurring on state-of-the-art equipment supplied and optimized by the on scene craftspersons at CHRISTIE Digital Cinema.
As was indicated above, 15 films currently screening at NYFF55 are also, near simultaneously, screening in Vancouver as part of VIFF2017. Here they are, with remaining VIFF screening times following each compilation of three films below. A bit of New York in the autumn in Vancouver. Enjoy!
BPM (Beats Per Minute). Has completed its run at VIFF2017. BPM (Beats Per Minute) may return as part of the VIFF 'best of' programme in the week following the end of the Festival. Or, VIFF / Vancity Theatre programmer Tom Charity could book BPM (Beats Per Minute) into the Vancity Theatre at some future point. And then there's this: as BPM (Beats Per Minute) is France's entry into the Best Foreign Language Film Oscar sweepstakes, BPM could even conceivably garner a run at your local Cineplex theatre.
Call Me by Your Name. There are three upcoming screenings, all at The Centre: Thursday, October 5th at 9pm (where you'll find VanRamblings); Sunday, October 8th at 9pm; and Thursday, October 12th at 3:15pm.
Did You Wonder Who Fired the Gun? One and only screening completed.
Faces Places. An upcoming screening this Friday, October 6th, 6:45pm, at the Vancouver Playhouse.
Félicité. Screening twice next week, both times at Cineplex International Village, Cinema 10, on Tuesday, October 10th at 9:30pm, and the next day, Wednesday, October 11th, at 4:30pm.
The Florida Project. One Special Presentation screening upcoming, this Saturday, October 7th at 6pm.
Ismael's Ghosts. Final screening: Wednesday, Oct. 11th, 10:45am at The Centre.
Lady Bird. A late addition to the VIFF line-up, the most talked about début film feature of 2017, a massive hit at both the Toronto and Telluride film festivals, and a lock for multiple Oscar nominations. Greta Gerwig's Lady Bird screens once, and only once, at VIFF 2017, on Monday, October 9th, 4pm at The Centre.
The Other Side of Hope. One of VanRamblings favourites at VIFF 2017, Aki Kaurismäki's latest film screens twice more: next Monday, October 9th, 6:30pm at The Centre, and the final day of VIFF 2017, Friday, October 13th, 6:30pm at SFU Goldcorp.
A Skin So Soft. Alas, it's gone. No more screenings.
The Square. Also gone. Good. We hated it.
Thelma. One more screening: Monday, October 9th, 6:30pm at the Vancouver Playhouse.
The Venerable W. One more screening, this Friday, October 6th, 6:15pm at Cineplex International Village, Cinema 8.
Western. A Bulgarian film VanRamblings quite liked (one of our favourites), probably too slow for many folks — be we thought that as a character study, Western worked. And that gorgeous countryside, and the Bulgarian people! Western's two final screenings, both times at SFU Goldcorp: Wednesday, October 4th, at 6:15pm, and VIFF's last day / last screening, on Friday, October 13th, at 9pm.
Wonderstruck. The VIFF 2017 Closing Gala film — if you want to go to the Gala and party afterwards, the screening takes place at The Centre, on Friday, October 13th at 7:30pm, but as for VanRamblings, we'll take in Todd Haynes' Wonderstruck the same night at The Playhouse, at 9:15pm.
Yes, that's the trailer for Carla Símon's début feature, Summer 1993, one of VanRamblings two very, very favourites at VIFF 2017, Spain's nominee for a Best Foreign Language Film Oscar set to screen for a final time on Thursday, October 5th at 7:15pm, at Cineplex International Village, Cinema 10. There ain't no distributor in place, Netflix isn't a-gonna be picking it up, so ... see Summer 1993 on Thursday evening, or you'll miss out on one of the most spectacular and utterly humane films to screen at VIFF this year.
Full VanRamblings coverage of VIFF 2017 is available by clicking here.