2017 By-Election
October 31, 2017
On Monday evening, October 30th, in one of the most touching political inauguration ceremonies VanRamblings has ever had the privilege of witnessing, an utterly serene, ever-so-bright and warmly articulate, becomingly genuine and humble, and surprisingly humourous second term Green Party of Vancouver Board of Education trustee, Janet Fraser, was elected as the new, well-supported Chair of the Vancouver School Board.
Present for the inauguration of the new Board were ...
The families of the newly-elected trustees. It was all that the youngest daughter of NPA trustee (may we say, the incredibly fabulous) Lisa Dominato could do not to run up to her mom during the inauguration ceremony to sit on her mom's lap, while newly-elected Vancouver School Board Chair Janet Fraser made comment during her opening address as the new Chair that her two children were present for the inauguration ceremony, stating (with a becoming degree of wry levity) to the many well wishers gathered in the Board Room that she trusted her children had managed their time well, and completed their homework.
Past Vancouver School Board trustees. COPE's (now OneCity Vancouver's) Al Blakey was present, as was COPE / now OneCity Vancouver's Ruth Herman, Vision Vancouver City Councillor and early 21st century Vancouver School Board trustee, an absolutely radiant Andrea Reimer, and recent School Board Chair (still one of VanRamblings' favourite people on Earth), Christopher Richardson were all present to wish the new Board well in their endeavours.
Politicos galore. The NPA's generational leader Sarah Kirby-Yung, the principled John Coupar, and the gloriously humane and friendly Casey Crawford were present representing Park Board, as was VanRamblings' nemesis (?), the Green Party of Vancouver Park Board Commissioner, Stuart Mackinnon. Green Party Councillor Adriane Carr was sitting right behind us, next to Green Party Executive Director, Jacquie Miller. Failed NPA School Board candidate Rob McDowell was present (wondering why he wasn't elected, yet still beatific — next time, Rob, next time).
Senior Vancouver School Board administrative staff were also present, looking nonplussed, wondering what the heck kind of Board the public had just elected. As a public service, VanRamblings did our best to assure administrative staff that the incoming Board was a calm and respectful group, entirely focused on serving the needs of students in a decidedly non-political and non-confrontational manner, and that all was good — admin staff still seemed somewhat querulous as to what lays ahead.
Trustees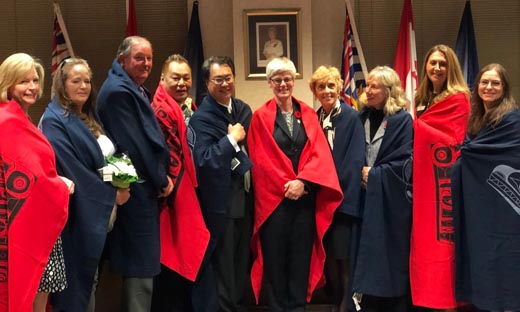 br>Newly-elected Vancouver School Board trustees take office at their inauguration, a moving part of which involved an indigenous ceremony wishing the new trustees well.
Green Party of Vancouver trustee Estrellita Gonzalez was, by far, the best dressed of the trustees, subtle, low key, gorgeous, and ready to settle down to business. Now, you could take an unlimited budget and dress and coif VanRamblings to the nines (as past NPA Mayoral candidate Kirk LaPointe would like to do with us), and we would still not look 10% as business-like and utterly fabulous as was the case with Ms. Gonzalez — very much a woman with whom to contend, from all appearances.
The NPA's Lisa Dominato was utterly charming (and, perhaps, the only person in the room who was glad to see us). Carrie Bercic's presence at the Board table all but had VanRamblings in tears — we're not sure if we've ever met a kinder, warmer, and more authentically humane and values driven person than Ms. Bercic. Fraser Ballantyne was friendly and came over to say hello to Christopher Richardson and VanRamblings — now, if there's a person who has every right to want to tear us from limb to limb, it's Fraser ... instead, he was friendly, welcoming and utterly charming.
If Janet Fraser has any competition in the calm and serene department, it would be Vision Vancouver trustee Joy Alexander — who simply radiates joy in her very demeanour, her warm smile creating an aura of safety (no mean feat, that). Ken Clement brought a warmth and humane consciousness to the proceedings on Monday evening. What was missing from the last Board? The humane presence of Ken Clement, who Patti Bacchus told us she missed more than words can express on the last Board. Of course, the entirely tremendous Allan Wong was present — the single most calming presence at the Board, an utterly dedicated Board of Education trustee, serving the interests of all Vancouver students.
SFU's Dr. Judy Zaichkowski was also present, a quiet but authoritative presence on the new Board, who during the reception following the inaugural ceremony made a point of greeting as many of the good folks gathered in the Board cafeteria as was humanly possible, a reassuring presence who in her very demeanour seemed to radiate a commitment to respectful democratic engagement.
br>Vancouver School Board inaugural meeting, before Janet Fraser was elected as Chair
Sources within Vision Vancouver told VanRamblings on Monday evening that the once majority party on the Board had decided this past weekend to support the candidacy of Green Party trustee Janet Fraser as the new Chair, as must be the case with OneCity Vancouver's Carrie Bercic — given that only Ms. Fraser and the NPA's Lisa Dominato were nominated as Chair (we're not entirely sure Ms. Dominato even voted for herself in the secret ballot that was held). VanRamblings predicts the time will come when Lisa Dominato serves as Vancouver School Board Chair, not as a person of division but as a unifying political force with an unerring social conscience.
VanRamblings was told Monday evening Dr. Fraser has already offered the position of Vice-Chair of the Board to one of her fellow trustees, this information passed on with a glint in the eye of the individual who gave us this bit of news. We could have pushed to find out who — but we'll wait.
For the next year, Dr. Janet Fraser will be the able, calming, incredibly hard-working and democratically-engaged Chairperson of the Vancouver School Board — VanRamblings couldn't be more thrilled!
As per the press release issued by the Vancouver School Board ...
In the coming days, trustees will be assigned to standing committees in consultation with the Board Chair, as liaisons to specific schools and as Board representatives to other committees and other organizations.

Dianne Turner, who had served for the past year as official trustee, now begins her role as special advisor to the Board.
At inaugural ceremony's end, Dr. Fraser announced the next meeting of the new Board of Education will take place on Monday, November 27th.
October 26, 2017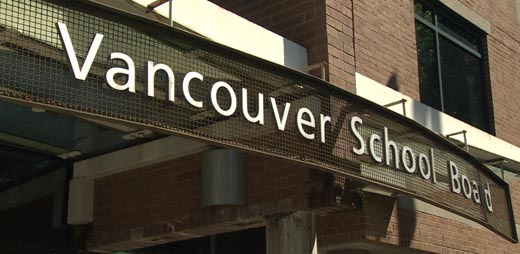 At 7pm this upcoming Monday, October 30th in the main Board room of the Vancouver School Board — located at West Broadway and Fir Streets (your attendance is encouraged) — nine newly-elected Board of Education trustees with be sworn in to sit as our elected VSB representatives through until the next Vancouver civic election, set for less than a year from now, on Saturday, October 20th, 2018. The following nine novice and experienced trustees were elected by a bitterly small turnout of the voting electorate, with only 10.99 per cent of eligible Vancouver voters turning up at the polls on by-election voting day, held on Saturday, October 14th.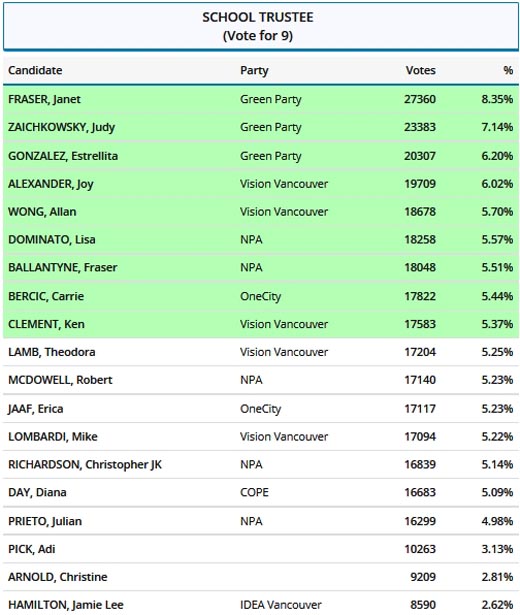 The Vancouver School Board by-election was necessitated arising from the decision of the previous B.C. Liberal Minister of Education, Mike Bernier, and then Premier Christy Clark's administration to fire the Board for failing to pass a budget (which they were going to do on the evening they were fired by the Minister — but that's politics for ya as practiced by the previous, now ousted anti-public-education B.C. Con-Liberal government), and the campaign commitment by Premier John Horgan's newly-elected provincial administration to hold a Vancouver School Board trustee by-election at the earliest possible opportunity in his new administration.
PART THREE: THE VANCOUVER SCHOOL BOARD
In today's column, the final by-election wrap-up column (be forwarned, it'll be lengthy, indeed) — sure to please no one, least of all the Green Party of Vancouver — where today we will attempt to provide insight into the exigencies of the by-election, and what the VSB by-election results will mean for all of us over the course of the next year, and into the future.
br>Green School Board trustees Janet Fraser, Dr. Judy Zaichkowski & Estrellita Gonzalez
The Green Party, municipal, provincial or federal, is less a "party" than it is an amalgam of opportunists possessed of no overriding philosophy, other than supposedly being the "environmental party" — and, let's face it, they even have a hard time living up to that claim, given that the Greens believe in moral suasion over legislative inducement for corporations to "do better". Although most of the folks affiliated with the Green Party mean well, given that the Greens don't stand for anything in particular, what you have with the Greens is a rugged group of generally non-political neoliberal (for the record, VanRamblings hates that epithet), almost libertarian, iconoclasts.
Somehow, though — because Vancouver voters generally like federal Green Party leader Elizabeth May, and Vancouver City Councillor Adriane Carr — the Green Party manages to secure the votes of a goodly portion of the electorate at the polls: members of the naïve left who believe the Greens are progressive (they're not), and right-of-centre folks who see the Greens as some form of Liberal / Red Tory alliance (which is closer to the mark).
All of which explains why Green Party candidates, including recently fired and even more recently re-elected Vancouver School Board trustee Janet Fraser, emerged as the top vote-getters in the recent by-election.
Janet Fraser. The unassuming person in the picture above may, or may not be the incoming Chair of the Vancouver School Board, who up until mere hours before publishing today's column VanRamblings believed would be acclaimed in that position by all nine of the new Board of Education trustees, at the first meeting of the new Board next Monday, October 30th. We are no longer quite so certain — politics at the Board, as would seem to be the case at present, so thick and morbid as to fell a horse in mid-stride.
At no point during the recent Vancouver School Board by-election did VanRamblings endorse Dr. Fraser, nor for that matter any of her Green Party colleagues. We do not believe Dr. Fraser to be a particularly vocal proponent of public education — unlike the five Vision Vancouver by-election candidates, the two One City candidates, or COPE's Diana Day.
Not for no reason did Dr. Janet Fraser support 2014 NPA-elected school board trustee (and the lowest vote-getter) Christopher Richardson as the new Chair of the Vancouver School Board, and six months later when Dr. Fraser demanded that the very same Mr. Richardson step down, chose to vote for his NPA colleague, right-of-centre trustee Fraser Ballantyne (who, even as you read this, is doing his level best to stab Dr. Fraser in both the front and back) as the new Chair, her vote putting the "not at all advocates for public education" NPA in charge at the Vancouver School Board.
Still and all, Dr. Janet Fraser may become the new Chair of the Vancouver School Board. What would that mean for parents with children enrolled in the Vancouver school system, the children / students themselves, and for all those who consider themselves to be advocates of public education?
VanRamblings believes that with Janet Fraser at the helm, public education advocates would find they have a bloody-minded, take no guff, even-handed, largely non-political, dedicated and incredibly hard-working (let's repeat that: incredibly hard-working) Chair of the Vancouver School Board.
br>Rob Fleming, B.C. Minister of Education, and Mable Elmore, MLA, Poverty Reduction
With Janet Fraser at the helm, there'd be no politicking when it comes to negotiating with Rob Fleming, British Columbia BC NDP Minister of Education, and Vancouver-Kensington MLA Mable Elmore, who has been put in charge of the important poverty reduction file by Premier John Horgan. Negotiations for a speeded-up seismic upgrading / school replacement programme would be straightforward and uncomplicated, with Chairperson Janet Fraser making no untoward demands of the Minister. The same would be true with MLA Mable Elmore when it comes to funding of breakfast programmes in Vancouver's inner-city schools: the negotiations between Chairperson Fraser and MLA Elmore would be straightforward and in the best interests of children enrolled in the Vancouver school system.
Janet Fraser is no flaming radical, nor is she a desk thumper. Rather, Dr. Fraser is even-keeled and thoughtful, with a strong tendency towards evidence-based decision-making. Clearly, Vancouver voters got things right when they cast their ballot for Dr. Janet Fraser as both a balm, and the glue who will hold a somewhat tattered Vancouver School Board together.
Still, as you read this, the NPA is seriously considering supporting second term Vision Vancouver trustee Joy Alexander as the new Board of Education Chair of the Vancouver School Board, Fraser Ballantyne's ignoble hatred and disdain for Janet Fraser so acute and abiding as to perhaps cause him to do the unthinkable: support a Vision Vancouver trustee as Board Chair.
With Dr. Joy Alexander at the helm of the Vancouver School Board, trustees would find they have a calm, reasoned, reassuring and generally non-partisan (or non-political, if you will) trustee at the helm, a calming presence who would listen to all voices at the table and in the community, and who would be a staunch advocate for public education — which would satisfy incoming OneCity Vancouver trustee Carrie Bercic's demand that whoever is chosen as Chair be both a progressive and a vocal public education advocate — and a Chairperson that all trustees, Board administrative staff and the provincial government could both respect and work with in support of a thriving public education system in Vancouver.
Dr. Judy Zaichkowski (pictured above): Newly-elected Green Party of Vancouver Board of Education trustee. Experienced. University professor of marketing in the Beedie School of Business at Simon Fraser University, five year member of SFU's Board of Governors and Associate Dean of SFU's Dean Beedie School of Business. Possesses a Bachelor's degree in home economics. Educator who taught at Vancouver's Point Grey and Templeton Secondary schools. Suffers from a bad case of foot-in-mouth disease.
When VanRamblings attended the Vancouver Green Party by-election campaign kickoff, we heard Dr. Judy Zaichkowski give one of the most bizarro, intemperate speeches we'd ever heard a political figure make to a crowd of supposed sympathizers (and, no, we're not going to report what she said). Say senior Green Party officials, "Yes, we heard what Judy had to say at the campaign kickoff, and we spoke with her immediately after she gave her speech, strongly expressing our concerns to her. During the by-election campaign period, we worked with Judy to be more thoughtful in her remarks in a public setting and give thought to how the audience might receive her words, encouraging her to be more temperate in her remarks."
Now, we realize how odd it is that VanRamblings might be seen to express a concern about foot-in-mouth disease, given that VanRamblings has a well-known penchant for intemperance — several times in the course of a day, and more often than not requiring surgical intervention. Still. Chances that Dr. Zaichkowsky will make an off-putting, concerning and intemperate remark at the School Board table, causing her fellow trustees to look upon her aghast? VanRamblings would suggest that it's only a matter of time.
Says the Green Party, "We can only hope her professorial nature kicks in."
Estrellita Gonzalez. Founder / Director / President / small business person in charge at Vancouver's seemingly lauded westside Derma Bright Clinic (no mean feat, that). Self-styled "Queen of Living Clean." Has a son enrolled at Eric Hamber Secondary School. Graduate, Distance Education Programme, Thompson Rivers University, with a Bachelor of Business Administration in Human Resources Management. And the newly-elected Vancouver School Board trustee VanRamblings feels most sorry for.
Does Ms. Gonzalez have any idea what she's gotten herself into by being elected to the Vancouver School Board as a Board of Education trustee?
Where Vision Vancouver school board candidate Theodora Lamb brought vast community organizing experience to her candidacy, not to mention years of Board experience with the VanCity Credit Union, an organization where Ms. Lamb is Chair of the Governance Committee, and a member of the Audit and Digital Strategy Committees (not to mention her involvement with the BC Co-operative Association), and whose husband is Kurt Heinrich, a former Public Relations Manager with the Vancouver School Board (who knows where all the bodies are buried, so to speak), we can find no such community involvement or Board, Council or Committee work in Ms. Gonzalez' résumé. Don't even get us started on newly-elected NPA School Board trustee, Lisa Dominato: mother of a daughter in Grade One at a Vancouver elementary school, Chairperson of the The Kettle Society Board of Directors, an educator with 10 years experience teaching in Vancouver, and most recently the Director, Integrated Services and Safe & Healthy Schools, British Columbia Ministry of Education. In other words, qualified.
Does Ms. Gonzalez have any idea what she's gotten herself into? Says an official with the party Ms. Gonzalez ran as a candidate with ...
"We in the Green Party believe that elected office should not be the personal preserve of those who have dedicated their lives to achieving elected office. As can be seen in the recent elections in Barcelona — which unseated a municipal government that had been in power for 30 years — the Green party is a Commons-based coalition of ordinary citizens, the Green Party — as is the case with Ms. Gonzalez' candidacy, and election to the Vancouver School Board — represents an authentic departure from business as usual in the political sphere. It isn't enough just to win elections; we have to change the rules of the game."
Still, we ask again: does Ms. Gonzalez have any idea of what to expect when she finds herself seated as a Board of Education trustee next Monday at the offices of the Vancouver School Board? We have no doubt about Ms. Gonzalez' capacity to learn, nor her work ethic — given that, as representatives from the Green Party were wont to point out to us, that Ms. Gonzalez made a huge contribution of time and energy to her run for office: there wasn't an activist 'meet the voter' street campaign she wasn't involved in, an all-candidates meeting that she didn't assiduously prepare for, nor a commitment to her party or the voter she didn't meet. But ...
Ms. Gonzalez should know that most trustees, on average (for the $20,031 she'll earn as a trustee) will put in 35 - 40 hours a week meeting the demands of her new job, according to a broad cross-section of current and former trustees with whom we've spoken, a trustee's duty including ...
Attendance at the bi-weekly Vancouver School Board meetings, which involves not only attendance at the Board meetings, but participation in the in-camera preparatory meeting that takes place in the two hours prior to the start of the public meeting, and the two hours afterwards. Not to mention, Ms. Gonzalez will be gifted with a thick binder of background information on all the issues to come before the Board, information (taking hours to read and digest) she will be expected to know.
Committee work. There are five standing committees — Management Co-ordinating, Planning and Facilities, Education and Student Services, Personnel and Staff Services, Finance and Legal — one of which she'll likely Chair, and another committee on which she'll be expected to sit, those committees comprised of Board administrative staff, members of the Parent Advisory and District Students' Councils, the two teachers' associations, the professional administrative staff association, CUPE union locals 15 and 407 and representatives of the International Union of Operating Engineers, Local 963, and both the Vancouver Elementary Principals' and Vice Principals' Associations and the Vancouver Association of Secondary School Administrators. As you might well imagine, these meetings take awhile, tend to be contentious (with a great many competing agendas), and require of the Board trustees a vast knowledge of the issues. There are those strange folks who love meetings (of which VanRamblings is one, as long as those meetings are run respectfully and democratically, and each participant is provided an open and welcoming opportunity for input). Ms. Gonzalez is in for quite an education over the next year.
Liaison. With 55,500 students enrolled in kindergarten to Grade 12, and over 3,000 adult students in adult education centres, with 18 secondary schools and 91 elementary schools in the Vancouver School District, each trustee is assigned as a liaison to at least ten elementary schools and two secondary schools, where they're expected to participate as the Board liaison to the Parent Advisory Committees, not to mention which attendance at the occasional teacher meeting is always a good idea. On top of that, trustees are the liaison between not only the teachers but the administrators at the schools to the Board — which means that trustees must develop an abiding relationship of respect and advocacy for student, parent, teacher and administrator concerns.

And let us not forget, either, that the Board assigns a liaison to the Vancouver Library Board, and any number of the citizen advisory committees at Vancouver City Hall. Tired yet?
Make no mistake, sitting as a Board of Education trustee on the Vancouver School Board is nothing less than a full-time job.
For all those citizens in the community who whine about our elected officials, believe us when we say: there is no higher calling than elected office, and no matter the party or political affiliation, all dedicated elected officials (VanRamblings knows not one who doesn't throw themselves into the work, whether at Park Board, School Board, City Council, provincially or federally) give their lives over to public service, and the public interest.
In terms of time commitment, making matters even worse for Ms. Gonzalez and her fellow elected trustees: from the moment each trustee takes their seat around the Board table, they're going to be in election mode. With the 2018 Vancouver municipal election set for next October 20th, all of the trustees will find themselves spending an inordinate amount of time on the hustings, attending party functions, raising money, working closely with school trustees in other Metro Vancouver school districts (and around the province) — so as to further raise their public profile — writing opinion pieces for The Straight, the Vancouver Sun and other mainstream media, and making regular appearances on our local radio and TV stations, speaking to educational (and other) issues at the Vancouver School Board.
The next Board year will prove to be an exemplary model of vox populi.
(Click on Read More for much more School Board by-election coverage)
Read More...
October 18, 2017
Last Sunday over brunch two of VanRamblings' friends (yes, we have friends ... sheesh) indicated their strong desire and inclination to put their names forward as candidates in the October 20th, 2018 general municipal election in Vancouver. VanRamblings was none-too-enthusiastic about the prospect of either of our friends running for political office (causing no little consternation on the part of our friends). What is the basis for our lack of encouragement of our good-hearted, socially conscious, very bright friends to put their names forward for office, which when you get right down to it is the single most civically-minded activity one could possibly consider?
The answer is simple: hurt. Politics in this latter age has become an ugly and vicious business, entirely oriented to toxic identity politics and the politics of personal destruction. The electorate is bitter, disillusioned, cynical and spitting mad angry at our elected officials, no matter their party or political orientation. Even Justin Trudeau's "sunny ways" and entirely open and forthright style of governance meets daily with vicious pointed commentary from persons comprising the spectrum of political thought.
Whereas Donald Trump is entirely deserving of the social and mainstream media opprobrium to which he is subjected daily, such should not — and we would suggest — must not be the case with the hard-working and dedicated persons of conscience who are associated with and put their names forward for office under the banners, locally, of Vision Vancouver, the Non-Partisan Association, the Green Party of Vancouver, OneCity Vancouver, or for that matter any of the independents who choose to run for office — such as the entirely tremendous Jean Swanson, or Adi Pick.
VanRamblings is concerned with the state and nature of politics in Vancouver, and across British Columbia. When did the vast majority of the population become so cynical, alienated, apolitical and generally turned off to the decision-making that affects the quality of their lives on this planet?
In the coming year(s), VanRamblings will seek to address the issue of anomie in the political sphere, both as an academic consideration, but more importantly through action to ensure respectful democratic engagement.
PART TWO: THE MISGUIDED CANDIDACY OF JUDY GRAVES
Judy Graves (pictured above) was the affable, socially-conscious OneCity Vancouver candidate nominated to fill the Vancouver City Council seat left vacant when Vision Vancouver Councillor Geoff Meggs resigned his seat on Council to take on the position of Chief of Staff to Premier John Horgan.
From 2002 on, Ms. Graves was the homelessness advocate at Vancouver City Hall, a humanizing force of nature bent on service to Metro Vancouver's indigent population, and a strong advocate for social housing and services to the most vulnerable among us. Little wonder, then, that the nascent OneCity Vancouver civic party (largely an amalgam of principled, younger New Democratic Party-oriented persons of conscience) chose Judy Graves as their progressive values candidate for Vancouver City Council.
Too bad, then, that Judy Graves' OneCity Vancouver candidacy turned out to be a misguided candidacy, that effectively denied the progressive voice of Jean Swanson a very-much-needed place on Vancouver City Council.
On October 14th by-election night, Judy Graves secured a paltry 13.71% of the vote, while Jean Swanson — with whom Judy Graves had worked closely over the years — who ran as an independent candidate for Council, and whose election team had moved the sun, the moon, the earth, the stars to secure the endorsement of OneCity for Jean Swanson, garnered 21.36% of the vote, and a near-win, second place showing in the polls.
From the outset Ms. Graves had no chance of securing the vacant Council seat, and OneCity knew it, well before the campaign got underway.
From day one of the 2017 by-election campaign for Council, Ms. Graves was the subject of a take down campaign the likes of which Vancouver has never previously experienced — Vision Vancouver's Mike Lombardi, running for a third term at School Board, and to a somewhat lesser degree, COPE School Board candidate Diana Day, suffered a similar 'take down campaign', ensuring their loss at the polls, but nothing quite so vicious as was experienced by the otherwise recommendable Ms. Graves.
"Judy Graves, bought-and-paid-for: don't waste your vote" was the clarion message voters on the left and the right heard throughout the campaign.
COPE was upset with Judy Graves' candidacy (COPE endorsed Jean Swanson: VanRamblings seconded Alicia Barsallo's motion that COPE not run a candidate, and instead endorse Jean Swanson). Vision Vancouver was none-too-pleased, either, when the Vancouver & District Labour Council endorsed Ms. Graves over Vision candidate, Diego Cardona. And Jean Swanson's campaign team? They were apoplectic at Graves' candidacy! The NPA weren't happy with Ms. Graves' candidacy ("Vision. Boo, hiss."), but took succour from the probability her candidacy would "split the left", and thus secure a seat on Council for their candidate, Hector Bremner.
As the campaign for Council got underway in early September, word lit up social media and spread like wildfire that "Judy Graves is Vision Vancouver light, so developer-friendly that she puts Vision to shame, her consistently strong, entirely wrong-headed and vocal advocacy of any development that comes before Council containing even a bare component of social housing sure to garner her unthinking and fulsome support."
Many Vancouver citizens resident on the eastside, and particularly those in Grandview-Woodland and Chinatown, worked assiduously against Ms. Graves' candidacy. Grandview-Woodland residents who have long opposed the controversial Boffo Development at Venables and Commercial Drive — and have consistently derided Graves' support for the out-of-character, neighbourhood destroying, thin-edge-of-the-wedge market condominium tower development — worked overtime to ensure Graves' defeat. Same thing was true of the organizing team opposing the long controversial Beedie Development at 105 Keefer — which Graves initially supported, and only changed her mind on when she became a candidate for office, and thought better of her support for a development so widely opposed. For the folks working with the Chinatown Concern Group, Graves' conversion to opposing the Beedie Project was viewed as a matter of too little, too late. One only has to take a look at how Graves polled in Chinatown — or Grandview-Woodland, for that matter — to know just how much opposition there was to her candidacy in these two Vancouver neighbourhoods.
The 'active transportation' / bike folks were none-too-thrilled with Graves' insistence on the campaign trail that Vision Vancouver's 'bike lane advocacy' was just as wrong-headed as wrong-headed could be, and that the tens of millions Vision has spent constructing bike lanes would have been better spent building social housing for the thousands of our most vulnerable citizens who are in need of safe, secure and low-cost housing.
The icing-on-the-cake (or the shiv in the back, as the case may be) that ensured a no better than distant fourth place finish for Ms. Graves was the absolutely devastating Mainlander article titled, Rethinking Judy Graves: On Charity, Xenophobia, and Class Collaboration, as withering a take down piece as you'd never want to read.
"Judy Graves' candidacy seems to reflect OneCity's policy of silent support for the governing party and non-criticism of Vision policies, and longtime Vision luminaries have likewise supported the Graves campaign. Where Jean Swanson has directly challenged the 'common sense' tax-cutting agenda, Graves combines a charity approach and a class collaboration approach that has long been popular with developers and the wealthy.

In establishment circles, Judy Graves has been touted as Vancouver's Mother Teresa. Over the decades, Graves has emerged as an establishment figure, who has worked to individualize the fight for housing, and deny the larger forces that create homelessness and evictions on unceded Coast Salish territories. Phrases such as "hard to house," and related concepts that pin homelessness on homeless individuals — including the dominant framing of mental health and addictions — are indelibly associated with the Graves name and legacy.

Graves has been a mainstay on the side of government efforts to close down shelters and disperse tent cities, playing a continuous role in the City's yearly spring closure of homeless shelters, while standing by the intolerable evictions "relocating" people into substandard, unsafe, or non-existent housing.

We don't feel that Judy Graves represents the kind of transformative politics Vancouver needs. The current housing crisis provides an opportunity to radically re-think the foundations of the system — but instead Graves wants to bring back a discredited 'dream' that has consistently failed our most vulnerable citizens. Graves' candidacy pushes for the status quo. We believe it's time for something radically different."
David Chudnovsky, who has a long history of radical politics dating back to the 1970s — VanRamblings remembers when David, as President of the Surrey Teachers' Association, was considered 'too radical' by even the most left-wing folks in the BCTF; it is this very same David Chudnovsky who worked to create the principled, left-of-centre OneCity Vancouver.
Left-wing community activist Charles Demers, who is very much involved with OneCity and is just about as radical as they come (VanRamblings wants to live in a realized society imagined by the humanist Mr. Demers) worked closely, and is best friends, with Derrick O'Keefe, one of the key organizers of Jean Swanson's campaign for office. How is it that Derrick was unable to influence his friend sufficiently to ensure his bff's unadulterated and enthusiastic support for Jean Swanson's candidacy?
Surely Mr. Chudnovsky and Mr. Demers could have foreseen from the outset what the outcome of the 2017 Vancouver City Council by-election would be if OneCity refused the entreaties of the Jean Swanson campaign team to support their candidate: the election of right-of-centre NPA candidate Hector Bremner to Vancouver City Council. We know that neither one of them wanted Bremner to ascend to Council, but that's exactly what happened — and more's the pity for that deleterious election outcome.

No doubt the good folks at OneCity felt it necessary to run a candidate for Council, in order to raise the profile of their nascent civic party and give their very fine candidates for School Board — Carrie Bercic (who, in fact, secured a seat at the School Board table) and her running mate, Erica Jaaf — a better opportunity at the polls on election night, October 14th.
VanRamblings believes that should OneCity have supported Jean Swanson's energized, near-winning candidacy — in the process requiring the Jean Swanson campaign team work to ensure their full support for the two OneCity candidates for School Board — the outcome on by-election night might very well have seen Jean Swanson elected to Vancouver City Council, and both Erica Jaaf and Carrie Bercic seated at the School Board table at the inaugural meeting of the new Board this upcoming October 30th, 2017.
One more column to go on VanRamblings' wrap-up coverage of the 2017 Vancouver civic by-election: the new Vancouver School Board, from the political novices to the experienced politicos. We believe, for the most part, our newly-elected Vancouver Board of Education trustees are comprised of a thoughtful, and overall not-too-partisan group of folks who mean well, and will work in the best interests of our children, and grandchildren.
Part One of VanRamblings 'by-election wrap-up' may be found here.
October 16, 2017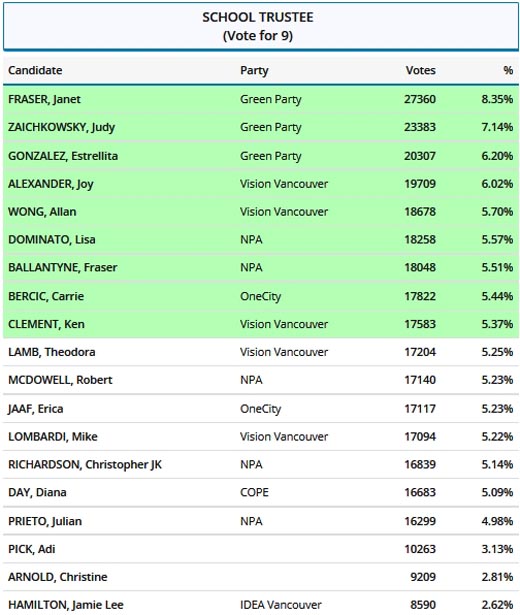 PART ONE: THE NPA, JEAN SWANSON and CARRIE BERCIC
In this 2017 Vancouver by-election wrap-up, VanRamblings will address the elephant in the room. Why did the Vancouver Non-Partisan Association (NPA) not poll as well as VanRamblings had predicted in our Friday post?
The NPA: Saturday morning at 1:28am, VanRamblings received the following brief note from a senior official in the NPA campaign ...
"Read your VanRamblings column calling for an NPA victory later today. Me? I think either the left split guarantees Hector's win, or we finally see the lack of a machine within the NPA laid bare."
In conversations throughout Saturday's voting day with members of a surprisingly none-too-happy NPA crowd, there were several messages received by VanRamblings, the key points that were being made including the fact that ...
Mark Marissen (Christy Clark's ex, a mover and shaker in the B.C. Liberal party, and de facto NPA by-election campaign manager) — despite everything VanRamblings had been told throughout the by-election campaign — ran a disorganized, untargeted, underfunded and generally confusing / losing campaign for Council / School Board. Most NPA folks who weighed in would rather have had Greg Wilson and his Purple Mafia — the political racounteur par excellence who ran Vision Vancouver's successful 2005, 2008 and 2011 campaigns, before he saw the light, pulling a reverse Bob Ransford and joining the NPA — who were the more experienced winning team, with better political instincts and a track record that many NPAers looked upon favourably. So, what happened?
A philosophical split within the ranks. Half of the members of the NPA fashion the party as the New Progressive Association, this group made up of younger, non-partisan, nominally right-of-centre folks (think: former Park Board Chair Sarah Kirby-Yung): bright, educated, driven, democrats to their core, folks who want power for the public good that can be done. Many of these folks are populist, Trudeau-style Liberals.

The other half of the NPA membership: Stephen Harper acolytes, decidedly right-of-centre, traditionalist Conservative / Reform party supporters, who believe less government is better government, folks who think God broke the mold after former provincial Finance Minister Mike de Jong and current B.C. Liberal party interim leader Rich Coleman were born. Never the twain shall meet, it would appear (there's the same push-pull going on in the B.C. Liberal leadership race, with Todd Stone targeted as a 'liberal' ... a nasty thing many B.C. Liberals believe).

Internal political warfare within the NPA cost them votes, as did their lack of a get-out-the-vote machine on voting day, October 14th — all of which saw Hector Bremner eke out a bare victory for the vacant Council seat, and saw two outstanding candidates in Christopher Richardson and Rob McDowell go down to defeat at School Board, as the last returns were reported to the Chief Electoral Officer at Vancouver City Hall.

The one bright light on the NPA campaign, and a person everyone in the NPA was enthused about: Mike Wilson, Hector Bremner's longtime friend and political associate and Bremner's 2017 Vancouver by-election campaign manager, about whom freelance journalist Bob Mackin has written, "Bremner is vice-president at veteran BC Liberal backroomer Norman Stowe's Pace Group and has Mark Marissen and Mike Wilson in his backroom. Marissen is the ex-husband of ex-Premier Christy Clark and was on the inner-circle of the party's disastrous 2017 campaign. Wilson is the former business partner of veteran BC Liberal and Vision message maker Don Millar at the FD Element advertising agency, which scored several no-bid contracts from Robertson's office and set-up a pro-Vision blog called Civic Scene." All said, Mike Wilson emerged as an NPA star-on-the-rise during the course of the 2017 by-election, and is a person whose career B.C. politicos will be sure to follow going forward.
A bitterly low voter turnout of 10.99% didn't help matters for the NPA, either. Once a poll-by-poll breakdown is completed by Vancouver City Clerk Janice MacKenzie (who was also the Chief By-Election Officer), results will likely show a depressed voter turnout in the traditional NPA strongholds of Arbutus Ridge, Yaletown, Dunbar, Kerrisdale, Shaughnessy and Point Grey.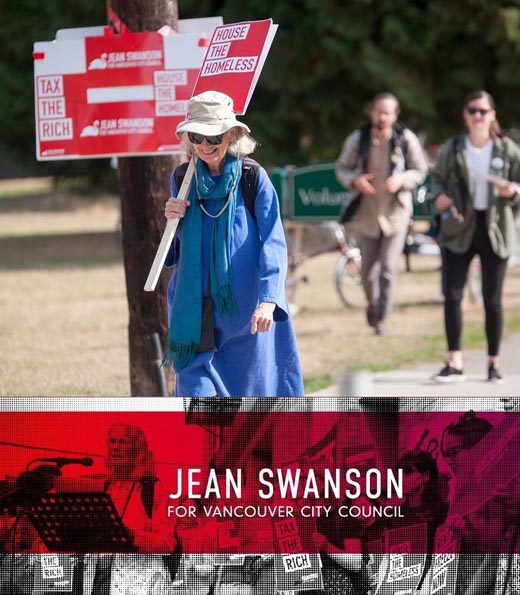 There were several good (and a few not-so-good) results and stories in the 2017 Vancouver City Council and Vancouver School by-election.
Let's start with the two most important outcomes of the by-election ...
Jean Swanson, the socialist, housing activist, revolutionary candidate running for a seat on Vancouver City Council, the only non-neoliberal candidate who put their name forward for the vacant Vancouver City Council seat, the candidate who ran on a platform of free transit, a rent freeze and a mansion tax that would raise $200 million annually to build housing for the most vulnerable among our citizens nearly took the prize on Saturday night, or the whole mcgillicuddy (as VanRamblings' mother used to say), reliant on a message of real, palpable change for the most vulnerable among us (renters, seniors, habitués of the DTES, the working poor, single parents), with the single most energized, organized, vibrantly alive, directed, enthusiastic, broad cross-section of activists election team — constituting everyone from humanist intellectual and community activist Daniel Tseghay, the heart-filled 'gets things done and always remains positive, directed and action-oriented' DTES activist Wendy Pedersen, to the good folks long involved on Vancouver's 'left front', as principled a group of folks as you'd ever want to meet and work with (Tristan Markle, Maria Wallstam and Nathan Crompton, just to name three key activists), former rabble.ca editor and current editor with the non-sectarian, progressive Canadian journal, Richochet, the co-founder of the late, lamented, Vancouver-based Seven Oaks magazine (with his best friend, the entirely tremendous writer, author, comedian, University of British Columbia writing instructor, and incredibly articulate and heart-filled, clear-minded political activist, Charles "Charlie" Demers), father and husband and means-to-make-a-difference Derrick O'Keefe, as well as Riaz Behra — longtime Vancouver political activist and VanRamblings friend and political associate, a co-founder of The Left Front Collective, and another person who means-to-get-things-done, who worked night-and-day on Jean Swanson's campaign, organizing marches, raising funds, assiduously working the line-ups outside the Vancouver International Film Festival venues, and everything and anything that needed to get done to ensure a victory for Jean Swanson, on October 14th, by-election voting day.
Jean Swanson might very well have won on Saturday night were it not for the misguided candidacy of OneCity Vancouver's Judy Graves, subject matter we'll explore in Part Two of VanRamblings' 2017 Vancouver civic by-election wrap-up coverage.
Part Three of our by-election wrap up will offer insight into the incoming Board of Education trustee contingent at the Vancouver School Board.
br>Vancouver School Board trustee Carrie Bercic with her daughter, Sarah and son, Jordan
On an otherwise disappointing Saturday evening, Vancouver's election day bright light is the woman you see pictured above with her children, the incredibly wonderful, bright, heart-filled, tough and tough-minded, informed, community activist, involved, humane, kind, generous, loved by everyone who has ever had the privilege of meeting or working with her, who just celebrated her 25th wedding anniversary to her just as incredible husband, John, a public education activist extraordinaire, and the first elected public official for Vancouver's nascent OneCity Vancouver civic party, your voice around the Vancouver School Board table — the incredibly lovely (c'mon now, everyone knows it to be the truth) Carrie Bercic.
If you haven't read Ms. Bercic's commentary in The Straight, you oughta do so now. Ms. Bercic and her came-so-close-to-being-elected OneCity Vancouver running mate, Erica Jaaf — who, together, were the dynamic duo among the 19 candidates for Vancouver School Board — ran on an activist platform of neighbourhood school preservation (where the NPA wanted to close 11 Vancouver schools this past term, as per a recommendation from VSB staff, which thankfully didn't pass given last November's Supreme Court of Canada ruling re-instating the 2001 BCTF collective agreement torn up by ex-Premier and former B.C. Liberal [mis]-Education Minister Christy Clark) — because neighbourhood schools are the heart of a vibrant, diverse, inclusive, healthy & well-educated community.
Carrie Bercic: working with provincial Minister for Social Development and Poverty Reduction, Shane Simpson, and his absolutely outstanding 'can do' Parliamentary Secretary for Poverty Reduction, Mable Elmore, to ensure that no child goes to school hungry. Check. Working with provincial Minister of Education Rob Fleming to ensure that Vancouver schools requiring seismic upgrading or replacement occurs (much) sooner than later. Check.
Restoration of the all-important VSB band & strings programmes. Check.
Working collaboratively with her fellow Board of Education trustees to ensure that the Vancouver School Board integrates community input and representation in decisions taken by the Board, ensuring that the voices of LGBTQ2S folks, cultural communities, urban Indigenous peoples, those with disabilities, women, people living in poverty, and other marginalized communities are heard loud and clear, while working to end social, political, and economic injustice, and ensuring that when new School Board initiatives are in their nascent planning phase the communities most affected by decisions taken at the Board table will be heard, while ensuring that parents and students and the community-at-large have the power to impact on how those decisions are made, and finally implemented. Check.
Vancouver voters got one thing very right on October 14th: 10.99% of Vancouver's most engaged political citizenry heard Carrie Bercic's clarion message of inclusivity, public education advocacy, reconciliation with our First Nations peoples (and our students enrolled in the Vancouver school system) to ensure the academic and social success of our indigenous students, and her commitment to ensuring the safety and preservation of our neighbourhood schools loud and clear, and on Saturday, October 14th cast their ballot for their advocate at the School Board table.
Congratulations to all those engaged citizens of conscience who cast a ballot for Carrie Bercic, and congratulations to Carrie Bercic herself for a hard-fought, well-deserved victory at the polls this past Saturday night.
Part Two of VanRamblings' 'by-election wrap-up' may be found here.
September 20, 2017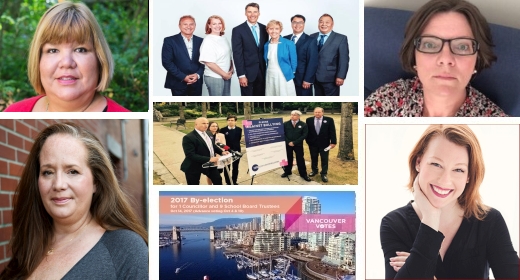 In her report on governance of the Vancouver School Board submitted to the public in February of this year, Vancouver-based lawyer Roslyn Goldner — who was commissioned by the then Acting VSB Superintendent, Steve Cardwell to conduct an investigation, following a complaint from the president of the BC School Superintendents Association respecting allegations of a toxic VSB administrative work environment, and the alleged harassment and bullying of administrative staff by trustees — Ms. Goldner identified the core issue at the heart of democratic school board governance, and the upcoming October 14th Vancouver VSB by-election.
"VSB Trustees hold differing views as to their role. Trustees have espoused either an advocacy model (ed. note: Vision Vancouver) in which they define the role as representing the views of their constituents in the District, or a stewardship model (ed. note: the Non-Partisan Association) which more closely aligns with the view of the British Columbia School Trustees Association (BCSTA)."
When — what is bound to be a too small contingent of — voters go to the polls on October 14th to elect a new 9-member team of Vancouver School Board trustees, the issue of advocacy vs (an unthinking) maintenance of the (too often corrupt, and anti-democratic) status quo will, should and must be at the centre of voters' thinking when they cast their VSB ballot.
Almost the entire stand pat ("we're the provincial Liberal farm team and we sure as heck intend to give the BC NDP government in Victoria the gears") platform of the Vancouver Non-Partisan Association School Board candidates revolves around the hypocritical notion of an anti-bullying policy they intend to ensure is enacted by outgoing, Liberal government-appointed VSB trustee Dianne Turner (who was anti-democratically appointed as the sole VSB trustee last October when the then VSB Board of Education trustees were fired by Minister of Education, Mike Bernier) and new, incoming VSB Board of Education trustees. Note: Ms. Turner was recently appointed to a one-year term as 'special advisor' to the Vancouver School Board, by current BC NDP Minister of Education, Rob Fleming.
Why hypocritical? Although there was no reference made by Ms. Goldner in her report respecting the egregious and untoward conduct of the then sitting NPA Board of Education trustees, VanRamblings was present for all of the main Board meetings of the Vancouver School Board, from December 2014 through September 2016 — and we are here to report that it was the Vancouver Non-Partisan Association Board of Education trustees who consistently engaged in bullying conduct toward their colleagues, and not (read: not) either Green Party Board of Education trustee Janet Fraser, or any (any) of the elected Vision Vancouver Board of Education trustees.
In the last term, although matters commenced well in late 2014, by March 2015 the Vancouver Non-Partisan Association (NPA) Board of Education trustees became so incensed at the Vision Vancouver trustees' parent and student advocacy that the conduct around the VSB table became so heavily pro-Peter Fassbender (then, the BC Liberal government Minister of Education) — who, in the estimation of the NPA trustees could do no wrong (ardent NPA support for then Premier Christy Clark was equally vocal) — that reasonable discussion at the VSB table became all but impossible.
Although VanRamblings believes current NPA school board candidates Rob McDowell and Christopher Richardson to be men of honour and integrity (we possess immense respect for both gentlemen), and although we have heard nothing but positive commentary on NPA School Board candidate Lisa Dominato — the well-respected Ministry of Education Director of Integrated Services and Safe Schools in the recent provincial Liberal government — and we are impressed with the well-spoken, articulate and very bright Julian Prieto — graduate of the University of Toronto / University of Oxford — and believe that each one of these fine individuals has a contribution to make, let there be no mistake, the Vancouver Non-Partisan Association (NPA) School Board candidate team constitute an arm of the B.C. provincial Liberal party, whatever their otherwise good intentions.
British Columbians residing in the urban areas of our province, and in Vancouver in particular, elected a progressive, education-friendly BC NDP government on May 9, 2017. What does that mean for public education?
VanRamblings believes that the electorate wishes to give our new provincial government the opportunity to implement 'change for the better' in our too long beleaguered education system — an expedited plan for the seismic upgrading / replacement of older schools, an expedited plan for new school construction, better and more consistent funding of education, support for adult basic education, programmes and substantial monies directed toward the education of First Nations students (note: for 16 years, the BC Liberal government took $58.3 million dollars of funding out of the Vancouver School Board budget each year, which circumstance changed only with the ruling of the Supreme Court last November) — and so much more.
The very last thing parents with students enrolled in the Vancouver school system want is for Vancouver Board of Education trustees to play politics with their children's education. Parents and educators want to see the implementation of education programmes that enhance student outcomes, and seek to provide opportunity for all students enrolled in the Vancouver school system. Elect the Vancouver Non-Partisan Association (NPA) School Board candidates, and we risk partisan politics trumping student interests.
br>
From l - r, the entirely tremendous Vision Vancouver school board candidate 'public education advocacy' team: newcomer to electoral politics Theodora Lamb, former VSB Chair Mike Lombardi, Ken Clement, Joy Alexander and Allan Wong, each one of whom deserve your vote October 14th.
Make no mistake, it was the Vision Vancouver Board of Education trustees who were the only Vancouver School Board trustees in the last term and in the previous two terms who advocated for the interests of students, who fought against the closure of Vancouver schools (and thank God for that, given the current shortage of classrooms resultant from last November's Supreme Court ruling), who advocated for funding for: aboriginal education, adult basic education, preservation of elementary school band programmes, maintenance of staff for each of the VSB LGBT, anti-racism and anti-homophobia mentor positions, and fought long and hard not to kowtow to the anti-education government of former Premier Christy Clark, and her partisan Education Ministers Peter Fassbender and Mike Bernier.
In the last term, the NPA Board of Education trustees fought against all 'non-core' programmes, and simply rolled over when it came time to implement and pass a budget that would for the 15th consecutive year take tens of millions of dollars out of the Vancouver school system. Bad enough that an entire generation of students enrolled in the Vancouver school system were not given access to English as Second Language, learning disability, speech language pathologist, and library teachers. Worse still: that the Vancouver Non-Partisan Association members of the Vancouver School Board acted as apologists for a government that was only too ready to increase funding for private school education from $66 million annually to $354 million, all at the expense of the funding of public education.

br>From l - r, OneCity Vancouver's Carrie Bercic and Erica Jaaf, and COPE Vancouver's Diana Day
OneCity's Carrie Bercic and Erica Jaaf, and COPE Vancouver's Diana Day are three more must-elects running for a position on the Vancouver School Board, each one of them well-experienced public education advocates. Carrie attended every Vancouver School Board meeting in 2014, 2015 and 2016, and along with her longstanding Parent Advocacy Network 'public education advocate' colleague, Erica Jaaf, have emerged in recent years as two of the strongest public education advocacy voices in British Columbia.
Diana Day, an Indigenous First Nations from the Oneida Nation, graduated with an Honours B.A. in Psychology from the University of Windsor, and has worked as a leader in Aboriginal health, public education and community engagement over the past decade, and sits as Chair of the Vancouver Technical Secondary Schools' Parent Advisory Council (PAC), where her daughter Angeline is currently enrolled as a Grade 12 honours student.
"I have had the privilege of working alongside Diana Day in her capacity as executive on the Vancouver District Parent Advisory Council and want to ask you to save a vote for her as a COPE Vancouver School Board by-election candidate. Ms. Day is a skilled facilitator with a passion for equity and looking out for our most vulnerable students and families. She brings a warmth and humour to her position while being firm, clear and focused. Diana Day is an effective advocate and an empathetic listener and will make an excellent Trustee." — Claudia Ferris, Vancouver District Parent Advisory Council (DPAC) Media Coordinator
The single most frequent issue to come before the Vancouver School Board? Aboriginal education. Funding, resources, preservation or expansion of existing programmes for First Nations students enrolled in the Vancouver school system, liaison with the federal and provincial governments, First Nations student achievement (that while improving continues to be regrettably and woefully low), and protection of the interests of indigenous children enrolled in Vancouver's school system, among a myriad of other concerns and interests. There is no more passionate and informed advocate of and voice for First Nations students than Diana Day — a vote for COPE Vancouver's Diana Day on October 14th is an absolute imperative.
All of us need to hear Diana's voice at the Vancouver School Board table.
Update: Gleaned from former Chair of the Vancouver School Board Patti Bacchus' latest public education column in The Straight, "Voters will get a couple of chances to hear candidates talk more about their promises and plans at a couple of upcoming candidate forums.
The first VSB by-election candidate meeting will be held by the Institute for Public Education, 7:30 p.m., Oct. 2nd at the Trout Lake Community Centre.
The second VSB candidate meeting is set to be held at 6:30 p.m. the following evening, October 3rd, and it's being held by the Vancouver District Parents' Advisory Council, at John Oliver secondary school.
September 15, 2017
br>From top left: COPE School Board candidate Diana Day, Vision Vancouver Council candidate Diego Cardona and OneCity Council candidate Judy Graves, Green Party school board candidates Dr. Judy Zaichkowsky, Estrellita Gonzalez and Janet Fraser, bottom left, independent (who has been endorsed by COPE) Council candidate Jean Swanson, and in the next frame OneCity school board candidates Carrie Bercic and Erica Jaaf (both of whom deserve your vote), with NPA candidate for Council Hector Bremner below them, bottom right, Vancouver Green Party candidate for Council, Pete Fry.
br>
From l - r, the Vision Vancouver school board candidate team (standing with Mayor Gregor Robertson, pictured in the middle): Mike Lombardi, newcomer to electoral politics Theodora Lamb, Joy Alexander, Allan Wong and Ken Clement, each one of whom deserve your vote on October 14th.
On October 14th, Vancouver residents go to the polls in a city by-election to vote for a City Council candidate to replace Geoff Meggs, who resigned his seat on Council to become Premier John Horgan's Chief of Staff.
In addition, voters will be given the opportunity to elect nine trustees to the Vancouver School Board (VSB), the former members of which were fired by the BC Liberal government last October 17th, allegedly for failing to pass a budget for the school year — which wrongheaded Liberal government decision was more about morbid, corrupt and anti-democratic politics as practiced by the Christy Clark government of the day, and much less to do with any sort of wrongdoing on the part of the then VSB school trustees.
Today, VanRamblings will offer a cursory look at the candidates for Vancouver City Council, with reflective commentary on their prospects.
In the main, the fight for a seat on Vancouver City Council is in its essence a three-way fight between Vancouver Non-Partisan Association candidate Hector Bremner, a former executive assistant to current interim provincial Liberal party leader Rich Coleman; Pete Fry, a veteran community activist and the Jane Jacobs-like 'slow growth', neighbourhood-centred 'city building' Vancouver Green Party candidate, whose ascension to Council would provide the current Green Party member of Council, Adriane Carr, a needed seconder for the motions she places before Vancouver City Council; and in a neck-and neck race for the vacant Council seat, Order of Canada recipient Jean Swanson, the principled candidate of substantive and meaningful change whose clarion voice we very much need on Council.
Longtime homeless advocate Judy Graves is the OneCity candidate for the vacant Council seat, while 21-year-old Diego Cardona was appointed as the Vision Vancouver candidate to challenge for the current vacant seat on Council. Although both Ms. Graves and Mr. Cardona are fine people, truth to tell there's a scathing and vicious takedown / whisper campaign (about which we may or not write about another day) that is being waged against both Ms. Graves and Mr. Cardona that makes it all but impossible for either candidate to secure enough of the 'up for grabs' vote for either candidate to be considered serious contenders for vacant Council seat. Alas ...
As Charlie Smith recently wrote in the Georgia Straight, Vancouver Non-Partisan candidate for Council Hector Bremner (pictured above) is the candidate to beat in the upcoming October 14th by-election vote. Why?
Well, in addition to what Charlie has written, Mr. Bremner (or as he's more popularly known among his NPA confrères, the 'parachute candidate') has the full weight of the provincial Liberal party behind him (from October 2014 to December 2015, Mr. Bremner was Executive Assistant to provincial Liberal minister and current interim party leader Rich Coleman, responsible for natural gas development).
Now, Mr. Bremner's LinkedIn profile reports that Mr. Bremner was also responsible for housing (Mr. Coleman was the housing minister in the previous government), but sources tells VanRamblings that simply isn't the case and Mr. Bremner was focused solely on the LNG file.
According to other sources within the NPA, in support of Mr. Bremner the provincial Liberals have supplied to the NPA their entire list of 'marks' (Vancouver-based provincial Liberal supporters), which data when combined with the NPA 'marks' from the 2014 Vancouver municipal election (people who put up signs, donated monies, volunteered and otherwise indicated strong support for the NPA) provides Mr. Bremner with a reliable list of strong NPA supporters on which his campaign might laser focus their resources and attention, each vote from whom Mr. Bremner intends to get out to either the advance polls, or on voting day, October 14th.
And in their class interest (which is to say, not yours and my interests) those supporters are numerous, well-heeled and actually get out to vote.
That the core NPA / provincial Liberal vote resides in Kerrisdale, Shaughnessy, West Point Grey, Dunbar and Yaletown — in which neighbourhoods there was up to a 74% turnout of voters, with up to 74% of the vote going to the NPA in 2014 in these neighbourhoods — whereas in areas like Grandview-Woodlands the turnout was only 20% of eligible voters, with only 13% of the vote going to the NPA (Vision Vancouver secured 67.9% of the vote in this eastside neighbourhood) — means that the NPA has pretty much written off voters in 18 of Vancouver's 24 neighbourhoods as they mount their 2017 by-election campaign, although they will dedicate resources to polling 'stations' in the 18 neighbourhoods across the city where they did well in 2014's Vancouver municipal election.
As Tyler Michaels, by-election campaign manager for OneCity reminded VanRamblings last evening, historically only 33% of residents voting in a general municipal election turn out to vote in a by-election (a record 43.4% of eligible voters in Vancouver turned out to the polls in 2014), which means that all parties putting candidates forward in the 2017 Vancouver by-election expect only a 14% turnout at the polls on October 14th.
Hector Bremner and the NPA are focusing solely on their key constituent neighbourhoods, where they expect an up to 25% turnout, as opposed to 7% - 17% in all other Vancouver neighbourhoods. In 2017, prospects for an electoral victory are a numbers game, and sad to say success augurs well for the Vancouver Non-Partisan Association, the BC Liberal farm team.
The Green Party of Vancouver's Pete Fry has the highest profile of any of the candidates vying for a seat on Council in the 2017 by-election. As a provincial Green Party by-election candidate in February 2016 and a 2014 Vancouver municipal Green Party candidate, Pete Fry is a known quantity, and a popular and well-respected Vancouver politico, with broad support in neighbourhoods across the city, as well as the only 'city building' candidate: green-friendly low-form development in neighbourhoods, green-friendly at-grade transit development, and as Pete has written about his core issues ...
"housing affordability, income disparity, the Downtown Eastside, homelessness, communities under threat, red tape and a de-spirited micro-managed City Hall staff, short term rentals, bogus planning processes — and of course, that soft spot for corruption: the overt financial influence that the real estate industry has over the two big developer parties that run our city, and a commitment to a fairer and more equitable city where all Vancouver citizens might thrive."
Green Party Councillor Adriane Carr needs a seconder for her motions on Council; Pete is that seconder. Pete is a great communicator of untold resonance and empathy, and as a lifelong grassroots community organizer has committed to responding to the calls and correspondence from every constituent who contacts his office (as COPE Councillor Tim Louis did for years), has committed to working with the vibrant and responsive Coalition of Vancouver Neighbourhoods (with representation from all 23 neighbourhoods in Vancouver), while working with community centre, neighbourhood, resident and advocacy associations that span the breadth of our too often beleaguered pacific paradise by the tranquil ocean.
The secret to Pete's success? You. Vote for Pete Fry on October 14th.
To paraphrase late U.S. senator Ted Kennedy in his eulogy for his brother Bobby, "Some women see things as they are and say why? Jean Swanson dreams things that never were and says why not?" Or as Hillary Clinton averred in her 1971 commencement address at Wellesley, "Some see politics as the art of the possible. I see politics as the art of achieving the impossible. And those are the things I very much intend to get done."
With broad support from progressive peoples across our city, Jean Swanson's is the candidacy that could spark real and palpable change for the vast majority of citizens who reside in Vancouver, with a platform that promises that ...
Early in her term, as a newly elected Councillor to Vancouver City Council, Jean Swanson will submit a motion to Council to ...
Officially adopt the position that Vancouver City Council will work to ensure the implementation of a 0% rent increase for tenants over the next four years, while working with the new NDP government to ensure that rent freeze legislation will be introduced during the 2018 sitting of the BC legislature, ensuring that such legislation would prevent landlords from circumventing the Rent Freeze;
Grant renovation permits to landlords only if they demonstrate that any tenants forced to vacate will be provided the opportunity to return at previous rents;
Ensure that the city start immediate production of 2,138 units of modular housing on city owned lots, housing that would be available to singles, families and couples as temporary housing pending provincial construction of new co-operative and resident-managed social housing;
Hold a city-wide door-to-door voter registration for the 2018 city election, ensuring that renters, indigenous people and other racialized groups, as well as permanent residents, can vote in the next municipal election;
Reduce the police budget by 2%, turning the $5 million savings over to investment in community services that promote social justice;
Work towards implementation of a $5 a month transit pass for low-income Vancouver residents, similar to the programme successfully implemented by Calgary Mayor Naheed Nenshi;
Acknowledge that 'No One is Illegal' by expanding and enhancing Vancouver's designation as a Sanctuary City by implementing city policies that would ensure that VPD officers do not report Vancouver citizens to immigration and Border Services.
You know, there was a time in the not-so-distant past when COPE City Councillor Harry Rankin was the top vote-getter, election in and election out, year after year and for decades, with his COPE cohorts Libby Davies, Bruce Eriksen and and Bruce Yorke finding themselves not only being re-elected term after term after term, but emerging as the most popular councillors at City Hall, with broad support in every neighbourhood across the city, especially in Dunbar, Point Grey and Kerrisdale, in times that were less partisan and less mean, and where each and every resident in Vancouver cared about the welfare of all citizens, and recognized theirs and our collective responsibility to care for the most vulnerable among us.
Jean Swanson's independent candidacy for Vancouver City Council is a return to the future, harkening back to a simpler and a better time, and in 2017 for all persons of conscience Jean Swanson is the only candidate for the vacant seat on Council who represents a truly revolutionary change that would mean a fairer and more just society for all, sooner rather than later.
Jean Swanson's is the compelling voice of change that you want and need to hear on Vancouver City Council. Vote for Jean Swanson October 14th.