As results from Tuesday's U.S. elections rolled in last evening, progressive voters across the United States witnessed history as Democratic party candidates made gains in once-conservative districts and majority GOP state legislatures, turning the tide majority blue in one state after another.
Makes no mistake, the results of Tuesday's U.S. election do not portend well for President Trump, and the do-nothing Republican party of which he is the nominal head, all but derailing GOP chances in the 2018 mid-terms.
The Democratic Party's crowning success of the night came in Virginia, where Lt. Gov. Ralph S. Northam, an understated physician and Army veteran, won a commanding victory for governor, overcoming a racially charged campaign by his Republican opponent and cementing Virginia's transformation into a reliably Democratic state largely immune to Trump-style appeals. The Washington Post called Northam's victory, a triumph of "decency, civility and moderation over fear, dread" and the barely veiled racist coding of his opponent, in a welcome rebuke to Trump intolerance.
In the most heartening event of the evening, Virginia's 13th District Democratic candidate Danica Roem smashed a barrier on her way to becoming the first openly transgender person elected to a seat in a U.S. statehouse, defeating her Republican opponent Robert Marshall, who referred to himself as the state's "chief homophobe" and, earlier this year, introduced a "bathroom bill" referencing transgender individuals. Roem's victory brought tears to the eyes of seasoned advocates on Tuesday night.
Roem was one of three transgender persons elected to office on Tuesday. As Sarah McBride tweeted out last evening ...
And in a three-for-three victory for transgender persons, Tyler Titus, a clinical psychologist and a Democrat, won one of four open seats on the Erie, Pennsylvania School Board Tuesday evening, the first openly transgender person ever elected to public office in the Quaker state.
Virginia now has a Democratic governor, as does New Jersey, where Phil Murphy beat out Chris Christie's Lieutenant Governor, Kim Guadagno, in what proved to be a comfortable win for the Democrats. And Philadelphia's new Democratic district attorney, Larry Krasner, has been called the "most progressive, reform-minded District Attorney of any major city in America."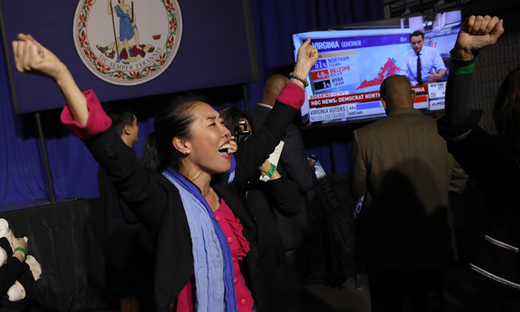 Anyone who believes in equality among all genders, ethnicities, and social and economic classes, witnessed a great many wins for progressives across the United States on Tuesday evening, where (for instance) two black, Democratic Lieutenant Governors — Virginia's Justin Fairfax and New Jersey's Sheila Oliver — were elected. Fairfax is a member of Planned Parenthood of Metropolitan Washington's Board of Directors and has defended women's reproductive rights in the past. Oliver has vowed to invest more in affordable housing, higher education and new industries. "Democrats are going from zero to two black lieutenant governors tonight," Washington Post reporter Dave Weigel tweeted out on Tuesday evening.
In other United States Tuesday night election news ...
The victory of Democratic governors in Virginia and New Jersey will bring an end to Republican gerrymandering in those two states;
Maine voters approved a ballot measure on Tuesday to allow many more low-income residents to qualify for Medicaid coverage under the Affordable Care Act. The vote was a rebuke of Gov. Paul LePage, a Republican who has repeatedly vetoed legislation to expand Medicaid. At least 80,000 additional Maine residents will become eligible for Medicaid as a result of the referendum;
In the highest-profile Washington state legislative race in years, Democrat Manka Dhingra held a 10-point lead over Republican Jinyoung Lee Englund Tuesday night for the 45th District state Senate seat. Ballot counting will continue throughout the week, with the next update coming Wednesday afternoon. At present, a Republican-led coalition holds a one-vote majority in the Senate, while Democrats control the House and the governor's office. Tina Podlodowski, chairwoman of the Washington State Democratic Party, told the Seattle Times that a victory by Dhingra will flip the state of Washington completely blue, becoming the last brick in the big blue wall up and down the West Coast;
And then there are the small victories such as the one that occurred nearly 10 months after New Jersey Republican legislator John Carman shared a meme on Facebook asking if the historic Women's March would be "over in time" for its participants to "cook dinner," the response of newfound Democratic candidate Ashley Bennett to the "social media mocking and belittling people who are expressing their concerns about their community and the nation" resulting in Bennett soundly defeating and taking Carman's seat on the Atlantic County Board of Freeholders, a nine-member governing body that oversees politics in the South Jersey county. Bennett was one of thousands of women across the United States to dive into politics after Trump's victory last year. Hallelujah;
On Tuesday evening, two powerful, veteran House Republicans announced they would not seek re-election next year, the latest conservative lawmakers to commit to leaving office under President Trump. Representatives, Frank A. LoBiondo of New Jersey and Ted Poe of Texas, made their announcements within hours of each other and added their names to a growing list of Republicans bowing out before the mid-term elections. The rush of retirements — 29 House Republicans have left office or announced plans to leave within the past year, compared to only 7 House Democrats — has led some, particularly eager Democrats, to believe that the House of Representatives could look very different in 2019.
Though it's true Americans elected Trump just one endlessly long year ago, 2017 Election Night might be proof that politics and ideologies are shifting — and that those who want change are acting on the desire by voting.
Posted by Raymond Tomlin at November 8, 2017 1:35 AM in Politics