Every year in late September thru mid-October, for 36 years now dating back to 1981, for 16 magnificent days the Vancouver International Film Festival brings the best of world cinema to our shores, offering as it has for so very long a humane, engaging window on our often troubled world.
But what of the remainder of the year?
Where will cinéastes find the best in world cinema over the remaining 50 weeks of the year? The answer is simple: the comfy-as-all-get-out 175-seat Vancity Theatre located at 1181 Seymour Street at Davie, designed by Hewitt and Kwasnicky Architects, and opened in September 2005 just in time for that year's tremendous-as-always annual Vancouver film festival.
Yes, the year-round venue of the Vancouver International Film Festival (VIFF) is a warmly inviting not-for-profit cinema, operated by the film festival society on a site leased to VIFF at a nominal rate by the City of Vancouver, the City extracting from the developer, the Amacon & Onni Group (in exchange for greater height of their two Brava condominiums), a community amenity contribution that led to the construction of one of Vancouver's most important year-round cultural resources, The Vancity Theatre — for which construction contribution you would have to think the late, celebrated Vancouver City Councillor Jim Green played a pivotal role.
br>The comfy year-round VIFF venue, the 175-seat Vancity Theatre on Seymour, at Davie
Unlike the Toronto equivalent of The Vancity Theatre — The Bell Lightbox Cinema — which is losing money and contributing to the many woes of the Toronto International Film Festival, our Vancity Theatre is doing just fine.
Globe & Mail Arts Editor Barry Hertz and Molly Hayes have reported ...
Audiences aren't showing up for screenings at the Lightbox building on King Street West, designed to provide a headquarters for TIFF year-round and serve as a draw for both local film lovers and tourists.

Conversations with more than 40 current and former TIFF employees, and two dozen other individuals close to the organization, present a picture of an institution whose vision is unarticulated and whose current business model appears to diverge with industry and audience trends.
Why is the Vancity Theatre doing so well in the era of streaming sites such as Netflix & Amazon Prime, which has viewers shifting their focus towards Dolby 7.1 surround-sound all-the-bells-&-whistles QLED home theatres?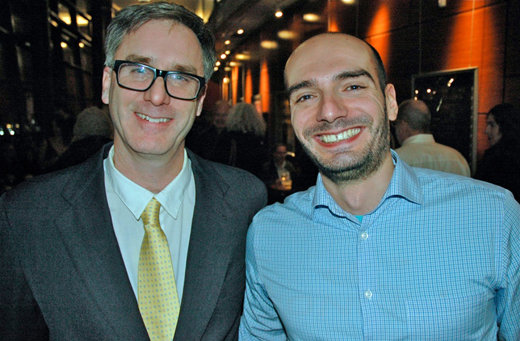 br>Vancity Theatre's Tom Charity, left, with the Italian Cultural Centre's Giulio Reccchioni
Two words: Tom Charity, who then VIFF Director Alan Franey (currently VIFF's Director of International Programming) identified as a potential saviour of a Vancity Theatre which had fallen on hard times audience-wise. Since 2012, the utterly calm and phenomenally astute Mr. Charity has tapped into the unconscious consciousness of every demographic of film lover who resides across the Metro Vancouver region, and programmed The Vancity Theatre to a dizzyingly captivating and undreamed of success.
The new film from acclaimed Australian director Benedict Andrews, Una (just click on the preceding link for dates and times) — which given the current, righteously angry #MeToo furore couldn't be more timely, given the film's sexual trangression subject matter, stars Rooney Mara, Ben Mendelsohn and Ruby Stokes in what can only be described as a challenging, transgressive film — opens today at The Vancity Theatre. There are only 7 screenings between this evening & Una's final screening, Saturday, Nov. 11th, so you'll want to purchase your tickets soon.
The Divine Order, one of VanRamblings' 5 favourite films at VIFF 2017, and Switzerland's Best Foreign Language Film Oscar nominee, opens two weeks from today, on Friday, November 17th. The Divine Order is simply a knockout, providing a gentle, humane, slice-of-real-life insight into the plight of Swiss women prior to 1971, when women were not allowed to vote, and were little more than chattel. The Divine Order, though, is as far as you could get from dour, this suffragette feminist film embracing hope, with a good deal of warmth and humour in the mix. We'll write more about Petra Volpe's The Divine Order on its opening day at The Vancity Theatre.
Click on this link for a full listing of all the films Tom has booked into The Vancity Theatre between now and December 3rd. Tom always books a rockin' holiday season programme (one could almost live at The Vancity Theatre from early December through early in the new year, and be all the better for it). The Vancity Theatre. Make a commitment to yourself: attend VIFF's year-round venue this month or next. You'll be mighty glad you did.
Posted by Raymond Tomlin at November 3, 2017 1:35 AM in VanRamblings