BC Politics
October 27, 2014
Under the Non-Partisan Association administration of Mayor Sam Sullivan, a long and divisive civic strike of Vancouver's inside, outside, and library workers began on July 26, 2007, dubbed "Sam's Strike" by the union.
The strike lasted 88 days.
The unions, mustered by CUPE, blamed Sullivan's intransigence at the bargaining table for prolonging the strike, the union citing that the city's failing to table a written counteroffer as evidence of the city's bad faith.
Eventually, a mediator was called in, who recommended 17.5% [21% compounded] in a five-year contract, which was the amount accepted by all the other municipalities in Metro Vancouver. When two of the civic unions rejected the recommendation, public support collapsed; within a week a new vote by the three civic unions, with 1% more added to the contract than was the case across Metro Vancouver, and a deal was accepted.
In fact, the strike was purposefully prolonged by then CUPE 15 President Paul Faoro to create animus for the NPA, such ill-feeling that might lead to a victory for the nascent Vision Vancouver civic party. During the course of the strike, Mike Magee, Geoff Meggs and Paul Faoro struck a deal — with the election of a Vision Vancouver civic government, Vision would guarantee to CUPE that the city would pull out of the regional labour relations bureau.
Daniel Fontaine, writing in CityCaucus, wrote about "the deal", in an October 29, 2009 article titled, "Geoff Meggs hands CUPE a major victory."
In mid-2011, longtime CUPE 15 President Paul Faoro once again sat down with now Chief of Staff to the Mayor, Mike Magee, and first-term Vision Vancouver City Councillor, Geoff Meggs.
The deal that was struck this time was this: the City of Vancouver would guarantee to CUPE the City would settle an upcoming 3-year contract at 9%, as they had with the VPD and the firefighters. In fact, CUPE settled for 6.87%, with strict "no contracting out" provisions, an increase in benefits & pension plan provisions, the contract now coming in at 9%, as promised.
Once the deal was done, CUPE committed to spending $1.5 million to get Vision Vancouver re-elected; that's $1.5 million not as a direct, accountable donation, but $1.5 million that would be off-the-books. As elucidated in Bob Mackin's article in the Vancouver Courier, donations to Vision Vancouver from CUPE topped $245,250 — and that figure doesn't include the $63,000 donation from the HEU, a CUPE sister union.
Vision Vancouver turned over to CUPE their 16,000-name membership list. CUPE has a master list of 45,000 Union members who live in the City of Vancouver. CUPE hired 1,600 workers to get the vote out for Vision Vancouver, running a fear campaign against the NPA, "the party that brought you 'Sam's Strike', will contract out jobs at City Hall, put city workers on the bricks, and as the Liberals' farm team will set the tone to allow the Liberals to keep to their '0-0-0' mandate."
We all know how the last election went: in 2011, almost every one on the 45,000-strong Union member list came out to cast a ballot for Vision, as was the case with the 16,000-strong Vision Vancouver membership list.
Kirk LaPointe and the Non-Partisan Association's job in 2014 is to steal away 5,000 to 8,000 Union votes from Vision, by assuring these union members that the NPA will negotiate a fair contract with city workers, that an NPA administration does not intend to contract out jobs, and that although an NPA administration will not negotiate side deals with CUPE and other unions, an NPA administration would settle with its workers for no less than the standard union contract agreed to across Metro Vancouver.
With all due respect to Non-Partisan Association campaign manager, Doug Leung, and the affable and very bright Kirk LaPointe, the NPA's number one job between now and election day, if the NPA wants to secure victory on November 15th, is to garner a fair percentage of the Union vote.
In terms of securing a portion of the union vote, Kirk LaPointe had a bad week last week. In a Province newspaper opinion piece response to Bob Mackin's article, titled "Vision Vancouver's cash-for-jobs deal with city union is corrupt", LaPointe wrote ...
Vision Coun. Geoff Meggs, speaking for Vancouver Mayor Gregor Robertson, recently told a meeting of CUPE Local 1004 that the mayor was committing to not contract out any other city jobs. In turn, Vision was given financial and political support. No wonder Vancouverites don't trust city hall under Vision. Corruption corrodes confidence and this commitment smacks of political backroom deals of yesteryear.

It puts Vision's interests ahead of the city's and taxpayers.

Being clearly beholden to the city's workers right now is an irresponsible service to the city. The union is approaching contract discussions, and any early definition of the city's bargaining position is a breach of fiduciary duty.

It gives away the store.
Mr. LaPointe, guess how much Union members care about "giving away the store"? About as much as Mike Magee, and the Vision folks, want to see an overwhelming NPA majority victory come late evening November 15th.
Union workers, like all workers, already feel hard done by, that they're not getting their piece of the pie, that the corporate 1% (which is how your opposition Vision Vancouver opponents have defined you) are ever-intent on grinding the interests of workers into the ground.
Kirk LaPointe and the Non-Partisan Association never, ever want to play into that narrative. Rather, if the NPA want to win this election, they must present Kirk LaPointe in much the way Naheed Nenshi, Calgary's mayor, was presented when he won back-to-back terms in the mayor's office.
The Non-Partisan Association, if they're interested in victory at all, would want ensure that their mayoralty candidate is defined as, "Kirk LaPointe, a Mayor For All The People, Union Members, Our Multi-Cultural Population, Teachers, Health Care Workers, The Poor and the Downtrodden, Children Who Go To School Hungry Every Morning, A True Man of the People, The Once and True Leader of the West Coast Progressive Purple Revolution."
In a Globe and Mail article published today, titled "Vancouver Mayor Gregor Robertson grilled on union at debate", freelance Vancouver civic affairs writer Frances Bula writes, " ... the Vision Vancouver mayor didn't have an answer when he was prodded at the four-candidate debate Sunday about what his party might have promised to a major city union in exchange for $102,000 in campaign donations."
There was a back-and-forth between Gregor Robertson and the NPA mayoralty candidate, Kirk LaPointe, who lambasted the mayor for tying "the hands of the city in the next round of bargaining" with the outside workers, whose contract is due to expire in December of 2015." Yada, yada, yada.
Bula goes on to write that Robertson, "during the debate and in a scrum afterward, would not acknowledge that the party has a long-standing commitment to maintaining the contracting out of city services at current levels, even though Mr. Meggs has said it does." No kidding. It's not as if Mike Magee, Geoff Meggs and Paul Faoro have ever shared the information with the Hollyhock cult king of Vancouver (oh sorry, "Mayor") — why would they, "Mayor" Robertson is only a sorta handsome sock puppet?
Vision Vancouver relies on four distinct voting blocs as its base of support: union members, a rabidly engaged cycling community, voters of Chinese descent, and members of the LGBTQ community, each of which voting group Vision Vancouver pursues with not a small degree of abandon.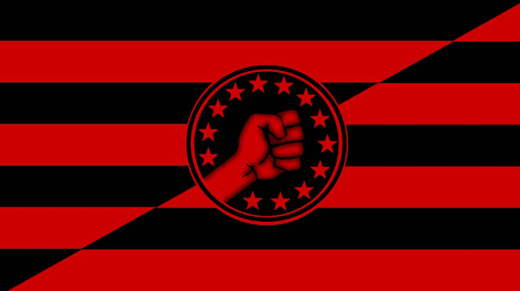 The massive vote of union workers who reside in Vancouver, mustered by former CUPE 15 (City Hall inside workers) President, and current CUPE BC Secretary-Treasurer, Paul Faoro, represents the largest constituency of voter support for Vision Vancouver — given such, there is virtually no end to which Vision will go, no reasonable promise that Vision is not prepared to make, to secure their largest and most crucial-to-their-re-election vote.
Although not for Mr. Juice Boy / Sock Puppet / Hollyhock cult boy (aka "The Mayor"), Vision Vancouver's raison d'être — well, at least Geoff Meggs' raison d'être — revolves around a rejection of the contemporary economic notion of the race to the bottom, where business and government — think the provincial Liberals or the federal Conservatives — set about to grind workers' economic interests into the ground. In B.C., and in most other North American jurisdictions, we've been down so long it looks like up.
In rejecting the neo-liberal notion of the race to the bottom, Vision Vancouver has set about to create the economic conditions where they will ensure their support for, first, the economic interests of their own city workers, and globally, the economic interests of workers' across the province. Here's how Vision Vancouver expresses their contemporary version of the Wobblies' 'workers of the world unite' narrative ...
"We've got your backs, we know you have families to care for, bills to pay, that as the cost of living continues to rise, you deserve a fair wage increase when next you bargain for a new contract, we know how important your job is to you, how important your job is to your family, and we here today commit to you that under a Vision Vancouver civic administration city worker jobs will not be contracted out."
Vision Vancouver, then, has announced a central tenet of their re-election platform, even if this particular aspect of the platform is surreptitious in its application, and held from the view of the voting electorate of the city.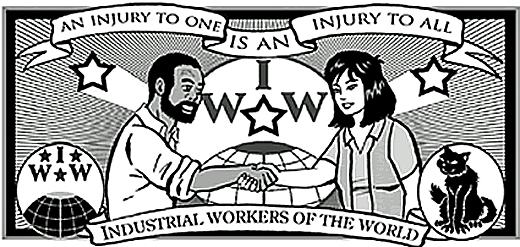 There are a great many aspects of Vision Vancouver's time in power that may be criticized with fulsomeness. A Vision Vancouver civic administration protecting the economic interests of city workers is not one of them.
Geoff Meggs has spent a good deal of his life sitting in Marxist reading rooms, along with his contemporaries.
Kirk LaPointe and his Non-Partisan Association colleagues, naïfs that they are, wouldn't know a Marxist reading group if it smacked them upside the head. And, really, when you get down it, the acceptance of such notion is, well, kind of sweet (in a naive and somewhat becoming, and innocent way).
Still and all, for better or for worse (and much to the chagrin of VanRamblings), the Non-Partisan Association seems to have found a winning election issue — corruption at Vancouver City Hall, the promise to city workers that the public service in the employ of the city will be treated fairly at the bargaining table when the next contract is negotiated.
Somehow, in our contemporary economic climate, and in accord with the accepted economic notion of the race to the bottom, City of Vancouver workers getting a fair shake for themselves and for their families is a terrible thing, an egregious breach of political ethics — as one might imagine, an issue in this election that has found resonance with the electorate — and the one, sustaining election issue that may lead to the ignominious defeat of Vision Vancouver at the polls, come the evening of November 15th.
We live in strange, and perilous, social and economic times, indeed.
October 25, 2014
The following is an October 23rd editorial in The Province newspaper.
Vancouver Mayor Gregor Robertson and his Vision strategists clearly think that pointing out their main opponent's lack of elected experience is a winning strategy. Robertson and other Vision politicians have repeated the point of late, including during Wednesday's mayoral debate at Langara College when Robertson finally deigned to face off against Kirk LaPointe of the NPA. But it demonstrates, as is too often the case with Vision, real arrogance that voters should really think about.

LaPointe may not have been elected to office before but as a senior journalist, CBC ombudsman and adjunct professor at UBC he's been involved in politics and thinking about political issues for a lot longer than Robertson.

What's the mayor saying? That it is ridiculous for LaPointe or other newbies to run for office? That only elected politicians have enough brains or ideas to be elected? If that's true, what expertise did Robertson bring to the mayor's job when he was first elected after short careers as a juice maker and opposition MLA?

LaPointe is raising issues that many Vancouverites are concerned about — the appalling traffic, secrecy at city hall, the lack of real public consultation in city planning and Vision's focus on issues outside the city's mandate. He may not have detailed solutions yet to all those issues, but Robertson either has none, doesn't care or is the source of the problems.

Democracy thrives on new ideas and new people; Robertson sounds like he believes he has some divine right to rule. The mayor should stop attacking LaPointe's résumé and start debating the issues.
The Province newspaper's editorial pages editor is Gordon Clark, who can be reached at gclark@theprovince.com. Letters to the editor, specifically on the editorial above, can be sent to provletters@theprovince.com.
October 21, 2014
Canadians hold this axiom true: we are our brother's (and sister's) keeper.
In Canada, we live in a compassionate society, where the common good is the responsibility of all. Our socialized medical system is world class, as is our education system. Government fulfills its responsibility to provide a functioning judiciary that ensures public safety, an active and well-
functioning transportation system meets the needs of all sectors of our society, and we strive to care for those among us who are most in need.
In Abraham Maslow's famous hierarchy of needs, we satisfy our needs in a well-defined order. At the pinnacle of Maslow's pyramid? Shelter. With our need for food, shelter, good health, safety and community met, the conditions are present where we might lead a fulfilling, purposeful life.
In post-WWII Canadian society, as was expressed in our earlier post on development, the need for shelter was met, predominantly, through the construction of single-detached family homes. In the 1960s, Canadian society sought to ensure the provision of shelter for those most in need, as federal and provincial governments moved to build non-market housing.
When urban social housing projects like Raycam in Vancouver, and Regent Park in Toronto proved a ghetto-ized failure, at the behest of the federal government, a commission was struck to develop a 'made in Canada' solution to meet the need to house not just the indigent population, but members of the creative class, low-wage workers and single-parent families.
Through amendments to the National Housing Act, in the early 1970s the federal government launched the first programme to develop housing co-operatives, creating more than 60,000 non-market homes in co-ops across our land. Housing co-operatives ("co-ops") provide a place for people to live. In 2014, there are currently more than 2,000 housing co-ops across Canada, housing more than 111,000 community homeowners.
Housing co-operatives come in all sorts of forms and sizes, ranging from collections of townhouses and small, condominium-style buildings with 4 — 20 units, to large apartment-style buildings with hundreds of units. What sets co-ops apart from private rental housing is that they are democratic, community-owned housing developments, where residents take on the full responsibility for making decisions on how the co-op functions, for its finances, its ongoing maintenance, and for its members' responsibilities.
Phase 2 housing co-ops: co-operative housing built along the south shore of False Creek
Current T.E.A.M. member / architect, and 1972-74 T.E.A.M. Park Board Commissioner, Bill McCreery, has written to VanRamblings stating that the construction of housing co-operatives "was a joint effort on the part of the City (T.EA.M.), federal Liberal minister of the day, Ron Basford (and his Deputy, Peter Oberlander), and Shirley Schmidt, acting for Dave Barrett's early 1970's provincial NPD government. This era of intergovernmental co-operation is unprecedented, and it highlights what can be accomplished when it happens. Something we should be striving for today." Bill goes on to point out that all Phase1 co-ops were 2 or 3 storey townhouses, while Phase2 co-ops, as above, were mostly mid-rise, 4 to 6 storey structures.
Among the first housing co-operatives built in Vancouver were the co-ops along the south shore of False Creek, between Granville Island and the Cambie Street bridge. With the support of the province, and under municipal by-law, one-third of all large-scale housing development would be housing co-operatives — which is to say, one out of every three buildings along False Creek's south shore is a housing co-op, as was the case when the construction began in the 1970s, and as it remains to this day.
Government does not own the housing co-operative; rather the co-operative is owned collectively by its members. Almost the sole role of the federal government is to provide surety to the financial institutions that lend the monies to the members of the co-operative for the purchase of land and construction of the housing. No housing co-operative in Canada has ever declared bankruptcy — the federal government has never had to assume the financial obligations of housing co-op members, at any time.
No one in a housing co-operative pays more than one-third of their income for their housing, the co-operative model mandating that one-third of the members of the co-op will receive full subsidy out of the operating funds of the co-op, while another third are granted a partial subsidy, the remaining one-third of members required to pay the low-end of market housing rate.
Co-op members pay no more than 30% of their income for housing.
Note should be made that a significant portion of housing units in a co-operative housing complex are set aside for 3-bedroom, affordable family housing — meeting the most pressing need of young families who have been unable to find suitable homes to raise their children in a safe and secure community environment, in Vancouver's woefully underserved housing market for our city's burgeoning population of young families.
Generally, the one-third of members on deep subsidy consist of single parents, pensioners and members of the disability community. The middle third are generally comprised of low-wage income earners, and members of the creative class (writers, artists). The final third, that part of the co-operative membership who pay the low-end-of-market rate are comprised of a broad cross-section of our community, business persons, teachers, and other higher income earners, each one of whom is a person of conscience dedicated to the interests of the community — for being a member of a housing co-op entails work, and a great deal of personal and social responsibility on the part all of the co-operatives' members.
In the 1970s, in Vancouver and across British Columbia, with the election of Dave Barrett's NDP provincial government, and the election of the TEAM civic government of Art Phillips, we moved away from the social barbarism of the years of provincial premier WAC Bennett and Vancouver's misguided mayor, Tom Campbell, into a new, enlightened era of social responsibility.
Co-operative Housing Built By Bosa Development as a Community Amenity Contribution
In the 1980s, with a faltering provincial economy, the social obligation that mandated that one-third of all large-scale housing development consist of housing co-operatives was reduced to one-quarter, or 25%. For instance, when a developer such as BOSA set about to construct the mass of highrises along Main and Quebec avenues between the Georgia Viaduct and Terminal avenue, and as BOSA built 2000 condominium units, the company was required to construct 500 social and housing co-operative units.
In the 1990s, that obligation was reduced to 20%, in the early 2000s to 15%, and under both the NPA administration of Sam Sullivan and during both terms of the Gregor Robertson-led Vision Vancouver civic administration, the obligation of developers to construct social housing units and housing co-operatives was eliminated entirely. Thus, we are left with the affordable housing crisis we face today, and the number one issue on the minds of the electorate in 2014's Vancouver municipal election.
Back to the Future: Electing a New Vancouver Civic Administration
Watch the human-scale, informative video on housing co-ops, above. You'll be glad you did.
Fortunately, with the prospect of a socially responsible and progressive Non-Partisan Association municipal administration at Vancouver City Hall, supported by members of the Green Party of Vancouver and COPE, the Coalition of Progressive Electors, the potential to once again engage in the construction of housing co-operatives exists not far off on our horizon.
In the 1970s, the TEAM administration of Art Phillips created the Property Endowment Fund (PEF), consisting of the real estate assets of all city-owned property, designated by Mayor Phillips and the Council of the day as a rainy-day fund, a portion of the PEF that might someday be dedicated to the construction of housing for those in need. You've probably noticed that it's not just raining out there, there's a deluge.
At present, there's $3½ billion dollars in the Property Endowment Fund — the time has long since past that Vancouver's civic administration dedicate a portion of the PEF to the construction of housing co-operatives. Why co-operatives, and not COPE's housing authority? A couple of reasons.
COPE's housing authority would require a new and costly level of civic administration at City Hall, when there's already attendant bureaucracies in place that administer housing co-operatives, which are a joint responsibility of the provincial government through its housing agency, B.C. Housing and through its arms-length provincial Agency for Co-operatives, as well as B.C.'s much-heralded and respected Co-operative Housing Federation.
Secondly, housing co-operatives provide a salutary, non-market form of home ownership, where collectively the members of the co-operative assume the day-to-day responsibility for the operation of the co-operative, as we do our own homes. Members of a co-operative are not tenants, we are homeowners, which is to say we are maîtres de notre propre maison.
When the Vision Vancouver civic administration approved Jimmy Pattison's massive development at Drake and Burrard, $42.6 million in community amenity contributions was extracted from the developer, Reliance Holdings. Do you know how much of that $42.6 million was set aside for the construction of social housing, or housing co-operatives? Nada, zero, zilch — Vision Vancouver City Councillor Kerry Jang and Mayor Gregor Robertson expounding that "there's no shortage of social housing in the West End."
The no-cost to the taxpayer, no cost to a Vancouver municipal administration solution to the affordable housing crisis in our city?
Extract parcels of land from the Property Endowment Fund, lease the land to members of the proposed housing co-operatives (with oversight provided by the provincial government, and the Co-op Housing Federation), and require that no less than 25% of developer Community Amenity Contributions be set aside for the construction of housing co-operatives.
The income derived from the member housing charges is paid to the city, a portion of which is set aside for annual co-op maintenance, for the co-operatives' replacement reserve fund, for any administrative costs that might be incurred by the co-op, and for property tax paid to the city.

A new Vancouver civic administration must tackle the issue of affordable housing in the city of Vancouver, upon assuming office. Vision Vancouver has proven themselves to be not up to the task. A renewed and progressive Non-Partisan Association municipal administration, working with members of the Green Party of Vancouver, COPE, and the Cedar Party will provide responsive and responsible government at the municipal level.
When you fill out your ballot — at the advance polls, or on November 15th — vote for a new Vancouver civic administration: vote Green Party of Vancouver, vote Vancouver Cedar Party, and vote for the candidates running under the Non-Partisan Association banner. For only the NPA, COPE, the Cedar Party candidates, and the Green Party's Adriane Carr, Pete Fry and Cleta Brown have dedicated themselves to a community-led solution to Vancouver's present appalling and dire affordable housing crisis.
October 20, 2014
The angry, power-hungry, dissolute male of the human species has made a hash of things, when it comes to the political realm and the common weal.
In Vancouver in 2014, we have two male mayoral candidates in Gregor Robertson and Kirk LaPointe who have set about to beat each other about the head, it is men who are in control of political campaign management in the current election cycle, developers who are all male and union leaders who are also all male who control the bulk of the party campaign financing, as these latter males set about to ensure that you vote the "right way".
In Vancouver's dysfunctional, debauched political system, there's not a lot of principle, and perhaps even a dearth of ethics, in the choices with which we are being confronted when we head to the polls on November 15th.
VanRamblings is here to suggest to you that there is a better way, a more principled path forward in Vancouver's political realm, where government of good conscience would be all but guaranteed, where consensus and respect and fairness in the political process and for the participants involved in the decision-making process would carry the day, where the disquieting political maelstrom with which we have become all too familiar would finally, once and for all, draw to a salutary and certain-to-be-celebrated close.
VanRamblings' advice? When you go to the polls on Saturday, November 15th, vote only for the principled, bright, able, capable, insightful, ethical, and outstanding women of conscience who have placed their names on the ballot for Vancouver City Council, for Park Board and for School Board.
Note should be made that one of the side benefits of voting all-women slates on Vancouver's three civic bodies is that no one party would have a majority — in consequence, in order for governance to take place a working consensus would have to be developed, reason would come to prevail, and the likelihood would be that the decisions that would be taken at Council, Park Board and School Board would, almost inevitably, be very much to the benefit of the broadest cross-section of the Vancouver electorate, and families of every description living in every neighbourhood across our city.
In 2014, Meena Wong has emerged as the only mayoral candidate who will make a difference, as she has advocated for the construction of 4,000 affordable housing units in Vancouver over the course of the next 10 years, raising the monies to pay for COPE'S campaign promise through the imposition of a tax on absentee homeowners, and a renewed focus on the construction of affordable housing, through developer community amenity contributions; advocating, as well, for changes to the Vancouver Charter that would allow both the implementation of a $15-an-hour minimum wage, and putting an end to renovictions in the city of Vancouver.
For Vancouver City Council, there is no better choice than our hardest working City Councillor, Vision Vancouver's Andrea Reimer. Vote for her colleague Niki Sharma, as well — for there is no more principled candidate for office in 2014 than the incredibly thoughtful and articulate Ms. Sharma.
In the Non-Partisan Association's Suzanne Scott, voters have discovered a community activist who holds a Ph.D. in Educational Studies from UBC who has emerged as the hardest working candidate for City Council in the current election cycle. In her colleague, the entirely wondrous, hard-working democrat Melissa De Genova, as those who follow Park Board have long been aware, in Melissa voters have a citizen advocate who is without equal.
When it comes to the Green Party of Vancouver, since her election to Council in 2011 there has been no more powerful advocate for the public interest than Adriane Carr. In 2014, vote for her Green Party colleague, Cleta Brown, as well — a retired lawyer and tireless social justice advocate who has impressed with her cogent writing on the political process, and at each of the all-candidates meeting she has attended.
When it comes to marking you ballot in November, cast a vote for Coalition of Progressive Electors' candidate Gayle Gavin, who in her law practice has advocated for tenants' rights, won precedent-setting judgments enshrining the rights of disabled persons to dignity, and fought for local food security in the successful campaign to save the UBC farm. Social justice advocate and artist Jennifer O'Keefe — young and principled, a wonderful writer with a clarion vision, and whose energy we very much need on Council — is a must-elect at the polls on November 15th, a voice of hope to ensure a future where fairness becomes a central principle of municipal governance.
In the Vancouver Cedar Party's Charlene Gunn, voters have heard an unparalleled voice of intelligence and compassion, and have found a slow growth advocate committed to empowering those of us who live across Vancouver's diverse, engaged neighbourhoods. Service to community has set Vancouver First's Elena Murgoci apart from her Vancouver First colleagues, a multi-lingual MBA in International Business Management who would well serve the interests of Vancouver citizens.
And let us not forget, either, the Non-Partisan Association's caucus chair and arts advocate, two-term City Councillor, Elizabeth Ball. Or, Heather Deal, Vision Vancouver's three-term Councillor, who is Council's majority party arts advocate, and who was key in the realization of Vancouver's successful food cart programme.
COPE's Lisa Barrett, a former Mayor of Bowen Island, impressed at last week's St. James Hall all-candidates meeting, and her COPE colleague Audrey Siegl has been front-and-centre in the fight against homelessness. Vancouver First's Mercedes Wong, whose 30-year career in corporate finance and two decades as a residential and commercial realtor, is worthy of your consideration, as an informed advocate on development issues.
The question that is posed most often to VanRamblings in this current Vancouver civic election cycle is, "Who should I vote for, which candidates are worthy of my placing a checkmark beside their name when I cast my votes for Council?" In 2014, the answer is clear: vote for the principled women of conscience running for office in the Vancouver municipal election.
At Vancouver Park Board, the choices are easy: the very able consensus builder, Catherine Evans, and her Vision Vancouver colleagues, Coree Tull and Sammi Jo Rumbaua; the Non-Partisan Association's Erin Shum and Sarah Kirby-Yung; former Park Board Chair, COPE's Anita Romaniuk, and one of her colleagues Cease Wyss, or Urooba Jamal. Or, save a vote for independent candidate and Park Board watchdog, Jamie Lee Hamilton.
At School Board, re-electing Patti Bacchus to a third term in office is the easiest decision you'll have to make in the 2014 Vancouver municipal election. The same is true for the incredibly bright and hardworking Cherie Payne. Newcomer Joy Alexander is also worthy of your consideration as Vision Vancouver's newest candidate for School Board. The NPA's Penny Noble and Sandy Sharma are first-rate candidates for School Board, as is COPE's Diana Day — one of the new must-elects for School Board.
Ms. Day's COPE School Board candidate colleagues Ilana Shecter, Heidi Nagtegaal and Kombii Nanjalah are more than worthy of your consideration, as well. The Green Party of Vancouver's Janet Fraser is one of the most talked about education activists seeking office this year — and the word on Ms. Fraser is good, very good, indeed. You'll also find Vancouver First's Susan Bhatha's name is on the ballot, for School Board.
Fuzzy iPhone photo of Public Education Project candidates Jane Bouey and Gwen Giesbrecht
Apart from must-elects Patti Bacchus, Cherie Payne, Joy Alexander, Diana Day and Janet Fraser, by far the most-qualified, hardest working and most committed education activists in the current election cycle are the Public Education Project's Jane Bouey and Gwen Giesbrecht — who catapulted into the must-elect category the minute they both announced their candidacies for Vancouver School Board. Save two votes for Jane & Gwen.
October 19, 2014
The Vancouver Election Debate calendar below is dynamic / ever-changing. Click on a debate event for more information on that particular debate.
The Vancouver Election Debate calendar above is entirely the creation of Randy Helten and Stephen Bohus, the publishers of CityHallWatch, and is supplied to VanRamblings as a courtesy to the voters of Vancouver.

October 15, 2014
One month from today, on Saturday, November 15th, British Columbians will go to the polls to elect City Councils across the province, no current civic election more important than the one taking place in Vancouver.
Before commencing today's post, a note: flu has felled VanRamblings for much of the past 16 days (it's still hanging on), which has prejudiced the regimen of daily posts — going forward, I'll do the best I can to post as frequently possible, given the vestiges of my advanced age and ill health.
First things first. Tonight, it is mandatory that you take time out of your busy schedule to attend an all-important pre-election meeting ...
The 2-hour meeting will take place tonight, Wed., October 15th, from 7pm til 9pm, at St. James' Hall, located on Vancouver's west side, at 3214 West 10th Avenue. The theme of this evening's all-important civic meeting: Planning, Development, & Community Engagement: Putting The Community Back Into Community Planning.

Over the past year, the Coalition of Vancouver Neighbourhoods has sought to bring together representatives from Vancouver's 23 neighbourhoods, in response to a chorus of discontent across our city.
The laudatory principles and goals of the Coalition may be found here.
With one-month to go til Vancouver civic election day, come out to tonight's meeting to learn about the issues, and to make your voice heard.
Note should be made that there is a competing Town Hall that will take place from 6pm til 8:30pm tonight, at the Roundhouse Community Arts & Recreation Centre, to be moderated by deposed Vision Vancouver Park Board candidate, Trish Kelly. We could say something about the grimy politics inherent in a Visionite holding a competing all-candidates meeting opposite the long-scheduled Coalition of Vancouver Neighbourhoods civic election meeting — make of that unseemly coincidence what you will.
While VanRamblings is under-the-weather, there remains a plethora of well-conceived, well-written, and engaging blogs where the civically-minded might get their civic affairs / Vancouver municipal election politics fix.
Let us not forget, either, veteran reporter and Vancouver Courier political commentator Allen Garr who, for two decades now, has each week provided a cogent analysis of the machinations of Vancouver City Hall politics.
See you all tonight at the Coalition of Vancouver Neighbourhoods' pre-election all-candidates meeting at St. James Hall. If you can't make tonight's meeting, not to worry — there are debates galore upcoming.
The Vancouver Election Debate calendar below is dynamic. Click on a debate event for more information on that particular debate.
The Vancouver Election Debate calendar above is entirely the creation of Randy Helten and Stephen Bohus, the publishers of CityHallWatch, and is supplied to VanRamblings as a courtesy to the voters of Vancouver.
The debates calendar is dynamic, and will be updated as Messrs. Helten and Bohus are apprised of new debates. The debate calendar covers all debates leading up to the November 15th Vancouver municipal election.
October 2, 2014
There's a coalition of progressive voters coalescing around Kirk LaPointe, the socially progressive Non-Partisan Association candidate for mayor.
For VanRamblings, the most surprising aspect of the 33rd annual Vancouver International Film Festival arises from the dozens of approaches by filmgoers that have been made to us by community activists working across every neighbourhood in the city — folks with whom VanRamblings has worked on countless NDP, COPE and Vision Vancouver electoral campaigns, as well as on community activist projects too numerous to mention — who have, chapter and verse, detailed the egregious anti-parks and recreation, neighbourhood destroying, pro-development, covert, and pharisaic decision-making that has gone on at City Hall and Park Board this past six years under an execrable Vision Vancouver civic administration.
Make no mistake, a well-organized Anyone But Vision movement has begun to form, and almost all of those with whom VanRamblings has engaged are what Andy Yan, a planner and public data analyst with Bing Thom Architects, refers to as engaged voters — those citizens who live along the golden horseshoe, the crescent of big-turnout polls that extends from the Commercial Drive / Grandview Woodland area, through Mount Pleasant to Fairview and Kitsilano, the city's inner ring of neighbourhoods.
Andy Yan may well be right, but if VanRamblings were to take into account the dozens of infuriated telephone callers, e-mails, texts and direct social media messages we receive each day, dissatisfaction with Vision Vancouver would appear to extend far beyond the golden horseshoe, and well into both the LGBTQ+ and Chinese communities, both of which latter voting groups have indicated they'll leave Vision Vancouver in droves this election, as they head back to the warming embrace of the Non-Partisan Association.
And let us not forget, either, the rampant and vocal dissatisfaction that has emerged this last term with Vision Vancouver in the Hastings-Sunrise, Dunbar, Killarney, West End, Yaletown and Marpole neighbourhoods.
Among progressive voters, the move to support Kirk LaPointe emerges not out of a lack of support for COPE mayoral candidate Meena Wong, but rather from the realpolitik that Ms. Wong cannot defeat Gregor Robertson.
The progressive voters who've contacted VanRamblings by phone and social media, and stopped us on the streets and in coffee shops by the hundreds these past four months want Gregor Robertson and his ne'er-do-well band of Vision Vancouver colleagues gone from the Vancouver civic scene — in Kirk LaPointe, these progressive voters have identified a viable, socially progressive, thinks for himself (one of the salutary comments we hear often) and electable alternative for the mayor's chair, and a candidacy around whom a growing coalition of progressive voters has formed, an under-the-radar bloc of community-oriented activists who are working in neighbourhoods across our city to ensure that Kirk LaPointe becomes Vancouver's new mayor late in the evening this upcoming November 15th.
In Toronto, a burgeoning alliance of voters has formed around the mayoralty candidacy of former Ontario Progressive Conservative leader, the once beleaguered John Tory, whose current 49.2% standing in the polls is both testament to his middle-of-the-road, socially liberal candidacy, and more than double that of challengers Doug Ford and Olivia Chow. Make no mistake, the vast majority of Toronto voters want the Ford family out of Metro Toronto civic politics, and everyone from provincial Liberal cabinet ministers to longtime members of the provincial NDP have come out in groundswell support for the socially liberal, fiscally conservative John Tory.
A similar dynamic would appear to be emerging in Vancouver.
In Kirk LaPointe, progressive and engaged voters see a Red Tory, who just as is the case with the seems-certain-to-win Toronto mayoralty candidate John Tory, offers socially liberal programmes, fiscally sound city management, and open and transparent municipal governance.
Imagine, in John Tory and Kirk LaPointe, the two largest English-language speaking cities in Canada could, and might very well, have socially progressive mayors in place, leaders who could actually engage in a respectful dialogue with senior levels of government (unlike you know who) to achieve much that would be beneficial to the concerns, and wants and needs of their respective electorate — leaving open the possibility, as well, that such socially progressive candidate wins could serve to redefine the concept of conservatism in Canada, consigning Stephen Harper's mean-spirited concept of conservatism rightfully to the dustbin of history.
Kirk LaPointe and John Tory as latter day incarnations of Bill Davis.
There's even a rumour extant that former premier, and Vancouver mayor, Mike Harcourt will endorse Kirk LaPointe late in this electoral campaign.
Rumour has it, too, that independent mayoral candidate Bob Kasting, and the startup Vancouver Cedar party, will also endorse Mr. LaPointe's candidacy for mayor late in the current Vancouver municipal election cycle.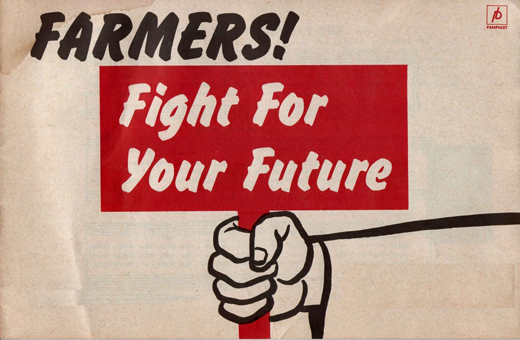 Most engaged voters know that the roots of the Progressive Conservative party emerged from the post WWI United Farmers movement, a radical grassroots, socialist amalgamation whose supporters founded the Progressive Party of Canada (what we refer to today as the — albeit, almost extinct — Red Tories within the Stephen Harper-led Conservative party), before amalgamating with the Conservative party proper in the early 1940s.
Progressive voters — traditional NDP voters — have a long history of voting strategically to support socially liberal, Progressive Conservative candidates whose grassroots ideals reflect those of the more left-leaning NDP.
In 2014, that would appear to be what we have in the Non-Partisan Association — a small "c" conservative municipal party that reflects the ideals of a broad cross-section of the voting electorate, a made-in-Vancouver civic political party comprised of honest, hard-working and humble servants of the public interest whose electoral platform consists of:
Working with senior levels of government to develop affordable, and social housing, programmes to meet the broadest cross-section of the needs of the voting electorate in Vancouver, and their families;
As Vancouver's population ages, we have in Kirk LaPointe, a mayoralty candidate who is committed to investing in affordable housing and amenities for seniors citizens;
A socially progressive Non-Partisan Association mayoral candidate who grew up in rank poverty (a far cry from the silver-spoon-in-his-mouth mayoral incumbent), who has committed that with an NPA administration at Vancouver City Hall no child will go hungry, and more — that 365 days a year no child in our city will go hungry.

What Kirk LaPointe hasn't said is that he will work with senior levels of government to ensure that child poverty in Canada's third largest city will become a grievous and deplorable feature of Vancouver's past — make no mistake, Kirk LaPointe is committed to this latter goal, but has not made an announcement because he can't promise he'll deliver on it his first term in office. Unlike our incumbent mayor, the principled and socially conscious Kirk LaPointe, the mayoral candidate with the Non-Partisan Association, does not overpromise and under-deliver;

Talking about overpromising and under-delivering, Gregor Robertson and Vision Vancouver have promised us free wi-fi across the city since before they were first elected. Kirk LaPointe has promised the same thing, beginning on Vancouver's eastside, he says. The difference between the two promises? Kirk LaPointe will deliver on his promise, while you'll be waiting til the cows come home before Gregor Robertson follows through on yet another empty Vision campaign promise;
A municipal party in the NPA that will not increase property taxes in their first year in power, as the new civic administration conducts an audit of Vancouver's likely to be woeful financial affairs;

A party that does not practice the faux greenwashing of Vision Vancouver, but a municipal party that is committed to the health of its citizens, and is a vocal opponent of Vancouver's waste to energy plans, as well as Metro Vancouver's plan for a garbage incinerator and Vancouver's current plan for a gasification plant at the city's garbage transfer station. The NPA will instead concentrate on ways to increase reducing, reusing and recycling the City's solid waste.
A mayoral candidate in Kirk LaPointe who will end Vision Vancouver's game-playing and get the long-awaited Southeast Vancouver Seniors Centre facility built; will create an open and transparent City Hall Lobbyist Registry, as well as the first ever Office of the Ombudsperson in Vancouver, an office that would seek to resolve citizens' disputes with the City fairly and without necessitating resort to the courts, in the process returning trust and transparency to City Hall.

Here's a link to information on the Ombudsman Office, in Toronto;
Yes, there is something of the aspect of the merry-go-round in covering civic politics. It has oft been said, though, that a day in politics can seem like a lifetime, so changeable is the political dynamic from day-to-day.
While it is true that the party polling conducted early last week by Vision Vancouver and the Non-Partisan Association does not, as yet, reflect the growing groundswell of support for Kirk LaPointe's "Anybody But Gregor" candidacy, perhaps that's more a function of polling that was done outside of the golden horseshoe. VanRamblings has consulted widely in Grandview Woodland, Mount Pleasant, Fairview and Kitsilano, and we can tell you that for weeks now organizing drives have been afoot to dampen / hinder / annihilate the vote for Vision Vancouver; it's just a matter of time before the polls reflect a much-increased support for the candidacy of Kirk LaPointe, whose electoral coattails could very well permanently dislodge a damnable Vision Vancouver administration from City Hall and Park Board.
In August, VanRamblings published a column, the headline of which read
"Mayor Gregor Robertson Virtually Unbeatable." At the time, we had no firm idea that our concerns respecting Vision Vancouver's governance of our city was so widely shared. Seems that the mayoral dynamic has changed a month and half later. VanRamblings may have to issue a mea culpa yet.
September 29, 2014
With the 2014 Vancouver civic election finally heating up, the internal polling conducted for the two major mainstream parties seeking office in the Vancouver municipal election — Bob Penner, Stratcom founder, president, CEO, and former employer of Gregor Robertson's Chief of Staff, Mike Magee, for Vision Vancouver; and Maple Leaf Strategies' partner and pollster Dimitri Pantazopoulos (who conducted last year's spot on election polling for the provincial Liberals), and currently Non-Partisan Association lead pollster — released resonant internal polling results on the Vancouver Mayoral race to their anxious political masters, late last week.
Whereas the polling conducted for newspapers and the broadcast media — done on the cheap, or for free (in exchange for the marketing advantage to the pollster), and utterly meaningless for purposes other than their entertainment value — generally results in highly inaccurate polling data — not least because of the small sample size — the much larger, poll-by-poll sample conducted for the major political parties, with extrapolated numbers that take into account the 'most likely to vote' segment of the voting populace, produces as near to accurate polling results as is possible.
So, you want to know: what are the Vancouver mayoral race insider party polling results, with a sample size for each of Vision Vancouver and the NPA in excess of 2,000 most likely to vote Vancouver residents?
The answer ...
Vision Vancouver's Gregor Robertson, the Non-Partisan Association's Kirk LaPointe, and COPE's Meena Wong are in a statistical dead heat.
In the three weeks following the entry of the Coalition of Progressive Electors' mayoral candidate into the mayoral race, Gregor Robertson's approval / intent-to-vote rating has dropped a calamitous 17 points! Statistical dead heat polling results: 32%, COPE's Meena Wong / 34%, the NPA's Kirk LaPointe / and 32%, Vision Vancouver's Gregor Robertson.
The Non-Partisan Association is both sanguine, and over-the-moon about the results. Sanguine, because as VanRamblings was told, "Kirk has room to grow", and over-the-moon because Meena Wong has knocked our city's sitting Mayor off his previously-thought-to-be unassailable perch. "This will be a horse race," say NPA insiders. "We're confident that in the final weeks of the campaign Kirk LaPointe, as he becomes better known to the electorate, will pull well ahead of our deeply unpopular incumbent mayor."
Vision Vancouver apparatchiks with whom VanRamblings spoke simply yawned at the polling results, recalling how in 2011's civic election Vision Vancouver was in tough in the polling, and seemingly on their way to defeat. The final five days of the 2011 campaign — which witnessed a saturation $657,000 (and mightily effective) television ad campaign that ran on all local TV station newscasts, morning, noon, early evening and late night, turned the tide for Vision Vancouver, wiping out previously dire internal polling results, propelling the incumbent majority party to victory.
Emerging as perhaps the biggest surprise in the 2014 Vancouver civic election: COPE's Lazarus-like restoration to political relevancy. Who'da thunk that the folks currently directing the COPE election machine, and the members of COPE's Left Front, have a taste for retail politics — which is to say, sophisticated ground game, grassroots, mass appeal politics designed to appeal to both the broadest constituency of voters, as well as to the diverse communities that comprise the Vancouver in which we live?
At a time when many on the left (not to mention, almost all members of Vancouver's political class) were writing off COPE's chances to make an impact in the 2014 Vancouver municipal election campaign, with the energizing emergence of Meena Wong on the Vancouver municipal scene — honestly, a first-rate candidate for Mayor, who's been setting the election issue agenda this past three weeks — and an exceedingly strong, high profile community activist COPE Council slate, representing both the largest and the strongest COPE Council slate in a generation, make no mistake: COPE is now a factor in the 2014 Vancouver municipal election.
Meena Wong announcing her candidacy at COPE's September 6, 2014 Nominating Conference
September 23, 2014
The defining narrative of the 2014 Vancouver civic election revolves around the notion that voters have a choice to make: either we can vote for "the developer parties" (Vision Vancouver and the Non-Partisan Association), or we can vote for the "good guys" ... Vancouver First, the Cedar Party, the Greens, or COPE, those municipal parties that do not accept donations from the development companies which operate in the city of Vancouver.
At best, this "good guys" vs "bad guys" narrative is simplistic.
At its worst, this untoward and unnecessary narrative is a vicious, wholly unwarranted and degrading condemnation of those fine potential public servants who choose to run with the so-called "developer parties."
As if, somehow, the narrative suggests, principled and hard-working Vision Vancouver Council candidates like Niki Sharma and Andrea Reimer, or equally meritorious Non-Partisan Association Council candidates Suzanne Scott and Melissa DeGenova, upon being elected this next term, would sit up nights scheming to do the business of developers while subverting the interests of the electorate — all the while stuffing their pockets with loot secured from the likes of Ian Gillespie at Westbank, Michael Audain at Polygon, Wall Corp's Bruno Wall, and Terry Hui at Concord Pacific.
What a harmful, destructive, libelous, slanderous and soul-destroying deceit to perpetuate — utterly unique to the political maelstrom on Canada's west coast, for you will hear this narrative nowhere else — and how demeaning to the democratic interests of the political process.
And, it's not as if either Vision Vancouver or the Non-Partisan Association can venture a considered response to this syllogistic argument based on false premises — lest they risk lending credence to the logically fallacious and destructive argument by very dint of deigning to offer a response.
To make matters worse for all of us, rather than encouraging the voting electorate to get out and cast their ballot for the "non-developer-funded parties", instead this destructive, ultimately counter-productive narrative serves only to suppress and depress voter turnout, fitting conveniently, as it does, into a narrative myth often promoted in our news media, in the films we watch in our local multiplex, and on our television screens at home: that all politicians are corrupt, there's nothing that can be done to change that circumstance, that politicians run for office simply to pad their own pocket, are "in it" solely for self-aggrandizement, and while in office consciously mean to do barbarous, malicious harm to the public good.
Little wonder that turnout at the polls in 2008 was a paltry 30.79% (there were only 124,285 recorded ballots from 403,663 registered voters) in what was a crucial municipal election, a figure hardly bettered in 2011 with only 34.57% of eligible voters choosing to cast their ballot in that election.
As Non-Partisan Association candidate for mayor, Kirk LaPointe, has been wont to point out, "All of us feel quite comfortable in the idea we've got rich, fertile territory to criticize policy ..." — which is as it should be.
In recent weeks, Vision Vancouver has enunciated a transportation policy that commits the party to working with senior levels of government towards the construction of a subway down Broadway. Just yesterday, the NPA announced a plan to appoint an independent Ombudsperson at City Hall to ensure accountability and transparency, and protect citizens' rights.
Nowhere in Vision Vancouver or the Non-Partisan Association's declaration of either party's platform tenet did I read a criticism of the "underfunded parties running in this election who don't have a hope in hell of getting elected." I mean, they could have, but they didn't — and they won't.
Why? Because the Non-Partisan Association and Vision Vancouver are remaining true to their commitment to run an issues-based municipal election campaign, giving the people of Vancouver a choice between two distinctly different competing visions on how our great city might move forward into the future, should one or the other party triumph at the polls when the ballots are counted on Saturday evening, November 15th.
In 2014, is it necessary that the smaller, competing parties engage in the shopworn cliché of the "developer parties" vs. the forces of good that are the other parties seeking office at Council, Park Board and School Board?
Surely there are a plethora of civic issues out there to engage the attention of voters. Is it necessary to continue to peddle a simplistic, and I would say ultimately offensive to voters, myth of those dastardly "candidates for the developer controlled parties"? There must be, there has to be, a better way.
Fortunately, the Coalition of Progressive Electors mayoral candidate, the principled Meena Wong, has chosen the higher road in enunciating hers and COPE's vision for the future of Vancouver — a realistic vision that includes setting a $15-an-hour minimum wage in Vancouver, and charging a surtax on "empty homes" bought for speculative purposes, which tax money would be applied to the construction of social housing in Vancouver.
The Green Party of Vancouver, as well, has mostly kept to the issues — green issues, as you might imagine, that have much appeal to Vancouver's voting electorate, as Vancouver's nascent political party strives to hold the balance of power at city council in this next term of office. The Cedar Party has taken research in this election to new and glorious heights — rooting out a "secret development" at the north end of the Granville Street bridge.
Let's make the 2014 Vancouver civic election about the issues: openness and transparency in municipal government, development of a workable strategy that will ensure the provision of affordable and social housing in the city of Vancouver, form of development (high-rise vs low-and-mid-rise) in our neighbourhoods, a transportation strategy that will meet the needs of all residents (a $4.2 billion subway down Broadway vs a network of at-grade light rail / streetcars across our city), a return to a long-held city policy of 2.75 acres of park space for every 1000 residents, and robust consultation and people-centred planning, among a raft of other issues.
Vancouver does not have to be the wild west of municipal politics. Let's strive for something better, something finer. Let's conduct a municipal election in Vancouver that will engage the interest of voters, and ensure a record turnout of the Vancouver electorate at the polls this November.
September 19, 2014
The past 36 hours has proved to be busy in the Vancouver civic election campaign, as COPE, the Green Party and the NPA are front and centre making game-changing campaign announcements, while lawyer Bob Kasting announced his candidacy for the Mayor's chair, and the Cedar Party issued a press release on a major campaign announcement, for Friday at 1pm.
In the coming days, VanRamblings will provide coverage of COPE's absolutely necessary $15 an hour minimum wage proposal (which we wholly support, we believe is entirely do-able, and has worked in Seattle), the Green Party of Vancouver's platform and proposals for good government, and the Non-Partisan Association's humane "no child will go to school hungry" campaign announcement (the one thing you know about the NPA is that when they make a campaign promise — all of their campaign commitments are eminently do-able — they will keep that promise).
In today's post, we'll focus on Bob Kasting — Vancouver-based lawyer and community leader, winner of the bronze medal and carrier of the Canadian flag at the 1972 Munich Olympics, adjunct business law professor at BCIT, and administrative law at UBC's Faculty of Law, architect and hero of the triumphant win that halted construction of a 12-foot-wide asphalt bike path through Hadden and Kitsilano Beach parks, and currently the legal counsel for the False Creek Residents Association, who are battling Concord Pacific over commercial use — a sales centre — of land zoned for park space.
Vision Vancouver, you ask? Well, they've been quiet on the campaign trail, the Mayor mute, the campaign seemingly in hiding — Vision's campaign honchos seem to think that remaining quiet, hiding the Mayor and Council, not agreeing to debates, and relying on the $800,000 in happy face television ads they'll run in the final 2 weeks of the campaign will win them the election. Cynical Vision electioneering — par for the course with them.
Bob Kasting announces his candidacy for Mayor of Vancouver

At 5pm Wednesday afternoon, lawyer Bob Kasting announced he will run for Mayor, as an Independent candidate in 2014's Vancouver civic election.
From Emily Jackson's Vancouver MetroNews story ...
"The lawyer who helped two neighbourhood groups launch legal action against the City of Vancouver over the past year is officially vying to become the city's next mayor. Kasting believes the two major parties, Vision Vancouver and the NPA, are both too attached to developers and wants to bring a focus back to neighbourhoods."
Make no mistake, Bob Kasting will perform a forensic audit of Vision Vancouver's six sorry years in power, as only a powerful municipal affairs barrister is capable. Members of the Kasting campaign team have told VanRamblings that by the time a dogged, investigative Bob Kasting is done with Vision Vancouver, Vision will be left bloodied and begging for mercy.
Perhaps the definitive perspective on the Bob Kasting for Mayor candidacy comes from respected writer, historian, and longtime Grandview Woodland community activist, Jak King, who writes of Bob Kasting ...
Yesterday afternoon, lawyer Bob Kasting announced his run as an independent candidate for Mayor of Vancouver. I had rather hoped he would announce many months ago in the hope that he could corrall behind him some of the seven or eight parties running for Council in November, But he is in now, and that's good, especially as he is a great supporter of the Coalition of Vancouver Neighbourhood's Principles & Goals document that outlines a much improved community engagement process for our growing city.

I support Bob Kasting as Mayor of Vancouver. He is a man of extraordinary learning and intelligence, he understands the nature of the City as a collection of definable neighbourhoods, he is willing to listen to a range of ideas for dealing with our Vision-generated affordability crisis, and I believe he has the ability to mold an "independent" Council into a tool for burnishing Vancouver into an even greater future. If we are ever to move Vancouver away from the idea of political parties in municipal politics (we are one of the last holdouts for that corrupting system) then having an Independent Mayor is a damn good start.
In supporting Bob Kasting for Mayor, Jak is clear that "four or five different parties vying to put together issue-based solutions" is his preferred option for the 2014 - 2018 Vancouver City Council.
In saying so, Jak supports the Council candidacies of the Green Party's Adriane Carr and Pete Fry, and the Vancouver Cedar Party's Nicholas Chernen (VanRamblings couldn't agree more with Jak's top three picks for Council!), and an amalgam of candidates from the NPA and COPE.
Time will tell as to who, come election week, will emerge as the most viable anti-Vision-Vancouver candidates.
Make no mistake, there are no circumstances under the sun in which the citizens of Vancouver should give even a passing thought to electing Vision Vancouver back into government for a third term.
For now, VanRamblings is pleased as punch with the candidacy of Bob Kasting for Mayor — we know him to be a fine man, and incredibly bright. Bob's voice can only add to the din of criticism against the viability of another majority Vision Vancouver term at Council, and for that we are grateful for his candidacy, his wit, his integrity, and his commitment to the people of Vancouver, and to a fairer and more just city for all of us.
September 17, 2014
Join the Meena Wong for Mayor campaign — the Meena Wong for Mayor Facebook page
In 2014, longtime COPE member Meena Wong has come to the rescue of a beleaguered Coalition of Progressive Electors in announcing her candidacy as COPE's Mayoral hopeful. COPE is fortunate, indeed, to have identified a hard working and well-respected member of the party to step forward, to lead them into what could be a treacherous 2014 Vancouver civic election.
COPE member Michael Stewart writing on rabble.ca suggests that Ms. Wong offers a strong alternative to Vancouver's blancmange mayoral race (by the way, for those not in the know, blancmange is defined as "a sweet opaque gelatinous dessert made with cornstarch and milk" — take that you angry old white men of privilege, Gregor Robertson and Kirk LaPointe!) ...
"The Coalition of Progressive Electors (COPE) attempted to offer an alternative today to the blancmange buffet currently masquerading as Vancouver's municipal election — in which two wealthy, pro-developer, white, male candidates vie for the mayoral seat.

Wong, fluent in Mandarin, Cantonese, Shanghainese and English, frustrates this mano à mano narrative crafted by Vision and the NPA. With connections to activist, immigrant and progressive communities as well as her involvement with the federal and provincial NDP, Wong has the capacity to build a robust left-wing opposition to the false choice of this or that real estate speculator.

"COPE has helped to shape the Vancouver that we love today," Wong said at her press conference on the steps of City Hall, flanked by about two-dozen supporters and attended by English, Mandarin and Cantonese media. "Since 1968, COPE has fought for a just city that is based on compassion, respect and duty to all."
Only one week into the campaign, and Wong has already registered on the civic election radar, raising an issue that other mainstream Vancouver civic parties, previous to Ms. Wong's ascension to becoming COPE's mayoral candidate, wouldn't have touched with a 10-foot barge pole: the hot-button issue of foreign ownership of Vancouver real estate.
From a Barbara Yaffe story published in the Vancouver Sun on Monday, titled Absentee homebuyers targeted by mayoral candidates ...
"The push for a tax on vacant housing units was introduced recently by Meena Wong, the mayoral candidate for the Coalition of Progressive Electors, reflecting the first time a candidate has made a campaign pledge aimed at dampening speculation in Vancouver's increasingly unaffordable property market. Wong, an unsuccessful federal NDP candidate in Vancouver South in 2011 who is unlikely to win the November election, has touched a local nerve as the need for housing grows and prices continue their upward trajectory.

Wong would use the tax revenues generated for affordable housing.

Taxing owners for their vacant properties could become a prominent issue in the civic election if embraced by other candidates. That Wong herself is ethnic Chinese — she emigrated to Canada from Hong Kong 34 years ago — will dampen any chatter about racism, or anti-immigrant overtones.
Strange that, because only 17 short months ago, activist COPE member and editor of the left wing online journal, The Mainlander, Nathan Crompton, was issuing cries of racism and political scapegoating when local columnist Mark Hasiuk and political observer Sandy Garossino sought to tackle the issue of foreign home ownership in Vancouver head on. Hmmm.
For the indefatigable Ms Wong, it is unfortunate too that she is saddled with an unpalatable & politically inept Left Front-developed electoral platform that, when the media finally gets around to taking a good hard look at its central tenets, could flatten her candidacy (hint: read COPE's 'out in space' policing platform), an unsalutary development that could take her out of the race, and any serious consideration as a candidate for the Mayor's chair.
Not to mention that COPE is nearly broke and on the verge of bankruptcy.
If nothing else, the optics look bad. Sure, COPE brings in $2000+ each month in PAC money (automatic monthly donations), but for a party that spent more than $1 million in the 2002 municipal election campaign, and between $360,000 and $650,000 in each of the 2005, 2008 and 2011 electoral campaigns, borrowing money from the bank (which they've been doing all summer to keep the party afloat) to fund a near bankrupt campaign hardly suggests that COPE could reasonably be considered by potential voters as good fiscal managers and protectors of the public purse.
Thank goodness that COPE has Meena Wong heading up their campaign, and credible COPE stalwarts like Tim Louis, Gayle Gavin and Sid Chow Tan heading up their Council slate (word is also very positive on Keith Higgins and Jennifer O'Keefe), and former Park Board Chair, Anita Romaniuk, heading up an otherwise undistinguished COPE Park Board slate.
Even COPE's co-founder, the Vancouver District and Labour Council (VDLC) has abandoned the party, endorsing all Vision Vancouver candidates, but offering support only to COPE Council candidate Gayle Gavin (who was not one of the candidates endorsed by the Left Front), and COPE Park Board candidate Anita Romaniuk — an unprecedented decision by the house of labour that only adds to COPE's innumerable woes. Labour not supporting COPE for the first time in the party's 46-year history — it beggars belief!
COPE. A website that is near dead. A dearth of press releases issued by the party. No videos. No ads. Virtually no public political presence in the electoral campaign (save coverage of Meena Wong), online or elsewhere, an electoral party that is so hamstrung it can't even get around to making a decision as to who the 8th candidate on their Council slate will be (John Yano and Wilson Munoz tied at 116 votes apiece) — some 11 days after the nominating convention! — a civic electoral party that has virtually no presence in neighbourhood activist groups across our city ("NIMBY issues", according to some not-so-good folks in COPE, don'tcha know).
Ticket sales for the Kshama Sawanta forum later in the month looking at best forlorn (with half the money raised going to Ms. Sawant, and $1000 to be paid to the Maritime Labour Centre for rental of the hall — with COPE, if it doesn't rain, it pours), a party that for all intents and purposes looks like a meaner version of Vision Vancouver (now, that's going some), the only political party not to take Vision Vancouver to task for dropping top-vote-getting candidate Trish Kelly from their Park Board slate (note that there is no mention of Vision Vancouver in COPE's press release — maybe the rumours are true, that COPE has been bought-and-paid-for by Vision Vancouver, now that would be a fine kettle of fish), while Vision placed the 6th and 7th ranked candidates on the parks slate six weeks later. Tim Louis thought that David Chudnovsky sold the party out to Vision Vancouver — David couldn't hold a candle to the damage that's been done by the current group of Vision appeasers in control of the COPE political apparatus.
Migawd, you'd have to be dead not to realize that the morally and financially bankrupt Coalition of Progressive Electors is in dire straits, indeed.
September 15, 2014
The Non-Partisan Association Facebook page — https://www.facebook.com/npavancouver
The folks who are seeking political office as members of the Non-Partisan Association, and have put their names forward in this 2014 Vancouver civic election campaign to garner your vote, constitute a retinue of decent, humble, and very bright, publically-minded servants of the public interest.
From the outset of the current Vancouver civic election campaign, NPA mayoralty candidate Kirk LaPointe made it clear that his party would run a "clean campaign". All NPA candidates would be required to sign (and did so) an "issues not insults" code of conduct pledging that there would be no personal attacks by members of his party that would be directed to their "political foes". As LaPointe stated when signing the pledge, "There is a very clear intersection with your conduct and your ability to perform your duties. All of us feel quite comfortable in the idea we've got rich, fertile territory to criticize policy, we don't ever have to go into personal lives."
In this 2014 Vancouver civic election campaign, mayoral hopeful Kirk LaPointe has made liberal use of a withering line about Vision Vancouver's wrong-headed six years in power: "Vancouver is a great city, badly run."
Who knows where the NPA grabbed that tag line — it's effective, though.
On the face of it, "Vancouver is a great city, badly run" would seem to suggest that those running with the Non-Partisan Association would be better city managers, and more astute protectors of the public purse.
In practice, though, "Vancouver is a great city, badly run" serves as a reminder to voters, who have repeatedly taken Vision Vancouver to task for their egregiously "bad", anti-neighbourhood, tower-driven, anti-park decisions. "Vancouver is a great city, badly run" implores us not to forget about just how unhappy we've been with Vision Vancouver in power.
Those living in the Langara neighbourhood were apoplectic about Mayor Robertson's proposal to hive off half of the Langara Golf Course to sell to developers, while turning the other half of the golf course into a "park".
A bad proposal with no support from neighbours of the golf course, and the residents of Langara, who saw through the sham, and realized that Vision's actual intent was to diminish already scarce green space in their under-parked neighbourhood. Women who spoke up at Park Board were adamant that the trails around the golf course were safer as a consequence of the eyes of golfers on the runners and walkers. There was even a young Olympic medalist who told Park Board she trained on those trails as a child.
In this instance, as will be the case in so many other neighbourhoods across our city, "Vancouver is a great city, badly run" only serves to remind Langara residents about the anti-neighbourhood, anti-park policies of the Vision Vancouver civic administration, and the resource they could very well have lost, and might still lose if rumours of Vision's intent to follow through on their original plans prove to be true, should Vision be re-elected.
And it's not just Langara residents who will recall with ill feeling Vision's "in the pocket of developers" ethos.
Mount Pleasant residents mounted a vigorous opposition to the Rize Development at Kingsway and Broadway, and lost;
Grandview Woodland residents decried Vision's plan for massive tower complexes at both Clark Drive and Commercial Drive, six storey townhouses along Nanaimo Street, stacked townhouses along East 1st Avenue, and increased heights along East Hastings Street;
Hastings Sunrise residents won't soon forget Vision Council's decision to block Park Board from taking control of Hastings Park, in order that a "massive $310.5 million redevelopment" of the park might continue. You can bet that there aren't going be a great number of Hastings Sunrise residents who'll being casting a vote for Vision in 2014.
Whether you live in Kitsilano, where Vision Vancouver sought to pave large portions of Kitsilano Beach and Hadden Park.
Or you're a West End resident who was opposed to STIR (the city's wildly unpopular Short Term Incentives for Rental Housing programme, a giveaway to developers), which resulted in the tearing down of a church at 1401 Comox (originally slated for park space), putting up a 22-storey tower in its place, while at the same time adding a sixth tower to the Beach Towers complex, to name just a couple of examples of Vision development plans that met with West End neighbourhood opposition.
Or you're a former resident of the Downtown Eastside who lost their affordable housing when Vision Vancouver failed to respond to adamant opposition to Wall Corp's proposal to build a massive condominium complex at 955 East Hastings — which, when it was approved by a thoughtless Vancouver Council, displaced 200 longtime DTES residents.
Or, you're one of the residents of the Fairview neighbourhood's affordable housing development, Heather Place, who will be displaced as a consequence of Vision Vancouver's decision to redevelop the site as a "market rental" development — effectively doubling tenants' rents ...
You can bet that with the litany of secretive, wrong-headed, non-consultative, anti-neighbourhood proposals that became fact over the course of Vision Vancouver's six years in power that "Vancouver is a great city, badly run" will almost certainly emerge as the devastatingly powerful and understated meme of the 2014 Vancouver civic election campaign, a constant, daily reminder by Kirk LaPointe, and his Non-Partisan Association colleagues, that Vision Vancouver is not a municipal political party that is on your side, or was ever on your side, that indeed Vancouver was a great city, but under Vision Vancouver our city has been unforgivably badly and terribly run, and not run for you, but rather in the interests of developers.
"Vancouver is a great city, badly run" offers cogent, reflective comment — and a devastating indictment of Vision Vancouver's six years in power, and a reminder that with Vision Vancouver gone from the municipal political landscape come the evening of November 15th that under a revitalized Non-Partisan Association municipal administration (members of the NPA would suggest), Vancouver might once again become a truly great city.
August 27, 2014
Reprinted with the permission of the author of the article, Tim Louis.

Mr. Louis was a two-term member of Vancouver City Council, and will be a 2014 Coalition of Progressive Electors candidate for a Council nomination. COPE's nominating conference will be held Sunday, September 7th.
In politics, as in our personal lives, sometimes we need to revise our expectations. Other times, we have to admit we are wrong; we are required to concede that we simply did not do enough.
In the case of Vision Vancouver's highly touted and infinitely flexible promise to end homelessness, it appears that a rather shady third option is taking place. Rather than admit fault, Vision is redefining the terms to distract the public while keeping developers as its main allies.
Since its inception in 1937, the NPA (Non-Partisan Association) has been the developer's party.
For the NPA, an attitude of "everyone should enjoy the fruits of their labour" means that a developer's application for rezoning is rarely turned down. Under the old NPA and relative newcomer Vision, Vancouver has been governed to maximize developer profit, not public well being.
In 1968, COPE (Coalition of Progressive Electors) was founded as an alternative to the developer's party.
Today, the political landscape consists of not one developer party, but two: NPA and Vision. As such, COPE has always run at a disadvantage because the NPA is lavishly funded by developers, as is Vision.
Although both of the developer-backed parties make showy presentations of their dedication to free enterprise and good business practice, it is COPE that actually practices truth in advertising.
COPE candidates are pledged to uphold the policy positions democratically adopted in open meetings, unlike the developers' parties, who enjoy the fruits of developing their platform behind closed doors by a chosen few.
Vision Vancouver is a version of the NPA with bicycle lanes. Some observers refer to Vision as NPA Lite.
Meanwhile, COPE is sticking to the principles of social justice and offering an unambiguous alternative to these developer parties.
COPE is the only party offering a clear and concrete proposal to address the crisis of homelessness. With the creation of a Vancouver housing authority, COPE proposes to build thousands of units of subsidized and affordable housing which would be owned and operated by the city.
Instead of following a plan to produce results, Vision has played games with the issues of housing affordability and homelessness.
Here is one example of Vision game playing. Vision simply redefines the term "affordable housing" to include any rental housing so that when a developer applies for rezoning, the bylaw that requires a certain number of units to be affordable is meaningless. Permits are issued because any rental units, no matter how expensive, are being considered affordable when there are actually very few who are able to pay the rent.
Earlier this year, the Metro Vancouver Homeless Count revealed that homelessness has increased in our community. Vision's 2008 campaign promise to end homelessness by 2015 has been a failure. Scrambling to save face, Vision has changed the message to claim that what they actually intended to do was end street homelessness.
Although someone who uses a shelter may not be considered street homeless, they must still be counted as a person without a home. Anyone staying in a shelter is required to leave in the morning and stay scarce until evening is essentially homeless during the day.
A home is more than a place to sleep.
Vision arbitrarily changes the meaning of terms at will, in a dazzling example of what the great English satirist George Orwell called "Newspeak" in his classic study of tyranny, 1984. Rumours that the book's character Big Brother is now on stipend to write press releases for Vision cannot be confirmed at this point, but remain plausible.
Regardless, Vision's underhanded revisions of language are the party's attempt to convince the public that they are standing firmly on some sort of platform rather than tumbling with the lint in developers' pockets.
Don't we want a city council that positions itself firmly outside the fiscal influence of developers?
It's COPE that has the real plan to address the important issues of homelessness and affordable housing.
August 21, 2014

The folks in the Cedar Party are at it again, telling us stuff that we already know. Like how there was only one bidder — WestBank Corp, owned by Mayor Gregor Robertson's bestest pal and big time Vision Vancouver supporter, Ian Gillespie — on the property where the much-touted Gesamtkunstwerk Vancouver House will be built. We say, so what? If the Mayor wants to gift his good friend Ian with 'special favours', so be it.
But are the noisome folks in the Cedar Party prepared to leave it at, "That Ian Gillespie fella, he has this in with the Mayor, and with Vision Vancouver, you see, and there's just something a little unsavoury about the whole circumstance where there was only one bidder allowed on the Vancouver House site, and don'tcha know that bidder was Ian Gillespie, and doesn't it somehow seem wrong to you that Ian Gillespie 'was allowed to tie up this property for several years without paying for it until final approvals were granted, which only occurred recently?" Nope. They just can't leave it alone!
That Glen Chernen fella — you know, he's the Mayoral aspirant for the Vancouver Cedar Party — and his hearty band of civic miscreants — I mean, really, who are they to be asking questions of our esteemed Mayor and his fabulous gang of demogogues at Vancouver City Hall, the once and forever Vision Vancouver party that will rule over us for our own good, whether we like it or not, for generations to come — where does the Cedar Party get off having the temerity to ask a question like, "How can the interests of Vancouver residents be seen to be looked after if our local government gives itself the unilateral right to sell off city-owned land without even passing consideration being given to the notion of competitive bidding for the sale of our precious, 'belongs to the people of Vancouver', property?"
Who do the folks at the Vancouver Cedar Party think they are? Heck, you'd think they live in Vancouver, and have a dog in our 2014 civic electoral fight.
Oh, you mean, these Vancouver Cedar Party folks, they do actually live in Vancouver, and they're running candidates to defeat Vision Vancouver this November 15th. Good luck to them, those newby civic electoral naïfs — as if that's going to happen, given the millions of dollars that developers have poured into Vision Vancouver coffers these past six years, and more!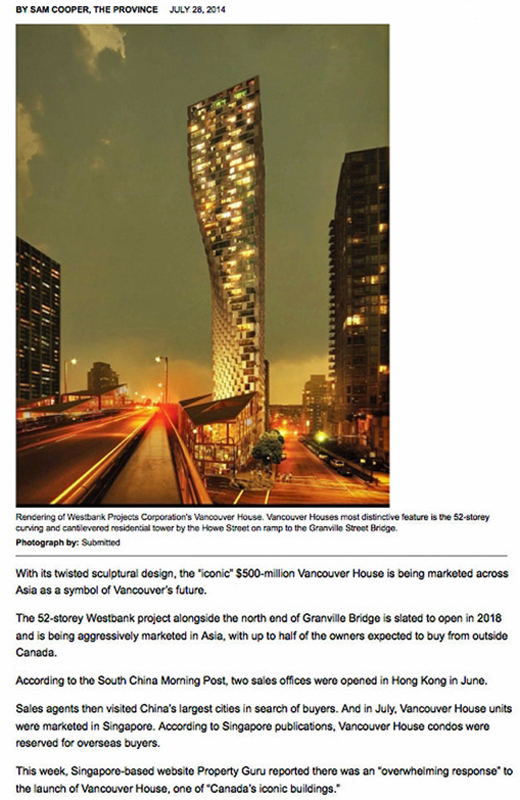 And to top it off, Chernen and his bothersome, irksome group of detectives go about quoting a July 28, 2014 Sam Cooper article in The Province newspaper — but three weeks late, cuz Green Party of Vancouver Council candidate Pete Fry had already written a blog post about the 52-storey Westbank project at the north end of the Granville Bridge.
And, just like the folks at the Cedar Party, Pete Fry goes and sticks his nose where it don't belong, and casts aspersions on the character of the Mayor and his Vision Vancouver colleagues, in having approved the Vancouver House development (you remember Vancouver House, with that annoying 'star' architect Bjarke Ingels on our TV every night, endlessly overselling just how wonderful Vancouver House will be once it's finished) — not that anyone in Vancouver will be able to afford to live there, but like who cares anyway, except maybe the Cedar Party, and Pete Fry, both of whom point out that Vancouver House is being marketed exclusively (an allegation since corrected) to wealthy overseas buyers — replete with (gosh, wouldn't it be nice?) "special absentee owner concierge services and a fleet of luxury BMWs on reserve". But there you go again, with those annoying Cedar Party folks, and Fry, chiming in with a quote from Cooper's article:
"According to the South China Morning Post, two sales offices were opened in Hong Kong in June ... (with units) marketed in Singapore ... reserved for overseas buyers ... (meeting with an) overwhelming response."
As we say, looks like folks from Vancouver won't be able to afford Vancouver House, anyway — well, certainly not you or me.
Like, so what, eh? The folks who live in Vancouver have bigger things to worry about — will the kids be back in school on September 2nd, or when to set aside some time to go to the PNE, and important stuff like that.
Who does that Pete Fry guy think he is, anyway, questioning his betters — I mean, Geoff Meggs and Andrea Reimer, they done got themselves elected to Council, and the folks who live in Vancouver put their trust in them, and now youse got this Pete Fry fella askin' questions, like somehow he's got a right to ask questions of his betters. Gosh, we think not. Heck, you'd think that there was an election going on, or sumptin' like that there.
And, don'tcha know — probably under a threat of a lawsuit — The Province pulled the original story, and all readers can find now is this correction.
Thank goodness the Non-Partisan Association seems to think that the Vancouver House skullduggery is just fine, with nary a peep from NPA Mayoralty hopeful Kirk LaPointe — although, one supposes, these are early days in Campaign 2014. LaPointe will certainly have to enunciate a position on development once the civic election campaign begins in earnest.
Let us hope that the NPA narrative on development in our city differentiates itself from the Vision Vancouver development narrative, which is ...
"Hey folks, it's only development we're talkin' about here. You should let your betters make decisions on your behalf, cuz we know what we're doing, and you don't. Honest, there's nothing to see here folks, just move along. Don'tcha know, the PNE is on, and there's this darn teacher's strike that's happenin', you don't want to worry your pretty little heads with something as stupid and arcane as development. Ewww, that's yucky stuff — you're not really interested in that. Oh look — a bright shiny object. Pretty, isn't it?"
And thank god, too, that the naïfs and ne'er-do-wells over at COPE headquarters could give a good goddamn about secretive and unsavoury development in our city — gosh, they're only concerned with turning our city into a communist paradise. Me, I can't wait til they issue the drab grey uniforms that we'll all have to wear when COPE takes over — gosh that'll be no fun, and don'tcha know that's exactly what COPE wants, for all of us to live under the yolk of COPE oppression. Gosh, that oughta be great!
And best of all, thank God we've got such a subservient media, who wouldn't say shit if their mouths were full of it. Well, it is Vision Vancouver, after all, and who in the media would dare to question the majority party that has reigned supreme at Vancouver City Hall these past six years?

August 18, 2014
A couple of weeks back, in an interview with The Straight's Carlito Pablo, former three-term Coalition of Progressive Electors (COPE) City Councillor David Cadman predicted that Vision Vancouver would likely win a third consecutive majority term in office at City Hall come this November 15th.
"I'm not a betting person but I would think, and I haven't seen any of the polls, but I would think...that they will get another majority, yeah."
As it happens, VanRamblings concurs with Mr. Cadman's prediction. Let's take a closer look at Vision Vancouver's prospects for re-election in 2014.
Vancouver Civic Election: The Mayor's Race, Robertson vs LaPointe
Vision Mayor Gregor Robertson, the NPA's Kirk LaPointe, and the Cedar Party's Glen Chernen
In the 2014 Vancouver civic election, Mayor Gregor Robertson would seem to have another win at the polls, come November 15th, virtually in the bag.
In 2011, Mr. Robertson took 53.17% of the vote, as 77,005 electors cast a ballot for the sitting Mayor, almost 10,000 more votes than were cast for him in 2008. Meanwhile, in 2011, the opposition Non-Partisan Association garnered only 58,152 votes, or 40.15% support. In order for Kirk LaPointe, the NPA's mayoralty candidate in 2014, to triumph on the evening of November 15th, the Mayor's popularity would have to drop by almost 10,000 votes, with a concomitant rise in popularity for the NPA. What are the prospects that the Mayor will lose 10,000 votes, while Mr. LaPointe transfers Mr. Robertson's lost votes into the winning column for the NPA?
VanRamblings' answer to that question: bloody unlikely.
For all the kvetching of the opposition poli parties about City Hall secrecy, development run amuck, Vision's failure to build affordable housing, and the utter collapse of the Mayor's commitment to end homelessness by 2015, a recent Justason poll indicates that the Mayor maintains the support of 59% of the electorate, an almost insurmountable lead in popularity over the NPA's Kirk LaPointe, who registers only 41% support from the electorate.
Opposition parties don't win elections; the party in power loses government, generally arising from scandal, utter incompetence, in-fighting within the party, or a weariness among the electorate. None of those latter attributes apply to Vision Vancouver, who would not only appear to have maintained the support of the electorate, but have, as well, an experienced, well-funded, and professionally-run electoral machine that has won majority government twice, and means to win a third majority mandate in 2014.
As we've written previously, in 2002 the NPA lost office at Vancouver City Hall when City Councillor Jennifer Clarke succeeded in a party coup to dislodge popular three-term sitting Mayor Philip Owen, much the same circumstance as occurred in 2008, when NPA City Councillor Peter Ladner defeated sitting Mayor Sam Sullivan to run — in what proved to be a losing bid — as the NPA mayoralty candidate. Both times the party was trounced at the polls. As we say, the electorate simply doesn't like party in-fighting.
In 2005, the Non-Partisan Association was once again able to gain a win at the polls, when the Coalition of Progressive Electors (COPE) — the sitting civic government of the day — found itself rent with division.
What could cause Mayor Robertson to lose in 2014? Character issues, or evidence of financial impropriety. Rumours continue to abound about indiscreet behaviour involving the Mayor. Meanwhile, there are rumours afloat about the Mayor's involvement in financial / development transactions where the Mayor and / or his friends have unduly, or 'illegally', benefited.
VanRamblings' perspective on these politically-inclined rumours: political partisans opposed to the Mayor's re-election are dreaming in technicolor.
At this point, there are only three Mayoralty candidates, other than the Mr. Robertson, who've announced their intention to seek office at Vancouver City Hall: the NPA's Kirk LaPointe, the Vancouver Cedar Party's Glen Chernen, and independent candidate for Mayor, Colin Shandler. COPE, as well as TEAM, had been rumoured to be running mayoralty candidates, but that prospect seems to have dimmed in recent months.
The Non-Partisan Association is the only civic party, other than Vision Vancouver, that has the funding necessary to mount a winning campaign for office. For all that the Cedar Party's Glen Chernen is a fine fellow, his party is underfunded and understaffed, with little or no history of involvement on the civic scene — as such, Chernen's potential for success at the polls is remote, his role in a bid for civic office that of spoiler, most probably as it relates to the prospects of the NPA's mayoralty candidate. Colin Shandler's prospects for a win are nil — he'll just not find himself in the conversation, however much of a decent guy he may be.
All is not necessarily lost for the NPA's mayoralty candidate, though.
In Kirk LaPointe, the Non-Partisan Association has a handsome, informed, articulate, grounded and charismatic candidate, a mayoralty hopeful who thinks on his feet, writes well, connects in a palpable manner, and has staked out firm positions on the issues that have arisen over the summer.
Unfortunately, Mr. LaPointe would seem to be suffering from Left Foot Syndrome — which is to say that Mr. LaPointe would seem to favour that particular appendage for regular placement in his mouth (at least it's not both feet!). It's difficult to disagree with what Green Party of Vancouver Park Board candidate Stuart Mackinnon has to say when he writes ...
"While I'm not a fan of the current regime at City Hall and agree that we need change, I think Kirk LaPointe should choose his examples a little more carefully. All three examples he uses — Aquarium, tankers and Granville Island ownership — are very important civic issues. The Aquarium because it sits on public park land and leases this from the Park Board, tankers because even one mishap could have irreversible consequences for Vancouver, and Granville Island because what happens there has great effect on the City as a whole.

There are many examples to show why we need a new government in Vancouver, these 3 are not amongst them."
VanRamblings believes the points Mr. Mackinnon raises to be unassailable.
Even if Kirk LaPointe hasn't proved to be too much the politician to this point in the civic electoral race — why would he take a position on a hot-button issue like the Aquarium, and risk alienating a goodly portion of the electorate who don't agree with his enunciated position of 'Park Board should leave well enough alone, things are fine at the Aquarium'? — these are early days in Campaign 2014 for elected office in the City of Vancouver.
As much as Vision Vancouver aims to emerge victorious at the polls come November 15, 2014, Kirk LaPointe and his ready band of NPA colleagues are just as intent in securing a majority victory on that very same evening.
In 2014, Vancouverites may just find themselves witness to an honest-to-goodness civic election campaign that engages the hearts and minds of the electorate. In the coming days, VanRamblings will publish analyses of the Councillors' race for elected office, as well as Board of Education and Park Board. Welcome back. Nice to have you reading VanRamblings again!
August 8, 2014
Approximately one week ago, Vancouver Magazine columnist Frances Bula casually asked me why I was covering Vancouver's civic election scene on VanRamblings — stating that, "I don't recall you doing that much before."
Now, Frances' query was framed as a simple question — she was curious, and given that we'd been corresponding, and I turned up at the NPA breakfast meeting with Kirk LaPointe on July 14th (unusual for me), the question seems a valid one, and deserving of a reply. Because the question Frances poses is a question that has been asked of me by many (not the least of whom was COPE's Sarah Beuhler), I'll use this forum to respond.
The primary reason VanRamblings revived itself on June 15th to commence in-depth coverage of the current civic election cycle was to create an alternative narrative to the one most often expressed by Vision Vancouver.
On VanRamblings, I want to hold Vision Vancouver to account for their decision-making, practice and conduct over the course of the past almost six years, and to remind VanRamblings' approximately 17,000 weekly readers of Vision Vancouver's position on a number of issues: development, community consultation, the arts, parks as well as green and environmental issues, affordable housing, and transit — and of how what Vision Vancouver says (or said in the past), and what Vancouver's majority municipal party actually does in practice are often two very different things.
As I've also written on VanRamblings many, many times before, I believe Vision Vancouver to be the worst municipal government that Vancouver has had since the hoary days of Tom 'Terrific' Campbell — and, what I've set about to do on VanRamblings is back up that contention with dogged research, and the regular breaking of stories on this blog, commencing with intensive coverage of Vancouver's civic scene some eight weeks ago.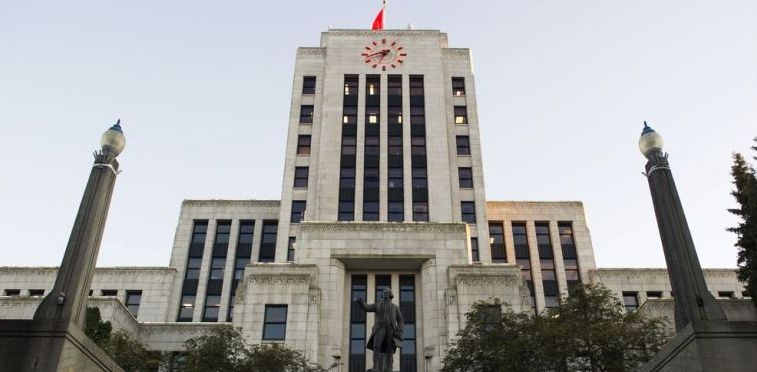 Now, to the second part of Frances' query (before returning to a continuing answer of the initial question): while it is true that VanRamblings has not had a history, over the past decade, of providing intensive coverage of the civic scene, as the last PoliSci / Anthropology / Sociology graduate from Simon Fraser's old PSA department, I can tell you that my interest in the art of politics captured me whole in the early days of my young adulthood.
At Simon Fraser University, where I undertook two undergraduate degrees throughout the 1970s, I developed an overweening interest in politics that was honed and academically informed through the guidance of professors and activists of political conscience. I was privileged to continue a process of a refining of my political understanding as I undertook a Master's degree in Policy Administration, again at Simon Fraser University, in the early 1980s.
The allure of politics, and of democratic engagement and empowerment dates back even earlier, to the first part of the 1960s when I marched with my father on postal workers' picket lines, on strike after strike after strike.
As I've written previously, I worked on my first political campaign in 1963, volunteering on NDP MP Harold Winch's Vancouver East campaign for re-election to federal office, and from those days until now, the allure of politics and democratic engagement has held a pull and a fascination for me, as part of a lifelong endeavour that has consumed me, as a good portion of my life has continued in dedication to building a fairer, more just and truly democratic society, an interest that sustains me until this day.
In additional answer to the query, although I've not covered civic politics to distraction on VanRamblings (I'll explain why in a moment), I have consistently covered the federal and provincial political electoral scene: for instance, in my Decision Canada coverage of federal elections, and last year's intensive Decision BC 2013 coverage of our BC provincial election.
As to why I turned up at the NPA breakfast meeting with Kirk LaPointe, or attend press conferences for the other municipal political parties? I've asked to be placed on the press contact list, and the various civic parties have kindly acceded to my request. I'm retired, I've got the time, I have the interest, and I have the forum — VanRamblings — to publish. Yes, we live in a new and different age. We now have citizen journalism on the web!
While it is true that there's not been all that much coverage of civic issues, on a regular basis, on VanRamblings, and certainly not intensive coverage of Vancouver's civic scene, there's good reason for that ...
During the course of the 2005 election, I was a member of Vancouver's Board of Variance. Given that the BoV is an independent, quasi-judicial body, I believed that it would have been unseemly for me to pronounce publically on civic election affairs — which doesn't mean that I, and other members of the Board of Variance on which I sat, didn't stump for and support civic parties running in the 2005 election; rather, it was that such engagement was quieter, and reflective of the position of trust we held as members of the Board.

During the course of the 2008 and 2011 Vancouver civic elections, I worked as a co-campaign manager on Tim Louis' campaign for office, designed, created and posted to his campaign website, and worked assiduously on the COPE campaign, as a whole, to elect members to Vancouver City Council, Park Board and School Board.

In 2008, given that I had a relationship of some longstanding with Aaron Jasper, I worked as a campaign organizer on the Vision-COPE Park Board slate (both at the request of COPE, and at Aaron's request, and with the support of Vision). Throughout both campaigns, I was busy working on Tim's / COPE's campaign for office, as well as engaging in grassroots campaigning, going door-to-door campaigning for COPE.
So, as you see, my interest in civic politics was always present — I have chosen in 2014 to direct that involvement in the life of our society, online.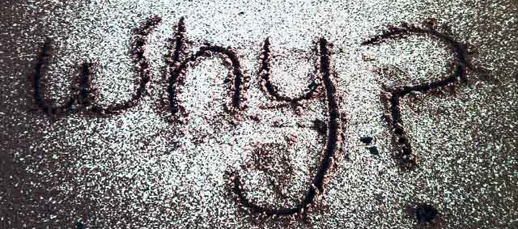 Back to the implicit question contained in Frances' initial query: why you, Raymond, why now — and, perhaps, how is your voice a valid one?
The answer is simple: although I have not previously acted as a journalist covering Vancouver's civic electoral scene, I believe I am in a unique position to cover the 2014 Vancouver municipal election: which is to say, I have a personal relationship with, and have had a personal relationship, with almost every civic politico in town, dating back a decade and much longer.
For instance, for a year-and-a-half, commencing in early 2012 through until the autumn of last year, one Sunday every month, I met with a group of progressives in COPE to help develop a framework for COPE policy — as such I was "inside" the process of decision-making for one of Vancouver's four main political parties. During that time I was afforded the opportunity to get to know Tristan Markle, Stuart Parker, Kim Hearty, and the nine others who sat around Dr. Penny Parry and Tim's Louis' dining room table.
I also worked closely with COPE Executive Director Sean Antrim, and was very much involved in various aspects of the COPE planning process.
Board of Education Chair, Patti Bacchus, and NPA BoE candidate, Christopher Richardson
Given my gregarious and curious nature (and much to the chagrin of my COPE colleagues), I have also come to develop a close rapport, verging on friendship, with a number of folks involved in the Non-Partisan Association.
For instance, for the past year and a half, I have met once a month with current NPA Council candidate Rob McDowell (one of my very favourite politicos in town, and my favourite of the NPA candidates for Council). As the Park Board watchdog (so named by The Courier's Sandra Thomas), in addition to speaking regularly with the Vision Vancouver Commissioners on Park Board — Chair, Aaron Jasper, Constance Barnes, Niki Sharma, Sarah Blyth and Trevor (each of whom I both like very much, and for whom I have much respect and admiration) — I have also had the privilege of speaking and meeting with the two NPA Park Board Commissioners, John Coupar and Melissa DeGenova. I like, admire & respect both John & Melissa, very much.
If I am over the moon about Rob McDowell (and I am), my regard for current NPA Board of Education candidate Christopher Richardson knows no bounds — he's not just one of the finest politicos I've ever met, Christopher is one of the best people I've ever met, period; it is a privilege to have the opportunity to speak with both Rob and Christopher.
In addition to Rob McDowell and Christopher Richardson, I've come to hold NPA Board of Education candidate Sandy Sharma, and NPA Park Board candidate Erin Shum in the highest personal regard. My admiration for NPA Council candidate Ian Robertson also knows no bounds — I think he's the smartest politico in town. I've also become more familiar with NPA Councillor George Affleck, and have long known NPA Councillor Elizabeth Ball, dating back to the days when I was the de facto arts and entertainment editor for a number of community newspapers, and regularly met with Elizabeth, in her capacity as Managing Director of Granville Island's Carousel Theatre.
That I believe that each of these candidates for the Non-Partisan Association to be principled, honest and humble, and deserving of the public's support at the polls should be considered a given — truth to tell, though, these are early days, and I have not as yet determined the list of candidates I will endorse in the final week of the current civic election cycle.
For Council, I can tell you that COPE's Sid Chow Tan and Tim Louis will be on my final endorsement list, as will the Vancouver Cedar Party's Nicholas Chernen. Clearly, the NPA's Rob McDowell and Ian Robertson are at the top of my list for Vancouver's natural governing party.
At this point, I can't imagine not endorsing Vision Vancouver's Andrea Reimer and Niki Sharma (tough, incredibly bright, principled women) — regardless of my somewhat untoward coverage of Vancouver's majority party at City Hall. And, of course, current Green Party City Councillor Adriane Carr, and her running mate, Pete Fry (about whom I feel as equally strongly as I do Tim Louis, Rob McDowell, Ian Robertson, Sid Chow Tan and Nicholas Chernen) will likely be on my final endorsement list.
Still, as I say, it's early days — the final civic election candidate endorsement list is three months away from publication date.
All of the above is by way of saying, I believe that the perspective I offer on Vancouver's civic scene to be fetchingly humane and idiosyncratic, as well as informed to a degree unusual among those who cover the civic scene.
Given my relationship of long duration with politicos from across the political spectrum, and based as well on my work with many of Vancouver's most activist politicos, I have most certainly developed a more intimate rapport than most reporters would allow to be the case, all of which provides me with a unique insight into the character of those who are running for office, and those mounting and backing the various municipal political campaigns.
As such, VanRamblings can, and will, offer a warmly idiosyncratic (and we hope, as well, often amusing) take on the civic scene, in the days, weeks and months leading up to the November 15th municipal election.
An aside, if I might, on two issues concerning VanRamblings ...
Humour. You'll notice above that I employ the phrase "natural governing party" to describe the Non-Partisan Association. Allow me to point out that use of such phrase does not constitute an endorsement of the NPA, nor is it meant to suggest in any way, shape or form that I am "in the tank" for the NPA — I am simply having a little fun (mostly at the expense of some of the folks in COPE, it would seem, although that was never my intention). Readers should know, as well, that I have fun with the headlines / titles of the various articles: surely, having read VanRamblings for awhile now, you must know that I indulge my penchant for hyperbole at almost every opportunity that is afforded; sometimes after I've finished writing a column, and read it back to myself, I laugh out loud at how outrageous and over-the-top my "seeming endorsement" of a candidate would be to the casual reader. That a good many of my readers read some of my writing as amusing (as is intended) is heartening for me; that the converse is also true is, well, unsettling for me — doesn't mean I'm going to stop from composing headlines that, as I wrote a couple of days back, are designed to "engage, enrage and misdirect (challenging the reader to actually read through the commentary below the 'meant to outrage' title)."

Pejorative attack: Although I believe that the politics of personal destruction is the modus operandi for both Vision Vancouver and Stephen Harper's federal Tories (an electoral strategy that has proved successful for both political parties, thus far), on VanRamblings you will never read an attack on someone's character. Ever. There's no one on Vancouver's civic scene that I dislike (I have some personal favourites, and some quite not-so-favourites) — I am admiring of those who are engaged in the civic political scene, & in service of the public interest.
Yes, it is true that I've had some fun at the expense of Vision Vancouver's campaign team, but let me tell you that not for one moment do I ever forget that a person I am writing about is someone's son, daughter, husband, wife, companion, beloved uncle or aunt, someone's father or mother, brother or sister, or cherished friend.
I do not, and will not, deny someone's humanity.
When I write about the Mayor's Chief of Staff, Mike Magee, I do not forget who he is as a man, as a husband and a father and a friend, in addition to his work as a politico of stature and much accomplishment. You will never see me going after someone personally on the VanRamblings blog — sure, I'll take Vision Vancouver to task, but you will never read personal invective or ad hominem personal attack on this website.
Today's post constitutes only the first part of my answer to the question posed by Frances; there's more that I have to say — but not today.

This is my pre-birthday week. This coming Monday, August 11th, is my — as a neighbour suggested to me — "Beatles birthday". I will be 64.
I may have one more post before, or on (or after) my birthday (nothing political), after which time I'll take a break from VanRamblings for one week, before commencing with posting once again on Vancouver's civic scene. I look forward to your return on Monday, August 18th, for VanRamblings' continuing coverage of the upcoming 2014 Vancouver municipal election.

August 2, 2014
Kirk LaPointe is the mayoralty candidate for the Non-Partisan Association, Vancouver's oldest municipal political party.
In the past 24 hours, arising from the publication of an unsigned article on the Broadbent Institute's online publication Press Progress — the article titled Does Vancouver's conservative mayoral candidate still find picture of gay men kissing distasteful? — a visceral and destructive online controversy was created, the tenets of which was captured by The Straight editor Charlie Smith, in a commentary he published online on Friday afternoon.
In the past, VanRamblings has written about the tendency to viciousness of the Vision Vancouver campaign team, and their penchant (and, seemingly to date, winning strategy) for engaging in the politics of personal destruction, which in 2014 with the emergence of an articulate, relatively charismatic opposition candidate in the form of Kirk LaPointe, bodes ill for those of us who would much prefer that the upcoming Vancouver municipal electoral campaign would be focused on policy over personality.
If wishes were horses, one supposes.
At any rate, please find below Kirk LaPointe's well-reasoned and thoughtful response to the online provocation of the Broadbent Institute.
Kirk LaPointe | The Vancouver I Want | When context is everything
A campaign is usually nasty. I've watched a few dozen of them as a journalist and now I get to experience one from a different place.
I have taught journalism for a decade, where we emphasize that context is everything: when you use a quote, it needs to be fair-minded within wider information and reflective of the overall tone.
I was sideswiped Friday by a story and social media that would have garnered a failing grade in my class.
The Broadbent Institute started the ball rolling with a story based on a 1999 column I wrote as editor of The Hamilton Spectator that branded me a "conservative" mayoralty candidate who might have been and still might be queasy about seeing two men kiss. It raised questions about my commitment to inclusiveness and equality. It pretty well called me a homophobe, and if it didn't, then the Vision Vancouver clan followed up with Tweets that did.
Before we get any further, let me reproduce the salient part of the weekly column on newsroom decisions so you can understand what was torqued:
"An analysis of what a newsroom covers would show about 30 per cent of it is staged for us: news conferences, photo opportunities, seminars, and other sessions to introduce arguments, ideas, and products.
Another 60 per cent involves events to which we must respond: disasters, breakthroughs, games, reports, and the like.
Only about 10 per cent involves material of our own creation and initiative: the ideas our journalists bring to the job or come upon in the course of their work. They decide there's a story there and begin to pursue it.
I'm not pleased with this balance, but we're not alone. That percentage — give or take five points — would hold for every newsroom I know. We are investing heavily in original work and encouraging our reporters to explore. But we spend way too much time covering and not enough time uncovering.
What's more, we can't cover nearly as many things as many people and organizations in our communities would like.
Trouble is, what we cover is so often designed purely to appeal to our basic needs for a photo. Stories are helped immensely by illustrations.
A couple of tricky cases this week involved one we decided to publish and one we didn't.
The new Web site from the Interbrew beer company, appropriately titledbeer.com, staged a media photo opportunity and news conference at SkyDome in Toronto by arranging a zillion beer caps into the shape of its logo on the field.
We went for the bait. Made for a neat photo. Got a reasonable story. But we were used. A novelty photo opportunity lured us into providing valuable space.
Score one for them.
A picture we chose not to publish arose Thursday at a "kiss-in" organized at McMaster University as part of Gay Pride Week.
As it turns out, only one couple kissed for the cameras. We took a few photos of the two men but didn't run one.
In this case, we determined the event was a basic stunt, and not a significantly attended one. The image itself would be offensive to a number of our readers.
If we are going to risk offending readers — as we have to do from time to time — it should be for exceptional events. On pure news value, this wasn't one of them.
Our new columnist, Susan Clairmont, wrote extensively on the Mac event. Her words were descriptive enough to help readers understand what happened.
We do not take a hostile view to homosexuality. Our editorial policy has been sensitive, and our portrayal of gays and lesbians has aimed to be informed. But this was a provocative gesture. We were, in effect, dared to not cover the kiss. We decided no."
So, there you have some context.
There is no sense, as some of the trolls suggest, that I would have found the image distasteful. That is a manufactured word, and anyone without access to the original article would have been easily misled.
I know all about the theories of media manipulation; the people who constructed this were rank amateurs, as were the folks who commissioned it.
By the way, the Broadbent Institute has some meaning in my life. Most probably unlike the anonymous author of the piece about me, I happen to have known Ed Broadbent.
I covered him as a reporter and news editor in his years as NDP leader and beyond. I interviewed him dozens of times and was a friend of many of his MPs, too. He always had a grounded point when he rose in the Commons, he was a figure of integrity, and I cannot recall ever calling him out on slipshod information. I think he'd find disgraceful what his institute produced Friday. (In his highly understandable French, he would have cried: "Je suis outré!")
Of course, there is much more behind the production of this. As the Georgia Straight reported, the Vancouver-based director of strategic partnerships for the Broadbent Institute is an integral Vision advisor. This piece didn't happen by chance. It was orchestrated as a tandem job. The institute was merely the vehicle.
That the piece arrived during Pride Week was no coincidence, either. I know enough of the media bag of tricks to realize it was manufactured to scare people and distort my character at a critically newsworthy time as the city learns about me and demonstrates its inclusiveness.
Fear, as those in the LGBT community know, is a remarkable motivator.
The Tweets that followed were intriguing, in that some came from youth executive members of a political party I have long respected for its inclusiveness. The father of its current leader is without doubt the most iconic politician I covered, and I doubt the leader would believe that his ranks should be indulging in such graceless attacks. If I get a chance to see him in town this weekend, I would like to ask him if he condones something like this.
I am not naive about campaigns. All involved have much power and resources to gain and lose from the result, so I will concede people aren't always at their finest in fighting for the victory. And quite interestingly, I am learning that politicians often don't do the bidding themselves but conscript others to enter the line of fire. Third-party clamour, particularly in the social media age, is extensive.
I will Tweet and blog in this campaign, but I suspect I will be the only one doing so.
These are early campaign days, but I am starting to experience that form of personal attack that I sought to quell at the outset, and it's increasingly apparent my opponents have little intention of civil discussion, inquiry or reflection. They have an army of helpers who spread a form of hate. They're known in the business as trolls.
I feel sorrow and some compassion for these people, because I doubt in their hearts they really believe what they say. They are paid to do it or they are volunteers with hopes of one day entering the inner circle. I don't suspect they construct their lives with such hostility. I hope they don't see the world in such black-and-white frames. I give them the benefit of those doubts.
And I recognize it sounds naive, too, when I call for some civility. Our NPA campaign is an uphill battle against a very powerful, well-resourced machinery that spends a lot of money and time constructing a compelling front end in part to disguise what is behind the curtain.
For instance, I would like my opponents to sign a code of conduct to avoid personal attacks. Haven't heard anything from them on it.
Instead, the response is that smears have started. And, to create plausible deniability, not one political figure has commented in three weeks of campaigning. Only the hired hands and trolls are doing the dirty work.
Let's be entirely clear: We do not permit intolerance in our association. We are resolute about it.
When our association expelled two elected officials for their assertions on a school board LGBT policy, it sent a clear signal of our way forward. When I criticized Vision Vancouver for expelling one of its candidates for her expression on sexuality, it also sent a clear signal that her candidacy would be welcomed with us.
We were maligned for a private email that Vision chose to made public. I was unhappy about that email and made it quite clear it would not be countenanced as I moved into the mayoralty campaign.
I grew up with bullies all around, so I am used to the attacks and have compassion for those who experience discrimination, anger, shame and exclusion. Those who know me know my heart and mind are open.
Let me also be clear for those (like councillor Tim Stevenson, it seems) who missed the Tweet on Monday: I missed, with regret, the proclamation ceremony Monday for Pride Week. I didn't have information about it, wasn't happy I didn't have that information, and let people around me know so. As a newcomer, in an organization that doesn't have party status or vast machinery, I'm not privy to every last bit of information out there. We are still assembling our team. So I was sorry I didn't get there. Didn't "skip" it, didn't "choose" not to go, as the Tweeps charged. "Missed" it and regret so. If you think there is a community event I should attend, my email is kirklapointe@gmail.com. Happy to hear from you.
The more pernicious matter involves the decision on the Kiss-In. An editor has an obligation to reflect community standards, even if at times it is against his own views, and it was clear to me 15 years ago that my own tolerance of the image was not generally supported among our newspaper's leadership or among our audience. Would it be different today? Of course. Society has thankfully evolved. Some describe leadership as making tough decisions, which is true, but leadership also involves knowing when to take advice.
I left The Spectator for CTV, where I created its first Diversity Initiative, then became the newspaper representative on the Canwest Diversity Initiative when I moved to Vancouver. As a CBC ombudsman, several of my decisions involved findings of offensive and inappropriate language and depiction. I am happy to provide those digging with such fervour into my past a list of contacts on my work in those veins, but I somehow doubt they'll ask.
An aside on this issue: the only reason anyone was able to write about this today was that I was transparent about the dilemma at the time. I wrote a weekly column on difficult decision-making, just as I am now. I believe in discussing how you decide when you are given responsibility. I didn't hide those dilemmas, nor will I, and I wish I could say the same about our city government.
In being transparent about these challenges, I don't pretend there are simple solutions. And when I have regrets, I say so. I'd like our current leaders to adopt these approaches, too, but instead they send their people out to distort my life and record. I don't like playing against the bare-knuckled crowd. But when it attempts to manipulate vulnerable victims of discrimination in order to persuade them there is one more person against them, I have to get my elbows up on my behalf and theirs.
I have proposed a much more open government that shares its decision-making with the public, reveals its spending, identifies its plans and sends a message of trust to those it serves. Unlike my opponents, I will be online and accessible all campaign and, if I have the confidence of the voters, beyond November 15.
I won't be using a ghostwriter or a team of public relations people that feign authenticity.
When some of the Vision clan can tear themselves away from Twitter and from commissioning substandard journalism, I'll be happy to hear their response to this.
Meantime, I am privileged to have the opportunity to march in the Pride parade Sunday. It will be one of the great honours of my life, and I am grateful to be part of the celebration of who we are as a community.
July 30, 2014
Update: VanRamblings will update the story below on Thursday, with a Wednesday timeline of events and, perhaps, a bit of insight into the character of Nicholas Chernen — who, should he decide to run for Council, goes to the top of our list of preferred candidates (we've got a few more, but would be thrilled to add Nicholas' name). In the meantime, you may wish to read CityHallWatch's great coverage of the issue addressed below.
On July 19th, Vancouver's rambunctious civic electoral Cedar Party posted Bridge For Sale, a blog item which suggested ...
"Vision Vancouver and the Mayor are destroying as much of Vancouver's transportation infrastructure, and selling off many park commitments for as little as possible before they get voted out of office ... It has been found that the land encompassing the Eastern Granville Street Bridge Loop has finally been put up for sale."
Last evening, July 29th, Glen Chernen, Cedar Party mayoralty candidate, made available a Scribd document titled, Aquatic Centre / Granville Bridge Demolition Sale Plans Discovered, in which Mr. Chernen suggests that ...
"An official City of Vancouver sale package, for the sale and demolition of the Granville Street Bridge off-ramp, for the North side exit to Pacific Avenue, and the pending demolition of the Vancouver Aquatic Centre, to be rebuilt at the base of a new high rise to be located on the present site of the Granville Bridge off-ramp" has been issued, as he goes on to state, "The bidders must submit their final bid in 17 days (August 15th), with their initial deposit on this $32,900,000 assessed property."
VanRamblings will seek clarification of the above contention, respecting the pending demolition of the Vancouver Aquatic Centre, first thing Wednesday morning, both through contact with the City of Vancouver's Development Services department, and with Mr. Chernen, at his new offices on West Broadway, located across the street from The Hollywood Theatre.
Non-Partisan Association Park Board Commissioner John Coupar is looking into the matter. VanRamblings has contacted Vision Vancouver Park Board Commissioners Constance Barnes and Sarah Blyth seeking comment.
In the July 29th Scribd document released by the Cedar Party's Glen Chernen, he contends, among other things, that ...
The City of Vancouver indicates they will allow rezoning for high rise towers under conditions which include giving financial consideration for the development cost charges and community amenity fees to be owed by the successful bidder / developer.

The City suggests a way for the developer to avoid paying cash fees to the city by building a new Aquatic Centre on the off-ramp site and other public works projects, in lieu of cash.

The request for the developer to build/provide an Aquatic Centre and community space rather than make a cash payment for rezoning fees based on value increase, illustrates the City Hall practice of giving developers a way to avoid paying cash to the City. It makes accountability hard to enforce. This strategy results in what looks like a disguised multi-million dollar public works contract embedded in the form of constructing a new aquatic centre, which the City of Vancouver suggests be built on the site rather than cash payment.
This arrangement also prevents the City of Vancouver from holding a competitive public works bid process for renovation at the existing waterfront site 6 blocks away.
There has been no public notification or discussion with the people of Vancouver to determine if we desire having the bridge off-ramp demolished, let alone pay higher fees and taxes to fund a brand new Aquatic Centre. The off-ramp is located across the street from a mostly city owned block that is being sold to Westbank Projects developers in an exclusive, non bid process.
Also included in this sales package is the fact that any building constructed on this site would have to connect to the "neighbourhood heating system."

Large scale heating systems in Vancouver primarily run through a distribution system owned by Ian Gillespie, the owner of Westbank Projects, a major financial contributor to the Mayor of Vancouver.
Damning indictments, if true. Glen Chernen, on behalf of the Vancouver Cedar Party, calls for the establishment of an independent law enforcement department — although he doesn't suggest where this department would be seated — that would root out fraud and white collar crime at City Hall.
One would have to think that the Fraud Division of the Vancouver Police Department would attend to matters of fraud and white collar crime. As we say above, VanRamblings will seek clarification of Mr. Chernen's contentious allegations respecting the Mayor and his Vision Vancouver civic party.
Part II of the Aquatic Centre / 'sale of city land' story may be found here.
Meanwhile, VanRamblings has heard from a very reliable source that over the past six years, under the stewardship of the Vision Vancouver civic administration, the once huge $3½ billion Property Endowment Fund (PEF) land legacy, consisting of property owned by the City, has been depleted by Vision Vancouver, such that only $300 million remains in the fund.
In 2007, the Non-Partisan Association administration of Mayor Sam Sullivan turned over 14 city-owned sites (part of the PEF) for the development of social housing by the provincial government. Approximately 1,637 new and livable social housing units are now on stream, the most significant social justice legacy of the Sullivan administration, a feat unmatched by the Vision Vancouver administration of Mayor Gregor Robertson, and his colleagues.
If, in fact, the allegations by the Cedar Party prove to be true — that the Vision Vancouver administration of Mayor Gregor Robertson trades development favours with their developer supporters, in exchange for the funding of the Vision Vancouver civic party — and, if it is proven true that, in fact, the Property Endowment Fund has been depleted by Vision Vancouver over the course of the past six years — perhaps as city-owned land given away to their developer backers, or simply sold off to replenish the City's diminished coffers, such activity, and its consequences, could very well prove to be the story of the 2014 Vancouver civic election.
Little wonder that Kirk LaPointe, the Non-Partisan Association's mayoralty candidate, is challenging Mayor Robertson to open the books.
July 27, 2014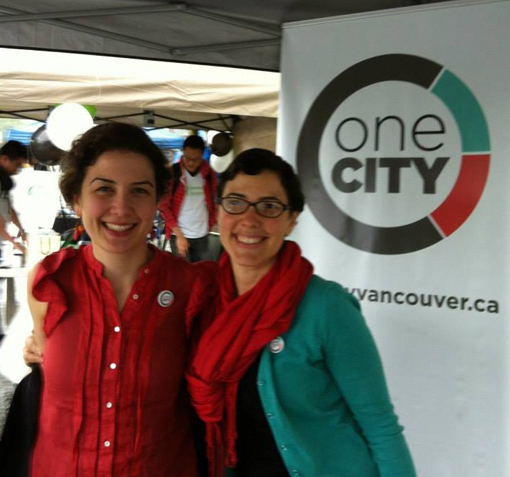 Mia Edbrooke & Kyla Epstein, co-authors of Courage: Valuing Women's Lives in Politics
The following statement was issued by One City Vancouver, on July 23rd ...
Meeting Courage with Courage: Valuing Women's Lives in Politics
Of the fifteen One City Organizing Committee members, seven of us are women under the age of forty.
Needless to say, the sudden resignation of Trish Kelly as a Vision Vancouver Park Board candidate has, as they say, hit close to home.
The seven of us are the daughters of women who, since the sixties and seventies, have fought for a seat at the table — and in many cases, won.
We are recognized for our work and are valued for our participation in our communities. Many of us have partners who do their share of the housework, and most of us have or will take maternity leaves and other hard-won benefits. We see people like us in positions of power. We also know that there are fights yet ahead. Women working in and out of politics face judgment based on their appearance, age, family situation, gender identity and sexuality, far more than men do. As younger women, many of us have had to fight harder than men do to legitimize ourselves in the workplace and in our community lives. This struggle broadens our perspective, sharpens our compassion, and brings us together. We simply can not afford to remain silent on this matter. There is too much at stake.
The seven of us know that, should we decide to run for public office one day, we can expect to see any number of things dredged up, especially in the feeding frenzy that is social media. Perhaps it will be over some article we wrote in university; whom we dated, or whom we didn't date; whether it's okay for a woman with younger kids to enter into public life; images of us dancing on an art car at Burning Man; private photos that we took with a former partner; our hair, our weight, our clothes, or whether we're shrill and angry when we assert our position on an issue.
It takes a courageous woman to stand for election, to declare that her voice has worth, in the face of such attacks.
For real social change, institutions need to meet the courage of these women candidates with courage of their own — to stand with women through personal attacks, and to call out the attackers.
At One City, we found it chilling that the decision-makers who hold power at Vision failed to act to affirm their support for Trish Kelly.
Political parties need to say loudly and repeatedly that a woman's (or anyone's) appearance, private life, gender identity and sexuality do not diminish their worth as a candidate. In fact, progressive political parties need to fully embrace the diversity and sex-positive activism of women.
We want to build a world where women candidates' whole lives are valued, where a woman's history, experiences, and choices are recognized as making her the person she is today.
Alison Atkinson; Anna Chudnovsky; Cara Ng; Christine Boyle; Kyla Epstein; Mia Edbrooke; & Thi Vu. Members of the One City Organizing Committee
November 15, 2013
One year from today, Vancouver will hold its triennial municipal election, Vancouver's 101st election since the City was incorporated in 1886.
In Vancouver — where, unlike any other municipality in British Columbia, our election is held under the auspices of the Vancouver Charter — the citizens of our fair city will elect 10 City Councillors, 7 Park Board Commissioners, and 9 Board of Education Trustees who, from the weeks after the election, will conduct the governance of civic affairs in Canada's third largest city.
And what an election it will be. Unless VanRamblings is off the mark — and we don't believe we are — the 2014 civic election will prove to be the most disputatious election of a generation, as the nine parties seeking office attempt to slam their opponents with the knockout blow that will leave the challenger victorious, holding the reigns of government, or at the very least, the crucial swing votes that will determine Vancouver's future.
Moreso than in any previous election, the nine parties that will compete for your vote, and elected office, will personalize their attacks on the members of the competing parties, identifying their opponents as "the other" ...
The 'Other', VanRamblings would posit, is a member of another political party, who is designated by the 'In' group as not belonging, as being different in some fundamental way. Any political opponent becomes the 'Other'. The municipal political party identifying "the Other(s)" sees itself as the norm and judges those who do not meet that norm as "the Other". Perceived as lacking essential characteristics possessed by the 'In' group, the 'Other' is almost always seen as a lesser or inferior being and is treated accordingly in all pronouncements, and in the conduct of personal and political affairs in the common weal. The 'Other' will often be characterized as lacking, as less intelligent, or as unstable - which is to say, of reduced or challenged mental capacity - as amoral or immoral, and may even be regarded as tantamount to being sub-human.
And thus the tone will be set for the 2014 Vancouver municipal election.
Perhaps VanRamblings could expand on our definition of the 'Other', as we understand it as philosophical concept, and offer brief remedial prescription.
1. The concept of the 'Other' comes from the perspective that makes 'difference' the key focus in analyzing how we understand the world around us - thus the spelling is often capitalized.

2. The 'Other' is nearly always used as a negative term.

3. The myth of the 'Other' in literature, conceived of as 'perilous' and 'strange' or 'abnormal' plays with the concept of the monstrous 'Other'. The concept of the monster helps to prevent those who identify with the main characters — or, in this instance, the proponents on the main political parties — from assuming that they know everything about them, that they are good; that there is, as Nietzsche has written, "dark chaos that sits in man's hearts", as it does in the hearts of the 'Other'.

4. When the 'In' group designates the 'Other', they point out the perceived weaknesses of the 'Other', to make themselves look stronger, better, more able and more capable. Such designation implies a hierarchy, and it often serves to keep power where it already lies.

5. The 'In' group seeks to demonize, marginalize and punish the 'Other', often through heinous discriminatory measures, to eliminate the 'Other'.
VanRamblings would argue we must strive in contemporary society for empathy and understanding, and the melding and blending of groups, in order that the 'Other' will no longer be a phenomena of our current era.
Each party running for office in 2014 will most assuredly identify their opponents as "the other". It is a "if yer not fer us, yr agin us" philosophy of politics, reliant on a dehumanization of individual members of the opposing party, or parties, the political opponent as demon, who means to do ill — and in the case of Vision Vancouver, it will be claimed, has done ill — and should this unacceptable circumstance, and the aberrant individual(s) who currently hold office retain that office, competing party stalwarts will argue the apocalypse will most certainly be upon each and every one of us.
For many, with nine competing parties vying fiftfully for the attention of a disengaged electorate — let us not forget that in 2011 there was only a 34% turnout of eligible voters at the polls, and that only because of the $658,000 Vision Vancouver ad buy in the final five days of the campaign, a "happy face" strategy that brought out 10,000 "new" voters, in an election which resulted in a 4% greater turnout than in 2008, the election which brought Vision Vancouver to power — the 2014 Vancouver civic election will beggar belief in the malevolent tone of candidate political discourse.
Make no mistake, it will be Vision Vancouver and the NPA who, while attempting to knock each other off message, will bear the brunt of vituperative attack, as the only two parties with any conceivable chance of forming government, the "two developer parties" you will be told repeatedly, as if that is necessarily a bad thing — neither of which party, voters will be instructed, deserving of your vote, the panjundrum repeated ad nauseum, until a disgusted electorate tunes out the cacophony of ill will — none of which circumstance serves the public good or the common weal.
The question begs: does it have to be that way, must Vancouver politicians get down into the muck in order to prevail on election day?
Stepan Vdovine, Vision Vancouver's Executive Director, would argue not.
In a Letter to the Editor published in this week's Georgia Straight, Stepan writes about the paranoia about Vision Vancouver's "secret agenda" ...
The type of negative attacks we're seeing from failed council candidates, or the Tea Party-like anger of the NPA, is not surprising as we approach the one-year mark to the next election. Mayor Gregor Robertson and the Vision Vancouver-led council have overseen a boom in new rental housing, more social housing being built in Vancouver than ever before, a drop in people sleeping on the streets, and strong action on climate change.

Let's hope the various opposition parties start offering their own policy solutions, rather than more anger and negative attacks on Vision.
Further down the page, VanRamblings weighs in ...
Stepan is, of course, right: decorum, decency and civility in covering - and in - public life would be a net good thing. Since the election of Sam Sullivan in 2005, politics has devolved to a disheartening degree, not helped by Mayor Gregor, in his first term, when he referred to folks like urban geographer Ned Jacobs as a "fucking NPA" hack. Not a lot of civility there.

Stepan is a good guy (c'mon now, he really is).

But the bare fact is that there are a great many Vancouver citizens who have become infuriated with Vision Vancouver, however ably and well Stepan has come to the defense of the party that employs him as its Executive Director.

My fear is that in the coming 12 months, those of us who live in Vancouver will experience the ugliest municipal political campaign of a generation, a campaign where both Vision Vancouver and the NPA (neither of which party is "the devil") will be demonized by their opponents - be they from COPE, NSV, TEAM 2.0, Vancouver First, or the Cedar Party - and that, contrary to what Stepan would wish, we will hear precious little about, "policy solutions, rather than more anger and negative attacks on ..." well, on Vision Vancouver and the NPA.

We live in perilous times. People are frustrated and angry, and don't feel as if they're being listened to; the natural consequence of that is, as Stepan writes, "Tea Party-like anger" ... but directed not just at Vision Vancouver, but at any politico who just doesn't get it.

Vision Vancouver, who've become one of the most tone-deaf civic administrations of a generation, will bear the brunt of that anger, in 2014.

This next year? It ain't gonna be pretty.
Again, the question begs: does it have to be that way?
In a Toronto Star story published earlier in the week, former Ontario Tory leader Bill Davis argued, as VanRamblings does above, that we need more decorum, decency and civility in public life. In the 1970s, Davis built up a formidable campaign team — dubbed the Big Blue Machine — which resulted in a Progressive Conservative government in Ontario that prevailed from 1971 through 1985, with Davis as Premier. How did Davis achieve such a lengthy stay in government? As Martin Regg Cohn's story suggests ...
He governed from the progressive flank of the Progressive Conservative party, positioning it in the middle of Ontario politics and securing its place as the province's natural governing dynasty. And by surrounding himself with savvy, compassionate political aides — cerebral Tories with heart — who helped him keep his ear to the ground while perched in the premier's office from 1971-85.
The consequence? Good government. Progressive government. Government that listened to the people, and acted on their concerns. These days that almost seems like a foreign concept, doesn't it?
In the coming days, weeks and months, VanRamblings will have a great deal to say about each of the political parties that will enter the municipal political electoral fray, next year, in the fight for your vote. As may be determined by our commentary above, we will not support Vision Vancouver's re-election — outside of support for a handful of their Board of Education candidates — and will seek to move our support to the only Vancouver civic party that we believe has any chance whatsoever in dislodging Vision Vancouver — the most arrogant, untoward municipal government since the days of Tom "Terrific" Campbell, in the late 1960s / early 1970s.
In the past month and more, while working with members of the Kitsilano community, in the west side neighbourhood where VanRamblings has resided for more than thirty years, the Save Kits Beach movement has emerged as the civic story of legacy, for our children and their children. That the Non-Partisan Association, the NPA, emerged as the only municipal political party that acknowledged the importance of legacy is, for us, a profound sadness, in the political venture in which we are all going to be involved in the next year, as we head towards the polls on Nov. 15, 2014.
The NPA: a "right wing" party? Maybe in the past, but no more. No, in 2014, the NPA has learned its lesson, recovered from the nastiness that defined the Sam Sullivan administration (not that everything Sam, and his Council, did was "bad" — let's leave aside "Sam's strike" for the moment) — and has once again emerged as a humanist party, a party of parents and children, grandkids and uncles and aunts, sisters and brothers and neighbours, the only municipal political party in Vancouver — apart from Art Phillips' TEAM (The Electors' Action Movement) of the 1970s — that has ever come close to truly representing the middle class, which is where most of us find ourselves. Although COPE continues to fight the good fight for the poor, destitute and vulnerable, fights for truly affordable housing (not that they have the first clue what that means, in practice), and fights for better transit, while Vision Vancouver fights for raw, cynical power, and tell themselves lies each and every day to get through the day, it is the NPA, VanRamblings believes, which best represents the aspirations of the majority of Vancouverites, about which we will provide explanation and expansion in future VanRamblings posts, in the months to come.
Over the course of the coming 12 months, VanRamblings will keep an open mind. We know that TEAM 2.0's Bill McCreery, Mike Andruff and Dave Pasin are decent men, men of character and intelligence. And despite all, we believe as much as we have always believed that COPE's Stuart Parker — one of the brightest, most charismatic politicians of a generation — deserves a place on Vancouver City Council, as we pretty much believe of COPE stalwart Tim Louis, although we are probably among a minority of those who will support him at the polls in 2014, and perhaps more's the pity on that count, because we need a firebrand on Vancouver City Council. Although it is not de rigeur to say so, we like Vancouver First candidate (and he will be) Jesse Johl. And, if Stuart Mackinnon runs for Vancouver City Council, as a Green candidate, he will most decidedly find our favour.
Make no mistake, though, it is the Non-Partisan Association, and the Non-Partisan Association alone that can unseat Vision Vancouver, and remove them from City Hall and Park Board: given that the NPA is the best-funded and most united municipal party entering next year's Vancouver municipal election. And you know what else? The NPA is one of the only municipal political parties comprised of sincere folks of character with — wait for this — actual beating hearts — which is to say, there are great women and men in the NPA who are principled, centrist, have your best interests at heart, and should they run afoul of what it is that you want for your community — after assuming office in 2014 — you will be surprised and pleased to discover that the NPA will prove to be, as has always proved to be the case (save the interregnum of the Sam Sullivan administration, and portions of various eras prior to 1972), the one Vancouver municipal political party that — after six years of unbelievably arrogant government under Vision Vancouver — will actually listen to you, and what is even more important, act on your concerns for your benefit.
What if they don't? (and they will, because as was the case with Bill Davis, the NPA wishes to be the once and forever Vancouver civic party of government), Vancouver voters can depend on our "liberal media" to hold the NPA's feet to the fire, in a manner that has been woefully, disconcertingly, and unacceptably absent this past five years — with the notable exception of Charlie Smith, Carlito Pablo, and the dedicated Georgia Straight journalists who do their very best to keep us informed — which "comfort the afflicted, afflict the comfortable" journalistic philosophy will thankfully, and gratefully, once again come to the fore to serve us all.
November 10, 2013

Hadden Park trio: Megan Carvell Davis, lawyer Robert Kasting, Kitsilano activist, Tina Oliver
On Monday, November 4, 2013 — the same day as the Special Park Board Meeting, about which we've written previously — lawyer, and former Olympian and renowned and respected administrative barrister Robert Kasting filed a petition, in the Supreme Court of British Columbia, asking that the Courts grant his client, historian Megan Carvell Davis, an injunction pending a hearing into the issue of the tenets of the Hadden Park Trust, which Mr. Kasting and his client argue the City / Park Board to be in breach of in imposing a 12-foot-wide bike path through Hadden Park. Here's the precise Bob Kasting to better explain the legal events of the past week ...

Administrative law lawyer Bob Kasting explains legal events of the week, re: Hadden Park
As Kitsilano resident and Save Kits Beach activist Tina Oliver wrote in the Press Release that was issued on Friday ...
The land on which Hadden Park sits was bequeathed to the City by Mr. Harvey Hadden in 1928, with the stipulation that Vancouver City and Park Board "shall keep the property as near as possible in its present state of nature, it being the desire of the grantor that those using the park shall, as far as reasonably be, enjoy the same in its natural state and condition."

In recent weeks, neighbourhood residents and other concerned citizens from across the Lower Mainland have held rallies protesting the section of the bike lane that would run through Hadden Park. Ms. Carvell Davis argues that this City-approved bike path is in direct contravention of Mr. Hadden's wishes when he deeded the park to be used as natural parkland.

The City is Court-ordered to halt any construction of the bike lane through Hadden Park until the Court addresses Ms. Carvell Davis' Petition. The date of the trial is yet to be determined.

As Ms. Carvell Davis states, "Harvey Hadden smiles upon us today: he would be pleased to know the park he bequeathed, for all citizens, for all time, has been protected."
Now for some more good news. As the Vancouver Sun's Jeff Lee writes in a story published on Saturday and headlined, Vancouver park board shelves Kits Beach bike path in wake of lawsuit, "The Vancouver park board has shelved a $2.2 million plan to separate bike lanes through Kitsilano parks."
Park Board Commissioner Constance Barnes confirmed Friday afternoon that the entire project, from the Vancouver Maritime Museum through to the other side of Kitsilano Pool has been temporarily halted as a result of a citizen-backed lawsuit over one portion of the route.

"We're putting the whole thing on hold because we're being sued and we need to be respectful of the process," she said.
The Hadden Park Trust hearing likely won't occur til sometime in June 2014.
VanRamblings believes that the section of the Seaside Greenway bike path through Hadden and Kitsilano Beach parks will never be built.
At present, we are almost exactly one full year away from the next Vancouver municipal election. By June 2014, all of Vancouver's municipal parties will have selected their candidates for office in Vancouver's 2014 election. Vision Vancouver will hold their nominating meeting in June 2014, the same month the Hadden Park Trust issue goes to Court. The Justice who hears the matter will likely take time to reserve judgement on the issues respecting Hadden Park that have been placed before her or him.
Whatever decision is rendered by the courts respecting Hadden Park, Vision Vancouver will not order construction to commence immediately upon judgement, should the City prevail in the Courts — Hadden Park is simply too much of a hot-button issue. While construction of the remaining sections of the Seaside Greenway (completion set for 2017) continues, Vision will likely order construction of the parks portion of the Greenway halted until 2015, "pending extensive consultation with the public."
Despite the information being fed to the sitting Vision Vancouver Park Board Commissioners that Strategic Communications (Stratcom) polling continues to show a convincing majority win for the party at all levels, VanRamblings believes that Vision Park Board Commissioners will be thrown out of office en masse on election night, Saturday, November 15, 2014.
As little as a 5000 vote loss by Vision Vancouver in 2014, at Council and Park Board, and a consequent gain by the Non-Partisan Association, would reverse the party standings, and result in a near-majority NPA government following the November 15th, 2014 Vancouver municipal election.
From the furore over the Langara Golf Course, to the potential foreshore destroying 30-foot-wide pedestrian and bike path Vision attempted to impose in the area between Kitsilano and Jericho beaches, from Vision Park Board Commissioners' refusal to support the construction of a Killarney Seniors Centre, to the continue hubbub over the dispute, and attempted hostile takeover, involving Vancouver's community centres, in the past two and one-half years, in all the years VanRamblings has covered Park Board matters, never have we witnessed a Park Board regarded in lower repute than the current Vision Vancouver-dominated Vancouver Park Board.
Make no mistake, the current Vision Park Board is far and away, and by any reasonable measure, the worst elected Park Board in the 125-year storied history of the Vancouver Board of Parks and Recreation. In 2014, the electorate will gleefully throw the bums out — an entirely deserving fate for the most tone deaf, anti-park Park Board to ever hold office in Vancouver.
And make no mistake, either, the Non-Partisan Association (NPA), or the New Progressive Association, the party of the purple revolution, are well-prepared to take a majority position on, if not sweep, Park Board in 2014. At present, there are 19 candidates vying for an NPA Park Board nomination, led by incumbents Melissa DeGenova and John Coupar — two of the most community-minded park advocates it has been VanRamblings' pleasure to witness in our 40+ year coverage of Park Board.
VanRamblings is aware of an active "Draft Christopher Richardson movement" — former NPA Park Board Commissioner, current Mount Pleasant Community Centre Chairperson, and one of the finest people you could ever want to meet — as a Park Board candidate, and a "Draft Sandy Sharma" movement, as well — she ran with the NPA for a Vancouver Board of Education Trustee position in 2011 — both of these individuals incredibly bright, compassionate, non-partisan and democrats of the first order.
In addition to Coupar, DeGenova, Richardson and Sharma, there's another prominent, and well-loved Indo-Canadian candidate, a woman, as well as an organizer with the Save Kits Beach movement, who are being hotly pursued by the NPA. Should the NPA take power at Park Board in 2014, citizens will not witness the sort of arrogant, bullying and entirely anti-democratic style of decision-making that has defined the Vision Vancouver Park Board approach to governance at the Vancouver Board of Parks and Recreation.
With a majority NPA Park Board in place, the Hadden + Kitsilano Beach bike freeway parks portion of the Seaside Greenway will not proceed.
And what of COPE, you ask — you mean the party of "There are no parks issues, there are only development issues"? You have to ask yourself, why would the Vancouver electorate vote for another group of "we know what's good for you, and we're going to shove it down your throat" Stalinist miscreants to take the place of the current crop of former COPE members, now Vision Vancouver Park Commissioners? Without the voices of former, celebrated COPE Park Board Commissioner Loretta Woodcock running for elected office, or former Park Board Chair Anita Romaniuk, or even former Park Board Commissioner Tim Louis, in the mix to run for COPE Parks in 2014, COPE does not stand a chance in hell of electing a single soul to Park Board in 2014 — which is, we would suggest to you, as it should be.
In 2014, the Green Party will likely run one candidate for Park Board — whoever that candidate might be (and it won't be former Green Party Park Board Commissioner Stuart Mackinnon, who will be running for a Council seat, along with incumbent Adriane Carr — who has been perversely silent on the Save Kits Beach issue, lo these many weeks — in 2014). As for the "other parties": TEAM 2.0 will not run candidates for Park Board — the same is true for the upstart Cedar Party, Vancouver First, Neighbourhoods for a Sustainable Vancouver, De-Growth, and the Work Less Party.

GlobalBC Noon News: Hadden Park bike lane put on hold. November 8, 2013
Park Board General Manager Malcolm Bromley — one of the voices of reason in the whole Save Kits Beach schmozzle, and a candidate to replace Dr. Penny Ballem as City Manager, when she is seconded to Translink to become its new CEO, in 2015 — informed Save Kits Beach organizer Howard Kelsey Friday morning that the Special Advisory Committee on the Hadden and Kits Beach parks bike route "would be placed on hold pending the outcome of the Court action brought by Ms. Carvell Davis."
Save Kits Beach organizer Howard Kelsey has issued this statement ...
Lawsuits tend to pop up when our civic leaders do not do proper due diligence, or try to ram ill-advised initiatives through without proper planning or proper public consultation. In the case of Hadden and Kits Beach parks, a tremendous resentment has been built up, as the City's "accepted bike route" was 'intrusively' rammed through an already delicate balance of recreational / user groups at Kitsilano Beach. Forcing cycling via a 12-foot-wide asphalt roadway 'inside' an already busy park, a bike highway that could be nothing other than the riskiest of park use activities — in a park well-used by Frisbee players, for family picnics, volleyball, tennis, basketball and other activities, into the relatively harmonious state that we enjoy now — is wrong, plain wrong.

Cyclists are welcome to cycle along the nearby roadway, where they can enjoy a great seaside view and experience. Everyone can 'win-win'.

Until the Courts determine the outcome of Megan Carvell Davis' lawsuit, as the Chair of the Canada One Athletic Foundation, I will remain active on issues that impact on park user enjoyment of Kitsilano Beach. While the Park Board Special Advisory Committee is 'on hold', along with the exceptional group of people I have worked as part of Save Kits Beach, collectively and working together we will remain vigilant in our work to preserve green space at Kitsilano Beach and Hadden parks.
As Howard, and others, pointed out to VanRamblings over the past 24 hours, "the fight is not over."

GlobalBC NewsHour, 6pm: Hadden Park bike lane put on hold. November 8, 2013
The past month organizing with Save Kits Beach has proved to be one of the finest examples of grassroots movement politics we've witnessed, or been a part of, in the past 40+ years of community organizing activities.
Filmmaker / activist, Laurence Keane posted the following on Facebook ...
A BIG high-five to our friends at Vision Vancouver, this was way more fun than last summer's block party!

Vision dumped a surprise community project in our laps and challenged us to work together. And we did, we made a great team full of amazing, passionate individuals with so many disparate talents. It's been a pleasure working with all of you remarkable guys and gals!
VanRamblings would like to pay tribute to Save Kits Beach folks ...
Howard Kelsey. The key media spokesperson for, and de facto leader of, Save Kits Beach, a tough, organized, hard-working guy, a former Olympian (his work ethic and dedication to task shone through each hour of every day), not a political animal — but an affable man who, through character and determination, pulled a group of concerned citizens together over the past month to rescue Hadden and Kitsilano Beach parks from the back hoes and assorted construction activities that would have imposed a 12-foot-wide asphalt bike freeway right through the middle of these two beautiful waterfront parks.
Elvira Lount. Absolutely tireless, and like Howard, full of energy, whenever and wherever there was an event to be organized, Elvira could be counted on. Her Keep Kits Beach Wild Facebook page, as well as her own Facebook account, was day in, day out, the 'go to' to place for information on Save Kits Beach. Elvira's photography is simply exquisite (there's yet another example at the top, and end, of today's post), her computer design skills exemplary, hers a fine mind of unparalleled creative talent and ability, her demeanour calm always. Elvira is at all times warmly engaging and inspiringly enthusiastic — and her addresses to our exhausted Park Board Commissioners, researched and reasoned in their line of unassailable argument.
David Fine and Laurence Keane. David won an Academy Award for Best Animated Short for Bob's Birthday. When days were looking darkest, David's brilliant short, Kits Bike Path - The Movie, injected needed humour, perspective, wit, and a warm attention to the issues that we were doing our best to articulate to the public.

Laurence was the unofficial cinematographer of the Save Kits Beach movement, that's his Utopia Pictures videos of all Save Kits Beach events over the past month, online, on social media, and on VanRamblings. We're grateful to you for all your fine work, Laurence.

The anonymous individual who drew the accurate bike path lanes through Hadden and Kitsilano Beach parks — you are owed a debt of gratitude from all of us in the Save Kits Beach movement, and all those who value of our parks and green space.
Megan Carvell Davis, Tina Oliver and Bob Kasting. It was Hadden Park historian Megan Carvell Davis whose idea it was to bring suit against Park Board and the City of Vancouver to halt construction of the paved bike path through Hadden Park. Thanks to Megan's unparalleled knowledge and insight into Hadden Park history, with the help of Bob and Tina, the imposition of a 12-foot-wide asphalt bike path through Hadden Park was stopped in its tracks.

Bob Kasting. Bronze medal winner in swimming, in the 4x100m Medley Relay, at the 1972 Summer Olympics, in Munich, and multiple medal winner at the Empire, and the British, games, Bob came on board, not as the legal counsel for Save Kits Beach, but rather for Megan Carvell Davis. The respect Bob has garnered in the legal community, and a style of presentation of argument (as can be seen in the video near the top of this post) that is both devastating in its peerless internal logic and presentation, and a wonderment to behold, has carried the day for all of us who care passionately about our parks, our green spaces as oases of tranquility amidst the hurly burly of our daily lives.

John Coupar and Melissa DeGenova. Prior to the October 7th Park Board meeting, it was John Coupar who first raised the issue of concern with Howard Kelsey, and with the media, respecting the paved bike path through Hadden and Kits Beach parks — in respect of the dark decision-making at Park Board (par for the course for Vision Vancouver) that imposed a 12-foot-wide asphalt bike path through the parks, sans consultation and public outreach.

The Save Kits Beach movement was born October 9th. John has been present at each activity conducted by Save Kits Beach, and has spoken out publically to anyone who would listen, about the travesty that would occur should a paved bike route through the parks be imposed. John's father was a horticulturalist, and as a consequence he emerged in his adult life as an advocate for parks and horticulture.

Working to save the Bloedel Conservatory situated in Queen Elizabeth Park, between the 2008 and 2011 election, when it appeared that Park Board was going to sacrifice the Bloedel Conservatory to the altar of "fiscal responsibility" (and in the process destroy / desecrate an iconic feature of the Vancouver landscape) was what ended up bringing John into politics, although he's far from what most of us would consider a politician to be. In fact, where many of those in the political realm are driven by expediency that is not the case with John — if you look up the word integrity in the dictionary, John's picture accompanies the definition. Over the past two years, John Coupar has gained the respect of everyone whose path he crosses — including the Vision Park Board Commissioners; it is quite simply an impossibility to not like and admire John Coupar. We in Vancouver are fortunate to have John as an elected representative, as an ardent, articulate advocate for parks.

John conducts the best research of the two NPA Commissioners, and finds his way to putting on the Park Board table a reasoned, coherent, and unassailable argument (doesn't mean his Vision colleagues don't ignore him — they do, and call him names in the process, all the while impeaching his integrity, character, reputation and good name, to the extent that John has to, consistently, take his Vision Vancouver Park Board Commissioner colleagues to task, and even then they ignore him, as if being a person of integrity is something to be scorned).Melissa DeGenova, on the other hand, is one tough cookie — it is Melissa who consistently holds Vision's feet to the fire, and is present to support and encourage every initiative that her NPA Park Board Commissioner colleague John Coupar undertakes. Melissa is the 'politician' of the two NPA Park Board Commissioners — she knows procedure, she's quick on her feet, and despite the worst, most abusive treatment directed toward her by her Vision Vancouver Park Board Commissioner colleagues [we're talking 'bout you, Aaron Jasper, Niki Sharma, Constance Barnes, Trevor Loke, and — less often, but often enough — Park Board Chair, Sarah Blyth] — that VanRamblings has ever had the misfortune to witness in the political arena, at any level of government - when most of us would be running home to cry to our moms - Melissa consistently gives as good as she gets, and time and again she bests her woefully inept, mean-spirited, and terribly bullying Visionless Park Board Commissioner colleagues.

This past Monday, November 4th, Melissa outdid herself. Melissa's address to her Park Board colleagues — and to the approximately 100 members of the public who were present just as the vote was to be taken on John Coupar's motion calling for "transparency of process" in the determination of a final route for parks portion of the Seaside Greenway — was, quite simply, the single most moving evocation of community spirit and commitment to democratic engagement at the Park Board table that we have ever heard voiced and been witness to; we were, all of us who were in attendance, in awe.

Sandra Thomas, Jeff Lee, Jennifer Palma, and all the media. Without the inveterate coverage of the Save Kits Beach movement by Sandra Thomas in The Vancouver Courier — whose writing on parks issues, as has long been the case, is incisive every time, and without peer — and Vancouver Sun municipal affairs reporter, Jeff Lee — the finest writer on municipal affairs of a generation (the citizens of Vancouver must remain grateful every day that Jeff did not take 'early retirement' — particularly now that a Vancouver municipal election is looming in the next year) — not to mention, the indefatigable Jennifer Palma, at Global BC, whose command of the core Save Kits Beach issues, Park Board and City governance amazed, and whose humanity and intelligence shines through in all of her reports on Save Kits Beach.

And let us not forget, Steve Bohus and Randy Helten at CityHallWatch, who were the first in the media to jump on the Save Kits Beach issues and report out, and Sam Cooper at The Province who wrote to deadline with a keen intelligence and precise understanding of the Save Kits Beach issues, and Charlie Smith and Yolanda Cole, at The Straight — the 'go to' place to read about what's going on in our City. And to award-winning producer and host of The Rush on Shaw TV, Fiona Forbes, who has stood with Save Kits Beach since day one.

And lest we forget, freelance writer Bob Mackin, the hardest-working 'holding the pols feet to the fire' / 'no fear, no favour' muckraking journalist to emerge on Vancouver's 'often too polite' Vancouver media scene in years and years, whose 'down and dirty' — and always relevant — local coverage of parks and civic issues is without peer.

As well as, the news department of our public broadcaster, the CBC; the production team at CBC Radio One's The Early Edition, and host Rick Cluff, and to all those in the media who assisted those of us involved in the Save Kits Beach movement to inform Metro Vancouver residents in order that they might better understand what was at risk contingent to the issues Save Kits Beach sought to bring to the fore — the loss of Hadden and Kitsilano Beach parks as places for families to gather, for folks to play tennis, basketball and volleyball, sit in peace under the maple trees on the north end of Kits Beach, or picnic with their families, or to sit on one of the memorial benches placed along Hadden Park, in order that we might gaze in wonderment across Burrard Inlet, to the mountains, English Bay and the ever-burgeoning towers of the West End — to recognize what we were at risk of losing should a 12-foot-wide asphalt bike freeway be constructed within the midst of two waterfront parks of unsurpassed beauty.

Those of us involved in the Save Kits Beach movement will remain grateful always for the coverage by Vancouver media that informed and enlightened, and allowed Save Kits Beach to get our message out to all among us who love Kitsilano Beach and Hadden parks.

To Randey Brophey, who has won accolades in the community and online, for taking the fight for the preservation of Kits Beach and Hadden parks to the Park Board Commissioners, a man of clear conscience and integrity, with the support of everyone who knows him, and everyone who comes to know him.

To Maria Coehlo, who emerged as one of the keynote speakers at the Sunday, October 20th Save Kits Beach rally, and the first person to bring to light the safety issues that would impact on park users - and, most particularly, small children - should the paved bike freeway be imposed by the City.

To Lynne Kent, who played a pivotal role in the Kits Point Residents Association, who when she's not working with the Save Kits Beach folks, fulfills her role as President of the Executive Committee of the Board of YWCA Canada. Somehow in her busy schedule, no matter the time day or night, Lynne was on her computer sending out and responding to e-mails, her reasoning on every issue impeccable, her voice at the October 20th rally, clarion. In addition, Lynne introduced Megan Carvell Jones to Tina Oliver, who in turn introduced Megan to Robert Kasting — the rest is, of course, history.

Adam Smith played a pivotal role, as well, not only as a member of the Kits Point Residents Association, but in large measure as the 'communications' / social media / rally the troops guy, the person who worked most closely with Lynne Kent, and in some measure, one of the individuals who was the glue that held us all together.

And to Jason Johns, parent and Kits resident, who spoke out November 7th at Park Board, and has worked with Save Kits Beach every step of the way, as has Don Shaw, Bill Hooker, Mike Lount, Julian Phipps, Gloria Sully, Grant Vanderhoek, we hope-the-soon-to-be NPA candidate for Mayor, Ian Robertson, Colleen Hardwick (migawd, Colleen, those early videos of Hadden and Kits Beach parks), Garry Chalk, Ken Leung, and far too many more names than we have space to mention in this blog post — each of whom has made a contribution of tremendous import to the Save Kits Beach movement that has, now, stopped the parks portion of the Seaside Greenway dead in its tracks.

And to all those who commented frequently on Facebook, wrote letters, attended the rallies and media events, encouraged all of us whose lives were overtaken by work on the Save Kits Beach movement, to Anita Sigur, Catherine Welsh, Pauline Maden, Ricardo Zborovszky, Chris Cross, Roni Jones, Jane Burkart, Jamie Lee Hamilton, Stuart Mackinnon, Connie McGinley, and oh so many more, thank you, thank you for your support — we couldn't have done it without you.
If you've not signed Margaret Partridge's petition, we would ask that you do so now, and tell your friends about what's been going on between the Vision Vancouver-dominated Park Board, and our beautiful Hadden and Kitsilano Beach parks, and ask them please to sign the petition.

Hadden Park Injunction Press Conference. Courtesy of Elvira Lount. November. 9, 2013
November 7, 2013
At the outset of Monday evening's Vancouver Park Board meeting, scheduled for 6pm, with Park Board Vice-Chair Aaron Jasper at the head of the table, there were not enough Vision Vancouver Park Board Commissioners present for the necessary quorum. Over the course of the hour until quorum was present, at 7pm, Mr. Jasper adjourned the meeting.

Vancouver Park Board Commissioner John Coupar on CBC's Early Edition. Nov. 4 2013.
During the course of that hour, Aaron "done deal" Jasper approached Save Kits Beach organizer Howard Kelsey to inform him that his mind, and that of his fellow Vision Vancouver Park Board Commissioners were already made up. Further, Jasper told Kelsey that the Special Meeting that had been ordered convened by Commissioners John Coupar and Melissa DeGenova — in order that the community might provide input into the membership of, and terms of reference for, an already sanctioned Park Board Special Advisory Committee on the Hadden and Kits Beach portion of the Seaside Greenway bike route — would prove to be a frustrating "exercise in futility," would accomplish nothing, that the Visionless Park Board Commissioners would proceed as they had always intended, and under no circumstance would Park Board relinquish, or cede, control to a Special Advisory Committee respecting the determination of the final parks bike route.

Save Kits Beach rally. Vancouver Park Board Commissioners, John Coupar and Melissa DeGenova, addressing the crowd. Video, courtesy of Elvira Lount. October 20, 2013
Four hours after the Special Park Board meeting was convened that is exactly what happened. One Vision Vancouver Park Board Commissioner after another, led by Mr. Jasper, and followed by Constance Barnes and Trevor Loke, and finally Niki Sharma (the beleaguered Commissioner chosen to Chair the Special Meeting) - who was all but mute on the subject of the defeat of Commissioner Coupar's motion - voted lock step against a motion calling for a fair, open and transparent process for the determination of a bike route through, or around, Hadden and Kits Beach parks.

Raymond Tomlin, on behalf of COPE, speaks out against Hadden + Kits Beach portion of the Seaside Greenway. Video courtesy of Elvira Lount. October 20 2013
Update: On Monday, Nov. 4, 2013, Megan Carvell Davis launched a B.C. Supreme Court action, applying for an injunction to stop construction of the Hadden Park portion of the Seaside Greenway. On Friday, November 8, 2013, the Supreme Court of British Columbia granted injunctive relief to Ms. Carvell Davis. For now, the City of Vancouver may not proceed with the Hadden Park portion of the Seaside Greenway. Work will be halted.
Please find the Press Release on the matter below.
Hadden Park Press Release, Nov 8 2013
As stated in The Province newspaper story the day after the meeting ...
The Vancouver Park Board voted against a motion to give "claws or teeth" to a promised advisory group on the controversial Kitsilano Beach and Hadden parks bike lane.

Speaker Elvira Lount questioned why Park Board was going ahead with its request for proposals deadline of Tuesday when the advisory group, which is expected to be up and running by mid-November, has not yet been formed. "How can (potential bidders on the bike route) budget for something that has not been determined?" she asked the board.
The manner of approach Vision Vancouver chooses to the business of the people? In the dark, with no transparency, spun to make themselves look good, anti-democratic, arrogant and bullying — and, let's face it, just downright infuriating for the hundreds of irate citizens who have turned up meeting after Park Board meeting this past couple of years, only to be dismissed and ignored by the Vision Vancouver members of Park Board.
Gregor Robertson announces it's his intention to hive off 1/3 of the Langara Golf Course for "affordable condominums", Langara residents turn out to protect their green space, and Vision Park Board Commissioners order a "metrics report." With much fanfare, in the summer of 2012, Gregor Robertson announces Vision will build a 30-foot-wide bike path / pedestrian seawall from Kitsilano thru Jericho beaches, along the last piece of pristine foreshore. The response of our nature-loving Vision Park Board Commissioners, "Hey, what a great idea. Birds, wildlife? Nope, it's bikes that matter to us." Fortunately, B.C. Common Law, and the legal concept of riparian rights prevented Vision from acting on their 'off the cuff' plans — there'll be no foreshore-destroying seawall bike path anytime soon, or ever.
Click on the photos above for added pithy commentary, or comment yourself on Facebook. Please click here for additional photos of Monday night's meeting, courtesy of David Fine
.
Of course, Aaron Jasper's and Vision's rationale for defeating John Coupar's reasonable motion was, as Randey Brophy writes in a Letter to the Editor to The Province newspaper Thursday, "a complete misrepresentation" ...
Contrary to Vision Vancouver Park Board Vice-Chairman Aaron Jasper's comments after the meeting, there was no overriding power proposed for the advisory group over the city's decisions or policies. What was proposed was that "the advisory group formed will fully review the Seaside Greenway route (Kits Beach / Hadden Park portion) and report back to the Park Board with their recommendation for any changes."

The 'proposed overriding power' of the advisory group, as stated by Mr. Jasper, was not proposed — it was completely made up by Jasper at the end of the meeting, to a chorus of disbelieving questions and boos from the vast majority of the audience ...

Consulting with and listening to recommendations from the affected taxpaying electorate, as opposed to those made by unelected but taxpayer-funded bike lobby groups, is something Vision Vancouver is, once again, demonstrably incapable of doing.
C'mon back mid-Saturday for additional content and insight into the continuing struggle — a struggle that beggars belief, given that our Park Board Commissioners have as their mandate, and are supposed to protect and enhance our parks — towards the preservation of green space, and a Seaside Greenway bike route that will prove safe for cyclists, and all recreational users of our beloved Hadden and Kitsilano Beach parks.

Photos of Monday, Nov. 4th's Park Board meeting. Courtesy of Elvira Lount. Nov. 4 2013
November 4, 2013

Kits Bike Path - The Movie. A movie by, and courtesy of, Oscar-winning director David Fine
The past two weeks in the life of the Save Kits Beach Coalition have proved eventful. Given all that is going on, and all that is planned, today promises to be a watershed day in the fight to bring a modicum of common sense to the issue of a waterfront cycling path through, or around, Hadden and Kitsilano Beach parks, amidst an assurance that the the public might still avail themselves of what the parks have to offer — all within the context of preserving what is left of Vancouver's ever-diminishing green space.
This past week, Park Board Commissioners John Coupar and Melissa DeGenova called on Park Board Chair Sarah Blyth to hold a "Special Meeting on Kits Beach Park", at 6pm tonight in the hour prior to the commencement of the regularly-scheduled Park Board meeting, in order that "key community stakeholders" might be provided an opportunity to address the Board, to articulate to all the Commissioners their concerns respecting the Kitsilano Seaside Greenway Upgrade proposal, approved at Park Board's October 7th meeting. As of Friday, Nov. 1, Ms. Blyth rejected the proposal.
Late Sunday, in an interview with Park Board Commissioner John Coupar, VanRamblings was advised that a legal opinion had been received by Coupar and Commissioner Melissa DeGenova, that legal opinion stating that ...
"Under the Vancouver charter, any two Park Board Commissioners may call a Special Meeting of the Board," said Coupar. "When proper application was made to the Chair that a Special Meeting be held, the Board was compelled to hold that meeting. Park Board Chair Sarah Blyth advised us (Commissioners DeGenova and Coupar) that a quorum for a 6pm meeting would not be possible, thus the application was refused. The legal opinion we received, advised that the Board Chair could not pre-suppose a lack of quorum, and therefore the Special Meeting must be held. A Special Meeting of the Board we will held, Nov. 4th, at 6pm."
Tonight, at 6 p.m., then, at the Park Board offices located at 2099 Beach Avenue, near the Stanley Park tennis courts, and opposite the north shore of English Bay, the requested Special Meeting of the Board has been ordered, and will be held. Park Board meeting co-ordinator Pat Boomhower will accept requests to speak til noon. Ms. Boomhower may be contacted by phone, at 604.257.8453, or by e-mail at Pat Boomhower (click on the link).

Park Board Commissioners John Coupar and an intransigent Constance Barnes, in an interview with host Rick Cluff, on CBC's Early Edition, this morning. November 4, 2013
VanRamblings will provide live coverage of the meeting on our @raytomlin Twitter feed, also available top right of VanRamblings' home page.
This past Thursday, Park Board Chair Blyth issued a Request for Proposal (RFP) on the parks portion (Kits Beach north end "bikeway freeway" here) of the Seaside Greenway approved on July 29th. On the Save Kits Beach Facebook page, Kitsilano resident Elvira Lount raised a conflict concern that the consultant hired by Park Board to draft the final parks portion of the Seaside Greenway bike route proposal was also a bidder on the construction of the bike path. Ms. Lount went on to express consternation that, given the context of the RFP, the City-approved Seaside Greenway bike route seemed all but a "done deal", negating any alternative proposals the Special Advisory Committee — struck to provide input into the final determination of a bike route — might forward to Park Board for approval.
Please find below the full text of Ms. Lount's Facebook post on the matter.
"(Park Board General Manager) Malcolm Bromley has said that the Park Board is in the process of hiring a design consultant as per the RFP that was posted (on the Save Kits Beach Facebook page). This consultant will be hired by the 2nd week of November. Details for creating the Advisory Panel will be finalized by mid-November. A final, detailed design is to be completed in January, 2014, with construction of the new parks portion of the bike route to begin in February. The problem? The Consultant hired represents / is part of the same company that will do the actual work, and therefore has an inherent conflict of interest. How likely is it that s/he will go for the cheapest and best solution — putting the bike lane on the road? Also, how can these consultants bid on the job outlined in the Request for Proposal, if this route is only 'preliminary'? They will obviously bidding on the job as outlined in the RFP."
VanRamblings has in our possession a letter from a British Columbia cycling advocacy organization that argues against the City-approved parks portion of the Seaside Greenway, laying out the reasons why, and offering suggestion as to a green space saving Hadden and Kitsilano Beach park alternative bike route, approved and preferred by its members. At present, there's an embargo on release of the letter. Following a press conference later today, VanRamblings will make the letter available to our readers.
Update: Please find below, the letter from Richard Wooles, Executive Director of Cycling BC, to Howard Kelsey — an organizer of the Save Kits Beach Coalition — respecting Cycling BC's opposition to a paved bike route through Hadden and Kits Beach parks.
filed a petition in B.C. Supreme Court against the Park Board and the City of Vancouver to stop construction plans for the 12-foot-wide paved lane, alleging the bike pathway is in breach of a trust established when Hadden Park was bequeathed to the city of Vancouver in 1928.
"The trust stipulates the Park Board maintain the property as near as possible in its present state of nature," Ms. Carvell-Davis states in the petition, and that "the Park Board has no authority to breach the terms of the Hadden Trust by permitting the creation of public transportation corridor through Haddon Park."
Here''s are most of the pages of the civil Court Action.

Oasis of serenity. Kitsilano Beach park. Photo, courtesy of Duke Lang. October 30, 2013
While we attempt to secure the entire Court document, to post, we would ask that if you haven't signed the Save Kits Beach Coalition petition, that you consider doing so now, that you tell your extended family, your friends, your neighbours and your colleagues about the petition, that you post share the petition on your Facebook page, and a link to the petition on your Twitter account, if you've got one (and you oughta, believe me!).
On Friday, November 1st, The Province newspaper published a column by Vancouver teacher and former Green Party Vancouver Park Board Commissioner Stuart Mackinnon, titled "Is asphalt the new green in Vision's Vancouver?", in which he writes ...
For a party that promotes itself as green, it appears to have a great affection for concrete and asphalt. Vision Vancouver seems to view our parks as some sort of "land bank" that they can make withdrawals from whenever they feel like it. In fact, our parks and beaches are a legacy left to us by our parents and grandparents and held in trust by us for our children and their children in perpetuity."
Mr. Mackinnon's clarion voice rings as true today as it did during his three-year term on Park Board, when he was subject to constant attack of the most unsavoury kind by Vision Vancouver Park Board Commissioners.
As Elvira Lount wrote online recently, "We will not be bullied into silence."

Save Kits Beach Coalition's Howard Kelsey conducts a Media Walking Tour of the "accepted bike route", the 12-foot-wide, raised blacktop bike lane approved by the Vancouver Park Board on October 7, 2013. Video, courtesy of Elvira Lount. October 27, 2013
November 2, 2013
About two-thirds of the way through Twyla Roscovich's maddeningly compelling documentary, activist marine biologist Alexandra Morton and a few cohorts with whom she works on the study of the impact of salmon farming on Canadian wild salmon, enter the Real Canadian Superstore at Rupert Street and Grandview Highway, in Vancouver.
The scientific foray into the community involves purchasing all the salmon available at the store, in order that their purchase might be shipped to a laboratory in Europe, and another on the east coast, to test for the infectious salmon anemia (ISA) virus, and other pathogens.
The result? Suffice to say that anyone who watches that particular sequence in Roscovich's provocative documentary film — available above in today's VanRamblings post — will never eat farmed salmon ever again.
Here's Ian Bailey's Globe and Mail review of Salmon Confidential ...
This feisty and provocative film is spoiling-for-a-fight cinema. Someday there will be a new feature-length documentary reconciling both sides of the debate over the environmental costs of farming salmon in B.C. For now, there's this compelling work which tilts sharply towards the wild-salmon side. Director Twyla Roscovich's visually alluring film spotlights activist biologist Alexandra Morton as she finds B.C. salmon in the wild showing European viruses that Ms. Morton links to fish farms on the coast. Federal and industry representatives declined to sit for interviews, Ms. Roscovich has said. Still, the film serves as a forceful primer on an ongoing debate that some viewers, especially those in urban areas, may now just be catching up on. Let the debate begin after the end credits.
Hey, it's The Globe and Mail — you expected an evisceration of the role of both the provincial and federal governments for their failure to act to protect wild salmon, or the health of Canadians? Not the world we live in.
Greg Ursic, in The Ubyssey, says about the film "Salmon Confidential is thoroughly researched, informative and so infuriating that you'll want to throw something at the screen." Jason Coleman, at Star Pulse, agrees with VanRamblings, when he writes ...
You will never eat farmed fish for the rest of your life after viewing this. A must-see, especially for British Columbians known for world-renowned Sockeye, Salmon Confidential is a corker of a doc. It's staggering and eye-opening to see how the business of B.C.'s natural resources and food has been tainted by government and how puppet scientists have given up their objectivity simply to kowtow to (corrupt) governments. This is the GMO monster in a different form and here the monster kills by passing on poisons and infection that are a recipe for extinction of a foundational salmon species. An important film right on par with The Cove impact-wise, Salmon Confidential is an important don't miss it experience for all who care to listen. — 5/5 stars
Meanwhile, while our intransigent senior governments take a do nothing approach to the destruction of B.C.'s wild salmon industry, Norwegian authorities have recently ordered that some two million sea-lice infested farmed salmon in the Vikna district of Nord Trondelag be slaughtered with immediate effect after becoming resistant to chemical treatments against the sea-lice parasite. Actor Ted Danson and Andrew Sharpless, CEO at Oceana, the largest international conservation organization fully dedicated to protecting the oceans, have published a paper stating, and backing up, their contention that "farmed salmon are not a sustainable alternative."
Enough? Whether you're concerned for your health, wish to gain more insight into the "controversy" involving farmed salmon, or are simply interested in watching a provocative, compelling, and incredibly well-made and watchable documentary film, we would encourage you to screen Salmon Confidential — take our word for it, you won't be sorry you did.
October 31, 2013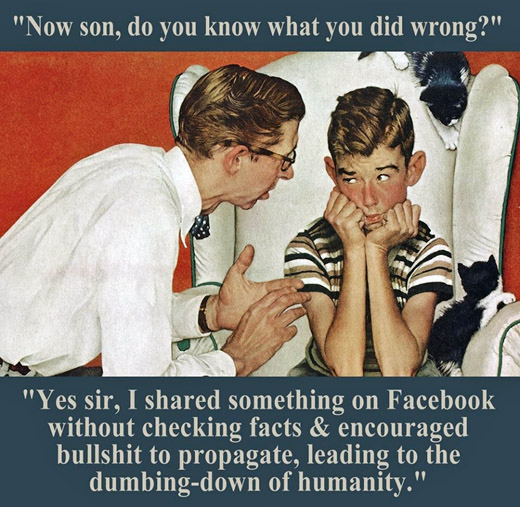 Perhaps the most distressing aspect of VanRamblings' involvement in the recent Save Kits Beach organizing activities — setting aside for a moment the anti-democratic intransigence of our elected Vision Vancouver Park Board Commissioners — revolves around the visceral, unwarranted, near constant, utterly ludicrous, and often hurtful engagement that has come as an unfortunate consequence, and politically expedient by-product, of good people attempting to bring some degree of transparency and democratic engagement to an issue — the bike path route through Hadden + Kits Beach parks — that Vision Vancouver would rather we allow be kept hidden in the shadows, along the margins of civic debate, and as far away from those who elected Vision Vancouver to govern on their behalf, as possible.
We are, of course, referring to — as the title of this post suggests — the fine art of political trolling, in service of the obfuscation of an issue, and the outright harassment of proponents of one side of a democratic debate, so as not just to marginalize those who would wish to bring out into the open for public consideration the decisions that were taken behind closed doors, but even more to devastate emotionally those who would deign to question the "good" (read: poor) judgement of our "political betters".
In 2013, our Vision Vancouver municipal government has brought the art of politics in Vancouver to a new, previously unimagined level of degradation.
Trolls divert online discussions into non-productive, off-topic venues.
Political trolls, in this instance, pose as part of a community — i.e. those concerned about a park destroying blacktop bike path through Hadden + Kits Beach parks, advocating only to disrupt it. Trolling is, not to put too fine a point on it, anti-social behaviour of the first order, as damaging to democratic engagement as any activity that you might consider.
Here's how Internet technologist Howard Fosdick defines trolling, as he suggests for your consideration just a few of the withering techniques online trolls employ to accomplish their obfuscatory objectives ...
Pithy put-downs, too clever by half, designed to cause outrage
Name-calling, insults and hurtful personal attack of every description
Ad hominem attacks that attempt to negate an opinion by alleging negatives about the person supporting it, anihalating the individual
Impugning the integrity and motives of those on the side that is contrary to the position that is being enunciated by the troll
Aggressive, coercive, intimidating, harassing, bullying behaviour
Posting off-topic material that makes absolutely no sense, & finally ...
Posting inaccurate, so-called "facts", often ludicrously misdirectful, maddening material designed to infuriate rather than inform
Filmmaker and 42-year Kitsilano resident, and creator of the Keep Kits Beach Wild Facebook page, Elvira Lount — an identifiable proponent of keeping Kitsilano Beach and Hadden parks in their natural state — has emerged over the past three weeks as an outspoken advocate for a Park Board reconsideration of the environmentally devastating, unsafe, and unpopular green space and park destroying Kitsilano asphalt bike route.
Ms. Lount has borne the brunt of almost hourly, withering attacks on her Twitter and Facebook accounts, as well as online in any number of forums.
VanRamblings would direct your attention to ...
Scout magazine. Douglas Haddow's frothing at the mouth, ageist and altogether off-putting take down of anyone involved in attempting to bring some degree of reason to the implementation of a west side bike route through, beside or around Hadden and Kitsilano Beach parks. Fortunately, in the article's comments section, Ms. Lount manages to give as good as she gets, but migawd one obfuscatory argument after another is raised requiring response. Enough to make one's blood boil.
The Courier, October 15th. Take particular note of ACMEsalesrep and paid bike lobbyist / Visionite Richard Campbell's maddening commentary, and the reasoned responses the commentary generates, responses ignored by the trolls as they plunge on ahead.
The Courier, October 18th. ACMEsalesrep, someone named Anna — who writes, "As a biker who is petrified to cruise on the road with cars (rightfully so!) I fully support this bike path" [VanRamblings' response, "as if anyone who rides a bike could avoid the road! What planet do these people live on?] — and Richard Campbell are at it again.
Twitter. Vancouver library web guy James Gemmill engaged in a heated Twitter "debate" with several Save Kits Beach proponents, offering this picture as response to commentators, as if the posting of such a ludicrous picture in support of tearing up green space adds anything of value to the reasoned debate over the best bike route through or around Hadden + Kits Beach parks. Earlier this week, VanRamblings was engaged in a Twitter dialogue with People Are Spicy's Kim, who offers, "more cyclists is very good for the environment, and with the finished seawall plans; tourism. grass is very resource heavy." Huh?
Of course, Facebook comes into the mix, as well, as a place for trolls to harass and harangue proponents of democratic engagement in the decision-making on a west side parks bike route. Articles covering the debate on an acceptable west side parks bike route — in the Vancouver Sun, The Straight, The Province, Metro Vancouver, 24 Hours, or any other online media — are targets and forums for the political trolls to misdirect, misinform, and otherwise advocate for a Vision Vancouver style of faux consultation and unilateral, destructive political decision-making.
Dispiriting is all one can say in response to such cynical conduct.
Over the course of the past five years, several different credible sources have reported to VanRamblings that Vision Vancouver attack dog Marcella Munro — one of the most unpleasant Visionites you'll ever hear on radio attacking any hint of opposition to Vision Vancouver — oversees a squad of up to 20 "team members" whose sole job it is to monitor online media, and comment on any online story, Facebook, Twitter or blog post so as to deride commentary negative to Vision Vancouver's interests.
The suggestion has been made that Ms. Munro's employment with the Earnscliffe Strategy Group — a prestigious lobbying "public affairs" company — is simply a front for Ms. Munro's activities "lobbying" for Vision Vancouver, that her boss, Bruce Young — a longtime NPA insider — given the way the political winds blow on the municipal political scene, "sanctions" (but just barely) Ms. Munro's activities, her salary paid "indirectly" from Vision coffers, rather than directly from the Earnscliffe Strategy Group.
Further, VanRamblings has been told that Vision has placed its trolling operatives in city-paid jobs, or in jobs in the non-profit sector that are funded in part by the City, and in greater measure by Vision Vancouver financial backers. In Vision Vancouver's world, as in the world of all big league politics, money talks, and cynical, self-serving conduct reigns.
As we've written previously, where most other Vancouver municipal parties play some form of the gang who couldn't shoot straight, or let's see who can shoot who in the foot, Vision Vancouver moves like a powerhouse. These are folks who know what they're doin', and they're going to do. Not necessarily for us, of course, but for their supporters (developers, the Hollyhock/Tides gang), and by extension, one must grant, for themselves.
To be fair, the political trolling of the new millennium is simply an updated, more sophisticated approach to the Socred's Letters to the Editor scandal of the 1980s, where the government of the day paid party staff to flood newspapers across the province with letters to the editor deriding opposition opinion, and supporting government initiatives, on a range of hot-button issues. That Vision Vancouver has refined the cynical art of political trolling for a new age of online engagement is simply more of the same utterly corrupt and unethical conduct that has defined a particularly cynical approach to politics, dedicated solely to maintenance of power.
Make no mistake, the federal Conservatives are engaged in similarly disruptive conduct, although if the truth be told, the folks on the Vision Vancouver team of miscreants make Stephen Harper's befuddled Conservatives look like Sunday school teachers when its comes to spinning the debate in favour of imposing perspective on legislative initiatives.
The difference in 2013, as opposed to 20 and 30 years ago: no one in the media calls out our governing political parties on their unethical trolling conduct. Rather, it's simply seen cynically as the way "one plays the game."
VanRamblings is here to say that the work Vision Vancouver's well-funded trolling literary "hit squad" engage in each and every day does a disservice to our citizenry, and the notion of what it means to live in a democracy.
October 27, 2013
As of this writing, more than 1,000 concerned citizens have signed the Save Kits Beach Now coalition petition expressing their dismay at the recent decision taken by Vancouver City Council, and Park Board, to "tear up family park green space in favour of a 12-foot-wide asphalt bike path."
If you haven't signed the petition, please do so now.

On Sunday morning, Save Kits Beach Now coalition organizer Howard Kelsey led a media tour thru Kits Beach & Hadden parks, outlining the concerns of those who have rallied to defend North America's most highly-related beach park. Courtesy, Global BC. Oct. 27, 2013
This beautifully sunny Sunday morning, Save Kits Beach Now coalition organizer, Howard Kelsey, led Vancouver media — and a handful of concerned citizens who have expressed outrage at the decision taken by Vancouver City Council, and Park Board, to impose a 12-foot-wide, high-speed blacktop bike path amidst the trees, memorial areas, native lands, and picnic areas in both Hadden and Kitsilano Beach parks.
Vancouver-based filmmakers Elvira Lount and Laurence Keane were on hand to record the event, and take photos — when the photos, and video, are made available, VanRamblings will publish that material on this page, as we will media video reports made available through Sunday's evening news.

On Sunday morning, Save Kits Beach Now coalition organizer Howard Kelsey led a media tour thru Kits Beach & Hadden parks, outlining the concerns of those who have rallied to defend North America's most highly-related beach park. Courtesy, Global BC, 6pm. Oct. 27, 2013
This past Tuesday, October 23rd, VanRamblings received a call from a source with ties to senior engineering and transportation staff working within Vancouver City Hall. This source related to us that the City / Vision Vancouver had made a decision to push ahead with the approved Hadden + Kits Beach portions of the Seaside Greenway bike paths, despite the issuance of a Press Release from Park Board Chair Sarah Blyth the previous Friday, October 19th, agreeing to strike a Special Advisory Committee of the Board that would give voice to community member concern, and provide a vehicle for community input into the determination of the final route for the much-maligned park section of the Seaside Greenway bike route. This source asked VanRamblings to contact Colleen Hardwick to advise her of such, but as Ms. Hardwick is out of the country, such contact was for nought. Not to mention, VanRamblings could not believe Vision would override the decision of their Park Board Commissioners, and interfere with the democratic process in such a callous, calculated manner.

Graphic projection of north-end Kitsilano Beach portion of bike path. Courtesy, David Fine.
On Sunday, October 27th, during the course of the Howard Kelsey-led Media Advisory Kits Beach-Hadden Park walk-through, a senior government official in attendance approached VanRamblings to appraise us, independently, of information confirming the above-planned course of action, with the City moving forward on construction of the approved Hadden + Kits Beach park-destroying bike freeway as early as this week.
Perhaps VanRamblings is naive, but quite simply we cannot believe that a municipal government — even one as tone deaf as Vision Vancouver, with just a bit over 12 months to go til an election — would deign to move ahead with a bike path project that has so raised the ire, indignation and opposition of such a broad swath of the multi-ethnic, demographically diverse, and varied community interests groups, all of whom have come together to oppose the imposition of a 12-foot-wide blacktop bike highway amidst two of Vancouver's, and North America's, most beloved parks.
Apparently, realizing the potential for a scenario such as the one described above, Save Kits Beach Now organizers have set about this week to develop a plan of action in support of those who've come together in opposition to the current approved City plan for a bike route that would hug the foreshore along Hadden + Kits Beach parks, that would forestall any such, or related, eventuality as described in the two paragraphs above.
One has to ask oneself, does the City care so little for the interests of its citizenry? Do Vision Vancouver Park Board Commissioners Constance Barnes and Trevor Loke — both of whom were present at the successful, well-attended Sunday, October 20th rally — have so little regard for the voices of the hundreds who came out to rally and stand in opposition to the imposition of the Park Board-approved Hadden + Kits Beach park bike path? Does the democratic input of the almost 1000 signatories to the Change.org petition opposing the asphalt bike path not matter a wit?
Has our Vision Vancouver-dominated city government become so cynical and out-of-touch with the electorate, are they so self-assured (one might even say, deluded) about their prospects for overwhelming electoral victory at the polls in 2014 that orders would be given through the office of the City Manager, Dr. Penny Ballem, to move ahead on bike path construction through Hadden + Kits Beach parks, on a bike path route so widely considered to be contrary to the interests of not just those who are residents of Kitsilano, but also the many tens of thousands of visitors from across Metro Vancouver, B.C. and Canada, from every corner of our vast globe, who visit Kitsilano and Hadden parks to wonder at the magnificence of these two Vancouver west-side parks of unsurpassed, majestic beauty?
While it is true that the strength of the Vision Vancouver political machine — a well-disciplined municipal political organization with an uncommonly coherent focus on power at all costs — knowing no equal in the history of Canadian municipal governance (we've almost become the Chicago of the north, no wonder Sadhu Johnson from Richard Daley's administration came to work under Dr. Penny Ballem), ready to mount an incredibly well-funded, virtually unassailable electoral campaign in 2014 amidst a confused, disorganized, unfocused, and internally-divided opposition, even given all that, is electoral victory in 2014 so much a foregone conclusion, does Vision Vancouver believe that only 30% of those eligible to vote in next year's election will bother to turn up at the polls, while their core union-bike lobby base of support will turn up at the polls lock step, and that no matter what bone-headed moves Vision Vancouver pulls over the course of the next 12 months, a flashy, latter campaign $658,000 five-day suppertime newshour media happy face ad buy blitz will, in 2014, catapult Vision to its third consecutive majority term of government? Apparently so, it would seem.
And more's the pity for all the democrats among us, on that count.

Slideshow. Sunday morning, Save Kits Beach Now Media Tour walk-through of Kits Beach & Hadden parks, on the Park Board-approved bike route. Courtesy, Elvira Lount. Oct. 27, 2013
David Fine has created a brief, poignant (some would even say, anger inducing) blacktop bike path projection photo essay that details the Park Board-approved route through Hadden and Kits Beach parks. Please click on the link.
October 22, 2013

Slideshow. Save Kits Beach rally. Photos courtesy of Elvira Lount. Sunday, October 20, 2013
As much as the ne'er-do-wells and naïfs in Vision Vancouver wanted the bike lane controversy on Vancouver's west side to go away, as much as the rally at Kitsilano Beach — protesting the planned for, done deal, decided upon without consultation, "hell, we're not going to reverse our decision", and wholly detestable bike freeway through Hadden and Kits Beach parks, two parks of unsurpassed beauty — was a non-consideration for Vancouver's Park Board, despite the cynical belief system that informs the arrogant "we know what's best for you" — and one would have to say corrupt, if one were being truly honest — political machine at City Hall and Park Board, on this overcast Sunday afternoon, up to 800 citizens, tried and true, turned out to do something that one would hazard a guess most of those present on this chilly afternoon had either never done before, nor had done since the halcyon days of their youth: protest.

Kits Point Residents' Lynne Kent. Save Kits Beach rally. Courtesy, Elvira Lount. Oct. 20, 2013

Concerned parent Maria Coelho, Save Kits Beach rally. Courtesy, Elvira Lount. Oct. 20, 2013
Yes, there we were speechifying, clapping, booing Park Board Commissioner Constance Barnes "off the stage" (we've had enough of Constance, who's not a bad person, but by God, she's a Visionite), those of us gathered on Sunday at Kitsilano Beach making it perfectly clear that we've had enough of the likes of the disingenuous Vision types who keep telling us ad nauseum that they know what's good for us — because, don'tcha know, we the citizens are too stupid to know what's good for us ... hell, if we had any wit or intelligence, we'd be Park Board Commissioners or City Councillors, but we're not, and they are, so why don't we just shut up!
Well, there was no shutting us up on Sunday afternoon.

Ray Tomlin. Excerpt of Save Kits Beach speech. Courtesy, Paul Tolnai. Oct. 20, 2013
That is Park Board Commissioner Constance Barnes whispering to Commissioner Trevor Loke
CBC may be reporting that "the park board says it isn't backing down," but clearly whoever wrote their online story wasn't present on Sunday, because come hell or high water, the 800 folks who'd arrived at Kits Beach at noon Sunday would hear no talk of a bike freeway through their beloved parks.
Sure, there were shills and bike lobbylists — oh say, the likes of Chris Keam — extolling the virtues of the "bike path", but bought-and-paid-for Vision hacks were not going to carry the day — and will not carry that day — when it comes to the destruction of Hadden and Kits Beach parks.
Note should be made that a goodly number of those present on Sunday were cyclists (as is this writer), that we frequently cycle around and through Hadden and Kits Beach parks — you can watch, again, Colleen Hardwick's fine video for insight into the quiet residential street that those of us cycling for pleasure, or cycling home from downtown, take each and every day, or at least frequently. Those of us gathered on Sunday very much desire a separated bike path, but for heaven's sake, not a bike freeway through the middle of the grassy, treed areas of Hadden and Kits Beach parks.
At Monday evening's Park Board meeting, there were 100 irate folks telling Vision Vancouver Park Board Commissioners where to shove it, when quisling Commissioner Aaron Jasper made a last-minute "strike and replace" amendment to Commissioner Melissa De Genova's motion to advise Vancouver City Council that they must direct future developer community amenity contributions for the purpose of the construction of a long overdue and much-needed seniors centre in the Killarney neighbourhood.
Jasper's watered down amendment would simply ask Council to, please oh please oh please, ask senior levels of government in Victoria and Ottawa to fund what Vancouver should damn well be requiring Vancouver developers to build. But Vision, of course, is in the pocket of developers (gosh, can we say that ... hmmm, I think we just did), and we wouldn't want to hurt Vision's developers stream of financial sustenance that allows Vancouver's greenwashing party to continue to screw us now, would we?
Coverage of Monday night's Park Board meeting is available @raytomlin, VanRamblings' twitter feed, that if you're not following it now, you oughta. And, if you're not on Twitter, just let me say this, "Get on it".
Now, we raise the issue of Monday night's disquieting Park Board meeting because, although there were 100 Killarney seniors, and their friends and family, who turned up to support Melissa De Genova's entirely ethical motion, if Vision Vancouver's Park Board attempts to stack the Special Advisory Committee that's been established by Park Board to provide community input into the final route the — it's only fair to say, absolutely unnecessary — Hadden / Kits Beach bike path will take, there won't be 100 irate citizens turning up at the Park Board offices off English Bay, there'll be hundreds, and hundreds more outside on the manicured lawns.
Civil disobedience, it's a wonderful thing.
The hundreds of righteous folks who turned up at Kits Beach on Sunday — counterintuitive radicals — made it abundantly clear, they'd had enough.
You take the 100 seniors in Killarney, and the irate neighbours in Grandview Woodlands, the folks over in Langara who were threatened by Mayor Gregor Robertson and Park Board with taking away their beloved green space, the Langara Golf Course, and you add hundreds of other concerned citizens in another dozen neighbourhoods across the city, and you combine their number with the hundreds of folks who came out to protest at Kitsilano Beach, and you've got yourself a revolution, a grassroots uprising of folks who say in clear voice and good conscience, Enough is Enough.
And this isn't going to be any COPE-led movement or revolution (will they ever get it together?), and the genesis of the movement certainly won't be coming from the NPA — although it could, cuz it'd be a middle-class revolution, and as the NPA is repositioning itself as part of the Naheed Nenshi purple revolution, the New Progressive Association, you just never know, the NPA — if it plays its cards right, could push — no, let's say throw — the Vision Vancouver scoundrels out of City Hall and Park Board.
We don't include the Vision Vancouver-led Board of Education here, because Patti Bacchus and company are a gift of our landscape.
Sunday, October 20, 2013.
Mark it on your calendar. There's a revolution coming to Vancouver politics.
Hell, it might even be a Howard Kelsey-led revolution — you know those basketball types, they've got their eye on the ball (so to speak). And VanRamblings, we'd like to offer our name up as a candidate for Park Board. But for which party? Yes, that Tomlin fella introduced himself as the COPE guy, but really, COPE seems to think it has bigger fish to fry than parks — talk about a party that doesn't understand revolution, I tell ya.
Yep, it's a whole new ballgame out there.
Let's see who emerges as a community leader in the coming weeks and months to defeat the most despicable Vancouver municipal party since the days of "freeway, you wanna freeway, well, I got a freeway for you" Tom 'Terrific' Campbell. Could be a COPE gal, could be some community-oriented NPA folks. Whoever it is, they're going to have to be well-funded, strong of character and backbone, and ready to face one of the meanest, most corrupt — and, best organized — municipal parties Canada has ever seen.
Make no mistake, though, a change, it's a comin'.
October 17, 2013

A rally to protest the imposition of a 12-foot-wide, paved bike path through Hadden and Kitsilano Beach parks will take place at NOON, this Sunday, October 20th, at Kitsilano Beach, in the area between the palm trees, adjacent to the Boathouse restaurant. Please read the post below for background information on the rally, and protest. We'll see you there.
In July of this year, Vancouver City Council approved a bike-friendly corridor — colloquially titled the Seaside Greenway — stretching from the south end of the Burrard Street Bridge through to Jericho Park, the process achieving a critical component of a much-sought-after Vancouver bike road network.
That the Seaside Greenway plan lacked substantive detail, and was bereft of any suggestion of insight into the possible environmental impacts of the newly-approved, extended, bike route corridor stretching along Vancouver's pristine west side waterfront, that the approved plan called for a bike route along York Avenue that almost every one of the more than 100 speakers who addressed Council opposed, that details of a proposed bike path through Hadden and Kitsilano Beach parks was utterly lacking in transparent disclosure — exorcising a goodly portion of a concerned populace — mattered not, at least for the moment, anyway.
Summer beckoned, the sun shone as it had not before, family vacations were in the offing, and the warming, sandy beaches of the west side made their siren call. The silly season had overtaken us; there was time enough down the line to consider the full implications of the decision taken by Vancouver City Council to introduce their much-desired Seaside Greenway.
Initial construction of Vancouver's Cornwall Avenue - Point Grey Road Seaside Greenway commenced in early September with engineering changes to the south end of the Burrard Street Bridge, and the implementation of a T-intersection — the full implications of which we're just going to have to wait to see, in practice — that will serve, all at once, to restrict vehicle access to Cornwall, prioritize and enable easier bike access, and direct most bridge traffic south along Burrard Street to Fourth Avenue, and Broadway.
Residents Oppose Paved Bike Route That Will Scar Westside Parks

Global TV. Residents speak out against 12-foot-wide paved Kits Beach bike path
Approximately two weeks ago — on Monday, October 7th — a Vision Vancouver-dominated Park Board approved $2.2 million in new bike paths along Vancouver's westside waterfront, in support of Vancouver City Council's Seaside Greenway "Point Grey-Cornwall Active Transportation Corridor". Included in the approved plan were "improvements" to Hadden & Kitsilano Beach parks — an initiative that would result in the destruction of a portion of Vancouver's natural environment, in favour of the building of an egregious 12-foot-wide asphalt bike path that would serve to all but destroy the natural beauty of two of Kitsilano's most beloved parks.
In today's VanRamblings' post, we'll attempt to present a broad cross-section of opinion on the proposed Hadden / Kitsilano Beach park bike route — from concerned neighbours, the media, Vision Vancouver and NPA Park Board Commissioners, and others — and hope to inform you of the very important issues at play in the decision taken by Vancouver Park Board on October 7th that many believe will permanently destroy a tranquil setting of natural beauty along Vancouver's Burrard Inlet oceanfront.
This coming Sunday, October 20th, at noon, in front of Kitsilano Beach's Boathouse restaurant — in the area nearest the palm trees — concerned citizens will rally to demand that the Vancouver Park Board reverse their decision approving a plan for Hadden and Kitsilano Beach parks that will ...
Eliminate much-needed green space, and
Create serious new safety hazards for families, children, pedestrians, and non-cyclists who would seek to enjoy the natural beauty of the two parks
Organizers of the rally suggest that "an improper consultation process — including a lack of public engagement, advisement, consultation, public signage, and public meetings with key stakeholders" invalidates the decision taken by Park Board to approve the new 12-foot-wide, paved bike path through Hadden and Kitsilano Beach parks. Organizers further take umbrage with the City's unparalleled rush to construction, and point out to Park Board Commissioners that the leader of the BC Cycling Association supports an alternative bike route, adjacent to the nearby roadway.
Vancouver Courier columnist Sandra Thomas reports that the "Kits Beach bike path is a done deal", quoting Vision Vancouver Park Board Commissioner Aaron Jasper thusly ...
"To be clear," said Jasper, "this decision will not be reversed."
In The Courier article, Thomas reports KitsFest co-founder and two time Olympian Howard Kelsey disagreeing that the public consultation was thorough, noting that many stakeholders affected by the proposed bike path were in attendance at a special ceremony on September 29th for the official Park Board opening of 10 recently-renovated Kitsilano Beach tennis courts, quoting Kelsey as saying ...
"We were right there and no one said a word to any of us," said Kelsey, who chairs Canada One Athletic Foundation and is executive vice-president of Canada Basketball. "We were completely blindsided."
Commenting on the Save Kits Beach Facebook page, Vancouver resident Anita Sigur writes ...
Now they've gone too far.

Slicing up the best and most untouched part of the park in order to put in a twelve foot paved bike path is absolute madness. How does cutting out the heart of this beautiful park serve to "green" the city?

The hill at the north end of Kits Beach Park is a paradise for picnickers. In a recent newspaper article (Vision Vancouver Park Board Commissioner) Constance Barnes called it a "dormant" area. Really?! If she meant a perfect spot to catch a summer nap, then I'd wholeheartedly agree. On my frequent walks there in the spring and summer I am always greeted with the sight of many contented couples and families hanging out there, making a day of it. It is the ideal spot to enjoy breathtaking views, a cool sea breeze, and some much needed shade from the enormous maple trees.

This place that they want to pave over is the destination that rewards those who walk, cycle, or arrive at the park in their cars. If you're in a hurry to cycle some place else, I suggest you take the road. Parks are for slowing down in and drinking in their beauty. The proposed bike path not only takes away a 12-foot-wide wide swath of valuable park space, but vast amounts of park space around it that will be avoided by dog walkers, people with children, and those who don't find it at all relaxing sitting next to what will be, in effect, a bike freeway."
Vancouver resident Colleen Hardwick has prepared the following video ...
Meanwhile, Vancouver Sun columnist Pete McMartin attributes elitist motives to those who will rally to protest the imposition of a paved bike route through the middle of two of Vancouver's most beloved parks. McMartin writes that the west side protest represents ...
"... a disturbing trend that might be demographic in nature; or it might be a symptom of the growing gulf between the haves and have-nots in the city. But it's shrill, and it betrays a panic that has entered the public discourse."
A very fine, a humane, writer, with all due respect to Mr. McMartin, very rarely does he get it as wrong as he gets it here. When he writes, "And whatever its route, a bike lane running through a park is not an issue." No? Has he not watched the video above, nor personally tracked the route (someone has clearly marked the proposed bike path with chalk), as VanRamblings did this past Monday? Does he honestly believe that the faux consulting that the Vision Vancouver-dominated City Council and Park Board have engaged in (a bought-and-paid-for-by-Vision online survey — this is 'big city' politics of the worst kind we're talking here) truly represents the opinions of the hundreds and thousands of cyclists who traverse the route around and through Hadden and Kitsilano Beach parks? If so, there may be a bridge he's interested in that we could sell him for cheap.
Vancouver's 'rant king', the blustery Bruce Allen, weighed in Wednesday, in his daily commentary on CKNW, taking a stand against the proposed bike route through the parks — we feel as if we're falling down the rabbit hole here, perplexed that McMartin is taking the wrong side of the issue, while the generally frenzied Allen finds himself on the side of the angels ...
On Monday, October 14th, Vancouver Sun reporter Brian Morton wrote the following story, titled "Kitsilano Beach bike route plan draws fire from critics", quoting Kitsilano resident James Goodman ...
"I don't object to a separated bike lane," said local resident James Goodman on Monday. "But to go right through a picnic area is ridiculous when they can easily follow the park boundary around it."

"There wasn't enough consultation, but there's also not enough common sense," added Goodman. "This is the one area of the park that's heavily used."
Morton also quotes Howard Kelsey, Executive VP, Basketball Canada ...
"We are quite strongly shocked to see this and we knew nothing about this until last Monday," said Kelsey, who said he represents about 3,000 basketball, tennis and beach volleyball users. "This just came out of the middle of nowhere because it was so stealthily managed. We are just so disappointed.

"We would be remiss to let them pave a 12-foot swath for a bike highway parallel to Arbutus Avenue through a highly-used recreational area beside the basketball courts that we donated and the children's play area that Rick Hansen donated," added Kelsey, noting that 23 parking spaces in a parking lot would also be taken away in a crowded area "where those spots are worth gold in the summer."
Kelsey said he proposed a meeting with the Park Board on Wednesday, but hadn't heard back. For all that, according to the Vancouver Sun, the opposition to the Hadden/Kits Beach park bike route is gaining momentum.
On Wednesday morning Kelsey, and Kits Point Residents Association's Lynne Kent, appeared on Bill Good's CKNW talk show to express concern about the imposition of an unnecessary paved bike path through Hadden and Kits Beach parks. Click this link to hear what they had to say.
Update, Saturday morning: Howard Kelsey appeared with Jill Bennett on CKNW. Click on the audio file below to hear their discussion.
Vancouver Courier 'Central Park' columnist, Sandra Thomas, in a front page story published in Friday, October 18th's Courier, has written a well-researched, balanced story, titled, "Vancouver bike path critics ready to fight, Rally against Kits bikeway planned for Sunday," quoting the concerns of park users on the planned paved bike route. Well worth a read.
The Province newspaper has weighed in on the bike path controversy ...
"You know what Vancouver needs? A lot less partisan politics at city hall. While some other large B.C. communities have municipal parties, and the ideological debates that can bring, nowhere is local politics more vicious and destructive to social cohesion and sense of community than in Vancouver. And never has that been more true than since Vision Vancouver under Mayor Gregor Robertson laid political siege to the city. It was Robertson himself who set the tone early when he was caught on microphone at a 2010 public meeting dismissing a group of concerned residents as "f---- NPA hacks.Now Vancouver parks board vice-chairman Aaron Jasper is getting in on the act; he's arrogantly dismissing legitimate citizen concerns about a bike lane that will cut through the heart of Kits Beach park, endangering other users, as the work of the Non-Partisan Association. He says he'll listen to them, but it's a done deal.That's the brutal partisan behaviour of Vision that so many Vancouverites have grown sick of and why they feel they have no voice. Vision's reputation for ramming through its projects without regard to public opinion is well-established. It's why so many now say, "I voted for Vision, but never again." It's also why some residents now tune out Vision proposals, which isn't good either.Vancouver could do with a lot more of the municipal politicians you find in smaller towns who are primarily interested in serving the public and finding compromise on issues — not turning every issue into a winner-take-all partisan fight at the expense of the majority. The city would be a much nicer place if that were true."
Let's hope the Vision Vancouver folks over at City Hall are listening.
For all that the more progressive forces in town tend to demonize the NPA as "that party of the right" — Vancouver's oldest (but still thriving) municipal party, the standard-bearer of civic governance for most of the past century — over the past two years, and more, it has proved to be NPA Park Board Commissioners John Coupar and Melissa De Genova who have emerged as the Park Board Commissioners who, as persons of conscience and integrity, have steadfastly stood up for the interests of Vancouver citizens on a range of important Park Board issues, their commitment to transparency of decision-making, and democratic input from all of us who live in Vancouver, hearteningly (and dare we say, joyously) consistent.
On the NPA website, Commissioners De Genova and Coupar have called for meaningful engagement with the public on "the controversial plan to pave a 12-foot wide swath of blacktop through Kits Beach Park and Hadden Park." Both NPA Commissioners will attend the Kitsilano Beach protest, De Genova tweeting out that she considers Sunday's rally a "public consultation."
Although we had written earlier that we felt it unlikely elected representatives of Vision Vancouver would attend Sunday's protest rally, sources claim that Vision Park Board Commissioners Trevor Loke and Constance Barnes have agreed to attend. Clearly, they'll not be in for an easy time of it — let's try and keep the dialogue respectful, though.
The Georgia Straight has published a letter from Kitsilano resident Jason A. Johns ...
I am writing to express my complete discontent with the bike lanes that are planned through Kits Beach. I'm a Kits Point resident and I am shocked that we knew nothing about the proposal.

While I approve of bike lanes, I can't support tearing up of precious green space on a beach where families come to barbecue, and where kids throw footballs, Frisbees, play volleyball, or just run around and play.

The proposed location is dangerous to park users who are mostly pedestrians. The lane goes directly through popular picnic areas.

It is amazing to me that politicians who want Vancouver to be the "greenest city on Earth" would support such a ridiculous plan. My 13-year-old keeps asking how such a plan could be approved when it goes against all the things she has been learning at school. Even she can see the potential new danger for children playing.
Margaret Partridge has created a protest petition at Change.org, which as of Saturday evening has garnered the support of more than five hundred concerned citizens, whose signatures and commentary express concern about an environmentally unsound paved Kitsilano Beach bike path.
On the Keep Kits Beach Wild Facebook page, there's quite a discussion going on respecting the proposed bike route through Hadden and Kitsilano Beach parks. Perhaps the most poignant comment we've read in this whole brouhaha was written by Colleen Hardwick, "A tragic, destructive and unnecessary make-work project on the part of the City and the Park Board. Surely the irony of paving a park for a bike lane in the name of the "green" agenda, isn't lost on the voting public."
There's also quite a discussion going on at Voony's Blog — a blog covering transportation issues in Vancouver, and the notion of urbanism — on the attendant issues involved in the Hadden Park - Kitsilano Beach bike route.
For VanRamblings, the issue is, as always, democracy, respect for the people, the citizenry — the families of every description who make up this expressive world of ours. Most of those who are involved in organizing the protest rally on Sunday, or who have commented on the various Facebook pages, or written letters to the newspapers, or who signed the Change.org petition, are not "political", or have branded themselves as such, as if politics is a dirty word.
And, you know what?
Politics is a dirty word — when you have municipal parties like Vision Vancouver, the provincial Liberals or the federal Tories, each of which is given over far too often to the engagement of the politics of division, the politics of the big lie, the politics of personal destruction, the disheartening and ugly politics of malevolence and ill will, and most cynically, the politics of self-interest with which we have all become much too familiar, as we go about the daily conduct of our lives, struggle to make a living, put food on our table, care for those who are dear to us, and attempt to find joy, and — from time to time — locate oases of calm and tranquility.
Our parks are those oases of calm and tranquility, those meeting places where we connect, really connect, with our friends and our neighbours, with our families, and with those who live around us — who share our home with us — where we gain perspective on our lives, as we look across the grasses, through the trees, to the open ocean and the mountains beyond, and reflect on what it means to be us, as father, mother, sister, daughter, son and brother, aunt, uncle, grandmother, grandfather, disabled person, working person, retired person, transgendered person, gay, straight, lesbian, whatever our race or colour, whatever our heritage.
Early 20th century novelist Austen Tappan Wright, in his seminal work of fiction, Islandia, called this notion, tanrydoon, which he defined as ...
How we are attuned to the environment, and to all those around us, our love of place, but also of family as they are related to that place, the absence of selfishness or purely personal interest, which is supplanted by the long view of one's place and family across generations, the cultivation of the lands around us that become the project of generations, our parks and our open spaces as home, and the equivalent of great cathedrals, deeply tied to our love of the Earth, as an expression of our love for the natural environment, and for all those with whom we share the natural environment. We will always have the Earth, the rolling grasses and the sky, and the warmth of the sun.
If we lose the green space within Hadden and Kits Beach parks, in favour of an unnecessary and destructive paved bike path, we will lose a bit of ourselves, our history, and our legacy to the generations that are to follow.
At noon, on Sunday, October 21st, a few hundred good people will gather together at Kitsilano Beach to say, "This is our Earth, this is our natural environment, our green space, where we might enjoy the company of our neighbours and friends and family, our park as an oases of tranquility in our otherwise, too often, frenetic lives. We, all of us, do not want nor do we need a ragged, unforgiving asphalt bike path cutting through our park."

Photos of Hadden & Kitsilano Beach parks, taken by Elvira Lount, Oct. 13, 2013.

Colleen Hardwick takes a walk along Ogden Avenue, from Chestnut to Maple and through Kits park, showing the existing provisions for bicycles, as well as cars, school buses, dog-walkers, roller-bladers, and other park users. Oct. 18, 2013.
Hope to see you at Kits Beach, noon, on Sunday. At some point, we must take a stand. Sunday just may be the starting point of change.
May 15, 2013

VanRamblings is recovering from the New Democrats' devastating loss to the B.C. Liberals' incalculably unexpected (and undeserved) win at the polls on Tuesday evening, and their relentlessly negative, fear-based campaign.
Over the next 48 hours, we'll give some thought to what happened during the course of Decision BC 2013 that resulted in Tuesday night's disastrous loss for the interests of the majority of British Columbians, what it means for B.C. going forward, what the NDP must do to better engage the voters and actually bring them out to the polls to vote for Change for the Better (turnout at the polls was slightly better in 2013 than was the case in 2009, at just a titch over 52%), whether Adrian Dix — who we believe could have been the leader of a generation for British Columbia — should remain as leader of the BC NDP, what the NDP loss means for how political campaigns are run going forward, and more.
For now, though, we'll rest, while we attempt to recover from the deep feeling of loss we feel at what might have been.
One final thought for now: as we have aged over the years, VanRamblings has become more sanguine about the unfolding of the events which impact on our lives — still, we will not give up the fight, for we live to fight another day. Rather, at this time, we simply require a period of reflection to measure the impact of our collective loss, to put that loss into perspective, and determine for ourselves how we will proceed in the times to come to work for change, to continue our work towards a fairer and more democratic society, where everyone might feel engaged and empowered enough in their lives to become a part of the change that must be, to better represent our hopes, our dreams, our aspirations for ourselves, for our families, our neighbours, the province, the country and the world.
May 13, 2013
| | |
| --- | --- |
| Éric Grenier's 308.com final British Columbia election prediction, May 14, 2013 | |
Éric Grenier — the Canadian statistician, sabermetrician, psephologist, and writer — has developed a system for forecasting political party popularity, and during election campaigns, outcome predictions for provincial and federal campaigns. To that end, as of this morning, Monday, May 13th — employing all of the polling data from Abacus, Angus-Reid, Ipsos-Reid, Forum Research and all other pollsters sampling voter intent in the province during the Decision BC 2013 post-writ election period — Mr. Grenier continues to predict a 92.7% chance of an NDP majority government as the outcome of the British Columbia provincial election, even if by a slimmer margin than was the case at the outset of the current election period.
As Mr. Grenier suggests in his latest column for the Globe and Mail ...
"Despite a spell of new polls heading in different directions injecting a good deal of uncertainty into what to expect from tomorrow's election in British Columbia, the B.C. New Democrats remain the favourite to win and form the province's next government.

Based on current polling levels, Mr. Dix appears safely in majority territory with a projected 45 to 56 seats, above the 43 seats needed to form a majority government. Christy Clark's Liberals are projected to win between 26 and 40 seats, while up to four independents should be elected. These numbers are virtually unchanged from the last forecast, while the precise projection of 48 seats for the NDP and 36 for the Liberals (along with one independent) is the same.
For those who can't get enough of this, here is Angus Reid's election eve polling data — a poll conducted over the weekend for CTV and the Globe and Mail — indicating the NDP are holding steady, with a commanding lead.
Meanwhile, Ipsos-Reid has released their final British Columbia 2013 election polling data, indicating that the BC NDP currently has the support of 45% of decided voters in BC, maintaining an 8 point lead over the BC Liberals, who are at 37% support. The Green Party is at 9%, followed by the BC Conservatives at 6%, with all other parties / candidates coming in at 3%.
| | |
| --- | --- |
| UBC's Sauder School of Business 2013 British Columbia Election Prediction Market forecast | |
Hedging its bets some, the Globe and Mail — which came out on Friday with an endorsement of the B.C. Liberal / Christy Clark administration, an endorsement The Tyee calls murky and error-ridden — also has the Sauder School of Business conducting an election prediction market, the results of which may be seen in the graphic directly above. Both the Sauder School of Business and 308.com predict a New Democrat majority government.
| | |
| --- | --- |
| Milton Chan's Election Prediction Project 2013 British Columbia election outcome prediction | |
Meanwhile, Milton Chan weighed in on election eve, with his prediction of the outcome of the 2013 British Columbia provincial election. Mr. Chan, too, predicts an NDP majority government in Victoria, but by a relatively slim margin. By clicking on the graphic above, readers can access Mr. Chan's riding-by-riding breakdown for each of the 4 regions of the province — Vancouver, Metro Vancouver, Vancouver Island, and the Interior.
As Decision BC 2013 draws to a close, there are more media, pundits and political watchers who are weighing in on the outcome of the election, and as is the case with the Election Prediction Project, providing a riding-by-riding analysis. Although the predictions below differ from Éric Grenier's riding analysis, there's just as much likelihood that any one of them could be as accurate, or even more accurate, than the esteemed Mr. Grenier.
Well, that's what we've got so far, folks. We'll know final election results Tuesday night.
In keeping with VanRamblings' consistent exposition of our prediction of the outcome of the 2013 British Columbia provincial election, we continue to believe that the BC NDP will secure a majority government with 54 seats in the legislature, followed by the Liberals with 30 seats, with the final seat going to Independent Vicki Huntington in Delta South. Could be a few seats fewer for the NDP, could be a few more. We'll know Tuesday night.
Read More...
May 11, 2013
| | |
| --- | --- |
| Final weekend of BC election, NDP widens lead: click on picture above to hear CTV BC report | |
A new Angus Reid Public Opinion survey released Friday suggests the B.C. New Democrats have stretched their previous seven-point lead to nine points, with just hours to go before the provincial election. Forty-five per cent said they either intend to vote NDP or already have at an advanced polling station, compared to 36 per cent hoping for another Liberal term.
Overall, 30% of respondents said Adrian Dix would make the best premier, an increase of 4% over the last poll conducted at the beginning of May, while 25% favoured Clark, an increase of 1%. The online poll was conducted on May 9 and 10 among 808 randomly selected B.C. adults. It has a margin of error of plus or minus 3.5%, 19 times out of 20. Another poll is due to hit on Monday, the day before British Columbians head to the polls.
As both Vaughn Palmer at the Vancouver Sun, and Gary Mason at the Globe and Mail write, "the NDP are likely to win on Tuesday."
And, if this Vancouver Sun editorial represents their final word on the 2013 British Columbia election, it pretty much amounts to an, albeit backhanded, 'endorsement' of the BC NDP, a recognition that the NDP's "Change for the better" message has even reached the beating hearts and minds of the otherwise conservative editorial board of Vancouver's newspaper of record.
Meanwhile, Eric Grenier at ThreeHundredEight.com, has continued crunching the numbers, accumulating all polling data published this past Friday from Forum Research, Ipsos-Reid, Hill + Knowlton and all other pollsters tracking the intentions of voters across the province of British Columbia, and has come up with the following, final weekend, pre-election chart respecting the popular vote projection, and how that will likely turn into seats for the two main parties following Tuesday's British Columbia provincial election.
Unless the bottom falls out of the BC New Democrat campaign over the weekend, or Christy Clark manages a Lazarus-like resurrection in the final hours of the campaign, British Columbians will be looking at a majority British Columbia New Democratic party government come Tuesday evening.
BC Election 2013: Ridings to Watch on Election Night
From Milton Chan at the Election Prediction Project to Doug Ward at The Tyee, and Eric Grenier at 308.com, reports on the ridings that will make the difference in who forms government come Wednesday morning, May 15th, have been rife. Eric Grenier has gone a step further than either Mr. Ward or Mr. Chan, and predicts riding-by-riding the outcome of Tuesday's election.
Employing Grenier's statistical data, here's a breakdown of both the ridings to watch on election night, May 14th — by region of the province — and the probable vote percentages for the candidates in each contentious riding.
Vancouver — ridings to watch Tuesday night
Vancouver Fairview. Current MLA: Liberal, Dr. Margaret McDiarmid.
Projection: A 70% chance that the NDP's George Heyman will claim victory on Tuesday night, taking the riding away from the Liberals, and incumbent, McDiarmid. 308.com projects 48.9% support for Heyman, leaving McDiarmid registering only 38.4% support in the riding. The NDP have long predicted a win in Vancouver Fairview for the former president of the B.C. Government and Service Employees' Union (BCGEU), and currently on leave from his job as executive director of Sierra Club BC.
Vancouver False Creek. Current MLA: Liberal, Mary McNeil.
Projection: According to 308.com, former Vancouver mayor Sam Sullivan has a 73% chance of winning the riding, with a projected 44.7% of the vote, leaving NDP newcomer Matt Toner trailing with 32.1% support. The Green Party of BC will register a projected 17.6% of the vote, a better showing for the Green's Daniel Tseghay than is the case in any other Vancouver riding. If by some miracle, Vancouver False Creek should flip to the NDP on Tuesday evening, NDP headquarters will experience paroxysms of joy untold — not too likely an outcome, though.
Vancouver Fraserview. Current MLA: Liberal, Kash Heed.
Projection: Says Eric Grenier at 308.com, there's a whopping 83% chance that this riding will turn to BC NDP candidate Gabriel Yiu on Tuesday night, with a projected 52.7% of the vote against his B.C. Liberal challenger, parachute candidate Suzanne Anton's 33.5% support. Yiu, who lost to Heed by only 784 votes in 2009, questioned the fairness of Heed's election — in 2011, Heed's campaign manager, Barinder Sall, plead guilty to election overspending, receiving a court-imposed $15,000 fine, 1 year probation, and 200 hours community service. The incident caused Heed to resign as Minister of Public Safety and Solicitor General in the Liberal cabinet.
Vancouver Langara. Current MLA: Liberal, Dr. Moira Stilwell.
Projection: A 62% chance that Vancouver-Langara will be a BC Liberal win for incumbent, Dr. Moira Stilwell. 308.com predicts 45.9% for the Liberals, and 39% for BC NDP candidate, George Chow. NDP apparatchiks working within the riding reveal riding support for Mr. Chow is great; apparently, the polls indicate otherwise. If Dr. Stilwell goes down to defeat Tuesday evening, political observers will know that a BC NDP rout is underway.
Vancouver-Point Grey. Current MLA: Liberal, Christy Clark.
Projection: According to 308.com, NDP candidate David Eby has a 64% chance of defeating incumbent Christy Clark, the current Premier. Grenier's crunching of the numbers projects 46.9% support for Eby, and 39% for Clark, a decisive win for the BC NDP. Doug Ward, in The Tyee, writes ...
The NDP hasn't held this affluent riding since 1991, when Darlene Marzari was sent to Victoria in the Mike Harcourt victory. Former premier Campbell won four consecutive victories here, but his victory margins were moderate — except for the 2001 anti-NDP blowout. Eby nearly scored a shock upset win in the 2011 byelection, losing to Clark by only 564 votes. The NDP expects, based on the polling, to move beyond its usual base here of renters, left-wing university professors, and baby boomer professionals and retirees who attend the Vancouver Folk Festival. A former Campbell fundraiser in Point Grey was seen at a recent Eby dinner, which says something.
Of the Vancouver ridings, the BC NDP is projected to pick up all but two of the eleven seats up for grabs on election day, with the Liberals registering wins in only Vancouver-Quilchena and Vancouver-Langara. And even at that, contact from senior members of the Vancouver-Langara campaign teams over the weekend, from both main parties, suggest a win for the BC NDP in Vancouver-Langara is quite possible, as the race is close — regardless of 308.com's imprecations on the matter to the contrary, which would mean a win of 10 of the 11 seats in Vancouver going to the BC NDP.
| | |
| --- | --- |
| Opposition to Kinder Morgan expansion, turning Vancouver into a major oil export harbour: BCNDP benefits from stand. Click on graphic for more info on Justason Intelligence poll | |
The BC NDP have employed a multi-pronged strategy in the 2013 British Columbia provincial election.
Where in 2009, under leader Carole James, the NDP rejected Gordon Campbell's carbon tax proposal, causing the NDP to lose both the environmental vote and the election, no such mistake is occurring this time around. For background, you'll want to read Charlie Smith's latest thoughtful commentary in the Georgia Straight.
From the outset, BC NDP leader Adrian Dix told voters that the NDP would challenge in every riding across the province, and they have, in the Fraser Valley, the Okanagan and the North, in addition to their traditional metropolitan Vancouver and Vancouver Island strongholds. Dix was also clear that the NDP would go after the votes of those who traditionally stay away from the polls on election day: the largely disenfranchised ethnic and immigrant community, and the votes of those under the age of 30.
Even though we agree with our friend Mike Klassen that we'll likely see a voter participation rate at or around — and perhaps even below — 50% across the province — an even more likely outcome given the projected inclement weather, which almost always has a depressing effect on voter turnout — VanRamblings will still predict that in 2013 the young vote and immigrant community vote will hit record levels, as proved to be the case for second-term President, Barack Obama, in the 2012 U.S. election.
Now back to elucidating the provincial electoral ridings that are most in contention, from here on in, outside metropolitan Vancouver city.
Metro Vancouver / Fraser Valley — ridings to watch Tuesday night
Burnaby Lougheed. Current MLA: Liberal, Harry Bloy.
Projection: Says Eric Grenier at 308.com, there's an astounding 83% chance that this riding will turn to BC NDP candidate Jane Shin come election night, with a projected 54.1% of the vote in the NDP column against neophyte B.C. Liberal challenger, Ken Kramer, who is set to register a relatively paltry 34.3% of the vote. In 2009, Bloy edged his NDP challenger Jaynie Clark by 696 votes, with just shy of 50% of the vote. Not this time. Count Burnaby Lougheed as another pick up for the BC NDP, on their way to a majority government in the province of British Columbia.
Burnaby North. Current MLA: Liberal, Richard T. Lee.
Projection: Another pick up for the BC NDP, say both Milton Chan at the Election Prediction Project, and Eric Grenier, at 308.com. In 2009,
Burnaby North was a tight race, with the Liberals' Lee eking out a 548 vote victory. This time, NDP challenger Janet Routledge, the Fight HST Burnaby co-ordinator, will register 51.4% to Lee's projected 38.3% of the vote.
Coquitlam-Burke Mountain. Current MLA: Liberal, Douglas Horner.
Projection: In 2009, Douglas Horner beat his NDP challenger, Heather McRitchie, by a healthy 3,251 vote margin, registering almost 60% of the vote. In 2013, 308.com suggests the race is much closer, projecting a win for Douglas Horner over NDP challenger, Chris Wilson, two-time World Cup Champion in wrestling, and current Executive Director of KidSport Tri-Cities, by a 44.4% to 39.4% vote margin. This time around, BC Conservative Shane Kennedy could throw a monkey wrench into Horner's plan for re-election, with the popular local businessman taking enough votes away from Horner to effectively award the NDP a win in this riding.
North Vancouver-Lonsdale. Current MLA: Liberal, Naomi Yamamoto.
Projection: Incumbent B.C. Liberal candidate Naomi Yamamoto, Minister of Advanced Education in the Clark cabinet, is in tough against popular four-term City of North Vancouver councillor, Craig Keating, who holds a PhD in History from McMaster University and is currently a professor of History at Langara College in Vancouver. 308.com says there's a 53% chance that Keating will eke out a narrow victory, garnering 41% of the vote to Yamamoto's 38.1%. The last time North Vancouver-Lonsdale fell into NDP hands was in 1991, when economist David Schreck won the riding.
Surrey-Panorama. Current MLA: Liberal, Stephanie Cadieux.
Projection: Stephanie Cadieux, Minister of Children and Family Development in the Clark government, moved to retired BC Liberal cabinet minister Kevin Falcon's old riding of Surrey-Cloverdale, where a win for her will be assured. In 2013, the NDP's Amrik Mahil looks to take 45.9% of the vote against Liberal challenger, Marvin Hunt, a popular a 23-year Surrey City Councillor, who's expected to garner only 36.6% support in the riding. According to 308.com, there's a 68% chance that Mahil will place Surrey-Panorama into the NDP win column, contributing to a BC NDP majority government.
Surrey-Tynehead. Current MLA: Liberal, Dave S. Hayer.
Projection: When Hayer, a Liberal MLA since 2001, resigned his membership in the B.C. Liberal party condemning the party, and the Premier, for their role in the ethnic vote scandal, Amrik Virk stepped in to replace Hayer. Not good enough, according to Eric Grenier at 308.com: in 2013, the NDP's Avtar Bains sports a 78% chance of trouncing his Liberal challenger in Surrey-Tynehead where he's expected to pick up a whopping 53.1% of the vote. Another pick up for the BC NDP to contribute to their majority.
Langley. Current MLA: Liberal, Mary Polak.
Projection: Mary Polak, the current BC Minister of Transportation and Infrastructure in the Clark administration, is expected to retain her seat in the legislature come Tuesday evening, according to Eric Grenier at 308.com but just. Let's have Doug Ward over at The Tyee explain ...
"This one features a battle on the right between provincial Conservative Party leader John Cummins and BC Liberal Transportation Minister Mary Polak. Cummins' natural political constituency is Delta, which he represented for many years federally. But Delta South independent MLA Vicki Huntington took that away, so Cummins switched to Langley, where he now resides, in his bid to become B.C.'s first Conservative MLA in over three decades. The New Democrats took 35 per cent of the vote here last time. It's a long-shot scenario, but an even vote split on the right could flip this traditional bastion of small-c conservatism to NDP candidate Andrew Mercier."
Polak, Cummins, Mercier, who knows? — guess we'll see Tuesday night.
Abbotsford-South. Current MLA: Independent, John van Dongen.
Projection: This one's a dog's breakfast. Former Liberal cabinet minister Van Dongen is running again in Abbotsford-South, but this time as an Independent — where he's expected to take 27.2% of the vote. Where does that leave high-profile Liberal candidate Darryl Plecas in his bid to retain the seat for the B.C. Liberals? Potentially on the outside looking in, according to 308.com. Plecas, and NDP candidate Lakvinder Jhaj, are in a virtual tie, with 36% of the vote likely going to Plecas, and 36.7% of the voter support apparently headed in the direction of Jhaj. We'll see Tuesday.
Chilliwack. Current MLA: Liberal, John Les.
Projection: Count Chilliwack as another pick up for the BC NDP, although it's gonna be a squeaker. 308.com projects 33.5% of the vote going to BC NDP candidate, Patti MacAhonic — a former Executive Director of the BC Wildlife Federation, and recently Executive Director of the Chilliwack Chamber of Commerce — leaving her B.C. Liberal challenger and former B.C. Conservative stalwart, John Martin, trailing with 31.4% of the projected vote. Like we said, this one's gonna be a squeaker, whoever emerges as the winning candidate on Tuesday evening. Here's what Doug Ward, over at The Tyee, has to say about the Chilliwack race ...
"The New Democrats won the adjacent riding of Chilliwack-Hope for the first time ever last year thanks to vote-splitting on the right. The NDP hopes to do it again in this Bible Belt riding, which they have also never held. The BC Liberal candidate, John Martin, had nothing good to say about his party last year, when he was the Conservative candidate in Chilliwack-Hope. "The BC Liberals are in free fall," he declared last spring. But Martin has changed his tune in this contest, which pits the college criminologist against NDP candidate Patti MacAhonic, former executive-director of the Chilliwack Chamber of Commerce, and Conservative Chad Eros. Again, the NDP will need a strong Conservative showing for MacAhonic to come up the middle.."
Politics in the Fraser Valley just gets curiouser and curiouser.
Chilliwack-Hope. Current MLA: BC NDP, Gwen O'Mahony.
Projection: On a Tuesday night that's looking more and more like the night of the big hurt for the B.C.Liberals, Christy Clark can take some solace in 308.com's forecast that 2012 Chilliwack-Hope by-election winner O'Mahony will lose the seat to her Liberal challenger, Laurie Throness, longtime Ottawa-based Chief of Staff for now retired Chilliwack Fraser Canyon MP Chuck Strahl. Throness should pick up close to 50% of the vote at the polls on election day, May 14th, leaving O'Mahony with only 39.4% of the vote.
Maple Ridge-Mission. Current MLA: Liberal, Marc Dalton.
Projection: BC NDP's Mike Bocking, who's run and run again in Maple Ridge-Mission, is set this go-round to claim victory, with a projected 46.7% of the vote against Liberal incumbent, Marc Dalton, who according to 308.com, will garner only 33.1% of the vote on election night. Another pick up for the BC NDP, another seat in the legislature to add to their majority.
After the jump, readers will find information on the ridings to watch in the Okanagan / Kootenays, the Cariboo-Thompson and the North, and over on Vancouver Island, all of which promise provocative outcomes.
Read More...
May 10, 2013
Do we have to remind you which party says 'No' to 10x the tanker traffic along B.C.'s coast
In terms of the latest poll results — the final poll results before Tuesday's provincial election — today's anticipated release of polling data by both Angus Reid (for CTV / the Globe and Mail), and Ipsos-Reid (for Global BC and the Vancouver Sun) are expected to tell the tale of where we're headed come election day, May 14th. But, really, do you honestly believe that even if the polls shows a tightening of the gap between the ruling BC Liberals and the hard-charging BC New Democrats, that the result of 28 days of 2013's headlong electioneering will culminate in a BC Liberal majority in the British Columbia legislature? Not bloody likely.
Still, because the gap is closing, as has long been expected would be the case, those of us looking for change — and VanRamblings believes we comprise a majority of British Columbians — will have to make damn sure that today and tomorrow, at the advance polls, or on election day, Tuesday, May 14th, that we get our tookeses to the polling station located nearest to us, and cast that decisive ballot for change. There is no sitting on your duff at home, no "migosh, I have so many more important things to do, the playoffs are on TV, blah blah blah." Whatever it takes, whether you bike to the polls, walk, take the bus, drive your car or get a ride with a friend, the 2013 British Columbia provincial election is a crucial election — never has it been more important for you to make certain that you get yourself, your family and your friends to the polls, and cast your ballot.
Geoff Olson, The Courier: 20 reasons why I'm not voting Liberal
Seems that it's not just the folks in the 801 Club, and former Chief of Staff to BC Liberal Premier Gordon Campbell, Martyn Brown, that want Christy Clark to resign, there's a columnist for Vancouver's Courier newspaper who's weighing in with a raft of maddeningly indisputable reasons that Christy Clark and her discredited BC Liberal party have got to go.
"The B.C. Liberals: 1) Ripped up legally binding, negotiated contracts in the public sector; 2) Closed courthouses; 3) Rolled backed employment standards legislation; 4) Introduced a $6 "training wage" at $2 an hour lower than minimum wage; 5) Introduced a bill for reducing the minimum work age to 12 years; 6) Expanded provincial gambling; 7) Closed hospitals, cut beds and shut long-term care facilities; 8) Laid off nurses and health care workers and privatized services, 9) Handed Pharmacare and MSP operations over to a U.S. firm, Maximus, which had been fined twice for failing to reach contractual targets; 10) Shut down or reduced funding for independent offices like the provincial Ombudsman, the Information and Privacy Commissioner, and Elections B.C.

Whew. Hang on, 10 more ....

11) Cut air and water quality protection; 12) Gutted the Forest Practices Code; 13) Lowered standards for wildlife protection; 14) Presided over the expansion of industrial fish farms; 15) Eliminated the Independent Office of the Child, Youth and Family Advocate; 16) Broke the promise not to introduce the HST and withdrew it only after massive public outcry; 17) Unveiled under-projected, treasury-sucking megaprojects, from the $900 million Vancouver Convention Centre to the $560 million renovation and retractable Asshat for B.C. Place; 18) Failed to resolve questions about the B.C. Rail sale, including the $6 million payout for Basi and Virk's legal fees; 19) Failed to supply details on the funding cut to provincial drug safety evaluations by the UBC-based Therapeutics Initiative; 20) Recently approved a misleading print ad for 24 Hours designed to resemble a front page news story."
Now, Olson's 20 reasons for not voting BC Liberal in 2013 constitute a damning indictment of the BC Liberals, and offer 20 very good reasons why British Columbians must reject the BC Liberal party in this election. But ...
Olsen's 20 unassailable reasons for rejecting the BC Liberal party hardly hold a candle to indefatigable Victoria-based political columnist Laila Yuile's 146 reasons the Liberals have just got to go, as she writes ...
"The BC Liberals have fostered an environment of deception and secrecy in the BC legislature, one where the less the people know about what is going on, the better it is for their party.

Our current Premier, Christy Clark, played a large role in many of the most drastic changes to the province's most vulnerable citizens, while she was a young MLA mentoring under Campbell. It's important to remember that while Christy Clark has tried to rebrand the BC Liberal party as "new" and different from Gordon Campbell, how different and new can they be when all the same names, faces and donors are still there? Deals aren't made in the legislature, but in the back rooms of restaurants and behind closed doors.

British Columbians must not be fooled by cheeky smiles, glib responses and a well-oiled, big money campaign."
Hmmm. One is simply left to wonder if the opprobrium expressed by most of B.C.'s fourth estate, and informed political class, will have the intended effect on voters come election day? Let's hope so, for all our sakes.
C'mon back over the weekend, when VanRamblings wraps our coverage of Decision BC 2013, reviews the ridings to watch election night, points you in the direction of the reality checks conducted by the media on the election commitments made by the leaders running for office, and as always, more.
In the interim, readers who wish to catch up with VanRamblings' coverage of the British Columbia election over the course of the previous 23 days, simply have to click here for a full accounting of Decision BC 2013.
May 9, 2013
As reported by Jas Johal on Global BC's evening NewsHour, an organized movement to oust Christy Clark as BC Liberal leader has already begun in the upper echelons of the provincial governing party.
Called the 801 Club — symbolizing 8:01 p.m., one minute after the election and the minute when the movement plans to begin the process of putting pressure on Clark to step aside, the club — made up of party members and business leaders — has already created 801 buttons, as can be seen in the video clip above, to signify the serious intent of the movement.
The 801 movement not only wants to rid the party of Christy Clark, but those that surround her, as well, including her brother, Bruce; ex-husband and BC Liberal organizer Mark Marissen; the 2013 Liberal party campaign chair Mike McDonald; and current Liberal party president, Sharon White.
Gordon Campbell's former chief of staff, Martyn Brown, says the scandals that the Clark Liberals have endured are self-inflicted and speak to Clark's rudderless and ethically-challenged leadership of the BC Liberal party.
"When you look at one thing after the next, it's just a bad series of judgements that fall directly in her lap," Brown told host Simi Sara, at 12:38pm, on her afternoon CKNW talk show.

"There is no escaping that, and this just brings it home in spades to people that it is the Premier's judgement that is at issue here."
Day after day, in the Georgia Straight and in The Province newspaper, Brown has challenged Clark's questionable leadership of the BC Liberal party, and her time in government as the unelected Premier of the province.
Why would Brown consistently position himself on the attack against Clark in everything he writes and tells any broadcaster or journalist that will interview him unless he is, in fact, one of the charter members of the 801 Club, working in concert with business leaders to ensure that a person who better represents the interests of the business community will replace Christy Clark after a resounding defeat at the polls next Tuesday?
Piling on today on—the increasingly beleaguered—Christy Clark, high profile BC Liberal Daniel Veniez, who writes in his Georgia Straight commentary ...
"I'm progressive, but not of the ideological left, and pragmatic, not of the doctrinaire right. I am a moderate and in the sensible centre ... I have never voted NDP in my life ... In British Columbia, voters have only two parties to choose from. On May 14, I am voting B.C. NDP. There are two reasons for that. The first is Christy Clark. The second is Adrian Dix.

Clark's gaffe-prone, content-free, divisive, and ethically challenged tenure as unelected premier of B.C. has been well chronicled.

The core of her relentless electioneering is anchored on a fantastical notion that B.C. will be "debt free" in 15 years through liquefied natural gas. This is based entirely on the incredibly dubious premise that the stars of a volatile and highly cyclical commodity business will align exactly as she predicts. The reality is that none of us — including those within the industry who would make these multibillion investments — has the foggiest clue whether any of this is fact or fiction. But common sense should tell us this: Clark has made a career out of smoke and mirrors ... the "debt free BC" slogan of her campaign is yet another whopper from Clark, whose entire government has been punctuated by advertising, gimmickry, and endless photo-ops, culminating in this election with a slogan that simply defies all credibility ..."

Dix is a refreshing change.

He's a humble and quiet man, not given to exaggeration nor to fits of narcissism. Not a "natural" politician, Dix is nevertheless obviously comfortable in his own skin. Well read and well briefed, Dix knows his files, understands the machinery of government, and has a great appreciation for what government can and can't do. Dix has tried to do politics differently and has waged an honourable campaign.

As premier, Adrian Dix will restore honesty and substance in Victoria.

He'll bring sober, deliberative, and collaborative leadership to the premier's office. He'll attract good people from across the ideological spectrum. He'll govern the province as he has his own party: by appealing to all of us to come together to solve the problems of British Columbia. He'll work hard to restore faith in our public institutions and trust in the competence and professionalism of government.

All of us want competent, honest, and accountable government that appeals to the best in all of us. Adrian Dix will do that. That's why the NDP is getting my vote on May 14.
If the voters don't do the job next week by ousting Christy Clark from her far from safe seat in the legislature representing the riding of Vancouver-Point Grey, while at the same rejecting her BC Liberal party at the polls, it is clear now that there are forces within the provincial, right-of-centre governing party that are well-prepared to do that job for us.
On the ethically-challenged front, Christy Clark scored a one-two punch on Day 23 of the provincial election campaign.
Early on Wednesday, Christy Clark's off-the-rails BC Liberal campaign released a pointed and misleading Adrian Dix attack ad, employing footage of the the televised debate. Only problem, though, is that the Clark campaign and the BC Liberal party signed a legal agreement with the broadcast consortium that organized the televised debate that her campaign, and the Liberal party, would not use footage from the debate in partisan political advertising.
The debate footage, it should be noted, is also the property of the broadcast consortium — CBC, CTV and Global — and, as such is copyrighted material. Les Staff, news director at CTV who was writing on behalf of the consortium, wrote a formal letter to the Liberal campaign ...
"The program was aired with a copyright at the end of the broadcast. The political parties involved agreed that no use of the copyrighted broadcast would be allowed for any political purposes," writes Staff.

"I have a good faith belief that the use of the material in the manner complained of is not authorized by the copyright owner, its agent, or the law," he continued. "Please have this copyrighted material removed immediately."
As of this writing, early on Thursday morning, Clark's ethically-challenged Liberal campaign has refused to remove the offending YouTube video.
To make matters worse, for the dirty-tricks-driven Liberal campaign, word was leaked on Wednesday that former senior advisor to Premier Christy Clark, one Kim Haakstad — yes, that very same Kim Haakstad who was forced to resign her what was supposed to be, non-partisan, civil servant position in the Premier's office, amidst allegations that she led a partisan BC Liberal initiative, paid for with taxpayer's money, to identify votes for Christy Clark and the Liberal party, in what became know as the "ethnic vote scandal" — is now "volunteering" on Christy Clark's campaign in Vancouver Point Grey. Martyn Brown almost had a coronary as he related his severe misgivings about how it came to be that Liberal party campaign chair Mike McDonald, and "her poor judgement knows no end" Christy Clark herself, had allowed the discredited and dismissed Ms. Haakstad to play a role in the re-election of the Premier, in her very own riding!
So, let's see where we're at here in the waning days of Decision BC 2013.
Let's take a minute to review the election press coverage this week, and who it has favoured — in this, the final full week of the election campaign — and how that coverage is likely to affect the latest election poll results that'll be released tomorrow, and more importantly, how coverage of Christy Clark will affect the outcome of next week's crucial provincial election.
Vancouver Sun columnist Vaughn Palmer reminds his 300,000+ plus readers of Christy Clark's central role in promoting the hated HST
The Vancouver Sun's Peter O'Neil suggests that a Premier Adrian Dix would have more in common with Prime Minister Stephen Harper, that they'd get along better than is the case with Christy Clark, and that the relationship would be more productive for British Columbia. To top it off, the Vancouver Sun provides sympathetic coverage of Adrian Dix's and the BC NDP's policy on eradicating child poverty
Former chief of staff to Gordon Campbell, and the fellow who ran the BC Liberal campaigns in 2001, 2005 and 2009—yes, Martyn Brown—hammers Christy Clark, column in and column out, in The Straight, The Province, and on any TV or radio station that will air his views on Christy Clark's "ethically challenged" BC election campaign
Prominent Liberal Daniel Veniez, in his commentary in The Straight, calls Christy Clark's tenure in government, "gaffe-prone, content-free, divisive, and ethically challenged"
With 5 days to go in the election campaign, Global TV runs a lead story telling it's 680,000+ dinnertime newshour viewers that not only the NDP, but the BC Liberals themselves, want Christy Clark gone
The writing is on the wall for the soon-to-be-ex Premier, Christy Clark.
Even the most apolitical British Columbian — for whom politics is a mere afterthought, or an intrusion — must now realize that we are on the verge of witnessing the bloody end of the Christy Clark era in BC politics.
Interested in reading VanRamblings' coverage of the British Columbia 2013 provincial election from Day 1 to the present just click on Decision BC 2013.
May 8, 2013
The advance polls open today across British Columbia, in this most important 2013 provincial election. Wednesday through Saturday this week — in advance of Election Day, Tuesday, May 14th — from 8am through til 8pm (local time) each of the four advance polling days this week, Elections BC has provided to you the opportunity to exercise your franchise.
Don't know where to vote in your local riding? Simply click here for the location of the advance polling station closest to where you live. There is no more important role that you can play in the life of our society than casting a ballot for the candidate of your choice, enfranchising yourself, your family and your neighbours, by participating in the grand democratic engagement that defines what it means to live in a free society, in a country and a province where your vote counts, as you play your part in helping to determine where the province in which you live and prosper is headed over the course of the next four years.
BC Election 2013: Where BC is Headed Over the Next Six Days
As can be seen in the latest UBC Sauder School of Business Election Market prediction, above and to the right, British Columbia is headed to a majority New Democrat government, a change from 12 years of the corporate friendly policies of the BC Liberal party, to a more balanced NDP-driven economy, where the needs of working families — and the most vulnerable among us — are taken into account when determining public policy.
Change is always difficult. But in 2013, amidst near economic chaos across the globe, change is necessary in order that the priorities that best fit the needs of the vast majority of British Columbians are well-tended to, where your needs, and the needs of your family, your friends, your co-workers and your neighbours emerge as priority concerns to those whom we have elected to represent us in the seat of power in Victoria, as British Columbia moves fitfully, yet inexorably forward through the 21st century.
Martyn Brown, the B.C. Liberals' public campaign director in the last three elections, has weighed in again on where he thinks British Columbia will find itself on election night, where we are now, and where we're going.
"The B.C. Liberals are still hovering in the low 30s, well below the NDP, with a week to go and little obvious room to grow. The NDP's strategy is sound and has worked to help put that party in the lead so far. I believe it will prevail ... (British Columbians) want a new type of positive politics that doesn't sink to the gutter. They want an approach that isn't all about running people down or that is utterly wedded to partisan hyperbole and fearmongering, as Dix used to engage in before he was the NDP leader, and which remains a defining feature of Clark's DNA.

If Dix can round out the last week by appearing more energized and more passionate in his drive to lead B.C. forward, he can show people a new dimension to his character that inspires trust and confidence in him. The latest polls should certainly give him new impetus for a heartfelt appeal that shows he's more of a fighter than most people have given him credit for being. Anyone who has watched Dix at his best in the Legislature over the years knows that he has the potential to be devastating, with wit, humour, and sheer political smarts.

If anyone should be feeling pangs of panic at this point, it should be the B.C. Liberals. They are still at least 10 to 13 points from any serious shot at winning, given the NDP's sizable lead, its more evenly distributed geographic support, and its more motivated voter support base.

As things stand, the NDP is unlikely to lose any of the 35 seats it won in 2009, with the possible exception of Cariboo North. The best the Liberals can really hope for is to hang onto seats they currently hold, at least half of which are all potentially vulnerable ... I like the NDP's odds, to put it mildly. Hopefully, the prospect of a horse race will help motivate all British Columbians to cast their ballots."
And thus we in British Columbia move towards a new government in Victoria, an end to Liberal governance, and an end to Christy Clark's reign of error, towards an NDP government representing the interests of all.
Canucks eliminated in four game sweep. Calls for change abound
The Vancouver Canucks went down to ignominious defeat in overtime, in the fourth game of Round One of their Western Conference Stanley Cup quarter final. As the headline on the Vancouver Sun reads, "Canucks swept out of NHL playoffs by Sharks, with likely sweeping changes to come." And so, change will come, not just within the Canucks beleaguered, playoff averse organization, but across the province of British Columbia, as well.
British Columbians do not want more of the same, whether it be Christy Clark and her far from merry band of tired, old Liberals, or the can't get it done Alain Vigneault, whose job is on the line. Don't expect Vigneault back with the Canucks next season. Don't expect Clark to take her seat in the legislature as Premier, post May 14th. Clark has as much hope of either retaining her position as Premier, or her seat in the legislature as representative for the riding of Vancouver-Point Grey, as Vigneault does of finding himself behind the Canucks' bench come September. Not a chance.
BC NDP leader Adrian Dix campaigning in Summerland with NDP candidate
Richard Cannings
Where are the leaders campaigning today? Adrian Dix, B.C. NDP: Summerland, Kelowna, Penticton, Vernon, Armstrong, Kamloops; Christy Clark, B.C. Liberals: Maple Ridge, Burnaby, New Westminster, Surrey; John Cummins, B.C. Conservatives: Vernon; Jane Sterk, B.C. Greens: Victoria, Vancouver. More information will be provided as it becomes available.
Full VanRamblings election coverage available by clicking Decision BC 2013.
May 7, 2013
The inevitability of change looms large on the horizon.
As much as the pollsters want to turn the 2013 British Columbia election into a race to the finish line, in fact that's not what's happening at all. The people across this vast province of ours continue to hanker for change, whether that be adding a couple of Green MLA's to the ledge for the next term (Andrew Weaver and Adam Olsen), or a couple of Independents (Vicki Huntington and Arthur Hadland), plus a surfeit of NDP MLA's — including 'always a bridesmaid, never a bride' NDP candidate for Maple Ridge - Mission, Mike Bocking — but make no mistake, change is on the way.
As can be seen in ThreeHundredEight's graphic at the top of today's post, the BC NDP are looking at somewhere in the range of 48 to 56 seats, while the Liberals continue to trail with 36 to 42 seats, not in majority range, and out of contention for government. Sure, there's still six days to go in Decision BC 2013, but the writing is on the wall, Adrian Dix and the NDP have stepped up their game — finally deciding that it's time to hold the BC Liberals' feet to the fire — BC Conservative leader John Cummins has picked up his game in the waning days of the campaign, while BC Green Party leader Jane Sterk focuses on winning at least one seat in the legislature. Ms. Sterk knows that a portion of the Green vote will evaporate on election day, as many of her Green supporters will vote strategically, for the NDP.
Vancouver-Point Grey Becomes a Bellwether Riding in 2013
Vancouver's Point Grey riding has been represented by a Liberal premier for more than a decade, but that nearly changed in 2011 when the NDP's David Eby came within 564 votes of unseating Christy Clark in a by-election. Now, with Clark and the BC Liberals trailing in the polls, many believe the riding is Eby's to lose, offering a hint at how the rest of the province votes, too.
"It's a David and Goliath story of sorts, although I am much taller than Christy, so I am not sure the metaphor totally holds," says Eby. "It's challenging for me running against the premier. She's in the news every day, she's spent a huge amount of money on advertising. Our response has been—since we didn't have that kind of budget—to knock on as many doors as possible and talk to as many people as possible in the riding."
And so David Eby, the NDP candidate in Vancouver-Point Grey, and his legion of door-to-door canvassers who've knocked on every door in the riding in one mightily impressive example of the NDP's superior "ground game" — and let's not forget unprecedented mail-in ballot support from the many thousands of UBC students resident in the riding, as efficient and focused a campaign as VanRamblings has ever witnessed, with campaign manager Kate Van Meer-Mass in full control, with a first-rate voter contact phone bank co-ordinated by Sean Antrim that runs morning to night, and a volunteer organization by Gala Milne (not to mention, stalwarts Mary Tenny, John Yano and Indra Roodal, among many, many other volunteers working together in Vancouver's western most riding) second-to-none in our current BC election campaign — making the race to win the hearts and minds of the people of Vancouver-Point Grey, one to watch election night.
BC Election 2013: News of the Day Heading Towards May 14th
The story of the day, so to speak, on the campaign trail on Sunday night and for much of Monday, was the cynical re-emergence of adulterer and political chameleon, Gordon Wilson, a one-time leader of the BC Liberals, one-time head of the Progressive Democratic Alliance, then an NDP cabinet minister in the government of Premier Glen Clark, and now—apparently—a born again BC Liberal. The head just swims. You can watch Wilson's endorsement of Christy Clark (really?), at the end of the story in the link above, or better still you can hear BC NDP leader Adrian Dix's take on Wilson, and more importantly, the critical issues in the 2013 British Columbia election, by clicking on the link below, for an interview conducted by Rick Cluff, with Dix, broadcast yesterday morning on CBC's Early Edition.
Who knows what's going on at British Columbia's newspaper of record, The Vancouver Sun? First up, one week to go to election day, and we have Vaughn Palmer reminding his 300,000+ readers about the HST, and the BC Liberals' role in this boondoggle that brought down a Premier, quoting Martyn Brown, former Chief of Staff to Gordon Campbell ...
"The last thing British Columbians expected from the Campbell government, which had made personal income tax relief — and household tax relief — so central to its vision, was a tax shift that would increase their tax burden, especially in the midst of a recession," wrote the premier's then chief of staff Martyn Brown in a devastating analysis-cum-mea-culpa self-published last summer.

"The HST was an issue of such broad public importance that it should never have been imposed without any prior consultation, let alone only weeks after an election, and in direct contradiction to the governing party's stated position. It represented such a significant shift in the tax burden from businesses to individuals that it was not on a scale that would have ever been right to impose it as a done deal."

"No mandate. A betrayal of the electorate ..."
Next, The Sun's Peter O'Neil suggests that ...
Ideological differences notwithstanding, an Premier Adrian Dix-Stephen Harper relationship could be a productive one. Political insiders say there are many similarities between Harper and Dix that may help the two hit it off despite clashing ideologies. Both are bilingual and former Parliament Hill staffers who grew up during the same era in major multicultural urban areas. Dix, who turned 49 on April 20, is the son of a couple who ran an insurance business in Vancouver. Harper, who celebrated his 54th birthday on April 30, is a Toronto native and the son of an accountant.

Harper and Dix are knowledgeable sports fans with a deep understanding of Canadian political history. And while Dix is far less reserved than Harper, neither man could be mistaken for glad-handing extrovert politicians like their current principal rivals — Christy Clark and Justin Trudeau. And Harper, according to some of his former cabinet colleagues, respects straight-shooting politicians with clear and unwavering principles, and who approach relations in a business-like fashion. Dix has tried to telegraph to both B.C. businesses and his own party members that he'll advocate a moderate agenda with no big surprises.
O'Neil then goes on to write that BC Liberal leader Christy Clark ...
"has just as frequently frustrated the federal Conservatives, most recently on Sunday when she once again turned her nose up at two oilsands pipeline proposals to the B.C. coast that are considered by Ottawa to be in the national interest. If Clark manages a stunning come-from-behind victory on May 14, British Columbians can assume more of the same — continued federal-provincial tensions on the oilsands pipelines issue and occasional flare-ups like the Kitsilano Coast Guard closure dispute."
And in the newspaper's pièce-de-résistance for the day, The Sun quotes BC NDP leader Adrian Dix reminding British Columbians of the BC Liberals' failure to help suffering children during their dozen years in office.
"Eight years leading the country in child poverty and the Liberal party is offering nothing except misleading comments and attacks," Dix said of the province's child-poverty rate ... Here's what I find offensive. I say Yes to LNG. I say yes to mining. I say Yes to forestry. I say Yes to film and television. I say Yes to tourism. But here's what I say No to. I say No to doing nothing when children suffer."
Hmmm. Do you think that the folks over at the Vancouver Sun know something we don't? Like maybe, just maybe, Adrian Dix and the BC NDP are set to win a majority government next Tuesday, May 14th?
BC Election 2013: Where The Leaders Will Be Tuesday, May 7th
Christy Clark will spend the day campaigning in Fort Nelson and Kitimat, doing her level best to keep the North in the BC Liberal fold, while preventing the BC Conservatives from gaining party stature in the British Columbia legislature.
Adrian Dix has a morning rally in Sidney, over on Vancouver Island, as well as rallies in the afternoon (following lunch, of course), a roundtable, and in the evening, a bit of Round 1, Game 4 Vancouver Canucks vs the San Jose Sharks Stanley Cup playoff watching, first in Richmond, then in Vancouver, and finally in Delta. Guess we know what Dix will be doing between periods.
8:05am: Sidney - Campaign announcement with candidates Lana Popham, Rob Fleming, Carole James, Maurine Karagianis, Gary Holman, Jessica Van der Veen & John Horgan, Tulista Park (5 St .& Ocean Ave.)
11:40am: Richmond - Campaign event with candidates Frank Huang, Gian Sihota, Scott Stewart, Richmond campaign office (8980 No. 3 Rd)
12:45pm: Vancouver - Chinese community luncheon with candidates Jenny Kwan, Gabriel Yiu, George Chow, Frank Huang at Yue Shan Society Headquarters (37 E. Pender St.)
5pm: Surrey - South Asian media round table with candidates Bruce Ralston, Jagrup Brar, Harry Bains, Sue Hammell, Amrik Mahil, Avtar Bains, Gabriel Yiu, Sylvia Bishop, Nic Slater, Raj Chouhan at Grand Taj Banquet Hall-Queen Hall (8388 128 St.)
6:45pm: Delta - Canucks Game with supporters and candidate Sylvia Bishop at one20 Pub & Grill (8037 120 St.)
BC Conservative leader John Cummins will campaign in the Okanagan.
10am: Penticton - Announcement of support for region's health care facilities, with candidate Sean Upshaw, at Carmi Coffee House Salon and Spa (595 Carmi Ave.)
Green Party of BC leader, Jane Sterk, will continue her door-to-door canvass in her home riding of Victoria-Beacon Hill, as well as ...
7:45am: Victoria - Rush hour wave, Cook and Pandora
11:30am: Victoria - Nurses Appreciation Party, Royal Jubilee Hospital
2pm: Victoria - Mainstreeting, Cook Street Village
6:15pm: Victoria - Social Service all-candidates meeting at First Metropolitan United Church
Full VanRamblings election coverage available by clicking Decision BC 2013.
May 6, 2013
Part Two: Don't Allow Decision BC 2013 Polls to Get You in a Tizzy
Have another look at the BC Election polls above, and the more detailed analysis we published on the weekend, and the following series of questions arise, "How do the poll results relate to the probable outcome of the British Columbia provincial election, how many seats is each provincial party likely to garner on election night, which ridings are in contention that will tip the election result one way or another and, finally, what does it all mean for British Columbia going forward into the future, most particularly between May 14, 2013 and the next provincial election, in the autumn of 2017?"
A few of the questions above were answered in VanRamblings' weekend post. We'll address the remaining questions in postings we'll publish over the course of the final week of the Decision BC 2013 election campaign. Stay tuned, cuz this is going to be one humdinger of a provincial election.
Know this: the BC New Democrats and the BC Liberals are running disciplined campaigns. Both campaigns will stay on message, and both Adrian Dix and Christy Clark will continue to hammer home the main themes their parties are promoting to voters (change vs more of the same).
In the final week of Decision BC 2013, neither of the main contending parties for government will move anywhere close to going off track, although there's a greater likelihood you'll see the NDP mounting an edgier campaign in the next seven days, as Adrian Dix raises issues involving the BC Liberals' sorry record of governance — of which example there are many — the Liberals' 12-year history of fiscal mismanagement, as well as their abject failure to govern in the interests of a majority of British Columbians.
Let's face it: there was never any question that the British Columbia election campaign would not tighten up closer to election day, May 14th. Not for nothing has VanRamblings consistently predicted 54 seats for the BC NDP in the legislature for the coming term of office, and somewhere around 26 - 30 seats for the BC Liberals. In the polarized political climate of British Columbia, we in this province have a history of only 3 per cent, or less, of the provincial vote separating the two main parties on election day.
The difference this time? As we say above, in 2013 the advantage goes to the BC New Democrats. The best the BC Liberals can hope for in 2013 is a decent showing at the polls on election night (30+ seats would be considered a massive win for this discredited party), leaving the BC NDP left only to ponder the size of their majority in the British Columbia legislature.
As Vaughn Palmer writes in his weekend column in the Vancouver Sun, the BC Liberals are still fighting an uphill battle, a battle "against the odds."
To conclude this discussion on the polls and their meaning for the outcome of the campaign for the government of British Columbia, from his commentary published in The Straight on the weekend, here's Martyn Brown, former Chief of Staff to BC Liberal Premier Gordon Campbell ...
"The Liberals' supposed 'surge' amounts to a few points at the NDP's expense, that still leaves them miles away from where they need to be to have a serious shot at forming the government. While the 'new horserace' narrative helps pollsters stay relevant, gives the media something interesting to report, and allows the two main parties' supporters to become more motivated, it's way overblown, in my view.

The NDP are still way ahead by any measure, especially in the Lower Mainland, where most of the seats are. If the Green and Conservative votes both collapse to some extent, as I expect they will on election day, the NDP will gain more than the B.C. Liberals will.

If the NDP regain even a couple of points from the Green Party, and if the B.C. Liberals gain even half of all current B.C. Conservative voters, it would still be a wipeout. The NDP would be in the mid-40s and the B.C. Liberals would be in the high 30s.

The NDP voters are more motivated to punish and change the government, and the NDP vote is more 'efficient' — meaning that it is more evenly distributed across regions than that of the B.C. Liberals vote, which tends to be more regionally concentrated.

Both of those factors give the NDP a premium of perhaps 3-5%. We saw that in 1996, when the NDP lost the popular vote, but still won the most seats. In an election that is tied, for example, with both parties at about 42 percent, the NDP would form a massive majority government."
Let's follow up on the reference made by seasoned political strategist Martyn Brown in the last paragraph of his commentary above, and get a bit more graphic about the 1996 British Columbia election result ...
In 1996, as can be seen in the graphic above, in a legislative house with 75 MLAs — with only 624,395 votes cast in their favour, amounting to 39.45% of the popular vote, Glen Clark's BC New Democrats maintained a comfortable 39-seat majority in the British Columbia legislature, even though Gordon Campbell's BC Liberals managed 37,534 more votes (BC Liberals' total: 661,929), for a 41.82% showing at the polls. As Martyn Brown says — by the way, Mr. Brown was campaign director for the BC Liberals and their massive win in 2001, as well as the BC Liberals' wins in 2005 and 2009, therefore, he should know better than most of the pundits out there commenting on the probable election night results come the evening of May 14th — "the NDP are still way ahead by any measure."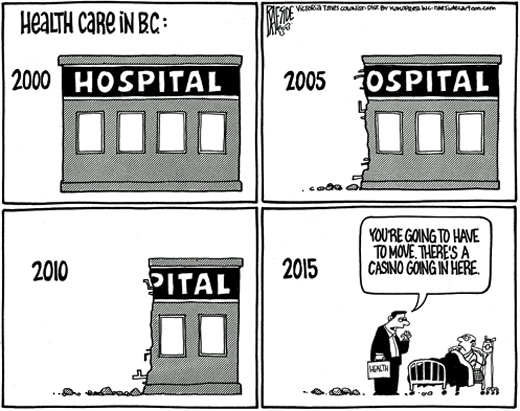 Cartoonist Adrian Raeside comments on the state of health care in BC under the BC Liberals
See you back here during the course of the week. In the meantime, full VanRamblings election coverage is available by clicking Decision BC 2013.
May 4, 2013
The story of the week in BC politics was the surge in support for the BC Liberals, who have risen from a desperate 26% in the polls pre the televised debate to a more comfortable 34%, according to the latest Angus Reid poll.
Even so, writes Martyn Brown — author of the new e-book Towards a New Government in British Columbia, former B.C. premier Gordon Campbell's long-serving chief of staff, top strategic advisor to three provincial party leaders, and former BC deputy minister of tourism, trade, & investment ...
"The only real hope for the B.C. Liberals, at this point, is for voters to abandon the NDP in droves, for the Conservative vote to completely collapse, and for the Green Party to retain virtually all of its current support. Fat chance. It would take a colossal screw-up by Dix and a sea change in Clark's approval numbers to make that happen."

"So chill out, New Democrats. The sky is not falling yet again, as it has in so many past elections. At 34 percent in the polls with a little over a week until voting day, the B.C. Liberals may be giddy with delight, given where they've been. But they are still staring into the abyss, with no real route to salvation in sight, especially if Dix becomes more passionate and aggressive."
Mr. Brown ends his commentary in the Georgia Straight, advising ...
"To the extent that voters believe that the NDP is still the runaway favourite to win on May 14, and if they remain focused on what they want their legislature to look like on May 15, they may find other motivations for voting than simply who will form the government."

"The important thing is to get out and vote, because the individual choices that voters make in each riding can still change the face of the government that our elected representatives will lead and deliver. Like the song says, "there's got to be a morning after ..."
This weekend, Milton Chan's Election Prediction Project, factoring in the latest polls, still has the NDP winning a whopping 45 seats, with only 16 seats guaranteed to the Liberals, and a further 23 currently up for grabs.
ThreeHundredEight.com — the Canadian equivalent of Nate Silver's prestigious and uncannily accurate FiveThirtyEight political calculus blog, which correctly predicted 50 out of the 50 states in the 2012 U.S. election, for Congress, Senate and for President — currently has the NDP at 46 seats to the Liberals 38 seats, with one more seat going to Independent Vicki Huntington in Delta South, still very much majority territory for Adrian Dix and the BC New Democratic Party.
The UBC Sauder School of Business and their generally right on the money BC Election Prediction Market, as of this weekend, projects that the BC NDP will take 52 seats in the legislature, the BC Liberals, 27 (a drop of 22 seats from their 2009 majority win), with another two going to the BC Green Party (likely, Oak Bay - Gordon Head and Saanich North and the Islands), two more projected for the BC Conservatives, with two Independents filling out the full legislative contingent in Victoria for the next four years.
On Friday, as Tom Barrett at The Tyee reports — and as you'll hear from Global BC's legislative reporter, Keith Baldrey, above — pollster Ipsos-Reid released the results of a BC Election 2013 poll conducted for BC's news leader — giving the BC NDP a 10-point lead (45% of the electorate indicating a vote for the NDP) — over the BC Liberals, at 35%, leaving the BC Conservatives at 7%, down four points, and the BC Green party at 10%. Other parties, including independents, are left with 3% of the vote.
British Columbians will know the results of Decision BC 2013 by 10pm, Tuesday, May 14th, if not earlier on that most important evening.
Part Two of VanRamblings' analysis of the polls results, what it all means for the BC NDP come election night, May 14th (hint: a majority NDP government), and more, here on Monday morning. See you then.
In the meantime, full VanRamblings election coverage is available by clicking Decision BC 2013, as we continue our daily coverage of the B.C. election.
We'll leave you for now with, perhaps, the most important poll of all ...
| | |
| --- | --- |
| Click on the Burger Heaven poll above to read the bios of the leaders | |
May 3, 2013
| | |
| --- | --- |
| | |
Click on the picture above for CTV BC video: "Just 7 points separate BC Liberals and NDP"
Is there any person in British Columbia, be s/he pundit or average citizen, who believes for one bloody moment that Christy Clark and her discredited B.C. Liberal party are on track to catch up to Adrian Dix and his surging New Democratic Party? Is their any rational person in British Columbia - who cares about B.C., and who follows B.C. politics - who doesn't believe that the electorate are hankering for change, who doesn't believe that a vast majority of British Columbians want to see the backside of the B.C. Liberal party, and their harebrained governance under the quizzical non-leadership of the thoroughly discredited Christy Clark? Puh-leeze. For all that Canada's national right-wing rag might have their in-house Forum Research pollster engage in fantasy-filled projection on their behalf on the outcome of the May 14th British Columbia election (see graphic above), that publisher PostMedia deigns to report such on the front page of their near financially bankrupt national newspaper, there is nothing about the poll above that bears any semblance to the political reality felt by British Columbians in the dying days of the Decision BC 2013.
Yes, the Decision BC 2013 race is tightening up, both the Conservative and Green votes appear to be in freefall, and the BC Liberals are seemingly picking up some of the slack, but will they form government for a fourth consecutive term of office when election results are announced the evening of May 14th? Not bloody likely unless Dix stumbles, and he ain't gonna.
Somewhere between the 48% for the NDP and 26% for the B.C. Liberal party that Angus Reid reported in their poll released earlier in the week, and their poll conducted for CTV BC on May 1 and 2, and released today (see video above) — not to mention the 70 to 12 seat majority the Vancouver Sun projected yesterday — and the National Post's way-out-of-right-field Forum Research poll, above, lays the reality of where we'll end up on election night. As VanRamblings reported yesterday, the race will probably continue to tighten up some in the remaining 9 days of Decision BC 2013, the Liberal Party may yet climb to 35% in the polls, as the Conservative and the Green Party vote continues to collapse, but make no mistake, the BC New Democratic Party are on track to form government post May 14th.
When you have longtime Vancouver Sun legislative columnist Vaughn Palmer reading the political tea leaves — and realize he has access to the internal polls for both of British Columbia's main parties — when Palmer advises the B.C. Liberals to "keep your chins up", as he did in his column yesterday, as the discredited current government heads toward certain defeat at the polls in 2013, you know that this is a race that, although it's tightening up some, is a race headed in one direction and one direction only, with the all-but-inevitable outcome of a majority BC NDP government set to guide our province over the course of the next four years.
For the latest VanRamblings election coverage, click on Decision BC 2013.
May 2, 2013
With only a handful of days left in Decision BC 2013, as most pundits had predicted, the campaign race has tightened some this week over last, with the BC Liberals gaining 3% in the polls, as the Green Party and Conservative vote begins to collapse. The NDP vote has remained steady at 44.2%, though, enough to catapult BC's long out of government centre left political party to victory on May 14th, with a projected 56 seats in the British Columbia legislature, a gain of 21 seats, and 34 more seats than the floundering BC Liberals.
VanRamblings has told friends that we believe the NDP will garner 54 seats in the house come election night, May 14th, a perfect number for the BC NDP, and leader Adrian Dix — enough to appoint a cabinet of 24 - 26, with another 24 - 26 parliamentary secretary appointments, as well as an NDP house leader, party whip, Speaker and Deputy Speaker of the House, thereby keeping any idle NDP electeds from possible mischief that could hurt the party, and also affording increased salaries for each NDP member in the legislature, newly-elected and sustaining. We'll see come May 14th.
| | |
| --- | --- |
| | |
To throw a monkey wrench into the whole election prediction game, according to Chad Skelton, at the Vancouver Sun, if one takes into account the most recent Angus Reid poll, an online seat prediction tool created by The Sun newspaper "predicts the NDP winning a whopping 70 seats and the Liberals just 12, with another two for independent candidates and one for the Greens." Again, we'll just wait to see what occurs on May 14th.
Given the figures expressed in the polls above, in his latest column for the Vancouver Sun, longtime legislative reporter Vaughn Palmer writes that the B.C. Liberals are simply trying to keep their chins up, and hang on.
Looking to the current campaign, NDP leader Adrian Dix is fighting to win everywhere, though his party denies (not all that persuasively, in my view) that he means to crush, crush, crush the Liberals the way Campbell did the New Democrats in 2001.

The Liberals, in fighting against the odds to turn things around, are also serving the dual purpose of trying to save as much as they can of their seat complement to establish a sizable opposition beachhead for the next four years. Plan B, one might call it. And unless the gap between the two main parties drops to the single digits very soon, I expect it will become the operative one for the Liberals as election day approaches.
Has Palmer had a look at the Vancouver Sun poll above? Must be, cuz he seems to be writing off the Liberal's chances with 12 days still to go.
BC Election 2013: News from Here, There & Everywhere
As is the case with the mainstream media, VanRamblings has pretty much ignored the travails of the BC Conservative campaign, and whatever machinations it's deer-in-the-headlights leader, John Cummins, performs each day on the campaign trail. In an April 30th story, the Vancouver Sun's Mike Hager reported that the Conservative party had failed to file the proper paperwork by last Friday's nomination deadline for four of its candidates — Vancouver-Quilchena's Bill Clarke, a former Progressive Conservative MP; Burnaby-Lougheed's Christine Clarke; Burnaby North's Wayne Marklund; and Maple Ridge-Pitt Meadows' Manuel (Mike) Pratas. As a consequence, the candidates will run unaffiliated. Oh sure, the four 'quasi-semi-sorta-but-really' non-Conservative candidates — who won't have their affiliation made official on the ballots — will still campaign as Conservatives, using party paraphernalia like lawn signs and logos, and the like, but they won't be - like, y'know - official Conservatives. Poor John Cummins, he's running a provincial campaign where the wheels keep coming off the bus.
And then there's this story about the ...
... triumvirate of candidates dropped by the B.C. Conservative party in the past week over their controversial online comments, who have pledged to continue running as independents. Ian Tootill announced he will be running in Vancouver-False Creek after party leader John Cummins took offence to several of his comments made on Twitter. Two other Tory candidates dumped by the party for their controversial comments, Vancouver-West End's Ron Herbert and Boundary-Similkameen's Mischa Popoff, will also run as independents.
The wheels on the Conservative campaign bus go click, click, clack ...
We're not sure why, but for some reason or other VanRamblings has quite consistently neglected to steer readers in the direction of The Tyee's otherwise superior coverage of the 40th British Columbia provincial election, an oversight we'll attempt to remedy, at least to some degree, now.
Well, that's it for VanRamblings May 2nd coverage of the BC Election.
For the latest VanRamblings election coverage, click on Decision BC 2013.
May 1, 2013
| | |
| --- | --- |
| | |
Barring any last minute fumbles by Adrian Dix (as unlikely a prospect as one could possibly imagine), as we head towards E-Day on May 14th, the son of parents Ken and Hilda, immigrants from Ireland and Britain, respectively, fluent speaker of both of Canada's official languages, graduate of UBC in History and Political Science, husband of Renée Saklikar, a poet and writer, longtime resident and two term MLA for Vancouver's Collingwood district (the riding called Vancouver Kingsway), one morning very soon you will be waking to the news that Premier Adrian Dix will be sworn into office in the early part of June — along with a cabinet comprised of dedicated, hard-working New Democrat MLAs who Mr. Dix believes can help to right the course for British Columbia, create jobs and opportunity, manage our health care sector for the good of all, ensure that our children are provided with the resources necessary to learn in our public schools, and more, so much more — to become British Columbia's 36th Premier.
As you can see from the graphic at the head of today's blog post, Milton Chan, over at the Election Prediction Project, stipulates that the New Democratic Party of British Columbia is guaranteed to win a minimum of 45 seats in the house, two more than is necessary for a majority government, and currently 30 seats greater than the increasingly moribund BC Liberals, a rise of three seats for the NDP over last week's prediction, and a loss of one for the Liberals. As we've written previously, too bad, so sad, ain't sure it's been all that great to know ya, don't let the door whack you on the behind on your way out, better luck next time, we thank you for your efforts in governing British Columbia (however misguided were many of your policies), but the time has come when the citizens of our province are aching for change, and so you are gone, as the Adrian Dix era hath arrived, thoughtful, methodical, humane, policy-developed, slow, sustaining and incremental change for the better. The clocks will not be turned back.
Adrian Dix, leader of the BC NDP and next Premier of the province of British Columbia
The four leaders are back on the campaign trail, hard at it, Adrian Dix working to increase an NDP majority in the legislature, Christy Clark doing her best to avoid an unrecoverable drubbing at the polls for her BC Liberal party, John Cummins doing his level best to elect a handful of Conservatives in the Interior, and Jane Sterk striving hard to not only get the BC Green Party message out to voters, but ensure that at least a couple of her candidates are elected on May 14th (Oak Bay - Gordon Head and Saanich North and the Islands are identified as the best bets) to represent their constituents in the British Columbia legislature.
Where will the four leaders of British Columbia's political parties spend their time in the remaining days of Decision BC 2013?
BC NDP leader Adrian Dix spent most of Tuesday in Prince George, where he pledged to the B.C. Mayors' Council that an NDP government would create a stand-alone ministry for local government and hold annual roundtables with mayors from across the province. Wednesday morning, Adrian Dix had breakfast in Quesnel, where he also attended a campaign event with NDP Cariboo-North candidate Duncan Barnett, who also traveled with the BC NDP leader to a 2:05pm campaign stop in Barkerville.
BC Liberal leader Christy Clark launched a three-day, 10-city campaign tour on Tuesday, hoping to capitalize on the exposure from Monday night's comme ci, comme ça leaders' debate. This morning, Ms. Clark had breakfast with supporters in Penticton, after which her campaign bus headed down the road to the offices of Boundary-Similkameen BC Liberal candidate, Linda Larson, a riding the Election Prediction Project's Milton Chan is now calling for NDP candidate Lakhvinder Jhaj, a pick up for the NDP over the Liberals from 2009. At 3:30pm, the soon-to-be-ex Premier made a stop at the Sanderson Fruit Stand in Keremeos, before she headed down the road to Princeton, for a tour of the Copper Mountain Mine.
BC Green Party leader Jane Sterk spent Tuesday visiting the editorial offices of Vancouver's two major dailies before traveling home to Victoria. Bright and early this morning, Ms. Sterk had breakfast with party supporters before heading over to Victoria's CFAX radio station for a one-on-one with morning host, Al Ferraby. At 10:30am, Ms. Sterk was off to participate in an all-candidates forum at the James Bay New Horizons Centre, in support of her candidacy in Victoria-Beacon Hill, where she hopes to defeat former NDP leader, Carole James (an unlikely prospect). At 12:30pm, Ms. Sterk was interviewed by CBC Almanac host, Mark Forsythe. Tonight, at 6:30pm, it was another all-candidates forum at the New Horizons Centre. Tomorrow, Ms. Sterk is scheduled to set out across across Vancouver Island in support of candidates running under the BC Green Party banner.
Yesterday, Conservative leader John Cummins began what he's calling his pick-up truck tour, where he made stops at the many Interior communities that dot Highway One — Hope, Boston Bar, Lytton, Spences Bridge, Merritt and Ashcroft, among other small towns and villages — before finally arriving at his Kamloops destination, where he spent most of Wednesday plumping for local BC Conservative candidates, Ed Klop and Peter Sharp.
VanRamblings will leave you with the following Christy Clark message ...
For the latest VanRamblings election coverage, click on Decision BC 2013.