BC Politics
May 15, 2013

VanRamblings is recovering from the New Democrats' devastating loss to the B.C. Liberals' incalculably unexpected (and undeserved) win at the polls on Tuesday evening, and their relentlessly negative, fear-based campaign.
Over the next 48 hours, we'll give some thought to what happened during the course of Decision BC 2013 that resulted in Tuesday night's disastrous loss for the interests of the majority of British Columbians, what it means for B.C. going forward, what the NDP must do to better engage the voters and actually bring them out to the polls to vote for Change for the Better (turnout at the polls was slightly better in 2013 than was the case in 2009, at just a titch over 52%), whether Adrian Dix — who we believe could have been the leader of a generation for British Columbia — should remain as leader of the BC NDP, what the NDP loss means for how political campaigns are run going forward, and more.
For now, though, we'll rest, while we attempt to recover from the deep feeling of loss we feel at what might have been.
One final thought for now: as we have aged over the years, VanRamblings has become more sanguine about the unfolding of the events which impact on our lives — still, we will not give up the fight, for we live to fight another day. Rather, at this time, we simply require a period of reflection to measure the impact of our collective loss, to put that loss into perspective, and determine for ourselves how we will proceed in the times to come to work for change, to continue our work towards a fairer and more democratic society, where everyone might feel engaged and empowered enough in their lives to become a part of the change that must be, to better represent our hopes, our dreams, our aspirations for ourselves, for our families, our neighbours, the province, the country and the world.
May 13, 2013
| | |
| --- | --- |
| Éric Grenier's 308.com final British Columbia election prediction, May 14, 2013 | |
Éric Grenier — the Canadian statistician, sabermetrician, psephologist, and writer — has developed a system for forecasting political party popularity, and during election campaigns, outcome predictions for provincial and federal campaigns. To that end, as of this morning, Monday, May 13th — employing all of the polling data from Abacus, Angus-Reid, Ipsos-Reid, Forum Research and all other pollsters sampling voter intent in the province during the Decision BC 2013 post-writ election period — Mr. Grenier continues to predict a 92.7% chance of an NDP majority government as the outcome of the British Columbia provincial election, even if by a slimmer margin than was the case at the outset of the current election period.
As Mr. Grenier suggests in his latest column for the Globe and Mail ...
"Despite a spell of new polls heading in different directions injecting a good deal of uncertainty into what to expect from tomorrow's election in British Columbia, the B.C. New Democrats remain the favourite to win and form the province's next government.

Based on current polling levels, Mr. Dix appears safely in majority territory with a projected 45 to 56 seats, above the 43 seats needed to form a majority government. Christy Clark's Liberals are projected to win between 26 and 40 seats, while up to four independents should be elected. These numbers are virtually unchanged from the last forecast, while the precise projection of 48 seats for the NDP and 36 for the Liberals (along with one independent) is the same.
For those who can't get enough of this, here is Angus Reid's election eve polling data — a poll conducted over the weekend for CTV and the Globe and Mail — indicating the NDP are holding steady, with a commanding lead.
Meanwhile, Ipsos-Reid has released their final British Columbia 2013 election polling data, indicating that the BC NDP currently has the support of 45% of decided voters in BC, maintaining an 8 point lead over the BC Liberals, who are at 37% support. The Green Party is at 9%, followed by the BC Conservatives at 6%, with all other parties / candidates coming in at 3%.
| | |
| --- | --- |
| UBC's Sauder School of Business 2013 British Columbia Election Prediction Market forecast | |
Hedging its bets some, the Globe and Mail — which came out on Friday with an endorsement of the B.C. Liberal / Christy Clark administration, an endorsement The Tyee calls murky and error-ridden — also has the Sauder School of Business conducting an election prediction market, the results of which may be seen in the graphic directly above. Both the Sauder School of Business and 308.com predict a New Democrat majority government.
| | |
| --- | --- |
| Milton Chan's Election Prediction Project 2013 British Columbia election outcome prediction | |
Meanwhile, Milton Chan weighed in on election eve, with his prediction of the outcome of the 2013 British Columbia provincial election. Mr. Chan, too, predicts an NDP majority government in Victoria, but by a relatively slim margin. By clicking on the graphic above, readers can access Mr. Chan's riding-by-riding breakdown for each of the 4 regions of the province — Vancouver, Metro Vancouver, Vancouver Island, and the Interior.
As Decision BC 2013 draws to a close, there are more media, pundits and political watchers who are weighing in on the outcome of the election, and as is the case with the Election Prediction Project, providing a riding-by-riding analysis. Although the predictions below differ from Éric Grenier's riding analysis, there's just as much likelihood that any one of them could be as accurate, or even more accurate, than the esteemed Mr. Grenier.
Well, that's what we've got so far, folks. We'll know final election results Tuesday night.
In keeping with VanRamblings' consistent exposition of our prediction of the outcome of the 2013 British Columbia provincial election, we continue to believe that the BC NDP will secure a majority government with 54 seats in the legislature, followed by the Liberals with 30 seats, with the final seat going to Independent Vicki Huntington in Delta South. Could be a few seats fewer for the NDP, could be a few more. We'll know Tuesday night.
Read More...
May 11, 2013
| | |
| --- | --- |
| Final weekend of BC election, NDP widens lead: click on picture above to hear CTV BC report | |
A new Angus Reid Public Opinion survey released Friday suggests the B.C. New Democrats have stretched their previous seven-point lead to nine points, with just hours to go before the provincial election. Forty-five per cent said they either intend to vote NDP or already have at an advanced polling station, compared to 36 per cent hoping for another Liberal term.
Overall, 30% of respondents said Adrian Dix would make the best premier, an increase of 4% over the last poll conducted at the beginning of May, while 25% favoured Clark, an increase of 1%. The online poll was conducted on May 9 and 10 among 808 randomly selected B.C. adults. It has a margin of error of plus or minus 3.5%, 19 times out of 20. Another poll is due to hit on Monday, the day before British Columbians head to the polls.
As both Vaughn Palmer at the Vancouver Sun, and Gary Mason at the Globe and Mail write, "the NDP are likely to win on Tuesday."
And, if this Vancouver Sun editorial represents their final word on the 2013 British Columbia election, it pretty much amounts to an, albeit backhanded, 'endorsement' of the BC NDP, a recognition that the NDP's "Change for the better" message has even reached the beating hearts and minds of the otherwise conservative editorial board of Vancouver's newspaper of record.
Meanwhile, Eric Grenier at ThreeHundredEight.com, has continued crunching the numbers, accumulating all polling data published this past Friday from Forum Research, Ipsos-Reid, Hill + Knowlton and all other pollsters tracking the intentions of voters across the province of British Columbia, and has come up with the following, final weekend, pre-election chart respecting the popular vote projection, and how that will likely turn into seats for the two main parties following Tuesday's British Columbia provincial election.
Unless the bottom falls out of the BC New Democrat campaign over the weekend, or Christy Clark manages a Lazarus-like resurrection in the final hours of the campaign, British Columbians will be looking at a majority British Columbia New Democratic party government come Tuesday evening.
BC Election 2013: Ridings to Watch on Election Night
From Milton Chan at the Election Prediction Project to Doug Ward at The Tyee, and Eric Grenier at 308.com, reports on the ridings that will make the difference in who forms government come Wednesday morning, May 15th, have been rife. Eric Grenier has gone a step further than either Mr. Ward or Mr. Chan, and predicts riding-by-riding the outcome of Tuesday's election.
Employing Grenier's statistical data, here's a breakdown of both the ridings to watch on election night, May 14th — by region of the province — and the probable vote percentages for the candidates in each contentious riding.
Vancouver — ridings to watch Tuesday night
Vancouver Fairview. Current MLA: Liberal, Dr. Margaret McDiarmid.
Projection: A 70% chance that the NDP's George Heyman will claim victory on Tuesday night, taking the riding away from the Liberals, and incumbent, McDiarmid. 308.com projects 48.9% support for Heyman, leaving McDiarmid registering only 38.4% support in the riding. The NDP have long predicted a win in Vancouver Fairview for the former president of the B.C. Government and Service Employees' Union (BCGEU), and currently on leave from his job as executive director of Sierra Club BC.
Vancouver False Creek. Current MLA: Liberal, Mary McNeil.
Projection: According to 308.com, former Vancouver mayor Sam Sullivan has a 73% chance of winning the riding, with a projected 44.7% of the vote, leaving NDP newcomer Matt Toner trailing with 32.1% support. The Green Party of BC will register a projected 17.6% of the vote, a better showing for the Green's Daniel Tseghay than is the case in any other Vancouver riding. If by some miracle, Vancouver False Creek should flip to the NDP on Tuesday evening, NDP headquarters will experience paroxysms of joy untold — not too likely an outcome, though.
Vancouver Fraserview. Current MLA: Liberal, Kash Heed.
Projection: Says Eric Grenier at 308.com, there's a whopping 83% chance that this riding will turn to BC NDP candidate Gabriel Yiu on Tuesday night, with a projected 52.7% of the vote against his B.C. Liberal challenger, parachute candidate Suzanne Anton's 33.5% support. Yiu, who lost to Heed by only 784 votes in 2009, questioned the fairness of Heed's election — in 2011, Heed's campaign manager, Barinder Sall, plead guilty to election overspending, receiving a court-imposed $15,000 fine, 1 year probation, and 200 hours community service. The incident caused Heed to resign as Minister of Public Safety and Solicitor General in the Liberal cabinet.
Vancouver Langara. Current MLA: Liberal, Dr. Moira Stilwell.
Projection: A 62% chance that Vancouver-Langara will be a BC Liberal win for incumbent, Dr. Moira Stilwell. 308.com predicts 45.9% for the Liberals, and 39% for BC NDP candidate, George Chow. NDP apparatchiks working within the riding reveal riding support for Mr. Chow is great; apparently, the polls indicate otherwise. If Dr. Stilwell goes down to defeat Tuesday evening, political observers will know that a BC NDP rout is underway.
Vancouver-Point Grey. Current MLA: Liberal, Christy Clark.
Projection: According to 308.com, NDP candidate David Eby has a 64% chance of defeating incumbent Christy Clark, the current Premier. Grenier's crunching of the numbers projects 46.9% support for Eby, and 39% for Clark, a decisive win for the BC NDP. Doug Ward, in The Tyee, writes ...
The NDP hasn't held this affluent riding since 1991, when Darlene Marzari was sent to Victoria in the Mike Harcourt victory. Former premier Campbell won four consecutive victories here, but his victory margins were moderate — except for the 2001 anti-NDP blowout. Eby nearly scored a shock upset win in the 2011 byelection, losing to Clark by only 564 votes. The NDP expects, based on the polling, to move beyond its usual base here of renters, left-wing university professors, and baby boomer professionals and retirees who attend the Vancouver Folk Festival. A former Campbell fundraiser in Point Grey was seen at a recent Eby dinner, which says something.
Of the Vancouver ridings, the BC NDP is projected to pick up all but two of the eleven seats up for grabs on election day, with the Liberals registering wins in only Vancouver-Quilchena and Vancouver-Langara. And even at that, contact from senior members of the Vancouver-Langara campaign teams over the weekend, from both main parties, suggest a win for the BC NDP in Vancouver-Langara is quite possible, as the race is close — regardless of 308.com's imprecations on the matter to the contrary, which would mean a win of 10 of the 11 seats in Vancouver going to the BC NDP.
| | |
| --- | --- |
| Opposition to Kinder Morgan expansion, turning Vancouver into a major oil export harbour: BCNDP benefits from stand. Click on graphic for more info on Justason Intelligence poll | |
The BC NDP have employed a multi-pronged strategy in the 2013 British Columbia provincial election.
Where in 2009, under leader Carole James, the NDP rejected Gordon Campbell's carbon tax proposal, causing the NDP to lose both the environmental vote and the election, no such mistake is occurring this time around. For background, you'll want to read Charlie Smith's latest thoughtful commentary in the Georgia Straight.
From the outset, BC NDP leader Adrian Dix told voters that the NDP would challenge in every riding across the province, and they have, in the Fraser Valley, the Okanagan and the North, in addition to their traditional metropolitan Vancouver and Vancouver Island strongholds. Dix was also clear that the NDP would go after the votes of those who traditionally stay away from the polls on election day: the largely disenfranchised ethnic and immigrant community, and the votes of those under the age of 30.
Even though we agree with our friend Mike Klassen that we'll likely see a voter participation rate at or around — and perhaps even below — 50% across the province — an even more likely outcome given the projected inclement weather, which almost always has a depressing effect on voter turnout — VanRamblings will still predict that in 2013 the young vote and immigrant community vote will hit record levels, as proved to be the case for second-term President, Barack Obama, in the 2012 U.S. election.
Now back to elucidating the provincial electoral ridings that are most in contention, from here on in, outside metropolitan Vancouver city.
Metro Vancouver / Fraser Valley — ridings to watch Tuesday night
Burnaby Lougheed. Current MLA: Liberal, Harry Bloy.
Projection: Says Eric Grenier at 308.com, there's an astounding 83% chance that this riding will turn to BC NDP candidate Jane Shin come election night, with a projected 54.1% of the vote in the NDP column against neophyte B.C. Liberal challenger, Ken Kramer, who is set to register a relatively paltry 34.3% of the vote. In 2009, Bloy edged his NDP challenger Jaynie Clark by 696 votes, with just shy of 50% of the vote. Not this time. Count Burnaby Lougheed as another pick up for the BC NDP, on their way to a majority government in the province of British Columbia.
Burnaby North. Current MLA: Liberal, Richard T. Lee.
Projection: Another pick up for the BC NDP, say both Milton Chan at the Election Prediction Project, and Eric Grenier, at 308.com. In 2009,
Burnaby North was a tight race, with the Liberals' Lee eking out a 548 vote victory. This time, NDP challenger Janet Routledge, the Fight HST Burnaby co-ordinator, will register 51.4% to Lee's projected 38.3% of the vote.
Coquitlam-Burke Mountain. Current MLA: Liberal, Douglas Horner.
Projection: In 2009, Douglas Horner beat his NDP challenger, Heather McRitchie, by a healthy 3,251 vote margin, registering almost 60% of the vote. In 2013, 308.com suggests the race is much closer, projecting a win for Douglas Horner over NDP challenger, Chris Wilson, two-time World Cup Champion in wrestling, and current Executive Director of KidSport Tri-Cities, by a 44.4% to 39.4% vote margin. This time around, BC Conservative Shane Kennedy could throw a monkey wrench into Horner's plan for re-election, with the popular local businessman taking enough votes away from Horner to effectively award the NDP a win in this riding.
North Vancouver-Lonsdale. Current MLA: Liberal, Naomi Yamamoto.
Projection: Incumbent B.C. Liberal candidate Naomi Yamamoto, Minister of Advanced Education in the Clark cabinet, is in tough against popular four-term City of North Vancouver councillor, Craig Keating, who holds a PhD in History from McMaster University and is currently a professor of History at Langara College in Vancouver. 308.com says there's a 53% chance that Keating will eke out a narrow victory, garnering 41% of the vote to Yamamoto's 38.1%. The last time North Vancouver-Lonsdale fell into NDP hands was in 1991, when economist David Schreck won the riding.
Surrey-Panorama. Current MLA: Liberal, Stephanie Cadieux.
Projection: Stephanie Cadieux, Minister of Children and Family Development in the Clark government, moved to retired BC Liberal cabinet minister Kevin Falcon's old riding of Surrey-Cloverdale, where a win for her will be assured. In 2013, the NDP's Amrik Mahil looks to take 45.9% of the vote against Liberal challenger, Marvin Hunt, a popular a 23-year Surrey City Councillor, who's expected to garner only 36.6% support in the riding. According to 308.com, there's a 68% chance that Mahil will place Surrey-Panorama into the NDP win column, contributing to a BC NDP majority government.
Surrey-Tynehead. Current MLA: Liberal, Dave S. Hayer.
Projection: When Hayer, a Liberal MLA since 2001, resigned his membership in the B.C. Liberal party condemning the party, and the Premier, for their role in the ethnic vote scandal, Amrik Virk stepped in to replace Hayer. Not good enough, according to Eric Grenier at 308.com: in 2013, the NDP's Avtar Bains sports a 78% chance of trouncing his Liberal challenger in Surrey-Tynehead where he's expected to pick up a whopping 53.1% of the vote. Another pick up for the BC NDP to contribute to their majority.
Langley. Current MLA: Liberal, Mary Polak.
Projection: Mary Polak, the current BC Minister of Transportation and Infrastructure in the Clark administration, is expected to retain her seat in the legislature come Tuesday evening, according to Eric Grenier at 308.com but just. Let's have Doug Ward over at The Tyee explain ...
"This one features a battle on the right between provincial Conservative Party leader John Cummins and BC Liberal Transportation Minister Mary Polak. Cummins' natural political constituency is Delta, which he represented for many years federally. But Delta South independent MLA Vicki Huntington took that away, so Cummins switched to Langley, where he now resides, in his bid to become B.C.'s first Conservative MLA in over three decades. The New Democrats took 35 per cent of the vote here last time. It's a long-shot scenario, but an even vote split on the right could flip this traditional bastion of small-c conservatism to NDP candidate Andrew Mercier."
Polak, Cummins, Mercier, who knows? — guess we'll see Tuesday night.
Abbotsford-South. Current MLA: Independent, John van Dongen.
Projection: This one's a dog's breakfast. Former Liberal cabinet minister Van Dongen is running again in Abbotsford-South, but this time as an Independent — where he's expected to take 27.2% of the vote. Where does that leave high-profile Liberal candidate Darryl Plecas in his bid to retain the seat for the B.C. Liberals? Potentially on the outside looking in, according to 308.com. Plecas, and NDP candidate Lakvinder Jhaj, are in a virtual tie, with 36% of the vote likely going to Plecas, and 36.7% of the voter support apparently headed in the direction of Jhaj. We'll see Tuesday.
Chilliwack. Current MLA: Liberal, John Les.
Projection: Count Chilliwack as another pick up for the BC NDP, although it's gonna be a squeaker. 308.com projects 33.5% of the vote going to BC NDP candidate, Patti MacAhonic — a former Executive Director of the BC Wildlife Federation, and recently Executive Director of the Chilliwack Chamber of Commerce — leaving her B.C. Liberal challenger and former B.C. Conservative stalwart, John Martin, trailing with 31.4% of the projected vote. Like we said, this one's gonna be a squeaker, whoever emerges as the winning candidate on Tuesday evening. Here's what Doug Ward, over at The Tyee, has to say about the Chilliwack race ...
"The New Democrats won the adjacent riding of Chilliwack-Hope for the first time ever last year thanks to vote-splitting on the right. The NDP hopes to do it again in this Bible Belt riding, which they have also never held. The BC Liberal candidate, John Martin, had nothing good to say about his party last year, when he was the Conservative candidate in Chilliwack-Hope. "The BC Liberals are in free fall," he declared last spring. But Martin has changed his tune in this contest, which pits the college criminologist against NDP candidate Patti MacAhonic, former executive-director of the Chilliwack Chamber of Commerce, and Conservative Chad Eros. Again, the NDP will need a strong Conservative showing for MacAhonic to come up the middle.."
Politics in the Fraser Valley just gets curiouser and curiouser.
Chilliwack-Hope. Current MLA: BC NDP, Gwen O'Mahony.
Projection: On a Tuesday night that's looking more and more like the night of the big hurt for the B.C.Liberals, Christy Clark can take some solace in 308.com's forecast that 2012 Chilliwack-Hope by-election winner O'Mahony will lose the seat to her Liberal challenger, Laurie Throness, longtime Ottawa-based Chief of Staff for now retired Chilliwack Fraser Canyon MP Chuck Strahl. Throness should pick up close to 50% of the vote at the polls on election day, May 14th, leaving O'Mahony with only 39.4% of the vote.
Maple Ridge-Mission. Current MLA: Liberal, Marc Dalton.
Projection: BC NDP's Mike Bocking, who's run and run again in Maple Ridge-Mission, is set this go-round to claim victory, with a projected 46.7% of the vote against Liberal incumbent, Marc Dalton, who according to 308.com, will garner only 33.1% of the vote on election night. Another pick up for the BC NDP, another seat in the legislature to add to their majority.
After the jump, readers will find information on the ridings to watch in the Okanagan / Kootenays, the Cariboo-Thompson and the North, and over on Vancouver Island, all of which promise provocative outcomes.
Read More...
May 10, 2013
Do we have to remind you which party says 'No' to 10x the tanker traffic along B.C.'s coast
In terms of the latest poll results — the final poll results before Tuesday's provincial election — today's anticipated release of polling data by both Angus Reid (for CTV / the Globe and Mail), and Ipsos-Reid (for Global BC and the Vancouver Sun) are expected to tell the tale of where we're headed come election day, May 14th. But, really, do you honestly believe that even if the polls shows a tightening of the gap between the ruling BC Liberals and the hard-charging BC New Democrats, that the result of 28 days of 2013's headlong electioneering will culminate in a BC Liberal majority in the British Columbia legislature? Not bloody likely.
Still, because the gap is closing, as has long been expected would be the case, those of us looking for change — and VanRamblings believes we comprise a majority of British Columbians — will have to make damn sure that today and tomorrow, at the advance polls, or on election day, Tuesday, May 14th, that we get our tookeses to the polling station located nearest to us, and cast that decisive ballot for change. There is no sitting on your duff at home, no "migosh, I have so many more important things to do, the playoffs are on TV, blah blah blah." Whatever it takes, whether you bike to the polls, walk, take the bus, drive your car or get a ride with a friend, the 2013 British Columbia provincial election is a crucial election — never has it been more important for you to make certain that you get yourself, your family and your friends to the polls, and cast your ballot.
Geoff Olson, The Courier: 20 reasons why I'm not voting Liberal
Seems that it's not just the folks in the 801 Club, and former Chief of Staff to BC Liberal Premier Gordon Campbell, Martyn Brown, that want Christy Clark to resign, there's a columnist for Vancouver's Courier newspaper who's weighing in with a raft of maddeningly indisputable reasons that Christy Clark and her discredited BC Liberal party have got to go.
"The B.C. Liberals: 1) Ripped up legally binding, negotiated contracts in the public sector; 2) Closed courthouses; 3) Rolled backed employment standards legislation; 4) Introduced a $6 "training wage" at $2 an hour lower than minimum wage; 5) Introduced a bill for reducing the minimum work age to 12 years; 6) Expanded provincial gambling; 7) Closed hospitals, cut beds and shut long-term care facilities; 8) Laid off nurses and health care workers and privatized services, 9) Handed Pharmacare and MSP operations over to a U.S. firm, Maximus, which had been fined twice for failing to reach contractual targets; 10) Shut down or reduced funding for independent offices like the provincial Ombudsman, the Information and Privacy Commissioner, and Elections B.C.

Whew. Hang on, 10 more ....

11) Cut air and water quality protection; 12) Gutted the Forest Practices Code; 13) Lowered standards for wildlife protection; 14) Presided over the expansion of industrial fish farms; 15) Eliminated the Independent Office of the Child, Youth and Family Advocate; 16) Broke the promise not to introduce the HST and withdrew it only after massive public outcry; 17) Unveiled under-projected, treasury-sucking megaprojects, from the $900 million Vancouver Convention Centre to the $560 million renovation and retractable Asshat for B.C. Place; 18) Failed to resolve questions about the B.C. Rail sale, including the $6 million payout for Basi and Virk's legal fees; 19) Failed to supply details on the funding cut to provincial drug safety evaluations by the UBC-based Therapeutics Initiative; 20) Recently approved a misleading print ad for 24 Hours designed to resemble a front page news story."
Now, Olson's 20 reasons for not voting BC Liberal in 2013 constitute a damning indictment of the BC Liberals, and offer 20 very good reasons why British Columbians must reject the BC Liberal party in this election. But ...
Olsen's 20 unassailable reasons for rejecting the BC Liberal party hardly hold a candle to indefatigable Victoria-based political columnist Laila Yuile's 146 reasons the Liberals have just got to go, as she writes ...
"The BC Liberals have fostered an environment of deception and secrecy in the BC legislature, one where the less the people know about what is going on, the better it is for their party.

Our current Premier, Christy Clark, played a large role in many of the most drastic changes to the province's most vulnerable citizens, while she was a young MLA mentoring under Campbell. It's important to remember that while Christy Clark has tried to rebrand the BC Liberal party as "new" and different from Gordon Campbell, how different and new can they be when all the same names, faces and donors are still there? Deals aren't made in the legislature, but in the back rooms of restaurants and behind closed doors.

British Columbians must not be fooled by cheeky smiles, glib responses and a well-oiled, big money campaign."
Hmmm. One is simply left to wonder if the opprobrium expressed by most of B.C.'s fourth estate, and informed political class, will have the intended effect on voters come election day? Let's hope so, for all our sakes.
C'mon back over the weekend, when VanRamblings wraps our coverage of Decision BC 2013, reviews the ridings to watch election night, points you in the direction of the reality checks conducted by the media on the election commitments made by the leaders running for office, and as always, more.
In the interim, readers who wish to catch up with VanRamblings' coverage of the British Columbia election over the course of the previous 23 days, simply have to click here for a full accounting of Decision BC 2013.
May 9, 2013
BC Election 2013: The movement to oust Christy Clark as BC Liberal leader has begun
As reported by Jas Johal on Global BC's evening NewsHour, an organized movement to oust Christy Clark as BC Liberal leader has already begun in the upper echelons of the provincial governing party.
Called the 801 Club — symbolizing 8:01 p.m., one minute after the election and the minute when the movement plans to begin the process of putting pressure on Clark to step aside, the club — made up of party members and business leaders — has already created 801 buttons, as can be seen in the video clip above, to signify the serious intent of the movement.
The 801 movement not only wants to rid the party of Christy Clark, but those that surround her, as well, including her brother, Bruce; ex-husband and BC Liberal organizer Mark Marissen; the 2013 Liberal party campaign chair Mike McDonald; and current Liberal party president, Sharon White.
Gordon Campbell's former chief of staff, Martyn Brown, says the scandals that the Clark Liberals have endured are self-inflicted and speak to Clark's rudderless and ethically-challenged leadership of the BC Liberal party.
"When you look at one thing after the next, it's just a bad series of judgements that fall directly in her lap," Brown told host Simi Sara, at 12:38pm, on her afternoon CKNW talk show.

"There is no escaping that, and this just brings it home in spades to people that it is the Premier's judgement that is at issue here."
Day after day, in the Georgia Straight and in The Province newspaper, Brown has challenged Clark's questionable leadership of the BC Liberal party, and her time in government as the unelected Premier of the province.
Why would Brown consistently position himself on the attack against Clark in everything he writes and tells any broadcaster or journalist that will interview him unless he is, in fact, one of the charter members of the 801 Club, working in concert with business leaders to ensure that a person who better represents the interests of the business community will replace Christy Clark after a resounding defeat at the polls next Tuesday?
Piling on today on—the increasingly beleaguered—Christy Clark, high profile BC Liberal Daniel Veniez, who writes in his Georgia Straight commentary ...
"I'm progressive, but not of the ideological left, and pragmatic, not of the doctrinaire right. I am a moderate and in the sensible centre ... I have never voted NDP in my life ... In British Columbia, voters have only two parties to choose from. On May 14, I am voting B.C. NDP. There are two reasons for that. The first is Christy Clark. The second is Adrian Dix.

Clark's gaffe-prone, content-free, divisive, and ethically challenged tenure as unelected premier of B.C. has been well chronicled.

The core of her relentless electioneering is anchored on a fantastical notion that B.C. will be "debt free" in 15 years through liquefied natural gas. This is based entirely on the incredibly dubious premise that the stars of a volatile and highly cyclical commodity business will align exactly as she predicts. The reality is that none of us — including those within the industry who would make these multibillion investments — has the foggiest clue whether any of this is fact or fiction. But common sense should tell us this: Clark has made a career out of smoke and mirrors ... the "debt free BC" slogan of her campaign is yet another whopper from Clark, whose entire government has been punctuated by advertising, gimmickry, and endless photo-ops, culminating in this election with a slogan that simply defies all credibility ..."

Dix is a refreshing change.

He's a humble and quiet man, not given to exaggeration nor to fits of narcissism. Not a "natural" politician, Dix is nevertheless obviously comfortable in his own skin. Well read and well briefed, Dix knows his files, understands the machinery of government, and has a great appreciation for what government can and can't do. Dix has tried to do politics differently and has waged an honourable campaign.

As premier, Adrian Dix will restore honesty and substance in Victoria.

He'll bring sober, deliberative, and collaborative leadership to the premier's office. He'll attract good people from across the ideological spectrum. He'll govern the province as he has his own party: by appealing to all of us to come together to solve the problems of British Columbia. He'll work hard to restore faith in our public institutions and trust in the competence and professionalism of government.

All of us want competent, honest, and accountable government that appeals to the best in all of us. Adrian Dix will do that. That's why the NDP is getting my vote on May 14.
If the voters don't do the job next week by ousting Christy Clark from her far from safe seat in the legislature representing the riding of Vancouver-Point Grey, while at the same rejecting her BC Liberal party at the polls, it is clear now that there are forces within the provincial, right-of-centre governing party that are well-prepared to do that job for us.
On the ethically-challenged front, Christy Clark scored a one-two punch on Day 23 of the provincial election campaign.
Early on Wednesday, Christy Clark's off-the-rails BC Liberal campaign released a pointed and misleading Adrian Dix attack ad, employing footage of the the televised debate. Only problem, though, is that the Clark campaign and the BC Liberal party signed a legal agreement with the broadcast consortium that organized the televised debate that her campaign, and the Liberal party, would not use footage from the debate in partisan political advertising.
The debate footage, it should be noted, is also the property of the broadcast consortium — CBC, CTV and Global — and, as such is copyrighted material. Les Staff, news director at CTV who was writing on behalf of the consortium, wrote a formal letter to the Liberal campaign ...
"The program was aired with a copyright at the end of the broadcast. The political parties involved agreed that no use of the copyrighted broadcast would be allowed for any political purposes," writes Staff.

"I have a good faith belief that the use of the material in the manner complained of is not authorized by the copyright owner, its agent, or the law," he continued. "Please have this copyrighted material removed immediately."
As of this writing, early on Thursday morning, Clark's ethically-challenged Liberal campaign has refused to remove the offending YouTube video.
To make matters worse, for the dirty-tricks-driven Liberal campaign, word was leaked on Wednesday that former senior advisor to Premier Christy Clark, one Kim Haakstad — yes, that very same Kim Haakstad who was forced to resign her what was supposed to be, non-partisan, civil servant position in the Premier's office, amidst allegations that she led a partisan BC Liberal initiative, paid for with taxpayer's money, to identify votes for Christy Clark and the Liberal party, in what became know as the "ethnic vote scandal" — is now "volunteering" on Christy Clark's campaign in Vancouver Point Grey. Martyn Brown almost had a coronary as he related his severe misgivings about how it came to be that Liberal party campaign chair Mike McDonald, and "her poor judgement knows no end" Christy Clark herself, had allowed the discredited and dismissed Ms. Haakstad to play a role in the re-election of the Premier, in her very own riding!
So, let's see where we're at here in the waning days of Decision BC 2013.
Let's take a minute to review the election press coverage this week, and who it has favoured — in this, the final full week of the election campaign — and how that coverage is likely to affect the latest election poll results that'll be released tomorrow, and more importantly, how coverage of Christy Clark will affect the outcome of next week's crucial provincial election.
Vancouver Sun columnist Vaughn Palmer reminds his 300,000+ plus readers of Christy Clark's central role in promoting the hated HST
The Vancouver Sun's Peter O'Neil suggests that a Premier Adrian Dix would have more in common with Prime Minister Stephen Harper, that they'd get along better than is the case with Christy Clark, and that the relationship would be more productive for British Columbia. To top it off, the Vancouver Sun provides sympathetic coverage of Adrian Dix's and the BC NDP's policy on eradicating child poverty
Former chief of staff to Gordon Campbell, and the fellow who ran the BC Liberal campaigns in 2001, 2005 and 2009—yes, Martyn Brown—hammers Christy Clark, column in and column out, in The Straight, The Province, and on any TV or radio station that will air his views on Christy Clark's "ethically challenged" BC election campaign
Prominent Liberal Daniel Veniez, in his commentary in The Straight, calls Christy Clark's tenure in government, "gaffe-prone, content-free, divisive, and ethically challenged"
With 5 days to go in the election campaign, Global TV runs a lead story telling it's 680,000+ dinnertime newshour viewers that not only the NDP, but the BC Liberals themselves, want Christy Clark gone
The writing is on the wall for the soon-to-be-ex Premier, Christy Clark.
Even the most apolitical British Columbian — for whom politics is a mere afterthought, or an intrusion — must now realize that we are on the verge of witnessing the bloody end of the Christy Clark era in BC politics.
Interested in reading VanRamblings' coverage of the British Columbia 2013 provincial election from Day 1 to the present just click on Decision BC 2013.
May 8, 2013
The advance polls open today across British Columbia, in this most important 2013 provincial election. Wednesday through Saturday this week — in advance of Election Day, Tuesday, May 14th — from 8am through til 8pm (local time) each of the four advance polling days this week, Elections BC has provided to you the opportunity to exercise your franchise.
Don't know where to vote in your local riding? Simply click here for the location of the advance polling station closest to where you live. There is no more important role that you can play in the life of our society than casting a ballot for the candidate of your choice, enfranchising yourself, your family and your neighbours, by participating in the grand democratic engagement that defines what it means to live in a free society, in a country and a province where your vote counts, as you play your part in helping to determine where the province in which you live and prosper is headed over the course of the next four years.
BC Election 2013: Where BC is Headed Over the Next Six Days
As can be seen in the latest UBC Sauder School of Business Election Market prediction, above and to the right, British Columbia is headed to a majority New Democrat government, a change from 12 years of the corporate friendly policies of the BC Liberal party, to a more balanced NDP-driven economy, where the needs of working families — and the most vulnerable among us — are taken into account when determining public policy.
Change is always difficult. But in 2013, amidst near economic chaos across the globe, change is necessary in order that the priorities that best fit the needs of the vast majority of British Columbians are well-tended to, where your needs, and the needs of your family, your friends, your co-workers and your neighbours emerge as priority concerns to those whom we have elected to represent us in the seat of power in Victoria, as British Columbia moves fitfully, yet inexorably forward through the 21st century.
Martyn Brown, the B.C. Liberals' public campaign director in the last three elections, has weighed in again on where he thinks British Columbia will find itself on election night, where we are now, and where we're going.
"The B.C. Liberals are still hovering in the low 30s, well below the NDP, with a week to go and little obvious room to grow. The NDP's strategy is sound and has worked to help put that party in the lead so far. I believe it will prevail ... (British Columbians) want a new type of positive politics that doesn't sink to the gutter. They want an approach that isn't all about running people down or that is utterly wedded to partisan hyperbole and fearmongering, as Dix used to engage in before he was the NDP leader, and which remains a defining feature of Clark's DNA.

If Dix can round out the last week by appearing more energized and more passionate in his drive to lead B.C. forward, he can show people a new dimension to his character that inspires trust and confidence in him. The latest polls should certainly give him new impetus for a heartfelt appeal that shows he's more of a fighter than most people have given him credit for being. Anyone who has watched Dix at his best in the Legislature over the years knows that he has the potential to be devastating, with wit, humour, and sheer political smarts.

If anyone should be feeling pangs of panic at this point, it should be the B.C. Liberals. They are still at least 10 to 13 points from any serious shot at winning, given the NDP's sizable lead, its more evenly distributed geographic support, and its more motivated voter support base.

As things stand, the NDP is unlikely to lose any of the 35 seats it won in 2009, with the possible exception of Cariboo North. The best the Liberals can really hope for is to hang onto seats they currently hold, at least half of which are all potentially vulnerable ... I like the NDP's odds, to put it mildly. Hopefully, the prospect of a horse race will help motivate all British Columbians to cast their ballots."
And thus we in British Columbia move towards a new government in Victoria, an end to Liberal governance, and an end to Christy Clark's reign of error, towards an NDP government representing the interests of all.
Canucks eliminated in four game sweep. Calls for change abound
The Vancouver Canucks went down to ignominious defeat in overtime, in the fourth game of Round One of their Western Conference Stanley Cup quarter final. As the headline on the Vancouver Sun reads, "Canucks swept out of NHL playoffs by Sharks, with likely sweeping changes to come." And so, change will come, not just within the Canucks beleaguered, playoff averse organization, but across the province of British Columbia, as well.
British Columbians do not want more of the same, whether it be Christy Clark and her far from merry band of tired, old Liberals, or the can't get it done Alain Vigneault, whose job is on the line. Don't expect Vigneault back with the Canucks next season. Don't expect Clark to take her seat in the legislature as Premier, post May 14th. Clark has as much hope of either retaining her position as Premier, or her seat in the legislature as representative for the riding of Vancouver-Point Grey, as Vigneault does of finding himself behind the Canucks' bench come September. Not a chance.
BC NDP leader Adrian Dix campaigning in Summerland with NDP candidate
Richard Cannings
Where are the leaders campaigning today? Adrian Dix, B.C. NDP: Summerland, Kelowna, Penticton, Vernon, Armstrong, Kamloops; Christy Clark, B.C. Liberals: Maple Ridge, Burnaby, New Westminster, Surrey; John Cummins, B.C. Conservatives: Vernon; Jane Sterk, B.C. Greens: Victoria, Vancouver. More information will be provided as it becomes available.
Full VanRamblings election coverage available by clicking Decision BC 2013.
May 7, 2013
The inevitability of change looms large on the horizon.
As much as the pollsters want to turn the 2013 British Columbia election into a race to the finish line, in fact that's not what's happening at all. The people across this vast province of ours continue to hanker for change, whether that be adding a couple of Green MLA's to the ledge for the next term (Andrew Weaver and Adam Olsen), or a couple of Independents (Vicki Huntington and Arthur Hadland), plus a surfeit of NDP MLA's — including 'always a bridesmaid, never a bride' NDP candidate for Maple Ridge - Mission, Mike Bocking — but make no mistake, change is on the way.
As can be seen in ThreeHundredEight's graphic at the top of today's post, the BC NDP are looking at somewhere in the range of 48 to 56 seats, while the Liberals continue to trail with 36 to 42 seats, not in majority range, and out of contention for government. Sure, there's still six days to go in Decision BC 2013, but the writing is on the wall, Adrian Dix and the NDP have stepped up their game — finally deciding that it's time to hold the BC Liberals' feet to the fire — BC Conservative leader John Cummins has picked up his game in the waning days of the campaign, while BC Green Party leader Jane Sterk focuses on winning at least one seat in the legislature. Ms. Sterk knows that a portion of the Green vote will evaporate on election day, as many of her Green supporters will vote strategically, for the NDP.
Vancouver-Point Grey Becomes a Bellwether Riding in 2013
David and Goliath: Vancouver-Point Grey could very well turn to the NDP come election night
Vancouver's Point Grey riding has been represented by a Liberal premier for more than a decade, but that nearly changed in 2011 when the NDP's David Eby came within 564 votes of unseating Christy Clark in a by-election. Now, with Clark and the BC Liberals trailing in the polls, many believe the riding is Eby's to lose, offering a hint at how the rest of the province votes, too.
"It's a David and Goliath story of sorts, although I am much taller than Christy, so I am not sure the metaphor totally holds," says Eby. "It's challenging for me running against the premier. She's in the news every day, she's spent a huge amount of money on advertising. Our response has been—since we didn't have that kind of budget—to knock on as many doors as possible and talk to as many people as possible in the riding."
And so David Eby, the NDP candidate in Vancouver-Point Grey, and his legion of door-to-door canvassers who've knocked on every door in the riding in one mightily impressive example of the NDP's superior "ground game" — and let's not forget unprecedented mail-in ballot support from the many thousands of UBC students resident in the riding, as efficient and focused a campaign as VanRamblings has ever witnessed, with campaign manager Kate Van Meer-Mass in full control, with a first-rate voter contact phone bank co-ordinated by Sean Antrim that runs morning to night, and a volunteer organization by Gala Milne (not to mention, stalwarts Mary Tenny, John Yano and Indra Roodal, among many, many other volunteers working together in Vancouver's western most riding) second-to-none in our current BC election campaign — making the race to win the hearts and minds of the people of Vancouver-Point Grey, one to watch election night.
BC Election 2013: News of the Day Heading Towards May 14th
The story of the day, so to speak, on the campaign trail on Sunday night and for much of Monday, was the cynical re-emergence of adulterer and political chameleon, Gordon Wilson, a one-time leader of the BC Liberals, one-time head of the Progressive Democratic Alliance, then an NDP cabinet minister in the government of Premier Glen Clark, and now—apparently—a born again BC Liberal. The head just swims. You can watch Wilson's endorsement of Christy Clark (really?), at the end of the story in the link above, or better still you can hear BC NDP leader Adrian Dix's take on Wilson, and more importantly, the critical issues in the 2013 British Columbia election, by clicking on the link below, for an interview conducted by Rick Cluff, with Dix, broadcast yesterday morning on CBC's Early Edition.
Who knows what's going on at British Columbia's newspaper of record, The Vancouver Sun? First up, one week to go to election day, and we have Vaughn Palmer reminding his 300,000+ readers about the HST, and the BC Liberals' role in this boondoggle that brought down a Premier, quoting Martyn Brown, former Chief of Staff to Gordon Campbell ...
"The last thing British Columbians expected from the Campbell government, which had made personal income tax relief — and household tax relief — so central to its vision, was a tax shift that would increase their tax burden, especially in the midst of a recession," wrote the premier's then chief of staff Martyn Brown in a devastating analysis-cum-mea-culpa self-published last summer.

"The HST was an issue of such broad public importance that it should never have been imposed without any prior consultation, let alone only weeks after an election, and in direct contradiction to the governing party's stated position. It represented such a significant shift in the tax burden from businesses to individuals that it was not on a scale that would have ever been right to impose it as a done deal."

"No mandate. A betrayal of the electorate ..."
Next, The Sun's Peter O'Neil suggests that ...
Ideological differences notwithstanding, an Premier Adrian Dix-Stephen Harper relationship could be a productive one. Political insiders say there are many similarities between Harper and Dix that may help the two hit it off despite clashing ideologies. Both are bilingual and former Parliament Hill staffers who grew up during the same era in major multicultural urban areas. Dix, who turned 49 on April 20, is the son of a couple who ran an insurance business in Vancouver. Harper, who celebrated his 54th birthday on April 30, is a Toronto native and the son of an accountant.

Harper and Dix are knowledgeable sports fans with a deep understanding of Canadian political history. And while Dix is far less reserved than Harper, neither man could be mistaken for glad-handing extrovert politicians like their current principal rivals — Christy Clark and Justin Trudeau. And Harper, according to some of his former cabinet colleagues, respects straight-shooting politicians with clear and unwavering principles, and who approach relations in a business-like fashion. Dix has tried to telegraph to both B.C. businesses and his own party members that he'll advocate a moderate agenda with no big surprises.
O'Neil then goes on to write that BC Liberal leader Christy Clark ...
"has just as frequently frustrated the federal Conservatives, most recently on Sunday when she once again turned her nose up at two oilsands pipeline proposals to the B.C. coast that are considered by Ottawa to be in the national interest. If Clark manages a stunning come-from-behind victory on May 14, British Columbians can assume more of the same — continued federal-provincial tensions on the oilsands pipelines issue and occasional flare-ups like the Kitsilano Coast Guard closure dispute."
And in the newspaper's pièce-de-résistance for the day, The Sun quotes BC NDP leader Adrian Dix reminding British Columbians of the BC Liberals' failure to help suffering children during their dozen years in office.
"Eight years leading the country in child poverty and the Liberal party is offering nothing except misleading comments and attacks," Dix said of the province's child-poverty rate ... Here's what I find offensive. I say Yes to LNG. I say yes to mining. I say Yes to forestry. I say Yes to film and television. I say Yes to tourism. But here's what I say No to. I say No to doing nothing when children suffer."
Hmmm. Do you think that the folks over at the Vancouver Sun know something we don't? Like maybe, just maybe, Adrian Dix and the BC NDP are set to win a majority government next Tuesday, May 14th?
BC Election 2013: Where The Leaders Will Be Tuesday, May 7th
Christy Clark will spend the day campaigning in Fort Nelson and Kitimat, doing her level best to keep the North in the BC Liberal fold, while preventing the BC Conservatives from gaining party stature in the British Columbia legislature.
Adrian Dix has a morning rally in Sidney, over on Vancouver Island, as well as rallies in the afternoon (following lunch, of course), a roundtable, and in the evening, a bit of Round 1, Game 4 Vancouver Canucks vs the San Jose Sharks Stanley Cup playoff watching, first in Richmond, then in Vancouver, and finally in Delta. Guess we know what Dix will be doing between periods.
8:05am: Sidney - Campaign announcement with candidates Lana Popham, Rob Fleming, Carole James, Maurine Karagianis, Gary Holman, Jessica Van der Veen & John Horgan, Tulista Park (5 St .& Ocean Ave.)
11:40am: Richmond - Campaign event with candidates Frank Huang, Gian Sihota, Scott Stewart, Richmond campaign office (8980 No. 3 Rd)
12:45pm: Vancouver - Chinese community luncheon with candidates Jenny Kwan, Gabriel Yiu, George Chow, Frank Huang at Yue Shan Society Headquarters (37 E. Pender St.)
5pm: Surrey - South Asian media round table with candidates Bruce Ralston, Jagrup Brar, Harry Bains, Sue Hammell, Amrik Mahil, Avtar Bains, Gabriel Yiu, Sylvia Bishop, Nic Slater, Raj Chouhan at Grand Taj Banquet Hall-Queen Hall (8388 128 St.)
6:45pm: Delta - Canucks Game with supporters and candidate Sylvia Bishop at one20 Pub & Grill (8037 120 St.)
BC Conservative leader John Cummins will campaign in the Okanagan.
10am: Penticton - Announcement of support for region's health care facilities, with candidate Sean Upshaw, at Carmi Coffee House Salon and Spa (595 Carmi Ave.)
Green Party of BC leader, Jane Sterk, will continue her door-to-door canvass in her home riding of Victoria-Beacon Hill, as well as ...
7:45am: Victoria - Rush hour wave, Cook and Pandora
11:30am: Victoria - Nurses Appreciation Party, Royal Jubilee Hospital
2pm: Victoria - Mainstreeting, Cook Street Village
6:15pm: Victoria - Social Service all-candidates meeting at First Metropolitan United Church
Full VanRamblings election coverage available by clicking Decision BC 2013.
May 6, 2013
Part Two: Don't Allow Decision BC 2013 Polls to Get You in a Tizzy
Have another look at the BC Election polls above, and the more detailed analysis we published on the weekend, and the following series of questions arise, "How do the poll results relate to the probable outcome of the British Columbia provincial election, how many seats is each provincial party likely to garner on election night, which ridings are in contention that will tip the election result one way or another and, finally, what does it all mean for British Columbia going forward into the future, most particularly between May 14, 2013 and the next provincial election, in the autumn of 2017?"
A few of the questions above were answered in VanRamblings' weekend post. We'll address the remaining questions in postings we'll publish over the course of the final week of the Decision BC 2013 election campaign. Stay tuned, cuz this is going to be one humdinger of a provincial election.
Know this: the BC New Democrats and the BC Liberals are running disciplined campaigns. Both campaigns will stay on message, and both Adrian Dix and Christy Clark will continue to hammer home the main themes their parties are promoting to voters (change vs more of the same).
Listen to what BC NDP leader Adrian Dix has to say, as he gets tougher on the BC Liberals
In the final week of Decision BC 2013, neither of the main contending parties for government will move anywhere close to going off track, although there's a greater likelihood you'll see the NDP mounting an edgier campaign in the next seven days, as Adrian Dix raises issues involving the BC Liberals' sorry record of governance — of which example there are many — the Liberals' 12-year history of fiscal mismanagement, as well as their abject failure to govern in the interests of a majority of British Columbians.
Let's face it: there was never any question that the British Columbia election campaign would not tighten up closer to election day, May 14th. Not for nothing has VanRamblings consistently predicted 54 seats for the BC NDP in the legislature for the coming term of office, and somewhere around 26 - 30 seats for the BC Liberals. In the polarized political climate of British Columbia, we in this province have a history of only 3 per cent, or less, of the provincial vote separating the two main parties on election day.
The difference this time? As we say above, in 2013 the advantage goes to the BC New Democrats. The best the BC Liberals can hope for in 2013 is a decent showing at the polls on election night (30+ seats would be considered a massive win for this discredited party), leaving the BC NDP left only to ponder the size of their majority in the British Columbia legislature.
As Vaughn Palmer writes in his weekend column in the Vancouver Sun, the BC Liberals are still fighting an uphill battle, a battle "against the odds."
To conclude this discussion on the polls and their meaning for the outcome of the campaign for the government of British Columbia, from his commentary published in The Straight on the weekend, here's Martyn Brown, former Chief of Staff to BC Liberal Premier Gordon Campbell ...
"The Liberals' supposed 'surge' amounts to a few points at the NDP's expense, that still leaves them miles away from where they need to be to have a serious shot at forming the government. While the 'new horserace' narrative helps pollsters stay relevant, gives the media something interesting to report, and allows the two main parties' supporters to become more motivated, it's way overblown, in my view.

The NDP are still way ahead by any measure, especially in the Lower Mainland, where most of the seats are. If the Green and Conservative votes both collapse to some extent, as I expect they will on election day, the NDP will gain more than the B.C. Liberals will.

If the NDP regain even a couple of points from the Green Party, and if the B.C. Liberals gain even half of all current B.C. Conservative voters, it would still be a wipeout. The NDP would be in the mid-40s and the B.C. Liberals would be in the high 30s.

The NDP voters are more motivated to punish and change the government, and the NDP vote is more 'efficient' — meaning that it is more evenly distributed across regions than that of the B.C. Liberals vote, which tends to be more regionally concentrated.

Both of those factors give the NDP a premium of perhaps 3-5%. We saw that in 1996, when the NDP lost the popular vote, but still won the most seats. In an election that is tied, for example, with both parties at about 42 percent, the NDP would form a massive majority government."
Let's follow up on the reference made by seasoned political strategist Martyn Brown in the last paragraph of his commentary above, and get a bit more graphic about the 1996 British Columbia election result ...
In 1996, as can be seen in the graphic above, in a legislative house with 75 MLAs — with only 624,395 votes cast in their favour, amounting to 39.45% of the popular vote, Glen Clark's BC New Democrats maintained a comfortable 39-seat majority in the British Columbia legislature, even though Gordon Campbell's BC Liberals managed 37,534 more votes (BC Liberals' total: 661,929), for a 41.82% showing at the polls. As Martyn Brown says — by the way, Mr. Brown was campaign director for the BC Liberals and their massive win in 2001, as well as the BC Liberals' wins in 2005 and 2009, therefore, he should know better than most of the pundits out there commenting on the probable election night results come the evening of May 14th — "the NDP are still way ahead by any measure."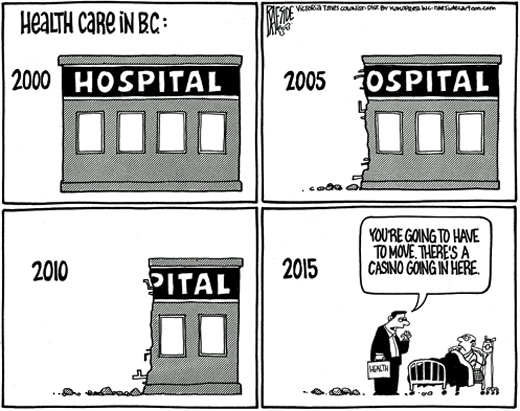 Cartoonist Adrian Raeside comments on the state of health care in BC under the BC Liberals
See you back here during the course of the week. In the meantime, full VanRamblings election coverage is available by clicking Decision BC 2013.
May 4, 2013
GlobalBC video: Squire Barnes interviews BC NDP Leader Adrian Dix, at Moderne Burger
The story of the week in BC politics was the surge in support for the BC Liberals, who have risen from a desperate 26% in the polls pre the televised debate to a more comfortable 34%, according to the latest Angus Reid poll.
Even so, writes Martyn Brown — author of the new e-book Towards a New Government in British Columbia, former B.C. premier Gordon Campbell's long-serving chief of staff, top strategic advisor to three provincial party leaders, and former BC deputy minister of tourism, trade, & investment ...
"The only real hope for the B.C. Liberals, at this point, is for voters to abandon the NDP in droves, for the Conservative vote to completely collapse, and for the Green Party to retain virtually all of its current support. Fat chance. It would take a colossal screw-up by Dix and a sea change in Clark's approval numbers to make that happen."

"So chill out, New Democrats. The sky is not falling yet again, as it has in so many past elections. At 34 percent in the polls with a little over a week until voting day, the B.C. Liberals may be giddy with delight, given where they've been. But they are still staring into the abyss, with no real route to salvation in sight, especially if Dix becomes more passionate and aggressive."
Mr. Brown ends his commentary in the Georgia Straight, advising ...
"To the extent that voters believe that the NDP is still the runaway favourite to win on May 14, and if they remain focused on what they want their legislature to look like on May 15, they may find other motivations for voting than simply who will form the government."

"The important thing is to get out and vote, because the individual choices that voters make in each riding can still change the face of the government that our elected representatives will lead and deliver. Like the song says, "there's got to be a morning after ..."
This weekend, Milton Chan's Election Prediction Project, factoring in the latest polls, still has the NDP winning a whopping 45 seats, with only 16 seats guaranteed to the Liberals, and a further 23 currently up for grabs.
ThreeHundredEight.com — the Canadian equivalent of Nate Silver's prestigious and uncannily accurate FiveThirtyEight political calculus blog, which correctly predicted 50 out of the 50 states in the 2012 U.S. election, for Congress, Senate and for President — currently has the NDP at 46 seats to the Liberals 38 seats, with one more seat going to Independent Vicki Huntington in Delta South, still very much majority territory for Adrian Dix and the BC New Democratic Party.
The UBC Sauder School of Business and their generally right on the money BC Election Prediction Market, as of this weekend, projects that the BC NDP will take 52 seats in the legislature, the BC Liberals, 27 (a drop of 22 seats from their 2009 majority win), with another two going to the BC Green Party (likely, Oak Bay - Gordon Head and Saanich North and the Islands), two more projected for the BC Conservatives, with two Independents filling out the full legislative contingent in Victoria for the next four years.
GlobalBC video: A report on a narrowing BC Election race: NDP 45%, BC Liberals 35%
On Friday, as Tom Barrett at The Tyee reports — and as you'll hear from Global BC's legislative reporter, Keith Baldrey, above — pollster Ipsos-Reid released the results of a BC Election 2013 poll conducted for BC's news leader — giving the BC NDP a 10-point lead (45% of the electorate indicating a vote for the NDP) — over the BC Liberals, at 35%, leaving the BC Conservatives at 7%, down four points, and the BC Green party at 10%. Other parties, including independents, are left with 3% of the vote.
British Columbians will know the results of Decision BC 2013 by 10pm, Tuesday, May 14th, if not earlier on that most important evening.
Part Two of VanRamblings' analysis of the polls results, what it all means for the BC NDP come election night, May 14th (hint: a majority NDP government), and more, here on Monday morning. See you then.
In the meantime, full VanRamblings election coverage is available by clicking Decision BC 2013, as we continue our daily coverage of the B.C. election.
We'll leave you for now with, perhaps, the most important poll of all ...
| | |
| --- | --- |
| Click on the Burger Heaven poll above to read the bios of the leaders | |
May 3, 2013
| | |
| --- | --- |
| | |
Click on the picture above for CTV BC video: "Just 7 points separate BC Liberals and NDP"
Is there any person in British Columbia, be s/he pundit or average citizen, who believes for one bloody moment that Christy Clark and her discredited B.C. Liberal party are on track to catch up to Adrian Dix and his surging New Democratic Party? Is their any rational person in British Columbia - who cares about B.C., and who follows B.C. politics - who doesn't believe that the electorate are hankering for change, who doesn't believe that a vast majority of British Columbians want to see the backside of the B.C. Liberal party, and their harebrained governance under the quizzical non-leadership of the thoroughly discredited Christy Clark? Puh-leeze. For all that Canada's national right-wing rag might have their in-house Forum Research pollster engage in fantasy-filled projection on their behalf on the outcome of the May 14th British Columbia election (see graphic above), that publisher PostMedia deigns to report such on the front page of their near financially bankrupt national newspaper, there is nothing about the poll above that bears any semblance to the political reality felt by British Columbians in the dying days of the Decision BC 2013.
Yes, the Decision BC 2013 race is tightening up, both the Conservative and Green votes appear to be in freefall, and the BC Liberals are seemingly picking up some of the slack, but will they form government for a fourth consecutive term of office when election results are announced the evening of May 14th? Not bloody likely unless Dix stumbles, and he ain't gonna.
Somewhere between the 48% for the NDP and 26% for the B.C. Liberal party that Angus Reid reported in their poll released earlier in the week, and their poll conducted for CTV BC on May 1 and 2, and released today (see video above) — not to mention the 70 to 12 seat majority the Vancouver Sun projected yesterday — and the National Post's way-out-of-right-field Forum Research poll, above, lays the reality of where we'll end up on election night. As VanRamblings reported yesterday, the race will probably continue to tighten up some in the remaining 9 days of Decision BC 2013, the Liberal Party may yet climb to 35% in the polls, as the Conservative and the Green Party vote continues to collapse, but make no mistake, the BC New Democratic Party are on track to form government post May 14th.
When you have longtime Vancouver Sun legislative columnist Vaughn Palmer reading the political tea leaves — and realize he has access to the internal polls for both of British Columbia's main parties — when Palmer advises the B.C. Liberals to "keep your chins up", as he did in his column yesterday, as the discredited current government heads toward certain defeat at the polls in 2013, you know that this is a race that, although it's tightening up some, is a race headed in one direction and one direction only, with the all-but-inevitable outcome of a majority BC NDP government set to guide our province over the course of the next four years.
For the latest VanRamblings election coverage, click on Decision BC 2013.
May 2, 2013
With only a handful of days left in Decision BC 2013, as most pundits had predicted, the campaign race has tightened some this week over last, with the BC Liberals gaining 3% in the polls, as the Green Party and Conservative vote begins to collapse. The NDP vote has remained steady at 44.2%, though, enough to catapult BC's long out of government centre left political party to victory on May 14th, with a projected 56 seats in the British Columbia legislature, a gain of 21 seats, and 34 more seats than the floundering BC Liberals.
VanRamblings has told friends that we believe the NDP will garner 54 seats in the house come election night, May 14th, a perfect number for the BC NDP, and leader Adrian Dix — enough to appoint a cabinet of 24 - 26, with another 24 - 26 parliamentary secretary appointments, as well as an NDP house leader, party whip, Speaker and Deputy Speaker of the House, thereby keeping any idle NDP electeds from possible mischief that could hurt the party, and also affording increased salaries for each NDP member in the legislature, newly-elected and sustaining. We'll see come May 14th.
| | |
| --- | --- |
| | |
To throw a monkey wrench into the whole election prediction game, according to Chad Skelton, at the Vancouver Sun, if one takes into account the most recent Angus Reid poll, an online seat prediction tool created by The Sun newspaper "predicts the NDP winning a whopping 70 seats and the Liberals just 12, with another two for independent candidates and one for the Greens." Again, we'll just wait to see what occurs on May 14th.
Given the figures expressed in the polls above, in his latest column for the Vancouver Sun, longtime legislative reporter Vaughn Palmer writes that the B.C. Liberals are simply trying to keep their chins up, and hang on.
Looking to the current campaign, NDP leader Adrian Dix is fighting to win everywhere, though his party denies (not all that persuasively, in my view) that he means to crush, crush, crush the Liberals the way Campbell did the New Democrats in 2001.

The Liberals, in fighting against the odds to turn things around, are also serving the dual purpose of trying to save as much as they can of their seat complement to establish a sizable opposition beachhead for the next four years. Plan B, one might call it. And unless the gap between the two main parties drops to the single digits very soon, I expect it will become the operative one for the Liberals as election day approaches.
Has Palmer had a look at the Vancouver Sun poll above? Must be, cuz he seems to be writing off the Liberal's chances with 12 days still to go.
BC Election 2013: News from Here, There & Everywhere
As is the case with the mainstream media, VanRamblings has pretty much ignored the travails of the BC Conservative campaign, and whatever machinations it's deer-in-the-headlights leader, John Cummins, performs each day on the campaign trail. In an April 30th story, the Vancouver Sun's Mike Hager reported that the Conservative party had failed to file the proper paperwork by last Friday's nomination deadline for four of its candidates — Vancouver-Quilchena's Bill Clarke, a former Progressive Conservative MP; Burnaby-Lougheed's Christine Clarke; Burnaby North's Wayne Marklund; and Maple Ridge-Pitt Meadows' Manuel (Mike) Pratas. As a consequence, the candidates will run unaffiliated. Oh sure, the four 'quasi-semi-sorta-but-really' non-Conservative candidates — who won't have their affiliation made official on the ballots — will still campaign as Conservatives, using party paraphernalia like lawn signs and logos, and the like, but they won't be - like, y'know - official Conservatives. Poor John Cummins, he's running a provincial campaign where the wheels keep coming off the bus.
And then there's this story about the ...
... triumvirate of candidates dropped by the B.C. Conservative party in the past week over their controversial online comments, who have pledged to continue running as independents. Ian Tootill announced he will be running in Vancouver-False Creek after party leader John Cummins took offence to several of his comments made on Twitter. Two other Tory candidates dumped by the party for their controversial comments, Vancouver-West End's Ron Herbert and Boundary-Similkameen's Mischa Popoff, will also run as independents.
The wheels on the Conservative campaign bus go click, click, clack ...
We're not sure why, but for some reason or other VanRamblings has quite consistently neglected to steer readers in the direction of The Tyee's otherwise superior coverage of the 40th British Columbia provincial election, an oversight we'll attempt to remedy, at least to some degree, now.
Well, that's it for VanRamblings May 2nd coverage of the BC Election.
For the latest VanRamblings election coverage, click on Decision BC 2013.
May 1, 2013
| | |
| --- | --- |
| | |
Barring any last minute fumbles by Adrian Dix (as unlikely a prospect as one could possibly imagine), as we head towards E-Day on May 14th, the son of parents Ken and Hilda, immigrants from Ireland and Britain, respectively, fluent speaker of both of Canada's official languages, graduate of UBC in History and Political Science, husband of Renée Saklikar, a poet and writer, longtime resident and two term MLA for Vancouver's Collingwood district (the riding called Vancouver Kingsway), one morning very soon you will be waking to the news that Premier Adrian Dix will be sworn into office in the early part of June — along with a cabinet comprised of dedicated, hard-working New Democrat MLAs who Mr. Dix believes can help to right the course for British Columbia, create jobs and opportunity, manage our health care sector for the good of all, ensure that our children are provided with the resources necessary to learn in our public schools, and more, so much more — to become British Columbia's 36th Premier.
As you can see from the graphic at the head of today's blog post, Milton Chan, over at the Election Prediction Project, stipulates that the New Democratic Party of British Columbia is guaranteed to win a minimum of 45 seats in the house, two more than is necessary for a majority government, and currently 30 seats greater than the increasingly moribund BC Liberals, a rise of three seats for the NDP over last week's prediction, and a loss of one for the Liberals. As we've written previously, too bad, so sad, ain't sure it's been all that great to know ya, don't let the door whack you on the behind on your way out, better luck next time, we thank you for your efforts in governing British Columbia (however misguided were many of your policies), but the time has come when the citizens of our province are aching for change, and so you are gone, as the Adrian Dix era hath arrived, thoughtful, methodical, humane, policy-developed, slow, sustaining and incremental change for the better. The clocks will not be turned back.
Adrian Dix, leader of the BC NDP and next Premier of the province of British Columbia
The four leaders are back on the campaign trail, hard at it, Adrian Dix working to increase an NDP majority in the legislature, Christy Clark doing her best to avoid an unrecoverable drubbing at the polls for her BC Liberal party, John Cummins doing his level best to elect a handful of Conservatives in the Interior, and Jane Sterk striving hard to not only get the BC Green Party message out to voters, but ensure that at least a couple of her candidates are elected on May 14th (Oak Bay - Gordon Head and Saanich North and the Islands are identified as the best bets) to represent their constituents in the British Columbia legislature.
Where will the four leaders of British Columbia's political parties spend their time in the remaining days of Decision BC 2013?
BC NDP leader Adrian Dix spent most of Tuesday in Prince George, where he pledged to the B.C. Mayors' Council that an NDP government would create a stand-alone ministry for local government and hold annual roundtables with mayors from across the province. Wednesday morning, Adrian Dix had breakfast in Quesnel, where he also attended a campaign event with NDP Cariboo-North candidate Duncan Barnett, who also traveled with the BC NDP leader to a 2:05pm campaign stop in Barkerville.
BC Liberal leader Christy Clark launched a three-day, 10-city campaign tour on Tuesday, hoping to capitalize on the exposure from Monday night's comme ci, comme ça leaders' debate. This morning, Ms. Clark had breakfast with supporters in Penticton, after which her campaign bus headed down the road to the offices of Boundary-Similkameen BC Liberal candidate, Linda Larson, a riding the Election Prediction Project's Milton Chan is now calling for NDP candidate Lakhvinder Jhaj, a pick up for the NDP over the Liberals from 2009. At 3:30pm, the soon-to-be-ex Premier made a stop at the Sanderson Fruit Stand in Keremeos, before she headed down the road to Princeton, for a tour of the Copper Mountain Mine.
BC Green Party leader Jane Sterk spent Tuesday visiting the editorial offices of Vancouver's two major dailies before traveling home to Victoria. Bright and early this morning, Ms. Sterk had breakfast with party supporters before heading over to Victoria's CFAX radio station for a one-on-one with morning host, Al Ferraby. At 10:30am, Ms. Sterk was off to participate in an all-candidates forum at the James Bay New Horizons Centre, in support of her candidacy in Victoria-Beacon Hill, where she hopes to defeat former NDP leader, Carole James (an unlikely prospect). At 12:30pm, Ms. Sterk was interviewed by CBC Almanac host, Mark Forsythe. Tonight, at 6:30pm, it was another all-candidates forum at the New Horizons Centre. Tomorrow, Ms. Sterk is scheduled to set out across across Vancouver Island in support of candidates running under the BC Green Party banner.
Yesterday, Conservative leader John Cummins began what he's calling his pick-up truck tour, where he made stops at the many Interior communities that dot Highway One — Hope, Boston Bar, Lytton, Spences Bridge, Merritt and Ashcroft, among other small towns and villages — before finally arriving at his Kamloops destination, where he spent most of Wednesday plumping for local BC Conservative candidates, Ed Klop and Peter Sharp.
VanRamblings will leave you with the following Christy Clark message ...
For the latest VanRamblings election coverage, click on Decision BC 2013.
April 30, 2013
GlobalBC video, April 29, 2013: Jill Bennett provides a post Leaders' Debate analysis

br>
With last night's Leaders' Debate complete, Decision BC 2013 heads in to the homestretch, with less than two weeks til election day, on May 14th.
With no so-called 'knockout blows' landed by any of the party leaders, as can be seen in the Ipsos-Reid post Leaders' Debate poll conducted for Global BC, last evening's debate emerged as pretty much a draw, with BC's NDP leader finding somewhat more favour among British Columbians than did his BC Liberal party counterpart, the beleaguered Christy Clark, who drew much of the fire during the course of Monday evening's debate.
Vancouver Sun legislative columnist Vaughn Palmer weighed in on last night's debate in today's edition of B.C.'s newspaper of record ...
(John Cummins) had the most telling comment of the night, however, with his devastating observation off the top that "nobody" expects Christy Clark and the Liberals to win the election and folks probably tuned in "to see what Adrian Dix would look like as a premier."

If so, then what they saw was a leader who remains a bit awkward and evasive here and there, but who is a master of his chosen material, with growing confidence overall.

If any of the other leaders laid a glove on him in Monday night's debate, it didn't show up in my notes.
The Globe and Mail's Justine Hunter and Ian Bailey write that the party leaders traded punches during the course of the election's only televised debate, while columnist Gary Mason felt that "Dix won on points, as he delivered the most important performance of his political career." Meanwhile, Georgia Straight editor Charlie Smith opined that, "It's hard not to feel that all four provincial leaders are insulting voters' intelligence."
And, of course, Charlie is right. Last night's Leaders' Debate was, for the most part, an 'issue free' zone, with virtually no discussion by the party leaders of the major policy issues of concern to British Columbians: transportation, education, and housing, among others. Yes, it may be that Christy Clark's gaffe in barreling through a red light at 5:15 a.m. offers a metaphor for her approach to governance, but to be the first question that was posed to her by debate moderator Jennifer Burke? C'mon now. And so the night went, parry and thrust, personal attack followed by more political invective, and nary a mention of some of the critical issues that a new government in Victoria will have to face in developing policy that best meets the needs of British Columbians across the vast expanse of our province.
Today, then, it's back onto the hustings for the four leaders, with Premier Christy Clark spending the day in the Kootenays mainstreeting, before travelling to Cranbook for a 5pm Liberal party rally.
Following an early morning, so-called Breakfast of Champions campaign event with Vancouver-False Creek NPD candidate Matt Toner, BC NDP leader Adrian Dix will hop on a plane heading for Prince George, where he'll issue a policy announcement at the College of New Caledonia at 3pm, after which he'll attend a Rally for Change with candidates Bobby Deepak and Sherry Ogasawara, at the Prince George Civic Centre.
BC Conservative Party leader John Cummins — who didn't fare all that well in last night's debate, with his deer-in-the-headlights performance — will spend the first part of the day in Vancouver before traveling to Kamloops for a BC Conservative fundraiser. Meanwhile, BC Green Party leader Jane Sterk — who wasn't as strong in last night's debate as she was on Friday — will spend her day doing media (e.g. interviews with the editorial Boards of the Vancouver Sun and The Province), before heading out to Surrey this evening for an all-candidates debate at South Park family school.
As can be seen from the latest ThreeHundredEight.com statistical compilation poll above, heading into the final 12 days of Decision BC 2013, as most pundits predicted the race has tightened up some, the Liberals are up 2.8 points, the NDP down a couple — all of which means not a whit to the election outcome May 14th, other than the prospect that the election result will not prove a complete wipeout for the BC Liberals.
VanRamblings will return tomorrow with more, probable, election outcome predictions, a review of Decision BC 2013 mainstream media coverage and, perhaps, a bit of insight into BC's 40th provincial election. For the latest VanRamblings election coverage, click on Decision BC 2013.

April 29, 2013
Well, this is it folks — the big day, the make it or break day for Decision BC 2013. Tonight at 6:30pm, broadcast on the three major television networks across British Columbia, as well as radio stations throughout the province, the four leaders of the main political parties in our province come together for the televised Leaders' Debate, the only opportunity British Columbians will have to assess the cut and jib of the provincial party leaders who are vying to become the Premier of our province for the next four years.
Ostensibly, the purpose of tonight's leaders' debate is to provide British Columbians with a keen insight into the policies and political belief structure of our provincial leaders. Premier Christy Clark has the most to gain or lose, as she is the one leader who will face an audience that is primed to give her a thumbs-down review on both delivery and substance.
Adrian Dix steps in front of the cameras tonight the perceived front-runner in the May 14 election. All Dix has to do is keep his powder dry, appear reasonable, engaging and perhaps even avuncular while presenting his, and the NDP's, plans for British Columbia through 2017, and the next provincial election. BC Green Party leader Jane Sterk acquitted herself well on CKNW's Leaders' Debate on Friday — will she perform as well again tonight, as she attempts to paint herself as a reasonable alternative for voters?
And, finally, Conservative leader John Cummins, who thus far in BC's election campaign hasn't gained much traction, even given his ridiculing of the balanced budget legislation that forms a central raison d'être plank of the Liberal platform. By Wednesday, when the major pollsters release the results on their post-election sampling of the public's reception of the four leaders, we'll know who the leader will be that will enter the final 11 days of the campaign with the most forward momentum headed toward May 14.
GlobalBC video: Premier Christy Clark taken to task for blowing through a red light
One of the "issues" that will almost certainly come up during the course of tonight's Leaders' Debate will revolve around the poor judgement Premier Clark displayed in blowing through a red light at 5:15 a.m. one morning this past week, her son Hamish and Vancouver Sun reporter Jonathan Fowlie in tow. As former Chief of Staff to Gordon Campbell writes in The Straight ...
"Even if Clark was banking on the incident not being reported or captured by a red light camera, it is illegal. 'Fun' or not. No matter how empty the intersection was or how early in the morning it was, it displayed a wanton disregard for the law and common sense. It sends a horrible message that, metaphorically, too closely approximates her approach to governing.

In Clark's world, rules are meant to be broken. It is a message that is endemic to her Office and that has been reflected by her example and by her most senior political staff. Whatever you can get away with when you think that nobody's watching is A-OK ... This Premier stops for no one. She's cool with "pushing the envelope" with actions that she assumes will never be held to account.

Note that when Clark ran that red light, it was no accident. She didn't run a yellow light that turned red before she could stop at the intersection. She deliberately chose to go through the light because it was red. Because she could. ... It speaks volumes about her troubled leadership and government."
And thus the metaphorical issue that best describes Christy Clark's reckless and wanton approach to government rears its head in the final weeks of the British Columbia election campaign, in this 'do or die, on the line' election for Clark's governing BC Liberal party. Premier Clark's decision to run a red light, when she knew full well a reporter was sitting right next to her in her car - as research for a profile piece he was writing on her - was a blunder.
A blunder on top of one blunder after another — from the so-called ethnic vote scandal that served to alienate British Columbians across the province, to the failure of her government to respond to the heartbreaking protests of parents over the Liberal party's unconscionable cuts to services for their developmentally disabled children (all the while, promoting her disingenuous "families first" agenda - parents with disabled children apparently seeming not to fit into Premier Clark's ruddy definition of family), from the utter lack of ethics displayed by senior government officials in her office who engaged in partisan activity to identify the vote for her Liberal government, to the iconic wooden office building scandal respecting the partisan efforts of Ministers in her government respecting the bid process — has defined her time as Premier of the province of British Columbia. Just as is the case with a marriage, it is rarely 'one big thing' that destroys a marriage, but rather it is the litany of 'little things' that when added together prove to be the most consequential in the final, heartbreaking decision to end a relationship.
And so, the 12-year reign of a BC Liberal government that lost the favour of the voting public with the implementation of the much-despised HST, through Christy Clark's reign of error since winning the leadership of the Liberal Party on February 26, 2011, must come to an end. As the defining line of the BC NDP campaign says, "Change. One practical step at a time".
Update: For VanRamblings' coverage of Monday's BC Leaders' Debate click on BC Election 2013: The Campaigns Move in to the Homestretch.
BC Election 2013: A Wrap-Up of News from the Mainstream Media
We'll wrap today's post with a review of print and online press coverage.
Georgia Straight. As we've reported previously, editor Charlie Smith is on a roll. In his latest commentary, Smith tackles the BC Liberals for neglecting to pay attention to the tenor of politics in the western world, their failure to recognize that "the winds are changing", and for their decision to campaign to the right rather than as a moderately progressive party. Smith also writes that the NDP are poised to add many new seats if the polls hold, suggesting he believes they will. Also in The Straight, Vancouver-False Creek Liberal candidate Sam Sullivan writes that marijuana prohibition is a failed policy. You'll find more Georgia Straight coverage of the provincial election here.

Globe and Mail. Andrea Woo writes a profile on 'underdog' Vancouver Fairview candidate, Geoge Heyman. Mark Hume travelled north to write a riding profile of Peace River North, one of the ridings to watch on election night, with Independent Arthur Hadland on track to defeat Liberal incumbent Pat Pimm. Guess we'll see in 15 days.
C'mon back tomorrow for VanRamblings' take on tonight's Leaders' Debate, and other election-related news of the day.
(Find the latest VanRamblings election coverage at Decision BC 2013)
(As the 'story of the the April 18th Kitsilano Community Centre AGM continues to generate interest, readers will find VanRamblings' coverage of the KitsCC AGM here. The Vancouver Courier's Sandra Thomas wrote about the KitsCC AGM, her article to be found here, along with a Letter to the Editor in response to Thomas' article. In related news, The Courier's Bob Mackin writes that Kate Perkins, Trout Lake Community Centre President, and Chair of of the community center Associations Presidents Group — currently involved in a sensitive re-negotiation of the operating agreement that defines the relationship between community centres and Vancouver's Park Board and City Council — is, in fact, as she describes herself, a "mole" for the office of the City Manager, and Dr. Penny Ballem — at best, questionable conduct as well as a conflict of interest for Ms. Perkins, and unethical behaviour on the part of Vancouver's City Manager, if in fact Dr. Ballem made promises of employment or favour to Ms. Perkins in exchange for her duties as a "mole")
April 27, 2013
Despite the finest efforts of Premier Christy Clark to wrest control away from British Columbia's New Democratic Party in Decision BC 2013, polls remain grim for Ms. Clark and her discredited and about-to-be-turfed Liberal party, as Adrian Dix and the BC NDP appear set to take the reins of government in Victoria — in what will likely prove to be a smashing electoral victory on May 14th.
According to the pollsters at Angus-Reid, across British Columbia 45 per cent of decided voters and leaners (unchanged since mid-April) would cast a ballot for the BC NDP candidate in their riding if the provincial election were held today. The B.C. Liberals picked up three percentage points of support since the last poll in April, putting them at 31 per cent, according to the poll which was conducted this past Wednesday and Thursday.
Pollster Mario Canseco says support for BC NDP leader Adrian Dix and British Columbia's New Democratic Party has not fluctuated since the start of the election campaign on April 16th.
"The NDP keeps comfortable leads in Metro Vancouver and Vancouver Island, and maintains a good retention rate from the last election," said Canseco. "Across the province, 59 per cent of respondents believe it is time for a change in British Columbia and would like to see a different provincial party elected into power, while 25 per cent would rather have the B.C. Liberals re-elected."
Barring a major (and extremely unlikely) misstep by Adrian Dix, or the BC New Democrats, in the final two weeks of Decision BC 2013, British Columbians will get what they're hankering for come May 14th — change.
BC Election 2013: Right-wing pit bulls drag out anti-NDP scare tactics
"NDP government = socialism", say many pundits and media mavens. Horse puckey, we say.
Despite the BC NDP's continuing dominance in the polls, there are those in the mainstream media who would seek to temper their pending victory.
Earlier in the week, Global BC's Jas Johal conducted an interview with the despicable Philip Hochstein, President of the Independent Contractors and Businesses Association of B.C., where Mr. Hochstein accused BC NDP leader Adrian Dix of being a bully, going on to say in the interview that Dix is "trying to bully the business community", and that an NDP government would set a course to "kill the business climate in British Columbia" should they be elected come May 14th. If anyone believes that hogwash, there's a bridge that's going for a great price they might be interested in.
Meanwhile, Vancouver Sun columnist Barbara Yaffe reports that with Adrian Dix and the Dippers in power over in Victoria, "Canada's Pacific gateway under an NDP government is apt to become the country's drawbridge," as she sets about to elucidate just exactly how the NDP will kill business ...
Enbridge's Northern Gateway Pipeline? Forget it.
Expansion of Kinder Morgan's TransMountain Pipeline? No way.
Tanker traffic off B.C.'s north coast? Never.
Coal exports out of West Coast ports? An abomination.
A new Raven coal mine on Vancouver Island, or a Prosperity gold copper mine in the Cariboo-Chilcotin, or BC Hydro's Site C dam near Fort St. John? No, no and no.
Ms. Yaffe continues in the same vein for 988 words of peerless 'scare tactic' prose, as if all that BC New Democrats are intent on is destroying the British Columbia economy, with designs on thrusting tens of thousands more beleaguered British Columbians onto the unemployment rolls.
And, let's not forget about Business in Vancouver columnist Trevor Lautens, about whom blogger Alex Tsakumis expresses gaseous disdain on his blog. Mr. Lautens refers to Liberal leader Christy Clark as principled and noble, while describing NDP leader Adrian Dix as "a consummate actor who's been impersonating a moderate. He's foxed the media. Never doubt: He's the strategic front man for the big-state, anti-business, neo-Marxist NDP heavies in the back rooms."
Let's allow Mr. Tsakumis to reflect on Mr. Lauten's musings in BiV ...
"To describe Lautens' severely disfigured logic as ultimately flawed is to understate the case by a country mile. Perhaps in his zeal to hail a victory over the socialist hordes at the gate — a tired (and tiresome) canard to which he alludes, Lautens missed the multiplicity of factors that preclude such a result, inclusive - at position one - of the train wreck performance that is the failed, discreditable leader currently infesting the Office of the Premier."

"In what I can only describe as the single worst column I've read in years, Lautens demonstrates that he not only can no longer read the tea leaves, but too, that he's thoroughly lazy."
As Mr. Tsakumis writes, "the far right has gone completely sideways."
BC Election 2013: Report on Issues Raised by the Mainstream Media
Some sources in the tank for the Liberals, some not quite so much
Vancouver Sun legislative columnist Vaughn Palmer apparently finds covering Decision BC 2013 just no fun when the outcome seems such a forgone conclusion. Ssssoooo, why not raise a little hell? Mr. Palmer reports with all of the authorial voice he can muster that not only did Adrian Dix not acquit himself well yesterday morning on CKNW Leaders' Debate, but that the BC NDP leader is flip-flopping on the Kinder Morgan pipeline (so-called flip-flopping is a big no no in politics, don'tcha know, can't have that sober second thought / considered opinion thingy happening, no siree). The weight of Palmer's columns have the potential to influence the discourse on this election, to the benefit of the Liberals and the detriment of the NDP.
Of course, you can watch the video above to determine for yourself whether the questioning of Dix appears to you as just discourse, or whether the media are losing touch with reality, need to get their ears checked, are relying on bad information ("No," says Globe and Mail legislative reporter Justine Hunter, "Adrian Dix did not enunciate a position on Kinder Morgan when I interviewed him on January 10th"), or are otherwise attempting to generate "an issue" when there is no issue of contention that is readily apparent to you, me and thee.
Well, that's it for our weekend report, folks. We'll be back bright and early on Monday morning, with a pre-televised debate humdinger of a posting. Readers will find the latest coverage of the election at Decision BC 2013.
(If, by happenstance, you've arrived on VanRamblings looking for coverage of the April 18th Kitsilano Community Centre AGM — it weren't pretty, folks — VanRamblings' coverage of the KitsCC AGM is here. The Vancouver Courier's Sandra Thomas has written about the KitsCC AGM, as well, her coverage of the delirious, anti-community meeting to be found here.)
April 26, 2013
Click on video to watch full CKNW BC Election 2013 Leaders' Debate, broadcast earlier today
As per the heading of today's VanRamblings post, why was Thursday, April 25th, and why will today both prove to be slow days on the campaign trail?
Easy answer that.
This morning, veteran CKNW broadcaster Bill Good hosted an exclusive BC leadership debate on AM980 (see video above). The much-touted Leaders' Debate included BC NDP leader Adrian Dix, Liberal leader Christy Clark, Green leader Jane Sterk and Conservative leader John Cummins.
Where were the leaders on Thursday, and where will the leaders be over the weekend? In preparation. Thursday was preparation day for the make-it-or-break-it election opportunity that a leaders' debate provides to the four hopefuls running to become Premier of British Columbia. For any politico out there worth her or his salt, CKNW 980 was the place to be Friday morning. Full video of the CKNW Leaders' Debate may be found above.
Monday's April 29th leaders' debate, to be broadcast both on the three big television networks (CBC, CTV and Global), as well as on radio across the province, is the real make-it-or-break-it pivot for Decision BC 2013. All one has to do is look back at the impact then Liberal leader Gordon Wilson had on the electorate in 1991, and where many decided to park their vote.
The 1991 leaders' debate was supposed to be a clash between the NDP's Mike Harcourt and Social Credit's Rita Johnston. But Liberal leader Gordon Wilson surprised everyone by getting in the best shots, as he scolded the bickering Harcourt and Johnston. "This reminds me of the legislature and here's a classic example of why nothing ever gets done in the province of British Columbia," Wilson told the television home viewing audience.
Although the New Democratic Party went on to win an astounding 51 seats in the house, the Socreds were decimated, finished, done like dinner — winning only 7 seats — while the Liberals went from zero to 17 seats in the legislature. Not winning the debate was one of the few flaws in what was considered a great campaign for NDP leader and new premier Mike Harcourt.
Leadership debates can have a profound effect, as they did in 1991 in BC, or on the national stage, when in 1984 Progressive Conservative leader Brian Mulroney confronted a deer-in-headlights, newly-elected Liberal leader John Turner — Mulroney pouncing on Turner's patronage appointments and thunderously rejecting Turner's leadership in a heated exchange — devastating Turner in a one-on-one debate, in the process taking the Conservatives to an unprecedented 211 seat victory in Parliament.
Whether it's this morning's leaders' debate on CKNW, or Monday evening's televised leaders' debate, how the four leaders perform could very well emerge as a determining factor in who wins government on May 14th.
Although the ad above is a bit dated (it came out in Nov. 2010, prior to newly-elected Liberal leader Christy Clark announcing a rise in the minimum wage, which now sits at $10.25 an hour), the ad nonetheless speaks to a core constituency of the NDP, in a resolutely non-cynical manner.
In a month of Sundays, the provincial Liberals could never hope to achieve a connection with the youth in our province because, let's face it, the provincial Liberals — even with the bright, relatively young face of Christy Clark at the helm — are the party of the old fuddy duddies, the party of the corporate elite, a provincial political party that believes in stasis over change.
The New Democratic Party speaks to, and for, most youth who reside in British Columbia. Whereas to the provincial Liberal party youth are just kids, kids who don't get out to vote, and thus whose interests are unworthy of concern or interest, to be roundly ignored while on the campaign trail and, more particularly, while holding the reins of government.
Take a moment to consider the unemployment rate among youth in British Columbia — an astounding and unforgivable 14.5%, the highest youth unemployment rate in Canada. And just what have the Liberals done to address the problem of unemployment among our province's young people? The answer is a simple one: BC does not have Canada's highest youth unemployment rate because the Liberals gave a damn about this British Columbia constituency (or their worried parents, for that matter).
If what VanRamblings has observed while volunteering in the offices of Vancouver Point Grey NDP candidate David Eby offers any indication on where the youth vote will go in Decision BC 2013, and how many of our youth will plug in to this year's provincial election — as we've witnessed an unprecedentedly well-organized, daily outreach campaign to youth, and the many thousands of students at UBC — the BC NDP are set to gain an unprecedented portion of the youth vote come election day, May 14th.
C'mon back to VanRamblings over the weekend, when we'll continue to provide dense coverage of Decision BC 2013, as we link to reports in the mainstream and alternative press, point you in the direction of interest group involvement in the election, and otherwise attempt to provide you with the information you may have missed while leading your very busy life.
(For the latest VanRamblings election coverage, click on Decision BC 2013)
(For those of you who arrived here looking for coverage of last week's Kitsilano Community Centre AGM — as sorry an example of untoward democratic engagement as you're ever likely to witness — VanRamblings' coverage of the KitsCC AGM may be found here. The Vancouver Courier's Sandra Thomas has written about the KitsCC AGM, as well, her coverage of the delirious, anti-community meeting to be found here.)
April 25, 2013
Announcements, firings, former Chief of Staff to Gordon Campbell calling it for the NDP, sale of BC Place and maybe the Convention Centre pending a new administration in power post May 14th, Vancouver Point Grey on the verge of sending Premier Christy Clark on a permanent vacation — who says that British Columbia politics is dull?
If you take a look at the UBC Sauder Business School Market prediction to the right, you'll see that the Liberals are in worse shape than they were last week: the NDP up from 54 to 58 seats, the Liberals down to 19 from 22. Too bad, so sad, the Liberals are going on a long, long vacation, as Vancouver Sun columnist writes that "Adrian Dix's election strategy is to crush opponents and avoid the one-term blues."
In other words, "Hello the Right Honourable Adrian Dix, forever more Premier of the lush, thriving Province of British Columbia."
BC Election 2013: Media Coverage from here, there and everywhere
We are trying for pithy in today's edition of our always informative Decision BC 2013 coverage, so let's get right down to it, shall we?
Vancouver Sun. British Columbia's daily paper of record has ramped up it's coverage of the election big time this week. Wednesday kicked off with this story from two of The Sun's campaign trail reporters, Jonathan Fowlie and Tracy Campbell.

An NDP government would attempt to sell the newly renovated BC Place Stadium, and possibly the Vancouver Convention Centre, to help cover the significant losses at both publicly owned facilities, Adrian Dix announced Wednesday.

"When the operation of a facility draws tens of millions of dollars in public subsidy every year, and has left taxpayers with a mountain of debt, I believe we have to take a close look at whether that's a business we should be in," the NDP leader said while standing in front of BC Place.

"If the private sector can do a better job running BC Place, freeing taxpayers of millions of dollars in losses and reducing public debt, we've got a win-win, and we'll pursue that."

Dix said any sale would have to protect the future of both the B.C. Lions and the Vancouver Whitecaps, who use the stadium as their base of operations.

Elsewhere in Vancouver Sun coverage of Decision BC 2013, their April 24th editorial strongly urges British Columbians to get out to vote — "It's your own future you will be helping to decide. Not voting will only ensure somebody else decides it for you." Well worth reading the entire, well-crafted editorial.

The Vancouver Sun's Gordon Hoekstra, in a Prince George riding profile, writes that Liberal Attorney-General Shirley Bond, and neophyte Liberal candidate Mike Morris, a former RCMP north district commander, are in for the fight of their lives in this bellwether riding.

Lori Culbert, Chad Skelton and Gordon Hoekstra report that "the NDP raised just under $1 million from corporations in 2012, four times what they collected from the corporate sector in 2011." Fortis B.C., a natural gas supplier, gave 30 times more money to the Liberals than the NDP from 2005 to 2011, but in 2012 made heftier donations to the NDP ($24,500) than to the Liberals ($18,000). Ah, ain't that sweet.

And finally from the Vancouver Sun, the BC Conservative Party dumped their oleaginous Vancouver False Creek candidate, Ian Toothill, with Liberal candidate in the riding, former Mayor Sam Sullivan (an equally oleaginous fellow), and neophyte NDP candidate Matt Toner dancing a metaphorical jig. Vancouver False Creek will be one of the ridings to watch election night. With his name recognition, and a plethora of conservative voters in the riding's Yaletown precinct, Sullivan could eke out a victory. Toner's chances are probably somewhat diminished with Toothill out of the race. Still. Guess, we'll just have to wait and see how much of a nail biter this one'll be.

Georgia Straight. Charlie Smith is really feeling his oats these days, and that's a good thing. In this editorial, the estimable editor of The Straight writes that "the B.C. Liberals will be punished for the disgusting attack ads on Adrian Dix," arising from soon-to-be Premier Dix's heroic efforts on the campaign trail despite suffering the rigours of Type 1 diabetes. A very good piece, and well worth reading.

Talking about estimable people, former Chief of Staff to Gordon Campbell, Martyn Brown, continues to drive nails into Christy Clark's candidacy for Premier, and the Liberal's chances for anything akin to a phoenix-like victory come May 14th.

And finally from The Straight, a commentary from Vancouver Point Grey candidate, David Eby, who writes about "investing in our youth, and improving access to higher education." Yep, that's the same Dave Eby who's running again Christy Clark, our soon-to-be ex-Premier. Yeah, that one. Full disclosure. I'm volunteering on David's NDP campaign, so maybe I'm just a tad more enthusiastic about David's candidacy than some, but you would be, too, if you knew him.
Well, there's more to report but, really, how much more can you read? There's a tune being sung here, and it ain't a changin' anytime soon.
(For the latest VanRamblings election coverage, click on Decision BC 2013)
(For those of you who arrived here looking for coverage of last week's Kitsilano Community Centre AGM — as sorry an example of untoward democratic engagement as you're ever likely to witness — VanRamblings' coverage of the KitsCC AGM may be found here. The Vancouver Courier's Sandra Thomas has written about the KitsCC AGM, as well, her coverage of the delirious, anti-community meeting to be found here.)
April 23, 2013
We'll check in each week with Milton Chan and his Election Prediction Project, to track where pundits and those on the ground believe Decision BC 2013 appears headed, riding-by-riding, as we approach E-day, just three weeks from today, on May 14th, 2013. The change this week from last, a pickup for the NDP's Gabriel Yiu in Vancouver Fraserview, third time lucky it would seem for the affable Mr. Yiu. Otherwise, third time around, Maple Ridge-Mission NDP candidate Mike Bocking, former Union Prez from VanRamblings' days working at Pacific Press (when NDP Provincial Secretary Jan O'Brien was the Union's Business Agent) appears set to find himself spending a fair bit of time in British Columbia's 'high tea' capital, as well.
On Earth Day, while campaigning in Kamloops (the quintessential bellwether riding), the increasingly well-travelled BC NDP leader Adrian Dix made a dual campaign announcement: his administration would dissolve the Pacific Carbon Trust, and deploy at least some of the carbon tax revenue to fund transit or other green initiatives. The surprise second-part of the green campaign announcement was this: the BC NDP are opposed to an expansion of the Kinder Morgan pipeline, which would turn Vancouver into an oil port if the proposed twinning of the existing Kinder Morgan pipeline was to be approved. The announcement was met with huzzahs by environmentalists, and skepticism by the always quizzical Vancouver Sun provincial affairs columnist, Vaughn Palmer. And it was ever thus.
BC Election 2013: Wrap Up For The Day
On Monday, Christy Clark and the BC Liberals attempted, unsuccessfully and in a woeful fashion, to defend the indefensibile, that the budget presented by Liberal Finance Minister Mike de Jong in the legislature, back in February, would move British Columbia towards a balanced budget. Yeah, sure, right, said the bond-rating agencies. So much for that gambit.
The BC Conservative Party, meanwhile, named Allan Molyneaux as their new candidate in North Vancouver-Lonsdale, who replaces the disgraced Jeff Sprague, who stepped down amidst allegations of impaired driving.
And that's the kind of day it was on Day 7 of Decision BC 2013.
(For the latest VanRamblings election coverage, click on Decision BC 2013)
(For those of you who arrived here looking for coverage of last week's Kitsilano Community Centre AGM — as sorry an example of untoward democratic engagement as you're ever likely to witness — VanRamblings' coverage of the KitsCC AGM may be found here. The Vancouver Courier's Sandra Thomas has written about the KitsCC AGM, as well, her coverage of the delirious, anti-community meeting to be found here.)
April 21, 2013
Following a rather sleepy weekend, Decision BC 2013 heads into the final three weeks of British Columbia's 40th provincial election.
Thus far, nothing has taken the NDP off message, and no issues of burning concern have arisen that have caught the public's attention. As Globe and Mail BC columnist Gary Mason writes in today's newspaper ...
Liberal Leader Christy Clark and her party did not have the opening week for which they were hoping. It wasn't that it was particularly bad; they just didn't get the kind of clear win they needed to start gnawing away at the NDP's lead in the polls. Now Ms. Clark and her team have one less week in which to start making those critical inroads.

For Mr. Dix, the challenge will be to avoid taking the kind of hit that gives the electorate second thoughts. For Ms. Clark, the task is more complicated. If she enters the debates sensing she needs a big, gravity-defying moment, she might overreach and end up portraying herself in a way that is not at all beneficial.
As the latest ThreeHundredEight.com polling indicates, the NDP maintain a solid lead heading in to Week 2 of Decision BC 2013.
In important news, culturally sensitive news, news that you're not likely to see reported elsewhere, unless you make a habit of visiting the darkest regions of the provincial NDP website, in an announcement made last week, the BC NDP committed a new NDP provincial government to support for the preservation of Aboriginal languages in British Columbia.
"B.C. is home to 60% of the First Nations languages spoken in Canada, but many of them are in danger of disappearing," Scott Fraser, the NDP candidate in Alberni-Pacific Rim, and New Democrat aboriginal affairs critic during the last legislative session told the media on April 18th. "As a matter of respect for First Nations peoples, we need to work together to prevent that from happening."

"Language is a critical part of First Nations history, culture and identity. If a language is lost, traditional oral histories in their original form are also lost. We will work with First Nations to help save at-risk languages."
Scott announced that an NDP adminstration would provide The First People's Cultural Council, a crown corporation run by First Nations, with an additional $1 million in funding, dedicated to support the preservation and revitalization of First Nations languages, arts and culture in British Columbia. Fraser said the loss of language is largely attributable to federal residential school policies which took children away from their families, and punished them if they spoke their own language.
"Most fluent speakers of aboriginal languages are over 65 years old," said Fraser. "Only 1.5 percent of fluent speakers are under the age of 25. Clearly, now is the time for action to begin to bring change for the better to First Nations communities."
A responsible government responds not only to the big ticket items like health care and education, but dedicates itself to meeting the needs of the broadest cross-section of the British Columbia electorate, in every region of the province. And, in the case of the announcement directly above, most particularly, the often neglected priorities of language and culture.
BC Election 2013: A Round-Up of News from Elsewhere
Truth to tell, we're hard-pressed to come up with a lot of reporting by the mainstream press, but here goes ...
Vancouver Sun. How much does the Vancouver Sun not like federal NDP leader, and how in the tank are they for any party but the NDP? All you have to do is take a look at the photo of Tom Mulcair at the top of this story. Editorialize in your photo choice much, Vancouver Sun editors? Anyway, back to matters at hand: federal New Democrat leader Tom Mulcair joined the BC election campaign this past Friday (while we were still recovering from the shenanigans at the Kits Community Centre AGM), telling a cheering crowd of 350 people gathered at the Vaisakhi event in Surrey that a provincial NDP victory on May 14th will serve as a warm up for a federal NDP win in 2015."

Next. We would take a moment to editorialize on the Vancouver Sun's shakedown story but, really, why bother? And, oh yeah, don't forge to read - or not - Vaughn Palmer's barely even-handed wrap-up of Week One of the provincial election campaign.

Alex Tsakumis. BC's resident political shit disturber publishes his usual, but interesting and readable, online report taking the apparatchiks in the Christy Clark administration to task. The allegation this time? According to Tsakumis, the BC Liberals are waging an all out war on Global TV legislative reporter Keith Baldrey, and his beleaguered wife Anne Mullens, for failing to be in the tank enough for the BC Liberals. And here, all along, VanRamblings thought that Baldrey was all but bought and paid for by the BC Liberals. Apparently not, if the snide rumour the BC Liberals are spreading around — that Baldrey will be leaving the employ of Global TV to take a job as Communications Director for NDP leader Adrian Dix, post election night victory, May 14th — is true, which is doubtful at best. Those Liberals.
The Straight. The folks at The Straight have created their very own BC Election page, replete with news respecting NDP campaign announcements on lower fees for infant and toddler care and reducing child poverty (which First Call, the BC Child and Youth Advocacy Coaltion, called pathetic), as well as a commentary by Vancouver Langara NDP candidate (and good guy, as it happens), George Chow.
Well, that's it for today, folks.
By the way, you're probably looking at a sparse Decision BC 2013 posting Tuesday, as VanRamblings will attend (and speak at, it would seem) tonight's regularly scheduled and always contentious Park Board meeting.
For the latest VanRamblings election coverage, click on Decision BC 2013)
(For those of you who arrived here looking for coverage of last week's Kitsilano Community Centre AGM — as sorry an example of untoward democratic engagement as you're ever likely to witness — VanRamblings' coverage of the KitsCC AGM may be found here. The Vancouver Courier's Sandra Thomas has written about the KitsCC AGM, as well, her coverage of the delirious, anti-community meeting to be found here.)
April 19, 2013
Should you click on the graphic above, you'll be taken to The Tyee's B.C. election map, which provides a breakdown of B.C.'s 85 electoral ridings, who the candidates are in each riding, riding related news and other bumpf.
The early days of Decision BC 2013 are, necessarily (as the headline above suggests): dull. The media is barely engaged, the election is hardly on the electorate's radar as the more prosaic matters of daily life take precedence, and with polls suggesting a smashing victory for the BC New Democrats, a goodly portion of those who are even remotely engaged all but tune out, expecting that sweeping NDP victory May 14th. Liberals in power for 12 years, the thinking goes, it's time for a new government. Barring any major missteps, or a terrible performance by Adrian Dix in the leaders debate on April 29th (which NDP campaign manager Brian Topp will never let happen), the election will bring what the gods have writ: a near smashing victory for the all-but-inevitable and soon-to-be BC New Democratic government.
Post the leaders debate on April 29th, interest will ramp up; that's when the real campaign will start. You just have to look at the last federal election. Going into the leaders debate, with just two weeks to go in the campaign, then federal NDP leader Jack Layton was mired at 13% in the polls. The word was he was sickly, and on his way out of politics. Following the leaders debate, though, in which Layton's 'performance' was deemed to be engaging by a public hankering for a touch of humanity in its politicians, the NDP catapulted to 31% in the polls, and opposition in the Canadian Parliament. Following the BC leaders debate, there'll be two weeks left in the BC election campaign — it'll be anybody's game from that point on.
VanRamblings spent the day getting smucked at the Kitsilano Community Centre, where we had our tookus handed to us on a platter at the AGM. Migawd, we couldn't even manage to secure a position as a member-at-large. Maybe next time we'll have to leave our devil horns at home.
Sad to say, dear and constant reader, that you're going to have to put up with VanRamblings in something of a foul mood (youse just can't cover up these kind of things, y'know?). Hell, maybe the writing's even better.
Or, maybe not (that's a bitter tear trickling down my cheek, by the way).
So, what went on in the big bad world of BC politics on Thursday?
Early in the day, over in Courtenay, in the First Student Bus workyard, of all places (I mean, really, a virulently anti-Union company staging ground?), BC NDP leader Adrian Dix committed an NDP government to spending $372 million over three years to improve public education in B.C. (a good thing, a needed thing), and another $100 million over three years to lower costs and increase child care spaces for infant and toddler care (the proverbial drop in the bucket, and hardly the $10/day Child Care Plan advocates have been demanding for months).

In this Vancouver Sun story, you'll find a particularly nasty exchange between CTV's Rob Brown and Adrian Dix, where Adrian acquits himself well. Let's hope he brings the same cojones to the leaders debate.
Otherwise, that's about it, folks. Not much coverage of the election in the Mop and Pail. There's always this, though: The Province giving the beleaguered John Cummins, leader of the BC Conservatives, a bit of coverage, even if it's only a 166-word CP wire story. Ah well.
Not to be mean (because we don't believe in the politics of personal destruction), but we simply can't help ourselves. Hey, the Raeside editorial cartoon is not ours, but y'know what, I bet there are a few people out there (including BC Liberals) who agree with the sentiment.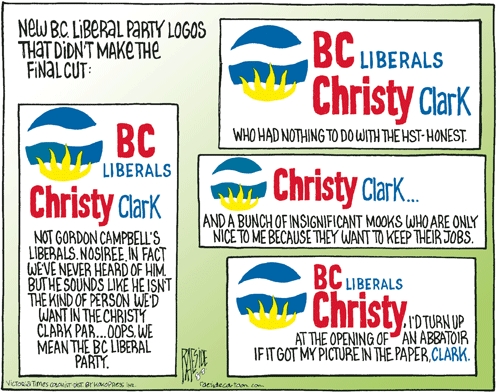 That's all she wrote, folks. Til tomorrow.
(For the latest VanRamblings election coverage, click on Decision BC 2013)
(For those of you who arrived here looking for coverage of last week's Kitsilano Community Centre AGM — as sorry an example of untoward democratic engagement as you're ever likely to witness — VanRamblings' coverage of the KitsCC AGM may be found here. The Vancouver Courier's Sandra Thomas has written about the KitsCC AGM, as well, her coverage of the delirious, anti-community meeting to be found here.)

April 18, 2013
The University of British Columbia's Sauder School of Business, once again in 2013, will run their Election Prediction Market, having succeeded in 2009 in quite accurately predicting the results of British Columbia's previous provincial election. For the duration of the 2013 election, the fine folks out at UBC will provide daily updates to the Globe and Mail, with their up-to-minute projection of popular vote share and legislature seat share predictions. VanRamblings will continue to provide you with links and graphics, although you may want to bookmark the Globe and Mail page.
Otherwise, it was a rather quiet day on the hustings on Wednesday, April 17th — so, without further ado then, we'll just jump right in to the media coverage of Decision BC 2013 for the day.
Vancouver Courier. Andrew Fleming posits that we'll see at least three new MLAs take their seats in the British Columbia legislature following May 14th, suggesting in his article that newly-minted Liberal candidate, multi-hyphenate doctor / lawyer / Rhodes Scholar, etc. Andrew Wilkinson remains an absolute lock to take Vancouver Quilchena, while the odds favour former BC Civil Liberties Executive Director David Eby in Vancouver Point Grey to defeat Premier Christy Clark, with Sierra Club BC Executive Director George Heyman set to take Vancouver Fairview away from physician and BC Liberal Minister of Health, Margaret MacDiarmid.
The Tyee. Meanwhile, Natascia Lypny encourages us to meet the youngest candidates vying for a seat in the legislature: a delivery driver, a bank staffer, a restaurant manager, and a grocer, viable candidates all.
With an average age of 24, BCNDP candidate for Langley Andrew Mercier, Green Party of BC Victoria-Swan Lake candidate Spencer Malthouse, Liberal candidate for Port Coquitlam, Barbara Lu, and BC Conservative candidate in Nanaimo Bryce Crigger (gotta love that 'stache) are the youngest candidates from each of the four main parties in this provincial election.
GlobalBC / Glacier Media. Keith Baldrey writes that the NPD are favourites in 50 of the province's 85 ridings, identifying 40 strong and 10 NDP-leaning ridings, 8 strong Liberal and 14 Liberal-leaning ridings, with14 toss-up ridings, while suggesting that Independents, incumbent Vicki Huntington in Delta South, and Arthur Hadland, in Peace River North will likely emerge triumphant election night.
Globe and Mail. Éric Grenier updates the ThreeHundredEight.com poll VanRamblings published on Tuesday, writing in BC Votes 2013 that ...
"Adrian Dix's New Democrats remain heavily favoured to prevail on May 14 ... the New Democrats would take 48 per cent of the vote, the B.C. Liberals 30 per cent, the B.C. Conservatives 12 per cent, and the B.C. Greens 9 per cent. With such a large margin over the Liberals, the NDP should be able to capture between 57 and 73 seats to form a majority government. The Liberals would be reduced to between 10 and 27 seats, while as many as four independents could be elected."
Bleak numbers for the Liberals, indeed, as Mr. Grenier suggests.
In their Day 2 wrap up story, titled "Confident Clark taking aim at NDP territory", Justine Hunter and Ian Bailey cover Liberal leader Christy Clark's day on the hustings. The story's headline seems misleading, though, given that Clark spent most of her day in traditional Liberal territory, while NDP leader Adrian Dix spent the entirety of Wednesday encroaching on Liberal turf, visiting ridings throughout the traditionally unfriendly Fraser Valley.
For those of you who haven't read it, the Globe and Mail's Justine Hunter has written a standout piece on Adrian Dix that is well worth reading.
Georgia Straight. Editor Charlie Smith opines that housing as an issue is getting short shrift by the four main parties, reporting that the Greens pay the most attention, the NDP hasn't released their platform position on the issue as yet, and the Liberals "brush over housing in their 84-page platform document." Earlier in the week, Charlie posited five unusual scenarios that could yet make Decision BC 2013 a barn burner interest grabber — the first couple of days of the campaign have emerged as anything but. Interest oughta wax high, though, following the leaders debate (6:30pm - 8pm, April 29th) — which we hope will be more about substance than style.
Yolanda Cole interviewed $10/day Child Care advocate Sharon Gregson, who pretty much called the BC Liberals' proposed child care registry useless, while The Straight's Carlito Pablo reports that the Green Party of BC remains the only provincial political party that has as a tenet of their platform that they would legalize and tax marijuana.
Vancouver Sun. Reporter Francois Marchand interviews Ryan McCormick, a director of the Vancouver-based non-profit Safe Amplification Site Society (Safe Amp) - an organization dedicated to creating a permanent all-ages music and arts venue in Vancouver - as Safe Amp injects itself into Decision BC 2013 by calling for an overhaul of BC's antiquated liquor laws.
In a Canadian Press story published on the Vancouver Sun website, Christy Clark is reportedly attempting to shore up support in bellwether ridings where the Liberals currently trail the NDP.
News from other places. In Andrea Klassen's Kamloops This Week story, Kamloops-South Thompson BC Liberal candidate Todd Stone seems to be doing everything he can to distance himself from the BC Liberal label, with Klassen suggesting in her article that the argument for Stone's Decision BC 2013 candidacy "sounds a lot like 'Stone, not Liberal.'"
Castanet, the Interior online newspaper and magazine, reports that disgraced, now former NDP candidate for Kelowna-Mission Dayleen Van Ryswyk will run as an Independent, Twitter all agog with speculation that she could actually hurt the candidacy of Liberal incumbent Steve Thomson with her racist, intolerant views.
The healthy advocates over at the BC Cycling Coalition urge you to bike to vote and exercise your pedal power on May 14th, suggesting that "through the simple act of pedaling to the polls, you can play your part in actively decreasing traffic congestion, while making our streets and neighbourhoods safer, reducing greenhouse gas emissions, saving time and money, all of which salutary effort will result in improving our collective health and well-being." We're putting our helmet on now, and heading out for a ride along the beach, all in preparation to bicycle to our polling station on E-Day.
BC Election 2013: What the Parties Were Up to Wednesday
What platform positions did the four main parties release on April 17th?
The British Columbia New Democratic Party committed to freezing ferry fares while a newly-elected NDP government awaits the results of an NDP-mandated audit of the financially troubled company. BC NDP leader Adrian Dix also announced that an NDP government would invest $40 million in skills training and $100 million in a student grants programme, annually, as part of the NDP's plan for jobs and growth.

Adrian Dix took the fight to Liberal Finance Minister Mike DeJong's Abbotsford riding on Wednesday, where he NDP told supporters he felt Abbotsford West was an eminently winnable riding for the NDP in 2013.

You may click here to see the entire 2013 BC NDP candidate team.

The BC Liberal party campaign: as we reported earlier Christy Clark spent most of her day shoring up support for her trailing party by spending time in Surrey, the Fraser Valley, Chilliwack and Kamloops, before traveling further north in the late evening.

The Globe and Mail's Justine Hunter asked the question, "What will happen to the B.C. Liberals if they lose?"

"What happens to the Liberals after the polls close at 8pm on May 14? It is treasonous talk, not out in the open. But if the governing party is reduced to a rump — a fate many in the party seemed resigned to — then their focus is on saving seats and resources to rebuild in the election aftermath. Liberal party headquarters is cooking up ways to win back voters. But those pessimists in the party who don't see that succeeding are already trying to identify the likely survivors to decide who would best lead the coalition so that the NDP victory doesn't last more than a single term. It is a reason that some candidates in the B.C. Liberal campaign seem to have distanced themselves from Ms. Clark. If her name appears at all on campaign signs, it is in small print. While Ms. Clark is focused on a comeback strategy, some in her party are running a parallel campaign: A comeback in 2017".

A "what if" scenario that VanRamblings has been told Ms. Clark has pondered herself in the days leading up to 40th provincial election.

You'll find the entire BC Liberal team here.

The BC Conservatives are pretty much off the radar in Decision BC 2013. We're seeing no coverage by the mainstream media, apart from this call by provincial Conservative leader John Cummins to jettison the Pacific Carbon Trust, which he says is nothing more than a scam and corporate welfare system. One suspects that the BC Conservatives are running a stealth campaign in those Interior ridings where they think they've got a fighting chance at winning a seat in the legislature. Mainstream media coverage of Mr. Cummins and the BC Conservatives will likely improve after the April 29th leaders debate, with only two weeks to go from that date til election day.

You'll find all of the BC Conservative candidates here.

The Green Party of BC has found itself surprisingly successful in gaining coverage, most particularly because of the opportunity Andrew Weaver, running in Oak Bay - Gordon Head (a riding to watch election night), has to become British Columbia's first elected Green Party member in the provincial legislature.

Green Party of BC candidates? Yep, they're all here.
We'll leave you with Global's BC1 Decision BC 2013 coverage.

(For the latest VanRamblings election coverage, click on Decision BC 2013)
(For those of you who arrived here looking for coverage of last week's Kitsilano Community Centre AGM — as sorry an example of untoward democratic engagement as you're ever likely to witness — VanRamblings' coverage of the KitsCC AGM may be found here. The Vancouver Courier's Sandra Thomas has written about the KitsCC AGM, as well, her coverage of the delirious, anti-community meeting to be found here.)
Note: Coverage of Decision BC 2013 tomorrow will likely be somewhat more sparse than you've witnessed the first three days of the election cycle.
April 17, 2013
The 2013 British Columbia provincial election can hardly be said to have commenced on a high note, thanks to the BC Liberals who dragged out years old comments by BC NDP candidate for Kelowna-Mission Dayleen Van Ryswyk, who promptly resigned her abbreviated candidacy when asked to do so by BC NDP leader, Adrian Dix. The BCNDP will announce a new, better vetted candidate for the south Okanagan riding later in the week.
How much the beleaguered Ms. Van Ryswyk's aborted candidacy will impact the BCNPD remains to be seen, but as is obvious from the BC Election Prediction Project graphic at the top of this blog post, the BCNDP are a lock for 40 seats in the legislature, just three shy of a majority (85 seats are up for grabs this time around), which would seem to negate most arguments that this "misstep out of the gate" will have much impact at all.
BC Election 2013: Who To Follow on Twitter
As we've written previously, for breaking news, for up-to-the-minute reporting, for insight, cogent analysis (which comes with the links provided) and not a little wit and humour, as well as a fair bit of tête-à-têtes, there is no better forum through which you might keep yourself informed and engaged with what is going on in this crazy world of ours than Twitter.
On Twitter, the commentators you'll want to follow are (click on the links): Globe and Mail reporters Rod Mickleburgh, Ian Bailey, and Justine Hunter, not to mention, columnist Gary Mason; the Vancouver Sun's legislative reporter Jonathan Fowlie, as well as columnist Vaughn Palmer; and, let's not forget Victoria Times-Colonist columnist, Les Leyne; 24 Hours columnist, Laila Yuile; CBC legislative reporter Stephen Smart, Global TV's Keith Baldrey, CTVBC's Ed Watson, and CKNW's Sean Leslie. For a partisan NDP take, there's David Schreck, for Liberals there's Alise Mills, and for a barely less partisan approach, you can follow BC Election 2013. In the coming days, VanRamblings will provide further insight into / direction to Twitter accounts dedicated to British Columbia's 2013 provincial election.
Oh yeah, you might as well check in each day with the provincial party Twitter accounts themselves, to see where the leaders are traveling, and to gain some partisan insight into the "messaging" of each of BC's steadfast political parties, each one vying for your all important vote: the BC NDP, Today's BC Liberals, the BC Conservatives (who seem not to have caught on to this new thingamajiggy called Twitter), and the Green Party of BC.
Former Chief of Staff to Premier Gordon Campbell, Martyn Brown - who last year published the e-book Towards A New Government In British Columbia, and has since emerged as a regular, verging on virulent, critic of the Christy Clark-led BC Liberals - has found a regular forum to publish his musings, in the Georgia Straight. Here are a few of his recent columns ...
One imagines that the loquacious Mr. Brown will continue to publish throughout the 28-day election period. Well worth checking out on a regular basis. Good on The Straight for publishing Martyn Brown.
BC Election 2013: News from Here, There & Everywhere
The mainstream media had their say on BC Election 2013's opening day ...
These are early days in the 40th British Columbia provincial election. The parties are out on the hustings, the candidates are out door knocking, across BC there'll be burmashaving galore (in Canada, the word burmashaving is used to describe politicians holding signs and waving to traffic by the side of the road, a common sight during election campaigns), you'll be inundated with suppertime newshour ads, and with more robocalls than you'll probably be able to handle.
But you can thank your lucky stars that in Canada you are afforded the opportunity to exercise your democratic franchise free of intimidation from the state, and that thanks to the efforts of the good folks at Elections BC - who are doing everything in their power to ensure that come May 14th (or at the advance polls, May 8th through 11th, 8am til 8pm) - you can cast your ballot in peace. Voter, and voting, info may be found here.
(For the latest VanRamblings election coverage, click on Decision BC 2013)
(For those of you who arrived here looking for coverage of last week's Kitsilano Community Centre AGM — as sorry an example of untoward democratic engagement as you're ever likely to witness — VanRamblings' coverage of the KitsCC AGM may be found here. The Vancouver Courier's Sandra Thomas has written about the KitsCC AGM, as well, her coverage of the delirious, anti-community meeting to be found here.)
April 16, 2013
As of 10 a.m. this morning, the writ was dropped by British Columbia Premier Christy Clark on the 2013 British Columbia provincial election.
Over the course of the next 28 days, British Columbians will be given the opportunity to exercise their hard-fought-for, and much cherished, democratic right to engage in the life of their society by challenging the provincial political parties, and those vying to represent them in the British Columbia legislature, on the future direction of British Columbia, before the final decision will be taken as we cast our critically important ballot to choose the next government of British Columbia, on Tuesday, May 14th.
As is illustrated in ThreeHundredEight.com's graphic at the top of this blog post, the 2013 British Columbia election is the BC New Democratic Party's to lose. With an almost insurmountable 18% lead in the polls, the tired and unpopular British Columbia Liberal party would appear to be headed toward ignominious defeat after 12 years in power. And, with a revived and resurgent British Columbia Conservative party challenging the Liberals on their right flank, and the Green Party of BC slated to take as many votes from the Liberals as they will from the New Democrats, BC's Liberal party will be hard-pressed to retain power come late evening May 14th.
But as if often said, "one day in politics is like a year in the real world." Who knows what issues will arise between now and May 14th, what core issues of concern will emerge that will be of critical concern to British Columbia's electorate, or what the response of the public will be to the party leaders following their scheduled Monday, April 29th BC leaders debate?
In the interests of keeping you informed on the political life of British Columbia, over the course of the next 28 days VanRamblings will post regularly on the issues of interest and concern that arise each day between now and May 14th, the various platform announcements by BC's political parties, and coverage of British Columbia's 2013 election by the mainstream press, blogs and social media weighing in on BC politics, as we attempt to provide you with a nuanced appreciation of those issues of paramount concern to you and your family. Hope to see you back here often.
(Full, and the most up-to-date, coverage of the 2013 British Columbia provincial election is available by clicking on Decision BC 2013)
(For those of you who arrived here looking for coverage of last week's Kitsilano Community Centre AGM — as sorry an example of untoward democratic engagement as you're ever likely to witness — VanRamblings' coverage of the KitsCC AGM may be found here. The Vancouver Courier's Sandra Thomas has written about the KitsCC AGM, as well, her coverage of the delirious, anti-community meeting to be found here.)

October 27, 2012
British Columbia's New Democratic party, under the leadership of Adrian Dix, has enunciated a policy position in favour of fracking, a dangerous, environmentally unsound, and wholly unsafe natural gas extraction process.
In 2010, Josh Fox's Gasland, a Special Jury Prize winner at Sundance, documented the health concerns of citizens affected by the fracking industry, and featured a flammable water scene which caused quite the stir.
The Huffington Post published this story last April ...
"The feasibility of protecting the health of Americans while conducting hydraulic fracturing operations is debatable. Dimock, Pennsylvania has been at the heart of this discussion. The small town's wells were tainted by fracking operations, and the drilling company and the EPA have (at times) delivered clean water to the residents. According to ProPublica, recent EPA tests of Dimock's water reveal "dangerous quantities of methane gas" and "dozens of other contaminants, including low levels of chemicals known to cause cancer and heavy metals that exceed the agency's "trigger level" that could lead to illness if consumed over a period of time. The EPA's assurances suggest that the substances detected do not violate specific drinking water standards, but no such standards exist for some of the contaminants and some experts said the agency should have acknowledged that they were detected at all."
We would imagine that should recently-nominated Vancouver-Fairview NDP candidate George Heyman be elected to government next May, that inside the NDP caucus, Mr. Heyman will emerge as a powerful voice against the destructive environmental practice. Fracking arose as an issue dividing the two candidates seeking the NDP nomination in Vancouver-Fairview. Candidate Vancouver City Councillor Geoff Meggs didn't rock the boat ...
"The party position is we will allow fracking," Meggs explains. "I personally don't like it. I wish we would examine and study it. But I accept that our party has taken a position on it. George [Heyman] is saying he wants to change the party's position. And while I might prefer a different position, I'm not campaigning to have it changed."
Meggs' opponent in the race, George Heyman, has this to say ...
"I'm not proposing that we don't sell any gas," says Heyman, who is currently the Executive Director of Sierra Club BC. "I am proposing that we stop the expansion of new frack wells until we have an appropriate public study on the health impacts, the community impacts, the water impacts, and the climate, greenhouse-gas-emissions impact."
Note should be made that Heyman quite handily won the contested Vancouver-Fairview nomination. A shot across the bow to the more conservative interests in the provincial NDP, a message to the party elite that in a democracy it is the members of the party who direct policy, not the electeds divining policy from on high, ignoring the wishes of the people?
Sometimes, though, if reason fails to convince, film has the power to transform political positions, that despite all evidence to the contrary, are wrong. Film can inform, and cause a person / political party to change an enunciated — and, perhaps, not fully considered — position on an issue.
To that end, for the first time since 1997's Good Will Hunting, actor Matt Damon and director Gus Van Sant have re-united, this time to produce a screenplay written by Damon and co-star John Krasinski, based on a story by Dave Eggers. The film Promised Land tracks the work of two corporate salespeople who visit a rural town in an attempt to buy drilling rights from the local residents, in order to commence a fracking operation — although the salespeople are not upfront about the consequences of the 'rights' sale by farmers — a decision that would destroy the townspeoples' livelihoods.
Promised Land will be released in the United States in December — in New York and Los Angeles — in order to qualify for Oscar consideration. The film is set for wide release, opening in Vancouver, Friday, January 11th, 2013.
Earlier in the week, and we can't remember how, we became aware of RebelMouse, a social media aggregator that connects your Twitter, Facebook, Instagram and other social media accounts all together on a dynamic and very graphically pleasing web page — created absolutely free-of-charge by the folks who both created and operate RebelMouse.
Ben Popper, from The Verge, writes ...
Paul Berry is famous in tech and media circles as the brains behind The Huffington Post's incredible success with social media and search engine optimization. On June 6th of this year, he took the wraps off RebelMouse, a social publishing platform that hopes to replicate that success on an individual level. "People are getting very good at Twitter and Facebook, but they are embarrassed about their personal websites," says Berry, when we visited him recently at Soho Labs. "RebelMouse takes all the content from your social streams, and transforms it into a dynamic homepage."
Users sign up for RebelMouse and connect it to their Twitter, Facebook, Tumblr, Pinterest and Instagram accounts, the service pulling all photos, text and links from these feeds. The page updates with each new social media post, arranging the posts in an easy-to-read format. RebelMouse also affords the user the opportunity to rearrange, edit items, or remove them entirely if that is their wish, the editing not restricted to the 140 character limit often placed on social media forums, such as Twitter.
Here is our RebelMouse page, a compendium of our recent Instagram, Facebook and Twitter feeds. Convenient, gorgeous: you may want to try it.
November 14, 2011
COPE candidate for Vancouver City Council, Tim Louis, and 20 other candidates from the other political parties currently running for office in the 2011 Vancouver civic election, spoke out at the West End Residents Asssociation's All-Candidates debate, on Sunday, November 13th, 2011.
November 10, 2011
October 24, 2011
April 18, 2011
The weather on this third Monday in April was sunny, chilly and blustery.
Even so, after a long day's work on the Downtown Eastside, VanRamblings decided to walk the 11 kilometres home, through downtown Vancouver, over the Granville Street Bridge, through Kitsilano, and then home.
Of course, we were waylaid.
We stopped off at former City Councillor Tim Louis' place (to talk about a website we're creating for his upcoming COPE candidacy), and somehow found ourselves at David Eby's NDP campaign launch for the May 11th by-election in Vancouver Point Grey, where David impressed (as always), and newly elected provincial NDP leader Adrian Dix gave a rousing speech — how wonderful to finally have a leader of the NDP who is passionate, informed and articulate about the issues!
April 7, 2009
The UBC Farm has been an integral part of UBC since the Point Grey campus was founded in 1922. The UBC Farm is 24 hectares and is located on UBC Vancouver's south campus. It is the last working farm in Vancouver and an irreplaceable resource for our future that once gone, is gone forever. The farm provides a unique centre for innovative teaching and research about sustainable food systems, food security and health.
The UBC farm serves as an important educational resource to members of the academic and non academic community, including a wide variety of aboriginal groups, school children and others. In addition, the UBC Farm is a complex ecosystem and home to many species such as coyotes, frogs, eagles, owls, snakes and over 70 species of birds.
Why is the UBC Farm in crisis?
UBC may use the farm land for other purposes. Students and community members have worked very hard in the past year to preserve the farm. UBC has acknowledged that the farm needs to be considered in their planning process; however, we still need the University to commit to: keeping the farm at its current size and location, providing stable funding, and including key users in determining the farm's future
HOW YOU CAN HELP save UBC Farm
Come to the Great Farm Trek '09 today, Tuesday, April 7th. The Trek will gather at the Student Union Building at 3:30 p.m. and trekkers will walk to the UBC Farm for a celebration with food and music, and a ceremonial planting. Free parking is available at UBC Farm anytime. A free bus shuttle, originating at the SUB, will take participants to and from the Trek, which will be in progress between 3 p.m & 6 p.m. We'll see you at the rally today!
Sponsored by UBC Alma Mater Society, and the Friends of the UBC Farm.
April 3, 2009
The Citywide Housing Coalition's march to end homelessness, build social housing, and raise the minimum wage takes place this weekend.
Muster stations are located at Thornton Park (due west of the bus depot / train station), Hastings and Main streets, and Peace Flame Park (at the south end of the Burrard Street bridge). Marchers will walk peacefully (but noisily, we hope) from the march starting points to the Vancouver Art Gallery, meeting in front of the Art Gallery, on Georgia Street, at 1:30 p.m.
Given the failure of the federal government to step up to the plate and build affordable housing for Canadians - when many across Canada are experiencing a housing crisis - is unconscionable. We need a renewed, affordable, well-funded and effective co-operative housing programme, as well as the construction of special needs housing (for women, and for single parent families, for the homeless). Housing is an issue which affects us all.
Let's make this a march for change, for a renewed commitment to social agency, and to programmes benefitting the most vulnerable in our society. Let's march to encourage government to bring in programmes to protect renters, and construct social housing for the homeless and for families in Vancouver, throughout British Columbia, and across our great country!
March 20, 2009
With a provincial election just around the corner (May 12), and the pollsters reporting a current BC Liberal government lead of 16-points in public confidence, the results of the upcoming election would seem to be a forgone conclusion.
Still and all, given that it's BC politics we're talking about here, and with just shy of two months to go before the election, an accurate prediction as to the outcome is, really, anyone's guess.
With the above in mind, there's one person who seems to know what the future has in store for British Columbians, at least as far as the political scene is concerned. Going way out on a limb, savvy astrologer Lasha Seniuk writes in this week's issue of the Georgia Straight ...
Gordon Campbell's astrological chart reveals him to be a cunning negotiator who works tirelessly to achieve his goals. While publicly congenial, privately he is capable of unusual political methods. Campbell is, however, a skilled and passionate leader. Astrologically, he will be the victor in the upcoming election. But not by much and not for long.

Carole James, a resourceful and shrewd politician, will also be a permanent fixture in British Columbia politics. After the election, she will use her hard-won street smarts, energetic appeal, and social altruism to challenge Campbell's slender power advantage. Within three months, her influence will be undeniable.

By mid August, a financial controversy or political mutiny from Campbell's back benches will trigger a crisis of leadership. The fight will be fierce, dramatic, and painfully public. Before the end of December, James and the New Democrats will win leadership of the house.
So, is it possible that the May 12th provincial election will be that close? Will Gordon Campbell and his merry band of corporate capitalists emerge victorious in a third consecutive provincial election, only to lose it all this summer, only six months away from his cherished 2010 Winter Olympics?
December 20, 2008
| | |
| --- | --- |
| A wintry, December day in Vancouver (from the Safeway parking lot facing Kits library) | |
There has been this past two months, since VanRamblings last published, a great deal of interest to VanRamblings' readers that has occurred near to our little secluded isle, due east of the Pacific Ocean.
For instance ...
As we say, there are a great many topics to tackle in the days to come, to write about and reflect on. Some topics to be explored by VanRamblings will be of a serious nature, others not quite so much.

We hope to see you returning to visit VanRamblings, often.
July 2, 2008
Frances Bula, the Vancouver Sun civic affairs reporter since 1994, abruptly announced her resignation from the newspaper today.
Dear all of my blog-readers,
This will be my last post on this Vancouver Sun blog, as I have resigned from the paper.
As Vancouver-based blogger Rob Cottingham states in his farewell tribute to Ms. Bula today, "Her blog post makes it clear that she thoroughly understands blogging - which makes losing her voice at the Sun doubly painful." Another Vancouver blogger, Bill Tieleman, weighs in on Ms. Bula's departure from the Sun, on Sean Holman's Public Eye Online, writing ...
This is indeed bad news for all of us who either report on municipal politics, follow them or are active in local government.

Frances Bula has done an outstanding job for many years and amazingly maintained her sense of humour despite sitting through endless rounds of pointless Vancouver city council meetings and much more.

Good luck to Frances wherever she goes - she will have many fans who will follow.
The Pivot Legal Society's David Eby writes on his blog, "For her to leave the Sun is, well ... shocking."
In what is shaping up to be the most important Vancouver civic election in almost a half century, Ms. Bula's resignation from the Sun, and rumoured movement to Vancouver Magazine — with its three month advance deadline, and consequent lack of reportorial immediacy — represents the loss of a critical voice, at a critical juncture, on Vancouver's civic scene.
Unless Ms. Bula commences with her new blog (which she promises) by early autumn, Vancouver citizens will find them far less informed on the machinations of the fall civic election than otherwise would be the case.
We are all the lesser for Ms. Bula's departure from the daily journalistic rigours of reporting on the often tempestuous Vancouver civic scene.
July 28, 2006
Now, you'd think what with Vancouver City Council (not to mention, the Vancouver Courier's Allen Garr) on vacation for the remainder of the summer, and Supreme Court Justice Robert J. Bauman having trampled on the hurt feelings of the recently deposed members of the City of Vancouver Board of Variance, that this 'story that won't die' would be over.
But you'd be wrong. You can take the hint from the latter sentiment expressed in the previous paragraph: the Board of Variance sacking is a story that won't die. And, why not?
Well, just when you thought to yourself, good riddance to that Ray Tomlin fella, and fair thee well to Quincey Kirschner, Terry Martin, Tony Tang and Jan Pierce, it would be too soon if I ever heard any one of their names ever again ... it seems that your cherished opinion in the matter has been overturned by citizens honourable and true, an as yet unidentified band of truth and justice seekers who, when the Board was fired four weeks ago today, filed a complaint with the Office of the BC Ombudsman.
So what, you say? Well, this is what: the office of the City Clerk, City of Vancouver, informed Secretary to the Board of Variance, Louis Ng, on Thursday afternoon that the aforementioned Ombudsman's office has launched a "full and thorough investigation into the circumstances surrounding the dismissal of the City of Vancouver Board of Variance." Mr. Ng was instructed to co-operate fully with the investigation.
Justice Robert Bauman ruled that Board of Variance counsel, Derek Creighton, had not proved evidence of "bad faith" by Vancouver City Council in its dismissal of the Board. But now, with a truly independent arm of government conducting an investigation into the firing, perhaps evidence of "bad faith" might finally be proven. We'll wait and see.
Seems that the Office of the Ombudsman will issue a full report on the matter sometime later this year, or as late as next spring.
Board of Variance fired. Story over. Not by a long shot. This is the story that won't die.
July 25, 2006
This morning, in Courtroom 20, in the British Columbia Supreme Court building at 800 Smithe Street, in the city of Vancouver, during the course of a 45-minute video tele-conference address, Mr. Justice Robert J. Bauman ruled decisively against the recently deposed members of Vancouver's beleaguered Board of Variance. Okay, let's be honest: with one devastating body blow after another, he slammed them to the ground, and crushed their cheery little faces into the dirt multiple times. But who's counting?
Justice Bauman ruled that the decision by Vancouver City Council to rescind the appointments of all five members of the Board of Variance constituted "an institutional change," ruling that Vancouver City Council — as the legislative authority — had the "unfettered right" to fire the Board of Variance, and were not compelled either to give reasons for their decision, nor were they to be concerned about any possible damage to the personal and professional reputations of the deposed Board of Variance members.
Tuesday afternoon at 5 p.m., Council appointed a 'new' Board of Variance, made up of Alex "Sleepy" Lam, Francesca "I used to be an NDPer, but I seen the light, and now I'm a Liberal" Zumpano, Marguerite "I don't know why some people think I'm scary" Ford, and ("what must they have been thinking, jumping into this mess?"), former 1993 - 1999 Board of Variance member Parveen Adrakar, and newcomer, Jagdev Dhillon.
The best part of this whole fiasco? VanRamblings is now free to write any (responsible) thing it wishes on this blog about Council, without fear of retribution by Mayor Sam Sullivan and cohorts. That's the good news.
The bad news: the terrible loss that the 350 families — and all of the other members of the community who approach the Board of Variance, each year, for an appeal of the Director of Planning involving a development decision in their neighbourhood — who will almost certainly suffer an untoward experience at the hands of a Board of Variance whose determinations must surely be seen to be tainted by the recent action of Council to fire the previous Board, in a decision taken with no just and reasonable cause.
In respect of Mr. Justice Robert Bauman, and in fairness to the fulsomeness of his ruling, given the impeccable and compelling presentation of counsel for the City, Mr. George Macintosh QC, to Mr. Justice Bauman's court, there was very little room left for Justice Bauman to rule other than he did (although, one supposes, the door would always be open to a broader interpretation of the matters placed before a Supreme Court Justice).
Mr. Justice Robert Bauman ruled as he felt he must. VanRamblings believes in the rule of law, and all those who believe in civil society must stand by the rightness of a decision of the Court, whatever the negative personal consequences one might experience as a result. That an appeal of Justice Bauman's ruling is under consideration speaks only to points in law counsel for the Board feels may not have been fully explored.
Still and all, VanRamblings would ask: Was it absolutely necessary for Justice Robert Bauman to award costs to the City, risking bankruptcy for the good-hearted, principled volunteer members of the Board of Variance who have worked so hard and well, and so ethically, this past year?
July 21, 2006
After three long, miserable weeks of psychic, emotional and other pain for the author of this blog, notice was given Friday afternoon that Justice Robert Bauman, of the BC Supreme Court, will hand down his decision this coming Tuesday morning, at 9 a.m., July 25th, as to whether Vancouver will maintain an independent Board of Variance, or have its members replaced with individuals friendlier to development interests, and the interests of the NPA, the municipal political party currently governing Vancouver City Hall.
For those of you who have not been following the torrid and often heartrending saga of the sacking of Vancouver's Board of Variance (of which VanRamblings is one of the deposed members), there's been a great deal reported in the press on the issue, as there might well have been given the import of the issue for the average Vancouver citizen, and for all of us.
Allen Garr, of the Vancouver Courier, has proved particularly dogged in his coverage of what he has suggested "may be the biggest story of the year," beginning with his July 7th column, Board firing bad for citizenry, continuing on to July 12th with Board firing stretches credulity, July 15th's PR plan followed board firing, and yet another column published this past Wednesday, which (inexplicably) The Courier has yet to post to the 'Net.
The Vancouver Sun's Barbara Yaffe, who in appealing on behalf of her neighbourhood to the Board of Variance in the autumn of 2005, lost in her bid to have overturned what she and her neighbours felt was a "wholly unsuitable" duplex development, has taken a surprising, yet ethical and principled stand in support of an independent Board of Variance.
On July 5th, Ms. Yaffe, in a column titled Citizens need a Board to stand between them and city hall (pdf), and again on July 12th in a column titled, Variance board our last hope to rein in a city hall run amok provided insight and much needed coverage of an issue which should have grabbed the attention of all Vancouver citizens.
So, this coming Tuesday morning, stay tuned to your local radio station for news from the BC Supreme Court.
Justice Robert Bauman has a very difficult ruling to make, given the able presentations of both legal counsels, Derek Creighton for the Petitioner (the fired Board of Variance members), and George Macintosh for the Respondent, the City of Vancouver / Province of British Columbia.
February 28, 2006
Vancouver Kensington NDP MLA David Chudnovsky in the British Columbia provincial legislature on Monday, February 27th ..
Let's turn to education, kindergarten-to-grade-12 education, because the people in our schools are children. We're told by the Minister of Finance that it's a children's budget. So what's in the budget for our public schools? The Premier and the minister are all over the media crowing about the increase in funding, but as usual with this government, it pays to look at the numbers a little bit more closely.

The increase in per-pupil funding that the government is projecting is 2.35 percent over the next three years. Inflation is expected to be 6.5 percent over the same period. Therefore, per-pupil funding in our public schools — that's children — is to lag more than 4 percent behind inflation for the next three years. There's a children's budget for you. There is a commitment to children.

At the same time, funding for private schools is going to go up 10.7 percent. It's not a big secret where this government is going, not a big secret what their priorities are, not a big secret what their agenda is for public schools and what their agenda is for private schools. The numbers tell the story.

You do have to wonder what's going on in the corridors of power. Who's running the ship? Is there anyone over there learning lessons from their own experiences?

Only a couple of months ago this government precipitated a completely unnecessary confrontation with teachers, parents and communities across this province. It was a confrontation precisely about the funding and resources available to public schools. It was about class size problems and class composition problems. Now, we know that after years of denying there was a problem, after years of pretending that the government's massive cutbacks in services to children had a positive impact on schools and students, finally, last fall, the Premier and the Minister of Education admitted that yes, we do have a problem in our schools when it comes to class size and class composition.

You'd expect to see that realization, late as it was, reflected in the budget. You'd expect to see resources allocated in the budget to deal with the real challenges in our public schools, challenges the Premier and the Minister of Education have finally noticed. But no, there is no allocation for class size improvements and class composition improvements in the budget — not there. They didn't make it into the children's budget — no allocation in the budget for the results of the minister's much ballyhooed round table.

You remember the round table, Madam Speaker. The minister told us that was going to be the solution for class size and composition: get everybody together around a table and abracadabra, the problems would be solved. But of course it takes resources to solve the problems of class size and composition in our schools: 9,000 classes with more than 30 students in them; 11,000 classes in the province with four or more identified students with special needs. You can't solve those with a discussion, no matter how round the table is and no matter how many folks you invite in for a talk. It takes resources. It takes political will. You'd think it would be there in a children's budget, but sadly, tragically, it's not.

You'd think that in the throne speech we would have seen a commitment to class size limits and class composition guarantees in the School Act. That was what the students of this province were promised at the end of the government's dispute with the teachers. The government created a two-week crisis in the schools, and to get out of it, they promised to guarantee services to students and that the guarantee would be enshrined in public policy. Now, as we know, that wasn't the preference of the teachers. The teachers' position and the teachers' preference was to provide those guarantees in collective bargaining. But the teachers were willing to compromise, and in return for that compromise the government committed to guarantees for class size and class composition in legislation.

You'd think we would have heard about that legislation in the throne speech. You'd think this government, bruised and battered and isolated during the fall because of its disastrous education policies, would have tried to calm the waters by making good on its commitment to B.C.'s children. But no such legislation was announced, at least not yet. So we look forward in this session, in the season of the children's budget, to the government getting around to keeping its commitment to the children of the province when it comes to class size and class composition.
Thanks to former COPE School Board trustee Noel Herron for passing Mr. Chudnovsky's speech in the legislature along to VanRamblings' readers.
December 5, 2005

Mayor Sam Sullivan
Mayor Sam Sullivan was sworn in today as the 44th mayor of the City of Vancouver.
In addition, new NPA councillors Suzanne Anton (formerly a member of the Parks Board), social activist Kim Capri, arts maven Elizabeth Ball (terrible website; was she really counting on being elected), and incumbent and humanitarian Peter Ladner were also sworn in.
Vision Vancouver Council members, and Council incumbents, Raymond Louie (who oughta lose his 'holier than thou' smirk ... just a suggestion, if he wants to be Mayor some day) and Tim Stevenson, as well as newly elected Vision Vancouver Council members Heather Deal and George Chow were also sworn in, along with the lone COPE incumbent David Cadman.
Announced today were Mayor Sullivan's first set of appointments — to the GVRD and Translink Boards (the websites have not been updated as of this writing), as well as a number of other regional bodies, non-profit boards and statutory committees.
Next up, but still a ways away, appointments to the various civic agencies which either carry out or help to develop policy for Council. Applications for the current vacancies (all committees, with the exception of the Board of Variance, dissolve prior to an election, and re-appointment does not take place until well into the new year ... the appointments are often construed as 'pay-offs' to supporters of the winning party ... although VanRamblings would suggest that such a construction in relation to these appointments would be ungenerous and wrong-headed in the extreme).
Update, December 6: Announced in his inaugural address yesterday, Mayor Sullivan will institute a Triple R Review (roles, relationships and responsibilities) of the function of existing civic agencies. The results of the review will be announced in the spring. Appointments to what are almost surely to be newly reconstituted advisory committees will likely take place in June 2006. As a first order of business, could Mayor Sullivan have instituted a more anti-democratic policy than his bludgeoning of these very important, democratic advisory civic agencies? VanRamblings thinks not.
Update, December 8: The Council package for December 13th from Mayor Sullivan will recommend that Council approve the re-establishment of the following Advisory Committees for the term December 5, 2005 to December 8, 2008, with current members reinstated until successors are appointed:
The following civic agencies are established by federal or provincial legislation, and will also be continuing "business as usual":
To be fair, here's Mayor Sullivan in his own words on the Triple R Review ...
I would like Council to determine how best to get input from citizens. The contribution of community voices to Council is a vital part of being informed and responsive. We have many dedicated citizens who contribute to our city on advisory committees. We owe them the respect of Council by enabling their advice to be heard through the most effective mechanisms of involvement.

At the end of every Council term all committees except those mandated by law end, until they are re-constituted by the new Council. I am recommending that Council delay the re-establishment of our committees pending the clarification of roles as part of the Triple R Review (roles, relationships and responsibilities).

The re-establishment of citizen advisory processes should await clarification of the strategic directions this Council wants to take for the city. I will ask Council early in this term, concurrently with the review of roles, responsibilities and relationships, to engage in a process to determine strategic directions and objectives.
VanRamblings wishes the new Council wisdom and sober second thought, humanity, a sense of humour, civility and respect for varying opinions, and at least a modicum of non-partisanship in their important deliberations.
November 28, 2005
Perhaps the most devastating loss in the recent Vancouver civic election was the NPA School Board majority win, and the consequent turfing out of the respected, hard-working, centrist, consultative and initiative-driven majority COPE school trustee slate — Kevin Millsip, Noel Herron, Angela Kenyon, Jane Bouey, and Green Party trustee Andrea Reimer.
Even given the downloading, by the provincial Liberal government, of a teacher pay raise onto school boards throughout the province, the COPE School Board was the only Board in the province to not lay teachers off during their three-year term, and to maintain smaller class sizes (or in the case of kindergarten, reduce class sizes and go to full day kindergarten).
Unlike past COPE School Boards, the 2002 - 2005 COPE Vancouver school trustees did not pick unwinnable fights with the provincial government, but instead worked together with senior staff in the provincial Ministry of Education to secure additional funding for inner city schools for our region's most vulnerable children; developed a programme to make all schools across our province seismically safe; expanded literacy programmes, and increased spaces for French Immersion; and developed groundbreaking multi-cultural, anti-racism and anti-homophobia programmes.
Why was the popular COPE School Board defeated? Easy question that. COPE school trustees fell victim to the infighting between COPE Classic and COPE Lite / Vision Vancouver, as slate voting took over to elect a majority NPA slate to the Vancouver School and Park Boards, and City Council.
A diverse NPA Council will be what it will be. Mayor-elect Sam Sullivan will set the agenda for his, and the NPA's, coming term of office. The Park Board is, for the most part, a largely non-partisan (no pun intended) entity, a Board that tends to work co-operatively and without rancour; commissioners from COPE and the majority NPA Board will almost assuredly act in the best interests of Vancouver citizens, and citizens across the Lower Mainland.
But School Board? Children, parents, teachers, and non-teaching support staff are in for a rough ride with a Ken Denike-led NPA majority on the 2005 - 2008 Vancouver School Board. The NPA School Board will almost certainly prove to be a right wing, ultra-conservative and ideologically driven Board.
Read More...
November 23, 2005
On Saturday, November 19th Sam Sullivan became the 44th Mayor of Vancouver. What does Mr. Sullivan's ascension to the highest political office in Canada's third largest city mean for the people of Vancouver?
Well, first off, a return to decorum. Sullivan has promised that City Council debate will not be defined by acrimony, personal invective, and ad hominem attack. All points of view will be heard and decisions will be arrived at only after due consideration. Is Mr. Sullivan to be believed on this front? VanRamblings believes Mr. Sullivan to be a reasonable person who will do everything in his considerable power to return civility to Council debate.
In setting a new — and potentially co-operative — tone at City Hall, perhaps the first tentative steps might be taken towards healing the divide that exists in our City between rich and poor, East side and West side, privilege and anomie. The most salutary aspect of a new start is the sense of hope that is inspired when one does not know for sure what is to come. VanRamblings hopes for the best and trusts that the newly elected majority Non-Partisan Association Council will, while working with the Vision and COPE members of Council, move this City forward toward brighter days.
Lest you think that VanRamblings has been consuming a little too much of the NPA Kool-Aid, we would be remiss if mention were not made of the controversy surrounding Mr. Sullivan's election to the Mayor's job. If you look at the chart above, you'll see that Independent candidate James Green polled third in the mayoralty race. Adding James Green's vote to that of Vision Vancouver mayoralty candidate Jim Green's vote places Vision's Jim Green 526 votes ahead of Mr. Sullivan, the declared winner of Saturday's mayoral contest. Were there "dirty tricks" involved in the NPA's alleged support of an independent James Green candidacy, a cynical, dastardly ploy designed to confuse voters? Vision Vancouver certainly thinks so.
Re-elected COPE councillor David Cadman chalks Green's loss up to hubris
You only have to be aware of Jim Green's history to know that the issue of NPA "dirty tricks" will not be going away anytime soon; Jim's a fighter and will see it through to the end. Meanwhile, Mayor-elect Sullivan has made statements to the press that he wants to get on with the job, and to that end has extended an olive branch to his Vision Vancouver opponent, suggesting that there continues to be a role for Mr. Green to play in the development of the Woodward's site, a long cherished dream of Mr. Green.
Read More...