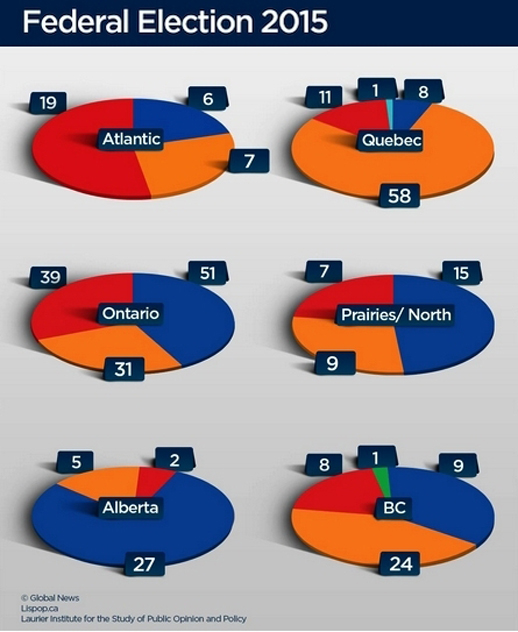 Forty-eight days out from Canada's 42nd national election, on Monday, October 19th, and change in the Canadian politic seems to be in the air.
In today's (overlong — some things never change) post, VanRamblings will focus on Eric Grenier's threehundredeight.com projections for all 338 federal ridings. Grenier is Canada's Nate Silver (who accurately predicted Barack Obama's wins in 2008/2012, as well as Congressional and Senate seats, and the gubernatorial races, right down to a tenth of a per cent).
Note should be made that during the course of the 2015 election campaign, Eric Grenier has signed on as CBC's official pollster, and that much of his work is poured into the CBC Polltracker. Me, I'll miss the graphic at the top of threehundredeight.com (see the Alberta graphic below for an idea of what I mean). Still and all, the threehundredeight.com projections for the 338 federal ridings provide a service not offered elsewhere, allowing voters and those political folks among us (who live for this stuff) to track dynamic riding-by-riding poll results throughout the 88-day (!) election period.
In the recent Alberta election, Grenier predicted a 55-seat win for Rachel Notley's NDP (the NDP won 54 seats, which could turn to 55 should the NDP take Jim Prentice's vacated Calgary-Foothills seat, as appears likely, according to the polls). Meanwhile, all of Alberta's political pundits were calling for a Progressive Conservative win, with 26 seats going to the NDP.
Grenier was not as accurate in predicting British Columbia's 2013 provincial election. Grenier published his projections based on polls conducted by Leger, Insights West, Ipsos-Reid, EKOS, Angus Reid, Nanos, Forum Research and Abacus, among others — none of which were weighting their polls. Pollsters now weight their poll results statistically by age, region and other variables (including voter intention to actually vote) to ensure the sample reflects the population according to the latest census data.
Voter turnout for the May 2nd, 2011 Canadian federal election was 61.1%, 2.3 percentage points higher than the all-time low of 58.8% for 2008. Turnout steadily increased with age from 38.8% for ages 18-24 to 75.1% for ages 65-74, declining to 60.3% for those 75 and older. Polling among the age group 18 to 44 generally shows a propensity for overwhelming support for the NDP - but voter turnout for this (age) demographic group is relatively low, when compared to the population as a whole. Pollsters now weight their poll results, taking into account that fewer than four in ten "younger voters" will actually arrive at the polls on voting day to cast their ballot — weighted polling means much more accurate polling results.
308 projections for Surrey/Vancouver, support by party + plus percentage win projection
Now it's time to get down to brass tacks, as my mother used to say.
According to Grenier's poll projections for British Columbia, the NDP are on track to win 19 of the 42 seats up for grabs in our province, with Stephen Harper's Conservative party in second place with 15 seats, the Liberals projected to win 6 seats, and Elizabeth May picking up her lone Green Party seat, in Saanich-Gulf Islands.
Grenier's predicting 28 Conservative seats in Alberta, 3 seats for the NDP (Edmonton Griesbach, Edmonton Strathcona and and Lethbridge absolute locks), and two seats for the Liberals (Calgary Skyview, and Edmonton Centre, although the Libs are in a real fight with the NDP for the seat).
As to the remaining provinces and territories, Grenier's projecting ...
Saskatchewan: 19, Conservatives; 5, NDP; 1, Liberals
Manitoba: 7, Conservatives; 4, Liberals; 3, NDP
Ontario: 50, Conservatives; 41, Liberals; 29, NDP
Québec: 60, NDP; 14, Liberals; 4, Conservatives
New Brunswick: 5, Liberals; 3, Conservatives; 2, NDP
Nova Scotia: 7, Liberals; 4, NDP; Conservatives, 0
PEI: 4, Liberals; NPD and Conservatives shut out
Newfoundland/Labrador: 5 Liberals; 2, NDP; Conservatives, 0
Northwest Territories: 2, Liberals; 1, NDP; Conservatives, 0
In his threehundredeight.com polltracker, Grenier has the Conservatives taking 126 seats nationally, the NDP winning 120 seats, with 91 seats for the Liberals, and one lone Green seat for Elizabeth May.
Last week, a Forum Research poll conducted for the Toronto Star predicted an NDP parliamentary majority of 174 seats ...
"The Forum Research poll for the Toronto Star projects the NDP with enough support to win 174 seats in the Oct. 19 election. Justin Trudeau's Liberals now sit in second place with 30 per cent support, while Stephen Harper's Conservatives are losing support and have the backing of just 23 per cent of the 1,440 Canadians surveyed."
That same day in a front page story, the Globe and Mail polltracker predicted more seats for the Conservatives in the next Parliament than for the Liberals and NDP, despite the NDP lead in the polls.
In the 2015 federal election, there seem to be lies, damn lies and polls. We'll all have a better idea as to where Canada is headed closer to election day, 10 days out — that's when the polling really starts to count. During the course of the recent Alberta election, on the Monday before election day, the NDP looked to pick up 18 of 19 seats in Edmonton, and one of 25 in Calgary; by Friday, the day before the election, polls showed the NDP winning all 19 seats in Edmonton, 15 seats in Calgary, and both seats in each of Lethbridge and Red Deer, as well as a smattering of seats across every region of the province, for an overwhelming legislative majority.
With 68% of Canadians saying it's time for change, with as many as 43% of those who voted Tory in 2011 saying they won't do so again in 2015, the Tories would seem to have an uphill battle to win an unprecedented fourth parliamentary government — but, clearly, it could happen.
VanRamblings will cover the election through until election day, October 19th, along with coverage of the upcoming 34th annual Vancouver International Film Festival (intensifying during VIFF, Sept. 24-Oct. 9).
Posted by Raymond Tomlin at September 1, 2015 12:03 AM in Decision Canada 2015