Cinema
September 29, 2016
It's that time again — Vancouver's yearly 16-day immersion in films from across the globe.
The 35th annual Vancouver International Film Festival is as always a daunting prospect. This year's edition of VIFF, which begins today and runs through until Friday October 14th, will screen 365+ films, including 219 full-length features, from 70 different countries.
Here are some tips on navigating it.
Programme, tickets and venues
As you get ready for a cinematic onslaught, you'll want to pick up a copy of the glossy 2016 VIFF programme, available at no charge all across Metro Vancouver, at the Vancity Theatre, as well as at libraries, bookstores and coffee shops.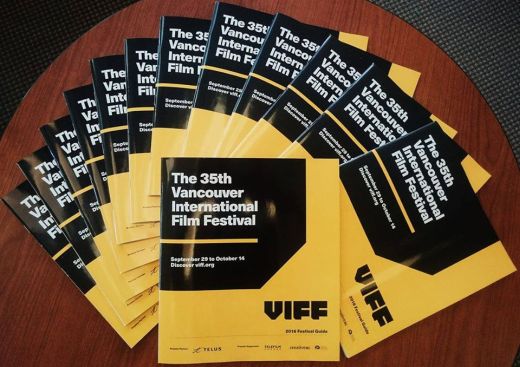 You can skip the box office lines and buy your tickets online at viff.org, or simply by pressing on the buy option when choosing of a film of interest to you, and then simply print the ticket at home. Note that there is a service charge for online orders: $1 per single ticket, up to $4 per order. Patrons can save by purchasing ticket packs or all-access screening passes.
Tickets or passes can be bought in person at the Vancity Theatre, or at any of the Festival venues: The Centre for the Performing Arts, The Cinematheque, the Rio Theatre, SFU's Goldcorp Centre, the Vancouver Playhouse or Cineplex International Village. The box offices will be open daily, one half-hour before the day's first screening.
Throughout the Festival, VIFF offers a helpful customer service line, open daily 9am to 7pm, staffed by friendly and informed volunteers, who can answer any of your questions. Simply call 604-683-FILM (3456) for assistance.
What about all those lines?
Each VIFF screening will have three separate queues: a pass-holder line (for those with passes hanging around their necks; you'll know them when you see them), a ticket-holders line (for those who've purchased tickets in advance, and have the tickets in hand) and a rush line. Standby tickets, for screenings that are sold out, go on sale 10 minutes before showtime, at full price (cash preferred). No matter which line you're in, arriving at least 30 minutes early — or for popular screenings (the VIFF website will let you know which screenings are popular and almost sold-out) is a good idea, particularly if you're picky about where you sit.
Food and drink, parking, bus routes
Though most VIFF venues serve the usual popcorn/candy/soft drinks fare, some have a few extras (there's wine at the Vancity, and beer and wine at The Rio, for example). Most venues have a wealth of restaurants just steps from the door.
Outside food and drink is officially not allowed in the theatres, but VIFF-goers have been known to get away with it; be discreet, considerate and tidy (and, please, please, do not eat during the course of a film screening).
VIFF is pretty much a no-car zone — transit is definitely the way to go. Still, there's free parking available at Cineplex International Village for VIFF patrons, with a fair bit of parking in the area around The Rio. Otherwise, you're best taking advantage of Vancouver's transit system. Typing m.translink.ca into your smartphone browser will give you all the information you need to navigate between venues.
What movies should I choose?
There is always something new to see at the Vancouver International Film Festival.
Many of the 365+ films have already screened elsewhere, though, either in their home countries or at other festivals such as Cannes, Sundance, Berlin, Telluride, Locarno and Venice, among other far flung places across the globe.
As a service to readers, for the past nine days, VanRamblings has published previews of award-winning and lauded films that have been scheduled as a part of VIFF 2016. Just click here to read 36+ previews of celebrated VIFF feature films (most with trailers, all with reviews from erudite critics).
Several of these titles — among them Kenneth Lonergan's Manchester by the Sea; Jim Jarmusch's Paterson; Ken Loach's I, Daniel Blake; Asghar Farhadi's The Salesman; Olivier Assayas' Personal Shopper; Jean and Luc Dardennes' The Unknown Girl; Paul Verhoeven's Elle; and Barry Jenkins' Moonlight will look to build on their enthusiastic early acclaim. All of these films have been previewed by VanRamblings.
Another one, Nate Parker's Sundance prizewinner The Birth of a Nation, although it has become a lightning rod for controversy given director Nate Parker's 1999 sexual assault charge, promises an unflinching look at slavery, and emerges as a must-see at VIFF 2016.
And those are just the movies everyone recognizes and talks about. That the Festival programme contains still more multitudes - that it counts short masterworks, below-the-radar genre items and avant-garde mind-blowers among its essential offerings each year is a fact that can sometimes by lost amidst the deafening reams of Oscar hype that can issue forth throughout the fall season.
A massive annual confluence of art and industry, as well as a cinematic buffet of tremendous cultural and aesthetic diversity, is invariably reduced to just a handful of heat-seeking titles.
As much as we may look forward to the more lauded VIFF entries, many of which will reach our local multiplex in the weeks and months to come, there are many more VIFF films worth seeking out than the films VanRamblings has highlighted in our nine-day preview. But when a Festival boasts nearly 365+ films to choose from, a critic must start somewhere.
September 28, 2016
Despite the obstructive jaundice diagnosis VanRamblings wrote about yesterday, we do not have pancreatic cancer. Phew! Spent the day in the hospital yesterday undergoing a series of tests, and am scheduled for surgery tomorrow, on the opening day of the 35th annual the Vancouver International Film Festival, and will continue to write daily about VIFF through the end of the this year's Festival, on Friday, October 14th.
So, it is on to the final three previews of lauded films that will arrive on our shores beginning tomorrow in what is a very strong year for VIFF.
Before we get started today, this: Andrew Poon, long one of VanRamblings favourite Communications folks with VIFF — this year working with the very wonderful Owen Campbell, and the doyenne of all things Communication with VIFF, Helen Yagi — wrote yesterday to say that there are six Asian films — all part of the Gateway | Dragons & Tigers series — he believes are worthy of your attention, so take note — Andrew is never wrong ...
Six more films for you to consider as VIFF film fare in 2016.


A Copy of My Mind. Comes highly recommended from VanRamblings' friend Mathew Englander who saw A Copy of My Mind at TIFF, and wrote to us to rave about it. Says Jason Bechervaise in his review in Screen Daily ...
"Prominent Indonesian filmmaker Joko Anwar (The Forbidden Door) sets his new film in Jakarta, telling the story of young couple who fall in love but end up in trouble when the woman steals a DVD from a client. Both affecting and absorbing in equal measure, A Copy of My Mind shirks melodrama to explore the difficulties faced by those living in a city marred by political corruption. Conveys the political and social turmoil faced by so many in Jakarta through the eyes of the two protagonists, it's the pair's genuine and natural abilities that give the film more than a touch of authenticity and sincerity."
Next on to this year's Un Certain Regard winner at Cannes ...
The Happiest Day in the Life of Olli Mäki. Finnish newcomer Juho Kuosmanen chronicles the buildup to the 1962 world featherweight championship title match in this idiosyncratic boxing drama that is, as Sarah Ward says in her review in Screen Daily, "contemplative, inspirational and sweet rather than brutal and action-packed, a quietly charming film that will punch above its weight on its way to finding a broader audience." Tender, lyrical and bittersweet, as Guy Lodge says in his review in Variety, "It punches its way into the upper ranks of cinematic pugilist portraits by virtue of its exquisite craft and a lead performance of heart-bruising melancholy by Jarkko Lahti."
The Salesman. Iran's Best Foreign Film Oscar entry, Asghar Farhadi, the masterly Iranian director of Oscar winner A Separation offers another finely cut gem of neorealist suspense, Irish Times critic Donald Barnes writing, "The Salesman is flawlessly acted. Ordinary-looking people pass through huge emotions without ever resulting to histrionics. Outbreaks of violence are rare and, thus, when they do occur, they are all the more shocking, Farhadi once again trading in the poetry of the unsaid." Variety film critic Owen Gleiberman writes ...
"The film's title refers to an amateur production of Death of a Salesman that the film's two central characters are both performing in. He's playing Willy Loman, and she plays his wife, the beleaguered Linda. It's a conceit that comes off as something of a contrivance — at least, until the very end, when the parallel between Emad and Willy at last hits home. They are good men who, through the tragedy of their choices, wind up letting down the people they love. Farhadi has fashioned a dramatic critique of what he portrays as the Iranian male gaze — a gaze of molten judgment and anger. As a filmmaker, though, his gaze is true."
And thus concludes VanRamblings 36+ film preview of the 35th annual Vancouver International Film Festival.
A coda: broadcasting legend and longtime VIFF aficionado J.B. Shayne called yesterday to say that he feels a screening of Jim Jarmusch's documentary Gimme Danger is mandatory viewing VIFF 2016, for any one who has any appreciation of rock history and who loves Iggy Pop and The Stooges. Mr. Shayne will be present at the sure-to-be-raucous 9:15pm screening at The Rio on VIFF's opening night, Thursday, September 29th. Betcha his friend John Tanner will be there, as well.
VanRamblings has now previewed 36+ acclaimed VIFF films that are about to arrive on our shores having garnered critical acclaim at film festivals in every far flung community across the globe. For a survey of all the VIFF films VanRamblings has previewed for VIFF 2016, just click here.
September 27, 2016
Almost every year as the Vancouver International Film Festival is about to get underway, or has just started, something happens to prejudice VanRamblings' attendance at the festival. In 1992, VanRamblings collapsed at the back of The Cinematheque while watching a screening of Michael Haneke's Benny's Video, which we'd already seen in preview, but wanted to see again. VanRamblings was rushed to UBC Hospital where we spent two weeks watching the U.S. election on TV, and Bill Clinton's performances in the debates. For the most part, VanRamblings missed VIFF that year.
In 2004, VanRamblings attempted to take in an early Sunday morning screening of a film at The Cinematheque, and while parking our car were rear-ended by a late model SUV — we were almost killed. Once we got out of the hospital, we returned to VIFF, standing at the back of the various VIFF cinemas (we couldn't sit) to enjoy the latter half of VIFF that year.
This year — according to our doc, we've been diagnosed with something called obstructive jaundice, the root causes of which we'll discover upon attending UBC Hospital on Tuesday for an emergency battery of tests. Wondering why there was no VanRamblings column yesterday? We were simply too weak. Before week's end VanRamblings' very able physician has indicated that we'll have a definitive diagnosis of the root cause of the current malady, and will take whatever correction action is required.
How many films will VanRamblings get to see at VIFF 2016, and how many columns will we be able to write over the 16-day course of the Festival?
Time and health will tell.
After Love. Belgian director Joaquim Lafosse brought his stunner Our Children to VIFF a couple of years back. In 2016, VIFF brings Lafosse's new, Cannes-debuting family drama After Love — starring the can do no wrong Bérénice Bejo, co-star of the Academy Award winning film, Best Picture Oscar winner The Artist — to our 35th annual Festival by the sea.
Says Wendy Ide in Screen Daily ...
"After Love presents an unflinching portrait of the final weeks of a marriage. Fifteen years worth of simmering grudges about sock laundry have boiled over, the battle lines have been drawn in the house that they are still forced to share, and the time they spend with their twin daughters is neatly apportioned between them. A relationship which is largely built on recriminations and point scoring is a dispiriting thing to witness, and this is certainly a tough watch at times. But it is a compelling drama, with its strong performances and adult themes.

While Lafosse scrupulously avoids taking sides in the break up, it is hard to muster much sympathy for either party. Captured with a handheld camera that prowls around their contested living space like a caged animal, the atmosphere is charged with petty sniping, the atmosphere undeniably sad, with moments of discomfort, where the tensions crackle and the fault lines in the bedrock of the marriage become clear."
Says Peter Debruge in Variety, "As in Our Children, observing how the characters respond to a song reveals far more than any amount of dialogue could, and as Marie and Boris (Cédric Kahn) humour their daughters, we see the love they once shared for one another and realize why it's so hard to break free from its shackles."
All This Panic. One of the buzz films coming out of the Tribeca Film Festival this year, Jenny Gage's intimate documentary portrait of female youth has been called evocative, ethnographic, raw and heartwarming, engaging and reminiscent of the Maysles Brothers' work, Gage and her husband and director of photography, Tom Betterton, appreciative of the girls' beauty, employing magic-hour light throughout, bathing the film's subjects in a soft glow, the filmmakers far more interested in the girls' inner lives.
Says Elise Nakhnikian in Slant Magazine ...
"Loosely tracked over a three-year period as they hang out, play games, throw drunken parties, and interact with their families, the girls talk constantly, and they have insightful and touching things to say about friendship, their hopes for the future, love, sex, and more. The intensity and volatility of young female friendships surface in the relationship between loyal, grounded Lena and high-strung, unhappy Ginger, who start out as best friends, but go through a rocky period after Lena heads off to college and Ginger stays home, where she works and hangs out with a new group of friends.

There are also poignant glimpses into the girls' family lives. A moment of intimacy between Ginger and her little sister, Dusty, on a rooftop is so resonant because we've heard Dusty confess that she wishes she had a closer relationship with the standoffish Ginger. Meanwhile, Ginger's defensiveness and quick temper may be due at least partly to the prickly relationship she has with her father, who can't seem to find a kind word to say to or about her.

Every scene in All This Panic feels vivid and true, in this honest, impressionistic portrait of a cohort of 21st-century American girls."
All This Panic offers a fierce, sure-footed and remarkably intimate portrait.
Goldstone. From director Ivan Sen, Australia's premier filmmaker of aboriginal descent, says Luke Buckmaster in his five-star review in The Guardian, "Goldstone is a masterpiece of outback noir that packs a political punch ...
"... the film belonging to a suite of Australian films that contemplate land ownership in memorable ways, from 1932's On Our Selection to 1950's Bitter Springs and even 1997's The Castle, Goldstone has more weight than any of them, because the film's spiritual roots hark back to the traditional owners of the land. In a small but moving role David Gulpilil plays a man who cannot be bought; his soul is connected to the ground and the sky."
Says Eddie Cockrell in his review in Variety, "The sun is hot, the motives are cold and the film is blazingly noir as Indigenous detective Jay Swan (Aaron Pedersen) returns for another investigation of Outback moral rot in multi-hyphenate helmer Ivan Sen's socially conscious, supremely accomplished procedural thriller, a film unequalled in contemporary Aussie cinema."
VanRamblings has now previewed 27+ acclaimed VIFF films that are about to arrive on our shores having garnered critical acclaim at film festivals in every far flung community across the globe. Previous VanRamblings' VIFF 2016 columns, very much like the one today, may be found here.

September 25, 2016
The Vancouver International Film Festival's particular mix of glamour and discovery merge each year during the much-looked-forward-to 16 day festival, attracting hundreds of film people and the glitterati to the Opening Gala party, while at the same time screening 219 feature films from 70 countries, including as many as 20 of the 75 submissions for the foreign language Academy Award, and 140 short and medium length films. Last year more than 150,000 people attended VIFF, making it one of the top film festivals for attendance in the country. From the end of September through until mid-October each year, VIFF is simply the place to be, a cultural must.
Today VanRamblings continues our cinematic investigation of films we think you should place on your VIFF must-see list ...
Julieta. Perhaps lesser Almodóvar, but even lesser Almodóvar is far superior to what you'll see onscreen at your local multiplex throughout most of the year. Pedro Almodóvar is 66, his latest film reflective of the darker themes that increasingly bedevil us as we age. Not light and airy Almodóvar. but not over-serious Almodóvar, either. Even given all the foofaraw, Screen Daily's Chief Film Critic Fionnuala Halligan finds much to recommend ...
"Pedro Almodóvar's 20th feature is a tantalising creature full of hints and omens, a Hitchcockian drama, the story one of loss and grief, this adaptation of three short stories by Canadian writer Alice Munro carefully stitched together into an elusive film, Alberto Iglesias' humming contrapuntal score contributing much to a story given over to sorrow, the film a sad, grieving counterpart to the brazen antics of Tie Me Up, Tie Me Down, where the possibility of hope still entices."
Says Rory O'Connor in Filmstage, "Riffing on Spanish telenovelas, Hitchcock, and film noir, Almodóvar has put together an undeniably gorgeous bauble with a simple sort of story that nestles in somewhere between the high and lowbrow. Ugarte and Suárez might have made for great Hitchcock heroines. They certainly make great chicas for Almodóvar."
br>That's the beauteous Adriana Ugarte above, beseeching you to take in a screening of Julieta.
Paterson. The buzz out of Cannes for writer-director Jim Jarmusch's newest film was through the roof, critics referring to the film's restrained aesthetic and Adam Driver's sublime, understated performance (with much talk of Adam Driver garnering a Best Actor Oscar nod come January 24th 2017) rendering it the director's most recognizably human and poignant film to date. Says Jessica Kiang in her review in The Playlist ...
"Jim Jarmusch's Paterson is like a balm to soothe your aching limbs, quell your clamoring mind and restore your tired spirit. An unfeasibly charming film full of little wisdoms and quiet comforts where we might expect to find provocations, its only deception is that it is so much richer than it seems at first glance. Most cinephiles are well acquainted with Jarmusch-ian minimalism, and the trick of reading more into his droll silences and laconic pauses than exists up on the screen. But, even aside from a difference in tone which favours sincerity over irony, and warmth over cleverness, this is something else: this is miniaturism. Paterson is a tiny little film, sharp in every detail, but minuscule, like a portrait on a grain of rice. And sometimes the smaller you go, the more colossal your impact, which means Paterson might just be Jim Jarmusch's God Particle."
Or, how about John Bleasdale's over-the-moon review in Cine-Vue ...
"No ideas but in things" wrote William Carlos Williams, the patron saint of Jim Jarmusch's sumptuous sonnet to poetry and ordinariness, Paterson. The film presents us with a week in the life of bus driver and lunchtime poet Paterson (Adam Driver). In many way, Paterson's life is idyllic. He is deeply, almost boyishly in love with his wife Laura (Golshifteh Farahani); his work, given he's a bus driver, is remarkably stress-free and gives him plenty of time to think. Like Frank O'Hara, he writes his poetry in his breaks and before his shift. Sure enough we glimpse O'Hara's Lunch Poems anthology in the driver's cab.

There's a shot of Paterson holding a book of William Carlos Williams' poetry which is so sensual and tactile — the heft of the book in the hand, the feel of the paper cover — it will make any lover of books toss their e-readers in the bin. Drama does show up, but Jarmusch wisely sidesteps it. Marvin the bulldog is as bad an enemy as Paterson has to face and he's adorable."
One of the can't miss films at VIFF this year, and another must-see.
After The Storm. From the VIFF programme guide, "Over the years, VIFF has been proud to bring present the work of Kore-eda Hirokazu. Festival favourites like I Wish (VIFF '11) and Like Father, Like Son (VIFF '13) have touched audiences with their warmth and tenderness, their keen understanding of the way families come together and come apart. This year the Japanese master returns with this bittersweet take on life's rewards and disappointments. From Deborah Young's Hollywood Reporter review ...
"The story is beautifully balanced between gentle comedy and the melancholy reality of how people really are. A young divorced dad tries to get back into the good graces of his ex-wife and son in After the Storm, a classic Japanese family drama of gentle persuasion and staggering simplicity from Kore-eda Hirokazu. This bittersweet peek into the human comedy has a more subtle charm than flashier films like the director's child-swapping fable Like Father, Like Son, but the filmmaking is so exquisite and the acting so calibrated it stays with you."
No-one goes into a Kore-eda Hirokazu film expecting dynamite and runaway trucks. But even long-standing fans of the Japanese filmmaker (and in Vancouver, there are many) may be taken aback by the supreme subtlety of his latest, achingly beautiful ode to the quiet complexities of family life.
The Unknown Girl. Palme d'Or winners Jean-Pierre and Luc Dardenne can do no wrong, their films always subtle and compassionate evocations of the human spirit. From Guy Lodge's review in Variety, "Adèle Haenel joins the rich tradition of superb lead performances in Dardennes-directed dramas, their tenth feature The Unknown Girl offering a film noir, in a thoroughly dressed-down, cleanly lit and most satisfying way."
Or, from Lee Marshall's review in Screen Daily ...
"Haenel's character Jenny looks like a lost little girl at times, but her medical bravura is never in doubt. We first see her with her stethoscope to a patient's back — one of many scenes that manages to stay grounded in realism while saying something more, here to do with the way we interpret the signals people send out. Jenny is tormented by the thought that if she had opened that door to the young African immigrant who had visited her clinic late one night, the girl would still be alive, and it's this torment that powers the dramatic motor of a film that is about the burdens but also the healing potential of responsibility.

The Unknown Girl doesn't take the easy genre route, preferring to focus on the moral spring of Jenny's guilt, which as it uncoils, leads her not only into personal danger, but causes a blur between her doctor and detective roles that comes close to having fatal consequences."
Phew! Well, that's it for today. Four more VIFF films for you to consider.
VanRamblings has now previewed 24 acclaimed VIFF films that are about to arrive on our shores having garnered critical acclaim at film festivals in every far flung community across the globe. Previous VanRamblings' VIFF 2016 columns, very much like the one today, may be found here.
September 24, 2016
This year's broad selection of Vancouver International Film Festival films showcases award-winning films that wowed viewers at international festivals, presented to Vancouver audiences for the first time. Selections from Cannes include Ken Loach's Palme d'Or-winning I, Daniel Blake; Olivier Assayas's Personal Shopper and Cristian Mungiu's Graduation, which tied for Best Director; and Maren Ade's highly acclaimed Toni Erdmann, awarded the Cannes Critics' Prize. From Berlin, Gianfranco Rosi's Golden Bear winner, Fire at Sea, will mark the director's VIFF debut, and Mia Hansen-Løve returns to the Vancouver International Film Festival with her fourth outing Things to Come, which won her Berlin's Best Director award.
As we've written about I, Daniel Blake, Graduation & Fire at Sea previously, today VanRamblings will introduce you to Personal Shopper, Toni Erdmann and Things to Come, as well as Barry Jenkins' widely acclaimed Moonlight.
Personal Shopper. Kristen Stewart is the medium, in more ways than one, for this sophisticated genre exploration from director Olivier Assayas (Clouds of Sils Maria). As a fashion assistant whose twin brother has died, leaving her bereft and longing for messages from the other side, Stewart is fragile and enigmatic — and nearly always on-screen. From an opening sequence in a haunted house with an intricately constructed soundtrack to a high-tension, cat-and-mouse game on a trip from Paris to London and back set entirely to text messaging, Personal Shopper brings the psychological and supernatural thriller into the digital age.
Here's what The Guardian's lead film critic Peter Bradshaw had to say in his five star review of Personal Shopper ...
"... captivating, bizarre, tense, fervently preposterous and an almost unclassifiable scary movie from Olivier Assayas, the film delivers the bat-squeak of pure craziness that we long for at Cannes, although at the first screening some very tiresome people continued the festival's tradition of booing very good films.

Personal Shopper has that undefinable provocative élan that reminds me a little of Lars Von Trier's Breaking The Waves. It is actually Assayas' best film for a long time, and Stewart's best performance to date — she stars in a supernatural fashionista-stalker nightmare where the villain could yet be the heroine's own spiteful id. Is it The Devil Wears Prada meets The Handmaiden (also in Cannes, and at VIFF) with a touch of Single White Female?

Kristen Stewart's performance is tremendous: she is calm and blank in the self-assured way of someone very competent, smart and young, yet her displays of emotion are very real and touching. She is entirely devoted to her smartphone, which is to be the conduit of her fears and there is a dash of pure Hitchcockian brilliance in a scene where she turns it on and a backlog of texts starts mounting up, bringing danger ever closer. With his reckless, audacious Personal Shopper, Olivier Assayas has brought excitement to the festival."
Peter DeBruge in his Variety review calls Personal Shopper "a spine-tingling horror story," while Indiewire's Eric Kohn writes, "Personal Shopper presents a fully realized universe that merges visceral dread with deeper observations about its causes," and Hollywood Elsewhere's Jeffrey Wells, and a surfeit of other films critics, are quite simply gaga over the film.
Toni Erdmann. The most divisive film to play at both the Berlin and Telluride film festivals, one of the best reviewed art films of the year, some folks loved it while others hated it.
Here's what Lee Marshall wrote in his Screen Daily review ...
"Surprising, awkward, refreshing and, at times, downright hilarious, German director Maren Ade's dazzlingly original follow-up to her 2009 Berlinale Silver Bear winner Everyone Else is that rarest of things: a nearly three-hour-long German-Austrian arthouse comedy-drama that (almost) never drags. Eliciting laughs and applause — in all the right places — at its Cannes press screening, this tale of a prankster father who uses practical jokes and disguises to rescue his adult daughter from the work-obsessed spiral of seriousness he feels she has sunk into also manages, without an ounce of schmaltz, to address big issues relating, among other themes, to a stressed, permanently online modern world where work is no longer something we leave behind at the office; how families communicate (or fail to); business ethics and sexism in the workplace."
Giovanni Marchini Camia writing in Filmstage gives Toni Erdmann a solid "A", writing, "This is a superb second feature well-deserving of Berlin's Jury Prize, one of the most stirring cinematic experiences of the year, immensely rewarding to witness, ferocious, dazzling, and a masterpiece."
Things To Come. One of VanRamblings favourite directors, in our books Mia Hansen-Løve can do no wrong, and a plethora of film critics would seem to share our sentiment in their reviews of her latest, Things to Come. Writing in Variety, Guy Lodge says ...
"Mia Hansen-Løve and Isabelle Huppert prove a dream partnership in the director's gorgeous, heart-cradling post-divorce drama. Huppert is such a persistently and prolifically rigorous performer that she risks being taken for granted in some of her vehicles, but this is a major, many-shaded work even by her lofty standards. Hansen-Løve's oeuvre has acquired its own signature character of light, with sunshine streaming through even exchanges of most disconsolate darkness; conversely, only in the film's contented, Brittany-set pre-credits prologue, set several years before a heartsore storm, do skies turn a flannelly grey. Hansen-Løve's musical selections surprise just as often with their note-perfect sympathy to the action at hand: A critical use of that old chestnut Unchained Melody — crooned here not by the Righteous Brothers, but by the Fleetwoods — reps a very different appropriation of another film's glory from the Kiarostami hat tip, but the outcome could hardly be lovelier."
That's all we're going to give you, no précis of the story, no more excerpts of reviews, but only, "Go see Things To Come; you won't be disappointed."
Moonlight. One of the must-sees at VIFF 2016, a certain Oscar contender, and one of the best-reviewed films of the year, Barry Jenkins' acclaimed tour-de-force, a Special VIFF Presentation, will screen only once, on Friday, October 7th, 9pm at The Centre for the Performing Arts.
We'll do something a little different this time: Here are few "A" reviews ...
The Guardian (5 stars), Benjamin Lee. Moonlight is a profoundly moving film about growing up as a gay man in disguise, a difficult and damaging journey that's realised with staggering care and delicacy and one that will resonate with anyone who has had to do the same. We're starved of these narratives and Jenkins' electrifying drama showcases why they are so hugely important, providing an audience with a rarely seen portrait of what it really means to be a black gay man in America today. It's a stunning achievement.

Screen Daily (A), Tim Grierson. An indelible portrait of an imperilled life, Moonlight is quietly devastating in its depiction of masculinity, race, poverty and identity. Ambitious in scope but precise in its execution, this deceptively small-scale character piece reverberates with compassion and insight.
The Hollywood Reporter (A), David Rooney. A haunting reflection on African-American masculinity, writer-director Barry Jenkins' intimate character study traces the life of a black gay man from his troubled Miami childhood to maturity, the film laced with superb and widely varied music choices that often play in illuminating contrast to the scene unfolding, the drama divided into three chapters unfolding during formative times of the central figure's life, the early scenes especially beautiful, the film filled with moments of swoon-inducing romance to equal those of suffering and solitude, Nicholas Britell's score melancholy and melodic, James Laxton's cinematography soaked in sleepy, sun-scorched light early on and then burnished, darker tones later, it would be tempting to call Moonlight an instant landmark in queer black cinema, if that didn't imply that the experience it portrays will speak only to a minority audience. Instead, this is a film that will strike plangent chords for anyone who has ever struggled with identity, or to find connections in a lonely world. It announces Jenkins as an important new voice.
And there we are. Four more indelible must-sees at VIFF 2016.
VanRamblings has now previewed twenty acclaimed VIFF films that are about to arrive on our shores having garnered critical acclaim at film festivals across the globe. Previous VanRamblings' VIFF 2016 columns, very much like the one today, may be found here. Enjoy the read!
September 23, 2016
The cinema is so many things at once. And when VanRamblings looked at the films in this year's VIFF selections, we became aware of the fact that it is a form of response. The Dardenne Brothers, Ken Loach, Cristian Mungiu, Gianfranco Rosi, and Kleber Mendonça Filho are sounding alarms, while Jim Jarmusch, Kenneth Lonergan, Barry Jenkins, Maren Ade and Olivier Assayas are fixed on internal landscapes, proclaiming the urgency of self-realization. What can also be seen in this year's Vancouver International Film Festival lineup is a bounty of vital work from artists from all around the world who will not stop until they see their visions all the way to the end.
Today on VanRamblings, four more outstanding VIFF films that are destined for greatness in the annals of human scale cinema.
The Birth of a Nation. Winner of the Audience and Grand Jury Prizes at the Sundance Film Festival this year, up until the emergence of the controversy surrounding the film's writer-director Nate Parker and his co-writer and friend Jean Celestin arising from 1999 sexual assault charges leveled against both, The Birth of a Nation was an odds-on favourite for a Best Picture Oscar nomination, and perhaps a win. Now? Not so much. VIFF is very much aware of the controversy, VIFF Chief Programmer Alan Franey stating, "We need to be sensitive to the opinions and controversies here so we will be doing our best to keep people in that safe zone of not prejudging or getting too upset, making sure opinions don't get treated as fact if they're just opinions." Note should be made that Nate Parker was acquitted of the sexual assault charge. Jean Celestin was convicted and later granted a new trial, though the woman declined to testify again and the case never made it back to court. In 2012, the unidentified woman took her own life.
Will you attend the single screening of The Birth of a Nation, at 5pm, Saturday, October 1st at The Centre for the Performing Arts? The issue is art versus realpolitik. Nate Parker will be present in Vancouver to introduce the Special Presentation of his award-winning, and much lauded film ...
"A significant achievement for writer, director, producer and actor Nate Parker, a searingly impressive debut feature, a biographical drama steeped equally in grace and horror, The Birth of a Nation builds to a brutal finale that will stir deep emotion and inevitable unease, the film an accomplished theological provocation, one that grapples fearlessly with the intense spiritual convictions that drove Nat Turner to do what he had previously considered unthinkable.

Artfully modulated and fitfully grueling, Nate Parker's well-researched screenplay offers its own bold take on the widely contested narrative of Turner, a Virginia-born slave and Baptist preacher who led the 1831 uprising that claimed 60 white lives and led to the killings of 200 blacks in retaliation, and served as a crucial moment of insurrection en route to the Civil War three decades later. The film's most resonant element isn't its physical realization so much as its spiritual and intellectual acuity, its warm, earthy saintliness, and its historical and contemporary evocation of the ongoing black struggle for justice and equality in the United States. The Birth of a Nation earns that debate and then some."
The above quote is from Justin Chang's Sundance Festival review in Variety.
The Handmaiden. A bodice-ripper, a sexy and depraved lesbian revenge story about a pickpocket who poses as a maid to swindle a sequestered heiress, an erotic thriller that prioritizes female sexuality and exquisite set design to intoxicating effect, an intensely pleasurable and lavishly shot Gothic melodrama, exquisitely filmed, kinky, brimming with delicious surprises and spiced up with nudity and verbal perversions, accomplished South Korean director Park Chan-wook transposes Sarah Waters' sapphic Victorian potboiler Fingersmith to Japanese-occupied Korea at the beginning of the twentieth century, the story told in three parts and from multiple points of view like a modern-day Rashomon. Amidst the heavy slogging of VIFF, The Handmaiden may be just the sort of palliative you'll require to rescue yourself from VIFF's annual foray into cinema of despair. You know who you are. See you at a screening of The Handmaiden.
Under the Shadow. Curtis Woloschuk and the Alt(ered States) crew of twisted programmers put in so many hours in preparation for their genre defying series, and year-in, year-out VanRamblings pays the series short shrift. Not this year. First off we'll start from this brief column by Indiewire editor Anne Thompson ...
"Wait a second. Can the U.K. submit a film for consideration for the Best Foreign Language Oscar? Sure. As long as it's not in English. Take last year: Ireland, not Cuba, submitted Spanish-language film Viva. And France controversially chose the Turkish Mustang as its official entry over a list of top French auteurs. If the submitting country paid for the movie and supplied key personnel, it doesn't matter what language it's in. The French produced Mustang and its director Deniz Gamze Ergüven, born in Turkey, is based in Paris. (Her next movie is English-language.) And the Irish produced Viva, even though director Paddy Breathnach shot with local actors in Havana.

And thus the UK's selection organization, BAFTA, has submitted writer-director Babak Anvari's well-reviewed Sundance mother-daughter drama Under the Shadow, a 1988 Iran-Iraq War thriller shot in Farsi starring Narges Rashidi, Avin Manshadi and Bobby Naderi."
Otherwise, there's this representative review of Under the Shadow ...
"Consequence of Sound (A-). Terrifying, a spooky ghost story that singes the nerves as much as it coddles the mind. Set in 1988, the story follows a small family in Tehran trying to cope with the tail end of the Iran-Iraq War. This isn't an easy life: bombs come and go, windows are taped in the likelihood of an explosion, and the basement provides daily refuge from any oncoming missiles. These aren't even the larger issues, at least not to Shideh (Narges Rashdi). When we first meet the brave mother and wife, her dreams of studying medicine are crushed by a stern administrator. "I suggest you find a new goal in life," he tells her, following a severe brow beating about her riotous political history. You see, Shideh is a black swan — she's rebellious, strong, fierce, and independent.

Everything clicks in Under the Shadow. Rashdi is captivating, sweating her way through a terse 84-minute performance that's physically, mentally, and spiritually exhausting. Her chemistry with Avin Manshadi is equally remarkable, almost too real, which sells the heart-stopping finale in ways similar productions have stumbled hard. Director Babak Anvari spares no expense with his characters, dedicating as much time to their backstory as he does to the film's creepy mythology. Extraordinary, captivating, jarring, calimitous, genre bending, claustrophobic, messy, convincing and unnerving, Under the Shadow embraces the original tenets of horror, back when eerie tales were meant to enlighten rather than simply scare. On his first try out, Anvari wildly transcends the limitations that modern audiences have placed on the genre, and it's a bold testament to his abilities as a filmmaker."
Worth considering for a terrifying VIFF screening, don't you think?
Growing Up Coy. There is no more humanizing experience than attending the annual Vancouver International Film Festival, to remind ourselves once again that we're all in this together, that there is much injustice in the world, and our world will only change if we fight for, demand that change. Growing Up Coy is a film of the moment, the story of Coy Mathis, a transgender girl who was born a boy, garnered international attention in 2013 when her parents, Jeremy and Kathryn Mathis, filed a complaint accusing the school district of violating the state's anti-discrimination law.
The Mathises went on to win their case, but not before coming under heavy criticism for putting Coy, then a 6-year-old first grader, in front of reporters and camera crews and on television with Katie Couric. Now, they're poised to be foisted back into the spotlight with the documentary Growing Up Coy, which had its premiere on June 16 in New York at the Human Rights Watch Film Festival.
Directed by Eric Juhola and produced by his husband, Jeremy Stulberg, Growing Up Coy picks up with the Mathis family in early 2013, about six weeks before they went public with their case. Together with their lawyer, the Mathises believed that speaking openly was necessary to sway the public in Coy's favour and to help win her case. But, as the documentary shows, the move unleashed a media feeding frenzy that previewed the fights that would roil America in 2016, fraying the couple's relationship, drawing excoriations from talking heads and internet trolls, at times alienating their four other children and indelibly etching Coy's name into cyberspace's inexhaustible memory bank.
Nigel M Smith's four star review in The Guardian is as good an entry point as any into providing meaning for the struggle of the Mathis family.
Today's, and previous VanRamblings' VIFF 2016 columns that present information, trailers, and reviews by thoughtful and erudite critics of films screening at VIFF 2016 — and soon, much more — may be found here.
And, oh yeah, the opening paragraph of today's VanRamblings column? An excerpt from the opening address by Kent Jones, the director of the 54th annual New York Film Festival, which opens the day after our home grown VIFF gets underway, on Friday, September 30th.
September 22, 2016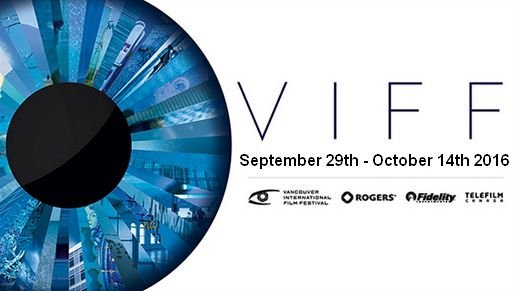 There is always something new to see at the Vancouver International Film Festival, and always an acclaimed director debuting a new film that is worth catching up with. It's a lesson that should be kept in mind as the ever-competitive fall movie season — of which this now 35-year-old festival has, surprisingly for many, long been an important pillar — gets underway.
The VIFF programme this year as in the past contains multitudes — that it counts short masterworks, below-the-radar genre items and avant-garde mind-blowers among its essential offerings each year — is a fact that easily gets lost amidst the deafening reams of Oscar hype that issues forth throughout the fall movie season. A massive annual confluence of art and industry, as well as a cinematic buffet of tremendous cultural and aesthetic diversity, can invariably be reduced to just a handful of heat-seeking titles.
In today's VIFF highlights column, VanRamblings will introduce you to four more films that may or may not garner Oscar attention, but should most certainly garner attention from you in order to sate your cinematic palate.
Aquarius: One of VanRamblings' favourite 2012 highlights was Brazilian director Kleber Mendonça Filho's Neighbouring Sounds, which we called a masterwork. In 2016, Mendonça is back with Aquarius, the controversial Cannes debuting film that Brazil did not choose as its Best Foreign Film Oscar entry (at Cannes, Mendonça protested the suspension / inevitable impeachment of Brazilian president Dilma Rousseff, holding a sign that read "Brazil is experiencing a coup d'etat" and "54,501,118 votes set on fire!"), which means that if you don't see Aquarius at VIFF you may not get to see it at all — now, there's incentive enough to see the work of this master.
Variously described as a richly detailed and colourful character study, with a riveting and magnetic performance by Sonia Braga at the film's centre, Braga plays Clara, a 65-year-old widow and retired music critic, who refuses to sell the beloved Recife beach apartment she's lived in for most of her life, finding herself under attack from a powerful property company, former neighbours, and members of her own family who question her judgement.
Says Giovanni Camia in Filmstage, "Aquarius establishes Mendonça's authorial voice & his place as one of the most eloquent filmic commentators on the contemporary state of Brazilian society," going on to write ...
"Aquarius' central narrative has a clear social-allegorical dimension, the film's opening introducing two important motifs: a bygone sense of unity that has disintegrated in the present, and the idea of memory — and therefore history — as embedded in materials being swept away by contemporary economic processes. Mendonça's despondency at these developments is succinctly expressed through the dissolve that closes the scene: a shot of the apartment filled to the brim as the entire family dances together gives way to one of the same apartment, 34 years later, now empty.

Clara is the film's heroine and Braga deserves high praise for her phenomenal performance. Stately, headstrong, and all-too-recognizably human, she's a delight to watch from start to finish, keeping the viewer mesmerized by her charisma and intensely rooting for her victory. And, anyway, how could one not love a 65-year-old who smokes a joint before the final showdown with her nemeses?"
Clearly, you'll want to place Mendonça's Aquarius on your must-see list.
American Honey. The North American debut for acclaimed British filmmaker Andrea Arnold (Fish Tank), American Honey took Cannes by storm back in May, Hollywood Elsewhere's Jeffrey Wells writing ...
"American Honey is a truly exceptional film, a kind of millennial Oliver Twist road flick with Fagin played by both Shia Labeouf and Riley Keogh (Elvis' granddaughter) and Oliver played by newcomer Sasha Lane ... but with some good earthy sex thrown in. There's no question that Honey stakes out its own turf and whips up a tribal lather that feels exuberant and feral and non-deodorized. It doesn't have anything resembling a plot but it doesn't let that deficiency get in the way. Honey throbs, sweats, shouts, jumps around and pushes the nervy. (Somebody wrote that it's Arnold channelling Larry Clark) It's a wild-ass celebration of a gamey, hand-to-mouth mobile way of life. And every frame of Robbie Ryan's lensing is urgent and vital."
Praise for American Honey is near universal, the acclaimed Jury Prize winner at Cannes this year, Variety's Guy Lodge writing ...
"American Honey is a ravishing feminine picaresque, a scrappy, sprawling astonishment, as a girl's gaze meets a boy's across the packed aisles of a Midwestern Walmart, the euphoric EDM throb of Calvin Harris and Rihanna's 2011 smash We Found Love hijacks the soundscape, setting a love story emphatically in motion by the time he hops up to dance on the checkout counter. "We found love in a hopeless place," the song's chorus ecstatically declares, over and over, as well it might — does it get more hopeless than Walmart, after all? It's a gesture so brazenly big and romantically literal that it can't help but have your heart, and it's such an early, ebullient cinematic climax that Arnold dares repeat it two hours later, cranking up the song again in a more fraught, nervous context. Like much of what the director risks, she shouldn't get away with it, but most defiantly does."
We're in. Can't wait. See ya at a VIFF screening of American Honey.
Elle. As Variety critic Guy Lodge writes at the outset of his review of Elle,
"You've never seen a rape-revenge fantasy quite like Elle, not least because the rape, revenge and fantasy components of that subgenre have never been quite so fascinatingly disarranged. Knowingly incendiary but remarkably cool-headed, and built around yet another of Isabelle Huppert's staggering psychological dissections, Paul Verhoeven's long-awaited return to notional genre filmmaking pulls off a breathtaking bait-and-switch: Audiences arriving for a lurid slab of arthouse exploitation will be taken off-guard by the complex, compassionate, often corrosively funny examination of unconventional desires that awaits them."
Sometimes you want to go into a VIFF knowing almost nothing about the film. VanRamblings could quote at length a surfeit of critics like The Hollywood Reporter's Jordan Mintzer, who writes about Elle that it is "a beautiful dark twisted French fantasy" or Lisa Nesselson in Screen Daily who writes, "Elle features a tour de force turn from Isabelle Huppert, the film suspenseful and unsettling from first frame to last, a delectably twisted tale of a woman who reacts in unconventional ways to being raped by an intruder, the film a shocking amoral romp with dark humour in curt dialogue exchanges." ... but, in this one particular instance, apart from the snippets above, we'll leave it up to you as to whether you wish to attend a VIFF screening of Elle, with the peerless, Oscar nominatable Isabelle Huppert at film's centre, and Dutch director Paul Verhoeven back at top of form.
Fire at Sea. Winner of the Golden Bear at Berlin (read: the top prize), and one of the most buzzed about documentaries of the year, Gianfranco Rosi's superb and haunting illumination of the Syrian refugee crisis, in addressing Africa's migration woes Fire At Sea turns it humanist focus on the 150,000 migrant refugees who cross from Libya in overcrowded boats each year to make their first contact with Sicily and European soil.
Capturing the migrant drama through the periscope of his camera, Rosi focuses on the small Sicilian island of Lampedusa, where wave upon waves of desperate boat people bring their dramas, tragedies and emergencies to Europe's shore, and the place where the the Italian navy and coast guard rescue as many survivors as they can. Writes Demetrios Matheou from Berlin in his IndieWire review ...
"The selection of characters is small, precise. The dominant personality of the film is Samuele, a nine-year-old boy and a terrific bundle of good humour and contradictions, not least the fact that while confidently clambering around the island's rocky hills with his trusty, homemade slingshot, he's uncomfortable on water, and prone to seasickness, which is a little inconvenient for an islander.

We follow Samuele at school, with his uncle on his boat, and his grandmother at home, and roaming the island with his friend. When he has to wear an eye patch to deal with his lazy eye (a convenient metaphor for Rosi, perhaps, aimed at the less conscientious of those in the international community?) it plays havoc with his slingshot aim; when speaking to the doctor about his breathing problems, he wonders himself if it may be because he's anxious, a little Italian Woody Allen in the making."
Fire At Sea is one of the most talked about documentaries of the year, and chances are Rosi's film won't make it back to our shores, with VIFF likely providing your sole opportunity to screen Gianfranco Rosi's compassionate, humane, powerful, at times shocking but intensely human, documentary.
Today's, and previous VanRamblings' VIFF 2016 columns that present information, trailers, and reviews by thoughtful and erudite critics of films screening at VIFF 2016 — and soon, much more — may be found here.
September 21, 2016
The cinema of despair arrives back on our shores for the 35th consecutive year, as the prestigious and always provocative 35th annual Vancouver International Film Festival is set to commence on Thursday, September 29th, bringing joy and a degree of pathos to the lives of all those who love film as creative and challenging art, and art that provides a humane and, in most instances, insightful window into this ever-changing world of ours.
Today's VanRamblings column presents four more VIFF films we believe may be worthy of both your time and your consideration at VIFF 2016.
Note should be made that reviews for the four films are not universally over-the-moon, although there's enough good that has been written about each film that further salutary investigation by you may be well warranted.
Each year for the past 20 years, VanRamblings has chosen 20 - 30 films from the VIFF programme, in advance of the Festival, that we've identified as "sure fire winners" based on what we've heard from friends, and have found in reviews on the 'Net. Our track record has been this: out of 20 films we've identified each year, five have emerged as life-changing cinema, nine have proved worthy of our time & we're glad we caught the films, three have provided travelogue-like entertainment, and three we've just hated.
Still and all, appreciation of film is subjective — one person's cup o' tea may not be another's cup o' tea. Read on, assess, then decide for yourself.
I, Daniel Blake. Winner of the Palme d'Or at Cannes this year (which is to say, the Grand Prize winner), 80-year-old U.K. writer-director-social activist-kitchen sink dramatist Ken Loach's latest powerful foray into humane cinematic agitprop emerges as one of the two films to which VanRamblings is most looking forward to screening at our VIFF 2016.
From David Rooney's review at Cannes, in The Hollywood Reporter ...
"For more than 50 years, Ken Loach has been making social-realist dramas tied together by a prevailing thread — the compassionate observation of the struggles of the working class to hold onto such fundamental dignities as a home, a job and food on the table within a hostile system that often views them unfairly as the cause of their own misfortunes.

Vividly drawn, full of beautifully subdued performances, authentic, entirely of the moment and anchored by incisive characterizations rich in integrity and heart, and by an urgent simplicity in its storytelling that's surprisingly powerful, I, Daniel Blake portrays ordinary people pushed to breaking point by circumstances beyond their control, and by a government welfare system of circuitous Kafkaesque bureaucracy seemingly designed to beat them down."
Deeply moving and at times darkly funny, Ken Loach establishes himself yet again as the Clifford Odets of contemporary British cinema as his new film intervenes in the messy, ugly world of poverty with the secular intention of making us see that it really is happening, and in a prosperous nation, too. I, Daniel Blake is a film with a fierce, simple dignity of its own. Screens for a first time on Monday, October 3rd, at 3:45pm at The Playhouse; on Thursday, October 6th, 3:15pm at The Centre; and on the last day of VIFF, Friday, October 14th, 6:30pm at The Centre.
Graduation. Romanian Palme d'Or winner (4 Months, 3 Weeks and 2 Days) Cristian Mungiu's latest follows a doctor's attempts to help his daughter pass a life-changing school exam with superbly subtle observation. As Peter Bradshaw writes in his five-star review in The Guardian ...
"Graduation, is a masterly, complex movie of psychological subtlety and moral weight, about the shabby choices people make as they claw their way up: people constrained by loyalty to others who have helped them with wrongdoing, who use those others' corruption as an alibi for their own failings, and those who hope that the resulting system of shifty back-scratching somehow constitutes an alternative ethical system. But how about the children, those innocent souls for whose sake all this grubbiness has been endured? Should they be preserved from graduating into an infected world of compromise and secret shame?"

An intricate, deeply intelligent film, and a bleak picture of a state of national depression in Romania, where the 90s generation hoped they would have a chance to start again, there are superb performances from Adrian Titieni as surgeon Dr Romeo Aldea, and 18-year-old Maria Dragus — who played the priest's daughter Klara in Michael Haneke's The White Ribbon. It's a jewel in an exceptional Cannes 2016 lineup."
With unfailingly convincing performances, a script that keeps the proceedings on a slow burn throughout, Mungiu's direction is the kind that refrains from drawing attention to itself, inviting the audience to fully immerse itself in the story and forget about the people behind the camera. Screens on Friday, September 30th, 1:15pm at Cinema 10, International Village; Wednesday, October 5th, 8:30pm, at The Centre; and for a final time on Tuesday, October 11th, 3:15pm at The Playhouse.
Yourself and Yours. Hong Sang-soo continues in the same intellectually playful vein that he explored in last year's VIFF favourite Right Now, Wrong Then. This is a film which, through use of characters who may or may not be doppelgangers, memories which may or may not be faulty, leaves us with questions that it resolutely refuses to answer, and as such may prove difficult for some members of the audience to process. Going in to TIFF, advance word on Yourself and Yours was not great, either, because the film had been rejected from Berlin, Cannes et al.
As Stephen Dalton writes in his TIFF review, in The Hollywood Reporter ...
"The discreet charm of Yourself and Yours will depend entirely on your tolerance levels for stylistic ticks and the ramblings of tedious, self-pitying drunks and slackers and their minor relationship dramas. Still, South Korean director Hong Sang-soo possesses a distinctive voice and an interesting track record, but his latest exercise in flimsy whimsy may be for indulgent hardcore fans only."
Wendy Ide is much more generous in her Screen Daily review ...
"Hong Sang-soo uses his trademark long takes, with occasional zooms, to capture the meandering conversations that play out between the characters. It's a technique which places emphasis on the performances. Fortunately, the actors are more than up to the task, particularly Lee You-young who is as beguiling as she is elusive. Ultimately, the film makes a case that perhaps it's better not to know everything about the person you love. And sometimes you just need to shed the baggage and start the relationship again from the beginning."
Blithe-bordering-on-farcical, wry and perplexing, with a darker than usual tone, fans of Hong Sang-soo will find plenty to like in Yourself and Yours, namely its wry humor, but for the uninitiated, it may prove a difficult entry point into the prolific filmmaker's work. Screens twice, on Sunday, October 9th, 8:30pm at Cinema 8, International Village; and for a final time on Thursday, October 13th, 2pm at Cinema 10, International Village.
Two Trains Runnin' (Grade: A-). An absolute knockout, one of the critics' and passholder favourites screened in preview at VIFF, and set to unspool at the 54th annual New York Film Festival as part of its Spotlight on Documentary program, Sam Pollard's Two Trains Runnin' is pure cinematic poetry set amidst the racial tensions and general social upheaval that were the order of the day in the '60s, when churches were bombed, shotguns were blasted into cars and homes, and civil rights activists were murdered.
In June of 1964 hundreds of university students eager to join the civil rights movement traveled to Mississippi, starting what would be known as Freedom Summer. That same month, two groups of young men — made up of musicians, college students and record collectors — also traveled to Mississippi. Though neither group was aware of the other, each had come on the same errand: to find an old, long-forgotten blues singer and coax him out of retirement. Thirty years before, Son House and Skip James had recorded some of the most memorable music of their era, but now they seemed lost to time, their music preserved only on scratchy 78s.
A tribute to a generation of blues musicians and the story of how the search for these pioneering musicians intertwined with the American civil rights movement, Two Trains Runnin' is an entirely remarkable document about how on June 21, 1964, these two campaigns collided in memorable and tragic fashion, and how America's cultural and political institutions were dramatically transformed, a story as relevant today as it was 50 years ago. Screens on VIFF's opening day, Thursday, September 29th, 6:30pm at The Cinematheque; Saturday, October 8th, 3:15pm at The Rio; and on Wednesday, October 12th, 6:30pm, at Cinema 9, International Village.
Today's, and previous VIFF 2016 columns may be found here.
September 20, 2016
The 35th annual Vancouver International Film Festival begins with Maudie, a biopic of the reclusive Canadian painter Maud Lewis, and ends 16 days later with Terrence Malick's Voyage of Time: The IMAX Experience, Malick's 45-minute cinematic odyssey across time and history.
Among the well-known international filmmakers whose work will be presented at VIFF are France's André Téchiné, Olivier Assayas, François Ozon and Mia Hansen-Løve, Japan's Hirokazu Kore-eda, Romania's Cristian Mungiu, Cristi Puiu and Radu Jude, Belgium's Joachim Lafosse, Chile's Pablo Larrain, Spain's Pedro Almodóvar, China's Jia Zhangke, Iran's Asghar Farhadi, South Korea's Park Chanwook, Brazil's Kleber Mendonça Filho, the U.K.'s Terence Davies and Ken Loach, and the latest celebrated work from acclaimed American filmmakers Kenneth Lonergan and Jim Jarmusch.
As we'll do each day for the next 8 days, VanRamblings will attempt to provide insight into the critically acclaimed films which will arrive on our shores after having garnered recognition at film festivals spanning the globe. But first off today, a film that swept the Sundance Film Festival in January, a lock for a Best Picture Oscar nomination, a Best Actor Oscar nod for Casey Affleck, and a probable Best Supporting Actress Oscar nod for the always sublime Michelle Williams ...
A wrenching drama about a grief-stricken New England family, Manchester by the Sea is, as Sasha Stone wrote in her Telluride review, "sad and beautiful, not a dark film, nor really a depressing one. It's just about living with the truth laid bare." Justin Chang writes in his Variety review ...
"Kenneth Lonergan's beautifully textured, richly enveloping drama about how a death in the family forces a small-town New Englander to confront a past tragedy anew, gives flesh and blood to the idea that life goes on even when it no longer seems worth living, which diagrammatic description provides little justice to Lonergan's ever-incisive ear for the rhythms of human conversation, as he orchestrates an unruly suite of alternately sympathetic and hectoring voices — all of which stand in furious contrast to Casey Affleck's bone-deep performance as a man whom loss has all but petrified into silence.

While Manchester by the Sea is very much about uncles, nephews, fathers and sons, Lonergan, always a superb director of actresses, gives the women in his ensemble their due. It's been a while since Michelle Williams had a role this good, but she's lost none of her unerring knack for emotional truth, and she has one astonishing scene that rises from the movie like a small aria of heartbreak."
From Manchester by the Sea's sound design and cinematography to Affleck's and Williams' haunting performances, Kenneth Lonergan's third feature film emerges as one of the best films of 2016, and a must-see for anyone who says they love film, as the transformative art of our age. Manchester by the Sea screens three times at the Centre for the Performing Arts, on Thursday, October 6th at 6pm, Saturday, October 8th at 2:15pm, and on Wednesday, October 12th at 8:30pm.
The Ornithologist. Screening at the 54th annual New York Film Festival at the same time it screens at VIFF, here's what the New York Times' lead film critic Manohla Dargis had to say about João Pedro Rodrigues' The Ornithologist in her Toronto Film Festival weekend wrap-up column ...
"The single most delightful and narratively adventurous movie I saw at Toronto, The Ornithologist very loosely recasts the story of Anthony of Padua, a Portuguese saint who died in the 13th century. Set in the present, this genre-buster pivots on Fernando (the lovely, pillow-lipped French actor Paul Hamy), whose one-man expedition into the wild goes weirdly, at times hilariously, wrong and then right. During Fernando's travels, he's waylaid (and hogtied) by pilgrims; takes a tumble with a goatherd; and exchanges gazes with the locals, notably the birds who look down upon him in long shots that, in movies, are known as bird's-eye or God's-eye views.

Directed by João Pedro Rodrigues of Portugal, The Ornithologist meanders as headily as its protagonist, zigging and zagging through one pastoral location and down one narrative byway after another. I'm still trying to figure out who the three bare-breasted huntresses are; they turn up on horseback with a heraldic blast of a horn, dogs barking and hooves pounding. That isn't a complaint, but an acknowledgment of the story's glories and mysteries, which makes The Ornithologist a good metaphor for both moviegoing and the festival experience at its best. Mr. Rodrigues opens up a world like a scroll as he shifts from realism to the fantastical and then the allegorical; pauses to meditate on the beauty of the world; and insists on the fusion of the spirit and the flesh. I can't wait to see it again."
VanRamblings' friend, Mathew Englander — who has just returned from TIFF — also raves about The Ornithologist, as do any number of thoughtful film critics. The Ornithologist screens only twice at VIFF, on Thursday, October 6th at 3:15pm in Cinema 8 at International Village, and Monday, October 10th at 6:15pm at the Vancity. Get your tickets soon, cuz when word gets out on The Ornithologist tickets are gonna be hard to come by.
And finally for today, Alison Maclean's acclaimed New Zealand production ...
Another one of Mathew Englander's favourite TIFF films, here's what New Zealand film critic Graeme Tuckett has to say about The Rehearsal ...
"New Zealand director Alison Maclean's The Rehearsal is a small, but undeniably ambitious film. Maclean (Jesus' Son) — shooting a script she co-wrote with Emily Perkins, adapted from the novel by Eleanor Catton — drives the play-within-the-film conceit into some smartly constructed scenes. Most successful — and often, ironically, superbly well acted — are the scenes set in the drama school classroom. In the best of these vignettes, Kerry Fox is a near-hypnotic presence, passive-aggressively manipulating and undermining her charges, while she preens and struts in front of them. Fox doesn't quite plumb the depths of repressed sexuality of Judi Dench in Notes on a Scandal — a film The Rehearsal surely owes a debt to — Fox is far more overtly likeable and forgiveable here than Dench was allowed to be in that under-rated gem. But the character, if we watch closely, is no less chilling."
An impressive technical work with a collection of remarkable performances, and well-composed imagery, with The Rehearsal Canadian born but New Zealand raised writer-director Alison Maclean has created an emotionally textured adaptation of Man Booker award-winning author Eleanor Catton's first novel, a drama that's as piercing as it is potent. The Rehearsal screens three times at VIFF 2016, on Friday, September 30th at 10:45am in Cinema 10 at the International Village; Saturday, October 8th at The Playhouse; and for a final time on Sunday, October 9th at The Centre.
Today's, and previous VIFF 2016 columns may be found here.
September 19, 2016
Vancouver International Film Festival tickets are on sale daily at the Vancity Theatre on Seymour Street, just north of Davie. This year's festival will run from Thursday, September 29th through Friday, October 14th where 365+ films, including 219 full-length features, from 75+ countries will screen.
Get ready for a cinematic onslaught: Tickets and passes for the 35th annual Vancouver International Film Festival have been on sale since the first part of the month. This year's edition of VIFF, which takes place September 29-October 14, will screen upwards of 365 domestic and foreign films, including 219 full-length features and 130 short or mid-length films from 75+ countries which will play on nine screens at seven venues.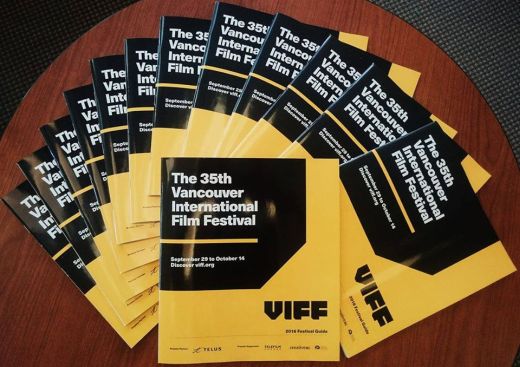 This year's glossy programme (once again, available at no charge) may be found at the Vancity Theatre, as well as at libraries, coffee shops, community centres and VIFF sponsors all across the Metro Vancouver area.
And as per usual, films will screen (mostly) throughout the downtown core, from the Vancity Theatre (185 seats) on Seymour Street in new Yaletown, to the Cinematheque (194 seats) on Howe Street, in the burgeoning South Granville area. Many VIFF screenings will occur in the thriving, relatively new Crosstown neighbourhood, nestled in between the hustle and bustle of downtown, the new-money flash of Yaletown, the historical character of Gastown, and the colourful grit of Chinatown, with screens available to patrons at the 350-seat SFU Goldcorp Centre for the Arts (in the Woodwards building, at Abbott and Hastings), the nearby Cineplex International Village Cinema, in Cinemas 8, 9 and 10 (799 seats in total), and the Vancouver Playhouse, on Hamilton Street (668 seats).
Perhaps the most glorious (as well as largest, and most comfortable) venue is The Centre for the Performing Arts, on Homer Street, between Georgia and Robson (1800 seats, 900 on the main floor), due west of the Vancouver Public Library. The Rio Theatre, at Commercial and Broadway (420 seats), will also play host to a wide range of VIFF 2016 films.
Beginning Tuesday, VanRamblings will publish insight into 25+ films which arrive at our 35th annual VIFF having won awards and critical acclaim at film festivals spanning the globe, from Venice and Berlin, to Cannes & Locarno, from Tribeca and Toronto, to Seattle, Los Angeles, Palm Springs, London, Park City Utah's Sundance Film Festival, and more, as we attempt to provide you with insight into what may emerge as worthy entries, among them films which are likely to gain Oscar recognition early in 2017.
Full, daily VIFF coverage — which began on Monday, September 19th — will be available here through and beyond Festival end on October 14th, or by simply returning to VanRamblings each day. Commencing on Tuesday, September 20th, 2016 VanRamblings will provide 8 straight days of coverage of the 25 - 30 award-winning and under the radar films that will screen at the 35th annual Vancouver International Film Festival that may be worthy of your interest and your consideration.
VanRamblings will also provide coverage of the International Shorts programme (thank you Sandy Gow!), and will publish an interview with the tremendously gifted Vancity programmer Tom Charity that we hope readers will find both informative and heartening. Looking forward to seeing you back here at VanRamblings regularly and often, as we seek to provide VIFF 2016 coverage we hope will be of ongoing and consuming interest to you.
November 8, 2015
Left to right, top to bottom, 2015's front-running Oscar contenders: Spotlight, The Martian, Room; Son of Saul, Bridge of Spies, The Revenant, Mad Max: Fury Road; Joy, Brooklyn, Steve Jobs; The Danish Girl, Carol, Inside Out, and Youth.
As is the case each year, the chill weather of late autumn and early winter brings on the year's most prestigious films, an opportunity for Hollywood to prove that it's not just all about the sanguinity of the bottom line, but that from studio heads through to directors, actors, producers, screenwriters, cinematographers, and all the other 'crafts' who pour their lifeblood into making films, cinema is more about celebrating the rousing, transformative filmic experience, over the more prosaic concerns of the fiscal imperative.
Tom O'Neil's Gold Derby surveys you & the critics to predict the Oscar award winners
Each autumn for more than a decade, from mid-autumn through until the evening of the Oscar ceremony, David Poland — the founder of the film news "blog", MovieCityNews — sets about, weekly, to survey the informed opinions of Hollywood's top Oscar prognosticators, from recent U.S. Weekly film critic Thelma Adams, to Hitfix's Gregory Ellwood, The Hollywood Reporter's Scott Feinberg, the Toronto Star's Peter Howell, Fandango's Dave Karger, and IndieWire's Anne Thompson, among a host of others, on what films, and which directors and actors have emerged, in any given week, as the odds-on favourites to make the final cut when — in 2016, on Thursday, January 14th — the Oscar nominations are announced, and on February 28th, 2016, Oscars are awarded to the previous year's best films, performances, screenplays, producers & craft work of outstanding calibre.
Hollywood Elsewhere's Jeffrey Wells predicts the Oscar nominees in his Oscar Balloon
For those who do not follow the perambulations of the "Oscar race" (for us, it is not dissimilar to following & commenting on an "election race" — with much less on the line, of course), VanRamblings will be here each weekend to update you on which films are worthy of your time, providing as well early insight into the potential career-altering & enhancing Oscar winners.

An amalgam of Gurus of Gold film critics predict the Best Picture Oscar nominees.
This week, Poland's Gurus of Gold Oscar panel has highlighted the riveting journalistic thriller Spotlight (opening in Vancouver next weekend) as their runaway number one film of the year, followed by Ridley Scott's humanistic science fiction film, The Martian (which has garnered box office gold in its first five weeks of release, its international and domestic take currently sitting at a pristine $458 million), the independently-financed Canadian-
Irish co-production of Emma Donaghue's gripping New York Times best-seller, Room, Steven Spielberg and Tom Hank's Bridge of Spies, the upcoming Christmas Day release films, The Revenant (directed by Alejandro González Iñárritu, and starring Leonardo DiCaprio), as well as Joy (the latest film from the irascible David O. Russell, starring Jennifer Lawrence in a certain-to-be-nominated Oscar performance), the wonderful and incredibly moving Saoirse Ronan-starrer, Brooklyn, and rounding out their top 10, the Aaron Sorkin-scripted Steve Jobs, Cannes' Best Actress winner (for Rooney Mara) Carol, and Disney's animated classic, Inside Out.
Six of the Gold Derby film critics weigh in on probable Best Picture Oscar nominees
Todd Haynes' Carol will open in Vancouver on Friday, December 11th, and as indicated above, both David O. Russell's Joy and Alejandro González Iñárritu's The Revenant will open Christmas Day across Metro Vancouver, with Spotlight opening in Vancouver this coming weekend, and Inside Out already available on DVD or On Demand for your home theatre system.
The spectacularly affecting Brooklyn (VanRamblings' favourite film this year) opens in Vancouver on November 20th, while Room, Bridge of Spies, Steve Jobs, and The Martian are currently screening at cineplexes across Metro Vancouver. Lots of time left for you to see the very best Hollywood has to offer, all in preparation for the gala, gala "do" that is the annual dressed-to-the-nines, "look how gorgeous her gown is" end of February Oscar ceremony. Bring on the buttered popcorn and Oscar party snacks!
October 10, 2015
Brooklyn, probable multiple Oscar nominee and the most powerfully affecting film to screen at the 34th annual Vancouver International Film Festival emerged as the overwhelming audience favourite at last night's VIFF 2015 Closing Gala, held at the Centre for the Performing Arts.
Adapted from the Irish novel by Colm Tóibín, and delicately adapted for the screen by Nick Hornby, Brooklyn tells the story of Eilis Lacey (Saoirse Ronan), an Irish immigrant who travels to America in the early 1950s for a more prosperous life.
Brooklyn | John Crowley | 2015 | VIFF Opening Gala | Ireland | 105 minutes
Impeccably crafted and gorgeously rendered, as Rodrigo Perez wrote for The Playlist earlier this year, when the film débuted at the Sundance Film Festival, Brooklyn offers "a heartbreaking and poignant story about choices, country, commitments, sacrifice, and love, and a superb, luminous, and bittersweet portrayal of who we are, where we've come from, where we're going, and the places we call home."
Brooklyn will open in Vancouver for its regular run on November 4th.
VIFF's most popular international documentary was Swedish director Stig Björkman's Ingrid Bergman: In Her Own Words.
Votes are tabulated through collection of comment cards made available to VIFF patrons, and as patrons submit their appraisal of films screened, through use of the VIFF app, available for both Apple's iOS and Google's Android platforms.
October 8, 2015
Yes, it's the final day for the 2015 Vancouver International Film Festival films at Cineplex's International Village, and Friday is the last day of VIFF 2015 — we're verklempt (but, secretly, we're kind of glad, cuz we've got a scratchy throat, which for us is always a precursor to a cold or the flu) — except, of course, for the VIFF Repeats, which begin at 11:45am Saturday.
The above said, there are a great many films which will screen today and tomorrow that are worthwhile, or must-sees — you're simply going to have to take our word for it. The absolute must-see, change your schedule film:
Sparrows, screening at 2:30pm at the Vancity Theatre is, by far, the BEST film screening today; yes, it'll be difficult to fit in other films, but no other film is as great and important and memorable and worthwhile as Sparrows, a knock you on your ass film. 2:30pm, Vancity Theatre — be there.
Otherwise, if you haven't caught Albert Maysles' final film, In Transit (by far the BEST documentary at VIFF 2015), you'll want to make darn sure you catch the final screening of the year's best documentary at 2pm, Cineplex International Village, Cinema 10. Now, it's true — you can't fit in In Transit and Sparrows, cuz they're screening at competing times. If documentaries are your cup of tea, In Transit is for you, if knock you on your ass, world-class filmmaking is your cuppa, it'll be Sparrows you want to see.
On Friday, the very, very last day, it'll be gone forever, there'll be no more VIFF 2015, you'se either gotta see 'em now, or ... well, you know ...
James White is the keeper on Friday, screening at SFU Woodwards at 1:30pm. Accused is the second must-see the last day of VIFF 2015, screening at 6pm at The Cinematheque.
Friday, if you fail to take in the 9pm screening, at The Playhouse, of I Saw The Light, well, you're just plum loco, yer jes out of yer cotton pickin' mind. I mean, why wouldn't you want to go out on a high note at VIFF 2015?
Hank freakin' Williams — Mr. Despair himself (and isn't that what our film festival is all about, the cinema of despair? ... yer darn tootin' it is), and Mr. Despair is paired with the dishiest dish in Hollywood (and she's durn talented, too, that ...) Elizabeth Olsen, and she could very well pick up a Best Supporting Actress Oscar on Sunday night, February 28, 2016, too.
Believe you me, if you ain't at The Playhouse on Friday night to see I Saw The Light, you're just gonna be singin' those lovesick blues til the cows come home — and you wouldn't want that to happen, would ya?
There'll be no coverage of VIFF on Friday, cuz we need a break (and then there's that scratchy throat thing-a-ma-jiggy).
On Saturday, you will find the list of winners that were announced at VIFF 2015's Closing Gala, at The Centre for the Performing Arts. At some point next week — in the midst of what will be daily coverage of Canada's 42nd national election — we'll publish a column on the audience favourites, as tabulated through your votes on the VIFF app, or on those sweet cards that VIFF volunteers were handing out.
We will likely publish a column reflecting on VIFF 2015, prob'ly next week.
October 7, 2015
With the 34th annual Vancouver International Film Festival quickly wending its way to a close, the fine folks at VIFF have planned an additional week of screenings at the Vancity Theatre, on Davie Street and Seymour. As in past years, Festival passes, ticket packs and complimentary vouchers will not be accepted for the VIFF Repeats series. Attendees will need to purchase an individual ticket for each show. Tickets are available by clicking on the highlighted title links below, through viff.org, or at the Vancity Theatre box office during regular box office hours.
Saturday, October 10th
11:45am, Rams. In this enchanting Icelandic export, two estranged, unmarried brothers are reunited after 40 years when an infectious disease threatens to decimate their prized flocks of sheep. As they face financial ruin and emotional devastation (their love for these animals is endearingly evident), Grímur Hákonarson fashions a richly detailed tragicomedy concerning idiosyncratic vocations and immediately relatable sibling dynamics. "Wonderfully wry, charmingly understated ..." — Variety
1:45pm, I am Nojoom, Age 10 and Divorced. One of VanRamblings' Festival highlights, this must-see film is set in 2009, and tells the true story of Yemeni preteen Nojoom Ali's bid to legally extricate herself from an abusive, arranged marriage to a much older man, a story which made international headlines. Khadija Al-Salami has beautifully adapted the non-fiction bestseller into an emphatic drama featuring a wondrous performance from Reham Mohammed as the young Ali, and a striking backdrop of Yemen's astonishing mountain villages and ancient "skyscrapers." "A powerful, moving and provocative debut drama ..." — Screen
4pm, A Ballerina's Tale. Some ascents to stardom are meteoric. Others are a gruelling marathon. Ballerina Misty Copeland learned early on that not everything comes easily for a teen prodigy. Especially when you're African-American and racial homogeny is part of ballet's exclusivity. Nelson George's inside look at the art and industry of ballet invites us to marvel at Copeland's courage and grace but question what goes on behind closed curtains. Most importantly, it gives us a real-life heroine to root for with all our hearts. "Inspirational doesn't begin to describe it." — Rolling Stone
6:15pm, Umrika. Rama (Life of Pi's Suraj Sharma) is flushed out of rural life when he learns that his brother is missing in Mumbai. As a search for answers thrusts him into the metropolis' chaos, he forges letters from his sibling to his mother in hopes of sparing her heartbreak. In turn, Prashant Nair crafts a moving story about devotion and discovery. "The film's takes on immigration, country-city contrasts and youthful dreams of the future are lovingly detailed..." — Hollywood Reporter
8:30pm, 100 Yen Love.The fraught and very possibly doomed romance between a dumpy 32-year-old woman and a failing boxer gives 100 Yen Love its storyline, but the film's focus is on its unlikely heroine, a chronic underachiever who finally discovers something worth getting out of bed for. Take's command of image and mood couldn't be better; Ando Sakura is stupendous in the lead — Tony Rayns. Japan's nominee for Best Foreign Language Film.
Sunday, October 11th
4:30pm, Requiem for the American Dream. Noam Chomsky and his unassailable arguments about how economic inequality has become an entrenched part of western life are front and centre in Peter Hutchison, Kelly Nyks and Jared P. Scott's superbly reasoned documentary, one part analysis and one part call to arms. The interviews with Chomsky were shot over four years and show that none of the 86-year-old's fight has gone out of him. "This short, sharp, smart essay-film makes excellent use of Chomsky's insights..." — Hollywood Reporter
6.15pm, Sabali. When her boyfriend stops making love with her, Jeannette (Marie Brassard) begins an affair with a young co-worker (Francis La Haye). Alas, it turns out that her heart problems are physical as well as metaphorical. When Jeannette inherits the heart of a deceased Malian woman, she's stalked by the donor's son (Youssef Camara) who's convinced that she's the reincarnation of his late mother... Ryan McKenna's stylized and nuanced film is sure to delight.
8:15pm, The Lobster. The pressures of courtship are pushed to absurdist extremes in this outrageous comedy from Yorgos Lanthimos (Dogtooth). Confined to an isolated resort, singles (including Colin Farrell) must take a mate within 45 days or be transformed into animals. As Farrell falls in with a band of rebel loners (who count Rachel Weisz among their members), Lanthimos wrings much pathos from his outlandish premise. "A wickedly funny, unexpectedly moving satire... Perversely romantic..." — Variety


Monday, October 12th
Noon, Painted Land: In Search of the Group of Seven. Phyllis Ellis' documentary is equal parts mystery, history and adventure. Algoma's tangled wilderness and Lake Superior's expansive North Shore inspired The Group of Seven in their formative years - young artists searching to articulate the Canadian landscape. Now, three modern-day adventurers canoe across lakes, bushwhack through untamed forests and scale cliffs to seek out the vistas that inspired these artists. Seeing the iconic paintings side by side with the astonishing locations that inspired them is a reminder of art's power and this land's majestic beauty.
1:45pm, Rainbow Island. One of the most astonishingly exotic films in this year's festival has to be Khosrow Sinai's drama. The title refers to the island of Hormuz, with its extraordinary multi-coloured soils, ancient Portuguese forts and folk-art traditions. How much are the custom-bound villagers willing to welcome the outside world? Enter Dr. Ahmad Nadalian, a highly educated interloper from Tehran who proposes a radical plan to transform the islands assets into a thriving cultural destination.
4pm, Peggy Guggenheim: Art Addict. Peggy Guggenheim not only amassed one of the world's most impressive collections of contemporary art but also rightfully earned a reputation as the consummate bohemian. In her wildly entertaining follow up to Diana Vreeland: The Eye Has to Travel, Lisa Immordino Vreeland explores how Guggenheim forsook her bourgeois birthright in favour of a villa in Venice, crashing international art scenes, and discovering the likes of Jackson Pollock and Mark Rothko in the process. "[With] so many love affairs and ego clashes Art Addict never feels a bit like a history lesson." — Hollywood Reporter
6:15pm, Sleeping Giant. Andrew Cividino's remarkable debut is a story of friendship, confusion, betrayal and peer pressure. Fourteen-year-old Adam is enduring a dull summer in a small Lake Superior beach community when he meets local boys Foster and Rizzo. "The cast and filmmakers illuminate not just the wit and charm of young men, but also the callow cruelty of youth, driven by a killer combination of naïve idealism, solipsism, poor self-esteem and raging hormones." — Hollywood Reporter
8:15pm,
The Royal Tailor. The term "costume drama" takes on a whole new meaning in Lee Wonsuk's sumptuous period melodrama, which centres on the rivalry between the official tailor to the king's court and a handsome young upstart with new ideas and techniques. Their conflict plays out amid a welter of fabrics, passions and protocols, with several top stars adding dramatic weight. The attention to the details of tailoring is awesome — Tony Rayns.


Tuesday, October 13th
1:30pm, Landfill Harmonic. In Latin America's largest landfill, a garbage picker uncovers the raw materials for makeshift musical instruments. As cellos and violins are fashioned from stray detritus, a group of local children are likewise transformed into the Recycled Orchestra of Cateura. Reminiscent of VIFF '10 standout Waste Land, Brad Allgood and Graham Townsley's documentary is an inspiring tale of resilience and transcendence. "A secret treasure... A story of the dull throb of existence gleefully recalibrated by the thundering heartbeat of music." — Austin Chronicle
4pm, Hannah: Buddhism's Untold Journey. In the late 60s, India experienced a Western invasion as outsiders flooded over the border in hopes of finding enlightenment. The Beatles may have been the highest profile pilgrims, but Hannah Nydahl, a young Danish woman, was ultimately the most influential. She and her husband were the first westerners to study under His Holiness the 16th Karmapa and then spread his teachings abroad. Part biography, part adventure film, Adam Penny and Marta György-Kessler's documentary celebrates a true pioneer. "Visually, the film is a pleasure..." — Village Voice
6:15pm, The Devout. After his terminally ill daughter (Olivia Martin) claims to have had a past life as an astronaut, a Christian teacher (Charlie Carrick) experiences a profound crisis of faith. Obsessively seeking answers, he risks his marriage and his remaining days with his child to determine whether she's lived before... and might live again. Reflective and provocative, Connor Gaston's debut is one of the year's most unique Canadian features.
Wednesday, October 14th
2:30pm, Jumbo Wild. Nick Waggoner's gorgeous, gripping documentary captures a decades-long struggle over the future of Jumbo Valley, deep within the raw, rugged Purcell range of B.C.'s Columbia Mountains. Exploring a tug-of-war between a proposed (and long-delayed) $450-million ski resort near Invermere versus community members, conservationists and the Ktunaxa Nation and Shuswap Indian Band who are determined to see Jumbo kept wild, Waggoner's film documents the fierce ideological battle surrounding how we value land.
4pm, Palio. Siena is one of the world's most picturesque cities and the Palio is its crowning glory. Held twice a summer, this often ruthless bareback horse race brings pageantry and unparalleled intensity to the tight turns of the medieval town's Piazza del Campo. Cosima Spender's breathtaking documentary centres on a young upstart intent on making his mark in this cutthroat competition. "A remarkably concise and clear explanation of a complex, ancient tradition... How can something like this still exist? And how can one film capture it in such elegant detail?" — Vanity Fair
6:15pm, Racing Extinction. Louie Psihoyos (The Cove) returns with another enviro-doc that doubles as a top-flight thriller. Racing against the clock to stave off a mass extinction, Psihoyos' undercover activists infiltrate underground marketplaces trafficking in endangered marine life and immerse us in oceans turning toxic from our energy consumption. The stakes couldn't be higher, resulting in a film that unfolds with uncommon urgency. "A mesmeric entertainment and enlightenment... A chilling call to action to stop ocean poisoning before it results in destruction of the planet." — Hollywood Reporter
8:30pm, No Men Beyond This Point. In a world where women procreate asexually, male babies have become passé and an entire gender faces extinction... What's a guy to do? Well, the youngest man alive (Patrick Gilmore), who toils as a housekeeper for a West Vancouver all-female family, is unaware that he's about to become a key player in a battle for survival. Camera Shy's Mark Sawers is at the height of his satirical powers with this wry speculative mockumentary.
Thursday, October 15th
6:30pm, Marshland. One of the big hits at VIFF 2015, and winner of multiple Goya Awards, for VanRamblings Marshland was a note for note ripoff of Cary Fukunaga's Season 1 HBO series, True Detective — same music, same marshland, same two detectives. Not to mention that: if we never see another movie where socially and economically disadvantaged girls and young women are tortured, raped and sexually mutilated as a narrative device, ever again, it'll be too soon. Attend at your peril.
8:45pm, Magallanes. Another one of VanRamblings' favourites, we'll quote VIFF passholder Ken Tomilson on this watchable and important film: "a Peruvian film where the lead (Magallanes) and his friends were once military personnel fronting the war against the Shining Path with too much power in their hands. Now, 15 years later, their lives are insignificant but their past comes back to haunt them in the form of scandals that could destroy them. Well written and acted and very entertaining."
October 5, 2015
Well, here we are in the final days of the 34th annual Vancouver International Film Festival as VIFF regulars (also known as VIFF cinephiles) prepare for the end of this year's glorious cinematic wonderment, awaiting the announcement as to what films are available for holdover at the Vancity Theatre following Friday's fest end. All in due time, dear & constant reader.
In this final week there are two more must-see films to be screened over the course of the next four days — one from Lithuania, one from Iceland — both unlikely to return to our shores, tremendous films that are more than worthy of your limited time, and given your wearied state, your attention.
The Summer of Sangailé | Dir. Alanté Kavaïté | Julija Steponaitytė, Aistė Diržiūtė | Lithuania
The Summer of Sangailé (Grade: A): Achingly beautiful and intoxicating, director Alanté Kavaïté won Best Director at Sundance earlier this year for her erotic and lyrical depiction of a young girl's sexual awakening, an at times roiling coming of age tale that explores the wounded psychology of the main lead (a voluptuously enchanting Julija Steponaitytė, her character a provocative mix of naivete and ripe, unbridled sexuality), in one of the most dreamily tender yet near terrifying depictions of first love ever captured on screen. Gorgeously lensed, sun-kissed, alluring, intimate, affecting, memorable, beautifully universal, hypnotic and at times blazingly intense, the film's dreamlike mood is set through music, and the rapturous soundtrack written by Jean-Benoît Dunckel, one of the lead members of Air. Skilfully melding gesture, poetry and innocence into the slow-burning emotional and physical realms of romantic love, The Summer of Sangailé emerges as one of the year's best films, and another VIFF 2015 must-see. Final screening: Wednesday, October 7th, 6:30pm, in Cineplex's Cinema 9.
Sparrows (Grade: A): Breathtakingly intense, Rúnar Rúnarsson's sad, delicate Icelandic coming-of-age tale quietly observes a lanky teenage boy, Avi (Atli Oskar Fjalarsson) who we first meet singing counter-tenor in a boy's choir in Rekjavik. When Avi's mother is hired to supervise a research project in Africa, the boy is sent to live with his estranged father in the distant western fjords of the country, where the locals medicate the ills of a declining economy with alcohol; small town life proves anything but charming. Avi's potential love interest, young Lara, carries the fatalism of a girl who settles for the local bully, while Kjeld, Avi's kindly grandmother, is the exceptional figure who lives with a simple dignity. As Guy Lodge writes in his Variety review, " this outwardly conventional coming-of-ager rewards viewers' patience, delivering a late narrative jolt that is bound to stir heated post-screening conversation in its chilly wake." Fortunately, the film saves a tiny dose of sentiment & redemptive humanity for the film's final moments. Final screening: Thursday, October 8th at 2:30pm, in the Vancity Theatre.
Additional VIFF Must-Sees Before The Festival Wends To Its End
The double bill of VIFF 2015: Wednesday afternoon you'll want to take in a screening of VIFF 2015's best feature film, Sylvia's Chang's Taiwanese stunner Murmur of the Hearts, 4:15pm in Cineplex's Cinema 10, followed by VIFF's best documentary, Albert Maysles' In Transit, also in Cinema 10.
Upcoming must-sees: Son of Saul, One Million Dubliners, there's good buzz on Zinia Flower and The Measure of a Man, I am Nojoom, Age 10 and Divorced is a must-see, while there's good buzz on The Competition, folks have been raving about Accused, and James White. Schneider vs Bax also has quite a following, as does Peruvian director Salvador del Solar's Magallanes, which screens for a final time Tuesday at 3:30pm in Cinema 9 at Cineplex's International Village. Lots to see as VIFF 2015 wends to a close.
October 4, 2015
VanRamblings feels that it is necessary for all concerned that we "revive" our annual column on why it is that the cinephiles who each year attend 50+ VIFF films (and there are a whole bunch of us) feel so passionate about wanting to hear every sound, burrow into every picture, experience the every emotion of the characters on screen before us, at Vancouver's annual splendid, glorious and enchanting little film festival by the sea.
Worshipping at the Church of Cinema
Imagine yourself on a Sunday morning at the 34th annual Vancouver International Film Festival. You've just walked into The Centre, where you've been greeted by one of the church members, and are then ushered into a dark room with seats all facing forward. You feel reverent.

You are about to worship at the 'church of cinema'.
One hundred years on, global cinema has arrived as a form of transcendence, for many replacing the once venerated position held by the institutional church. Think about the similarities: churches and the cinema are both large buildings built in the public space. Both have signage out front indicating what is about to occur inside.
As physical structures, the church and the cinema create a sense of sacred space with their high ceilings, long aisles running the length of the darkened rooms inside, the use of dim lighting, the sweeping curvature of the walls, and the use of curtains to enhance the sacredness of the experience.
In the church of cinema we take communion not with bread and wine, but with the ritualistic consumption of our favourite snack.

Consider if you will, the memorable moment when you enter the auditorium to find your perfect viewing angle, allowing you to sit back, relax and enjoy. Although you may not receive absolution at the cinema, there is the two-hour reprieve from the burden of your daily life.

As the lights are dimmed, the service begins: The seating, and the opening introduction constitute a liturgy for one and all, not dissimilar to the welcoming ritual that occurs in a church service prior to the sermon. If you are like most people, you obey an unwritten rule that requires you to be in place in time for either the singing (if you're in church) or the introduction of a film by a Vancouver Film Festival theatre manager. And, you remain silent while in the theatre, focused on all that unfolds before you.
There is, too, the notion that as the film limns your unconscious mind you are being transported, elevated in some meaningful way, left in awe in the presence of a work of film art.

What we want from church is often, these days, more of what we receive from the cinema on offer at the Vancouver International Film Festival: the vague, unshakable notion that the eternal and invisible world is all around us, transporting us as we sit in rapt attention. We experience the progress and acceleration of time, as we see life begin, progress, and find redemption. All within two hours. The films at the Vancouver International Film Festival constitute much more than entertainment; each film is a thoughtful meditation on our place in society and our purpose in life.
As a film draws to a close, just as is the case following a sermon we might hear in church, our desire is to set about to discuss with friends that which we have just experienced. Phrases and moments, transcending current frustrations with a new resolve, all in response to a line of dialogue or an image on the screen that we have now incorporated into how we will lead our life going forward.

In the holy trinity of meaning, cinema reigns supreme, the personal altar of our home theatres placing a distant second place, the city providing the physical proof of the reality the other two point to, oriented towards the satisfaction of the devout cinemagoer's theology.

Throughout the centuries we have sought to find meaning through manifest ritual and symbolism. As in the scene from American Beauty - a plastic bag sailing in the breeze as an intimation of immortality - there is, perhaps, something for us to consider respecting the difference between art as diversion and art in our lives as a symbolic representation of an awakened mindfulness, allowing us to transcend the troubles of our lives.

For those who attend the Vancouver International Film Festival, cinema has emerged as that place where we might experience life in the form of parable, within a safe and welcoming environment, that place where we are able to become vulnerable and open, hungry to make sense of our lives. Cinema delivers for many of us access to the new spiritualism, the place where we experience not merely film, but language, memory, art, love, death and, perhaps even, spiritual transcendence.
October 3, 2015
The sensuously hypnotic Isabella Leong & Joseph Chang in a scene from Murmur of the Hearts
Murmur of the Hearts (Grade: A+): A fable given over to exposition tempered by forays into the realm of magical realism, elegiac, a film that adopts time not just as an elastic concept but with a spiritual sense previously unexplored in the cinematic realm, gifted with gorgeously lustrous and moodily hypnotic cinematography, utterly sublime and original, epic and tour-de-force filmmaking of the first order, quietly introspective, subtle, moving, whimsical, enchanting, resonant, ethereal, wildly and sensuously ambitious, poignant, mesmerizing, rapturous, poetic and surprisingly affecting, the memories of the film's four protagonists woven into the most lyrically beautiful film you'll see this or any other year. The 34th Vancouver International Film Festival's one must, must, must-see. Two upcoming must-see VIFF screenings: on Sunday, October 4th, at 8:30pm at Cineplex International Village, in Cinema 9; and on Wednesday, October 7th at 4:15pm, at Cineplex International Village, in Cinema 10.
Brooklyn | Dir. John Crowley | Saoirse Ronan | 105 min. | Mon., Oct. 5, 12:30pm, The Centre
Brooklyn (Grade: A): Everything you've heard about Brooklyn is true: Saoirse Ronan will emerge as Best Actress at the 88th Academy Awards ceremony on February 28th, 2016, Brooklyn will win the Best Picture Oscar (and a well-deserved win it will be, too), and when you take in the final VIFF screening of Brooklyn this coming week, you'll be glad you did, you'll cry your eyes out from beginning to end (not to worry, there are humorous bits, as well), and you'll leave Cineplex's Tinseltown Cinema 10 knowing that you've just seen the most powerful film to reach our shores in 2015. Final VIFF 2015 screening: Monday, October 5th, at 12:30pm, in The Centre.
Sparrows | Dir. Rúnar Rúnarsson | Iceland | Oct 3, 8:45pm, Cin 8; Oct 8, 2:30pm, Vancity
Note should be made that there is immense positive buzz from VIFF passholders and patrons about the following must-see films ...
Not to mention, this upcoming week there are three must-see screenings of VanRamblings' favourite documentary, Albert Maysles' final film, In Transit, and the incredibly wonderful Quebeçois film, Ville-Marie, and the deeply affecting and entirely wondrous Iranian documentary, No Land's Song, all of which we wrote about last Sunday; and then there's VIFF Director of Programming Alan Franey's favourites, which we wrote about earlier (scroll down the page — it's a pretty skookum list of can't miss VIFF films).
October 2, 2015
Representing the best work of nascent film talent from across our planet, the International Shorts series curated by veteran VIFF programmer Sandy Gow each year reflects, as we've written in the past, the work of an "honest and forthright, humane and caring VIFF staffperson of unparalleled integrity, as well as an abiding warmth of spirit, an individual who prioritizes films not just as 'craft', but of immense heart and cinematic intelligence."
As VanRamblings wrote in Part One of this two-post series on VIFF 2015's International Shorts programme, Sandy recommends all 37 films in the shorts series, winnowed down from the 500 short films Sandy screened, to the 37 gems you'll see screened at this, our beloved, glorious and life-changing 34th annual Vancouver International Film Festival.
Without further ado, let's get to what's most important: the films ...
Coffee to Go | Dir. Patricia Font | Actors. Alexandra Jiménez, Daniel Grao | Spain | 13 min.
Love, Pain and the Whole Damn Thing
A programme of short films about love, from romantic to tragic, its intoxication and heartbreak, its consequences and, oh yes, its responsibilities.
Monday, October 5th, at 1pm, International Village, Cinema 8
"This is a programme that is close to my heart as I've come to terms with my aged and deteriorating mom. As is the case with many of us of our age, our parents are not in great shape. Love, Pain and the Whole Damn Thing is about all the factors that come into play when you love somebody, everything from the infatuation of love when you meet someone to the responsibilities of love. Of the four International Shorts programmes this year, this is the one with the most cohesive theme, although each film is distinct within the theme in approach and subject matter."
"We've got everything from Coffee to Go, such a wonderful film, it could easily have been in the Great Performances programme, the story about a couple who have broken up and meet two years later, and it's not only really awkward, it's really painful."
"Then there's Last Base, a film about two base jumpers who have a commitment to a friend who died. How far will they go in risking their lives to fulfill the commitment?"
"Treading Water is all about taking care of your parents when they get old and major health issues emerge. For me this is a very personal film. This year we had several films that explored the theme of aging parents, but this one was the best of the bunch."
What Defines Reality?
This programme of shorts probes the title question, as well as things that can influence our world views, be they social, political or religious conventions, the opinions of others, or even our own sense of self.
Sunday, October 4th, at 3:45pm, International Village, Cinema 8
"The overall thematic structure in this series, although the films are all quite different, speaks to our sense of self, how others perceive us, and the decisions one makes in one's life."
"In Birthday, a soldier returns from combat severely injured, he's lost his legs, and gives in to serious depression. But by film's end, he manages to rise above."
"Deformity Prays For Radiation is a beautiful little film that the Festival will present as a world première. It's like a folk tale complete with a Greek, in this case a Ukrainian chorus commenting on the action. It's all about the decay of things, and one of them is a relationship of sorts."
October 1, 2015
In today's first post in a two-part series on the curated International Shorts series screening at the 34th annual Vancouver International Film Festival, Sandy Gow — a Festival veteran, jack-of-all-trades and VIFF Programmer since 1988 (the first year Senior Programmer PoChu AuYeung joined VIFF, as well) — will provide insight into each of the international series that have emerged as four distinct shorts programmes at VIFF2015.

In My Shoes, five transgender teens talk about what it's like to be them | Australia | 7 min.
Three notes should be made about the International Shorts programme ...
The International Shorts programme is too often overlooked by VIFF patrons who while striving to see the best in world cinema — those rare gems that will never grace our shores again and must be seen at VIFF and only VIFF — neglect to consider that the birth of the finely-honed features that emerge as life-changing events at VIFF often occur within the realm of the 9-to-15-minute short, a film in the truest sense (despite its length) that garners the necessary attention to allow the novice filmmaker to make a longer form feature film.

At the Festival, this year or any other year Sandy Gow has curated an International Shorts programme, VIFF offers patrons only one "lock" on filmic quality, one cinematic guarantee, a "you can take it to the bank" surety, and that is: most, if not all, of the films in any given international shorts programme will come to represent the best experience you will have inside a darkened theatre over your 16 days at VIFF. Sandy's heart, his intellect, and the wisdom of his years are poured into the decisions he makes in choosing from among the 700 entries for consideration of inclusion in his shorts programmes (500 of which films Sandy sees himself), the thirty-seven shorts included in the four curated programmes at VIFF2015 a winsome combination of intimate, humane, thoughtful, provocative, revelatory, and heartbreakingly extraordinary chronicles of the human condition.

Competition. Take a gander at your Facebook feed, or listen to the conversations in the lineups as passholders "discuss" how many films they've seen that day, and what their "count" of films screened is as of any given day — in some sense VIFF is, at times, a "competition" to see the most films (and why not? what a treat to see 100+ films!). Imagine the following: take in a screening of every one of the 37 shorts in the four IS programmes, and your number of films screened will surely come close to or break the magic 100 number! Although a gentle humility defines the approach of the VIFF veteran to her fellow Festival patrons, a bit of boastfulness from time to time surely cannot be out of place. Thirty-seven films added to your list of films seen at VIFF2015, and a glorious and transformative 415 minutes in the cinema! At the Vancouver International Film Festival, we call that bliss.
Now on to the business at hand, the charmingly avuncular Sandy Gow on the first two of the International Shorts programmes up for discussion ...

In The Still of the Night, a beautiful and disturbing period piece | Austria | 14 min.
In the Dark Reaches of the Soul
A programme of beautiful, haunting and often disturbing films — though sometimes in these dark reaches we find hope
Friday, October 2nd, at 6:15pm, International Village, Cinema 8
Tuesday, October 6th, at 4pm, International Village, Cinema 8
"An alternative title for this series may well have been "Disturbing Endings," because there are many films in this programme that have really quite disturbing endings. The intriguing aspect of the eight films in this series is that although the films are often unsettling, the disturbing ending is left until almost the very last moment of the film. The last punch is the last punch; there's no attempt to contextualize, there's no addendum, you're just left sitting there saying, "Holy shit! I didn't see that coming."

Soap, the Canadian première of Christopher Brown's short film | United Kingdom | 16 min.
Great Performances
This programme of shorts highlights stellar acting, and demonstrates how vital this is to the success of a film as a whole, whether a two-hander or an ensemble piece.
Saturday, October 3rd, at 9pm, International Village, Cinema 9
Wednesday, October 7th, at 1pm, International Village, Cinema 8
"Until I make the final selections, I have no idea what any of the themes of the programmes are; there are no preconceptions. Great Performances was a programme that began to emerge when, as I was selecting films, I saw a group of films with terrific performances. Two years ago, I curated a programme titled Two Handers, which was a great way to highlight acting; in 2015, it occurred to me we could do something, although not quite the same, somewhat similar in that it would highlight great acting."
"Over the course of the year, I often see films where good ideas are let down by less than stellar performances. If the acting doesn't deliver, all of the other work that goes into making a film goes to waste, a great script, a good director, luminous cinematography, all that can come to nought."
"Of the four International Shorts series this year, the Great Performances programme is the most diverse: the only criteria for this series was ... great acting. You've got The Moor, featuring a great many New York actors you'll recognize almost immediately; it's such a beautiful ensemble piece."
"Operator features essentially a solo performance — and is a must-see, the most intense six and half minutes you'll ever have experienced in a theatre. You walk away from Operator with a newfound respect for the folks who work in emergency services handling the 911 calls — your head is just turned around. Operator is also one of the three films in this series where the offscreen sound is critically important. Injury Time, Operator and Soap — in all three films, offscreen sound is almost like a character in the film."

Cherry Cake | International Premiere | In attendance: Director Jaine Green | UK | 15 min.
"There are some surprises in this series, as well: Cherry Cake is just a delight, again with two veteran British actors — I don't want to give it away, but you have to wonder how Eve Pearce was talked into appearing opposite Matthew Kelly in the film. It'll be a hot topic of conversation at the Q&A afterwards, when director Jaine Green will be taking questions."
September 29, 2015
VIFF venue manager extraordinaire, the lovely Brie Koniczek (on the right) with VIFF staff
Brie Koniczek has worked with the Vancouver International Film Festival for a number of years, and during her time with VIFF has taken on the herculean task of managing various of the VIFF venues (we first wrote about Brie in 2011), this year and for the past couple of years, the Cineplex International Village site. Last year VanRamblings wrote about Brie ...
"In the centre of an early morning storm at the Cineplex site Brie, and Brie alone, working with volunteer staff, remained calm, always smiling, always genuine (utterly, utterly genuine and humane), always lovely and engaging beyond words, communicative, warming, welcoming and reassuring while assuming the onerous responsibility of taking virtually sole responsibility for overseeing the ingress of three long lines of patrons, distributing the "ticketing chits", directing volunteer staff quietly, efficiently, and humanely, all the while interacting with and re-assuring patrons in all three lines, and down in the will call / rush line-up, that all was well, Brie's commitment always to logistically pristine exhibition management, and a most salutary patron experience."
Of course, Brie does not manage the VIFF Cineplex site all on her own.
In 2015, the good lookin' and quintessentially organized Peter Quin-Conroy, the ever-wonderful and humane Sue Cormier, among others (and let's not forget VIFF's Audience Relations Manager, Mickey Brazeau, quite simply one of my favourite people on the planet), find themselves pulling "management duty" at the VIFF Cineplex International Village site, all to good effect, providing the best possible VIFF patron experience.
Then, along with Mickey, there's the VIFF team of managers who pulled the whole logistically pristine venue management scheme together for 2015 (and wildly successful it is this year, too): in particular, Faye Parlow, VIFF's Operations Manager, and Lori Strong, VIFF's Office & Facility Manager, about whom there has been much positive buzz this year ...
"It was Faye and Lori who, along with Mickey, pulled in new managers this year, and it's the three of them who are in good measure responsible for the success we've had at the various venues, in 2015."
In a future post, VanRamblings will introduce you to the new, 2015 VIFF venue managers, when we'll write about the returning managers, as well. And, of course, it goes without saying (but should be said nonetheless), that all of us who love the Vancouver International Film Festival are grateful-beyond-words for the invaluable role VIFF volunteers play in helping to keep VIFF an accessible, welcoming & pleasurable experience for patrons.
Given all of the above, there is one reigning intelligence overseeing VIFF venue management this year, as he did for the first time last year as the newly-installed VIFF Exhibitions Manager, the one person about whom everyone VanRamblings has spoken with about venue management in 2015 year speaks about in reverential tones of near awe and amazement, and that transcendent personage of nonpareil accomplishment would be ...
Sean Wilson, 2015 Vancouver International Film Festival Exhibitions Manager | VIFF2015
Yes, that would be Sean Wilson above who at VIFF2015 may be found alone, sequestered deep inside a darkened room, almost recumbent and near zen-like in front of the VIFF venue management computer at this year's glorious, one-of-a-kind, long-to-be-fondly-remembered 34th annual Vancouver International Film Festival, you know, the computer that tracks the whereabouts of volunteers (and whether they're going to make their shifts), tracks the gloriously structured and structural venue management team, the computer into which streams messages of importance (the emergent kind, the oh-so-don't let them happen, but gawd it's going to happen anyway emergency variety, and the not-quite-so-problematical non-emergency kind), and at the centre of this maelstrom of information?
The seer, the one, the only Sean Wilson — you likely won't see a great deal of Sean this first week of the Festival, but when you do ... thank him (and thank Brie, too). And, when you find yourself at The Vancity Theatre, acknowledge the very fine Donna Soares (a find by VIFF Audience Relations Manager Mickey Brazeau, who spotted Donna performing wonderful service at the Push Festival), and the peerless Kaen Seguin, Robyn Wilson and Jennifer Tennant at The Centre, and (once again) Peter, Brie, Mickey, Sue and Mike at VIFF's Cineplex site, and all of the fine VIFF venue managers at The Playhouse, SFU Woodwards, The Cinematheque and The Rio.
September 28, 2015
Room | Dir. Lenny Abrahamson | Author: Emma Donoghue | Brie Larson, Jacob Tremblay
Every year, there's a breakout film, usually an independently-produced film, that seemingly comes out of nowhere to take the critics, and appreciative audiences, by storm, emerging as Oscar bait, finally finding itself so ingrained in the Oscar conversation that it goes on to a slew of Academy of Motion Picture Arts and Sciences nominations. In 2015, Room is that film.
Garnering immense positive buzz at the Telluride Film Festival in early September, and going on to win the prestigious People's Choice award at the Toronto Film Festival — where Room received an unprecedented and wildly enthusiastic 15-minute standing ovation — director Lenny Abrahamson's adaptation of Canadian-Irish author Emma Donoghue's acclaimed best-seller (Ms. Donoghue also wrote the screenplay for the film) opens tonight at VIFF2015, at the gorgeous and inviting Centre for the Performing Arts, in what is sure to be a sold-out screening of the probable recipient of Best Picture, Best Actress, Best Supporting Actor (5-year-old local actor Jacob Tremblay will likely become the youngest ever Oscar award nominee), Best Screenplay, and a raft of other accolades, and subsequent Independent Spirit/Gotham and, finally, well-deserved Oscar nominations.
Variety | Justin Chang
The cramped 11-by-11-foot interior of a sealed, sound-proof garden shed isn't the only thing keeping a boy and his mother prisoner in Room, a suspenseful and heartrending drama that finds perhaps the most extreme possible metaphor for how time, regret and the end of childhood can make unknowing captives of us all.
Indiewire | Eric Kohn, Chief Film Critic | A-
Director Lenny Abrahamson seamlessly translates Emma Donoghue's masterful work into cinematic terms with his gripping and involving adaptation, the drama owing just as much to its two stars, Brie Larson and newcomer Jacob Tremblay, whose textured, human-scale performances turn distressing circumstance into a credible and tense tale of survival.
Note: Author Emma Donoghue will be in attendance at tonight's screening of Room to introduce the film, and take part in a Q&A after the screening.
Bring tissues. Get your tickets now. Line up early. See ya tonight, at Room.
September 27, 2015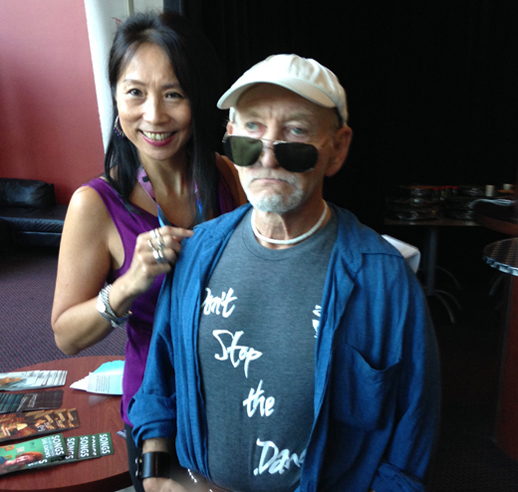 Senior VIFF Programmer PoChu AuYeung, and the ever dour and oh-so-weary J.B. Shayne
Well, here we are into Day Four of the 34th annual Vancouver International Film Festival — the most logistically pristine Festival in all of its 34 voluptuously triumphant years — and the films just keep on comin'. And what a great Festival for world cinema VIFF 2015 has proven to be ...
Non-Fiction (America) | In Transit

In Transit | Albert Maysles' visionary new film | VIFF Canadian Premiere | a VIFF must-see
In Transit (Grade: A+): A non-fiction film that revels in the search for the authentic self, celebrated documentarian Albert Maysles' final film is all at once: groundbreaking, masterful, chillingly powerful, thoughtful, intimate, engaging, philosophical, and an extraordinarily humane chronicle on the narrative power of our everyday lives. As Ronnie Scheib, in Variety, writes, "a fitting farewell to an American ethnographer." Showtimes: October 5th, 10:30am, Cin8; Oct. 7th, 7pm, Cin10; Oct. 8th, 2pm, Cin10. A must-see.
Canadian / Quebeçois | Ville-Marie

Ville-Marie (Grade: A-): Guy Édoin's lushly appointed film keenly observes four characters: Pierre (Patrick Hivon), an ambulance driver coping with PTSD, Marie (the luminous Pascale Bussières), an ER nurse at the understaffed Ville-Marie Hospital, Sophie Bernard (Monica Bellucci), a European actress who's in Montréal to shoot a semi-autobiographical film, and Thomas (Aliocha Schneider), her gay son, who is increasingly insistent that she reveal the name of his father and the circumstances of his birth. Captivating from beginning to end as it comes to focus on the mercies of the protagonists' past tragedies, Ville-Marie moves from strength to strength to strength, from movie's outset to its relevatory denouement. Showtimes: October 1st, 9:15pm, Cin10; Oct. 4th, 10:30am, Cin8.
Non-Fiction (Iranian) | No Land's Song

No Land's Song (Grade: A): Three years ago, the Iranian singer and composer Sara Najafi came up with the idea of hosting a concert in Tehran, her hometown. It was a plan so audacious, it seemed slightly crazy. The concert would be "a festival of the female voice" featuring solo singers — not just Iranians, but artists from France and Tunisia, too. Nothing like it had been attempted in Iran for 35 years: after the Islamic Revolution of 1979, women were banned from singing solo in public.
No Land's Song review: Tender, undeniable, deeply affecting (or, as one critic wrote, "incredibly emotional"), provocative, risky, occasionally hugely depressing and, in the end, thrillingly heartbreaking and heart-stoppingly redemptive, No Land's Song is one of the must-see documentary films at this year's Vancouver International Film Festival. Showtimes: September 29th, 10:30am, Cin8; October 3rd, 9pm & October 5th, 4pm, Playhouse.
September 26, 2015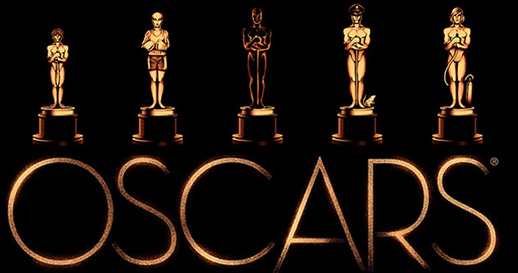 Each year, 75 countries from across the globe submit one very special film from their country to the Academy of Motion Picture Arts and Sciences, as their entry in the Best Foreign Language Film Oscar sweepstakes.
More entries are making their way to the Academy every day, with final submissions due by mid-October. Below you'll find the 12 films that have been submitted by their respective countries that are also screening at the 34th annual Vancouver International Film Festival. As we become aware of further entries that will screen at VIFF, we'll update the "list" below, and alert you in future VanRamblings' posts (and/or on Twitter, @raytomlin).
With more than 200 foreign language features set to screen at VIFF 2015 — an almost overwhelming number of films from which to choose the dozen or more films you'll take in at VIFF this year — the rationale behind today's VanRamblings post is to offer you some small degree of direction as you review the VIFF Guide as to films that may be worthy of your attention.

The Assassin | Taiwan | Hou Hsiao-hsien | Best Director, Cannes 2015 | Review, The Playlist

600 Miles | Mexico | Director, Gabriel Ripstein | Best First Feature, Panorama, Berlin 2015
Ixcanul | Guatemala | Director, Jayro Bustamante | Alfred Bauer Prize, Berlin 2015
100 Yen Love | Japan | Review, Peter Debruge, Variety | Best Japanese Feature, Tokyo
Mustang | France | Europa Cinema, Best European Film | Directors' Fortnight, Cannes 2015
Son of Saul | Hungary | Review, Peter Bradshaw, The Guardian | Grand Prix, Cannes 2015

The Club | Chile | Director, Pablo Larraín | Silver Bear (Grand Jury Prize), Berlin 2015
Aferim! | Romania | Radu Jude | Silver Bear (Best Director), Berlin 2015 | Review, Screen
Rams | Iceland | Grímur Hákonarson | Grand Prix, Un Certain Regard, Cannes 2015

The Second Mother | Brazil | Audience Award, Berlin 2015 | Special Jury Award, Sundance
Embrace of the Serpent | Colombia | Art Cinema Award, Directors' Fortnight, Cannes 2015
Thina Sobabili: The Two of Us | South Africa | Audience Award, 2015 Pan African Film Festival
September 25, 2015
Do you have a hankering to travel to Gotham early in this autumn season?
Thought that, as it would coincide with your sojourn to the city that never sleeps, you might take in a screening or three at this year's prestigious 53rd annual New York Film Festival? Taking a gander at your bank account, though, you conclude, "New York in the autumn would be good, but perhaps not this year. Too bad I'll miss out on the great films at NYFF53."
Fear not avid cinephile, for once again this year our very own homegrown (and equally as prestigious and inviting) Vancouver International Film Festival will share many of the heavily-juried and well-reviewed films that will screen in New York; fifteen out of the NYFF53's thirty films, to be exact.
Hallellujah, for we are saved, as New York hops on a plane, a bus, a train to arrive weary, but invigorated, along the pristine shores of our west coast paradise. Here, then, is the complete list of the 15 celebrated Festival films that will screen simultaneously in both New York and Vancouver ...
Arabian Nights, Vol. 1 | The Restless One | Miguel Gomes | 2015 | Portugal | 125 minutes
A contemporary rethinking of what it means to make a political film, Miguel Gomes' epic paean to the art of storytelling — filmed during Portugal's recent plunge into austerity — offers a generous, radical chronicle of our troubled times, one that honours its fantasy life as fully as its hard realities.
Arabian Nights, Vol. 2 | The Desolate One | Miguel Gomes | 2015 | Portugal | 131 minutes
Unfolding in a more melancholic register, Miguel Gomes' monumental yet light-footed magnum opus shifts tones and genres at will (deadpan neo-Western, Brechtian courtroom farce, tear-jerking melodrama), all the while treating its fantasy dimension as a path to a more meaningful truth.
Arabian Nights, Vol. 3 | The Enchanted One | Miguel Gomes | 2015 | Portugal | 125 minutes
As enthralling as it is eccentric, the final installment of Miguel Gomes' sui generis epic features a sunny interlude of freedom for the heroine Scheherazade and an affectionate documentary chronicle of Lisbon-area bird trappers and birdsong competitions.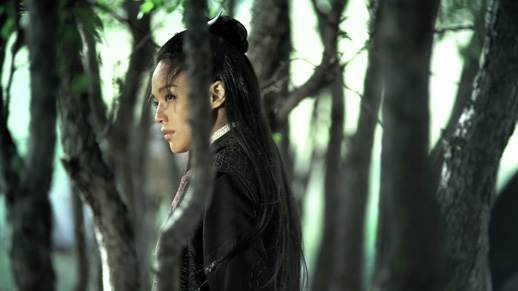 The Assassin | Hou Hsiao-hsien | 2015 | Taiwan | 105 minutes
Crystalline in beauty and oblique in narrative, this year's Cannes Best Director winner Hou Hsiao-hsien's eagerly awaited wuxia stars Shu Qi as a Tang Dynasty assassin, dedicated to the art of killing until memory transforms her course of action.
Brooklyn | John Crowley | 2015 | VIFF Opening Gala | Ireland | 105 minutes
Saoirse Ronan, as vibrantly alive as a silent-screen heroine, plays Eilis, who leaves her native Ireland in the early 1950s, slowly builds a better life for herself, and is then called back home, to another possible future, in this lovely adaptation of Colm Tóibín's novel.
Cemetery of Splendour | Apichatpong Weerasethakul | 2015 | Thailand | 121 minutes
A hospital ward full of comatose soldiers wage war in their sleep on behalf of long-dead feuding kings in the wondrous new film by Palme d'Or winner Apichatpong Weerasethakul, a sun-dappled reverie that induces in the viewer a sensation of lucid dreaming.
Experimenter | Michael Almereyda | 2015 | USA | 108 minutes
Michael Almreyda's portrait of Stanley Milgram (Peter Sarsgaard), the social scientist whose 1961 "obedience study" reflected back on the Holocaust and anticipated Abu Ghraib, is both appropriately uncompromising and surprisingly compassionate.
The Forbidden Room | Guy Maddin, Evan Johnson | 2015 | Canada | 132 minutes
In his insane magnum opus, cinema's reigning master of feverish filmic fetishism embarks on a phantasmagoric narrative adventure of stories within stories within dreams within flashbacks in a delirious globe-trotting mise en abyme, diving deeper than ever.

In The Shadow of Women | Philippe Garrel | 2015 | France | 73 minutes
The exquisite new film by the great Philippe Garrel offers a close look at infidelity — not merely the fact of it, but the particular, divergent ways in which it's experienced and understood by men and women.
The Lobster | Yorgos Lanthimos | 2015 | United Kingdom, Greece | 118 minutes
In the future, single people are rounded up and sent to a seaside compound, given a finite number of days to find a match, and turned into animals if they fail. Welcome to the latest dark, dark comedy from absurdist Greek director Yorgos Lanthimos. Winner of a Cannes Jury Prize.
The Measure of a Man | Stéphane Brizé | 2015 | France | 93 minutes
Dispassionately monitoring the progress of its stoic unemployed everyman (Vincent Lindon, in his finest performance to date, which earned him the Best Actor prize at Cannes) as he submits to a series of quietly humiliating ordeals in his search for work, this powerful and troubling film reveals the realities of our new economic order.
Mountains May Depart | Jia Zhangke | 2015 | China | 131 minutes
An epically scaled canvas of life in contemporary China, Jia Zhangke's new film spans three decades in the lives of its increasingly estranged characters, from the dawn of the capitalist explosion to the near future.

My Golden Days | Arnaud Desplechin | 2015 | France | 123 minutes
Arnaud Desplechin reaches Shakespearean heights with his intimate yet expansive new film, three varied but interlocking episodes in the life of his hero, with the wondrous experience of first love between Paul (Quentin Dolmaire) and Esther (Lou Roy-Lecollinet) at its core.
Right Now, Wrong Then | Hong Sangsoo | 2015 | South Korea | 121 minutes
A middle-aged art-film director and a fledgling artist meet — she knows he's famous but doesn't know his films, he'd like to see her paintings. Every word, pause, facial expression, and movement in Hong Sangsoo's masterful new film is a negotiation between revelation and concealment.
The Treasure | Corneliu Porumboiu | 2015 | Romania | 89 minutes
A man is approached by his neighbour with a business proposition: lend him some money to look for buried treasure in his family's backyard and they'll split the proceeds. Romanian director Corneliu Porumboiu's magical modern-day fable stays continually surprising and funny.
September 24, 2015
Throughout the year, the Vancouver International Film Festival's team of programmers travel the globe in search of the very best in world cinema, attending the better-known festivals such as Sundance in January, Berlin in February, Hong Kong and South by Southwest in March, Tribeca in April, Cannes in May, Seattle in late May through mid-June, as well as the myriad smaller but still prestigious film festivals in Rotterdam, Edinburgh, London, Locarno and the Czech Republic, among many, many other Festivals.
In late September of each year for 16 days, world cinema arrives on our shores, providing a window on the world, screenings scheduled once, twice or three times at VIFF, the vast majority of films never to be seen in our cinemas ever again. Either you see that very special, award-winning Turkish or Iranian, Japanese or Romanian, Chilean or Ugandan film as part of the annual Vancouver International Film Festival, or you will have missed out.
And what of those very special, award-winning films you'll want to place on your VIFF 2015 screening schedule.

September 21, 2015
The 34th annual Vancouver International Film Festival kicks off Thursday, September 24th with the Opening Gala screening of the probable Oscar contender Brooklyn, at the sumptuous 1800-seat Centre for the Performing Arts (see viff.org for details), offering a dizzying 16-day array of movies — 355 of them to be exact, from 70 countries across the globe.
Here's some advice on how to navigate the madness.
Wondering what movie to choose? VIFF has conveniently sorted its many offerings into six major themes this year: Deep Time, First Nations, The Great Divide, VIFF Impact, Hidden Past, Digital Futures, and On Comedy.
As has long been the case, you can browse film listings by programme or category: Non-Fiction, Canadian Images, BC Spotlight, Dragons & Tigers, International Shorts, Altered States, and Cinema of Our Time.
VIFF Executive Director Jacqueline Dupuis' 7-film Style series returns for a second year, as does the annual Spotlight on France series, which in 2015 features 12 outstanding Gallic features. Word out of VIFF has it that the five Romanian films are all excellent, and deserving of cinephile attention.
Wondering about how and where to buy tickets? There's no one central box office; you can, however, purchase tickets anytime online at viff.org, and print out your tickets at home. Note that there is a service charge for online and phone orders: $1 per single ticket, up to $5 per order. Purchase of the annual $2 membership is required by law before ordering tickets.
Tickets are also available at all of the theatre box offices.
The venues this year are, once again, The Centre for the Performing Arts, on Homer at Robson; Cineplex's International Village, on Pender Street (the old Tinseltown); the eastside's Rio Theatre, Commercial Drive at Broadway; SFU's Goldcorp Theatre for the Arts, at 149 West Hastings, at Abbott; the Vancouver Playhouse, on Hamilton Street at Dunsmuir; The Cinematheque, on Howe; and the always inviting and oh-so-comfy Vancity Theatre, on Seymour (VIFF's year-round venue!).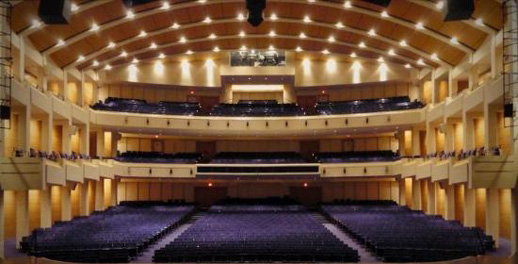 Please note: you can buy tickets for any Film Festival screening at any one of the seven Festival venues (during hours of operation). Tickets prices range from $10 for youth to $14 for adults, with Gala screenings priced at $22. There are a range of discount ticket packs, as well as passes that may be acquired, ranging in price from $180 for the Matinee Pass to $330 for the student or senior pass, and the $420 full 16-day Festival pass.
Patrons can find out how busy a screening is expected to be by going online, and checking tickets.viff.org.
Confused? Any questions you may have can be answered by e-mailing the Festival at info@viff.org, or by calling 604-683-FILM (3456), anytime between 10am and 7pm. Most questions can be answered, as well, simply by going online to viff.org/festival, or by taking a gander at the gorgeous, absolutely free booklet, VIFF - The Complete Guide, available almost everywhere across Metro Vancouver.
Once again this year, a VIFF app will be available on Apple's App store, or through Google Play, for Android phones. Twitter will also prove a good resource for Festival information (@VIFFest).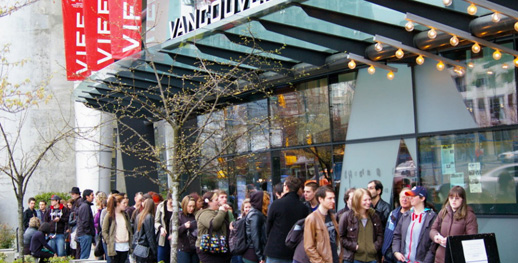 Wondering about all those lines? Each VIFF screening will have three: a pass-holder line (for those with passes hanging around their necks; you know who you are), a ticket-holders line (for those with tickets in hand), and a rush line. Standby tickets, for screenings that are sold out, go on sale 10 minutes before showtime, at full price (cash preferred). No matter which line you're in, arriving at least 30 minutes early is a good idea, particularly if you're picky about where you sit.
Wondering about food and drink? Though most VIFF venues serve standard cinema fare, there are a great many eateries nearby all of the venues where you might purchase a snack, or sit down to a meal. Outside food is officially not allowed, but VIFF-goers have been known to get away with it; be discreet and tidy (absolutely no food to be taken inside at The Centre, though).
Wondering about travel to, and around, the Festival? Transit is best, walking is second best. Parking is spotty, and expensive. All of the venues are located in the downtown core, so getting around shouldn't prove too much of a challenge.
Room, Audience Award winner at the Toronto Film Festival, and certain Oscar contender
Wondering which movies will be back post-VIFF? Here are just a few VIFF movies that will return soon for regular runs: the Telluride / Toronto Film Festival stunner Room, certain Oscar nominee Brooklyn, I Saw The Light, Youth, Cannes Palme d'Or winner Dheepan, multiple Berlin Film Festival award winner 45 Years, Brazil's 2015 Best Foreign Film Oscar nominee, The Second Mother, the film that took Cannes by storm Son of Saul, Meru, The Assassin, and doubtless many more. You might, of course, want to see these movies at VIFF because of the possibility of special guests, or the fun of catching something early — but you also might want to wait and see the films without the VIFF crowds.
Most years, VanRamblings presents a list of the 20 must-sees; this year we'll depart from our usual practice by presenting the favourite, can't miss films as identified by the Vancouver International Film Festival's retired Festival Director (who has now taken on the title of Chief Programmer), Alan Franey.
"A central mandate of the Vancouver International Film Festival is to entertain, but more than that we want VIFF films to enlighten," says Franey. "We're different than any other film festival because of our commitment to the multi-cultural mosaic. VIFF patrons have told us over the years that they're not interested in the big Hollywood films, or the presumed Oscar contenders, although we have programmed a handful of those often worthy films, titles that you'll find in this year's VIFF Guide."

"VIFF is a community-based Festival serving the broadest cross-section of the 2.4 million of us who live across Metro Vancouver, in every ethnic community, from every part of the world. No other Canadian festival brings in 355 films, or more, from 70 different countries, with as strong an emphasis on the films of East Asia, and world cinema. Vancouver's continued dedication to the dynamic of multi-cultural films has contributed greatly to VIFF's ongoing success."
Here they are then, Alan Franey's favourite "under the radar" films screening at VIFF 2015 ...
France's The Measure of a Man. Vincent Lindon picked up the Best Actor award at this year's Cannes Film Festival, in a film the VIFF guide describes as "Stéphane Brizé's profoundly humanist and exceedingly timely film," various critics stating that Measure is social drama similar to the work of the Dardennes Brothers (or even Ken Loach), a film that spares no harrowing detail in this working-class chronicle of an unemployed father trying to make ends meet, his unemployment benefits soon to run out, his income so reduced that there is not enough money to pay the mortgage, and maintain his wife and handicapped teenage son. In the film, Brizé seeks to evoke the resistance in the working class to the wave of factory closures and mass layoffs since the outbreak of the global financial crisis in 2008.
Also among Alan's favourites, there's New Zealand's A Flickering Truth, Holland's Schneider vs. Bax, Iceland's Rams, Ireland's One Million Dubliners, the U.S.A.'s 3 1/2 Minutes, 10 Bullets and Experimenter, Lithuania's The Summer of Sengalié, Poland's Body, Israel's Tikkun (a multiple award winner), Brazil's Absence (which Alan said knocked him out), and all three volumes of Portuguese director Miguel Gomes' triptych, Arabian Nights (which Alan recommends not be watched back to back, but over a period of days ... three screenings of each film in the series has been scheduled).
Commencing Thursday, September 24th, VanRamblings will provide daily coverage of the Festival, which will continue right on through until Festival's end on Friday, October 9th, as has been the case in past years.
Now you know almost all there is to know about the 34th annual Vancouver International Film Festival, save actually sitting down to watch two dozen or more of the very best in world cinema, a process that offers always a necessary and invaluable window on our ever-changing world.
Happy VIFF-ing!

September 4, 2015
The most glorious time of year for cinéastes across the globe occurs in the month of September, as five prestigious film festivals programme films that in the months to come will take the world by storm, set the stage for Oscar season, and for true diehard festival attendees — in evanescent moments of cinematic splendour — allow the screening of hundreds of films spanning the globe in origin, to be seen only within the rarified humanist atmosphere of the film festival, thereafter to vanish forevermore. Sigh.
Only 48 short hours ago, the 72nd annual Venice Film Festival kicked off with the out of competition world première screening of Baltasar Kormakur's emotionally riveting mountain climbing thriller, Everest, providing bursts of anxiety and cliff-hanging 3D drama in the star-studded Palazzo del Cinema on the Lido. Fortunate for Vancouver's anticipatory hometown cinephile crowd, a goodly number of the lauded Biennale di Venezia films will find their way to our calming and beatific shores, as the always glorious and transformative 34th annual Vancouver International Film Festival sets about to screen many of the Venice Film Festival award-winners, our very own illustrious Festival-by-sea commencing at 10am, Thursday, Sept. 24th, completing its run late, late on Friday, October 9th.
Earlier this week, the fine folks at the Vancouver International Film Festival announced that their Opening Gala film will be the smash Sundance hit, Brooklyn. One of this autumn's most anticipated film releases, and a certain Best Picture Oscar nominee, with Saorise Ronan a lock for a Best Actress Oscar nod, in his The Playlist review of Brooklyn, Rodrigo Perez wrote ...
Home is where the heart is, and love, longing, and grieving for the departed fragments of our lives we can never return to are lovingly realized in John Crowley's exquisitely crafted and beautiful Brooklyn. Based on the novel by Irish author Colm Tóibín, and delicately adapted by Nick Hornby, Brooklyn tells the story of Eilis Lacey (Saoirse Ronan), an Irish immigrant who travels to America in the early 1950s for a more prosperous life.

With empathetic specificity, Brooklyn nails the emotional complexity of homesickness beyond mere melancholic nostalgia. It's a despair for the absence of friends, family, and comforting familiarities that define our lives, but as well a lovesick longing for a past that no longer exists; a tearful goodbye for a moment in time now awash in memory. With a beautiful tenderness that never rings false, Crowley's graceful film fills in every emotional contour with warmth and sensitivity.

A heartbreaking and poignant story about choices, country, commitments, sacrifice, and love, Brooklyn is a superb, luminous, and bittersweet portrayal of who we are, where we've come from, where we're going, and the places we call home.
Brooklyn makes its Vancouver début at the Centre for the Performing Arts, at 7pm on Thursday, September 24th (the Festival has programmed two additional screenings of this must-see VIFF 2015 première).
Meanwhile, Curtis Woloschuk, Jack Vermee and the editorial members of VIFF's publication team released this year's glossy 108-page programming guide to the 2015 Festival, currently available at the Vancity Theatre, but soon to be available at libraries across Metro Vancouver, as well as bookstores, coffee shops, video stores and most any place that people gather. An impressive humanist document, The Complete Guide makes for a compelling read, as it sets about to provides a road map to the singularly most engaging arts event on the autumn calendar.
On Thursday, the Telluride Film Festival programming staff released the up until then secret list of future Oscar nominees set to screen in the southwestern mountainous climes of Miguel County, Colorado. The incomparable list of films that attendees will screen over the four-day Labour Day weekend, kicking off today, represent the very best in cinema that will be released in 2015 (note should be made that every Best Picture Oscar winner over the past 10 years made its début at Telluride).
Several of the films making their début at Telluride are also scheduled to screen at our very own VIFF, including certain Oscar contender, Son of Saul (which took Cannes by storm); Berlin Film Festival award-winner, 45 Years; Jafar Panahi's Taxi; Lenny Abrahamson's much-anticipated Room; and, Avishai Sivan's shocking Festival winner, Tikkun, among many other prestigious award-winning international films of cinematic excellence.
Perhaps the most hotly anticipated film making it's international début at Telluride is Sarah Gavron's Suffragette, the film's star — the luminous Carey Mulligan — a certain Best Actress Oscar contender. Suffragette arrives in Vancouver in late October.
Each year for the past 30 years and more, media from across the globe travel to the centre of the universe, as a calvacade of A-list Hollywood stars converge on Canada's largest metropolitan centre for the Toronto Film Festival, where the movie industry is afforded the opportunity to present cinema's (read: Hollywood's) very best, where the prestige films on offer at TIFF will garner critical and, some months down the road, Oscar attention, where films reviewed in the hothouse atmosphere of Toronto to rapturous acclaim capture the public's imagination (how could they not?), pouring hundreds of millions of dollars into Hollywood's already overladen coffers, gifting Hollywood's woebegotten producers with the Oscar hardware that says, "You done good Hollywood. We forgive you for the plethora of cynical CGI-infected comic book movies. Thank you. You've done yourself proud."
Last but certainly not least, there's the heavily juried New York Film Festival, the 53rd version of which commences September 25th, the day after our very own festival by the sea, la-la-land's always wonderful Vancouver International Film Festival, gets underway.
Can't travel to New York for NYFF53? Not to worry. Although it drives VIFF print traffic mavens Kathy Evans and Selina Crammond absolutely bonkers, a goodly number of NYFF53's finest also screen in Vancouver (Kathy and Selina on the phone with New York hourly to ensure the one and only "print" of the film makes it to Vancouver following the New York screening).
In 2015, New York and Vancouver share Miguel Gomes's monumental yet light-footed magnum opus, Arabian Nights, Volumes 1, 2 & 3; Cannes Best Director winner Hou Hsiao-hsien's, The Assassin; Brooklyn, Saoirse Ronan's vibrantly alive emigré epic; Cemetery of Splendour, the wondrous new film by Palme d'Or winner Apichatpong Weerasethakul; Experimenter, Michael Almreyda's portrait of Stanley Milgram (Peter Sarsgaard), the social scientist whose 1961 "obedience study" reflected back on the Holocaust and anticipated Abu Ghraib.
The Forbidden Room, Guy Maddin's insane and phantasmagorical magnum opus; In the Shadow of Women, the exquisite new film by the great Philippe Garrel, who takes a close look at infidelity, and the divergent ways in which it's experienced and understood by men and women; The Lobster, absurdist Greek director Yorgos Lanthimos' acclaimed Cannes Jury Prize winner; and The Measure of a Man, Stéphane Brizé's powerful and troubling new film, which earned Vincent Lindon the Best Actor prize at Cannes.
Mountains May Depart, Jia Zhangke's newest epic, spanning three decades in the lives of the film's increasingly estranged characters, from the dawn of China's capitalist explosion to the near future; My Golden Days, Arnaud Desplechin's triptych exploration of first love; Right Now, Wrong Then, Hong Sangsoo's wry comedy of manners, laced with heavy drinking & regret; and, The Treasure, Romanian director Corneliu Porumboiu's magical modern-day fable, which Variety called, "a deadpan gem."
Count 'em. Fifteen of the New York Film Festival's 30 heavily juried films will screen in Vancouver, virtually simultaneously with the Big Apple.
Film festivals offer a window on our world, and an intimate exploration of the lives of folks just like us, who reside in every far flung country across our globe. The Vancouver Film Festival: 16 days, 70 countries, 355 films.
Tickets (and passes) are on sale now for the 34th annual Vancouver International Film Festival at the Vancity Theatre, and soon at these listed locations. When I dropped by the Vancity on Thursday to pick up my hot-off-the-press copy of VIFF's wonderfully gorgeous and expansive The Complete Guide (it's free folks — pick up a copy, and schedule a dozen films, or three) ticket sales were brisk. A heartening sight to see, indeed.
Today's Festival column constitutes the first of many such columns that will focus on the Vancouver International Film Festival. Commencing September 24th, VanRamblings will take a 17-day break from coverage of the federal election, VIFF winning out over Stephen Harper, Tom Mulcair and Justin Trudeau. Last year, VanRamblings covered Vancouver's municipal election, and in consequence our usual VIFF coverage suffered — not this year!
November 20, 2014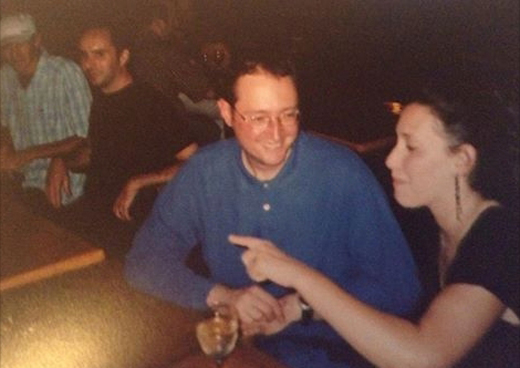 John Skibinski (1956-2014) with a friend. Passed away Nov. 12, 2014. May he rest in peace.
John Skibinski was a great man, one of our city's treasures, widely known among Vancouver's cinema cognoscenti, a longtime manager at Festival Cinemas, and a friend to more people than could possibly be counted.
An attentive and empathetic listener, John had a way of burrowing in and identifying the source of one's distress when a friend in pain came to him for succour and support — in no time at all, John would have you laughing, your desolate melancholy, heartbreak or angst relieved.
John Skibinski was a friend, always on your side, someone who could be counted on, and hold you close — compassionate, non-judgmental and kind. Walter Winchell once wrote that a true friend is someone who walks in when the rest of the world walks out; that was John in spades, courageous and unwavering. "There is nothing I would not do for those who are really my friends. I have no notion of loving people by halves, it is not my nature," wrote Jane Austen in Northanger Abbey — she may very well have been writing of John Skibinski, a great friend who will be very much missed.
Lund, the gateway to Desolation Sound. A view seen by John Skibinski while growing up
John was raised and went to school up Island on the Sunshine Coast, in the tiny rural village of Lund, a small craft harbour and unincorporated village in the Powell River District, and the gateway to Desolation Sound.
Ivana Thulin writes on the Celebration of John Skibinski Facebook page ...
I met the Skibinski family when I was 15, and right from the start they were very special people in my life. So many memories and good times were had by all. We always looked forward to our visits with John when he would come home to Powell River during the holidays ... his visits were never long enough! John was very close to his dad, Bill, and his mom, Ruth, John being the light of his mother's life.
Upon graduation, John — a very good student — moved to our province's capital, to attend the University of Victoria, in the late summer of 1974. On his very first day at UVic, John met fellow student, Karyn Segal, both of whom were enrolled in the theatre department, and both of whom went on to work at Cinecenta, UVic's repertory movie theatre, initially in a volunteer capacity, and then as employees.
In time, John graduated into the position of programmer, taking on a share of the responsibility of booking independent, avant-garde and foreign film fare. By 1994, based on John's work and that of Cinecenta co-founders, Michael Hoppe and Doug Sprenger, the informal film festival hosted annually by Cinecenta, transformed into the beloved Victoria Film Festival.
Although the focus of John's academic work was geared toward acquiring a Bachelor of Fine Arts degree, in fact John never applied for his degree, leaving the university a few credits short of the requirement for graduation.
Instead, John's love of travel and wanderlust took him to Europe, John returning to Canada to care for his father, who had been struck ill. After his father passed, John moved to Toronto for a short while, before returning to Victoria; soon after, in 1989, Karyn and John moved to Vancouver's West End, sharing an apartment until the early 90s. John's soon-to-become best friend, Lisa Doyle — who lived in the same apartment building as John and Karyn — discovered a common interest ... a passion for and love of film, particularly independent and foreign film.
On her Facebook social media page, Lisa Doyle has written ...
I met you at 17. I was young, full of ambition, movie ideas, and you gave me a job as a projectionist. You were patient and bemused by my wide-eyed. We experienced everything life has to offer, often side by side. Laughter, great films, food, the west coast, Victoria, Vancouver, San Francisco, Toronto. You loved life, travel and a good meal.

Films, oh the films you introduced me to: Stan Brakhage, Bruce La Bruce, Ken Loach, that crazy Hungarian landscape filmmaker, Tarkovsky, Gus Van Sant, Ozon, Michael Hanneke, the list goes on ... I do not have enough room on Facebook.

Did I mention the laughter? One of the funniest people I have ever known.

The veiled kindness, masked by sharp wit. The deep devotion to your friends, and the loyal following you had. When you walked into a room, or a movie theatre, smiles lit up, because John had arrived. You were loved, the devotion back to you was 100 times what you could ever imagine.

Oh yes, few people know that he was a sort of dog whisperer. Dogs would come up to him and nuzzle him; somehow they gravitated to him, and knew he was a good one.

I will miss you Skibby. I am devastated, but I can hear you telling me to stop whining. And you are here, because whenever something funny happens in my day, I can feel you close, laughing along with me.

You are in the big cinema now, with the cushy seats, an unblocked view, free popcorn,the lights are dimming and the curtain is about to go up. You have an unlimited supply of films at your disposal. You are in your peaceful place.
It was in late 1991 / early 1992, that John first met Leonard Schein — who in 1977 had founded The Ridge repertory cinema, founded the Vancouver International Film Festival, and in the late 1980s was Director of the, then, Toronto Festival of Festival, also taking on the position of programmer with the Montréal Film Festival.
Upon returning to Vancouver, Leonard Schein converted the old Bay Theatre on Denman, into the newly-renovated Starlight Cinema. Soon after opening The Starlight, John applied for a job as a ticket taker and concession worker — which proved the beginning of a long and successful relationship based on love of cinema. Soon after, John became Manager of The Starlight Cinema, and along with Schein took on a programming responsibility, bringing in Ken Loach's Cannes Fipresci award-winning film Riff Raff, contributing to the financial and artistic success of The Starlight.
Not longer after, with Schein in an expansive mood, a deal was struck with Canada Steamship Lines (owner: Paul Martin, who would two years later would become the federal Liberal Finance Minister), signing a lease for The Varsity Theatre on West 10th Avenue in Vancouver, the Dunbar Theatre, and the Plaza Theatre on Granville Street. Thus Festival Cinemas was born.
John Skibinski became the first Manager of The Varsity Theatre, where he set about to hire a young staff who loved film as much as he (including a young man by the name of Kevin Eastwood, who would go on to become an award-winning Canadian filmmaker).
Neil Jordan's Cannes' Fipresci winner, The Crying Game. Jaye Davidson and Stephen Rea
Perhaps the most famous story involving John occurred in 1992, when John lobbied Leonard Schein to book Neil Jordan's The Crying Game, which months later went on to win an Academy Award for Best Writing, Screenplay Written Directly for the Screen, at the 1993 Academy Awards ceremony, for the film's writer-director, Neil Jordan.
Schein was not confident of the potential for the theatrical success of The Crying Game. After much back and forth, a deal was finally struck: Schein would book the film, but if The Crying Game was not a success, John would tender his resignation, and leave Festival Cinemas.
A resistant Schein booked the film in the fall of 1992, the film opening at The Varsity Theatre. The result? The Crying Game went on to 11 months of SOLD OUT shows, setting an international record for the film's theatrical success, and in some measure creating success for the film's director, Neil Jordan, and sparking the careers of actors Stephen Rea & Forest Whitaker.
Although Schein has dined out on the story of his business and artistic acumen as being responsible for booking the ground-breaking Neil Jordan film, in fact it was John Skibinski's insistence that the film be booked, and his willingness to put his job and his livelihood on the line that was responsible for the film's booking, and its subsequent tremendous success.
A short while after acquiring The Varsity Theatre, Schein closed The Starlight Cinema, singing a lease for The Park Theatre, on Cambie Street.
John Skibinski became The Park Theatre's first manager, a job he held until 1999, when Festival Cinemas was sold to Alliance Atlantis Films. In a shrinking theatrical market, and John not being a particular fan of Hollywood film-oriented cinema chains, Famous Players and Cineplex Theatre, John secured employment at video stores specializing in independent and foreign film, allowing John to share his encyclopedic knowledge of film with grateful patrons, many of whom came to develop a deep love of cinema.
Emily Carr University on Granville Island, in darkness, a memorial to the late John Skibinski
At the time of John's passing, John was working at Emily Carr University on Granville Island, a job he loved, and where his warmth, ready smile, incredible organizing ability and peerless dedication to doing the best job of which he was capable, led to a promotion for John to a job entailing greater responsibility, that was to have begun around the time of John's passing.
As might well be expected, John supplemented his well-paying union job at Emily Carr, with work at Black Dog Video, on Cambie Street, almost directly across from The Park Theatre, now part of the Cineplex chain. John loved his job at Black Dog Video, and owner Darren Gay, the staff of Black Dog Video, and the store's many grateful customers grew to appreciate John's love of film; being around film is what John loved best. Darren and Black Dog Video staff have written a tribute to John, which may be found here.
John Skibinski's Church of Cinema, at his beloved Vancouver International Film Festival
As is true of any cinephile located in the western Canada, or anywhere in the Pacific Northwest, John Skibinski loved film, and never missed a Vancouver International Film Festival, from the time he arrived in the city in the late 1980s through until last month's 33rd annual Vancouver International Film Festival, where his friends were afforded the opportunity to share the sacred experience of the church of cinema, and the eternal and near invisible world that is all around us, that together as whole we sat with rapt attention in one or another of the festival's venues, becoming one, and allowing us in the church of cinema to transcend the troubles of our lives.
For John Skibinski, as it is for many of us who love film, cinema delivers access to the new spiritualism, a place where we experience not merely film, but language, memory, art, love, death, and spiritual transcendence.
John was an erudite and a very, very charming man, possessed of a considerable, and conspiratorial wit, just one of the many salutary and welcome traits John shared with the world.
John's encyclopedic knowledge of cinema history was easily the equal of the most learned professor, he knew every foreign, international and independent film worthy of attention — and they were varied, idiosyncratic and of great volume — every director of consequence, and every actor, actress and cinematographer, all of which knowledge he contextualized, and had at the ready to regale the anticipatory and enthusiastic cinéaste.
John will be very much missed. There was never anyone like John Skibinski, and we will never know his like again.
A humble man, a hero, a man who gathered friends around him like children run toward a puppy. John Skibinski may have been a dog whisperer, as Lisa Doyle writes, but he was as well a people whisperer, a loving, generous and kind-hearted man of the universe, once ours and now gone.
John Skibinski, may you rest in the warm embrace of eternal peace.
October 6, 2014
Although only days remain until our beloved Vancouver International Film Festival shutters its doors for another year, there are still a great many recommendable films on tap that are worthy of your attention.
In today's VanRamblings, a potpourri of items to intrigue your sensibilities.
VIFF Repeats: VanRamblings received a note from the splendidly wonderful VIFF and Vancity programmer, Tom Charity, this morning (there must be a very special additive that's been placed in the water a VIFF HQ, for VIFF admin staff constitute an incredibly great group of folks!) where he informed that, "There will be 2 full days at The Cinematheque plus half days at SFU, and a couple more matinées on Monday."
The Festival published the list of VIFF Repeats on Tuesday afternoon, films that will screen ...
... over the long weekend, Saturday October 11th through Monday, October 13th. Festival passes, exchange vouchers and ticket pack redemptions are not accepted for these screenings. A VIFF or Vancity Theatre Membership is required.
Enjoy VIFF's encore series. See ya there.
Still Life: To date VanRamblings has failed to give Uberto Pasolini's new film, Still Life — by far the consensus best, under-the-radar English-language indie film at VIFF 2014 — its full due. Let's rectify that: Still Life is an absolutely superb, low key wonder of film, the success of which emerges from the performance of the festival: Eddie Marsan not only plays his most sympathetic character to date, his emotionally-nuanced performance of humane integrity absolutely rivets the attention of the viewer to the screen.
The film's synopsis reads, "As a modest council case worker in a London suburb, John May's (Marsan) job is to find the relatives of those found dead and alone. Despite his efforts, he is always on his own at their funerals, having to write their eulogies himself. When his boss intends to fire him, John decides to double his efforts on a case that will change his life and prove that he hasn't said his last word."
That Still Life takes us on an utterly unexpected, yet always human-scale journey, and that Downton Abbey's Joanne Frogratt (who plays the PBS series' most sympathetic character, Anna Bates) is just as wonderfully tender on the big screen as she is the small, catapults this film into the first rank of VIFF 2014 entries, a film always of tremendous poignancy, a sublime and delicate story about loneliness, sadness and death, yet utterly inspiring and uplifting in a counter-intuitive way. Disarmingly emotional.
Go prepared: you're in for an unexpected treat.
Still Life screens twice more, both times at The Playhouse, this afternoon at 4pm, and on Wednesday, October 8th, at 7:15pm. Not to be missed.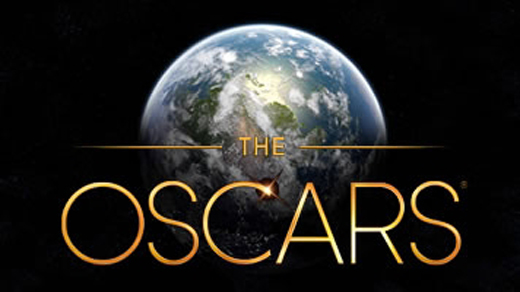 VanRamblings has updated our Best Foreign Language Oscar nominees post that provides insight into the nominees that are screening at our 33rd annual festival by sea. Click on this link to be taken to the updated page, or if you're on the front page of VanRamblings, just scroll down the page.
Perhaps the untold story of the 33rd annual Vancouver International Film Festival is the rampant homophobia, intimidation and discriminatory practices that has been directed towards VIFF volunteers working at The Centre, specifically those volunteers who have been perceived by members of the Westside Church (owners of The Centre) as living an "alternative lifestyle", the volunteers made to suffer while working their shifts at VIFF's Centre for the Performing Arts, which conduct by The Centre's church members has led to multiple resignations of VIFF volunteer staff.
As readers may recall, an evangelical church purchased The Centre in the spring of 2013. In respect of homophobia, as reported in Xtra West ...
The pastor of the Westside Church (owner of The Centre for the Performing Arts) cautiously yet unambiguously reaffirmed the stance that homosexuality is a sin in his June 17 sermon ... Norm Funk, 46, offered the sermon on homosexuality as part of a series titled "You Asked. Jesus Answers." ... Before founding Westside in 2006, Funk was youth pastor at Willingdon Church, whose members spoke out against the Burnaby school board's anti-homophobia policy last year.

Evangelical churches, particularly Baptist churches, are notorious for their fire-and-brimstone message that homosexuals will go to hell ... "It is never okay to respond in any way that is not loving to whomever, regardless," he told followers. But Funk didn't embrace gay people, either, grouping homosexuality with "temptations" like greed and lust.
In 2013, Vancouver City Council — at a meeting best remembered for the tears of the young children whose hopes to dance in the Goh Ballet's Christmas production of The Nutcracker were dashed when the church purchased The Centre — "forced" the Westside Church to allow the film festival and Goh Ballet to use The Centre for their scheduled programming.
In 2013, VIFF supplied all the volunteers at The Centre, during the Festival.
In 2014 it was reported to VanRamblings, the pastor insisted that church members join VIFF's volunteer staff, VIFF never suspecting that such practice would lead to the present intolerable circumstance.
When volunteer staff at The Centre first apprised VanRamblings of the unconscionable situation described above, we approached VIFF admin staff to enquire as to what measures were being taken to rectify the improvident circumstance. Although VIFF admin were clear that "negotiations are ongoing to remediate the clearly unacceptable practices of some members of the church who are volunteering at The Centre this year", as of this writing the situation has not been rectified; it seems doubtful that there will be resolution before the festival comes to a close on Friday evening.
To wrap today's post, before we head out to the festival for this evening's screenings of Force Majeure and the French policier 24 Days, please find below a list of a few of the must-see films in the final days of VIFF 2014.
Of course, there are many more Vancouver International Film Festival films that VanRamblings will take in over the course of the next few days, but the films above offer a starting point for superb VIFF films to consider.

October 5, 2014
Here we are in the final stretch of the 33rd annual Vancouver International Film Festival, and VanRamblings has let down our regular VIFF followers.
To some degree we'll try to make amends with a longer than usual VIFF post tomorrow. Today's post attends to VIFF logistics "business" that may, or may not, be of interest to readers looking for rave film reviews.
Could Still Very Well Be: Paradise at VIFF's Cineplex Tinseltown Site

Note: The following represents a note to VIFF Tinseltown exhibition staff.
Prelude. Honest, warm, human communication involving volunteer and VIFF theatre management staff at the Cineplex site has been at a premium in 2014; which is to say, palpable human connection has been, thus far, an uncommon feature of the interaction of staff and patrons. In the final five days of VIFF at the Cineplex site, that unholy circumstance must change.
Trust. VIFF exhibition staff must trust that patrons have the best interests of the Festival at heart, that patrons and staff are in this whole big VIFF schmozzle together — that all of us want the experience to be as pleasurable, memorable, efficient and friendly as is humanly possible.
VIFF staff at Cineplex: patrons are not your enemy; they're your allies.
[Note to VIFF admin, esp. Mickey and Brie: you've got a darn wonderful management person in Kaen, and Aubyn seems to connect surprisingly well, given how such friendliness seems not to be supported this year and, oh yeah, when it comes to volunteers Janet Smith is just aces]
[Note to VIFF admin, Part II: Congratulations on appointing Sean Wilson as Exhibitions Manager. I cannot imagine a better choice than Sean]

As VIFF exhibition management staff your primary duty is to see patrons gain entrance into the theatre complex in as reasonably efficient a manner as possible. And on that level, VIFF Tinseltown logistics has worked fairly well, outside of the first couple days (which is, of course, to be expected).
In response to a litany of concerns expressed to VanRamblings by VIFF patrons (for some time now, we've been VIFF's unofficial Ombudsperson — something thrust upon us, & not assumed), please find recommendations intended to enhance your experience, and lighten your load.
1. Smile. That's right, no matter how busy you are, take a moment to recognize that the patrons who are in the lines, or are making their way in or out of the theatre are real, live human beings, moms, dads, brothers, sisters, members of familes of every description. No matter how busy you are, no matter how stressed you feel, smile — it'll lighten your load, and vastly improve the patron experience. Honest ...;

2. Trust. Expanding on the paragraph on trust above: most of the VIFF exhibition staff at the Cineplex are new this year to the maelstrom that is the VIFF exhibition experience at Tinseltown (just ask the hero of VIFF Tinseltown 2013, Mr. Human Dynamo himself, Alan Franey — I'm not kiddin', Iulia and Alan working together last year was nothing short of wondrous!). Please keep top of mind always that most of the patrons in the lines love the film festival, have been attending for years and years and years (even before many of you were born!), travel hundreds of miles to get here in many cases, and have lives that revolve around our 16-day film festival each year. Trust always that VIFF patrons have the best interests of the Festival at heart. Think about it, incorporate it into your management style. And smile, actually look at people & smile;

3. Communication. When you're speaking with someone, smile, a genuine smile, a warm and warming smile, a reassuring and calming smile. Make eye contact. Seriously, make eye contact. Connect. And never forget to let the patrons know what's going on: communicate with them, keep them in the loop — that's part of your job.

Acknowledge the patrons' humanity. Look for their names on the pass, or if they have tickets, ask for their name, and say hi. Remember their faces so that the next time you see them, you can greet them. Ask the patrons if there's anything you can do for them. Humanize the management experience for yourself — you'll be glad you did, & you'll get the job done even better.

Now, I know you're thinking to yourself, "Is he out of his cotton pickin' mind? Does he have no idea about how busy we are, how many different facets of exhibition management for which we are responsible?" Yes, I do, and I say: smile, be friendly, be welcoming, smile some more, connect, hear what patrons have to say, acknowledge that we're all in this together, that your primary responsibility revolves around ensuring the best patron experience possible, and part of achieving that goal involves consciously acknowledging the humanity of the patrons you see milling about the Tinseltown complex each and every day;

4. Emulate Brie Koniczek, your boss, well-experienced VIFF exhibition management staff person, and provider to VanRamblings of the most transcendently wonderful experience of exhibition management to which we have been witness in our 33 years of attending the Vancouver International Film Festival — and that's going some, because VanRamblings loves, I mean really loves, Iulia Manolescu's exhibition style — in the centre of an early morning storm at the Cineplex site one morning this past week Brie, and Brie alone, working with volunteer staff, remained calm, always smiling, always genuine (utterly, utterly genuine and humane), always lovely and engaging beyond words, communicative, warming, welcoming and reassuring.

No wonder Brie's smiling: with the most beautiful baby, and wonderful husband, in the world
Brie Koniczek. How one assumes the onerous responsibility of taking virtually sole responsibility for overseeing the ingress of three long lines of patrons, distributes the tickets, directs volunteer staff quietly, efficiently, and humanely, all the while interacting with and re-assuring patrons (who would seem to be at the bottom of the list of priorities for some other of the exhibition management staff) in all three lines, and down in the will call / rush line-up, that all was well, outlining the exhibition dynamics of the morning, working towards the movement and ingress of patrons into the theatre, all the while smiling — it wasn't just the warm, reassuring smile that lit up Brie's face and her whole countenance, it was the near magical transfer of that warm, reassuring and calming energy into the crowd, an Alan Franey-like zen countenance, a warm Iulia Manolescu communication style with everyone she ran across, and a commitment to and the actual achieving of a logistically pristine exhibition management experience.
Honestly, if I attend the Vancouver Film Festival for another 30 years, I am sure I will never be witness to as transcendently lovely a VIFF exhibition experience as was the case one morning this past week, involving Brie Koniczek's utterly in control, and utterly humane exhibition management.
October 1, 2014

The criteria that cinephiles set for which 40+ films they'll take in at our annual autumn Vancouver International Film Festival varies.
Some folks want to make sure that they see every one of the films that took the 2014 Cannes Film Festival by storm, while other folks feel that taking in all of the screenings of award winning films arriving from festivals that span our globe — Sundance, San Sebastián, Tribeca, Instanbul, Seattle, Shanghai, Karlovy Vary, Berlin, Newport Beach, and Venice, just to name a few — rank as must-sees at our beloved festival by the sea.
Others, looking ahead to the 2015 87th Academy Awards — set for Oscar Sunday, February 22, 2015 — want to ensure that they're part of the "in crowd" that has seen more than a handful of the films that have been nominated by their respective countries for the prestigious Best Foreign Language Film Oscar. And thus we set our VIFF task for the day ...
Best Foreign Language Oscar Contenders Screening at VIFF 2014
Haemoo (South Korea)

Turning a real-life human trafficking tragedy into a comment on social inequality and the cost of survival, Haemoo dramatizes a stark nautical ordeal fraught with tension, the meticulously crafted production having generated widespread critical acclaim and healthy domestic box office, even if the subject did spark associations with the Sewol ferry disaster. Produced and co-written by internationally recognized Korean auteur Bong Joon-ho (Snowpiercer, The Host) this directing debut by helmer-scribe Shim Sung-bo echoes Bong's trademark cynical vision of human nature. A gripping cinematic ride, with powerful imagery, a simple and accessible story and a stellar performance from Kim Yoon-seok, Haemoo is set in 1998, three years before the Sewol incident, and offers a journey into darkness that begins when trawler captain (Kim) finds himself broke (and broken), his fortunes hit hard by the fallout of the Asian financial crisis.
Living Is Easy with Eyes Closed (Spain)

In David Trueba's whimisical feature début, a trio of misfits set out to meet the Beatles, traveling across Spain in 1966 to meet their idol John Lennon on the set of How I Won the War, in hopes of clarifying some lyrics they couldn't quite understand. Inspired by the true story of Spanish schoolteacher Juan Carrión Gañ án, as Stephen Farber writes in the Hollywood Reporter, "This small gem offers a lovely evocation of Spain as well as a touching tribute to an unforgettable moment in time when the Beatles seemed to offer brand new possibilities, the idea that strawberry fields might indeed go on forever."
To Kill A Man (Chile)

A quiet drama that cares as much about familial alienation as with getting away with murder, Alejandro Fernandez Almendras retells a true story of last-ditch self-defense, about a timid man who does what he must to protect his family. To Kill A Man is a grim, fat-free revenge thriller that extracts an impressive degree of moral equivocation from its exceedingly simple premise of a family man, tormented by neighborhood thugs, who resorts to unseemly measures when the authorities fail him. Almendras' début feature is a slow burner, bearing some of the eerie social disquiet of pre-eminent Chilean auteur Pablo Larrain's work. A grand jury prize winner at Sundance, this hard-edged best foreign film nominee has emerged as one of the early favourites at VIFF 2014.
The Golden Era (Hong Kong)

Ann Hui's ambitious, lustrously mounted biography of eminent feminist Chinese novelist, poet and essayist Xiao Hong declares its intentions right from the outset, opening with a black-and-white shot of Xiao Hong (played with gleaming intelligence by Tang Wei), who directly addresses the audience, stating her name and when and where she was born and died. Crucially, it is the only time Xiao herself breaks the fourth wall. The Golden Era's title refers to a more introspective sense of time and opportunity, but can also be taken as an ironic comment on the 1930s, an especially tumultuous period in Chinese history that saw the rise of the Communist party and the invasion by the Japanese. Handsomely mounted with a score that resists a ripe opportunity for excess romanticism, The Golden Era offers sophisticated storytelling, narrative and historical sweep, and a meticulous re-creation of a China long since passed.
The Gambler (Lithuania)

A feature début so self-assured as to really only ever only be marred by its show-offiness, the Latvian/Lithuanian co-production, The Gambler, which played in competition at the Marrakech Film Festival earlier this year, marks director Ignas Jonynas' emergence on the scene as a talent to keep an eye on. Taking a skewed, and ever so slightly surreal story about a team of emergency medics who develop a highly successful and lucrative game involving betting on when patients are going to die, and basing the odds on complex and arcane analyses of the medical information to which they have access, the film, to its credit, is less interested in this high concept than it is in its lead character, the bearlike Vincentas (Vytautus Kaniusonis), his moral descent and eventual redemption.
Rocks in My Pocket (Latvia)

A very personal animated film that explores depression and suicidal tendencies with wit, surreal invention and insight, New York-based Latvian director Signe Baumane (Teat Beat of Sex) gets personal in her depression-themed feature that combines paper-mache sets and hand-drawn animation. This partially autobiographical tale chronicles the lives of three generations of Baumane's family, covering roughly a century of history, during which the small Baltic state (current population: just under 2 million) was occupied several times. But though the film's historical-political background provides texture and interesting parallels — since depression could be seen as an undesired subjugation of the mind — Rocks in My Pockets is mainly concerned with a very subjective personal history of three generations of women, all prey to depression and dark thoughts. Animated in a striking combination of real paper-mache sets and props and hand-drawn 2D figures, the film explores with wit, surreal invention and insight something left far too often undiscussed.
The Liberator (Venezuela)

An impressively mounted, but perhaps overly truncated take on a great historical figure about whom much more needs to be known, the extraordinary story of Simon Bolivar onscreen in two hours represents a Sisyphean struggle of the first order. This physically impressive Venezuelan-Spanish co-production clearly lays out both the ideological forces at play in the early 1800s and the nature of the physical challenge of pushing the Spanish out of South America after 300 years of control. Edgar Ramirez does an entirely respectable job limning Bolivar's idealism, bravery and natural leadership qualities, although the man himself remains elusive , more icon than flesh-and-blood being. Still, a compelling film to watch, and a VIFF film the audience appreciated with rapt attention, and appreciation.
Two Days, One Night (Belgium)

In this impassioned and moving new film by Belgian sibling directors Jean-Pierre and Luc Dardennes brothers, another excellent social-realist working-class drama, Marion Cotillard appears in every scene as the frantic Sandra, who learns in the opening minutes that she's been laid off from her job at an energy plant just before the weekend. Fighting off tears in the mirror, she discovers a semblance of hope in the promise of a new vote among her co-workers come Monday. A mesmerizing odyssey, with no soundtrack or melodramatic confrontations, the Dardennes plunge viewers into a terrifying world of unknown variables. Two Days, One Night emerges as another hugely admirable entry in the Dardenne canon: thoughtful, humane and superbly composed.
Sorrow and Joy (Denmark)

Danish auteur Nils Malmros (Tree of Knowledge) revisits a personal tragedy, turning the camera on his own tragic backstory in Sorrow and Joy, a deeply personal auto-biography about how the director's wife murdered their infant daughter in 1984. In this drama starring Jakob Cedergren and Helle Fagralid, Malmros paints an unflinching portrait of himself as critical and emotionally neglectful, the story told through the device of a psychiatrist's questioning, and in flashback to the start of the couple's relationship. At the same time, we watch the director attempt to ensure his wife receives treatment in a psychiatric hospital rather than a prison.
Mommy (Canada)

A funny, heartbreaking and utterly original work from 25-year-old Canadian enfant terrible Xavier Dolan — the writer and director of five critically acclaimed movies, and co-recipient of a jury prize at Cannes — Mommy is a blast of pure cinema, an intense, intimate drama about a harried mother and her troubled teenage son that vividly captures a range of exhilarating emotions from elation to despair. Dolan plays with well-chosen music and strategic silence, demonstrating a more experienced filmmaker's technical proficiency, coupled with the bold exuberance of youth. With Mommy, Xavier Dolan has solidified his standing in the pantheon of great directors with his new work, a film of explosive freshness, offering a delicate balance between humour and tragedy that's simply intoxicating. Dolan's Mommy is a beautifully realized film that is certain to speak to the VIFF crowd.
Corn Island (Georgia)

A virtually wordless, elegant tone poem — and all the more captivating for its quietness — Georgian director George Ovashvili's top prize winner at Karlovy Vary is, as Variety's Peter Debruge suggests, "an astonishing feat of cinema", a life and death fable that tracks the lives of an aging Georgian farmer (Ylias Salman) and his innocently flirtatious granddaughter (Mariam Buturishvili), who work together to build a rudimentary wooden shack and plant a crop of corn on a temporary island in the middle of the Inguri River, amidst the warring factions of Georgia and the republic of Abkhazia. Audacious, powerful, utterly compelling, and melancholy, Corn Island represents the best of foreign language film at the 2014 Vancouver International Film (we saw it in preview), and is a must-see at our festival.
Winter Sleep (Turkey)

Palme D'Or winning Turkish photographer, screenwriter, actor, and film director Nuri Bilge Ceylan can do no wrong, his latest — Winter Sleep — masterful and multi-layered, inspired by a Chekhov short story, the film — at three hours and sixteen minutes (not an unusual length for a Bilge Ceylan film) — offering a richly detailed, subdued and mesmerizing depiction of the full spectrum of the human condition.
Novelistic in structure, Winter Sleep revolves around Aydin, a retired stage actor (Haluk Bilginer) — a bearded, middle-aged grouch who operates a hotel in Cappadocia, high on a hill above inherited land owned by his late father — and his much younger wife, Nihal (Melisa Söezen), who spends her days gazing out the window, bored with their empty, privileged lives.
From Eric Kohn's review on Indiewire ...
Winter Sleep contains a few surprising moments of levity, from scenes of drunken men dueling with Shakespeare citations, to the peculiar nature of Aydin's relationship with a disadvantaged horse. At one point, a rabbit-hunting session leads to one of the movie's darker signifiers, while conveying a strange feeling of existential uplift on the character's terms. Such signifiers are never forced, however, as each telling moment arrives in the context of the movie's enthralling pace.
In its broadest terms a character study, as Ben Croll writes on Twitchfilm:
The film can be easily criticized as being too talky, overlong and a tough sit. All of which is entirely true! But there is some kind of cumulative value in the stacks of minutes and words that pile up and topple onto each other. Something that is also reflected in Ceylan's rather agoraphobic decision to keep things mostly indoors for the duration of the film. Twisting the familiar, a simple interaction or the inside of a living room, into something heightened and uncanny highlights the film's final verdict on Aydin. To turn the idiom around, he is proof of the evil of banality.
Winter Sleep. Another can't miss at our Vancouver International Film Fest.
Beloved Sisters (Germany)

An exquisitely detailed period piece, as Variety's Scott Foundas writes ...
An enthralling, gorgeously mounted depiction of the complicated relationship between the post-Enlightenment writer and philosopher Friedrich Schiller and the sisters Charlotte von Lengefeld (who would become his wife) and Caroline von Beulwitz (his eventual biographer), Beloved Sisters maintains novelistic narrative density in its enveloping canvas, as director Dominic Graf sets about to create an unusually intelligent costume drama of bold personalities torn between the stirrings of the heart and the logic of the mind, all the while casting his revealing gaze upon Western Europe's bumpy transition from the 18th to 19th century.
Be forewarned: another long sit (171 minutes), but very much worth it.
Force Majeure (Sweden)

One of the key films about which VIFF's Director of Programming, Alan Franey, waxed poetic at the opening press conference of the 2014 Vancouver International Film Festival, as Boyd van Hoeij writes in The Hollywood Reporter, "An avalanche does no bodily harm but leaves a Swedish family entirely wrecked nonetheless" in Force Majeure, an ice-cold Swedish drama about a family torn apart by cowardice. Director Ruben Östlund's new film comes across like Ingmar Bergman with a wicked streak.
Writes Peter Debruge in Variety ...
In its very calculated way, the film serves to document all that will inevitably be omitted from the family's official record of their five-day ski vacation, as suggested from the first shot, in which this seemingly perfect clan — father Tomas (Johannes Bah Kuhnke), mother Ebba (Lisa Loven Kongsli), son and daughter (real-life siblings Vincent and Clara Wettergren) — poses for a contrived group portrait on the slopes. Whereas they self-edit their memories to fit their own narrative, Östlund observes the minutiae, right down to the bathroom breaks.
The film uses the daily structure of life on vacation to show us small variations in how things work between Tomas and Ebba. Once the fractures begin to appear in their marriage, things fall apart very quickly over the five-day skiing holiday in the French Alps, a pricey-looking getaway for a well-heeled couple.
Theatrically structured, yet a bracingly cinematic film, Force Majeure takes the family, and us, on a ski trip down a black run into a blacker chasm.
Have we mentioned that the film festival is not about force-fed, mindless Hollywood pap, but is rather all about offering an honest reflection on the human condition (ain't no passive-aggressiveness goin' on here), and that chances are the films screening at VIFF are likely not to be an easy sit?
Bottom line: either you love film, or you don't. Either you're willing to confront your demons (the characters on screen often represent a disturbing, and often unexplored, aspect of the deepest, inner core of your being, your id), or you're not. VIFF as therapy: you better believe it.
Final note: we'll update the list of Best Foreign Language Oscar nominees screening at VIFF 2014 as the information becomes available, and point you back in this direction periodically over the course of the next four weeks.
September 27, 2014
The first couple of days of the wonderfully overcast, and cooly-inviting 33rd annual Vancouver International Film Festival brought everything and more that had been promised: great cinema of consequence offering cinephiles a window on the world, seamless entry into the cinemas, a couple of glitches here and there (the subtitles for the films screening at The Rio on Friday night were out of sync), the well-attended Opening Gala screening of Jean-Marc Vallée's Wild (rumour has it that Matt Damon was in the audience) going off without a hitch — screening at 3pm today for a final time at The Centre for the Performing Arts on Homer Street, plus there've been enthusiastic conversations galore while waiting in the lineups full of tales of shared memories and enthusiastic analyses of the films on offer.
Waiting for August (Grade: A+): My favourite film the first couple of days at VIFF was the very first film I saw at 10 a.m. on Thursday morning at The Cinematheque, Waiting for August — Teodora Ana Mihai's Karlovy Vary / Hot Doc's Fest best doc winner, the intimate, wondrous, fabulously humane slow-boil Romanian social non-fiction feature about a 15-year-old girl who cares for her six siblings while her mother earns a living abroad.
At its essence, Waiting for August is a film that examines the Christian doctrine of original sin, and the true nature of man. The film poses the question: will the seven young children left to fend for themselves and their own devices become feral, or will a finer sense of humanity and the collective interests of the family predominate? The defining characteristics of the nature of the siblings' relationship that emerges? Love, and honour.
Alone in the world except for one another, the three girls and four boys in the family arise each morning for breakfast, attend to their hygiene, dress well in togs sent to them from their mother living in Italy, and attend school (except the youngest) — where they do well, socialize and have friends — all set amidst the safe and caring community of Bacau, within one of the Romania's poorest provinces. Sleeping collectively on a large mattress placed on the floor, the bodies of the children tangled together possesses the innocence of puppies all snuggled together in blissful repose.
An incredibly lovely film full of hope and charity, there are two more screenings of Waiting for August: today at 4pm, and next Thursday, Oct. 2nd at 9:15pm, both times at Cineplex International Village, Cinema 8.
VanRamblings is on record as liking this year's free, glossy film fest guide.
Despite VanRamblings' salutary appreciation of the guide: a smattering of folks (some getting on in years, which is a category — one supposes — into which we would seem to fit these days) much preferred last year's full catalogue "book", with its larger print, more expansive content, and fuller presentation of information on the 350+ films screening at VIFF.
Here's what Curtis Woloschuk, Editor and Publications Co-ordinator for this year's VIFF programme had to say on the matter, when we approached him on Thursday: last year's VIFF programme catalogue did not sell well enough to warrant this year's publication of another VIFF programming "book" — research indicated, as well, that most patrons depended on the free VIFF guide that was distributed three weeks prior to fest kick-off. Note should be made that the type font in this year's programming guide, Curtis told us, is a font-size larger than last year's free preview guide.
Still and all, Curtis took note of the concern, and committed to us that at fest's end, as senior festival staff are conducting their annual administrative review of the festival, the issue raised above will be given due consideration.
Some pics of VIFF's 2014 Opening Gala, + VIFF videos

Filmmakers Laurence Keane, Elvira Lount, and Sandy Wilson, with VIFF's Alan Franey
VIFF's Alan Franey and Jacqueline Dupuis, with VIFF co-founder, Leonard Schein
Hey's it opening night at the 33rd annual glorious Vancouver International Film Festival
September 25, 2014
For lovers of cinema, happy, happy days are here once again!
Yes, the spectacular, gorgeous, incredibly moving 33rd annual Vancouver International Film Festival commences today for a glorious 16-day run of the world's best cinema, brought to our shores by a first-rate programming team, headed by longtime VIFF Artistic Director, Alan Franey.
More than ably aided by well-experienced Programme Manager and Senior Programmer, PoChu AuYeung, and her programming colleagues, the Vancouver International Film Festival once again presents more than 350 films, from more than 65 countries across our globe, and as you have read above: the very best in world cinema has been brought to our shores.
As VanRamblings has reported previously, the Vancouver International Film Festival is a much-changed film festival in its 2014 iteration. The Georgia Straight's Craig Takeuchi would seem to agree (ahem, supplemented by some commentary from me), writing about VIFF's ...
Digital revolution: "This is the first year in our history that we're not actually showing a film," Franey announced. In 2014, none of the selections will be presented on celluloid — all the films are digital.
Festival guide: In previous years, a free, brief preview guide was released prior to the official print guide, which was available for purchase. This year, the two have been amalgamated into one free, glossy guide, available all across Metro Vancouver.
Marketing: Have you seen that knockout 'sizzler' ad above highlighting the 33rd annual Vancouver International Film Festival? And wait til you see the BC Spotlight sizzler video below. The film festival is marketing itself like never before — and that's all to the good. I'm willing to bet that those 'ads' translate into a much-increased box office for the Festival in 2014.
Best New Director award: For 20 years, the Dragons and Tigers Award for Young Cinema was given to an emerging director from Pacific Asia who had not yet won significant international recognition. This year, that award has been expanded to the Best New Director (International) award.
VIFF Industry: A re-branded and revamped VIFF Film and Television Forum, a singularly important industry conference that coincides with the fall festival each year that will in 2014 engage more with the local film industry, including Vancouver's booming visual effects and animation industry. The four-day VIFF Industry Conference offers professional development for registered participants, and wide-ranging industry-relevant topics, from content creation and financing, to marketing and direct distribution, to storytelling and audience engagement. Betcha NPA mayoral candidate Kirk LaPointe will be interested in knowing more about the re-imagined VIFF Industry.
Style series: VIFF Executive Director Jacqueline Dupuis announced that a new series, Style in Film, will showcase six films covering the themes of fashion, style, art, iconoclasts, and aesthetics. VIFF will partner with Eco Fashion Week to produce Q&As and events, such as a VIP post-event screening at Holt Renfrew (October 5).
Gala films and special events: From the wow, wow, wow Opening Gala Film, the Reese Witherspoon-starring Wild (yes, we're talking Academy Award nominations here), to the closing Gala Film, Whiplash, the film that took the Sundance Film Festival by storm earlier this year, to the incredibly moving Special Gala presentation of The Vancouver Asahi (about which we will write again very soon), VIFF 2014 has absolutely outdone itself this year in booking films of special merit that will resonate with filmgoers like mad!
In 2014, how is the Vancouver International Film Festival the same?
Venues are the same this year as last (nine screens, 7 venues, including the 1727-seat Ford Centre for the Performing Arts across from the Vancouver Public Library, on Homer). Full venue information is available here.
The festival will run 16 days as per usual — kicking off today and running through until late night, Friday, October 10th. There are 355 films from 65 countries, in a programme that includes 26 non-fiction (documentary) features, 9 films in the Spotlight on France series, 27 films in the Dragons & Tigers (Cinema of East Asia) series, with more Canadian and U.S. films than ever in 2014, and a first-rate BC Spotlight film series, with 14 features.
As always, there are all sorts of ticket options: from single tickets at $13 to a range of ticket packs. Call the VIFF Info line at 604-683-FILM (3456) for more information. You can also get more info, and buy your tickets, online. Ticket acquisition is generally easy peasy, nice and easy.
What are the highlights in 2014, films that are must-sees?
Leviathan: The single most talked about film at Cannes this year, the film that took the critics by storm, Andrei Zvyagintsev's extraordinary tragic drama of corruption and intimidation in contemporary Russia is the must-see of VIFF 2014, and not just because Jeff Wells loved it, writing ...
It's a drop-dead brilliant, awesomely-composed-in-every-respect melodrama and moral tale that concurrently serves as a microcosm of (or metaphor for) a morally compromised, ruthlessly malevolent, bare-knuckled Russia. Vladimir Putin will love it! (Kidding.) Political corruption, lust and infidelity, way too much vodka, blackmail and thuggery, gunshots, bromide-dispensing priests who kowtow to powerful scumbags, huge whale skeletons, crashing waves, rotting ships — this puppy has it all plus the aura of a majesterial art film plus opening and closing musical passages by Phillip Glass plus the most beautifully lighted, handsomely composed widescreen photography (by Mikhail Krichman) I've seen in a long time.
Or, because The Guardian's Peter Bradshaw gave Leviathan a paltry five stars, writing that the picture is "full of extraordinary images and magnificent symmetry, a film acted and directed with unflinching ambition. Leviathan is a forbidding and intimidating work, and a film of magnificent ambition, scope and grandeur." Aw, shucks. Me, I'm taking in the Friday night, October 3rd, 9pm screening at The Playhouse. See ya there!
The Wonders. Alice Rohrwacher's Cannes Grand Prix winner, the film which I've most looked forward to seeing, and the picture I'd prayed to the gods (and to Alan Franey) to please, please bring to 2014's Vancouver International Film Festival, will indeed screen at VIFF 2014! VanRamblings absolutely loved Rohrwacher's début film, 2011's exquisite, resonant, melancholy, tremendously lovely, authentic, quiet and beautifully observant Corpo Celeste. The Wonders in Vancouver — I am in heaven! See you at Friday night's 9pm screening at The Rio!
[Digression: yes, yes, it's true. My entire year revolves around the film festival. I am in love with the film festival, in love with the volunteers, in love with the administration and staff, in love with the films that screen at VIFF, in love with my fellow filmgoers, cannot wait to shed buckets and buckets of tears, and feel more emotionally-wrenched during the 16-day run of the film festival than I am at any other time of the year (no wonder I am so crazy in the lead up to, and during, our annual Vancouver International Film Festival — I am in love, completely, utterly out-of-control, as if I am 19-years-old again, and I am in love with the love of my life!)]
Oh yes, where was I?
Here's a quick rundown of the films that are at the top of my list as must-see five-star films screening at VIFF 2014, each of these films garnering immense praise and recognition from the critic cognoscenti ...
And, oh yes, my two favourite films in VIFF preview, also rush-right-out and get your tickets must-sees, two of the most unusual, groundbreaking each in their own way, moving and gratifying films at VIFF 2014: Uberto Pasolini's wondrous Still Life, and the doc (well, kind of "the doc") of the festival thus far for me, Hope and Wire, about the aftermath of the Christchurch, New Zealand 6.7 earthquakes in 2010 and 2011. Me, if I am brought to tears while watching a film, if I am pulled in that much, I am sold, the film goes into my memory bank forever and forever — a feat achieved by both these films, as was the case with Ishii Yuya's entirely magical The Vancouver Asahi, which is a must-see for baseball fans, and anyone who professes to — and really does — love the city of Vancouver.
Of course, there are many more films about which I could write — but you'll just have to wait til Saturday (this year, in a departure from past practice, I will cover the Vancouver civic election one day, and VIFF the next).
I'll see fewer films this year, it's true, but there's a job to be done to save the city (I'm not kidding) — the 2014 Vancouver civic election is a critical election that will determine Vancouver's future.
Do you want a city consisting almost solely of green-glass towers, energy-inefficient, soon-to-crumble highrises that cater only to the (often non-resident, sorry to say) wealthy, or do you want a livable, sustainable city for the rest of us, and our families? That's what it's all about in 2014.
Make no mistake. The 2014 Vancouver civic election is a legacy election.
September 4, 2014
A knock-out sizzler, pulling you in to the 33rd annual Vancouver International Film Festival
The 2014 Vancouver International Film Festival is much-changed.
Oh sure, there are the same folks involved this year as in recent years, the venues will be the same as they were last year, but the films that will be screened at this year's Festival (more A-listers than in years!) ... and the utter loveliness that is newly-installed Executive Director Jacqueline Dupuis. And let's not forget about that knockout 'sizzler' VIFF prelude video above, created by the folks at post pro media (I mean, like wow, wow, wow!).
As I have written previously, Alan Franey stepped down from the day-to-day running of the Festival, just after last year's Festival came to a close. Alan, and Festival staff with whom I was in contact last autumn, insisted that there was a succession plan in place — and lo and behold, the successor was right in their midst, in the form and person of Jacqueline Dupuis, who had already worked with the Festival for a couple of years, in a (perhaps?) more 'restricted' Executive Director capacity.
In 2014, Ms. Dupuis has put her stamp on the festival, emerging very much as the reigning intelligence of VIFF 2014. Who'da thunk? Certainly not me, if you read last autumn's October 13th VanRamblings column.
(By the way VIFF folks, mea culpa — I was wrong)
VIFF Executive Director Jacqueline Dupuis talking with VIFF Media Manager, Justin Mah
What were the chances that Jacqueline Dupuis, arriving from Calgary three years back, would find a family in the programmers and staff at VIFF, and in 2014 would emerge as the eminence gris of the Festival? In person, Ms. Dupuis possesses the charm and lack of guile you would find in a 22-year old, an openness to experience, and an almost wide-eyed wonderment in the living of a life encompassing the hours of her day — and here she is now, today, the matriarch of the Festival — lovely, strong, bright and principled, the leader in whom festival staff have vested their faith.
For those who are not familiar with the staff of the Vancouver International Film Festival, let me tell you about my observations: there is about the folks who work with VIFF an uncommon kindness, integrity and humanity, as well as an intelligence matched with an unerring sense of purpose.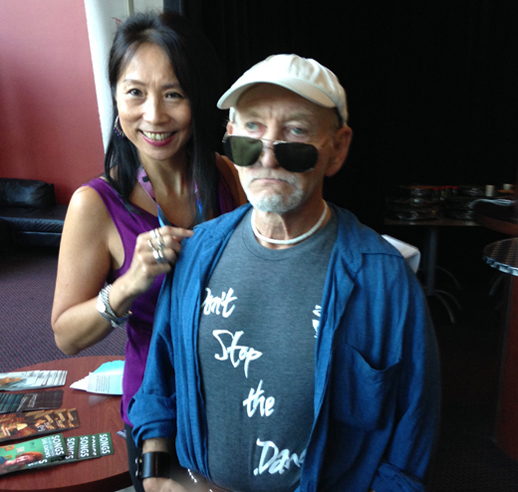 VIFF Programme Manager PoChu Au Yeung, and retired broadcaster, J.B. Shayne
There is amongst the fine folks who work with the festival, a feeling that is palpably shared among all those who are associated with the festival, of a higher purpose, a humanity and warmth and caring — not just for the city, or for those of us diehard cinephiles who live for our festival-by-the-sea each and every autumn, but for one another, full-time and part-time administrative staff, and volunteers. VIFF may be possessed of the most functional administration of any arts organization on the continent.
There is the quiet, zen-like presence of the festival's Director of Programming, Alan Franey, right on through to Alan's longtime second-in-command PoChu Au Yeung (a relationship of equals that has sustained for years), through to this year's kind and generous programme guide editor Curtis Woloschuk, as well as longtime Canadian Images programmer Terry McAvoy, the entirely magnificent Shorts International programmer Sandy Gow — about whom we wrote a couple of years ago — with longtime VIFF stalwart Jack Vermee back from France for another go-round, and Vancity programmer Tom Charity very much a part of the family, all of whom share a common sense of purpose, but more, oh so much more.
As per the title of this blog post, you probably want to know how it is that VIFF33 is different from all of the previous VIFFs. Okay, here we go ...
It would appear that with the Toronto Film Festival engaged in a dispute with the Telluride Film Festival, the Vancouver Film Festival has snuck in and snagged a record number of A-list Hollywood films — a welcome departure in programming orientation from years past.
From Jean-Marc Vallée's Wild — starring Reese Witherspoon, Laura Dern, Gaby Hoffmann — the Opening Gala film at VIFF 2014 (the film played to raves at Telluride, and is also on the TIFF schedule), to the closing Gala Film, Whiplash — the breakout film at Sundance earlier in the year, and also on the TIFF schedule — through to certain Oscar nominee, Bennett Miller's incredibly well-reviewed Foxcatcher — débuted at Cannes, just screened at Telluride, and screening at TIFF; Olivier Assayas' Cannes stunner, Clouds of Sils Maria; David Cronenberg's Maps to the Stars; Jason Reitman's much-anticipated Men, Women & Children; Xavier Dolan's Mommy; to the five-star, scalp-prickingly scary It Follows, the 33rd annual Vancouver International Film Festival will be a festival to be savoured and appreciated.
Second, in all the years I've covered VIFF, I've never heard Alan Franey wax as poetically enthusiastic about as wide a range of the films that are scheduled to screen at VIFF. When video of Alan's address to the VIFF Launch / Media Conference is made available (apparently, a week Monday), I'll post it on VanRamblings. Believe me when I write that Alan's "guide" to VIFF33 could very well prove to be the definitive guide to this year's Fest.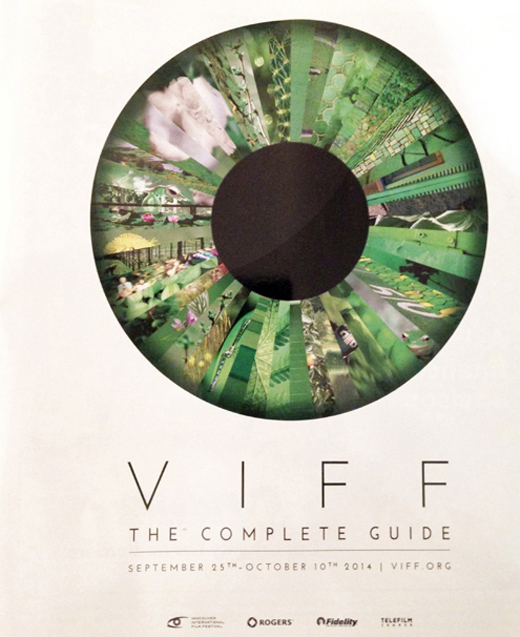 This year, for the first time, the VIFF guide will be FREE (yes, you read that right: free). The guide is glossy (forgive the photo above — the guide is actually a brilliant white), may be found at your favourite video store or book store, at libraries and all around town, as well as at the Vancity Theatre, and is available now, at least a couple of weeks earlier than usual, just as valuable as ever, and an absolute must cinephile acquisition.
What is the same about this year's Festival, compared to previous years?
Fabulous, mind bogglingly beautiful films, a great team of VIFF administrative staff and volunteers, incredible venues (The Centre for the Performing Arts is back again this year!), and the best (if, often, most challenging) time you'll have in a darkened cinema all year long, as well as a window on our diverse world that provides a par excellence experience.
What is different?
Well, I'd say a brighter, more contemporary, more business-like and almost aggressively engaging spirit that is just going to draw you in like never before, incredible 'of this age' sizzler videos that will drive business to the Festival like mad (I'll post them as they become available), a renamed and focused VIFF Industry Conference (more on this in the days to come), a raft of new sponsors, that great new free VIFF programme guide — and more, of course, but you're just going to have to check it out for yourself.
Tickets are now available online, and as of September 13th will be available in person at the Vancity Theatre box office, from noon til 7pm daily.
On the weekend, I'll write more about the specific VIFF 2014 series and films, will post more video, provide more information on venues, and will publish much much more. This is gonna be a great festival — see ya there!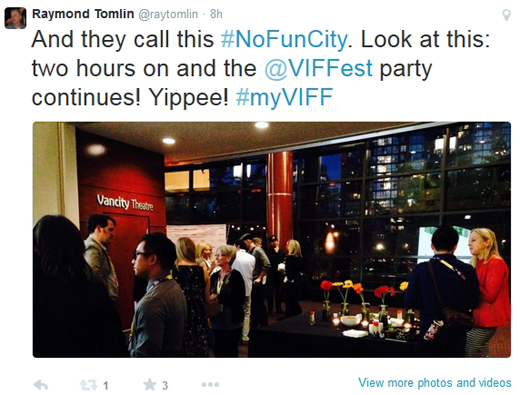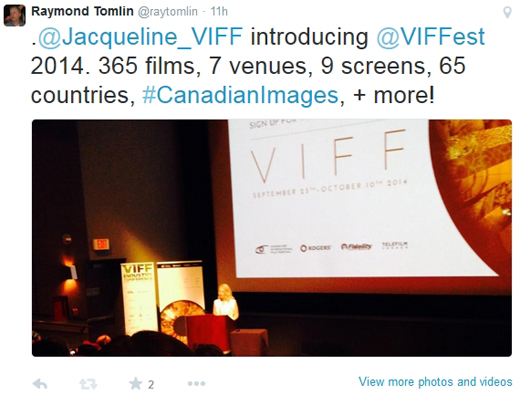 August 5, 2014
For VanRamblings, for 30+ years now, the première cultural event of our calendar year sustains as the annual Vancouver International Film Festival.
Earlier today, we ran into Curtis Woloschuk — VIFF programmer, publications editor, and programme logistics co-ordinator (each title of which deserves capital letters) — at the Starbucks at Davie and Seymour, nearby the VIFF offices. Curtis, along with all the other adventurous, dedicated staff of VIFF, is working hard at it, preparing for VIFF 2014, as has been the case for many months now. Curtis was saying that today, VIFF will post its first VIFF 2014 programming announcement, the 2014 Cannes highlights and award winners that will arrive at our VIFF in 2014 — which, of course, can only cause VanRamblings to whoop with joy!
Imagine, Leviathan is on its way! And Bennett Miller's Best Director winner at Cannes, Foxcatcher, which is certain to emerge as not only one of the prestige pictures of the year, and a certain Best Picture Oscar contender, but as well, as an all-but-certain Best Actor Oscar nominee in Steve Carell.
Alice Rohrwacher's Grand Prix winner, The Wonders — the Cannes winner to which we were most looking forward, and the picture we prayed to the Gods (and to Alan Franey) to please, please bring to 2014's Vancouver International Film Festival — will arrive at VIFF 2014. Yippee! VanRamblings absolutely loved Rohrwacher's début film, 2011's exquisite, resonant, melancholy, tremendously lovely, authentic, quiet and beautifully observant Corpo Celeste. The Wonders in Vancouver — we are in heaven!
Read all about the remaining 2014 Cannes highlights, and winners, that will arrive in Vancouver in late September and early October — and you will, as does VanRamblings, find yourself more than a little bit over the moon.
Mid-afternoon, VanRamblings was pleased and surprised to find an e-mail in our iPhone inbox announcing the revamping of the VIFF focus, and the ascension of Jacqueline Dupuis to the position of VIFF Executive Director.
Last autumn, indulging our penchant for hyperbole and titles for articles that are meant to engage, enrage and misdirect (challenging the reader to actually read through the commentary below the 'meant to outrage' title), we published what we felt to be a warm tribute to longtime Festival Director, Alan Franey (who, by the way, remains with VIFF 2014 as its chief programmer) that, much to our surprise, met with some foul reception by the good folks at VIFF. Thank God VanCity programmer Tom Charity, and longtime VIFF Board of Directors member Colin Browne, intervened to quell concerns, lest the ire felt by some VIFF folks might be maintained for many years to come, forever prejudicing VanRamblings' relationship with VIFF.
Which is all by way of saying that VanRamblings loves the Vancouver International Film Festival, has always loved the Vancouver International Film Festival, and believes that long, long, long into VIFF's salutary future that we will continue to love the Vancouver International Film Festival.
Today, VanRamblings welcomes the news of the appointment of Jacqueline Dupuis as the new leader of the Vancouver International Festival Festival, allowing us the opportunity to say that we are thrilled with her appointment (Ms. Dupuis, against all rationale thought, has always treated VanRamblings kindly and well, in each of our engagements — for which we remain most grateful and appreciative) as the de facto Chief Executive Officer of VIFF.
No tumult here, as the Vancouver International Film Festival moves from strength to strength to strength. Congratulations, Jacqueline Dupuis!
(Please find below, the press release issue by VIFF, on Tuesday afternoon)
Vancouver International Film Festival, New Leader & New Direction
In its 33rd year, the VIFF Society Makes A Bold Transition
Change is a good thing — especially when it is built upon a foundation of past success and positioned to take an organization to the next level. Marking its 33rd year, the Vancouver International Film Festival Society has gone through a leadership transition, naming Jacqueline Dupuis as Executive Director.
With over 10 years of leadership experience with various international film festivals, Dupuis brings a strong focus on strategic business planning, policy development and fundraising to the VIFF Society. Prior to joining VIFF, Dupuis served as the Executive of Director of the Calgary International Film Festival (CIFF) and was a former member of the CIFF Board of Directors where she headed up CIFF's (first-ever) strategic planning initiative. Dupuis's leadership during this initiative resulted in the financial turnaround of the organization, building CIFF's destination value by differentiating the Festival from others around the world.
"We are so proud of the cultural impact that VIFF has created over the past three decades," says VIFF Society Board Chairman David Hewitt. "As we enter our 33rd year, we are looking to grow and take the organization to the next level. Our goal is to make the Society not only a cultural icon of cinematic intrigue but also a leader in industry and the business behind entertainment. Jacqueline is the perfect person to do this. Her private sector background, along with international film festival experience, makes her the ideal candidate to transition the VIFF society to realize its potential."
"I'm honoured to be taking the reins as Executive Director of an organization that is so well respected both in Canada and the cinematic community around the world," says VIFF Society's Executive Director, Jacqueline Dupuis. "I will be working with its three year-round business units; the Vancouver International Film Festival, VIFF Industry and the Vancouver International Film Centre."
In 2013, prior to the official leadership transition, Dupuis launched the VIFF BC Spotlight programme, which featured 12 BC-made feature films, a dedicated marketing campaign and slate of awards, resulting in the highest attended series in the history of the festival. The Georgia Straight lauded the programme "best cheerleading for BC filmmakers".
As part of VIFF Society's go-forward direction with the official leadership transition, Dupuis is focusing immediate efforts on facilitating the business of entertainment in BC and Canada. In 2014 the VIFF Film & Television Forum, a four-day business conference that takes place during the festival, is rebranding to VIFF Industry.
Some elements of the expanded focus: in 2014, VIFF Industry will have:
An increase of 20% in industry guests and speakers attending from LA to leverge Vancouver's unique proximity to Hollywood
A greater focus on the local BC service industry, as it is a large driver of our economy and ends with
An expansion from film and television to broad-based screen entertainment recognizing the strategic importance and growing contributor visual effects, animation and gaming, provides to BC's screen-based economy (it is the 3rd largest production centre of this kind in the world).
Dupuis replaces Alan Franey who has served as CEO and Festival Director for the past 26 years. Franey, who has played an instrumental role in making VIFF Society the iconic cultural organization it is today, will remain involved with the Festival as Director of Programming.
About VIFF Society
The Greater Vancouver International Film Festival (VIFF) Society is an established not-for-profit cultural society that produces year-round programming at the Vancouver International Film Centre in addition to the 16-day International Film Festival, and four-day VIFF Industry Conference.
The VIFF Society is a charitable not-for-profit arts and cultural organization, employing over 100 staff and 750 volunteers in British Columbia, with an annual operating budget of approximately $5.0 million. Its mandate is to encourage the understanding of other nations through the art of cinema, facilitate the meeting of entertainment professionals from around the world and to stimulate the motion picture industry in BC and Canada.
In its 33rd year, VIFF welcomes the world to Vancouver from September 25 - October 10, 2014. VIFF gratefully acknowledges the generous support of our major partners: Rogers Communications, Fidelity Investments Canada, and Telefilm Canada. VIFF also extends its thanks and appreciation to the Province of British Columbia through the Ministry of Community, Sport, and Cultural Development's Community Gaming Grants program, as well as the Government of Canada through the Department of Canadian Heritage's Building Communities through Arts & Heritage.
About Jacqueline Dupuis
Prior to joining VIFF, Jacqueline served as the Executive of Director of the Calgary International Film Festival (CIFF) for 3 years and former member of the CIFF Board of Directors for three years. Jacqueline took the reins of CIFF after enjoying a very successful 10-year career in business development and management in the high tech sector working for companies such as Xerox and Sun Microsystems where she won numerous awards and accolades.
Throughout her career, Jacqueline's passion for volunteerism and community support led her to organizations such as the United Way, The Mustard Seed, Theatre Calgary, Betty's Run for the Cure and the Children's Cottage, & most recently the Vancouver Downtown Business Improvement Association. Jacqueline is also a proud recipient of the Downtown Vitality Award from Downtown Calgary (Business Revitalization Zone) and recent participant of Executive Lab leadership program at Vantage Point.
An experienced arts administrator with a strong focus on strategic and business planning, policy development and fundraising, Jacqueline's goal is to leverage her private-sector background and world-class training in business development and management, to enhance quality of life and advance opportunities for creative expression through the proliferation of screen-based media.
July 19, 2014
The indie movie of the summer, destined for significant attention come Oscar time, a groundbreaking winner of multiple awards at film festivals across the globe, an utterly original film work by director Richard Linklater, Boyhood opens in Vancouver next Friday, July 25th.
In a summer that is full of blowed-em-up-real-good special effects films, and a steady diet of overblown, mediocre sequels and merchandising tie-ins, any one who loves cinema — the art form of our age — keeps their eye out for the joyously human-scale independently-financed film.
In 2014, there was joy to be had in the patient, elliptical comic movements of small, independent films like Jon Favreau's Chef, in the black-and-white landscapes of Pawel Pawlikowski's Ida, or the artfulness of Jillian Schlesinger's Maidentrip, a home movie that transforms into a personal documentary of immense force, not to mention the improbable collision of styles (mystery and realism, both magic and kitchen sink) that propels Jeremy Saulnier's $37,000-budgeted wonderment of a film, Blue Ruin.
Now we have Richard Linklater's 12-years-in-the-making Boyhood, the one must-see picture this summer that has broken all sorts of box office records in limited release. As we did last week, VanRamblings will present a series of capsule reviews, linking to the full reviews of a range of critics. For the record, you should know that Boyhood is sitting at an impossible 99% on Metacritic as, improbably, is the case on Rotten Tomatoes. We're talking 136 out 138 reviews are over-the-moon for Boyhood.
Those who love cinema will want take note.
Andrew O'Hehir, Salon
You may be better off seeing Richard Linklater's Boyhood without much advance preparation, the way I did at Sundance last January. But given that this 12-year mini-epic of family life has been widely pronounced as the independent film of the year, I think the cat's out of the bag. There's always considerable danger in proclaiming the greatness of a work that presents as modestly as this one does.
Boyhood wants to sneak up on you and steal your heart ... there isn't anything else quite like Boyhood in the history of cinema.
One of the precedents, I suppose, is the love-and-marriage trilogy beginning with Before Sunrise that Linklater has made with Ethan Hawke and Julie Delpy across 18 years, although those tell discrete stories separated by many years. Boyhood is something else again, almost a combination of Michael Apted's Up documentaries, Ingmar Bergman's Fanny and Alexander and Orson Welles' The Magnificent Ambersons, but translated into Linklater's Texas-Zen aesthetic and the world of the 21st-century American family. In its own quiet way, it's a world of marvels.
Manohla Dargis, NY Times
The first shot in Boyhood, Richard Linklater's tender, profound film, is of a cloudy sky. The second is of a boy staring up at that sky, one arm bent under his head, the other flung out straight on the ground. He's a pretty child with calm eyes, a snub nose and a full mouth. It's a face that you get to know and love because, even as this child is watching the world, you're watching him grow. From scene to scene, you see the curve of his jaw change, notice his thickening brows and witness his slender arms opening to embrace the world and its clear and darkening skies.
Filmed over 12 consecutive years, Boyhood centres on Mason (Ellar Coltrane), who's 6 when the story opens and 18 when it ends. In between, he goes to school; argues with his sister, Samantha (Lorelei Linklater, the director's daughter); and watches his mother, Olivia (Patricia Arquette), struggle with work and men while paying the bills, moving from home to home and earning several degrees. Every so often, her ex-husband, Mason Sr. (Ethan Hawke), roars into the children's lives ...
The film's visual style is precise, unassuming to the point of seeming invisibility and in the service of the characters, with compositions that remain unfussy and uncluttered, even when the rooms are busy. When Mr. Linklater films a landscape, your eye locks not on the camerawork but on the beauty of these spaces and the people in them — the enveloping greenness of the neighborhood in which Mason first rides a bike, and the tranquillity of the watering hole that he swims in with his dad.
Radical in its conceit, familiar in its everyday details, Boyhood exists at the juncture of classical cinema and the modern art film, a model of cinematic realism, its pleasures obvious yet mysterious. in Boyhood, Mr. Linklater's masterpiece, he both captures moments in time and relinquishes them as he moves from year to year. He isn't fighting time but embracing it in all its glorious and agonizingly fleeting beauty.
And, finally, my favourite review of Boyhood, the best non-review review you'll read all year, the most soul-baringly evocative writing you'll read anywhere, anytime in 2014. Make sure you click on the Hitfix link below.
Drew McWeeny, Hitfix
I am nine years old. I am lying in the back of the 1977 Plymouth van my parents are driving. It is the middle of the night, and we are leaving Dunedin on the first leg of our move to Texas. I am crying. My best friend Oli Watt, my next-door neighbor, said goodbye to me earlier in the day, and we've made promises to write and call on the phone, but I know that I am leaving behind the life that I've enjoyed up to that point and that whatever comes next, it will be different, and I am afraid, and I am sad, and I am sure that nothing will ever be this good again.
I am sixteen years old. I am lying in the back of the car driven by my nineteen year old girlfriend. It is the middle of the night, and while I'm supposed to be at school in the morning, I don't care at all. I am stoned and drunk and happy. My parents hate this girl that comes to pick me up in the middle of the night, who always knows where there's a party, who has way more sexual experience than me, and they've tried to stop me from seeing her, but I am desperate for what I see as necessary sensual memory, fodder for the writing that I want to make a career of, and I know that it's destroying the relationship I have with my parents who I adore for adopting me, but I have to do this, I have to live like this, and it is amazing and it is dizzying and I am sure that nothing will ever be this good again.
I am twenty-six years old. I am sitting on the bed in the room I share with the woman I am about to marry, and she has just told me that she is leaving. I am yelling at her, but I can't hear myself. I'm thinking about all the plans, all the conversations, all the promises, and I am thinking about the child we almost had, the choice that was made, the horrible space it left between us that nothing has worked to fill. I am crippled by both the love I have for her and the yawning suspicion that I really am a terrible person, not worth the love she's wasted on me, and I know that if she leaves, I'm done, there's no way I ever find anyone else, and I am sure that nothing will ever be this good again ... read on ...
July 12, 2014
br> br>Life Itself, now playing on 4 evenings only — July 13, 14, 15, 17, at 7pm — at the Rio Theatre
The most popular film reviewer of his time, who became the first journalist to win a Pulitzer Prize for movie criticism and, on his long-running TV programme, wielded cinema's most influential thumb, following a lengthy and debilitating illness, Roger Ebert died on April 4, 2013. He was 70.
Based on Mr. Ebert's own memoir, titled Life Itself, as is the Steve James documentary now playing in Vancouver in exclusive engagement at the Rio Theatre, James' film tracks the life of Roger Ebert — who, as we say above, was the most famous and affectionately regarded of American movie critics, a Pulitzer Prize-winning reviewer for The Chicago Sun-Times who, in company with Gene Siskel, improbably became a globally known television star, and whose encroaching mortality made him appreciate life all the more — Life Itself is this summer's must-see, award-winning documentary.
Don't take just our word for such assertion. Have a look at these reviews:
Owen Gleiberman, Entertainment Weekly
Life Itself, a deeply enthralling documentary about the late film critic who changed film criticism, Roger Ebert was such a compelling writer, thinker, talker, and human being, it didn't matter whether you agreed with him — he had a way of putting things that was pithy and practical and philosophical all at the same time. Over the last few years, when Ebert struggled, heroically, against the cancer of the jaw that resulted in his drastic facial surgery and the loss of his voice, his life became more public than ever, largely because Ebert chose to make it public (on his blog, and in his memoir).
Steve James, the documentary master who made Hoop Dreams, uses Ebert's final months as a prism to put the pieces of Ebert's life together — the sweater-wearing, thumb-wielding TV icon who turned his weekly on-air battles with Gene Siskel into a take-no-prisoners conversation that defined what criticism was for a new generation — all that and more is explored in James' extraordinary, wondrously fascinating and implacable cinematic vision of film criticism's most dazzlingly brilliant and insatiable writer.
Geoffrey O'Brien, New York Times
Life Itself, Steve James's (Hoop Dreams) documentary on the life of Roger Ebert, is in many ways like a wake at which intimate acquaintances warmly recall their departed friend in all his aspects, foibles and quirks along with his talents and triumphs. Deep currents of love and sorrow flow under the succession of often funny recollections of a busy life. But it is a wake where the departed is still present.

This is not only a film about Roger Ebert but also a film very much with and by Roger Ebert, who refused to be laid low by the medical catastrophes of his last years. A friend describes him as having been, early on, "not just the chief character and star of the movie that was his life, he was also the director." Life Itself is indeed broadly shaped by Ebert's own interpretation of his life and clearly marked by his sense of what kind of film it should be.
In the film, Ebert's words are joined by those of many others: filmmaker friends like Martin Scorsese and Werner Herzog, and old acquaintances whose deep fondness is apparent but who don't gloss over his complications and confusions, from his outwardly rowdy days hanging out at O'Rourke's in Chicago (he stopped drinking in the late '70s) to the defensive petulance sometimes provoked by Siskel during their on-air critical brawls. ("He is a nice guy," one friend smilingly comments, "but he's not that nice.) There is a rich aura of journalistic camaraderie and Chicago solidarity. When The Washington Post's editors tried to lure him away with a big-money offer, Ebert told them, "I'm not gonna learn new streets."
Life Itself is a work of deftness and delicacy, by turns a film about illness and death, about writing, about cinema and, finally, and very movingly a film about love. In Life Itself, we are at last unavoidably caught up face to face with the absence that even the liveliest of wakes must finally acknowledge.
December 22, 2013
VanRamblings' two favourite times of year occur from mid-July through the end of August, a six-week celebration revolving around the anniversary of our coming to this Earth (at least in this incarnation, in this time and place and history of life on our planet), and the period beginning in mid-
November through until December 31st. We have long been a romantic about most aspects of life, and love the idea of simply taking a bit of time off from the hurly burly of our everyday, and often too busy, life to reflect on the conditions of our existence, a deep and abiding reflection, a process in which we seek to provide meaning, context and, perhaps, resolution.
Within that contextual framework is contained our love for the arts — dance (we love the ballet), music (mostly of the pop culture variety, although we love progressive country), film, anything tech-related, literature, television, and the art of politics, which is to say, the political maelstrom that is public engagement early in this new millennium.
In this first of five columns on the Best of 2013, we'll survey a cross-section of critical opinion on the best music of the year, much of which art you may have been utterly unaware of prior to the writing that'll appear below. As a means by which to introduce new music into your life, there is no more salutary event than that which occurs at year's end, as you (and I) become aware of the music of our age, through a survey of informed critical opinion — always a life-enhancing event offering steadfast insight, in the most propitious, enlightening and expedient manner possible. Yippee!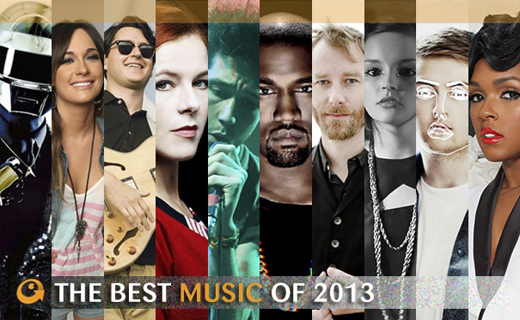 There was a time, in recent years, when we turned to Salon (in its heyday, in the late 90s through 2005), Rolling Stone, the now defunct and the much-missed Blender magazine, but since 2009, Popmatters has been the go-to place for insight into the Best Music of the Year. Yes, we know there's NME and Paste (now available online only), Q, Pitchfork, Mojo and more, but we'll stick with Popmatters, at year's end, for our annual hit of unexpected and oh-so salutary musical insight.
Here's Popmatters 'best of music' home page, detailing the 75 Best Albums of the Year, Best Canadian, Country, Metal, Indie-Pop, and more ...
Making Popmatters' 75 Best Albums of 2013 list, at 72. The Boards of Canada; at 63. the ever-present Lorde; at 47. David Bowie's The Next Day; 42. Julia Holter (a favourite of our friend, J.B. Shayne); 38. Rhye, to whom we introduced you earlier in the year; 27. Queens of the Stone Age; 24. Our very own Tegan and Sara; at 9 and 8, the breakout bands of the year, Haim and CHVRCHES, and at number one ... well, who else would you expect? But you'll have to read through to be sure you guessed right.
One of our favourite discoveries is a duo out of England, with whom our son Nathan has long been familiar, but is new to us this year: 4. Disclosure, who represent the very best danceable British garage house music of 2013.
Now, make no mistake, there's more, a great deal more ...
And, of course, much, much more.
In the The Best Country Music of 2013 category, we discovered a couple of artists with whom we were not previously familiar, Brandy Clark, and our favourite roots, working class, progressive country find of the year, Kacey Musgraves, who's making a whole tonne of Best Of lists in 2013.
We leave you, dear and constant reader, with a survey list of the Best Music of 2013, critical reception from some of our favourite publications ...
Lots to listen to, lots to grok. Good luck. Enjoy. Merry Christmas!
November 2, 2013
About two-thirds of the way through Twyla Roscovich's maddeningly compelling documentary, activist marine biologist Alexandra Morton and a few cohorts with whom she works on the study of the impact of salmon farming on Canadian wild salmon, enter the Real Canadian Superstore at Rupert Street and Grandview Highway, in Vancouver.
The scientific foray into the community involves purchasing all the salmon available at the store, in order that their purchase might be shipped to a laboratory in Europe, and another on the east coast, to test for the infectious salmon anemia (ISA) virus, and other pathogens.
The result? Suffice to say that anyone who watches that particular sequence in Roscovich's provocative documentary film — available above in today's VanRamblings post — will never eat farmed salmon ever again.
Here's Ian Bailey's Globe and Mail review of Salmon Confidential ...
This feisty and provocative film is spoiling-for-a-fight cinema. Someday there will be a new feature-length documentary reconciling both sides of the debate over the environmental costs of farming salmon in B.C. For now, there's this compelling work which tilts sharply towards the wild-salmon side. Director Twyla Roscovich's visually alluring film spotlights activist biologist Alexandra Morton as she finds B.C. salmon in the wild showing European viruses that Ms. Morton links to fish farms on the coast. Federal and industry representatives declined to sit for interviews, Ms. Roscovich has said. Still, the film serves as a forceful primer on an ongoing debate that some viewers, especially those in urban areas, may now just be catching up on. Let the debate begin after the end credits.
Hey, it's The Globe and Mail — you expected an evisceration of the role of both the provincial and federal governments for their failure to act to protect wild salmon, or the health of Canadians? Not the world we live in.
Greg Ursic, in The Ubyssey, says about the film "Salmon Confidential is thoroughly researched, informative and so infuriating that you'll want to throw something at the screen." Jason Coleman, at Star Pulse, agrees with VanRamblings, when he writes ...
You will never eat farmed fish for the rest of your life after viewing this. A must-see, especially for British Columbians known for world-renowned Sockeye, Salmon Confidential is a corker of a doc. It's staggering and eye-opening to see how the business of B.C.'s natural resources and food has been tainted by government and how puppet scientists have given up their objectivity simply to kowtow to (corrupt) governments. This is the GMO monster in a different form and here the monster kills by passing on poisons and infection that are a recipe for extinction of a foundational salmon species. An important film right on par with The Cove impact-wise, Salmon Confidential is an important don't miss it experience for all who care to listen. — 5/5 stars
Meanwhile, while our intransigent senior governments take a do nothing approach to the destruction of B.C.'s wild salmon industry, Norwegian authorities have recently ordered that some two million sea-lice infested farmed salmon in the Vikna district of Nord Trondelag be slaughtered with immediate effect after becoming resistant to chemical treatments against the sea-lice parasite. Actor Ted Danson and Andrew Sharpless, CEO at Oceana, the largest international conservation organization fully dedicated to protecting the oceans, have published a paper stating, and backing up, their contention that "farmed salmon are not a sustainable alternative."
Enough? Whether you're concerned for your health, wish to gain more insight into the "controversy" involving farmed salmon, or are simply interested in watching a provocative, compelling, and incredibly well-made and watchable documentary film, we would encourage you to screen Salmon Confidential — take our word for it, you won't be sorry you did.
October 24, 2013
Went to see Gravity last evening, the new film by Alfonso Cuarón.
A stunner. Or, as young people might say, fucking awesome.
Groundbreaking cinema of the first order, perhaps the best sci-fi adventure since Stanley Kubrick's 1968 Oscar winner, 2001: A Space Odyssey.
Except, this time around, Cuarón's Gravity grabs you by the lapels, and leaves you on the edge of your seat from near beginning to end, rooting for astronauts Dr. Ryan Stone (Sandra Bullock) and Matt Kowalski (George Clooney) to survive their catastrophic encounter with wanton space debris.
Gravity is not a chilly film. From the first time Cuarón's camera pulls a close-up on Bullock, you're pulled in, your eyes welling with tears. Bullock's is a performance for the ages, come Sunday, March 2nd, 2014, an absolute Best Actress Oscar lock at the 86th Annual Academy Awards.
Although VanRamblings has seen thousands of films over the past 60 years, never ever, ever before have we seen a film that loves its star as much as Gravity loves Sandra Bullock, with her almond eyes, just too big nose, stunningly sexy body, and those eyes, migawd those sensitive eyes.
Sandra Bullock isn't acting in Gravity, this a raw, emotional, intimate reveal of Sandra Bullock the person, on screen, more naked and vulnerable, tougher and stronger and smarter than you've ever seen her before.
Once you learn Dr. Ryan Stone's backstory, you're pulled in so far, so deep, your heart held so firmly in her grasp that every breath she takes is your breath, Bullock giving you life, as you give her life.
Gravity is immersive, human-scale tour-de-force filmmaking, a film for the ages, a film of such grand import and pop culture resonance that we'll be talking about Alfonso Cuarón's Gravity — an unusually gripping and utterly original work of art — for generations to come. Must-see moviemaking.
When you take in a screening of Gravity, make sure you do so under the best conditions. Gravity is not a film to cheap out on, a film that if you're living in Vancouver can only truly be appreciated within the Scotiabank Theatre 3D-AVX Cinema 1, on the humungous screen, with full Dolby 7.1 surround sound. You won't need popcorn, you'll be riveted to the screen.
Here's what some of the other film critics have to say ...
Kenneth Turan, Los Angeles Times
Gravity is mesmerizing, out of this world. Words can do little to convey the visual astonishment this space opera creates, a film whose impact must be experienced in 3-D on an IMAX theatrical screen to be fully understood.
Liam Lacey, Globe and Mail
Gravity, a weightless ballet and a cold-sweat nightmare, intimates mystery and profundity, with that mixture of beauty and terror that the Romantics called the sublime. A crowd-pleasing, near silent, minimalist blockbuster.
Rene Rodriguez, Miami Herald
Gravity is a celebration of the primal pleasure of movies, a film that transports you out of the theatre and out of your head, close in spirit to Titanic, a startling, harrowing, impossibly shot giant-sized spectacle that hinges on two people floating on a piece of wood, clinging for their lives, Steven Price's original score a critical complementary element to the film's jaw-dropping visuals. Bullock is the film's secret weapon, anchoring the film with a sadness and vulnerability she's never played before, a revelation.