If you've arrived on this page of the VanRamblings blog, and haven't read Part 1 of A Primer on Civic Politics in Vancouver, you may want to read it first, as the initial post contains elements which may be of interest to you.
Today, we present a cursory insight into the history, the platforms, the principles and the raison d'être of the remaining six Vancouver municipal political parties (we covered COPE - The Coalition of Progressive Electors, in Part 1), and the candidates for these parties who are seeking office in the 2014 Vancouver municipal election. As per usual, today's post will be given over to some of VanRamblings' patented, some would say florid — and, we hope entertaining and informative — and always idiosyncratic commentary.
As we've said repeatedly over the past near five months now, the 2014 Vancouver civic election is the most crucial election in our city in the past 42 years, since Tom 'Terrifying' Campbell was ousted as Mayor of our west coast paradise, and good government — under the auspices of The Electors' Action Movement (TEAM), a progressive and truly visionary centre-left municipal government — was installed at Vancouver City Hall, for multiple successive pioneering and innovational terms of civic government.
From the 1970s, we have Mayor Art Phillips and his eight TEAM Councillors of the day — UBC professors Walter Hardwick, Fritz Bowers, Setty Pendakur and William Gibson, who made up the Council's sagacious academic quartet; respected urban planner and landscape architect, Art Cowie; future Vancouver mayor and British Columbia premier Mike Harcourt; activist, feminist and future provincial NDP cabinet minister Darlene Marzari, who fought like hell against the proposed freeway both the federal and provincial governments wanted to impose on Vancouver; as well as lawyer, & future (and eventually discredited) Vancouver mayor, lawyer Jack Volrich — to thank for the livability of the Vancouver we know and love today.
As reported by Rod Mickleburgh in his April 23, 2013 obituary, covering the life and many accomplishments of Art Phillips' term as Mayor, he writes ...
For years, the city had sold off property it owned and used the proceeds to keep taxes low. That was wrong, Phillips said. Several years ahead of Alberta's famous Heritage Fund, he established a property endowment fund, where all revenue from the city's extensive holdings would be deposited, invested and used, when needed, for the benefit of the city.

The list of accomplishments included an end to the city's prevailing secrecy, holding public hearings at night so working people could attend, killing off all freeway plans, saving the storied Orpheum Theatre, improving accommodation in the benighted Downtown Eastside, the introduction of mixed-income housing, and altered zoning to allow apartment living downtown. Mr. Phillips was big on that.

"Instead of being dead at night, we wanted the downtown core to be more European, a place to live and enjoy," he said, in his 2005 interview. "The changes we made then are taken for granted today."

The startling decision to convert the industrial, waterside flats of False Creek just west of downtown into mixed housing was also a landmark."
In 2014, Vancouver faces many of the same challenges that the TEAM Council of the day addressed, as they both set about to undo the harm done by overly-developer-friendly mayors, in the case of TEAM, Mayor Tom Campbell, and in the case of the Non-Partisan Association, the Vision Vancouver civic administration that has held office at City Hall since 2008.
Non-Partisan Association (NPA), founded 1937
In 1937, when Vancouver's oldest and most established municipal political party, the Non-Partisan Association, was formed to counteract the rise and burgeoning popularity of the democratic socialist Co-operative Commonwealth Federation (which transformed into the New Democratic Party, in 1961), as revolutionary fervor and the presumed success of a workers' government in Russia swept the western world, and as the demand for a radical shift in the dynamics of the worker-employer relationship predominated, the Non-Partisan Association emerged as Vancouver's centre-right alternative to the radicalism of the left, promising always good government, and maintenance of a comforting status quo.
Since its inception, the Non-Partisan Association has emerged as Vancouver's natural governing party, holding the reins of power at City Hall, and at Park Board and School Board, as well, for all but four short terms of municipal government since the founding of the civic political party.
Drawing its strongest support from the business community and Vancouver neighbourhoods on the wealthier west side of the city, the Non-Partisan Association has remained the civic political party that has dedicated itself to the maintenance of city services, almost a serene form of government where decisions are made in the public view, and election after election the voting electorate of the city have given their consent to another salutary term of government to the always ethical and principled NPA.
The NPA, then, has generally been given to the provision of what we would all acknowledge as 'good government', focusing on services to meet the needs of Vancouver residents — clean and safe streets, a thriving parks and recreation system, fiscally responsible decision-making that has kept property taxes low, and a form of government where elected officials believe, to their core, in the concept of service to the public interest. No communists or radicals these, but rather humble, good-hearted, well-intentioned folks whose simple purpose is to listen to, and act upon, the wishes of the electorate, in every neighbourhood across our city.
Over the years, of course, the Non-Partisan Association has moved to change with the times, as circumstances dictated.
When the centre-left Art Phillips-led TEAM administration formed civic government in Vancouver 1972, and radical and boisterous Premier Dave Barrett formed a majority New Democratic Party provincial government in Victoria, the NPA could sense the shifting winds of change, and moderated the more conservative elements of its platform and approach to municipal governance. After the brief, but salutary, TEAM interregnum the NPA incorporated the more democratic and neighbourhood-oriented elements of TEAM's approach to municipal governance, as the NPA once again became Vancouver's natural governing party of responsible and good government.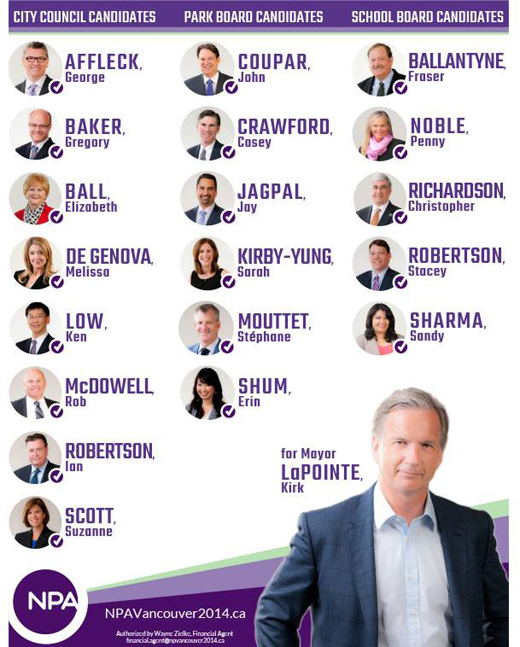 In 2014, Non-Partisan Association mayoralty candidate Kirk LaPointe has dubbed the NPA, the Naturally Progressive Association, with a plethora of both small and big-L federal Liberals running with the party in the current civic election, under Mr. LaPointe — who is wont to say, "This is my party now. It is not the party of your fathers and mothers" — the NPA of 2014 has re-dedicated itself to serving the interests of a broad cross-section of the community in every part of the city, addressing social issues like child hunger, focusing on the economy and the promotion of resource sector jobs to strengthen Vancouver's economy, and the restoration of good government that is based on openness, transparency and intent of purpose, which is to say, listening to the concerns of residents in every neighbourhood across the city, consulting with the public and acting on the developed community consensus, which in 2014 — after six years of Vancouver's secretive, non-consultative, neighbourhood-and-park-destroying Vision Vancouver administration is, when you get right down to it, quite a radical — and dare we say, welcome — change, indeed.
In many ways, Kirk LaPointe and those running with him to form municipal government in the city of Vancouver are a mirror reflection of and not dissimilar to the TEAM party of Art Phillips — for the NPA of 2014 are a forward-thinking, well-educated, balanced and progressive team of candidates who will seek to undo the harm done by the Vision Vancouver administration of Gregor Robertson, while restoring open government and transparency of decision-making, as well as an opening of the books, while ensuring that no child goes to school hungry, and restoring a respectful relationship with residents across every neighbourhood in our city.
Whereas the current Vision Vancouver municipal government, and the Coalition of Progressive Electors — both of which parties employ and have a long history of a Marxist-oriented, top down, "we are the vanguard of revolutionary change, we know what's good for you, and we're going to give it to you whether you want it or not" — approach to governance that is given to an unrepentant arrogance, the Non-Partisan Association's plea to the voting electorate in 2014 offers a a simple and clear message: we know the Vancouver you want, and given the confidence and the support of the voters, those of us who are elected to serve you will set about to reinstate good government on all three civic elected bodies, as we ensure the provision of city services that meet the needs of all Vancouver citizens — from the promotion of pedestrian safe streets and more bike lanes and bike paths, to the acquisition of street sweepers to keep our streets clean, and the maintenance and building of new parks, and recreation centres.
Since 2008, when Vision Vancouver first formed government in the city of Vancouver, the NPA have been out of power but have formed a vibrant and engaged opposition, and in many ways have proved to be the conscience of city government, responsible, consultative, and dedicated to advocacy and responsive government. For many in our city, the messaging of the Non-Partisan Association is resonating like never before — all of which could / might / let's hope it does lead to change in the structure and application of the governance of our city, most particularly at City Hall and Park Board.
Vision Vancouver, founded 2005
Vancouver Courier: Geoff Olson's editorial cartoon in the November 6th edition of the paper
Okay, you don't arrive at VanRamblings expecting to find balanced coverage of the entirely despicable and bullying Vision Vancouver civic party. As far as VanRamblings is concerned, the sooner we're rid of Vision and their arrogant Richard Daley-style of city government, the better off we'll all be.
Now, you see Geoff Olson's Vancouver Courier editorial cartoon above. The cartoon's thesis is that Vision Vancouver is in the pockets of big business & the big unions, that the decisions Vision Vancouver takes at City Council and Park Board are to better the interests of their corporate and union bosses — which decision-making is, of course, contrary to your interests and the interests of the vast majority of Vancouver's voting electorate.
As background on one aspect of the allegations, in an October 16th article in The Courier, journalist Bob Mackin details what might be considered a pay-for-play / quid pro quo deal that many in the community — including Non-Partisan Association mayoral candidate Kirk LaPointe — have read and interpreted as a form of corrupt governance at City Hall, about which LaPointe wrote in an opinion piece published in The Province newspaper ...
"Being clearly beholden to the city's workers right now is an irresponsible service to the city. The union is approaching contract discussions, and any early definition of the city's bargaining position is a breach of fiduciary duty. It gives away the store."
Corporate donations were written about in The Straight, and reference is made to Vision Vancouver's corporate donation base in an e-mail distributed this morning by COPE, the Coalition of Progressive Electors, that is excerpted below, detailing yet another facet of Vision Vancouver's win-at-all-costs "dirty tricks" campaign style. Principles and ethics in the Vision Vancouver universe? — alien concepts. Little wonder that in the waning days of Campaign 2014 — as voters become aware there's an election going on — support for Vision Vancouver has plummeted.
An excerpt from this morning's e-mail to COPE members ...
You may have received a robocall today from former City Councillor David Cadman, asking you to vote Vision. We're told he makes a plea to COPE members not to split the vote — essentially, to hold their nose and vote Vision. We're not sure how Vision got all these numbers but we're going to find out.

In a sense, this is good news. It means Vision is running scared.

The same day (former COPE city councillor) Cadman endorsed Vision, the public got to see Vision's donations. This year Vision took $1.4 million from corporations. They took $75,000 from Holborn Properties, the company that worked with the BC Liberals to replace Little Mountain public housing with luxury condos.

Yesterday, Vision held a press conference where Gregor Robertson warmly welcomed the endorsement of former NPA president, Michael Davis, a spin doctor for oil tankers.
VanRamblings knows many of the folks in the Vision Vancouver party, and we honestly and truly like them, and will probably work with many of them in future days on various New Democratic party campaigns.
That said, the experience of many of us across Vancouver who are engaged in daily political life in our metropolitan centre have come to believe that, collectively, there is a shocking, appalling and disturbing psychopathy in Vision Vancouver's approach to governance that in Vision's woeful six years in power has meant ill for Vancouver residents across our city, and in every Vancouver neighbourhood in our beloved community of communities.
Jak King and Garth Mullins, activists who have organized in the Grandview-Woodland neighbourhood; Stephen Bohus, and the members of his Residents Association of Mount Pleasant; Randy Helten, and all those who have worked with him in the West End Neighbours Association; Tracey Moir, working with the Oakridge Langara Area Residents; and hundreds more engaged community activists who love our city, love our parks, love our livable and walkable and human-scale neighbourhoods, and our beloved and accessible community-run neighbourhood community centres, have risen up against Vision Vancouver this past three years, and more. You should, too!
In an article published in the Globe and Mail this morning, journalist Frances Bula makes reference to the hostility that the Mayor and his Vision Vancouver colleagues have met with at the all-candidates meetings that have been held across our city this past month. No kidding!
If you have any idea at all about what Vision Vancouver has been up to the past six years (read Decision 2014 coverage on VanRamblings for a bare hint of why engaged citizens across Vancouver have risen up against Vision Vancouver during the course of this election cycle, and in the past three years), you won't even consider casting a vote for a Vision Vancouver candidate running for office for Vancouver City Council, or for Park Board.
For a somewhat more dispassionate take on Vision Vancouver, its formation, and the history of Vision Vancouver and its faux Green liberalism, information may be found in the Wikipedia entry available online.
Green Party of Vancouver, founded 1984
The Green Party of Vancouver is a municipal political party in Vancouver that nominated Green Party of Canada deputy leader Adrianne Carr as their sole nominee for Vancouver City Council in the 2011 Vancouver civic election. Carr subsequently went on to win the seat in that year's November 19th civic election, and is the sole Green member of Vancouver City Council.
As we wrote of Carr in Part 1 of A Primer of Civic Politics in Vancouver ...
Isn't everybody voting Green this time around, given that Green party City Councillor Adriane Carr was, throughout this last term, the conscience of Council, where over the course of those three, very trying years (when Vision Vancouver treated her despicably, and as she maintained her dignity, and her advocacy for the interests of Vancouver citizens), Adriane Carr emerged as not only the most beloved political figure in Vancouver, but across all of western Canada, as well. Make no mistake, the Green Party of Vancouver, in this hard fought municipal election campaign, will garner many, many votes at the polls, from the grateful and appreciative citizens of Vancouver ...
The Green Party of Vancouver was founded in 1984, and has elected representatives to School Board, Park Board & most recently, City Council.
As above, in 2011, Adriane Carr — one of the party's original founders — was elected as Vancouver's first ever Green City Councillor.
Since that time, Adriane has gained the respect and admiration of Vancouver citizens who value her independent voice on Council, her strong democratic principles, and her readiness to listen to what citizens have to say and then to be a voice for them at City Hall.
In 2014, Adriane Carr is seeking re-election to Vancouver Council along with Council running mates Pete Fry and Cleta Brown. Stuart Mackinnon and Michael Wiebe are the Green party candidates for Vancouver Park Board, and Mischa Oak — who many consider to be the hardest-working candidate running for office in the 2014 Vancouver municipal election — and Janet Fraser, are the Green Party of Vancouver candidates for School Board.
In some very real sense, the Green Party of Vancouver candidate team is your independent, non-aligned voice in civic politics. Given Adriane Carr's overwhelming & deserved popularity with voters, her political coattails in this election could very well elect all, or almost all, of the Green Party of Vancouver candidates running for Council, Park Board and School Board.
Here's the Green Party of Vancouver's platform, which explicates a programme which will ensure that the public interest will be placed first, that people-centred planning will predominate, where your voice will be heard, and the crisis arising from the lack of affordable housing will be addressed, and our city Vancouver will remain a compassionate, safe and inclusive city.
The Vancouver Cedar Party, founded 2013
Brothers Nicholas and Glen Chernen, Vancouver Cedar Party candidates for Council
Full disclosure: in the 2014 Vancouver civic election, VanRamblings has frequently met with the members and donated monies to the Coalition of Progressive Electors, the Green Party of Vancouver, and the newest political force on the civic block, the Vancouver Cedar Party, headed up by Glen Chernen (on the right above), and his brother, Nicholas Chernen.
As it happens, the Vancouver Cedar Party campaign headquarters is located just three blocks down the way from the housing co-operative where VanRamblings has resided for the past 30+ years (and where we raised our children), the campaign office located directly across from the shuttered Hollywood Theatre on West Broadway. VanRamblings has made a point of dropping by the Cedar Party's offices almost every day — which I'm sure on some days has driven them nuts, but even so, both Nicholas and Glen have proved invariably kind and welcoming, and forthcoming about the campaign.
More than any other party running candidates for office in the current civic election, the Vancouver Cedar Party has held Vision Vancouver's feet to the fire — releasing one devastating press release after another detailing the egregious, secretive, wrong-headed, anti-community (some would say, corrupt) decision-making that has gone on behind closed doors at City Hall, and inside the Mayor's office, as Vision Vancouver has sacrificed the community interest in favour of the interests of their developer friends.
Awhile back, arising from one of the Vancouver Cedar Party's press releases, VanRamblings wrote about the hidden-from-public-view decision taken in the Mayor's office to — without any hint of consultation with the community, never mind the elected members of Council and Park Board, including elected representatives from their own party, and a bewildered, deer-in-the-headlights Park Board General Manager, Malcolm Bromley — sell off 12 parcels of city-owned land at the north-east end of the Granville Street bridge, move the Aquatic Centre from its current location to a land-locked location east of the bridge, tear down the Continental Hotel, and seek to sign a development contract for the newly gathered together, city-owned property with one of their insider developer friends.
The Vancouver Cedar Party offers 7 reasons for entering the political fray as candidates for Council in 2014's Vancouver civic election — and assure voters that a vote for the Cedar Party will mean that elected Council candidates will be unbeholden to anyone but you, and that elected members will work toward the restoration of fiscal responsibility at City Hall, and environmental stewardship at Vancouver Park Board.
Chances are the Vancouver Cedar Party will not elect any candidates the first time out seeking political office — although Nicholas Chernen has garnered the endorsements of community groups and political activist Jak King, as will be the case with VanRamblings when we announce our slate of candidates for endorsement in the coming week — but it's worth your while to take a gander at their 'Rooted in Democracy' website, and / or drop by their campaign office for an unenlightening chat about Campaign 2014.
Honestly, Glen and Nicholas Chernen — and fellow Council candidates Charlene Sayo and Jeremy Gustafson — are worthy candidates in the 2014 Vancouver municipal election, and deserving of your attention.
One City Vancouver, founded 2014
Formed by an activist group of citizens once affiliated with the The Coalition of Progressive Electors (COPE), One City Vancouver is running only one candidate in this election, RJ Aquino, an individual who ran as a candidate for COPE in Vancouver's 2011 municipal election and who, in 2014, is running as a candidate for the nascent One City Vancouver civic party. RJ has acquitted himself well on the campaign trail, emerging as a thoughtful and informed candidate for Vancouver City Council, who would well serve the interests of the citizens of Vancouver were he elected to Council.
Still, there's this niggling thought in the back of my mind that, forever however much VanRamblings likes and respects RJ (and we do!), that if push came to shove, and he was the deciding, swing vote on Council, that he'd line up with Vision Vancouver when it came down to the crunch.
VanRamblings knows well, and has worked with, many folks who are behind the creation of One City Vancouver, and I know them all to be honourable citizens of conscience who have always had the interests of the broader community at heart, have organized to ensure democratic decision-making and citizen engagement in neighbourhoods across our city, and worked throughout their lives to work towards a fairer, more just Vancouver, and a more just world, for all — political activists who made a difference.
With the above in mind, a vote for RJ Aquino would not be a wasted vote.
As blogger and freelance civic affairs journalist Frances Bula wrote earlier today, it's difficult to figure out why Vancouver 1st has candidates running for office in this election, what they stand for, and why voters would give even a passing thought to voting for any of their candidates?
Awhile back, Vancouver 1st announced that right-wingers Ken Denike and Sophia Woo — current members of Vancouver School Board — who were unceremoniously kicked out of the Non-Partisan Association, would run as School Board candidates for the party. Really?
At the same time, the party announced the candidacy of Olympic bronze medallist Brent Hayden for Park Board, not that he's been seen anywhere on the campaign trail. Former President of the Thunderbird Neighbourhood Association, Massimo Rossetti, has acquitted himself well in the campaign, as has Vancouver 1st's Jesse Johl (who's running for Council) — but at the end of the day, unless you're a rabid right-winger (and how many of those are there in Vancouver?), why would anyone give even a passing thought to casting a vote for any Vancouver 1st candidate? Just sayin'.
Posted by Raymond Tomlin at November 8, 2014 6:50 PM in Decision 2014