Decision Canada 2015
October 20, 2015
Given the uncertainty of the day's election outcome, the best possible result for Canada's 42nd federal election occurred on Monday evening — a stable Liberal Party of Canada majority government, led by Justin Trudeau.
Heading into Monday, October 19th, rumours were rampant that unless Justin Trudeau secured a majority, Stephen Harper would hold on as Prime Minister — as is his constitutional right — until he lost a confidence vote in Parliament next spring. Imagine — seven more months of Stephen Harper. The only possible way that Canadians could be assured that Mr. Harper would step down involved Justin Trudeau and the Liberal Party of Canada securing a majority of seats in Parliament, as occurred on Monday evening.
Tom Mulcair and the New Democratic Party of Canada, on the other hand, suffered a devastating defeat in Monday's election, losing dozens of seats across Canada — down from 95 seats at the dissolution of Parliament on August 2nd, to the bare 44 seats that the party achieved on Monday evening — seeing its bedrock Québec support collapse as a sea of red carried the Liberals back into power after 10 lost years in the wilderness.
NDP deputy leader Megan Leslie and longtime St. John's East MP Jack Harris, as well as respected Parliamentarian Paul Dewar, Veterans Affairs critic Peter Stoffer, former interim NDP leader Nycole Turmel, Yellowknife MP Dennis Bevington, the always feisty Pat Martin, and high-profile candidates Peggy Nash, the NDP's Industry critic, and veteran politico Olivia Chow were among the dozens of New Democrats who lost their seats.
In respect of the Conservative party, Environment Minister Leona Aglukkaq, Finance Minister Joe Oliver, Immigration Minister Chris Alexander, Associate Minister of Defence Julian Fantino, Aboriginal Affairs Minister Bernard Valcourt, Multiculturalism Minister Tim Uppal, Economic Development Agency Minister of State Gary Goodyear, Minister of State John Duncan, Minister of Natural Resources Greg Rickford, Minister of National Revenue Kerry-Lynne Findlay, Minister of State (Sport) Bal Gosal, Minister of State (Atlantic Opportunities) Rob Moore, Fisheries Minister Gail Shea, and Minister of State (Science & Technology) Ed Holder suffered respective crushing defeats at the polls, almost all of whom were virtually unknown to most Canadians, given that Stephen Harper operated the mechanism of government solely and unilaterally out of the Prime Minister's Office (PMO).
What does Prime Minister-designate Justin Trudeau's victory on Monday evening mean for Canadians? As written previously on VanRamblings ...
A government that will address the long overdue problem of child poverty in Canada;
A more open and accessible government in Ottawa;
Moving 650,000 Canadian seniors out of poverty with a commitment of $750 million annually to raising the Guaranteed Income Supplement, not to mention lowering the pension eligibility age from 67 to 65;
Strong, independently-minded Ministers of Government, at least half of whom will be women;
A fairer tax system that will close tax loopholes and see corporations pay their fair share of taxes;

Implementation of an immigration policy that will focus on family reunification, doubling the number of applications allowed for parents and grandparents to 10,000 each year, changing immigration rules to allow spouses immigrating to Canada to receive immediate permanent residency, as well as elimination of the current 2-year waiting period;
An additional $380 million in funding for the arts, and the undoing of Conservative funding cuts to the CBC;
Reducing wait times for a first EI payment to one week from two, and implementation of a six-month family care employment insurance benefit similar to the EI parental leave benefit;
First, decriminalizing the use of marijuana in Canada, and then legalizing the administration and use of marijuana across our country;
$100 million a year to create more than 40,000 jobs, paid internships and co-op placements for youth over four years, as well as the expenditure of $1.5 billion over four years on a youth job strategy to help 125,000 young people find a job;
Funding affordable and co-operative housing, and for those 111,000 Canadians who live in co-ops, a renewal of the $2 billion subsidy for tens of thousands of Canadians requiring a subsidy on their housing charge.
All of the above barely scratches the surface of the commitments made to Canadians by the incoming federal Liberal administration, not the least of which is a plan to fund needed transit and infrastructure across Canada.
Make no mistake, on October 19th, 2015 Canadians elected a government that will be on their side — a day of deliverance for each & every one of us.
October 19, 2015
Today VanRamblings will forego our usual partisanship, and simply urge you to get out to vote today (that is, if you were not one of the 3.6 million Canadians who voted at the advance polls), to exercise your hard fought for democratic franchise, and vote for the political party and candidate of your choice, be they Tory, NDP, Liberal, Green, Independent, or "other".
Lineups at your polling station are likely to be longer than you experienced in the past, the wait even longer, given the provisions of Canada's new Fair Election Act, given Royal Assent on June 19th, 2014, which eliminates the use of vouching — the practice of allowing a voter with proper identification to vouch for the identity of another individual who lives in the same polling area — and Voter Information Cards as a form of ID, now requiring picture ID from you with your address, as well as your Voter Information Card.
In addition, poll clerks are no longer allowed to simply check your name off a voters list, as was previously the case, but must now hand-write your name into an election book, which you must sign, a process that will likely serve to dramatically slow the voting process at your local polling station.
To vote, you must be registered. However, if you're not registered, you can register at your polling place, just before you vote.

What To Do If You're Not Registered at Your Local Polling Station

Have you moved recently? Got a new address? To have your name added to the list of electors at your polling station, you must fill in a Registration Certificate with the registration officer or poll clerk. Once the Registration Certificate is authorized by the deputy returning officer, and you show satisfactory proof of your identity and address, you can then vote.
You may also fill out and print your Registration Certificate at home.
To find the address and location of your local polling station, where you may take in your completed Registration Certificate, click here.
Click here for a list of Elections Canada approved identification, and the three options you have to prove your identity and address.
Note: One representative of each candidate in the electoral district is legally entitled to be present to observe the process at a Registration Desk; or two representatives per candidate to observe the process at a polling station.
Again: when you vote, you must prove your identity and address.
You have three options:
Show one original piece of identification issued by a Canadian government, whether federal, provincial or local, or an agency of that government, that contains your photo, name and address (for example, a driver's license), or
Show two pieces of identification from a list authorized by the Chief Electoral Officer of Canada. Both must have your name and at least one must have your address (such as a health card and hydro bill), or
If you have two pieces of identification but can't prove where you live, you may have your residence attested to by another elector who knows you, who lives in the same polling division as you, and is on the list of electors or is registering to vote (for example, a neighbour or your roommate who has proof of identification and address). In this case, you must both take a written oath.
Note: Pieces of identification must be in either English or French. Expired documents are accepted. Your passport, with picture, is adequate identification.
Polling hours have also changed across Canada, as per the graphic below.
With the new, staggered polling hours across Canada, for the first time in a Canadian election, we're not likely to know the outcome of the election until the wee hours of the morning following voting day. As above, polls close in Ontario at 9:30pm Eastern Time, or 6:30pm Pacific Time. We're not likely to know how Canadians in eastern Canada voted until near midnight eastern time, and 9pm pacific time, keeping us glued to our TVs til late.
Note should be made that in British Columbia, polling stations will close at 7pm, a full hour earlier than has usually been the case in the past; voters lined up at the polls before 7pm will be allowed to vote past the 7pm deadline — but given the changes to the voting procedures in 2015, getting to your polling station early will better serve your interests.
In the 2015 election, there are 66,000 ballot boxes that will be distributed to 20,000 polling locations, with a polling station staff of 250,000 polling clerks retained for the election, at a cost of $375 million, based on the longest-in-a-century 78-day campaign, a cost that could actually go higher.
Today's the day when you elect a new government to a probable four-year term in power. Today, then, Oct. 19, 2015 is the day to get your vote on!
October 18, 2015
In less than 24 hours from now — on Monday, October 19th — Canadian voters will head to the polls to elect a new federal government in Ottawa.
As a service to VanRamblings' readers, we will today present a précis of a trenchant, first rate article published in The Guardian, written by British investigative journalist & documentary maker, Nick Davies, who in autumn 2010 broke Britain's News of the World phone hacking scandal, and wrote the book, Hack Attack: How the Truth Caught Up with Rupert Murdoch.
The Guardian article on Canada's election is titled Stephen Harper: master manipulator. Davies asks the question, "Despite several scandals worthy of Watergate over the past decade, Stephen Harper could win a fourth election October 19th. Can the master manipulator work his dark magic?"
Davies goes on to compare Stephen Harper's politics of manipulation to those of discredited U.S. president Richard "Tricky Dick" Nixon, writing ...
"In the Watergate scandal, all the president's men were accused primarily of breaking the law to get Nixon a second term in the White House. In Canada, some of the prime minister's men and women have been accused not simply of cheating to win elections but of conspiring to jam the machinery of democratic government."

"Some of these allegations have been proved."

"In the 11 years since he became leader of Canada's Conservative Party, the party has been fined for breaking electoral rules, and various members of Team Harper have been caught misleading parliament, gagging civil servants, subverting parliamentary committees, gagging scientists, harassing the Supreme Court, gagging diplomats, lying to the public, concealing evidence of potential crime, spying on opponents, bullying and smearing. Harper personally has earned himself the rare rebuke of being found to be in contempt of his Parliament."

"At heart, Harper's team are not that different from politicians across the developed world who have discovered that democracy is a pretty sweet theory but that, in reality, if you want to get hold of power and use it, there are all kinds of devious moves available that have very little to do with that antique idea."
Davies writes that the path to electoral crime is rarely trodden but that there is a close alternative, what Nixon's people called ratfucking — acts of sabotage to damage an opponent. Not exactly criminal. Not always.
For example, when the current Liberal leader, Justin Trudeau, recently held an open-air press conference in Ottawa — as has been the case this past week, wherever Trudeau held a rally — he found himself being heckled by a group of young protesters waving placards. The Huffington Post revealed that these hecklers were interns working for the Prime Minister's Office.
In his October 15th article in The Guardian, Davies expands on the idea ...
"In the fortnight before polling day in 2011, Liberal supporters started receiving nuisance calls from people who claimed to be Liberal party workers - calling Jewish voters on the Sabbath, waking up others in the middle of the night. Liberals said this was Conservatives trying to alienate their support. Then, in the final three days before the vote, Elections Canada received a series of complaints about robocalls — recorded messages sent by automatic dialing — that told voters quite falsely that their polling station had been moved."

"By election day, anxiety was rising among officials, as internal emails recorded: 'It seems that Conservative candidates are pretending that Elections Canada or returning officers have changed the polling stations ... They have actually disrupted the voting process ... It's right across the country except Saskatchewan ... It appears it is getting worse.' This looked like a national campaign to suppress the Liberal vote by scattering it away from the polling booths."
When a group of voters from the six affected Ontario ridings went to federal court to challenge the results of the election, Mr Justice Mosley issued a devastating verdict, stating ...
"I am satisfied that it has been established that misleading calls about the locations of polling stations were made to electors in ridings across the country and that the purpose of those calls was to suppress the votes of electors who had indicated their preference in response to earlier voter-identification calls."
Even so, the judge declined to order new elections.
Davies goes on to call Harper a "master tactician" which reflects his "clever and harsh" character, who has turned the democratic process into a sequence of ugly political manoeuvres that hew closely to the philosophy of American political conspirator, himself a master manipulator, Arthur Finkelstein, a senior advisor to Richard Nixon and Ronald Reagan, and who has consulted on all five of Stephen Harper's campaigns for office.
One of Harper's allies in the 1990s, Gerry Nicholls, captured in his memoirs the special cynicism of Finkelstein's will to manipulate the electorate in his dictum: "We have to convince Canadians to drink pig's piss."
How did Harper go about achieving this far from laudable goal?
Attack ads smearing the opposition, in 1993, a focus on Liberal leader Jean Chrétien's facial disfigurement, caused by Bell's palsy, and more recently exploiting "wedge" issues that aim to alienate a section of the opposition support, such as demanding the closure of the unit where heroin addicts in Vancouver may access safe injections, not to mention descending into old-fashioned, U.S.-style pork-barrel politics — as he did prior to the August 2nd election call — pouring public money into ridings that were politically important. A Globe and Mail investigation this year found that 83% of the Harper government's new infrastructure projects had gone to the 52% of ridings that were in Conservative hands.
Once the election was called eleven weeks ago today, Stephen Harper — having stopped public funding for political parties, yielding the financial advantage to his corporate-funded Conservative party — the prime minister, when he made speeches or held photo ops avoided questions from the press, dragged out Canadian idol Wayne Gretzky — hardly a deep political thinker — to endorse the Conservative party, thereby garnering headlines and nightly television news hours coverage, microtargeted home owners with a tax break on home renovations, and when the party was slipping backwards in the polls, came up with a brilliantly successful wedge issue that devastated the New Democratic Party campaign — where Harper insisted that no Muslim woman should be allowed to take the oath of Canadian citizenship while wearing a niqab, appealing to "old stock" Canadians, who fear Muslim migrants as intruders, and liberal feminists, to whom one of Harper's ministers appealed by describing the niqab as "a medieval tribal custom that treats women as property rather than people."
For speaking up in favour of a Muslim woman's right to choose what she wears, Tom Mulcair, the leader of the New Democratic party, was punished with a disastrous collapse in his poll ratings, while Harper surged upwards.
Davies concludes his article in The Guardian, writing ...
"Harper has the natural advantage of an opposition, which is divided between Mulcair's NDP and Justin Trudeau's Liberals. He also has the advantage of what looks like a form of voter suppression which, unlike robocalls, is legal — a requirement that voters produce an official document in addition to their voter card to prove that they have a home in the riding."

"Harry Neufeld, who has been running elections in Canada since 1982, said he estimated that at least 250,000 qualified electors would be denied a vote. These are likely to be people who would not vote Conservative — students, the poor, aboriginal people."

"I believe the legal changes amount to systematic manipulation," he said. "It saddens me to see this happening in Canada. It reduces the perceived integrity of our national elections. And it damages our reputation as a country with deep democratic values."
Will Canadians elect Stephen Harper to a fourth consecutive term in office as Canada's Prime Minister, a feat not achieved since the bygone days of Liberal prime minister Sir Wilfred Laurier, at the outset of the 20th century?
Only you can reject the politics of fear and division. Only you can say to Stephen Harper, "Enough is enough!" Tomorrow the polls open in British Columbia at 7 a.m., closing 12 hours later at 7 p.m. Get out and vote.
As we have suggested previously, consult with Éric Grenier's threehundredeight.com, and make sure that you cast a ballot for the Liberal or NDP candidate in your riding who will best be able to defeat the Conservative candidate on the ballot, and put an end to heinous Canadian politics in the form of Stephen Harper.
On October 19th make your voice heard. Tell Harper, Enough is enough!
October 17, 2015
The notable figure in the Nanos Research poll above is not the fact that Justin Trudeau and the Liberals maintain a near seven-point lead over the fusty, Canadians ain't gonna be returning 'em to office Stephen Harper-led Conservatives, but at 22.6% in the polls, the utter collapse of the New Democratic Party campaign, not just in the waning days of the 42nd federal campaign for national office, but over the course of the past seven weeks.
Today on VanRamblings, a glancing blow at just what happened to the New Democrats this past 76 days, why Tom Mulcair and the NDP seem to have lost favour with the voting public, and how it is that Canadians no longer see the New Democratic Party of Canada as the agents of change party, but rather a national political party promising more of the same old, same old.
If you ask Rick Salutin, current Toronto Star columnist, longtime Globe and Mail columnist, and for more than 40 years the authoritative voice of the left in Canada, Mr. Salutin would chock the NDP campaign collapse up to Tom Mulcair's and the New Democratic Party's essential mean-spiritedness, a lack of respect for Justin Trudeau, the leader of the Liberal party, and a neoliberal NDP campaign that pitched to right, promising a succession of balanced budgets and a social and economic plan that would take at least ten years to implement, and would require the uncertain support of the provincial and territorial premiers from sea to sea to shining sea.
"Justin Trudeau has withstood a pummeling that wasted the two previous Liberal leaders so badly that each broke down publicly during their campaign under the scorn and humiliation. Trudeau survived and overcame. You wanted a narrative?" writes Salutin.

"A major weapon was referring to him only as Justin, as if he was nine. Sort of first-naming and shaming. Thomas Mulcair of course was Mr. Mulcair, like your math teacher. This may have overreached. 'He's 43! barked a high school student I know, as if nothing more needed saying. Forty-three is senior enough for anyone under that age."

"Mulcair could have expressed revulsion at the scuzzy tone of the assaults on Trudeau, which I think would have been politically astute. Instead he piled on, calling Trudeau, 'Justin', in the debates and running ads saying 'I'm ready,' which made him sound like Harper's poodle. It was a sad denouement for someone who'd made many forceful sallies against Harper during Question Period — though it's richly dramatic in terms of plot line. It reached a nadir at the Munk debate when Mulcair said Trudeau needs others to write his lines for him — even though Mulcair himself has clearly been coached on how to behave and which level to calibrate his smile at. Trudeau replied that we've had 10 years of personal slurs from Harper and we don't need more."

"I fully expect the Liberals to screw us over if they win. Liberals always break your heart after the election. It's conventionally known as running from the left and governing from the right. The NDP, on the other hand, has taken to breaking our hearts before the election."
While Justin Trudeau appealed to the angels of Canadians' better nature, in what appears less than 48 hours before election day to be a winning campaign of hope that will see him become Canada's next Prime Minister, Mr. Mulcair piled onto Harper's campaign, aimed at the annihilation of the Liberal leader — in 2015, Canadians have clearly had enough of the politics of personal destruction, as the Tory campaign has engaged in divisiveness and the politics of xenophobia and racist provocation, while Mulcair, and the New Democrats, has continued to rely on the Just Not Ready narrative.
Justin Trudeau's Campaign of Hope: giving the lie to the Just Not Ready narrative.
Then there's the listless, too-safe-by-far and, at least of late, unfocused nature of the New Democratic Party campaign, with NDP leader Tom Mulcair no longer seen as the effective and necessary agent of change, waging an uninspiring protean and prosaic campaign that seems only to say to Canadians, "Well, gosh, we're just darn better than the other guys."
Honestly, what is the real difference between the Liberal and New Democratic Party campaign platforms? Mr. Trudeau has made a more compelling and — and as left-wing gadfly and columnist Terry Glavin writes in his Ottawa Citizen column — more rousing argument for change ...
"You don't have to drill down through the finer points of the NDP and Liberal campaign platforms to notice that the few substantial differences in their economic and spending policies can be read in such a way as to situate the Liberals to the left of the NDP. The foreign policy and domestic policy notes on everybody's election concertinas are in the same key. Terrorism, citizenship revocation, niqabs, trade policy, Syrian refugees and the parties' tireless wooing of ethnic votes have ended up being at least as entertaining as the competing bread and butter tunes all three parties were hoping to play. But between Mulcair and Trudeau, it's Trudeau's renditions that are proving the most rousing."
Glavin then goes on to write about Trudeau's inspiring leadership ...
"While Mulcair gives the impression of mostly being aggravated by the Conservatives' deucedly fiendish campaign chess moves, Trudeau relishes the fight, insisting that what is at stake are inviolable frontiers that decent societies must never allow to be crossed. Hallowed boundaries circle the dignity of the individual and the rights of citizenship, Trudeau will tell you, and fleeting assumptions about the civic good or national security, no matter how popular, must not be permitted to trespass across them."

"That's the sterner stuff of liberal idealism. It is a devil of a thing to champion effectively at the best of times, but it is the difficult philosophical standpoint that Trudeau has been most vigorously and extemporaneously defending. What does Mulcair stand for again? What does Harper stand for?"
While it is true that Tom Mulcair and the New Democrats have not necessarily made any discernible faux pas during the course of the 42nd national election campaign, Tom Mulcair and the New Democratic Party of Canada have failed to galvanize their initial support as the best alternative to a tired and out of touch Conservative Party — which is too bad, really.
For, make no mistake, Tom Mulcair and the New Democrats — even given the lacklustre nature of their campaign, and their utter failure to inspire the imaginations of Canadians on the topic of a fairer Canada — remain the singular party of principle on the national scene, the one federal and provincial political party that will always, always, always support and further the aspirations of working Canadians for a better future for themselves and for their families, and in the process ... a better Canada.
On Monday, October 19th make your voice heard. As we've written previously, consult with Éric Grenier's threehundredeight.com, and make sure that you cast a ballot for the Liberal or NDP candidate in your riding who will best be able to defeat the Conservative candidate on the ballot.
October 16, 2015
Make no mistake: this is a change election.
On Monday, October 19th, Canadians will likely elect a minority Liberal government to Ottawa, Stephen Harper and the Conservatives will be relegated to official opposition (the consequence of which will see Harper step down as Tory leader in the days following Monday's election), Tom Mulcair and the NDP — whose popularity has recovered somewhat in recent days — will return, in Canada's 43rd Parliament, to their traditional third party status, maintaining in the neighbourhood of 85 seats (which is to say, more than five times as many seats as the NDP held at the federal level only a decade ago), as Canadians once again reclaim our traditional values of respect for cultural differences, and a commitment to social justice.
Over the Thanksgiving weekend, more than 3.6 million Canadians cast a ballot at one of the hundreds of advance polls across our land — fully one-quarter of all voters who cast a ballot in 2011, and almost double the number of voters who cast a ballot in the advance polls in the previous election — as change for the better was on their mind.
In 2015, Canada will move inexorably forward. If you haven't voted already, make damn sure that you get out to vote on Monday, October 19th. Only you can help to make change happen.
Make your voice heard. Consult with Éric Grenier's threehundredeight.com, and vote for the Liberal or NDP candidate in your riding who will best be able to defeat the loathsome, heinous Conservative candidate on the ballot.
October 15, 2015
Momentum: Support for surging Liberals reaches new election high, at expense of NDP
VanRamblings believes that the various polling companies — in suggesting that Justin Trudeau and the Liberal Party of Canada maintain a seven-plus-point lead over Stephen Harper — have understated support for Mr. Trudeau and the Liberals, and that in fact, on October 19th the Liberal Party could very well emerge with a majority government of more than 170 Members of Parliament in a rejuvenated and much changed nation's capital.
Pollster Quito Maggi, CEO of Mainstreet Public Research — which predicted the NDP's orange crush in Alberta earlier this year — told The National Observer's Fram Dinshaw in an article published yesterday that ...
"It's just a matter of how big the momentum is for the next few days, it could end up in a landslide relative to what we've seen for the majority of this campaign, which was a three-way deadlock."
According to Mainstreet's polling data, the Liberals are surging across Ontario's vast heartland, with current support for the party pegged at 47 per cent of the electorate to only 30 per cent support for the Tories, while Tom Mulcair's New Democrats lag far behind at just 18 per cent support.
More worryingly for Stephen Harper's Conservatives, the Liberals are surging in Toronto's suburban 905 ridings, as the NDP collapse has handed the anti-Harper vote straight to the Grits, in a vote that is no longer split.
"Right now everything that's happening nationwide is being confirmed by what's happening in individual ridings," said Maggi. "If things continue moving in the direction that they've been going, the eventual outcome is a Liberal majority. It still has to move a few more points."
Over the Thanksgiving weekend, a record 507,920 British Columbians cast a ballot at the advance polls — a whopping 96% increase over 2011, when 259,278 eligible voters in B.C. cast advance ballots — indicating not only almost certain change in government at the federal level come October 19th, but generational change, unlike anything Canadians have witnessed in almost 50 years, dating back to 1968 when Pierre Elliott Trudeau swept to power in an overwhelming victory that proved near revolutionary.
In exit interviews conducted by the three main parties outside the advance polling stations, recorded data indicates that almost 60% of those casting a ballot were in the 18-44 age group, which suggests much greater involvement by the millennial generation in the 2015 election over 2011, when only 38.6% of voters aged 18-44 voted in the previous election.
All you needed to do was look around at the number of baby buggies and strollers, the number of young children running around along the polling lines hour upon hour, with their parents lined up leading up to the table where voters were issued their ballot — there was a new and vital energy at the polling stations, consisting not just of the parents of these young children, but of the children themselves, who represented a new electorate of future engaged citizens, an electorate of families of every description.
In 2015, in order to make polling results more accurate, pollsters are "weighting" published poll results over raw data returns, correlating past voting behaviour with current voting intention.
Given that roughly four out of ten voters aged 18-44 voted in the 2011 election, only four tenths of raw data collected for the 18-44 age group are factored into published poll results. Meanwhile, more than 70% of voters in the 55-80 age group cast a ballot in 2011; the weight given the voter intention of seniors by pollsters is counted at a much greater seven tenths.
If, in fact, as this past weekend's advance polling station exit interviews would indicate that almost 60% of voters age 18-44 will in fact cast a ballot in 2015, pollsters have been woefully understating current voting intentions for the millennial generation, exit interviewees indicating to enumerators that they had cast ballots in overwhelming numbers for the Liberal party.
The Liberal Party of Canada have momentum on their side, as Justin Trudeau's message of hope — very similar to the campaign of hope waged by Barack Obama in 2008 — appears to be resonating with a broad cross-section of the voting electorate. Even if Stephen Harper successfully manages to dampen the prospects of a surging Trudeau campaign, it would only mean that most of the 70 per cent or so of Canadians desiring a change in government would cast a ballot for a party other than the Tories.
As of today, according to CBC pollster Éric Grenier at his poll amalgamation site threehundredeight.com, the Liberals are now leading in 15 seats in British Columbia, 10 seats across the three Prairie provinces, an astounding 68 seats in Ontario, 24 seats in Québec, and 27 seats in the Maritimes and the Territories, for a potential total of 144 seats in Canada's 43rd Parliament, up eight seats today over yesterday, as the wave of support for Justin Trudeau and the Liberal Party of Canada continues unabated.
According to Mainstreet's Quito Maggi, traditional New Democratic Party voters in Ontario, Alberta, and British Columbia who supported their provincial NDP branches abandoned the federal party as it pitched right, as the Liberals wooed them over with its resurgent progressive messaging.
"By taking that vote for granted and tacking right and trying to outflank Trudeau on those economic issues they lost their base on the left, and by the time Mulcair and the NDP realized that and tacked back left it was too late," says Maggi.
Maggi goes on to report that Mainstreet Public Research polling results indicate that the Liberals have enjoyed access to a large pool of such traditional NDP voters, as 55% of New Democrat respondents have indicated they were prepared to vote for Justin Trudeau and the Liberal Party in the 2015 federal election, a troubling development for the NDP.
While the 70 per cent of Canadian voters wanting change would now appear to be flocking en masse to the Liberal tent — and may yet prove to be Stephen Harper's worst nightmare on Monday evening, October 19th — the Conservatives retain their core, right-wing Reform-Alliance support base of roughly 30% who, despite all, remain loyal to the slumping Tories.
October 14, 2015
Tory cabinet ministers to be squeezed out: Leona Aglukkaq (Environment), Rob Nicholson (Justice), Ed Holder (Science), Joe Oliver (Finance), Chris Alexander (Immigration)
We live in a time of some great social and political turbulence.
War in the Middle East plagues the world. A renewed Cold War heats up between a crippled Russian bear, and a United States in turmoil (Donald Trump running for President? ... make no mistake, the U.S. is in trouble).
At home, Canadians have experienced 10 lost years at the malevolent hand of our homegrown dictator, Stephen Harper: the economy roils with anxiety, record numbers of families are in distress as child poverty grips our land, environmental concerns remain a sour afterthought, and only days away deliverance beckons as but a forlorn hope for an uncertain — but let us hold out for all our sakes, a buoyant and aspirational — future.
For the progressive forces of change, let us take joy where we may find it.
On October 19th, amidst the maelstrom, there are some joyous certainties:
Next Monday, the Liberals and the New Democrats will triumph in upwards of five ridings out of 34 in Alberta, a formerly true blue bastion for the federal Conservatives. Political strategists and MPs told The Hill Times that in the current tight, three-way election national campaign, the Liberals and the NDP have a realistic shot at making gains in the Edmonton and Calgary-area ridings. The Liberals and the NDP will win the Edmonton-area ridings of Edmonton Centre, Edmonton Griesbach and Edmonton Strathcona, while Calgary Centre, Calgary Confederation and Calgary Skyview will go to the Liberals.
More than two and a half dozen incumbent Conservative MPs are certain to go down to defeat on October 19th, including: Jay Aspin (Nipissing-Timiskaming, Ont.), Ryan Leef (Yukon), Andrew Saxton (North Vancouver, BC), Ted Opitz (Etobicoke Centre, Ont.), Jacques Gourde (Levis-Lotbiniere, Que.), Chungsen Leung (Willowdale, Ont.), Kerry-Lynne Findlay (Delta, BC), Lawrence Toet (Elmwood-Transcona, Man.), Chungsen Leung (Willowdale, Ont.), Wai Young (Vancouver South, BC), John Carmichael (Don Valley West, Ont.), John Duncan (Courtenay-Alberni, BC), Joe Daniel (Don Valley North, Ont.), Roxanne James (Scarborough Centre, Ont.), Peter Braid (Waterloo, Ont.), John Weston (West Vancouver-Sunshine Coast-Sea-to-Sky Country, BC), Peter Braid (Waterloo, Ont.), Joyce Bateman (Winnipeg South Centre, Man.), Bernard Trottier (Etobicoke Lakeshore, Ont.), Stephen Woodworth (Kitchener Centre, Ont.), Susan Truppe (London North Center, Ont.), Royal Galipeau (Orléans, Ont.), Bryan Hayes (Sault Ste. Marie, Ont.), Joan Crockatt (Calgary Centre, AB), Joe Daniel (Don Valley North, Ont.), Keith Ashfield (Fredericton, NB), Scott Armstrong (Cumberland-Colchester, NS), and Parm Gill (Brampton North, Ont.).

In addition, five Tory cabinet ministers are set to go down to defeat: Finance Minister Joe Oliver (Toronto Eglinton-Lawrence), Justice Minister Rob Nicholson (Niagara Falls), Minister of State (Science and Technology) Ed Holder (London West), Minister of the Environment Leona Aglukkaq (Nunavit), and best of all, Minister of Citizenship and Immigration, Chris Alexander (Ajax), who angered so many Canadians for his role in the Syrian refugee tragedy.
In these waning days of the 2015 federal election campaign, the ride continues to be dizzying, the leaders full-throated, the outcome uncertain, but at least we can take some solace in the knowledge that Stephen Harper will lose more than 20% of his certain-to-be-defeated caucus.
Here are the updated poll results from Nanos Research — conducted for the CTV and the Globe and Mail — and Éric Grenier's CBC Polltracker, which today projects a 136-seat minority for the Liberal Party of Canada.

October 13, 2015
Liberal Leader Justin Trudeau at a campaign event in Vaughan, Ont., on Oct. 8, 2015. The election of a Liberal government in Ottawa could prove transformative for Canadians.
Although pollster Michael Marzolini states to War Room writer Warren Kinsella in an October 12th article in The Hill Times that support for the Conservatives is "extremely understated", that although support for the Conservatives is ...
"very weak among young voters, and amongst all the demographics that don't tend to vote, in hard numbers, when one factors in that Conservative support is almost exclusively among high turnout groups, including seniors (whose turnout rate is almost double that of voters aged 18-44)", at which point in the article, Mr. Marzolini ..."
... goes on to predict 37% Conservative support on election night, October 19th, to 32% support for the Liberals and 27% support for the New Democrats, VanRamblings will take as an article of faith that the Forum Research, Nanos Research, Angus Reid and the plethora of other reputable polling companies cannot possibly be understating support for the Conservatives by 9%, and that the distinguished Mr. Marzolini is dreaming in technicolour, and that next Monday, we will in fact elect a minority Liberal government. VanRamblings will proceed today to post about what the election of a Liberal government to Ottawa will mean for all Canadians across our land. In the meantime, we would plead with you to get out to vote, in order to stave off the potential for a soul destroying Tory victory.
Moving Canadian seniors out of poverty. A central tenet of the Liberal platform involves increasing the Guaranteed Income Supplement for seniors by $750 million annually, to lift more than 650,000 Canadian seniors out of poverty. The Liberals would also cancel the Conservative plan to increase OAS eligibility age to 67. In addition, Mr. Trudeau has stated that he would hold a First Ministers Conference with all of Canada's Premiers, and that he is open to the position taken by the Premier's Conference that over the next eight years, Canada would move to ensure that no senior would live on less than $2000 a month in pension benefits.
Boosting youth employment. Youth unemployment is nearly twice the national average. A Liberal government will put in place a Youth Hiring Incentive for small and medium sized businesses: they'll pay no Employment Insurance premiums for any Canadian youth they hire. More importantly, perhaps, the Liberals will provide up to $100 million a year to create more than 40,000 jobs, paid internships and co-op placements for youth over four years, as well as spend $1.5 billion over four years on a youth job strategy to help 125,000 young people find a job.
In addition, the Liberals will create a Prime Minister's Youth Advisory Council, consisting of young Canadians aged 16 to 24, to provide non-partisan advice to the Prime Minister on issues facing the country.
Funding affordable and co-operative housing. For those who live in the more than 2,000 housing co-ops in Canada, housing greater than 111,000 Canadians, a renewal of the $2 billion subsidy for tens of thousands of Canadians requiring a subsidy on their housing charge is absolutely mandatory; the Liberal party has made that commitment, the Conservative party — who have the worst record on housing of any Canadian government in the 148-year history of our nation — has not.

One can check which Liberal, or NDP, candidate will best be able to defeat the Conservative candidate in your riding by consulting Éric Grenier's threehundredeight.com — you can take it as gospel that Stephen Harper and the Conservatives are not on your side.
What other changes will a Liberal government in Ottawa bring about that will serve the interests of the broadest cross-section of Canadians?
Unlike Stephen Harper, Justin Trudeau as Prime Minister will hold regular meetings with the Premiers to discuss and come up with resolutions to the important social, political and environmental issues of the day;
No longer will Canadians be subject to an imperial Prime Minister's Office, with decisions taken in secret, and forced upon Canadians without consultation with Members of Parliament, or Canadians across our land;
As has always been the case under Liberal regimes, a Liberal government will have strong, independently-minded Ministers of Government — the notion of an imperial PMO will thankfully be off the table, once and for all;
The Liberal party will reverse corporate tax cuts, which will serve to plough more than $5.2-billion annually into the Canadian economy;
Liberal immigration policy will focus on family reunification, doubling the number of applications allowed for parents and grandparents to 10,000 each year; in addition, there will be a change to the rules allowing spouses immigrating to Canada to receive immediate permanent residency, eliminating the current two-year waiting period.
Liberals will provide $380 million in additional funding for the arts, as well as undo Conservative funding cuts to the CBC;
Liberals will reduce wait times for a first EI payment to one week from two. In addition, Liberals will implement a new six-month family care employment insurance benefit similar to the EI parental leave benefit;
As every knows, the Liberal party will both, initially, decriminalize use of marijuana in Canada, and present legislation to Parliament that will legalize the administration and use of marijuana across our country.
The entire Liberal party platform is available here.
Perhaps the single most despicable act of the Stephen Harper Tories involves sending Canadians troops into harm's way — in Iraq, in Afghanistan, in Syria, and other war torn parts of the world — and upon arriving home from the theatres of war, denying our injured troops pensions, health programmes and support, cruelly leaving our veterans and their families to fend for themselves. One is left to wonder how Stephen Harper, the members of his party, and those who would deign to vote for the Conservatives manage to sleep at night knowing of the tragedies that have been created by their heartless, penny-pinching Tory administration.
Let's be clear: Justin Trudeau and the Liberal Party of Canada will re-establish lifelong pensions for our injured veterans, as well as increase the value of the disability award; Liberals will invest $25 million to expand access to the Permanent Impairment Allowance; invest $40 million to increase the Earnings Loss Benefit to 90 percent of pre-release salary; invest $80 million per year to create a new Veterans Education Benefit (in the U.S., it's call the "GI Plan") that will provide full support for the cost of up to four years of college, university, or technical education; invest $100 million per year to expand support for families of veterans; and, re-open the 9 Veterans Affairs service offices closed by the Harper Conservatives.
The choice is clear. On October 19th, 2015 Canadians of heart and conscience will vote for the candidate in their riding who will best be able to defeat the Conservative party. As it happens, if the polls are correct, in upwards of 134 ridings across Canada, the candidate who will best be able to defeat the Conservatives is the Liberal candidate in your riding.
October 12, 2015
On day seventy-two of Canada's 2015 marathon election, according to a consensus of more than 70 pollsters, Justin Trudeau and the Liberal Party of Canada have pulled away from the pack and now have a substantial lead over both the fusty Conservative Party, and the principled but hapless New Democratic Party. One week from today, we may have a new government.
As can be seen in the latest Nanos Research Poll conducted for CTV and the Globe and Mail, Justin Trudeau and the Liberal Party of Canada have opened an almost insurmountable seven-point lead over Stephen Harper's Regressive Conservatives, that lead in voter support finally — according to CBC poll analyst Éric Grenier's Polltracker — translating into a substantive seat count confirming a slim but workable minority government for the Liberals heading into Canada's 43rd Parliament, in the process ridding our country of the most malevolent force in federal Canadian politics in all of Canada's 148 years as a nation, not to mention the ten lost years of leadership at the federal level under a Stephen Harper-led government.
CBC Polltracker | October 11, 2015 | projected Liberal minority government | 134 seats
As VanRamblings posted last Tuesday, reiterated by Georgia Straight editor Charlie Smith this weekend, according to Éric Grenier's threehundredeight.com, the Liberals are now leading in 14 seats across British Columbia, a rise of 12 seats over the 2011 federal election results.
"When Parliament was dissolved, the Liberals held only two B.C. seats: Vancouver Centre (Hedy Fry) and Vancouver Quadra (Joyce Murray)," writes Smith.

"The (threehundredeight.com) website has the Liberals likely or in serious contention to elect the following candidates in addition to Fry and Murray: Jody Wilson-Raybould (Vancouver Granville), Terry Beech (Burnaby North-Seymour), Carla Qaultrough (Delta), Harjit Sajjan (Vancouver South), Jonathan Wilkinson (North Vancouver), Pamela Goldsmith-Jones (West Vancouver-Sunshine Coast), Lawrence Woo (Richmond Centre), Joe Peschisolido (Steveston-Richmond East), Randeep Sarai (Surrey Centre), Sukh Dhaliwal (Surrey-Newton), Ken Hardie (Fleetwood-Port Kells), and Judy Higginbotham (South Surrey-White Rock)."
Grenier currently projects 10 seats across the Prairies for the Liberals, 62 seats in Ontario (representing more than half the seats in the province), 22 seats in Québec, and 26 seats in the Maritimes and the Territories.
Across Ontario, the Liberal Party of Canada has established what can only be described as a massive lead as the ABC (Anything but Conservative) strategic vote coalesces around Justin Trudeau in response to the NDP's support evaporating in Québec, according to a survey carried out by Google Consumer Surveys and commissioned by ThinkPol.
The Liberals currently sit at a solid 45% in voter support in Ontario, followed by the Conservatives at 27%, the NDP at 24%, and the Greens at 4%. In the ThinkPol survey, the Liberals dominated both genders and all age groups except the 65 and over group, which sided with the Conservatives, who came last behind the Greens for the 18-24 and 25-34 age groups. The Liberals also led in all income groups except the $24,000 or less group, which favoured the New Democratic Party.
Support for the NDP in MetroToronto and the 905 (the suburbs surrounding Metro Toronto) has all but vanished, as committed voters have moved to the Liberals as the Anyone But Conservative party. The remaining gains for the Liberals come at the expense of dwindling support for the Tory party.
Justin Trudeau continues to make his pitch to those voters who had previously cast their ballot for Stephen Harper's Tories ...
"At a rally held earlier today in the riding of Nepean in suburban Ottawa, the Globe and Mail reports, Mr. Trudeau said 'the Tories have a proud history,' before taking shots at Mr. Harper's promise to remove the Canadian citizenship of convicted terrorists with dual nationalities."

"Most importantly, Progressive Conservatives — Tories — can be proud that their prime ministers didn't base everything on wedge politics. They didn't divide Canadians over differences of religion or citizenship. Progressive Conservative prime ministers believed that a Canadian is a Canadian is a Canadian," Mr. Trudeau said in front of hundreds of supporters."

"The Liberal Leader said that in the past, PC governments fought against poverty and helped to improve Canada's reputation on the world stage. "Those are values that haven't disappeared, they have just disappeared from the current Conservative Party and disappeared along with anything progressive about them," he said.
Six days to go until election day Oct. 19th, the last day of advance polling in the 2015 federal election today, with the Liberals trending up daily, second wave Trudeaumania in full on mode as VanRamblings wrote on September 30th, when we first predicted a minority government for Justin Trudeau and the Liberal Party of Canada and, finally, an end to the politics of division, and the election of a Canadian government that will reclaim the values that all of us who call our nation home may, once again, be proud.
October 6, 2015
Make it happen: Justin Trudeau, federal Liberal Party leader, as Canada's next Prime Minister
VanRamblings does not live for film alone, for there is a critically important federal election going on, that we've somehow managed to follow with alacrity. So, it's back to writing about the 34th annual Vancouver International Film Festival tomorrow, and a column today as to why it is necessary to — 13 days out from Canada's 42nd federal election — give serious thought to voting Liberal in key ridings across Canada, even if it costs seats to the New Democratic Party or Elizabeth May's Green party.
Make no mistake, VanRamblings is a dyed-in-the-wool Dipper, always have been, always will be (we believe in the fundamental maxim, "Ya dance with the one that brung ya."). Even so, in this too-close-for-comfort election, it is necessary to cast a ballot for the party that has the best chance of defeating Stephen "I'm a xenophobic, fear-mongering racist" Harper, and that party would be the Liberal Party of Canada, and the first-rate, should win candidate running for the Liberal party in your home riding (at least in close races, anyway — and, please, do vote NDP where that party is way ahead, or vote Green where it won't make a darn bit of difference to the outcome of the election — otherwise, vote Liberal, vote Liberal, vote Liberal).
The 2015 national election is not about voting with your heart, but is all about ridding Canada of the most malevolent national political force ever to take office at the federal level, in the 148-year history of our glorious land.
As VanRamblings predicted last week, second wave Trudeaumania has gripped the nation as — according to CTV and pollster Nik Nanos — Justin Trudeau and the Liberal party have gained one point in the polls each day since that column was published, catapulting from 29.3% support to the 35.6% support you see in the three-day rolling poll results above. Meanwhile, the NDP would appear to have dropped out of serious contention for government, losing 12 points in the Nanos poll over that same period, plummeting from 34.6% support to the paltry 22.8% above.
Unfortunately for Justin Trudeau and the federal Liberal Party, the much-increased support of Canadians for the Liberal plan, and the Liberal leader, has failed to properly and fortuitously translate into the necessary projected seat count increase in the upcoming 43rd Canadian Parliament, a seat count that will ensure the defeat of Stephen Harper and the (not progressive, but regressive, George Bush-like) Conservative party.
Only 9 more projected seats than the Conservatives when the Liberal Party has a 4.6% polling advantage? Clearly, the Liberal Party has some work to do to convince an increasing number of Canadians that it is the Liberal Party alone, that can defeat Stephen Harper on election day, Monday, Oct. 19th. Consult 308.com to see which candidates are doing well in your riding.
In British Columbia's 1996 provincial election, Gordon Campbell's Liberal party garnered 41.82% of the popular vote to the NDP's 39.45%, yet the NDP gained a majority in the BC Legislature, winning 39 seats to the Liberals' 33 seats. On the national level in 2015, Canadians cannot allow a similar scenario to play out in the current federal election.
In British Columbia in 2015, all 13 of the winnable Liberal seats must, in fact, go to the Liberals. As we've written previously, there are half a dozen BC ridings that are a lock for the Liberals (Vancouver Quadra, Vancouver Centre, Vancouver South, North Vancouver, Surrey-Newton, Vancouver-Sunshine Coast) but, if the Liberals are to form government in the next Parliament, the Liberal party will need to take the winnable seats of Vancouver-Granville, Surrey-White Rock, Delta, Steveston-Richmond East, Fleetwood-Port Kells, Richmond Centre, and Burnaby-North Seymour.
At the moment, Eric Grenier's threehundredeight.com projects 12 seats across the Prairies for the Liberals, 51 seats in Ontario (which will have to climb to 60, representing half the seats in the province), 20 seats in Québec, and 26 seats, or better, in the Maritimes and the Territories.
Despite the late election Trudeaumania wave, the seat projections above represent a best case scenario for the Liberals, and even if the projections above prove accurate, the Liberals will end up electing only 131 members to Parliament, for the slimmest possible minority government.
Contrary to the ads the Conservative party has run ad nauseum the past couple of years that Justin Trudeau is "not ready", if you've seen Mr. Trudeau on the hustings, in the debates, and on the nightly news television clips, it is clear to any thinking, rational human being that Justin Trudeau, and the Liberal Party, are indeed ready to form government, and that the ads are so much codswallop. Co-operating with the NDP post election night, together the two progressive parties at the federal level will work to undo the damage of Canada's lost years under the mean-spirited, not on your side, secretive and corrupt Stephen Harper-led government in Ottawa.
VanRamblings would have preferred a Tom Mulcair-led New Democratic Party government in Ottawa — but that ain't gonna happen, folks. Let's be clear about what's at stake in this election, which is — in case you didn't realize it — the very soul of our nation, and any notion of responsible government that serves the interests of the broadest cross-section of Canadians, on all of the important issues of the day, ranging from health care to affordable housing, to upholding the Canadian Charter of Rights and Freedoms and the consequent respect for the 9 Justices who sit on the Supreme Court of Canada (a respect Stephen Harper has sorely lacked), and the building of a full-employment economy that will allow our nation to once again thrive, as it had prior to the election of Stephen Harper as Prime Minister, and as it will again under the leadership of Justin Pierre James Trudeau, held to account by Mr. Mulcair & the federal New Democratic Party.
September 30, 2015
In every election, there's a turning point, a moment in time that becomes indelible in the Canadian political consciousness, and that moment occurred on Monday evening at the Munk Debate in Toronto, when Justin Pierre James Trudeau emerged, once and for all, as the Canadian federal political leader for a new millennium, and when we came to see Stephen Harper's churlish tenure as Prime Minister for what it always was: an aberration, a political history Canadians will not reflect kindly upon in the years to come.
Fifty-eight days into Canada's 42nd federal election campaign, federal Liberal Party leader Justin Trudeau has finally found his voice, and is uttering the language of hope Canadians most want to hear ...
"I am my father's son. I stand for the same values and principles for which my father stood. Make no mistake, the Canadian Charter of Rights and Freedoms remains a central feature of my father's legacy, as does a multicultural Canada and respect for diversity. Not to mention, it was my father who lowered the voting age from 21 to 18, sought to keep government out of the bedrooms of the nation, extended Canada's territorial waters to 200 miles, and with the passage of the Canada Health Act restricted provinces from privatizing health care."
Make no mistake, Pierre Elliott Trudeau is a beloved Canadian political figure.
When Tom Mulcair invoked the memory of the War Measures Act, Justin Trudeau turned the tables on the NDP leader for one of the night's most memorable moments, as he embraced his father's record in a way he'd not done previously. Pointing out that it was the anniversary of Pierre Trudeau's death may have been unfair, since it's unlikely Mr. Mulcair had any idea when he negatively invoked his memory, but it was effective — and so wounded the NDP leader and his party that the NDP will not recover from the gaffe.
Meanwhile, a wearied Stephen Harper appeared as a vacant vessel on the Munk Debate stage, an uncomfortable and discomfiting old man who wished on this night of change that he could be anywhere else but on that stage.
Federal Liberal Party leader, Justin Trudeau, stands with his British Columbia candidates
All Politics is Local
Now that Justin Trudeau has emerged as the electable, popular and populist agent of change on Canada's federal political scene, the impact for Conservative and New Democratic party candidates across Canada may be seen as, at best, prejudiced.
In British Columbia, Liberal "bubble" candidates may very well carry the day: it is entirely likely Terry Beech will emerge as the winning candidate in Burnaby-North Seymour, Judy Higginbotham could well take Surrey-White Rock from former Surrey Mayor Dianne Watts, lawyer Carla Qualtrough could win Delta for the Liberals, Translink public affairs manager Ken Hardie could come from behind for a win in Fleetwood-Port Kells, Lawrence Wells' prospects in Richmond Centre all of a sudden look much better, as is the case with Jody Wilson-Raybould in Vancouver Granville and Joe Peschisolido in Steveston-Richmond East, while Jonathan Wilkinson in North Vancouver appears primed to take that seat in a walk, as is the case with Sukh Dhaliwal in Surrey-Newton, Canadian Armed Forces Lieutenant-Colonel Harjit Sajjan in Vancouver South, and Pamela Goldsmith-Jones in West Vancouver-Sunshine Coast-Sea to Sky, not to mention Liberal incumbents Joyce Murray in Vancouver Quadra and Dr. Hedy Fry in Vancouver Centre, for whom electoral support is rock solid. All told, potentially winning Liberal candidates in B.C. constitute the lucky 13, for a 650% increase over 2011.
Justin Pierre James Trudeau, federal Liberal Party leader, and Canada's next Prime Minister
Canadians are about to witness, and be participants in, a generational change in political leadership in Ottawa, a dramatic political transformation that will see the influence of baby boomers give way to a younger and more vibrantly alive, alert and attuned millennial generation, all the members of which have very different ways of seeing the world, connecting and working.
In Canada, we are about to come out of a decade of lost leadership.
In Justin Trudeau, over the course of the next 19 days, Canadians will increasingly come to realize that it is Mr. Trudeau who offers change and hope for Canada's future, and a new political vision founded in a higher sense of ethics and values, a new generation who will bring along with them new perspectives and ideas, and the energy and boldness to achieve them.
For the first time in almost 50 years, even in this cynical unforgiving age of ours, Canadians are about to be party to a dynamic, engaging and contemporary manifestation of Trudeaumania, and a hope for Canada's future that is one based on generosity and reason, fairness and social justice, wisdom and security. In twenty days, on election day, Monday, October 19th, a record number of millennials will take to the polls, in the process transforming Canada into what once was, and can be again.
September 10, 2015
For those who may not realize this fact: VanRamblings is a partisan blog.
Although we have friends in all of the federal political parties — and respect their individual right to support the party, and candidates, of their choosing — VanRamblings remains firmly in the tank for the NDP, believing as we do that it is Tom Mulcair's federal New Democratic Party that will provide the best government for all the people of Canada going forward into the future.
Today's column, then, offers an explanation of where VanRamblings' support arises, the issues about which we are most passionate, and how it is that the NDP — and Tom Mulcair's New Democrats alone — present the opportunity for meaningful change, change that will impact on the quality of life of all Canadians, in the process creating a fairer & more just society.
1. Affordable housing, social housing, and housing co-operatives. Housing co-operatives are a made-in-Canada solution to social and affordable housing, a creation of the defacto 1972-74 Trudeau Liberal — David Lewis NDP "coalition": self-administered, not-for-profit housing residents actually own (although residents must sell their unit back to the Co-operative should they move), where members pay no more than 35% of their income for housing, where one-third of members receive a deep subsidy on the low-end market housing rate, one-third receive a partial subsidy, and one-third of residents pay a low-end market housing charge.
Early on in Campaign 2015, the federal NDP committed to renewing the Canada Mortgage and Housing operating agreements that govern housing co-operatives, providing subsidy for members in need; without implementation of this New Democratic Party commitment, thousands of Canadians risk being thrown out onto the street — a Conservative party eventuality Canadians of conscience cannot allow to occur.
VanRamblings wrote about housing co-operatives during 2014's Vancouver municipal election; as background on the history and contribution of housing co-operatives to our community, the column is worth a read.
2. Lifting our seniors out of poverty. Statistics Canada data shows that 12 percent of seniors live in poverty, amounting to almost 600,000 people. Seniors living alone are particularly hard pressed financially, with more than 1 in 4 single seniors, most of whom are women, living in poverty. Twelve million working Canadians do not have workplace pension plans; Canadians are increasingly unable to save sufficiently for their own retirement.
Tom Mulcair's New Democratic Party has committed to boosting the Guaranteed Income Supplement (GIS) by $400 million annually, a necessary step that will lift seniors out of poverty. "No one should have to grow old in poverty, insecurity or isolation," Mulcair has said. "The NDP will ensure that all seniors live with dignity, with the care and support of all Canadians."
3. Creating a North American environmental policy. From the outset of the current federal election campaign, Tom Mulcair and the NDP have made it clear that this December at the United Nations Climate Change Conference, working with President Obama, the two nations will present a unified North American environment and climate change policy that will not only cut greenhouse gas omissions, but as well ...
Adopt tougher rules that will work to help prevent oil spills;
Adopt a pan-continent cap-and-trade mechanism to fight climate change;
Seize new opportunities for clean energy that will effectively cut carbon pollution, reduces risks to our communities and coastlines, and establish an assessment and review process that Canadians can put their trust in once and for all;
Invest in clean energy over subsidizing fossil fuel;
Implement a 'polluter pays' principle; and ...
Address the issue of the transportation of dangerous goods, and boost the government's preparedness for "a major environmental disaster." Citing the Lac-Mégantic rail disaster, Tom Mulcair said "it's time we had rail safety standards that Canadians can trust."
As the Québec Minister of Sustainable Development, Environment and Parks from 2003 until 2006, in the Liberal government of Premier Jean Charest, Tom Mulcair launched Québec's Sustainable Development Plan, tabling a draft bill on November 25, 2004. Also included was a proposed amendment to the Québec Charter of Human Rights and Freedoms to create a new right, the right to live in a healthy environment that respects biodiversity, in accordance with the guidelines and standards set out in the Act.
Tom Mulcair's Sustainable Development Plan was based on the successful European model and was described as the most progressive environmental policy in North America. Following a 21-city public consultation tour across the province, Tom Mulcair's Sustainable Development Act was unanimously adopted by the National Assembly of Québec, in April 2006.
4. Decriminalization of marijuana. On October 20th, should the New Democratic Party become the government of Canada, as Prime Minister-elect Tom Mulcair will sign an order-in-council that will immediately decriminalize the use of marijuana across Canada; further, Tom Mulcair has said that by Christmas 2015, all Canadians currently serving prison sentences for simple pot possession will be released from incarceration.
Since the Stephen Harper came to power in 2006, the Conservatives have slammed the door on the previous government's plans to reduce or decriminalize marijuana penalties; arrests for pot possession have jumped 41 per cent. In the past 10 years, police report more than 650,000 marijuana-related arrests, roughly equivalent to the population of Coquitlam, Burnaby, New Westminster, Port Moody, Bowen Island, Abbotsford, Duncan, Courtenay, Fort St. John, Nelson, Creston, Vernon and Oliver, British Columbia combined.
Justin Trudeau's Liberals propose to legalize marijuana in Canada, which would engender an arduous and cumbersome multi-year legislative and administrative process that in all likelihood would never pass Parliament, or be accepted by the provinces. As is most often the case, Liberals promise a great deal during an election, but deliver on very little once in government.
Drug legalization and decriminalization are not the same thing. In the case of marijuana, decriminalization would remove the criminal and monetary penalty for possessing it for personal use, but dealing the plant could still land you in jail. On the other hand, legalization would remove criminal penalty and implement control and distribution by the government. There is no country across the planet that has legalized drugs altogether, whereas many countries have successfully implemented marijuana decriminalization.
5. Implement proportional representation in the 2019 election. Early on in a Tom Mulcair-led New Democratic Party government, the NDP would introduce legislation that would implement proportional representation, rather than the current "first past the post" electoral system, for the 2019 federal election. The graphic above offers evidence as to what Parliament would have looked like after the 2011 election had proportional representation been in place. Canada is one of the few countries in the world that has not introduced, and passed, such legislation.
6. Repeal Bill C-51. On February 23, 2015, the Stephen Harper Conservative government introduced Bill C-51 — The Anti-Terrorism Act — which passed second reading in the House of Commons with a vote of 176-87, all members of both the Liberal and Conservative parties voting in favour. Only Tom Mulcair's New Democratic Party held out, all NDP MPs voting against a bill that could be used to target environmental activists and aboriginal protesters, or any other form of protest without an official permit or court order. An RCMP report names Greenpeace in language that would permit the Canadian government to act against this respected Canadian-founded, now international environmental organization.
In a column published in the Globe and Mail on March 6th of this year, Daniel Therrien, Canada's federal Privacy Commissioner, wrote that the bill fails to protect the safety and privacy of Canadians, granting excessive and unprecedented powers to government departments and agencies, "opening the door to collecting, analyzing and potentially keeping forever the personal information of all Canadians," including every instance of "a person's tax information, personal business and vacation travel."
Only a Tom Mulcair-led New Democratic Party government would repeal Bill C-51, while implementing new security legislation that would protect the valued privacy interests of Canadians while keeping all Canadians safe.
7. Reinstate the long-form census. The elimination of the mandatory long form census by Stephen Harper's government represents one of the most regressive pieces of legislation passed by the Conservatives since they were first elected in 2006, compromising the ability of the private sector and government to plan for the needs of Canadians.
Business organizations — you know, such well-renowned left-wing organizations as the Canadian Chamber of Commerce, Canadian Federation of Independent Business, Canadian Economics Association, Martin Prosperity Institute, both the Vancouver and Toronto Region Boards of Trade, Restaurants Canada and the Canadian Association of Business Economics — have told the government that the elimination of the mandatory long form census, "makes it harder to pinpoint trends such as income inequality, immigrant outcomes in the jobs market, labour shortages and demographic shifts." Businesses say it's become harder to know where to locate stores, tailor marketing and understand local markets. Meanwhile, Crown corporations and private-sector companies cannot properly predict labour market trends and housing demand.
Robert Fairholm, a respected economist and partner at the Milton, Ontario-based Centre for Spatial Economics continues to express concern about the elimination of the mandatory long form census, stating ...
"We need good data. It's a multibillion-dollar mistake to eliminate the good quality long-form census, the decision serving only to create uncertainties and distortions in the Canadian market ... I think of these data as a public good ... that provides a benefit to all Canadians, either directly or indirectly."
We are losing a generation of data in terms of understanding and addressing labour market and other issues, as we hobble researchers and policymakers; it's disastrous for the economy, and an outrage for all of us.
8. Honour our veterans. Over the past 10 years, first under Jack Layton, and for the past four years under Tom Mulcair, the New Democratic Party has consistently urged Stephen Harper's Conservatives to recognize its obligation to past and present members of the Canadian Armed Forces, believing that a covenant exists between the Canadian people and the government to provide equitable financial compensation and support services to past and active members of the Canadian Armed Forces who have been disabled or have died as a result of military service, and to their dependents, which the government is obligated to fulfill.
"Canadians recognize there is a moral, social, legal and fiduciary obligation to care for the men and women who have bravely served in Canada's military," says NDP MP Fin Donnelly (New Westminster-Coquitlam). "We are ready to demonstrate our commitment to stand for veteran's rights."
With egregious mean-spiritedness, Stephen Harper's Conservatives have eliminated pensions for returning soldiers in need, instead offering a one-time payment of $40,000. The Conservatives closed veteran's offices across Canada, and virtually eliminated support services for soldiers returning from Afghanistan, Iraq and Syria, the Tories finally capitulating to public outrage by offering veterans $50 million in support services — it took the CBC to discover that the $50 million would by doled out at the rate of $1 million dollars per year over fifty years!
As NDP Veteran's Affairs critic Peter Stoffer told the House of Commons ...
"All political parties voted for the New Veterans Charter in 2005, the Conservatives' implementation of the charter has short-changed essential pension and support services that veterans have earned and rightfully deserve. Denying our obligation to veterans is not only shameful, it is unacceptable."
Only Tom Mulcair's NDP has committed to widening access to quality home care, long-term care and mental health care services for veterans, pensions and other vital supports, as well as the re-opening of the nine frontline Veterans Affairs offices closed by the Stephen Harper government.
9. Childcare. The NDP is the only Canadian political party that has committed to a national childcare programme; Justin Trudeau's Liberals are opposed — why would "Mr. Grew-Up-With-a-Silver-Spoon-in-his-Mouth," "Mr. I charge $20,000 for my speaking engagements, and earned $277,000 last year speaking across the country, and why wouldn't I charge, my Parliamentary salary a paltry $161,000, not enough for my wife Sophie, and my children Xavier, Hadrien and Ella-Grace, to get by on" take time to consider the plight of the tens of thousands of families who are not in the privileged economic position in which he and his family find themselves?
A national, affordable $15-a-day childcare programme is as critical to our future as are our publically-funded education and health care systems.
The Paul Martin Liberal government brought in a national childcare programme in 2005, the first national social programme in more than 40 years. Apparently, Paul Martin's "socialist" childcare programme doesn't wash with the "Justin Trudeau, I'm a pretty face, but if you tear away the façade you'll see that I'm actually Stephen Harper underneath" Liberals.
High-quality child care helps ensure healthy physical, emotional, social, and intellectual development. Children learn to socialize with other children and learn to navigate the ups and downs of peer relationships, as well as learn self-control, how to get along with others and to share.
Studies show that children in high-quality childcare scored higher on measures of academic and cognitive achievement years later as teenagers. The research is clear: the quality of early childhood experiences matter, good quality childcare helping children to thrive. Too many young children do not have the opportunity to participate in high quality child care; more than 30% enter Kindergarten vulnerable in one or more areas.
Québec's average $10-a-day child care system returns $1.05 to its government for every $1 invested, and Ottawa recovers 44 cents, even with no direct investment. More broadly, every public dollar invested in quality child care returns at least $2.54 to our overall economy — investing in child care has a bigger job multiplier effect than any other sector.
With access to affordable, quality child care, as many as 250,000 Canadian mothers will be able to enter or return to the labour force, or allow them to move from part-time or casual work to full time jobs. The NDP's $15-a-day childcare plan will also provide new and better jobs for early childhood educators, who are overwhelmingly female. Women will be better able to support their families, put their skills and talents to work and more fully participate in their communities. Their paycheques will go further, and many families will move out of poverty. The NDP's $15-a-day childcare plan will also return more than $5 billion annually in additional tax revenue paid by early childhood educators and working mothers.
September 8, 2015
Stephen Harper and the Tories are taking one hit after another in Campaign 2015
The prayers of the 70% of Canadians who wish to see the back end of the most mean-spirited government in Canadian history are, daily, being answered as Stephen Harper's nasty and inept Conservative party lurches from one misstep, blunder and scandal to another, offering solace to all those in Canada with a beating heart, and a dedication to social justice.
Over the course of the 78-day election campaign — the longest campaign for government in modern Canadian history — from campaign's outset on August 2nd, until now, Stephen Harper and his federal Conservative party have found themselves, day after day, "knocked off message". Defeat is in the cards for the Tories as, according to the polls, their popularity continues to plummet, from a high of 39% in the 2011 federal election to, at present, 24% -26%, depending on the poll (Forum Research has the Tories at 24%, Nanos registers the Tories at 26%, a drop of five points).
During the 2015 election, Stephen Harper & the Conservatives are slip slidin' to oblivion
For political pundits, as well as for many Canadians across our land, the months leading up to Canada's 42nd national election are best remembered as a series of Conservative-created "events", mainly focusing on ...
1. The never-ending roll out of ads — all paid for at Canadian taxpayer expense, just shy of $1 billion expended on those ads by the Tories, each ad extolling the virtues of various programmes brought in by the Tory government, lauding as well the halycon days that would follow the re-election of Stephen Harper's hide-in-plain sight Conservative government, where the Tories set about to advertise programmes that hadn't even passed Parliament prior to the calling of the election;

2. Conservative party largesse — once again, paid out of the pockets of Canadian taxpayers — as Conservative Ministers of the Crown fanned out across the country (surprise, surprise, all paid for by Canadians) promising billions of dollars in expenditure on infrastructure programmes, in every region of our nation — mind you, spending destined only for federal ridings held by the Tories, or ridings where the Stephen Harper Conservatives felt they had a fighting chance at picking up a seat that might propel them back into government.
Stephen Harper's plan for permanent hegemony on the Canadian political scene seemed so on track in the early halcyon days of 2015, until the Prime Minister decided to call the election, fifty-three days earlier than usual. And, boy oh boy, did the wheels then start to come off the Tory party bus.
Mike Duffy on trial, Nigel Wright testifies, Stephen Harper knew everything all along
The first weeks of Campaign 2015, Stephen Harper had a near impossible time getting his message out as the Ottawa-based Mike Duffy trial consumed media and public attention, none of the revelations emerging from the trial reflecting favourably upon Stephen Harper, as 75% of Canadians told pollsters they thought the Prime Minister was lying about what he knew, when he knew it, and whether or not the Prime Minister's Office was involved in a cover-up. Can you say the word, "scandal"?
Next it was the drip, drip, drip of a Canadian economy on the wane, Canada the only G7 country experiencing a recession, with 8 of 15 sectors of the economy experiencing a significant downturn, the dollar plummeting to levels not seen in a generation, the Canadian unemployment rate up, and despite Stephen Harper's imprecations to the contrary, a multi-billion dollar deficit on the horizon (a deficit that would only be exacerbated by the billions in expenditures promised by the Tories in the lead up to the election) — no matter who forms government post election day, Oct. 19th.
And just as Stephen Harper was attempting a campaign recovery from the hourly and myriad reports of a Canadian economy in dire straits, and a Mike Duffy Senate scandal that said, "That Stephen Harper government, they're a secretive bunch, and y'know what, they seem like a pretty darn corrupt bunch, too", three-year-old Alan Kurdi's lifeless body washed up off the shores of Turkey, the nephew of Coquitlam-resident and Syrian emigré, Tima Kurdi — Stephen Harper's response to the tragedy just as inhumane as you'd expect from him, every word out of his mouth spin, every word meant to engender fear of "the other", making Canada and Canadians appear as mean as he and his government have proven to be since 2006.
Finally, on Monday, the Peegate / UrineTrouble / Pleasuring Himself on YouTube dual scandal of two high-profile Toronto Tory candidates, Jerry Bance caught on camera in the kitchen peeing into the coffee cup of a future constituent, Tim Dutaud posting videos of his harassing women, not to mention demeaning the developmentally disabled.
The wheels are off the Conservative campaign bus, the Tories in freefall.
Some 70% of Canadians (that percentage rising with each passing day) saying they'll vote anybody but Harper and the Conservatives in 2015, with 43% of British Columbians who voted Tory in 2011 saying they'll park their vote anywhere else in 2015, with one Tory "scandal" after another emerging each new day of Campaign 2015, in 41 short days from now we can all finally say good riddance to the meanest, most anti-Canadian people government in Canada's relatively short 154-year history. Hallelujah!
September 2, 2015
The Election Prediction Project tracks ridings across Canada in the 2015 federal election
For those closely following the various perambulations of the 2015 Canadian federal election, there are any number of "tools" that, daily, sate the need to remain informed, and just as is the case with tracking the Oscar race (yes, VanRamblings does that, as well — as we intend to write on this topic ad nauseum in the days, weeks and months to come ... beginning tomorrow, actually), there is little more satisfying an idiosyncratically subjective political "tool" than Milton Chan's totally unscientific, yet oft times surprisingly accurate, Election Prediction Project.
As can be seen in the graphic to the left, as of August 28th Chan believes that the Conservatives have 96 seats across Canada locked up, the NDP trailing with 85 seats, the Liberals a certainty to win 50 seats in the next Parliament, with one lone seat for beleaguered — but wildly popular and populist, and phenomenally articulate and incredibly sympathetic and credible political figure — Green Party leader, Elizabeth May, and 105 seats in the 338-seat 43rd Parliament simply too close to call fifty-one days out from election day, October 19th.
What is Chan's methodology? Answer: subjective input from constituents in each of the 338 federal ridings. Let's take the riding of Vancouver Centre, where NDP candidate Constance Barnes is battling it out with Liberal incumbent Hedy Fry, Conservative candidate Elaine Allen (who?), and 2013 COPE Council candidate / Green Party rep, Lisa Barrett. Chan says Fry is a lock to retain her seat; all one has to do is read the following comment to know why VanCentre is a lock for Hedy Fry ...
"The Liberals will win here by default not because they are strong in any part of the riding but rather both the NDP and Conservatives have sections which are hostile to them. The Tories will do well in Yaletown and Coal Harbour where you have a lot of wealthy condo owners but get clobbered in the West End which has a large gay community. By contrast the NDP will do well in the West End but get clobbered in Yaletown and Coal Harbour. The Liberals will win by simply being competitive in all sections of riding."
A compelling narrative that. Unless Ms. Barnes runs a hyperlocal "issues-based" campaign (as David Eby did in the 2013 British Columbia election), gets out of the NDP message box, and challenges Ms. Fry to address the critical issue of affordable housing (the NDP have a plan for Co-operatives, the Liberals ... nada on the subject), Hedy Fry probably has this riding locked up as a sure "we've got the bucks, we've had our office open for weeks, we've got a first-rate campaign team, and we're way better funded than you granola-eating NDP types" Liberal party win. Meanwhile, Grenier has Barnes dropping to 22.6% support, a loss of 7 points in the last week.
Eric Grenier's CBC Polltracker 2015 federal election seat projection, September 2, 2015
In yesterday's coverage of Decision Canada 2015, VanRamblings wrote that Eric Grenier — creator of political polling amalgamation site threehundredeight.com, and in the 2015 federal election the official CBC pollster — was predicting 126 seats nationally for the Conservatives, 120 seats for the NDP, 91 seats for the Liberals, and 1 Green seat for Elizabeth May. Here's Grenier on CBC Polltracker; what a difference a day makes. All of a sudden, the federal New Democrats are slated to take 127 seats, the Conservatives slide precipitously down to 116, the Liberals are on the rise with 94 seats, while Elizabeth May holds on to her lone Green Party seat.
Campaign on the wane: Bill Blair, star Liberal Party candidate/ex-Toronto Police Chief
A Liberal Party apparatchik was telling VanRamblings last week that star candidates recruited by the party are not doing close to as well as expected. Case in point: former Toronto Police Chief / taker down of Toronto Mayor Rob "Buffoon" Ford continues to drop in the polls, currently at 38.5% against NDP incumbent Dan Harris (35.4%). My informant tells me that Scarborough West is far from a lock for Blair, as the NDP continue to hammer the ex-police chief on his role in the abrogation of the civil rights of peaceful G20 protesters, and the police violence that followed.
In an August 27th Globe and Mail editorial, Bill Blair is held to account ...
"Mr. Blair has never adequately accounted for the misbehaviours of his force during the G20. Ontario Ombudsman André Marin called it "the most massive compromise of civil liberties in Canadian history." It was a very bad day for the Toronto Police Service. There was a failure of leadership at the highest level. Whether he lost control of his officers or failed to properly oversee their poor decisions, Mr. Blair needs to revisit the lost weekend of 2010 and explain his force's performance. An election campaign is as good a place as any to demand answers."
The steady drumbeat that demands Bill Blair be held to account means nothing but harm to his nascent candidacy, and the prospects for a win for this much sought after Liberal party candidate. Scarborough Southwest emerges, then, as a riding to keep an eye on through until election night.
September 1, 2015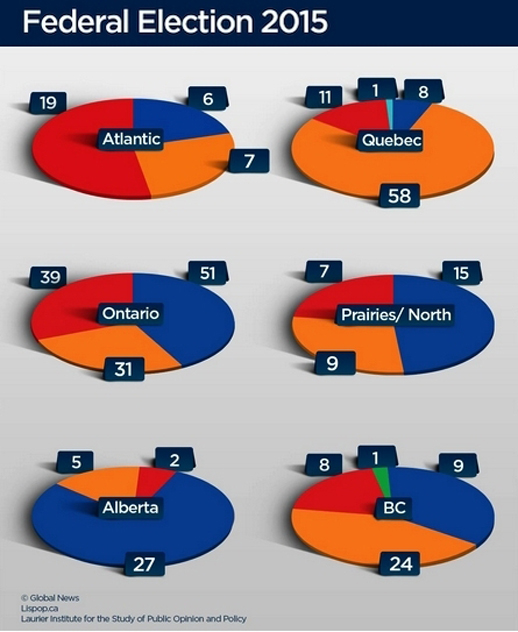 Forty-eight days out from Canada's 42nd national election, on Monday, October 19th, and change in the Canadian politic seems to be in the air.
In today's (overlong — some things never change) post, VanRamblings will focus on Eric Grenier's threehundredeight.com projections for all 338 federal ridings. Grenier is Canada's Nate Silver (who accurately predicted Barack Obama's wins in 2008/2012, as well as Congressional and Senate seats, and the gubernatorial races, right down to a tenth of a per cent).
Note should be made that during the course of the 2015 election campaign, Eric Grenier has signed on as CBC's official pollster, and that much of his work is poured into the CBC Polltracker. Me, I'll miss the graphic at the top of threehundredeight.com (see the Alberta graphic below for an idea of what I mean). Still and all, the threehundredeight.com projections for the 338 federal ridings provide a service not offered elsewhere, allowing voters and those political folks among us (who live for this stuff) to track dynamic riding-by-riding poll results throughout the 88-day (!) election period.
In the recent Alberta election, Grenier predicted a 55-seat win for Rachel Notley's NDP (the NDP won 54 seats, which could turn to 55 should the NDP take Jim Prentice's vacated Calgary-Foothills seat, as appears likely, according to the polls). Meanwhile, all of Alberta's political pundits were calling for a Progressive Conservative win, with 26 seats going to the NDP.
Grenier was not as accurate in predicting British Columbia's 2013 provincial election. Grenier published his projections based on polls conducted by Leger, Insights West, Ipsos-Reid, EKOS, Angus Reid, Nanos, Forum Research and Abacus, among others — none of which were weighting their polls. Pollsters now weight their poll results statistically by age, region and other variables (including voter intention to actually vote) to ensure the sample reflects the population according to the latest census data.
Voter turnout for the May 2nd, 2011 Canadian federal election was 61.1%, 2.3 percentage points higher than the all-time low of 58.8% for 2008. Turnout steadily increased with age from 38.8% for ages 18-24 to 75.1% for ages 65-74, declining to 60.3% for those 75 and older. Polling among the age group 18 to 44 generally shows a propensity for overwhelming support for the NDP - but voter turnout for this (age) demographic group is relatively low, when compared to the population as a whole. Pollsters now weight their poll results, taking into account that fewer than four in ten "younger voters" will actually arrive at the polls on voting day to cast their ballot — weighted polling means much more accurate polling results.
308 projections for Surrey/Vancouver, support by party + plus percentage win projection
Now it's time to get down to brass tacks, as my mother used to say.
According to Grenier's poll projections for British Columbia, the NDP are on track to win 19 of the 42 seats up for grabs in our province, with Stephen Harper's Conservative party in second place with 15 seats, the Liberals projected to win 6 seats, and Elizabeth May picking up her lone Green Party seat, in Saanich-Gulf Islands.
Grenier's predicting 28 Conservative seats in Alberta, 3 seats for the NDP (Edmonton Griesbach, Edmonton Strathcona and and Lethbridge absolute locks), and two seats for the Liberals (Calgary Skyview, and Edmonton Centre, although the Libs are in a real fight with the NDP for the seat).
As to the remaining provinces and territories, Grenier's projecting ...
Saskatchewan: 19, Conservatives; 5, NDP; 1, Liberals
Manitoba: 7, Conservatives; 4, Liberals; 3, NDP
Ontario: 50, Conservatives; 41, Liberals; 29, NDP
Québec: 60, NDP; 14, Liberals; 4, Conservatives
New Brunswick: 5, Liberals; 3, Conservatives; 2, NDP
Nova Scotia: 7, Liberals; 4, NDP; Conservatives, 0
PEI: 4, Liberals; NPD and Conservatives shut out
Newfoundland/Labrador: 5 Liberals; 2, NDP; Conservatives, 0
Northwest Territories: 2, Liberals; 1, NDP; Conservatives, 0
In his threehundredeight.com polltracker, Grenier has the Conservatives taking 126 seats nationally, the NDP winning 120 seats, with 91 seats for the Liberals, and one lone Green seat for Elizabeth May.
Last week, a Forum Research poll conducted for the Toronto Star predicted an NDP parliamentary majority of 174 seats ...
"The Forum Research poll for the Toronto Star projects the NDP with enough support to win 174 seats in the Oct. 19 election. Justin Trudeau's Liberals now sit in second place with 30 per cent support, while Stephen Harper's Conservatives are losing support and have the backing of just 23 per cent of the 1,440 Canadians surveyed."
That same day in a front page story, the Globe and Mail polltracker predicted more seats for the Conservatives in the next Parliament than for the Liberals and NDP, despite the NDP lead in the polls.
In the 2015 federal election, there seem to be lies, damn lies and polls. We'll all have a better idea as to where Canada is headed closer to election day, 10 days out — that's when the polling really starts to count. During the course of the recent Alberta election, on the Monday before election day, the NDP looked to pick up 18 of 19 seats in Edmonton, and one of 25 in Calgary; by Friday, the day before the election, polls showed the NDP winning all 19 seats in Edmonton, 15 seats in Calgary, and both seats in each of Lethbridge and Red Deer, as well as a smattering of seats across every region of the province, for an overwhelming legislative majority.
With 68% of Canadians saying it's time for change, with as many as 43% of those who voted Tory in 2011 saying they won't do so again in 2015, the Tories would seem to have an uphill battle to win an unprecedented fourth parliamentary government — but, clearly, it could happen.
VanRamblings will cover the election through until election day, October 19th, along with coverage of the upcoming 34th annual Vancouver International Film Festival (intensifying during VIFF, Sept. 24-Oct. 9).