Do you have a hankering to travel to Gotham early in this autumn season?
Thought that, as it would coincide with your sojourn to the city that never sleeps, you might take in a screening or three at this year's prestigious 53rd annual New York Film Festival? Taking a gander at your bank account, though, you conclude, "New York in the autumn would be good, but perhaps not this year. Too bad I'll miss out on the great films at NYFF53."
Fear not avid cinephile, for once again this year our very own homegrown (and equally as prestigious and inviting) Vancouver International Film Festival will share many of the heavily-juried and well-reviewed films that will screen in New York; fifteen out of the NYFF53's thirty films, to be exact.
Hallellujah, for we are saved, as New York hops on a plane, a bus, a train to arrive weary, but invigorated, along the pristine shores of our west coast paradise. Here, then, is the complete list of the 15 celebrated Festival films that will screen simultaneously in both New York and Vancouver ...
Arabian Nights, Vol. 1 | The Restless One | Miguel Gomes | 2015 | Portugal | 125 minutes
A contemporary rethinking of what it means to make a political film, Miguel Gomes' epic paean to the art of storytelling — filmed during Portugal's recent plunge into austerity — offers a generous, radical chronicle of our troubled times, one that honours its fantasy life as fully as its hard realities.
Arabian Nights, Vol. 2 | The Desolate One | Miguel Gomes | 2015 | Portugal | 131 minutes
Unfolding in a more melancholic register, Miguel Gomes' monumental yet light-footed magnum opus shifts tones and genres at will (deadpan neo-Western, Brechtian courtroom farce, tear-jerking melodrama), all the while treating its fantasy dimension as a path to a more meaningful truth.
Arabian Nights, Vol. 3 | The Enchanted One | Miguel Gomes | 2015 | Portugal | 125 minutes
As enthralling as it is eccentric, the final installment of Miguel Gomes' sui generis epic features a sunny interlude of freedom for the heroine Scheherazade and an affectionate documentary chronicle of Lisbon-area bird trappers and birdsong competitions.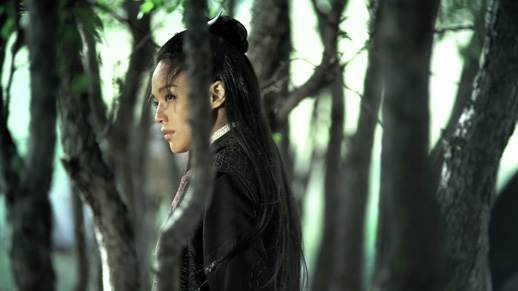 The Assassin | Hou Hsiao-hsien | 2015 | Taiwan | 105 minutes
Crystalline in beauty and oblique in narrative, this year's Cannes Best Director winner Hou Hsiao-hsien's eagerly awaited wuxia stars Shu Qi as a Tang Dynasty assassin, dedicated to the art of killing until memory transforms her course of action.
Brooklyn | John Crowley | 2015 | VIFF Opening Gala | Ireland | 105 minutes
Saoirse Ronan, as vibrantly alive as a silent-screen heroine, plays Eilis, who leaves her native Ireland in the early 1950s, slowly builds a better life for herself, and is then called back home, to another possible future, in this lovely adaptation of Colm Tóibín's novel.
Cemetery of Splendour | Apichatpong Weerasethakul | 2015 | Thailand | 121 minutes
A hospital ward full of comatose soldiers wage war in their sleep on behalf of long-dead feuding kings in the wondrous new film by Palme d'Or winner Apichatpong Weerasethakul, a sun-dappled reverie that induces in the viewer a sensation of lucid dreaming.
Experimenter | Michael Almereyda | 2015 | USA | 108 minutes
Michael Almreyda's portrait of Stanley Milgram (Peter Sarsgaard), the social scientist whose 1961 "obedience study" reflected back on the Holocaust and anticipated Abu Ghraib, is both appropriately uncompromising and surprisingly compassionate.
The Forbidden Room | Guy Maddin, Evan Johnson | 2015 | Canada | 132 minutes
In his insane magnum opus, cinema's reigning master of feverish filmic fetishism embarks on a phantasmagoric narrative adventure of stories within stories within dreams within flashbacks in a delirious globe-trotting mise en abyme, diving deeper than ever.

In The Shadow of Women | Philippe Garrel | 2015 | France | 73 minutes
The exquisite new film by the great Philippe Garrel offers a close look at infidelity — not merely the fact of it, but the particular, divergent ways in which it's experienced and understood by men and women.
The Lobster | Yorgos Lanthimos | 2015 | United Kingdom, Greece | 118 minutes
In the future, single people are rounded up and sent to a seaside compound, given a finite number of days to find a match, and turned into animals if they fail. Welcome to the latest dark, dark comedy from absurdist Greek director Yorgos Lanthimos. Winner of a Cannes Jury Prize.
The Measure of a Man | Stéphane Brizé | 2015 | France | 93 minutes
Dispassionately monitoring the progress of its stoic unemployed everyman (Vincent Lindon, in his finest performance to date, which earned him the Best Actor prize at Cannes) as he submits to a series of quietly humiliating ordeals in his search for work, this powerful and troubling film reveals the realities of our new economic order.
Mountains May Depart | Jia Zhangke | 2015 | China | 131 minutes
An epically scaled canvas of life in contemporary China, Jia Zhangke's new film spans three decades in the lives of its increasingly estranged characters, from the dawn of the capitalist explosion to the near future.

My Golden Days | Arnaud Desplechin | 2015 | France | 123 minutes
Arnaud Desplechin reaches Shakespearean heights with his intimate yet expansive new film, three varied but interlocking episodes in the life of his hero, with the wondrous experience of first love between Paul (Quentin Dolmaire) and Esther (Lou Roy-Lecollinet) at its core.
Right Now, Wrong Then | Hong Sangsoo | 2015 | South Korea | 121 minutes
A middle-aged art-film director and a fledgling artist meet — she knows he's famous but doesn't know his films, he'd like to see her paintings. Every word, pause, facial expression, and movement in Hong Sangsoo's masterful new film is a negotiation between revelation and concealment.
The Treasure | Corneliu Porumboiu | 2015 | Romania | 89 minutes
A man is approached by his neighbour with a business proposition: lend him some money to look for buried treasure in his family's backyard and they'll split the proceeds. Romanian director Corneliu Porumboiu's magical modern-day fable stays continually surprising and funny.
Posted by Raymond Tomlin at September 25, 2015 12:02 AM in VIFF 2015