fixin to die rag
November 26, 2017
In 1957, my mother gave me a transistor radio for my 7th birthday!
We lived at 2165 East 2nd Avenue in Vancouver, just off Garden Park, on Vancouver's eastside. I knew my neighbours, a polyglot amalgam of "displaced persons" (displaced from WWII), refugees from a Europe of destruction who had arrived in Canada to pursue a life for their families.
Although the television had been around for almost a decade in common use by the more well-to-do among the population, no one on our block had a TV — there were doctors, plumbers, nannies, seniors, construction workers, and no one thought to purchase a television, particularly given that TVs were going for around $400, or about 10% of a man's average annual wage (the average hourly wage for women: 35¢). When times were tight, and families were large, and folks were just simply trying to find a way to scrape by, purchasing a $400 TV (with an outlay of another $50 for a rooftop aerial) was simply beyond the means of the common folks.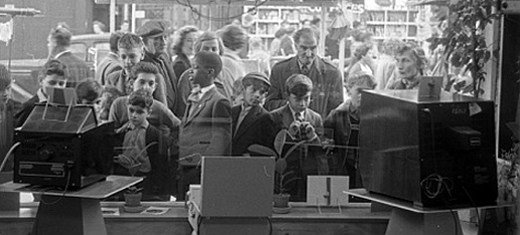 If we wanted to watch television, we'd head up to Commercial Drive, and watch the TV in the Magnet Hardware window.
Of course, all the kids on our block clamoured for a new TV (not that any of their friends owned one, mind you) — but, alas, that was not to be. Fortunately, the price of a black-and-white TV dropped dramatically in 1958 with the introduction of the colour TV (introduction of a new technology always results in a price cut for "older" technology), and most families, including mine, bought their first television that year, parents finally capitulating to the incessant, heart-rending pleas of their gentle children.
1957. I was about to go into Grade 2 at Lord Nelson Elementary School. My birthday fell on the 223rd day of that year, on August 11th, an otherwise inauspicious Sunday, except for the fact that at midday, thanks to my mother, I found myself in the possession of a brand new $49.95 (plus tax) leather-cased transistor radio! That's right, my mother worked more than 150 hours to get me my much-prized 7th birthday present — making me the only boy on the block with a portable transistor radio. I was thrilled!
On another day, I'll tell you what the impact of being the first to own a new tech toy had on me, what it meant for a career that I would pursue less than a decade later, and how it came to be that over the past 40 years, I have continually found myself on the cutting edge of new technology, as an early adopter. As I say, though, I'll leave that story for another day.
All of which brings me to Black Friday, a day I cannot resist even if it is Buy Nothing Day. On Friday, I purchased a new Acer Aspire Intel Core i5 desktop computer (even though I can't afford it, cuz I'm a pauper) — as a consequence of my 8-year-old, once state-of-the-art custom-built computer having been on its lasts legs for some months now. A friend assured me today that my new computer is a piece of junk. Oh goodie.
A fairly mundane picture of my new, much-needed computer may be found at the top of today's column — alongside my brand spanking new Google Home Mini which, truth to tell, I don't really need but it was half price at only $39.95, and I've been falling behind on my cutting edge tech persona. At about $40, I think I can indulge my techy side this holiday season.
As you may know, I love radio (even to this day). Just by saying, "Hey Google, play BBC Radio One", within seconds BBC Radio One will begin playing through the Google Home Mini speaker. The same is true of hundreds of other radio stations. I've used my Google Home Mini to set alarms and reminders, check sports scores, stream music from Spotify, or from my iTunes library (of more than 5000 songs) employing Bluetooth.
If I purchase a Logitech Harmony Hub I could control my home theatre by voice command. Or, if I purchase the Phillips Hue Starter Kit, I could also control all of the lights in my house, and set the lights to turn on at a specific time, so when I enter my Co-op apartment, I won't be entering into darkness. I could even set each individual light to a specific colour.
Yep — an indulgence. I won't be purchasing the Phillips Hue system or the Harmony Hub anytime soon, but it's nice to know that they're available.
November 24, 2017
In the late 1960s and early 1970s, I was head over heels in love with the music of Joni Mitchell — so much in love, in fact, that I turned around and married a woman (Cathy) who looked just like Joni Mitchell.
By the time the late 1970s rolled around, my woman singer-songwriter allegiance had switched definitively to Rickie Lee Jones — whose music became the soundtrack of my life through the late 1970s and 1980s, so much so, that Rickie Lee Jones also became the soundtrack of my children's lives — that'd be Jude and Megan — as well. In the times to come, I will write about my love for Rickie Lee Jones, which has not abated to this day.
Being a callow fellow, as time rolled on my allegiance to a woman singer-songwriter of melancholy countenance switched to Iris DeMent in the early 1990s — for me, there is no better, more reflective and more melancholy album that has ever been recorded than Ms. DeMent's 1993 release, My Life. Please find the entire album directly below. Have a listen ...
As I say, though, I am a callow fellow, and by the late 1990s I had found a new love — a Boston-suburb-based housewife, mother to five children, wife of a Boston firefighter and, by far, the best roots songwriter this century. On another day, I'll write about Lori McKenna at greater length. Today, you'll find four of her songs at the top of the column — four of my favourite songs written by and sung by Lori McKenna ... well worth a listen.
Recently, my friends and next door neighbours, Shirley Ross and Bill Tieleman celebrated their 25th wedding anniversary — I looked all over for Lori McKenna's Stealing Kisses somewhere online, but until a couple of days ago, I couldn't find it (and, truth to tell, I bet the video below won't last long online — you'll want to listen to Stealing Kisses while the opportunity is provided to you). Here is one of my favourite Lori McKenna songs.
Dedicated to Bill Tieleman and Shirley Ross, Happy 25th Anniversary ...
September 27, 2016
Almost every year as the Vancouver International Film Festival is about to get underway, or has just started, something happens to prejudice VanRamblings' attendance at the festival. In 1992, VanRamblings collapsed at the back of The Cinematheque while watching a screening of Michael Haneke's Benny's Video, which we'd already seen in preview, but wanted to see again. VanRamblings was rushed to UBC Hospital where we spent two weeks watching the U.S. election on TV, and Bill Clinton's performances in the debates. For the most part, VanRamblings missed VIFF that year.
In 2004, VanRamblings attempted to take in an early Sunday morning screening of a film at The Cinematheque, and while parking our car were rear-ended by a late model SUV — we were almost killed. Once we got out of the hospital, we returned to VIFF, standing at the back of the various VIFF cinemas (we couldn't sit) to enjoy the latter half of VIFF that year.
This year — according to our doc, we've been diagnosed with something called obstructive jaundice, the root causes of which we'll discover upon attending UBC Hospital on Tuesday for an emergency battery of tests. Wondering why there was no VanRamblings column yesterday? We were simply too weak. Before week's end VanRamblings' very able physician has indicated that we'll have a definitive diagnosis of the root cause of the current malady, and will take whatever correction action is required.
How many films will VanRamblings get to see at VIFF 2016, and how many columns will we be able to write over the 16-day course of the Festival?
Time and health will tell.
After Love. Belgian director Joaquim Lafosse brought his stunner Our Children to VIFF a couple of years back. In 2016, VIFF brings Lafosse's new, Cannes-debuting family drama After Love — starring the can do no wrong Bérénice Bejo, co-star of the Academy Award winning film, Best Picture Oscar winner The Artist — to our 35th annual Festival by the sea.
Says Wendy Ide in Screen Daily ...
"After Love presents an unflinching portrait of the final weeks of a marriage. Fifteen years worth of simmering grudges about sock laundry have boiled over, the battle lines have been drawn in the house that they are still forced to share, and the time they spend with their twin daughters is neatly apportioned between them. A relationship which is largely built on recriminations and point scoring is a dispiriting thing to witness, and this is certainly a tough watch at times. But it is a compelling drama, with its strong performances and adult themes.

While Lafosse scrupulously avoids taking sides in the break up, it is hard to muster much sympathy for either party. Captured with a handheld camera that prowls around their contested living space like a caged animal, the atmosphere is charged with petty sniping, the atmosphere undeniably sad, with moments of discomfort, where the tensions crackle and the fault lines in the bedrock of the marriage become clear."
Says Peter Debruge in Variety, "As in Our Children, observing how the characters respond to a song reveals far more than any amount of dialogue could, and as Marie and Boris (Cédric Kahn) humour their daughters, we see the love they once shared for one another and realize why it's so hard to break free from its shackles."
All This Panic. One of the buzz films coming out of the Tribeca Film Festival this year, Jenny Gage's intimate documentary portrait of female youth has been called evocative, ethnographic, raw and heartwarming, engaging and reminiscent of the Maysles Brothers' work, Gage and her husband and director of photography, Tom Betterton, appreciative of the girls' beauty, employing magic-hour light throughout, bathing the film's subjects in a soft glow, the filmmakers far more interested in the girls' inner lives.
Says Elise Nakhnikian in Slant Magazine ...
"Loosely tracked over a three-year period as they hang out, play games, throw drunken parties, and interact with their families, the girls talk constantly, and they have insightful and touching things to say about friendship, their hopes for the future, love, sex, and more. The intensity and volatility of young female friendships surface in the relationship between loyal, grounded Lena and high-strung, unhappy Ginger, who start out as best friends, but go through a rocky period after Lena heads off to college and Ginger stays home, where she works and hangs out with a new group of friends.

There are also poignant glimpses into the girls' family lives. A moment of intimacy between Ginger and her little sister, Dusty, on a rooftop is so resonant because we've heard Dusty confess that she wishes she had a closer relationship with the standoffish Ginger. Meanwhile, Ginger's defensiveness and quick temper may be due at least partly to the prickly relationship she has with her father, who can't seem to find a kind word to say to or about her.

Every scene in All This Panic feels vivid and true, in this honest, impressionistic portrait of a cohort of 21st-century American girls."
All This Panic offers a fierce, sure-footed and remarkably intimate portrait.
Goldstone. From director Ivan Sen, Australia's premier filmmaker of aboriginal descent, says Luke Buckmaster in his five-star review in The Guardian, "Goldstone is a masterpiece of outback noir that packs a political punch ...
"... the film belonging to a suite of Australian films that contemplate land ownership in memorable ways, from 1932's On Our Selection to 1950's Bitter Springs and even 1997's The Castle, Goldstone has more weight than any of them, because the film's spiritual roots hark back to the traditional owners of the land. In a small but moving role David Gulpilil plays a man who cannot be bought; his soul is connected to the ground and the sky."
Says Eddie Cockrell in his review in Variety, "The sun is hot, the motives are cold and the film is blazingly noir as Indigenous detective Jay Swan (Aaron Pedersen) returns for another investigation of Outback moral rot in multi-hyphenate helmer Ivan Sen's socially conscious, supremely accomplished procedural thriller, a film unequalled in contemporary Aussie cinema."
VanRamblings has now previewed 27+ acclaimed VIFF films that are about to arrive on our shores having garnered critical acclaim at film festivals in every far flung community across the globe. Previous VanRamblings' VIFF 2016 columns, very much like the one today, may be found here.