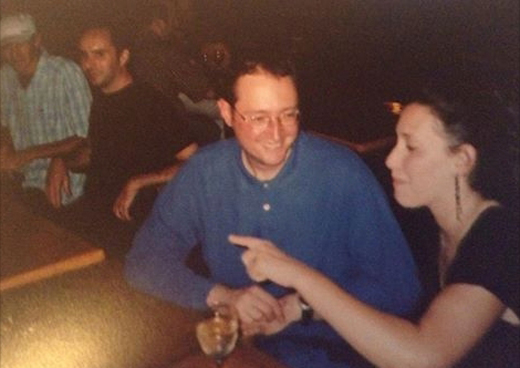 John Skibinski (1956-2014) with a friend. Passed away Nov. 12, 2014. May he rest in peace.
John Skibinski was a great man, one of our city's treasures, widely known among Vancouver's cinema cognoscenti, a longtime manager at Festival Cinemas, and a friend to more people than could possibly be counted.
An attentive and empathetic listener, John had a way of burrowing in and identifying the source of one's distress when a friend in pain came to him for succour and support — in no time at all, John would have you laughing, your desolate melancholy, heartbreak or angst relieved.
John Skibinski was a friend, always on your side, someone who could be counted on, and hold you close — compassionate, non-judgmental and kind. Walter Winchell once wrote that a true friend is someone who walks in when the rest of the world walks out; that was John in spades, courageous and unwavering. "There is nothing I would not do for those who are really my friends. I have no notion of loving people by halves, it is not my nature," wrote Jane Austen in Northanger Abbey — she may very well have been writing of John Skibinski, a great friend who will be very much missed.
Lund, the gateway to Desolation Sound. A view seen by John Skibinski while growing up
John was raised and went to school up Island on the Sunshine Coast, in the tiny rural village of Lund, a small craft harbour and unincorporated village in the Powell River District, and the gateway to Desolation Sound.
Ivana Thulin writes on the Celebration of John Skibinski Facebook page ...
I met the Skibinski family when I was 15, and right from the start they were very special people in my life. So many memories and good times were had by all. We always looked forward to our visits with John when he would come home to Powell River during the holidays ... his visits were never long enough! John was very close to his dad, Bill, and his mom, Ruth, John being the light of his mother's life.
Upon graduation, John — a very good student — moved to our province's capital, to attend the University of Victoria, in the late summer of 1974. On his very first day at UVic, John met fellow student, Karyn Segal, both of whom were enrolled in the theatre department, and both of whom went on to work at Cinecenta, UVic's repertory movie theatre, initially in a volunteer capacity, and then as employees.
In time, John graduated into the position of programmer, taking on a share of the responsibility of booking independent, avant-garde and foreign film fare. By 1994, based on John's work and that of Cinecenta co-founders, Michael Hoppe and Doug Sprenger, the informal film festival hosted annually by Cinecenta, transformed into the beloved Victoria Film Festival.
Although the focus of John's academic work was geared toward acquiring a Bachelor of Fine Arts degree, in fact John never applied for his degree, leaving the university a few credits short of the requirement for graduation.
Instead, John's love of travel and wanderlust took him to Europe, John returning to Canada to care for his father, who had been struck ill. After his father passed, John moved to Toronto for a short while, before returning to Victoria; soon after, in 1989, Karyn and John moved to Vancouver's West End, sharing an apartment until the early 90s. John's soon-to-become best friend, Lisa Doyle — who lived in the same apartment building as John and Karyn — discovered a common interest ... a passion for and love of film, particularly independent and foreign film.
On her Facebook social media page, Lisa Doyle has written ...
I met you at 17. I was young, full of ambition, movie ideas, and you gave me a job as a projectionist. You were patient and bemused by my wide-eyed. We experienced everything life has to offer, often side by side. Laughter, great films, food, the west coast, Victoria, Vancouver, San Francisco, Toronto. You loved life, travel and a good meal.

Films, oh the films you introduced me to: Stan Brakhage, Bruce La Bruce, Ken Loach, that crazy Hungarian landscape filmmaker, Tarkovsky, Gus Van Sant, Ozon, Michael Hanneke, the list goes on ... I do not have enough room on Facebook.

Did I mention the laughter? One of the funniest people I have ever known.

The veiled kindness, masked by sharp wit. The deep devotion to your friends, and the loyal following you had. When you walked into a room, or a movie theatre, smiles lit up, because John had arrived. You were loved, the devotion back to you was 100 times what you could ever imagine.

Oh yes, few people know that he was a sort of dog whisperer. Dogs would come up to him and nuzzle him; somehow they gravitated to him, and knew he was a good one.

I will miss you Skibby. I am devastated, but I can hear you telling me to stop whining. And you are here, because whenever something funny happens in my day, I can feel you close, laughing along with me.

You are in the big cinema now, with the cushy seats, an unblocked view, free popcorn,the lights are dimming and the curtain is about to go up. You have an unlimited supply of films at your disposal. You are in your peaceful place.
It was in late 1991 / early 1992, that John first met Leonard Schein — who in 1977 had founded The Ridge repertory cinema, founded the Vancouver International Film Festival, and in the late 1980s was Director of the, then, Toronto Festival of Festival, also taking on the position of programmer with the Montréal Film Festival.
Upon returning to Vancouver, Leonard Schein converted the old Bay Theatre on Denman, into the newly-renovated Starlight Cinema. Soon after opening The Starlight, John applied for a job as a ticket taker and concession worker — which proved the beginning of a long and successful relationship based on love of cinema. Soon after, John became Manager of The Starlight Cinema, and along with Schein took on a programming responsibility, bringing in Ken Loach's Cannes Fipresci award-winning film Riff Raff, contributing to the financial and artistic success of The Starlight.
Not longer after, with Schein in an expansive mood, a deal was struck with Canada Steamship Lines (owner: Paul Martin, who would two years later would become the federal Liberal Finance Minister), signing a lease for The Varsity Theatre on West 10th Avenue in Vancouver, the Dunbar Theatre, and the Plaza Theatre on Granville Street. Thus Festival Cinemas was born.
John Skibinski became the first Manager of The Varsity Theatre, where he set about to hire a young staff who loved film as much as he (including a young man by the name of Kevin Eastwood, who would go on to become an award-winning Canadian filmmaker).
Neil Jordan's Cannes' Fipresci winner, The Crying Game. Jaye Davidson and Stephen Rea
Perhaps the most famous story involving John occurred in 1992, when John lobbied Leonard Schein to book Neil Jordan's The Crying Game, which months later went on to win an Academy Award for Best Writing, Screenplay Written Directly for the Screen, at the 1993 Academy Awards ceremony, for the film's writer-director, Neil Jordan.
Schein was not confident of the potential for the theatrical success of The Crying Game. After much back and forth, a deal was finally struck: Schein would book the film, but if The Crying Game was not a success, John would tender his resignation, and leave Festival Cinemas.
A resistant Schein booked the film in the fall of 1992, the film opening at The Varsity Theatre. The result? The Crying Game went on to 11 months of SOLD OUT shows, setting an international record for the film's theatrical success, and in some measure creating success for the film's director, Neil Jordan, and sparking the careers of actors Stephen Rea & Forest Whitaker.
Although Schein has dined out on the story of his business and artistic acumen as being responsible for booking the ground-breaking Neil Jordan film, in fact it was John Skibinski's insistence that the film be booked, and his willingness to put his job and his livelihood on the line that was responsible for the film's booking, and its subsequent tremendous success.
A short while after acquiring The Varsity Theatre, Schein closed The Starlight Cinema, singing a lease for The Park Theatre, on Cambie Street.
John Skibinski became The Park Theatre's first manager, a job he held until 1999, when Festival Cinemas was sold to Alliance Atlantis Films. In a shrinking theatrical market, and John not being a particular fan of Hollywood film-oriented cinema chains, Famous Players and Cineplex Theatre, John secured employment at video stores specializing in independent and foreign film, allowing John to share his encyclopedic knowledge of film with grateful patrons, many of whom came to develop a deep love of cinema.
Emily Carr University on Granville Island, in darkness, a memorial to the late John Skibinski
At the time of John's passing, John was working at Emily Carr University on Granville Island, a job he loved, and where his warmth, ready smile, incredible organizing ability and peerless dedication to doing the best job of which he was capable, led to a promotion for John to a job entailing greater responsibility, that was to have begun around the time of John's passing.
As might well be expected, John supplemented his well-paying union job at Emily Carr, with work at Black Dog Video, on Cambie Street, almost directly across from The Park Theatre, now part of the Cineplex chain. John loved his job at Black Dog Video, and owner Darren Gay, the staff of Black Dog Video, and the store's many grateful customers grew to appreciate John's love of film; being around film is what John loved best. Darren and Black Dog Video staff have written a tribute to John, which may be found here.
John Skibinski's Church of Cinema, at his beloved Vancouver International Film Festival
As is true of any cinephile located in the western Canada, or anywhere in the Pacific Northwest, John Skibinski loved film, and never missed a Vancouver International Film Festival, from the time he arrived in the city in the late 1980s through until last month's 33rd annual Vancouver International Film Festival, where his friends were afforded the opportunity to share the sacred experience of the church of cinema, and the eternal and near invisible world that is all around us, that together as whole we sat with rapt attention in one or another of the festival's venues, becoming one, and allowing us in the church of cinema to transcend the troubles of our lives.
For John Skibinski, as it is for many of us who love film, cinema delivers access to the new spiritualism, a place where we experience not merely film, but language, memory, art, love, death, and spiritual transcendence.
John was an erudite and a very, very charming man, possessed of a considerable, and conspiratorial wit, just one of the many salutary and welcome traits John shared with the world.
John's encyclopedic knowledge of cinema history was easily the equal of the most learned professor, he knew every foreign, international and independent film worthy of attention — and they were varied, idiosyncratic and of great volume — every director of consequence, and every actor, actress and cinematographer, all of which knowledge he contextualized, and had at the ready to regale the anticipatory and enthusiastic cinéaste.
John will be very much missed. There was never anyone like John Skibinski, and we will never know his like again.
A humble man, a hero, a man who gathered friends around him like children run toward a puppy. John Skibinski may have been a dog whisperer, as Lisa Doyle writes, but he was as well a people whisperer, a loving, generous and kind-hearted man of the universe, once ours and now gone.
John Skibinski, may you rest in the warm embrace of eternal peace.
Posted by Raymond Tomlin at November 20, 2014 12:39 AM in Vancouver