Music
November 24, 2017
In the late 1960s and early 1970s, I was head over heels in love with the music of Joni Mitchell — so much in love, in fact, that I turned around and married a woman (Cathy) who looked just like Joni Mitchell.
By the time the late 1970s rolled around, my woman singer-songwriter allegiance had switched definitively to Rickie Lee Jones — whose music became the soundtrack of my life through the late 1970s and 1980s, so much so, that Rickie Lee Jones also became the soundtrack of my children's lives — that'd be Jude and Megan — as well. In the times to come, I will write about my love for Rickie Lee Jones, which has not abated to this day.
Being a callow fellow, as time rolled on my allegiance to a woman singer-songwriter of melancholy countenance switched to Iris DeMent in the early 1990s — for me, there is no better, more reflective and more melancholy album that has ever been recorded than Ms. DeMent's 1993 release, My Life. Please find the entire album directly below. Have a listen ...
As I say, though, I am a callow fellow, and by the late 1990s I had found a new love — a Boston-suburb-based housewife, mother to five children, wife of a Boston firefighter and, by far, the best roots songwriter this century. On another day, I'll write about Lori McKenna at greater length. Today, you'll find four of her songs at the top of the column — four of my favourite songs written by and sung by Lori McKenna ... well worth a listen.
Recently, my friends and next door neighbours, Shirley Ross and Bill Tieleman celebrated their 25th wedding anniversary — I looked all over for Lori McKenna's Stealing Kisses somewhere online, but until a couple of days ago, I couldn't find it (and, truth to tell, I bet the video below won't last long online — you'll want to listen to Stealing Kisses while the opportunity is provided to you). Here is one of my favourite Lori McKenna songs.
Dedicated to Bill Tieleman and Shirley Ross, Happy 25th Anniversary ...
December 22, 2013
VanRamblings' two favourite times of year occur from mid-July through the end of August, a six-week celebration revolving around the anniversary of our coming to this Earth (at least in this incarnation, in this time and place and history of life on our planet), and the period beginning in mid-
November through until December 31st. We have long been a romantic about most aspects of life, and love the idea of simply taking a bit of time off from the hurly burly of our everyday, and often too busy, life to reflect on the conditions of our existence, a deep and abiding reflection, a process in which we seek to provide meaning, context and, perhaps, resolution.
Within that contextual framework is contained our love for the arts — dance (we love the ballet), music (mostly of the pop culture variety, although we love progressive country), film, anything tech-related, literature, television, and the art of politics, which is to say, the political maelstrom that is public engagement early in this new millennium.
In this first of five columns on the Best of 2013, we'll survey a cross-section of critical opinion on the best music of the year, much of which art you may have been utterly unaware of prior to the writing that'll appear below. As a means by which to introduce new music into your life, there is no more salutary event than that which occurs at year's end, as you (and I) become aware of the music of our age, through a survey of informed critical opinion — always a life-enhancing event offering steadfast insight, in the most propitious, enlightening and expedient manner possible. Yippee!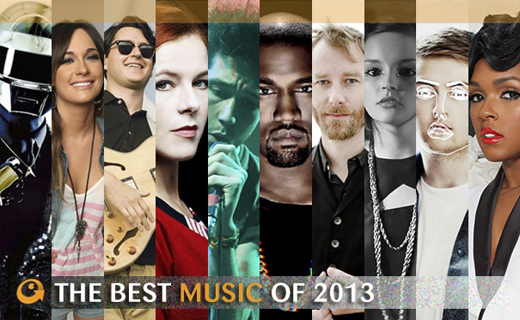 There was a time, in recent years, when we turned to Salon (in its heyday, in the late 90s through 2005), Rolling Stone, the now defunct and the much-missed Blender magazine, but since 2009, Popmatters has been the go-to place for insight into the Best Music of the Year. Yes, we know there's NME and Paste (now available online only), Q, Pitchfork, Mojo and more, but we'll stick with Popmatters, at year's end, for our annual hit of unexpected and oh-so salutary musical insight.
Here's Popmatters 'best of music' home page, detailing the 75 Best Albums of the Year, Best Canadian, Country, Metal, Indie-Pop, and more ...
Making Popmatters' 75 Best Albums of 2013 list, at 72. The Boards of Canada; at 63. the ever-present Lorde; at 47. David Bowie's The Next Day; 42. Julia Holter (a favourite of our friend, J.B. Shayne); 38. Rhye, to whom we introduced you earlier in the year; 27. Queens of the Stone Age; 24. Our very own Tegan and Sara; at 9 and 8, the breakout bands of the year, Haim and CHVRCHES, and at number one ... well, who else would you expect? But you'll have to read through to be sure you guessed right.
One of our favourite discoveries is a duo out of England, with whom our son Nathan has long been familiar, but is new to us this year: 4. Disclosure, who represent the very best danceable British garage house music of 2013.
Now, make no mistake, there's more, a great deal more ...
And, of course, much, much more.
In the The Best Country Music of 2013 category, we discovered a couple of artists with whom we were not previously familiar, Brandy Clark, and our favourite roots, working class, progressive country find of the year, Kacey Musgraves, who's making a whole tonne of Best Of lists in 2013.
We leave you, dear and constant reader, with a survey list of the Best Music of 2013, critical reception from some of our favourite publications ...
Lots to listen to, lots to grok. Good luck. Enjoy. Merry Christmas!
November 15, 2012
The best new artist of 2012 made her North American début last night on The Conan O'Brien show, renowned for his introduction of new musical artists (e.g. Adele made her North American début on O'Brien's show in May 2009). An almost guaranteed lock for the Best New Artist Award at the February 2013, 55th annual Grammy Awards ceremony, if you haven't heard or seen Lianne La Havas previous to this moment, give her a listen. We think you'll be as impressed as we are.
The 23-year-old British folk and soul chanteuse — as well as first-rate songwriter and multi-instrumentalist — was born in London, England on August 23rd, 1989 to a Greek father and Jamaican mother, and began singing at age 7 as a creative response to the breakdown of her parent's marriage. Citing the influence of her father, who himself is an accomplished multi-instrumentalist, and taught her the basics of guitar and piano, and her mother's love of Jill Scott and Mary J. Blige, it wasn't until her début appearance on October 11th, 2011 on the BBC-2 series Later With Jools Holland that Lianne La Havas emerged as a talent to reckon with.
Reviewed in Rolling Stone as "neo-soul, part Bon Iver-style indie folk, with punchier beats than you'd expect and welcome detours into Sade's plush bedroom, there are surprises, too: jazz chords that seep into her wintry folk ballads," while Gillian Orr in Britain's The Independent writes, "Sadness is something of a speciality for the 23-year-old Londoner. With her unique blend of soul, folk and jazz, La Havas's personal tales of falling in and out of love, sung in an impressively smoky voice that goes from a purr to a roar in an instant, the rise of this talented newcomer has been seemingly effortless. Her fellow guest on 'Later', Bon Iver, was so impressed with La Havas that he invited her to join him on his North American tour."

December 19, 2011
Truth to tell, we've been a bit lax in reporting out on film news of note, so later in the week we'll return to form and provide you with a bit of insider info on Oscar hopefuls, and those films which you should place on your 'must-see' seasonal movie list. For now, though, Regina Spektor ...
June 28, 2011
Quite simply, there is no 'new' Australian singer-songwriter we love more than Julia Stone (although, we harbour deep affection for Kasey Chambers and Missy Higgins), with her twee voice chock full of warmth and hope.
Breaking from her brother Angus for her 2011 solo début, this is light and airy, melancholy and pensive music that VanRamblings finds entirely captivating, and altogether marks one of the stunning tour-de-force music endeavours of this year or any other year. Absolutely worth a listen.
Without further ado, then, meet the glorious and remarkable Julia Stone ...
June 14, 2011
When we first heard the music of Bebel Gilberto, way back in 2000 with the release of Tanto Tempo, we became smitten with the Brazilian chanteuse.
Born in New York City, but raised in Rio de Janeiro, music was an integral part of her childhood, her father the legendary Brazilian guitarist João Gilberto a strong influence. At the age of 7, she made her recording début on her mother Miúcha's first solo album, The Best of Two Worlds. Two years later, she performed at Carnegie Hall with her mother and Stan Getz.
Fast forward twenty-seven years to the year 2000, when Ms. Gilberto released the luminous Tanto Tempo (a few cuts of which you'll find directly below), and an entrancing, sensual neo-bossa nova jazz star was born.
June 1, 2011
A while back, VanRamblings introduced you to Rumer, the British jazz artist / Anglo-Pakistani soul singer / songwriter who's been tearing up the charts in the the U.K., and seems ready now to break to acclaim stateside.
With her early 60s Burt Bacharach-influenced sound, Rumer doesn't trade in the rough neo-soul sounds of an Amy Winehouse, rather she offers a more pleasing soundscape, an almost nostalgic, often pensive and always seductive foray into Karen Carpenter territory, full of graceful melodies and dream-pop lyricism, elegant and piercingly evocative at the same time.
As VanRamblings continues to explore the 'new' music of our age — with an emphasis on soulful female vocalists — today we present Rumer's début album, Seasons of My Soul, available for download through iTunes, or as an import through HMV, or your favourite local record store.
May 14, 2011
Ever since we first read about roots / country artist Lori McKenna in late 2007, when she won Popmatters' Best Country Artist of the Year award, we have been smitten. Here's an excerpt from Roger Holland's review ...
If you don't know the story, the 38-year-old McKenna is one of America's most gifted singer-songwriters. Working out of the home in the Boston suburbs that she shares with her plumber husband Gene and their five (count them, five!) children, Lori McKenna had released a series of four increasingly impressive independent albums — culminating in 2004 with the critically acclaimed Bittertown ...
With a voice a little like a female Adam Duritz, McKenna sings in the first person, effortlessly inhabiting her songs of everyday life in a manner that seems so simple, so natural, that you just know it must have taken a whole lot of skill and hard work to achieve. And when I say everyday life, I don't mean red tag sales and soccer practice, I mean emotions like frustration and disappointment, love and hope, captured in their most natural habitat, the domestic settings in which we live our lives.
VanRamblings has engaged in a process this week of introducing our readers to a few of our favourite music artists. There is no artist we love more than Lori McKenna, no artist whose music we listen to more often.
Last evening, we uploaded a few of our favourite Lori McKenna songs to SoundCloud. Please find five of those favourites, for your listening pleasure, directly below ...
May 12, 2011
As the folks at Allmusic.com write ...
"Although she was born and raised in suburban New Jersey, Sharon Van Etten's folk music evokes the open landscapes and lonely expanses of Middle America. A dedicated choir student during her childhood, she began writing songs on her guitar as a high-school student and, upon moving to New York, started playing them in concert. Van Etten signed with the Chicago-based indie label Drag City and issued her intimate official debut, Because I Was in Love, in spring 2009, followed by the lush, more band-oriented Epic in 2010.
Here's an interview with Ms. Van Etten conducted by Rob Hakimian for One Thirty BPM from earlier in the year, and a gushing, well-written and entirely spot-on review by Jennifer Kelly in Dusted Magazine.


May 10, 2011
VanRamblings has loved Allison Moorer since the first time we heard her, when we were one of the few music critics in Vancouver writing about progressive country, when she was married to Doyle "Butch" Primm, an Oklahoma-reared musician who became her frequent songwriting partner and producer, and right around the time she had her first big hit (well, 'big hit' is a sort of relative term when it comes to Ms. Moorer — but damn if we don't love her), A Soft Place To Fall, from her debut CD, Alabama Song (still one of our favourites), which was tapped for Robert Redford's oater, The Horse Whisperer, in 1998. Moorer also appeared in the movie.
Without further ado, then, here's just a bit of Allison Moorer, from her most recent album, Crows ...
March 31, 2011
In 2007, six-year-old British singer Connie Talbot wowed the audiences of Simon Cowell's Britain's Got Talent.
In this then and now posting, we see the pint-sized Ms. Talbot when she first came to the attention of the world; the second video shows Connie at age 10, as she performs Someone Like You, from Adele's new album, 21.
February 3, 2011
Grammy winner in 2009 for Best New Artist, we've been waiting for an awfully long time for Adele's new album, 21, to drop.
For those of you who have found the wait excruciating, we present a video of Adele performing at Liverpool's Cavern Club on January 5th.
Update: Adele's sophomore release, 21 — already available in Great Britain, where it's topping the charts and earning rave reviews from the critics — is set for release in North America on Tuesday, February 22nd. Can't wait!
January 7, 2011
Was surfing around the 'Net, and ran across the fair-skinned, blue eyed Katie Costello whose new indie album Lamplight is garnering much praise.
Variously described as quirky, retro and melodic in her approach to her craft, and sometimes compared to Laura Jansen (who we love) and Regina Spektor we think, upon an initial listen, that Ms. Costello is an utter original.
From what we've been able to glean from her Facebook page, Ms. Costello hails from Hermosa Beach, California, currently resides in Brooklyn, New York, has not signed with a record label (don't you just love the Internet for exposing you to new artists?), and will release Lamplight February 22nd.
Everyday, we're bombarded with new music, and it's difficult to choose the wheat from the chaff. VanRamblings believes Ms. Costello's music to be hearty, sustaining, infectious and entirely enchanting. Thus, we present the video below, and two SoundCloud tracks, for your listening enjoyment.
December 6, 2010
For VanRamblings, the very best part of year's end revolves around 'lists'.
Lists of the best movies, critics and critics' associations 'winners' lists of best films, best music lists, best books, best TV shows ... well, you know what we mean. All those wonderful top 10 lists! We are in list heaven!
VanRamblings can hardly wait for the announcements next Sunday and Monday of the Los Angeles and New York Film Critics list of best films of 2010 (cuz it sets the stage for the Oscar race over the next 3 months).
Entertainment Weekly — to which we have subscribed religiously dating back to 1991 (on the cheap, and because it makes great bathroom reading) — will publish their Top 10 lists later in the month, as will sister publication People magazine (the only time we purchase People all year is for the 'lists issue', making for great reading on Christmas Day ... okay, okay, so you now know we don't have a life!). Yes, VanRamblings believes in lists. Why?
Because the year end Top 10 lists have become an integral part of our 'journey of discovery', where year in, year out we have discovered new and wonderful pieces of music, films and books, and tech that has — in many ways — become transformative in our appreciation of the year just past.
During the course of the year we are provided with so much pop culture information, from so many different sources, that one could hardly help but suffer from information overload. No matter how many newspapers and magazines you read, how many hours a day you surf the 'Net, how many friends you have that recommend books, TV shows, new music, new tech (we're caving in and have self-gifted ourselves with an Amazon Kindle this Christmas), and their 'favourites' in every pop culture category, there's just no possible way you might reasonably become apprised of all that is 'best' in the pop culture realm in any given year. Thus we have the Top 10 lists!
Read More...
November 16, 2010
From Muscle Shoals, Alabama, bordering the Tennessee River, home to FAME (Florence Alabama Music Enterprises) Studios where artists ranging from Aretha Franklin and Otis Redding to Lynyrd Skynyrd, The Rolling Stones, Linda Ronstadt, Paul Simon, Bob Dylan, Rod Stewart, Cat Stevens and Hank Williams Jr. have recorded albums over the years, comes the South's latest musical sensation, the roots rockin' duo of Laura and Lydia Rodgers, the bluegrass singin' siblings who record as The Secret Sisters.
The 11 tracks on their self-titled début are nothing short of a delight, the album (mostly) a mix of country, folk and classic pop covers, the sisters' harmonies spunky and occasionally melancholy, their interpretation of the material utterly original, marking this recording as, perhaps, the most outstanding pure country recording of the year. Hell, it's just a lot of fun, a toe tappin' return to the Appalachian country music of the 1950s.
Amazon offers a Secret Sisters music sampler. Definitely worth a listen.
July 23, 2008
Sunday was the best day — weather-wise, music-wise and otherwise — of a spectacular three-day weekend, at the 31st annual Vancouver Folk Music Festival. Everything fell nicely into place, and a good time was had by all.
Although the 2008 Folk Fest was a Festival quite obviously in a year of transition, with interim artistic director Linda Tanaka holding the fort while the Folk Fest Board of Directors figures out where to take the Festival in future years, and what the nature of the presumed 'corporate funding' will be, thanks to uncommonly great weather and what appeared to be the largest turn out by families in some years, Festival staff would have to consider this to be one of the more successful Festivals of recent years.
True to form, VanRamblings continued to be a pest to political types, on Sunday focusing our attention on lawyer and community activist Ruth Herman, and her beloved, Vancouver-Kensington MLA David Chudnovsky; COPE internal chairperson Donalda Greenwell-Baker; former Vancouver City Child and Youth Advocate, Penny Parry, and her beloved, former COPE Councilor and current COPE Board member, Tim Louis; and to top (bottom?) the day out, NPA mayoral candidate, Peter Ladner, who was querulous (in a quiet way) that we took the time to shake his hand, and wish him well (cuz he knows we're hardly a supporter of his ... he was probably wondering why we bothered to approach him at all — but, heck, it was Folk Festival weekend, and a time for peace, love and understanding).
VanRamblings was most impressed with Mr. Chudnovsky and Ms. Herman.
Although we agreed not to report out on the specifics of our conversation, both felt strongly that the 8-2 Vision Vancouver / COPE deal is hardly a fait accompli, and that there is every prospect that the deal might be 7-3, or even 6-4. Of all the political types in COPE (of which both are longstanding members), and Vision Vancouver, only Chudnovsky and Herman expressed hope for a 'workable deal' between the two civic parties that serves the interests of progressive forces in the City of Vancouver, and by extension, the people of Vancouver, and the entirety of the Metro Vancouver region.
Read More...
July 21, 2008
VanRamblings will post our full, and thorough, wrap-up of the 2008 Vancouver Folk Music Festival — with more YouTube videos we've uploaded, including Maeve McKinnon in an early morning concert at Stage 7, and Ferron in concert over at Stage 3 in the early afternoon — as well as more municipal politics, and raves about the day and the weekend, at some point later in the week (paying work beckons, a call we must heed).
We've also got some bubbles, but you'll have to wait until late Tuesday, or sometime on Wednesday, for our full-fledged version of the Folk Fest wrap (starring BC Provincial MLA David Chudnovsky and a cast of thousands, including more than a few politicos, and their and our consequent musings).
We will post. Promise. You'll just have to be patient.
Oh yeah, despite VanRamblings' dire pronouncement about Friday night under-attendance, Saturday and Sunday crowds were substantially larger.
Although overall attendance looked to be healthy — the crowds were certainly enthusiastic — it's unlikely that any records were set. A little more marketing next year, a stronger musical line-up, and a return to form — for instance, CBC on site recording concerts for posterity — and a bit of that ol' time corporate sponsorship, and the Folk Fest will be on its way to sustainability. And would we want any less for our beloved Folk Festival?
July 20, 2008
VanRamblings got a late start to the day on Saturday, but finally wended our way onto the grounds of the 2008 Vancouver Folk Music Festival about four in the afternoon. Of course, this late start to our day represents a mighty change from years past, when we found ourselves in line with kids in tow at 8:30 a.m. (or even earlier in the morning), but time passes — even if enthusiasm doesn't wane — and after 31 consecutive years of attendance at the Folk Fest we're willing to cut ourselves a bit of a break.
All of the above said, VanRamblings will do much better on Sunday.
No sooner had we walked through the gates, on our way to lay our blanket down in front of the Main Stage, and who should we run into but old friend and comrade, Gary Cristall, one of the founding fathers of the Vancouver Folk Music Festival, and its first (and most successful) artistic director.
We chatted amiably for about 10 minutes, Gary agreeing that the Festival is in a year of transition. When it was suggested by VanRamblings that attendance was down on Friday night, he indicated that he'd heard reports of the same from friends who'd attended the Festival's opening night.
As to where the Festival is heading in future years, Gary agrees — albeit reluctantly — that change is in the air, that the Festival is moving inexorably in the direction of seeking corporate funding, a notion that is anathema to Cristall and anyone who was around at the inception of the Vancouver Folk Music Festival. But with a debt of some $268,000, the Festival has to do something to address the financial shortfall if it is to prevail into the future.
Read More...
July 19, 2008
As might well be expected, the first evening of the 2008 Vancouver Folk Music Festival was spectacular, from the sun coming out in the late afternoon to the wonderful folk-jazz improvisational music of Lau, the Africa-infused delta blues of Markus James and Wassonrai, a rockin' concert set by the incomparable Aimee Mann, and a get on your feet and move, dance and rock-into-the-night, evening-ending concert by Ozomatli.
For all the goods times at the Festival, and for however much the assembled masses enjoyed the first evening series of concert performances, VanRamblings was somewhat distressed by the shockingly low turnout, a crowd that we estimated at no more than 5,000, certainly less than what one would have imagined and expected in earlier years.
We'll see what the turnout is like on Saturday, and report back tomorrow.
Perhaps, local performer Veda Hille was right when she suggested to Alex Varty that artists like Sufjan Stevens might bring a bigger audience to the Fest. Next year, when there's a permanent artistic director in place, we'll have a better idea as to where the Vancouver Folk Music Festival is going.
In the interim, we'll leave you with our weekend photos of the Festival, and a link to the Festival's Flickr site, where you'll find hundreds more pics.
(Note should be made that there was a decided chill in the night air, so if you're planning on attending Saturday evening, make sure to bring along a long-sleeved shirt and a sweater to provide succour against the elements.)
Julian W. has posted on the first day of the Festival here, and Brent Kane writes about the first day, too. The Canadian Encylopedia presents the history, if you click on the link. And now VanRamblings is off to the Festival!
July 18, 2008
Yes, twas the night before the 31st annual Vancouver Folk Music Festival, the creatures were (in fact) stirring and the volunteer staff of the Festival were hard at work putting the last-minute finishing touches on the 2008 edition of this most august and beautiful respite from the maddening world.
Over the course of the weekend, VanRamblings will post on the 31st annual Vancouver Folk Music Festival. In the interim, we'll direct your attention to The Province's Stuart Derdeyn's introductory article on the Festival, the first ever directed by Linda Tanaka, the Festival's interim artistic director.
We'll also point you toward this article in The Province about the "politically charged Michael Franti & Spearhead" and what he'll bring to this year's Fest. And, finally from The Province on the Thursday before the 2008 Festival commences, a reflection and an update on Spirit of the West, longtime folk favourites on the local scene in Vancouver and British Columbia.
The Georgia Straight's Alex Varty finds his fine folk voice, once again, in a series of wonderfully written articles published in the July 17th edition of the Straight. In the Straight's introductory article to the 2008 Vancouver Folk Music Festival, Varty interviews Kris Klaasen, a member of the Vancouver Folk Music Festival board that, earlier this year, dismissed longtime and much-missed Festival artistic director and Fest habitué, Dugg Simpson.
Read More...
July 8, 2008
| | |
| --- | --- |
| Adele Kate Nash Duffy | |
In North America, the radio market is so balkanized that listeners are forced to listen — if they listen at all — to "narrow cast" radio stations, ranging from mainstream top 40 (Crave), rhythmic top 40 (The Beat) and classic rock (CFMI), to adult album alternative — generally referred to as Triple A — (the format of the three new Vancouver radio stations the CRTC recently awarded licenses to), modern rock (CFOX), country (JR FM), easy listening oldies and contemporary (QM and Clear FM), and mainstream rock (JACK FM), the latter a combination of 'heritage' and relatively modern 'rock'.
Within these various strict radio formats, there's not much room for eclecticism. Either a song fits the format or it doesn't get played. Not so in England. Radio in Great Britain plays whatever is best, ranging from pop to blues, and jazz through hip-hop, from Busta Rhymes to Coldplay, from Ironik to Martha Wainwright, Goldfrapp, Elbow, Kid Rock and The Verve.
Ain't no oversimplified compartmentalizing going on in British radio.
This summer young female British blues singer-songwriters are all the rage, including: Adele, Kate Nash, Duffy, Amy MacDonald, and Laura Marling. The relatively recent emergence, and popularity, of Amy Winehouse, Lily Allen and KT Tunstall has created an opening for a new generation of British female vocalists, reflecting a new kind of "girl power" in Britain. The new young artists have gained recognition through their own MySpace sites, posting a whack of thrilling homemade music videos to YouTube, as well.
Of this new crop, Adele is VanRamblings' favourite. Dubbed the "next Amy Winehouse" in late 2007, Adele has the most mature and expressive voice, and the greatest vocal range, of this new group of British female singers. Confessional, powerful, inspirational and just a bit melancholy, VanRamblings first caught Adele on late night David Letterman, and we were absolutely blown away.
Here's Adele with Hometown Glory, a tribute to her home town, London, recorded months before she was signed to a label, and the début of 19. And here's the official video of Chasing Pavements, the song she knocked out of the park on Letterman, gaining a whack of new fans in the process.
You may want to check out the remaining songs on 19: the exceedingly beautiful Daydreamer; the brutally honest, rocking Cold Shoulder; and, the lullaby-like First Love. We'll leave you with Adele's Make You Feel My Love.
After the jump, allow VanRamblings to introduce you to Kate Nash, and ...
Read More...
June 24, 2008
Well, the 31st annual Vancouver Folk Music Festival oughta be interesting.
With longtime Festival programmer and 12-year artistic director, Dugg Simpson, out, and Salmon Arms Roots and Blues Festival creator, Linda Tanaka, in (particularly given Ms. Tanaka's recent messy leave-taking from the Shuswap festival), Vancouver lovers of the folk music scene are in for what looks to be a "provocative" folk music fest in its 31st iteration.
For all the shenanigans surrounding Fest management, the line-up of the 31st annual Vancouver Folk Music Festival still appears mighty fine.
On the bill this year: headliners Aimee Mann, Eliza Gilkyson, Ferron (returning to Vancouver after a too-long absence), Jason Collett, John Reischman and the Jaybirds, and Ozomatli, among a raft of others.
In the days to come, we'll highlight the various artists who'll be appearing on the main and artist / musician stage(s) on the Festival site, and seek to provide, as well, an historical perspective on the events and perambulations which have lead up to the 31st annual Folk Music Festival.
In the interim, once again this year the Little Folks Village and stage may be found due north of the 4th Avenue entrance, with arts market vendors galore situated nearby (due south of the area where the food vendors may be found). We'll see you there (here's the ticket info you'll need to know)
September 2, 2007
If you haven't heard the music of Chrisette Michele, there's no time like the present to rectify that oversight. Presenting a funk-driven, old school-flavoured R&B, Michele's fusion of the sounds of Philadelphia and Detroit re-invents urban contemporary talkin' blues in such an engagingly satisfying manner that you're bound to come away dancin', smiling all the while, upon your first listen. At which point, you'll want to rush out and buy her début CD, I Am.
Here's a streaming, four song introduction to Chrisette Michele.
July 5, 2007
With a lineup of guest artists that include homegrown gals, The Be Good Tanyas and Po'Girl; the irrepressible Utah Phillips; Manitoba's The Wailin' Jennys; Scotland's greatest living singer-songwriter, Dougie Maclean; Welsh singer-songwriter Martyn Joseph, among a raft of other chroniclers of our times, tickets are now onsale for Vancouver's very best festival of the year.
February 11, 2006
No one has ever said that VanRamblings' taste in music isn't electic. We love country and jazz, ambient and progressive house, as well as folk and old-timey bluegrass, straight-ahead pop and melancholy female vocalists (think Cat Power, Jenny Lewis, Imogen Heap, and our favourite sad chanteuse of all, Gemma Hayes).
But most of all, VanRamblings' loves Jude — who, apart from being our son, is also a dj (DjNameless to be precise), a producer, a recording engineer, an old schooler — and an ESL teacher in Japan.
Today VanRamblings wants you to get up off the sofa and move your feet to the beat. And what specific beat might that be? Yep, you guessed it.
VanRamblings is pleased to present "Something They Feel" by DjNameless, and encourages you to download the sweetest mix of funky progressive old school house music you're ever gonna hear — 43 minutes and 32 seconds of pure aural bliss. Thank you Jude for a terrific aural treat! Everyone enjoy!
January 30, 2006
The last time VanRamblings fell as head-over-
heels in love with a country artist as we have with Miranda Lambert was when we first heard Allison Moorer on her 1998 début, Alabama Song.
Since then, it's been something of a drought for us, although we've managed to get by quite nicely with Kasey Chambers' rollickin' début, not to mention, an occasional listen to Iris DeMent (who we also love), Julie Miller, Lee Ann Womack, the Kinleys, Lucinda Williams (great in concert!), Tammy Cochran, Tift Merritt and Alison Krauss.
Then along comes Miranda Lambert, who we first heard about from music critic for The New Yorker, Sasha Frere-Jones, when on a year-end music panel on The Charlie Rose Show he called Lambert "the best new artist of the year, rock, country or pop." And we've been smitten ever since.
Like most traditional progressive country artists, Miranda Lambert sings from the heart, as she writes about what she knows, about the people travelling down the back roads of the southern United States. One can hardly imagine Britney Spears singing a song about a Greyhound Bound For Nowhere. Miranda Lambert sings roots music of the first order.
January 2, 2006
Providing solace to the soul, as poetry finds its way into song, the music we listen to all year long not only serves to act as the soundtrack of our lives, the songs we hear generally succeed, as well, in offering inspiration, reflection on the issues in our lives, and a welcome opportunity, at times, to simply tap our toes and dance around in our kitchen.
During the course of 2005, VanRamblings discovered all sorts of great music: Jem, Ray Wylie Hubbard, Bic Runga, Emiliana Torrini, Sarah Slean, Stina Nordenstam, and Tift Merritt — among a raft of other fine artists, none of whom quite made our Top 10 list for 2005 (but are goood!).
Sometimes that was because the artist didn't release a new CD during the course of the year, and other times it was because the artist was in a follow-up position to those who did make the Top 10, barely missing out.
Whatever the case, whether it be the artists referred to above or the artists that find themselves on VanRamblings' Top 10 CD releases of 2005, all of the music offered by these artists is just about as irresistibly and breathtakingly beautiful, passionate, emotive, and gloriously produced and rendered as any music written at any time during our brief history on Earth.
Here's hoping you enjoy VanRamblings' Top 10 CD release choices of 2005.
1. Antony and the Johnsons: We've written about him before, and even posted a song and a video. Antony Hegarty's music is exquisite and moving. Not for the cynical; just for the rest of us. By far, the best album of 2005.
2. Sufjan Stevens: Sufjan Stevens has taken on a gargantuan task. During the course of his life, he intends to record 50 albums, one for each of the states in the country just to the south of us. So far he's succeeded in writing about Michigan and, in 2005, Illinois. Melodic, orchestral, propulsive and cheery, reflective, political, and just about as uncynical and lovely as one could possibly imagine, Come On Feel The Illinoise is a keeper.
3. CocoRosie: Breaking onto the music scene with their award-winning 2004 debut, La Maison de Mon Reve, CocoRosie are just a little bit industrial, as well as narratively dreamy, hypnotically enchanting, and exquisitely redemptive. Please find below two CocoRosie songs, one from their début, La Maison de Mon Reve, and the other from their 2005 release, Noah's Ark. Click on the song to hear it, or right click and choose "Save link / target as ..."
(Due to unusually heavy traffic, VanRamblings has taken down the songs below; we'll be looking into an offsite host for the mp3s.)
CocoRosie - Good Friday (for Lori), from La Maison de Mon Reve.
CocoRosie - Brazilian Sun, from Noah's Ark.
4. Imogen Heap: VanRamblings first heard of Imogen Heap — she at the tender age of 17 — when we saw her in concert at a club in the basement of the Hotel Georgia, 'the next big thing'. Well, not quite. But here it is eight years later and Ms. Heap is all growed up, and her promise fulfilled. Full of hope, Speak For Yourself is trip-hop par excellence; a must-have CD.
5. Kanye West: With Late Registration, Kanye West has followed up on the promise of his debut, College Dropout, and turned out a poignant, buoyantly melodic, and always accessible sonic masterpiece. Another 'must-have' CD.
6. Fiona Apple: We waited for six long years for the release of a new Fiona Apple album, managed to find a version of the album online for download (which we promptly set about to do) in the spring of 2005, and when Sony finally got around to releasing Extraordinary Angel, we bought it. And migosh was the wait worth it. Confessional, moody, bluesy and quietly intense, this is another must-have 2005 CD release. In concert, with Coldplay, at General Motors Place, on Thursday, January 26th at 8 p.m., we'll be seein' ya there.
7. Miranda Lambert: All of 21 years of age, Miranda Lambert brings new life to a somnambulant country music industry, just about the brightest new voice on the scene, and the best new pop, rock and country artist of 2005.
8. Bright Eyes: Songwriter and lead vocalist Conor Oberst has his champions and his detractors, but there's no denying the hushed, rambling, bluesy and anecdotally progressive virtuosity of I'm Wide Awake, It's Morning.
9, 10 and ... All Canadian artists, none of whom receive airplay on Canadian radio (although you'll hear lots of these artists on both XM and Sirius satellite radio, where each of them broke big this past year), Broken Social Scene, The Arcade Fire and Stars are not just Canadian artists, they're world artists. We'll write about why we love each group later this month, so c'mon back.
During the month of January (once we get the latest round of technical glitches with our website, and server, resolved), VanRamblings will provide mp3 samples of each of the bands and artists. See ya back here often (and that means you, the divine Ms. L, as well as our other constant readers).
December 22, 2005
VanRamblings' Top 10 albums of the year will follow New Year's weekend.

November 4, 2005
Today, we'll continue our recommencement of activities on VanRamblings by introducing you to a plaintive, soul-stirring artist who we believe creates gorgeously transcendent music that possesses the potential to heal some of the acrid hurts which wound us daily.
Recent much-deserved winner of Great Britain's prestigious Mercury Music Prize and considered by many to be the next big thing, below VanRamblings offers both a recent NPR interview and review, as well as a downloadable song from the new CD, I am a Bird Now, by Antony and the Johnsons.
NPR interview and review
Antony and the Johnsons — Hope There's Someone
Antony and the Johnsons on the David Letterman Show
August 4, 2005
There's a great deal that is salutary about the blogging phenomenon, not the least of which is the opportunity that is afforded bloggers to bring our own perspective to the news of the day.
Over the past couple of years, Flickr has made it possible to upload your entire photo collection to the Net, MSN Spaces (among other platforms) has made it relatively easy to create your own blog, video blogging is yet another recently-developed form of blogging expression (just check out a few of these video blogs), while podcasting (a portmanteau that combines the words broadcasting and iPod) makes available everything from conventional news shows to self-published radio shows, downloadable as mp3 files and playable on your mp3 player.
Perhaps the most salutary blogging development, though (at least for those of us who love music, and are always on the look out for intriguing new sounds) is the audio blogging phenomenon — where a new breed of tastemakers devote their spare time to disseminating, free of charge, music that's obscure, unusual, cutting-edge, or on the verge of being forgotten.
Siddhartha Mitter, a Boston Globe correspondent, provides an introduction to the "the best music you've never heard" phenomenon.
The principle behind an audioblog — also called MP3 blog — is simple. You find a track you want to share with the masses. You place it online as an MP3 file, which anyone with a fast connection can play or save. And you write a little commentary, which might be pithy or detailed, straightforward or oblique. Think of each post as a whimsical capsule review, with sound attached.
In the course of his Globe piece, Mitter turns readers onto a number of audio blogging sites — including Paul Irish's Aurgasm; San Francisco music journalist and scholar Oliver Wang's Soul Sides; London-raised, Boston-based blogger Lee Caulfield's The Number One Songs in Heaven, which specializes in near-forgotten soul tracks; and Christopher Porter's appropriately named audio blog, the suburbs are killing us.
Treat yourself today: download some new music from the Internet.
July 18, 2005
One of the formative events on the Vancouver cultural calendar each year, the Vancouver Folk Music Festival closed late on Sunday evening with a rousing chorus of the Woody Guthrie chestnut, It's Been Good To Know Ya (lead by noted Wobbly Utah Phillips), followed by as stirring and soulful a rendition of Ben E. King's Stand By Me as one could ever wish to hear.
In the hours and days that comprised the 2005 musical narrative that became the Vancouver Folk Music Festival, from the gates opening at 5:30 p.m. Friday afternoon (under leaden skies) through til 11:30 p.m. for the cloudless sky Sunday evening finale, music was carried by the breezes that wafted across the Jericho Beach site — as a panoply of globe spanning, anthemic folk music encompassing folk genres ranging from Celtic, Cajun, hillbilly and progressive country (think the ever-so-fragile and lovely Iris DeMent) to the radical repertoire of The Grande Mothers (Frank Zappa's band), hip hop, ambient, chill-out, the blues and more ... transformed the Jericho Beach / waterfront Point Grey site into safe haven, where once again a world of peace and harmony and love and understanding prevailed for all.
July 16, 2005
Featuring more than 70 hours of non-stop music on eight outdoor stages — three evenings of mainstage concerts and two full days of performances and workshops throughout and across the always splendid Jericho Beach Park site, the 28th annual Vancouver Folk Music Festival is now underway.
Saturday Afternoon Update: Skies have cleared, and the sun has arrived.
While VanRamblings wanders the site, enjoys the music, greets old friends and recovers some semblance of our always tenuous sanity, we offer you 27 pictures taken by Sarah Pullman, posted at Shutterfly, as well as a few pictures focusing on the market area just outside the west gate.
For the sake of nostalgia, and because the weather thus far in the summer of 2005 has been inclement (just check out the webcam), VanRamblings offers a few photos taken by Susan McKeown at the particularly rainy, but ultimately satisfying, 2001 Vancouver Folk Music Festival.
And, oh yeah, there's this Tony Montague article in Friday's Globe and Mail on the Juno award-winning band, Le Vent du Nord, in concert at Stage 1 at 4:15 p.m. today, and set to take the Main Stage at 6 p.m., as well.
July 14, 2005
With only hours to go until the kickoff of the 28th annual Vancouver Folk Music Festival, diehard folkies are practicing the 300-yard run from the gate to the big stage (cuz it's important to get your blanket as close to the main stage as possible), while others are stuffing their backpacks with all of the required items for a comfortable Folk Festival — tarpaulin for the ground, large colourful blanket, change of clothes, lots of sunscreen, hat, water bottle, and fresh fruit, among myriad other necessary items.
Media coverage of the Folk Festival is also underway. Vancouver Courier Arts Editor Fiona Hughes suggests in her piece on the Folk Fest that "the programmers are determined to broaden their audience base," while Courier staff writer Cheryl Rossi covers the volunteer perspective.
Meanwhile, the Georgia Straight's eminence grise and longtime Folk Fest aficionado, Alexander Varty, chimes in with the Straight's feature, front-cover article on the Fest, a 1500-word piece titled Spoken Folk, as well as a piece on Bill Bourne and Eivør Pálsdóttir. Kevin Howes writes about Buck 65, who will play on the main stage Friday night.
The Straight's Tony Montague interviews Scottish singer Julie Fowlis (a member of Dòchas, five young women and one male percussionist who will perform music from the western isles of Scotland at this year's folk fest, with a Stage 1 concert this Saturday, July 16), as well as politically-minded Texas troubadour Eliza Gilkyson and Karan Casey, one of the great Irish women singers of our time. And, what self-respecting Folk Festival can truly call itself a roots festival without the inclusion of a little Dobro music?
July 11, 2005
Of the many festivals that take place in Vancouver each year, there is no more salutary and restorative festival than the annual Vancouver Folk Music Festival, this year celebrating its 28th anniversary.
The 2005 Folk Festival lineup not only includes evening concerts from the likes of Iris DeMent, Leslie Feist (here's a recent concert review) and Sarah Harmer (in The Tyee), but daytime site stage collaborative concerts, with such intriguing appellations as Reely Good Tunes, Harmony is Bliss, Expectations and the Blues, Grrrls With Guitars, and On My Way Home.
Update: In an article published in The Tyee, Vancouver Folk Music Festival artistic director Dugg Simpson discusses "music, community and social change", the theme of this year's Fest. And, for those who just can't wait for the festivities to commence, The Tyee also offers this fetching pictorial. There's also this pic of the evening stage, from the audience perspective.
In this summer with no summer (although the temperature outside is not too bad, a hot, sunny summer has been all but absent this year on Canada's west coast), click here for the Jericho Beach webcam (Jericho Beach being the place where the Folk Fest is being held later this week).
Adult advance tickets for the three day festival are $125, or $40 for Friday evening, and $60 for the full day for each of Saturday and Sunday. Weekend student tickets are $75, while those 13 - 18 pay $65; weekend tickets for children 3 - 12 years of age are $15. Seniors' weekend tickets are $25. In Vancouver, tickets are available at Zulu Records on West 4th Avenue, Highlife Records on Commercial Drive, Boomtown Import Record and Discs on Burrard Street (one block south of Davie), or at the Festival office located at 1113 - 207 West Hastings (at Cambie), and at the gate.
July 17, 2004

Oliver Schroer, Kelly Joe Phelps and other on workshop Stage 2


Well, here it is the first full day of the 27th annual Vancouver Folk Music Festival, following a fabulous first, Friday evening series of concerts (here and here), with
Janis Ian and
Mercan Dede as particular standouts.
Coming up on the main stage tonight, B.C.'s own
The Bills (formerly The Bill Hilly Band) and
Bruce Cockburn, while this afternoon, it'll be one workshop after another, on any one of the seven stages.
Well, back I go to the Festival to catch
Ellen McIlwaine,
Po'Girl, Utah Phillips,
Martyn Joseph,
Odetta, and so many more fine artists.
July 16, 2004
VanRamblings will be taking a well-deserved break (at least, we think so) from posting regular features, news of the world, and such, to attend the glorious, magnificent, awe-inspiring, musically transcendent, and just generally joyful and peaceful 27th annual Vancouver Folk Music Festival.
Upon entering the grounds, adjacent to Jericho Beach (this is the view at sunset), we'll locate a space in front of the main stage and await the arrival of the performers, including tonight: the Warsaw Village Band, Janis Ian, and renowned Québec cellist Jorane, among a host of others.
Posting will be sporadic on VanRamblings over the Folk Festival weekend, but will return with regular features on Monday. Enjoy your weekend!
July 2, 2004
Can't figure out what to listen to this summer? Once again, the PopMatters' music team presents a highly opinionated, overall quite superlative and even, at times, revelatory examination of 18 artists that, they suggest, absolutely demand your attention.
Ranging from the satirical, hip-hop sensibilities of 29-year-old rapper MC Chris (Windows Media Player required) to the avant-garde emo-rock of the San Francisco-based band, Evening, and the moody rock of The Velvet Teen you're bound to discover at least some new music to your liking. And, the best part: almost all of the artists have made free mp3s available on their websites.
Meanwhile, the always reliable éminence grise of rock criticism, Robert Christgau, weighs in with another Consumer Guide column in this week's Village Voice, reviewing the latest releases from Sonic Youth, Bobby Bare Jr., and Arto Lindsay, among a raft of other bands. Needless to say, Mr. Christgau loves the music of each of these artists.
VanRamblings has, this afternoon, downloaded (legal in Canada, don'tcha know?) 18-year-old Norwegian chanteuse Maria Mena's début album, Another Phase, about to be re-released in North America with the title White Turns Blue. The album's lyrics may relate to Mena's junior high school experience, but to this listener the sentiments expressed in the lyrics address universal emotional issues. Mature beyond her tender years, VanRamblings has not been as impressed with a new artist since we first heard Fiona Apple.
And, finally, for this instalment, the strongest possible recommendation for the upcoming 27th annual Vancouver Folk Music Festival (VanRamblings has placed a clickable advertisement for the Folk Fest at the top-right of all 'pages'). Under the stewardship of longtime Folk Fest aficionada and political activist Frances Wasserlein, and artist cum Folk Festival artistic director Dugg Simpson, the annual Vancouver Folk Music Festival is a summer must. This year's event promises to be a particular treat.
One of the premiére cultural events that takes place in Vancouver each summer, the Vancouver Folk Music Festival site transforms into an ideal universe of peace, love and understanding, where gays and lesbians stroll about unmolested holding hands with one another, where children run free in the safest of environments, where white cotton is the de rigeur fabric of the day, and where the music covers a broad spectrum of genres (because, after all, folk music is the music of the people, and is not limited, simply, to old-time folkies with acoustic guitars), wafting through the air from any one of the 7 daytime stages, and throughout the evening on the main stage.
In the coming days, VanRamblings will write more on the upcoming 27th annual Vancouver Folk Music Festival. In the meantime, if you haven't purchased your ticket for this year's event, you can do so online or by scrolling to the bottom of this page to find out where tickets are available.
May 29, 2004
The music scene as we know it today was created in 1969, at Woodstock. Half a million musical adherents, dozens of artists, and the politics of the times came together at a 'big bang' moment in our history to create what would eventually transform into a corporate behemoth, a multi-billion dollar music industry focussed primarily on revenue generation.
Over the last twenty years, with the advent of Much Music, MTV and compact discs, followed by music industry downsizing, corporate consolidation and Internet piracy, a scenario has been created where a confluence of factors — a 'perfect storm', if you will — seems on the verge of wiping out the recording industry as we've known it.
In a PBS Frontline documentary, titled The Way The Music Died, which aired this past Thursday, the programme examines how the business that has provided the soundtrack of our lives seems on the verge of collapse. Although incomplete in its coverage, the programme is still worth a look.
PBS will re-air this documentary in the coming days. For those of you living outside of the Vancouver area, consult your local television listings. In the Pacific Northwest region, the The Way The Music Died will be re-broadcast on PBS channel KCTS 9 (Cable 27), at 1:30 a.m. Set your VCR's.
PBS has also made the programme available online. Click here for access.
April 6, 2004

Courtney Love flashes the masses
All of this continuous nattering about Courtney Love and what a disturbed personality she is, and what a terrible mother, and how dreadful that her life - from time to time, and certainly at the moment - revolves around drugs.
Who says that Courtney Love has to live like the rest of us? You? Me? Nope, I don't think so. And, even if we thought so, when was the last time that either one of us composed music as raw and energetic as that which Love consistently produces, even if it is potty-mouthed and substance-fuelled?
Gritty, chaotic, unorthodox, ragged and raw, the life and 'flash the masses' times of Courtney Love is to be celebrated.
Turns out that the Executive Editor of the Village Voice finds himself in accord with the sentiments published above, and much much more it would seem. Comparing Love to Janis Joplin, Richard Goldstein writes ...
"When I watch Courtney, I see the same failure to distinguish between persona and self, the same refusal to draw a boundary between expressiveness and excess, the same insistence on showing pain that made rock music in the '60s so intense."
Celebrating breast baring as an act of power, discussing Love's 'signature of civic strength', and writing about the artist who has chosen "to grin and bare it at an hour when all good children are asleep, having whacked off in their beds", Goldstein's very readable cover essay may be found here.
April 4, 2004
With the 10th anniversary of Kurt Cobain's suicide days away, The Smoking Gun has published an assortment of Seattle Police Department documents compiled during the investigation of the grunge star's April 1994 death.
The chilling records range from reports from the first officer on the scene to the receipt for the shotgun Cobain, 27, bought a week before his death. A second group of police reports detail previous run-ins Cobain and wife Courtney Love had with the local cops.
The BBC makes this audio available in their story on Cobain's regrettable passing, first published April 8, 1994.
In their latest issue, Rolling Stone publishes this Nirvana Anthology.