Park Board
November 24, 2014
Tonight, all but one of Vancouver Park Board Commissioners step down from their elected posts, having performed a service in the public interest that will not soon be forgotten, a service that should both be cherished and celebrated, as well as publically acknowledged on this blog, and elsewhere.
No mean feat placing yourself in the eye of the storm that is elected office, particularly in the maelstrom that is Vancouver politics.
Aaron Jasper — outgoing Chair of Park Board — Sarah Blyth, and Constance Barnes have sat on Park Board since December 2008. Their fellow Vision Vancouver Park Board Commissioners, Niki Sharma and Trevor Loke, joined their Vision colleagues around the Park Board table some three years later, complemented by a contingent of two Non-Partisan Association parks & rec commissioners, John Coupar and Melissa DeGenova, the former of the two of this latter group about to become — as of December 1st — the new Park Board Chair, and the ever-doggedly political Ms. DeGenova on the cusp of joining Vancouver City Council, where she is just as likely to drive her Vision Vancouver opponents at City Hall around the bend as has been the case this past three years at Park Board — with the added delight to those political observers among us who care about such things, where we will see her tear strips off Vision Vancouver city councillors Geoff Meggs and Kerry Jang, in particular, in full public view. Fun times await.
Aaron Jasper. Truth to tell, I think of Aaron as a son, someone I love, and for whom I have the deepest affection. Despite Aaron's deserved reputation as a bully, this past year at the Park Board table, Aaron has impressed, performing his duties as Park Board Chairperson not just with aplomb, but with an unerring commitment to the democratic process, and with a respect for the right — nay, make that obligation — to hold fellow Park Board Commissioners to account. I am not entirely certain that Vancouver Park Board will soon again witness as skilled and compassionate a Chairperson as those of us who have attended Park Board meetings this past year have witnessed this past 10 months, with Aaron Jasper at the head of the table.
Despite the recent provocations of VanRamblings — and this blog's sometime commitment to hyperbole — with Vision Vancouver "in charge" at Park Board this past six years there has been much to celebrate ...
1. Just yesterday afternoon, at the Dunbar Community Centre Vancouver Quadra NDP nomination meeting, outgoing Park Board Commissioner Sarah Blyth was telling those assembled about the pride she felt in moving forward Park Board's "Arts in the Park" initiative, where more than 30 local artists — including internationally renowned visual artist Germaine Koh and composer/double bassist Mark Haney — were selected in 2012 to participate in the Vancouver Park Board's artist studio residency project in seven park locations, taking up residency at field house studios in Hadden, Strathcona, Slocan and Memorial South parks and at the Burrard Marina, in addition to Elm and Falaise parks. Let us all hope this worthy initiative is renewed by the NPA-dominated Park Board that is about to take office.
2. Langara Golf Course. Following a seemingly extemporaneous remark by Mayor Gregor Robertson in the spring of 2012 that he was in favour of "hiving off" half of the Vancouver Park Board-operated Langara Golf Course, so that the land might be sold off to developers for the construction of "affordable condominiums", as so often happened at Park Board, the beleaguered Vision Vancouver Park Board Commissioners found they'd have to deal with the fallout, with much public opprobrium.
There was politics to be played with the issue of the disposition of the Langara Golf Course — "Don'tcha know, those damned elitist golf-playin' richy-riches, they don't deserve no golf-playin' "subsidized" by our parks board" — but, following a heart-rending presentation by members of the under-parked Langara neighbourhood, Aaron Jasper moved a "metrics" motion, and lo and behold, just a few months later when Park Board staff presented the Langara Golf Course Metrics Report, Aaron Jasper moved adoption of the report, and following the unanimous consent of Park Board, work began on remedying field drainage problems, enabling year-round usage of the course by families, teenagers, seniors, and all of the other folks in the city who, just like you and me, are not "rich", but who see the efficacy of enjoying the open air and our green spaces.
3. Hastings Park. In the past three years, never was I more proud of our Vancouver Park Board than I was when Park Board unanimously adopted a motion to seek the return of jurisdiction over Hastings Park to the Vancouver Park Board — where it rightfully belongs — tearing it away from the hands of Raymond Louie, who seems for all the world to view Hastings Park not as a park, but a development opportunity.
Relating to the above, in a special August 1, 2013 meeting of Vancouver City Council, Raymond Louie (Chairman, PNE Board of Directors) led the charge to block Park Board control of all park or green spaces in the 62-hectare Hastings Park site — but not without hearing from an articulate, impassioned Aaron Jasper, and the two NPA members of Park Board.
The Vancouver Park Board's Trans and Gender-Variant Inclusion Working Group
4. Trans-and-Gender-Variant policy. By far, the most moving Vancouver Park Board meeting this past three years, was the late April 2014 meeting of the Board where all 77 recommendations of the Trans* and Gender Variant Inclusion Working Group were unanimously adopted by Park Board. Thank you to outgoing Park Board Commissioner Trevor Loke for having moved the motion one year earlier that resulted in the striking of a Park Board committee that would report out, as Trevor hoped, and serve to "greatly improve the quality of access to recreation and active health in Vancouver, and help make Vancouver the most inclusive city in the world." Mission accomplished, Mr. Loke. Mission accomplished.
5. Local Food Action Plan. The food available at concessions, and on food carts, in Vancouver parks, is of so much better quality than was the case previous to Vision Vancouver assuming control of Park Board in 2008.
Special thanks should go out to of all members of Vancouver Park Board's Local Food Assets Task Force, starting with task force co-chairs, Aaron Jasper, and Niki Sharma, the Board's Commissioner representatives.
Thanks — and a big round of applause — is also due the community members of the Local Food Assets Task Force: Park Board's Lindsay Cole; the ever-wonderful, Trish Kelly, representing the Vancouver Food Policy Council; Ian Marcuse, of the Neighbourhood Food Networks (one of my favourite people in the city); the City of Vancouver's Wendy Mendes; former Vancouver School Trustee, Kevin Millsip (also an amazing person); Ross Moster, Village Vancouver; Jamielee Ong, Rangi Changi Roots, and Kathryn Perkins, Grandview Community Centre Association.
All of our electeds at Park Board, are owed a debt of gratitude from all of those who enjoy the beauty of Vancouver's parks, and the varied services available at our community recreation centres.
Constance Barnes. Consistently the most compelling orator around the Park Board table, a true woman of the people, advocating for families, and working to ensure ready access to all facilities in our parks. Let us hope that the incoming Park Board picks up Constance's cudgel, and works to ensure that more of our parks currently without washroom facilities will have them constructed this next four years.

Trevor Loke. The most sensitive to the public will of all of the Commissioners on the Board, consistently impressive in his reasoned presentation of argument, a first-rate chair of the very difficult to navigate Park Board Committee (where all the real decision-making goes on at Park Board), and quite simply, at 26-years-of-age (Trevor celebrating his 26th just yesterday) the single most impressive young politico in Vancouver politics.

Sarah Blyth: From the beginning, an advocate for skating parks, recreational opportunities for our youth, the most human-scale of all the "politicians" around the Park Board table, a champion of the community, and for each and every one of us, Sarah was always on our side, the Commissioner who always sought the views of the public, arose from the Park Board table at breaks, and engaged with the public. Sarah's commitment to the common weal was, at all times, impressive and demonstrative of a commitment to democracy unequalled among many who practice politics in Vancouver.

Niki Sharma. Wow! What is there to say about Park Board's most thoughtful, incredibly intelligent, best-researched, most articulate before the cameras, reporters' microphones and the print media personage, what a loss of tremendous proportion it was nine days ago that Niki Sharma was not elected to Vancouver City Council, one of my very favourite candidates for Council, a person of tremendous integrity, wit, political acumen, and just an all-around incredible human being.

Aaron Jasper. Much of what I wanted to write about Aaron may be found above. Aaron proved, consistently, to be the best "advertisement" for the many initiatives undertaken by a Park Board of which he has been a member for six years, that commitment a critical aspect of a democratic engagement with the community that elected he and his fellow Vision Vancouver Park Board to two consecutive terms of majority office.

Melissa DeGenova: Killarney Seniors Centre simply wouldn't have happened without Melissa, it's just that simple. Somehow finding a way to put up with the worst treatment of an elected official I've seen in all of my 45 years on reporting out on the political scene, Melissa emerged as a populist, a tireless advocate for the public good, perhaps the most "political" of our Park Board Commissioners, but when being political means that you're committed to achieving much for your constituents ... well, Melissa practices politics, as it ought to be practiced.

John Coupar: My favourite for last? Yes, I think so. By far the most consistently reasoned and non-political voice around the table, the Park Board Commissioner who earned the respect and admiration of all those who sat around the Park Board table, and the many thousands who attended Park Board meetings this past three years, in my three years observing John Coupar and Park Board, and in our many calls and the times we've spent together away from the Park Board table, John Coupar has proved always to be the fairest and most equitable in his judicious and humane commentary about Park Board, and his Park Board collleagues, John's outstanding commitment to the maintenance and growth of our parks and our green spaces, was more acute and impassioned than any Park Board Commissioner I've witnessed in Park Board history dating back decades.
Tonight at Park Board — amidst the hubbub of contention — will be a night for a public display of thanks, well-earned and well-deserving of gratitude, to our outgoing and very, very fine Vancouver Park Board Commissioners.
Thank you to each and every one of you. Job well done.
November 19, 2014
Ever watch the Academy Awards, or maybe the Golden Globes, or Emmy's?
Do you recall, that as the winner of the Academy Award approaches the stage, and finally makes her or his way to the microphone, staring out at the crowd, what happens next? That's right — the winner thanks everyone who got her there, usually starting off with the four other actors in the category with whom she was competing for the Oscar, everyone who starred in the movie with her, her beloved spouse and children, her parents, all the teachers who encouraged her, her agents and manager, and everyone in the crew on the set of the movie she's just worked on that helped her get to the moment where she stands before you on the stage accepting an award that was but a distant dream of her youth.
Thank everyone? An acknowledgement the 'winner' did not get here on her own, that it took a team of supporters and managers, the media, & more.
In the political sphere, as you might well imagine, the candidates on the campaign trail who challenge for office depend on the support of an army of volunteers and supporters, as well as the campaign team proper.
If I might point out one instance in particular, the John Coupar win at Park Board, whose candidacy I and many others encouraged and supported, as well as all the other Commissioners who were elected to Park Board this past Saturday, would acknowledge that theirs was not a "singular victory", but a collective win, arising from the work of a great many people.
In politics, how does one go about thanking all those who played a role in helping her or him secure victory at the polls? Well, one becomes a mensch.
Allow me to illustrate what I mean.
On election night, one of the winning candidates who just barely managed to sneak into office, set about to telephone each and every one of the candidates who had challenged for the position that my friend had just barely won, save the other 'winners'. My friend the candidate thanked the candidates who'd come forward, thanking them for their civic engagement, their challenging of all the other candidates on the campaign trail (including my friend), told them that he hoped they might run again, and finally said to them that he would be available to them should they wish to speak with him about presenting their issues before Vancouver School Board.
On post-election Sunday, my friend made a point of either visiting the homes of, calling or e-mailing or texting each and every candidate who would sit across the School Board table with my friend over the course of the next four years. In addition, my friend called, visited, e-mailed or texted every campaign volunteer, member of the media, member of the campaign team, and supporter my friend had met at all-candidates meetings, and on the campaign trail that could be reached — promising a thank you celebration during the upcoming holiday season. In addition, my friend is preparing hand-written notes, on specially-made cards, to be mailed out.

As you might imagine, following five months of campaigning, my friend was bushed — still, it was necessary my friend felt, to reach out. During the course of the campaign, I wrote about the nascent 2005 candidacy of Spencer Herbert-Chandra (who since has written to thank to your humble correspondent — would we expect any less from Spencer), writing ...
In the 2005 COPE campaign, at the tender age of 24, Spencer Chandra-Herbert first ran for political office, as a Park Board candidate. Everyone in the campaign office hated him, his fellow candidates, the campaign team, everyone. Everyone that is except the voters, and me — I loved Spencer, and the energy he brought to his campaign for office.

Spencer was the only candidate with his own website — which drove all the other candidates nuts. Spencer posted to his fairly rudimentary website everyday. Facebook was a new-fangled social media tool — Spencer had a Facebook account, to which he posted several times a day (remember now, this is just months after Mark Zuckerberg had taken Facebook live). Spencer didn't sleep, he was everywhere all the time, nattily dressed, with his every present chapeau, a big grin, a hand outreached to shake yours, looking right at you, deep into your soul.

Spencer remembered the name of every person he met on the campaign trail, and not just their names, but some detail about them, their family, or an event of consequence that had occurred in their lives. I am often surprised when I run across Spencer, not having seen him for a year or 18-months, that he comes up to me, shaking my hand, saying, "Ray, it's so good to see you. How have you been?" And you know, he means it, he wants to hear about you, what's going on in your life.

The secret to political success, and to getting elected, and re-elected again and again? Spencer Chandra-Herbert has written the book.
Spencer is a mensch, the friend of whom I've written above: a mensch.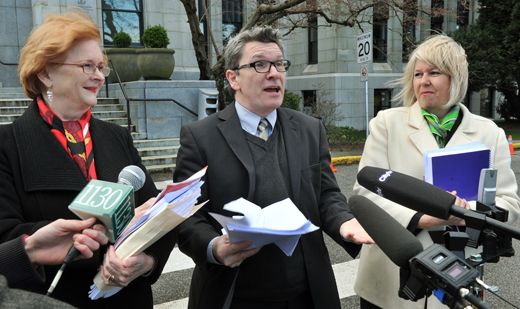 Elizabeth Ball, George Affleck, and Adriane Carr Working Together For The Benefit Of All
Last evening, I received a note from newly re-elected to a third term Non-Partisan Association city councillor, Elizabeth Ball, who wrote ...
Dear Raymond,

Weep I did at my victory on Saturday night, and send so many thanks for your kindness. I always enjoy your company and look forward to a chat soon.

Am having a wild fling with an end of campaign cold, so have no voice but should be back next week.

Isn't it great to see so much good and interesting theatre and music in town! Am looking forward to all the holiday shows, and then PUSH in the new year. Amazing growth eh?

Wishing you all the very best,

Elizabeth
As busy as you might imagine our third term city councillor to be, and given the travails of a campaign cold, Elizabeth Ball still found time to reach out.
Amazing!
On Tuesday evening, I asked newly-elected Vancouver Park Board Commissioner Stuart Mackinnon to reach out to a person with whom a great many of us had worked, on the Save Kits Beach coalition. About half an hour after receiving my brief note, Stuart wrote back to say ...
All things calm.

All thing bright and beautiful.
Among other thoughts that ran through my head, upon receiving Stuart's note, were, "Thank God we've got someone possessed of wit and intelligence, and a warming sense of humour (Vision Vancouver's Catherine Evans, as well, unless I miss my guess) in our civic life in Vancouver.
Over the course of the recent election campaign, COPE School Board candidate Diana Day reached out to me each day she was on the campaign trail; we ended up corresponding regularly, as we do to this day.
You know, Raymond, I hope the newly-elected School Board Trustees have the political will to do the right thing by the Aboriginal students — it's just heart breaking that there are no mini schools for vulnerable aboriginal youth to attends — but I am glad that newly-elected Green School Trustee Janet Fraser spent some time with us at the Aboriginal Mother Centre, and heard first hand about the racism and discrimination that exists, and is directed towards not only aboriginal students but staff as well.
On election night, Diana Day contacted me to thank me for endorsing her candidacy — we've corresponded every day since.
Next time, in 2018? I'll move the sun, the Earth, the moon, the stars to work towards a victory at the polls for Diana Day. We need a voice at the Park Board table to represent vulnerable aboriginal youth.

My neighbour, David Cubitt wrote to me last evening, writing, "Thank you, Raymond, for your untiring efforts to bring about change, and for the useful / invaluable information you have provided to me, and to all who read your informative blog during the recent civic election campaign."
As I've written on social media — politics is a people business.
Beginning in 2005, with the election of Sam Sullivan as our Mayor, a new, meaner, confrontational and less humane era began in Vancouver civic politics — utterly unique, and regrettable, the level of civil discourse reduced to an all-time low, with little civility shown for the opposition councillors.
The level of discourse at City Hall has not improved since.
Today, on VanRamblings, I call for a return to civil municipal government.
In 2014, let us enjoy a renewed civic discourse.
To our elected politicians in Vancouver municipal government, a plea: please, reach across the table to members of all the parties on the body on which you sit, who were elected to office and who are not your own, so that together you might work in the interests of all those who elected you, let us witness a return to an approach to civic government in Vancouver that once was, and can be again, an achievable and necessary goal.
Of course, there will be disagreements on policy — that is to be expected, and desirable. Socratic discourse, the exchange of ideas in service of the public good is a necessary component of a thriving and vital democracy.
Today, I call on John Coupar, a friend and one of the most humble and good men of my acquaintance — who soon will lead one of the two civic bodies where a civic party holds a majority — to reach out to the newly-elected Green members of Park Board, Stuart Mackinnon and Michael Wiebe, and to Vision Vancouver newly-elected Park Board Commissioner, Catherine Evans, and assure them your administration will dedicate itself to a civil discourse, and respect for the opinions of all Park Board Commissioners who will sit around the Park Board table this next four years.
Let the divisiveness of the past be just that, in the past.
John Coupar: Ensure that your message of a new era of co-operation is a clarion one, one that safeguards against the utterly regrettable, perceived arrogance and meanness that for many defined the previous Vision Vancouver Park Board civic administration, that in the forthcoming John Coupar-led Park Board administration, all the elected NPA Park Board Commissioners will work towards a new era of co-operation and accommodation around the Park Board table, in the interests of all Park Board Commissioners, and in the interests of all the citizens of our city.
November 18, 2014
On December 1st, a new Vancouver Park Board will take office.
The Non-Partisan Association, with the support of VanRamblings and in support of incoming Park Board Chairperson, John Coupar, with a goodly number of the public, were elected to a majority position around the Park Board table: second-term Park Board Commissioner, John Coupar, will be the individual his majority NPA party colleagues — Sarah Kirby-Yung, Erin Shum, and Casey Crawford — will choose to lead them over the next year.
The remaining, newly-elected members of the Vancouver Park Board include the Green Party of Vancouver's Stuart Mackinnon, who held office on Park Board from 2008 til 2011, his fellow Green Party elected, Michael Wiebe, and lone Vision Vancouver Park Board elected, Catherine Evans.
The most politically astute politicos sitting around the Park table are Stuart Mackinnon and Catherine Evans, both veterans of the political wars, savvy, extremely bright, community-oriented politicos, Stuart Mackinnon's claim to fame his dedication to democratic governance and community involvement in Park Board decision-making, and Catherine Evans — appointed to the Board of the Vancouver Public Library in 2009, and most recently, Chairperson of the Board, and more than any other of the newly-electeds, an individual who throughout her adult life has dedicated herself to building consensus, in the community, as a member of Boards on which she sat, and in every other endeavour in which she has engaged, where it was necessary to move forward collectively, wholly, in the best interests of all.
Needless to say, Vancouver voters were wise to elect Catherine Evans — who topped the polls this Saturday evening past, with 64,707 votes, quite clearly, the consensus choice of the people — and Stuart Mackinnon (56,406 votes), the Green Party running their 2014 campaign for office on a shoestring budget, approximately 5% of that of the two mainstream parties, Vision Vancouver and the Non-Partisan Association, to Park Board.
As anyone who reads VanRamblings on a regular basis is aware, we are more than a little over-the-moon about the Non-Partisan Association's incoming Chairperson, John Coupar, for most assuredly, one of John's NPA colleagues will nominate him for the position of Chairperson of Park Board.
John Coupar Wins Re-Election | Photograph by: Wayne Leidenfrost , PNG
VanRamblings had hoped for a unanimous vote of support for the principled & utterly humane Mr. Coupar, a defender of Vancouver's parks system like no other — you may wish to read VanRamblings' profile of Mr. Coupar, for an insight as to why we have written so generously about the man, about his character and integrity, and commitment to public service.
As of Monday, November 18th, the prospect of John Coupar's ascension to the role of Chairperson, Vancouver Park Board, receiving the unanimous consent of all of his Park Board Commissioner colleagues sitting around the Park Board table would very much seem to be in doubt.
When John Coupar was running for a second term at Park Board, his platform was a simple, but transformative: restoration of a parks system that had been desecrated and allowed to fall into abandon under an overly politicized Vision Vancouver Park Board, and an early resolution of the almost two-year-old dispute between six of Vancouver's community centre associations, and the previous Park Board and City of Vancouver, the latter charge led by the — it has always seemed to VanRamblings — none-too-psychologically stable City Manager, Dr. Penny Ballem.
On this Sunday past, on the day following Saturday's surprising, and not-so-surprising, Vancouver civic election vote, VanRamblings had contact with Stuart Mackinnon, who indicated he was in partial agreement that ...
A majority Vancouver City Council will subvert everything that Park Board will attempt to do — which, of course, doesn't meant that a Park Board led by John Coupar and Stuart Mackinnon won't be a strong defender of our beleaguered parks and recreation system, but rather that Vision Vancouver will attempt to starve the Park Board of funds, and go to war with a Park Board no longer under its control, employing the ugliest of tactics, while undermining their own elected, Catherine Evans, who is a good person, and someone the entire Board will both enjoy working with, and from whom the Board has much to learn.

To be perfectly frank, Stuart, I have concerns in respect of John Coupar's fitness to lead the fight, and the possible consequences for his health. John's goals as a Park Board Commissioner have been simple ones, and are what brought him into public life: John Coupar wishes to serve the public, and to protect the integrity of our parks.

Certainly none of the other NPA elected are capable, or possess the political sophistication necessary to take the fight to Vision (at least not yet). In fact, it very well may be you, Stuart, who in the coming years emerges, at some point in the future, both as the Chair of the Park Board, & the public face of the defense of the interests of all of us who have a deep caring for our Vancouver parks and recreation system.

I have no doubt that you are up for the fight, if it comes to that.

I am concerned, at present, for the employment of Park Board General Manager, Malcolm Bromley, with whom I have very much been impressed since his arrival from Ontario, in 2010. At the time Malcolm was hired, City Manager, Dr. Penny Ballem, changed the terms of his employment contract, such that as had always been the case previously, and was the case with the outgoing Park Board GM, Susan Mundick (who was "dismissed" in 2010), the incoming PB GM would report not to the Park Board Chair, but to her — creating divided loyalties for Mr. Bromley.

Malcolm Bromley has proven in his short time at Park Board to be a forward-thinking, dedicated public servant, who has well-served the public interest, a person of integrity and character who in the most difficult of circumstances, has somehow managed to troll the roiling waters of discontent between the City Manager's office, and Park Board — even during the tenure of the Vision Vancouver-led Park Board — that did not always do the bidding of the notoriously demanding, brooks no dissent, it's my way or the highway, City Manager.

I believe that Vision Vancouver will almost certainly move to make application to the provincial government to change the Vancouver Charter, to convert the independently-elected Park Board into a Committee of Council, employing an argument of citizen indifference (bordering on hostility, among some members of the public, they will say) to Vancouver Park Board, the Park Board as just another level of government that "drains the taxpayers' pocketbook."

In such a scenario, Vancouver Park Board would certainly mount a vigorous defense of the interests of Park Board and all it represents, no doubt reminding Dr. Ballem and the members of Vancouver City Council that the Vancouver Charter clearly stipulates that dissolution of Park Board requires a 2/3 majority vote of Park Board Commissioners — to which Vision Vancouver would almost certainly reply, "Application has been made to repeal that particular section of the Charter."

Clearly, an action in Supreme Court would ensue, which would be funded out of the public purse. As anyone who has followed the decision-making thought processes of the estimable Dr. Ballem, and the elected Vision Vancouver members of Council, the office of the City Manager, with the full support of the Vision councillors, would move to deny Park Board the necessary funds to mount a legal defense of the position of Park Board, before the Courts.

Make no mistake: the next four years at Park Board may very well prove gruelling, indeed. Park Board Commissioners will have to keep a wary eye on those persons at City Hall who, to the public detriment, would use Park Board as their political whipping boy.

Job number one for the incoming Park Board must be to seek the support of the broadest coalition of members of the public, and to maintain and build on that public support for one of Vancouver's most cherished instituitions.

Now is not the time for division on Park Board, nor among members of the public who present to Park Board, and whose interests are many and varied. Park Board, with the generous support of the citizens of Vancouver, must become a united force in defense of Vancouver's much-beloved — and, perhaps, imperiled — Vancouver parks and recreation system.
Given the potential for a circumstance such as the one described above to unfold, VanRamblings was surprised and very disappointed to read of incoming Park Board Chairperson John Coupar's decision to, as his first order of business around the Park Board table to reverse a motion passed by the outgoing Vision Vancouver Park Board, to ban the breeding of cetaceans in captivity at the Vancouver Aquarium, perhaps the single most divisive issue he might have chosen to engage as he and his Park Board colleagues undertake a restorative programme of change at Park Board, in defense of Vancouver's very much untended to and beleaguered parks system, and in defense of Vancouver's beloved community centres, which have suffered from the hostile actions of City Manager, Penny Ballem, and the Vision Vancouver majority administration at Vancouver City Hall.
VanRamblings posted the following to Facebook last evening ...
[Update: Apparently, John Coupar has left the employ of the company which put him into conflict. The NPA's reverse motion will pass 4-3]
Green Party of Vancouver Stuart Mackinnon's first public pronouncement related to the Supreme Court action this upcoming Thursday, as Mr. Mackinnon mounted a vigorous defense of Vancouver's community centre associations — one expects because it is the most important issue that should be of concern to the incoming Park Board Commissioners, an issue on which all Vancouver citizens are united, and one of the primary reasons there remains on the Park Board, only one lone member of Vision Vancouver, and the least partisan member of Vision Vancouver, at that — John Coupar, in all his infinite wisdom and lack of political astuteness — expounds on the single most divisive issue that has come before Park Board in 2014, an issue that reached compromise resolution this past July, following the presentations of more than 90 members of the public — and many, many more protesting outside — who expressed their reasoned opposition to the continued containment of whales, and other cetaceans, at the Vancouver Aquarium.
In respect of the about-to-become newly-elected Chairperson of the Vancouver Park Board, the estimable John Coupar, VanRamblings does not express concern that Mr. Coupar would act to fulfill a campaign promise that was made by NPA mayoral candidate, Kirk LaPointe, in the early days of his campaign for office — and a platform tenet about which VanRamblings expressed deep concern to Mr. LaPointe, as a divisive issue, and one that was ill-suited to a candidate for office who was attempting to present himself as a mayoral candidate for "all the people".
Ainslie Kwan, President, Killarney Community Centre Society, in Supreme Court Thursday
Rather, VanRamblings' concern relates to the inadvisability of John Coupar choosing as divisive an issue as reversing the motion on the ban of the breeding of cetaceans in captivity, as an issue of primary concern that he would express to the public (in a most unfortunate joking manner on Global TV last evening), as his first order of business at the Park Board table.
Surely, Mr. Coupar, the pending court case on Thursday must be of greater concern to you, and to your Non-Partisan Association colleagues, more deserving of your collective attention, and deserving of an outreach to the incoming Green Party of Vancouver Park Board Commissioners than moving forward a reversal of a motion — that had you left it well enough alone — would simply have died on the order paper. You should know better.