Television
December 22, 2013
VanRamblings' two favourite times of year occur from mid-July through the end of August, a six-week celebration revolving around the anniversary of our coming to this Earth (at least in this incarnation, in this time and place and history of life on our planet), and the period beginning in mid-
November through until December 31st. We have long been a romantic about most aspects of life, and love the idea of simply taking a bit of time off from the hurly burly of our everyday, and often too busy, life to reflect on the conditions of our existence, a deep and abiding reflection, a process in which we seek to provide meaning, context and, perhaps, resolution.
Within that contextual framework is contained our love for the arts — dance (we love the ballet), music (mostly of the pop culture variety, although we love progressive country), film, anything tech-related, literature, television, and the art of politics, which is to say, the political maelstrom that is public engagement early in this new millennium.
In this first of five columns on the Best of 2013, we'll survey a cross-section of critical opinion on the best music of the year, much of which art you may have been utterly unaware of prior to the writing that'll appear below. As a means by which to introduce new music into your life, there is no more salutary event than that which occurs at year's end, as you (and I) become aware of the music of our age, through a survey of informed critical opinion — always a life-enhancing event offering steadfast insight, in the most propitious, enlightening and expedient manner possible. Yippee!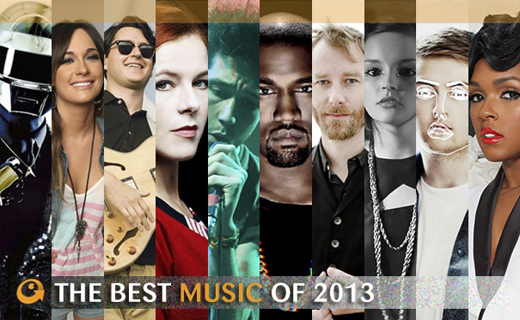 There was a time, in recent years, when we turned to Salon (in its heyday, in the late 90s through 2005), Rolling Stone, the now defunct and the much-missed Blender magazine, but since 2009, Popmatters has been the go-to place for insight into the Best Music of the Year. Yes, we know there's NME and Paste (now available online only), Q, Pitchfork, Mojo and more, but we'll stick with Popmatters, at year's end, for our annual hit of unexpected and oh-so salutary musical insight.
Here's Popmatters 'best of music' home page, detailing the 75 Best Albums of the Year, Best Canadian, Country, Metal, Indie-Pop, and more ...
Making Popmatters' 75 Best Albums of 2013 list, at 72. The Boards of Canada; at 63. the ever-present Lorde; at 47. David Bowie's The Next Day; 42. Julia Holter (a favourite of our friend, J.B. Shayne); 38. Rhye, to whom we introduced you earlier in the year; 27. Queens of the Stone Age; 24. Our very own Tegan and Sara; at 9 and 8, the breakout bands of the year, Haim and CHVRCHES, and at number one ... well, who else would you expect? But you'll have to read through to be sure you guessed right.
One of our favourite discoveries is a duo out of England, with whom our son Nathan has long been familiar, but is new to us this year: 4. Disclosure, who represent the very best danceable British garage house music of 2013.
Now, make no mistake, there's more, a great deal more ...
And, of course, much, much more.
In the The Best Country Music of 2013 category, we discovered a couple of artists with whom we were not previously familiar, Brandy Clark, and our favourite roots, working class, progressive country find of the year, Kacey Musgraves, who's making a whole tonne of Best Of lists in 2013.
We leave you, dear and constant reader, with a survey list of the Best Music of 2013, critical reception from some of our favourite publications ...
Lots to listen to, lots to grok. Good luck. Enjoy. Merry Christmas!
June 29, 2008
| | |
| --- | --- |
| Broadcast time in Canada, Season One of Mad Men: Sundays, at 10 p.m., on CTV | |
One of the great delights that VanRamblings has experienced with our new Telus HDTV system occurs each Sunday evening at 10 p.m. when we tune into AMC / CTV's ground-breaking Mad Men television series, an odds on favourite to pick up a whack of Emmy's come September 21 on ABC, and most assuredly the best show of the otherwise woeful summer TV season.
Tracking the machinations within a swingin' 60s ad agency, "when guys wore narrow-lapelled suits and guzzled bourbon", Mad Men emerges as outstanding period television drama (and far superior to its period drama competition, the pandering 70s CBS summer drama, Swingtown).
Mad Men excels because of its universally superior and eminently identifiable performances, an unusually sophisticated storytelling style rarely found on broadcast television, a wonderful evocation of time and place, as well as its arresting visual style (even more appealing in HD). As Tim Goodman writes in the San Francisco Chronicle, Mad Men emerges as "an adult drama of introspection." One could hardly wish for more this summer TV season.
June 27, 2008
Here it is summer, the days are warm and the sun shines, and what has VanRamblings all excited? HDTV. That's right, High Definition Television.
Yes, in the sweltering days of summer, VanRamblings has signed on to the Telus HDTV package, replete with 57 channels and nothin' on (well, actually, there are more like 175 channels, and nothing to watch). Be that as it may, we're still pleased that we switched to Telus TV.
And why might that be? Because we've saved money on our home phone, Internet and TV package -- with more goodies than we had before -- over what we'd been paying previously. Here are the Telus TV packages ...
Being cheap, VanRamblings went for package number 1, including ...
Total cost of the package: $95.95 + $15 = $110.95, plus tax.
Telus Optik TV Channel Guide, June 8, 2011
Well, hold on a minute. Things aren't quite what they seem at first glance. There were some hiccups that occurred on the way to achieving HDTV bliss.
First off, according to the somewhat confused folks who initially answered the phone at Telus TV in late June, if you want almost all of the HDTV channels available in Canada (the few of those that are currently offered), as well as most of the U.S. networks that are broadcasting in HDTV, we were told, latterly, that you have to sign up for theme packs that include those channels. HDTV for those channels is not automatic. Well, if you have a look at the Telus HDTV page all of the HDTV theme packs come in at $15. Which is where Telus gets its $15 HDTV subscriber "come on" from.
But the Telus TV folks told VanRamblings that subscribers have to subscribe, at a cost of $6 for each theme pack, to the conventional digital theme packs that include those HDTV channels. And pay $15 more to watch those channels in HD. Confusing. Misleading. And off-putting.
So, if you want the Discovery Channel, the Time Choice channels, Movie Central HD, TSN and Sportsnet HD (which broadcast out of Toronto), you'll end up paying another $24, plus another $15 for those channels in HD! Telus HDTV isn't quite what it seems, then. Not good. We were not happy.
On top of that, Global TV Vancouver HD is not (currently) available on Telus HDTV, although it is available to Shaw and Bell satellite subscribers.
Locally, only CBC broadcasts the local news in HD. Global news programmes may go HD in the autumn, BCTV's engineer told VanRamblings; hopefully Telus will have initialed a broadcast agreement with GlobalBC by then. CTV Vancouver broadcasts most American programming in HD, but not their news programmes. CTV Vancouver promises full HD by 2010, in time for the Olympics, which will likely mean sometime towards the end of next year.
Telus also does not currently offer a PVR, as Shaw does, so subscribers cannot record HDTV programming for viewing later.
Shaw, if you indicate that you're leaving them for Telus will offer you a bundle package, including Shaw High Speed and IP Home phone with unlimited long distance in North America, for $95, plus $29 more for the HDTV package. But VanRamblings did not want to move to Shaw at this point, although we were most recently on Shaw's digital TV package.
VanRamblings called Telus TV to express concern about their confusing and misleading advertising, and commitments not met, and was forwarded to Telus' Loyalty and Retention division (where we found some fine folks).
Telus finally stepped up to the plate, and during the course of a quite pleasant discussion about what we had been promised at the time we signed up for Telus TV in May, not to mention the information that appears on their website, we arrived at a joint agreement which offered VanRamblings: 3 months of Telus TV (including HDTV) for free -- so VanRamblings won't begin paying for TV til October -- with an additional $144 in credit on VanRamblings' Telus account, for a total saving of $330.
Beginning October 1st, VanRamblings will pay $136, plus tax, each month, for the phone (with call display and call waiting, plus 200 minutes of long distance, monthly, in North America), high speed enhanced Internet, and the essentials TV package, plus 5 theme packs. VanRamblings will receive almost all of the HDTV channels available in Canada with this agreement.
If VanRamblings deducts the $144 credit offered by Telus, as well as the $186 three month saving on the TV / HDTV that was agreed to by the Loyalty and Retention division, VanRamblings' monthly HDTV / telephone / Internet package, in reality, will come to only $108.50 per month.
VanRamblings can live with that. Cheaper than Shaw, with a decent service.
Come fall, though, when we switch to the five theme packs from the full-meal deal that VanRamblings is receiving for the next three months for free, we expect trouble with Telus (not to mention, we're not sure that we want five theme packs).
So far Telus has not been great at keeping their word, or being consistent from Telus salesperson to Telus salesperson as to what Telus offers respecting HDTV, and how much that will cost a subscriber. Come late September, chances are that we'll end up writing more about Telus TV and what shenanigans, if any, Telus may be up to at that time. Stay tuned.
August 29, 2005
The weather is cooling, the sun seems to be heading back behind the clouds, and the rains appear to be on their way. What does this mean for most of us? Yes, the fall TV season is about to commence.
This year the fall television season is set to kick off a bit early with the début tonight of Prison Break, one of the more lauded new shows of the fall TV season. Globe and Mail television columnist John Doyle writes ...
Prison Break (Fox, Global, starts Monday) is about a guy who goes to prison to get his brother out. He's got the blueprint of the prison's design tattooed on his body. That's the gist. Fast-paced, kinetic, moody and filled with characters either brutal or beatific, it grabs you by the throat and takes you on a wild ride. Michael (Wentworth Miller) is the hero. His brother, Lincoln (Dominic Purcell), is on death row and scheduled to die in a few months. As Michael sees it, Lincoln has been framed for the murder of the brother of the vice-president of the United States. There's been a cover-up and, in some way, the Catholic Church is involved. The prison setting is dangerous and filled with foreboding. The warden (played by Stacy Keach, who did time in prison in England in the 1980s) is well-meaning but wary of Michael and Lincoln. Heavily promoted by Fox, the series gets a jump-start by launching this week. With little else new to watch, it could get viewers instantly hooked.
John Crook, reporting for zap2it.com, provides some background on Prison Break. USA Today's Bill Keveney also weighs in on tonight's début of Prison Break, as does USA Today critic Robert Bianco, who says "check it out".
Meanwhile, The Vancouver Sun's Alex Strachan says, "a breakneck-paced thriller about a prison break will make the weeks fly by before a new season of 24 débuts in January ... Prison Break is a fast-paced, rousingly good entertainment — a rock 'n roll roller-coaster ride that hurtles along the tracks like a runaway train." Strachan awards Prison Break an A- rating.
The fact that first-rate actors Peter Stormare (Minority Report, Chocolat) and Robyn Tunney (The Craft, The Secret Lives of Dentists) have opted to set aside their movie careers in order to star in Prison Break speaks volumes about its probable quality. The series débuts tonight at 8 p.m. on your local Global TV outlet (BCTV locally), with a 2-hour season première.
Update: Following a week of fun and frolic, VanRamblings finally got around to watching the 2-hour season première of Prison Break. Our assessment, overall: comme çi, comme ça. Although the actors' performances are across-the-board solid and praiseworthy, the writing is at best pedestrian, the production values (camera work, cinematography) second rate, and the story line cheesy and requiring of such a level of suspension of disbelief as to pull you out of the narrative. The good thing? We won't be adding Prison Break to our regular television viewing this upcoming fall TV season, allowing us time instead this autumn to pine away for lost love, now found.
September 15, 2004
It's 'Happy Days' again on ABC
To mark the 30th anniversary of one of its most-loved sitcoms, ABC is holding a reunion for the Happy Days cast — even Chuck will be returning.
The reunion show, set for later this season, will bring together nearly all of the core cast from the long-running show, including Ron Howard, Henry Winkler, Tom Bosley, Marion Ross, Anson Williams, Don Most, and Erin Moran. Gavin O'Herlihy and Randolph Roberts, who played Richie's older brother Chuck during the show's first two seasons, will be on hand, as will series creator Garry Marshall.
Whether Marshall will explain what happened to Chuck — who was never heard from, seen, nor even mentioned after the show's second season — remains to be seen. In addition to the original cast, Scott 'Chachi' Baio, Ted 'Roger Phillips' McGinley, Penny 'Laverne' Marshall, Cindy 'Shirley' Williams, Pat 'Arnold' Morita, and others who played recurring or regular roles during the 11-year run of Happy Days will also appear on the special.
Final 'Jeopardy' for all-time champ
Want to know the fate of all-time Jeopardy! champ Ken Jennings? If not, look away now. For those still reading, several sources are reporting Jennings has finally lost, following a record-breaking run that stretched over parts of two seasons and saw the Utah software engineer rack up seven-figure winnings. Jeopardy! tapes its shows weeks in advance, so Jennings' final episode will likely air in October.
News of the Jennings loss, in his 75th game, was first reported on a blog called Kottke.org (highlight the blacked-out portion to read the contents), the tip coming from someone in the Jeopardy! audience last Tuesday. The trade magazine TV Week confirmed with sources close to the show that Jennings was indeed done. A spokesperson for Sony Pictures TV, which produces the long-running game show, said show officials "have never disclosed whether a contestant has won or lost before a show has aired."
Jennings' total prize money to date exceeds $1.7 million. He reportedly leaves the show with more than $2.5 million in total winnings.
September 8, 2004
SCRUBBING IN: Former ER star Julianna Margulies will check into a different hospital for a November sweeps guest role on Scrubs. Tom Cavanagh (Ed) will also appear on the show, reprising his role as J.D.'s (Zach Braff) older brother for two episodes scheduled for October. Margulies, a six-time Emmy nominee for playing nurse Carol Hathaway on ER (she won the award for best supporting actress in a drama in 1995), will play a malpractice lawyer who catches J.D.'s eye.
FOX MAKES ROOM FOR LEGUIZAMO: Emmy winner John Leguizamo is working with FOX to develop a comedy based on his life. The show would follow Leguizamo as he juggles his responsibilities as a husband and father with the demands of his career. It's said to be cut from similar cloth as the old Danny Thomas show Make Room For Daddy. The project has a script commitment from the network. Leguizamo will star in and executive produce the show with writer Peter Murrieta (Greetings from Tucson), according to The Hollywood Reporter.
FOX'S NEXT GREAT CHAMP A CHUMP: The series première of FOX's The Next Great Champ met with a resounding thud as the reality entry finished a distant fourth place in both households and adults 18-49 in the 9:00 / 8:00c hour (3.5/6). CBS took Tuesday top honours with a repeat of Navy N.C.I.S. and new episodes of Big Brother 5 and The Amazing Race 5 (7.0/11). NBC was second (5.6/10), followed by ABC (4.6/8).
CBS ANNOUNCES ORIGINAL SUNDAY MOVIE SCHEDULE: Kirstie Alley, Peter Falk, Anne Heche, Rosie O'Donnell, Christina Applegate, Diane Keaton, Jack Palance, Faye Dunaway and Ellen Burstyn are just a few of the stars set to appear this season on CBS' Sunday original movie franchise, the only regularly scheduled one of its kind on television today. The Futon Critic has published the full list of CBS' original Sunday night movies.
September 1, 2004
This week, VanRamblings' regular Wednesday television feature presents the American fall 2004 TV network grids. Last week, VanRamblings pubished the fall 2004 television season première schedule, available here. VanRamblings continues to update the season première schedule as new information becomes available, so it's probably worth your while to check out the revised and updated première schedule from time to time.
Tonight, though, please find below the American nightly prime-time network grids. As of the date of publication, the bracketed information indicates the series première date. This information is subject to change.
That's it for this week. TV links available below and to your left.
August 25, 2004


As promised last Wednesday, directly below this week VanRamblings publishes the fall 2004 television season première schedule, commencing later this month, and continuing through the end of September. For the full 2004 season première schedule, through mid-November, click here.
In most cases, clicking on the links below will take you to the show's network website, where a preview video of the season première is available.
(Check back regularly, throughout the months of August and September, as this item will be updated regularly with new content, revised season première dates — the networks continue to switch première dates — and other salient programme information, as it becomes available.)
Monday, August 30th
Fear Factor ... NBC, 8 p.m. Can you believe this series is on NBC, and not FOX? Highlights of the action-packed new season of Fear Factor, hosted by Joe Rogan, will feature family feuds in the form of episodes showcasing siblings, twins, entire families and a multi-part couples competition; all-female and all-Miss USA contestant episodes; a return to Las Vegas; a road trip to New York City; holiday episodes celebrating Hallowe'en and Christmas; and a two-hour season première with a $1 million prize.
Last Comic Standing ... NBC, 9:30 p.m. Last Comic Standing 3 will offer more than just an NBC Universal Studios talent deal and Comedy Central special to its winner. Instead, Last Comic 3 will feature over $500,000 in prizes, to be awarded throughout the season.
The Complex: Malibu ...FOX, 8 p.m. (2 hours). Move real-life couples into a cliffside apartment building in Southern California's coastal enclave of the rich and famous, put their construction, interior design and, most importantly, their relationship skills to the test with the chance to win a large cash prize. Home renovation under normal circumstances can be stressful enough to tear a relationship apart, but when couples are forced to keep within a tight budget and faced with strict deadlines and competitive neighbours, the stakes are even higher. Following a special two-hour première tonight (8 p.m.), the series will air in its regular timeslot on Fridays at 8 p.m., commencing later this week.
Tuesday, August 31st
Father of the Pride ... NBC, 9 p.m. The networks' first all-CGI prime-time show looks cute, but given that Roy Horn of Siegried and Roy (animated stars in the series) almost died at in the paws and jaws of a tiger last Christmas, there's a quease-inducing aspect to this new show.
Scrubs ... NBC, 9:30 p.m. Zach Braff hits it big with his Sundance award-winning Garden State, and now he's back for a fourth season of his hit TV series, this time starring opposite Heather Graham. Lucky guy.
SEPTEMBER
Wednesday, September 1st

Hawaii ... NBC, 8 p.m. Sharif Atkins gave up his role on ER for this? The early reviews (and here) for the series offer faint praise, indeed.
Renovate My Family ... FOX, 8 p.m. (2 hour preview). Hosted by author Jay McGraw, the son of Dr. Phil McGraw. In the première episode of Renovate My Family, the Biggins family from Trading Spouses: Meet Your New Mommy will pursue their goal of enriching their livelihood by allowing Family Time's makeover team into their lives. Will Al-Mela, Anthon, Chrishara, Zikea, and little Omar be ready for a lifestyle examination and reformation?
Monday, September 6th
North Shore ... FOX, 8 p.m. (returns). A guilty pleasure to be sure.
The Complex: Malibu ...FOX, 9 p.m. (2 hours). The regular time slot.
Tuesday, September 7th
Next Great Champ ... FOX, 9 p.m. Yet another reality programme, this one a reality-competition boxing show more infamous for going head to head with producer Mark Burnett (Survivor) and Sylvester Stallone, who have their own NBC reality-competition boxing show, called The Contender, scheduled to début in November.
Wednesday, September 8th
That '70s Show ... FOX, 8 p.m. The website Pop Matters seems to really like, I mean really like That '70s Show. Who are we to dispute their wisdom?
Quintuplets ... FOX, 8:30 p.m. Andy Richter's latest series, on track to be the first show of the new season to be cancelled according to Chris Ryall. Meanwhile, The Hollywood Reporter slags the series, writing that the series is "limited by material without sufficient punch or panache."
The Bernie Mac Show ... FOX, 9 p.m. Inspired by Bernie Mac's life, the half-hour comedy will continue to explore Mac's unique views on parenting. Winner of the prestigious Peabody and Humanitas Awards, an Emmy Award for outstanding writing for a comedy series, two NAACP Image Awards for outstanding comedy series, and honoured by the Television Critics Association for outstanding achievement in a comedy and for individual achievement in a comedy for Mac, all the series needs is more viewers.
Method & Red ... FOX, 9:30 p.m. A fish out of water comedy à la The Hughleys, this one's been a critical favourite from the start. One to watch.
Thursday, September 9th
Joey ... NBC, 8 p.m. Only the most hotly anticipated show of the fall season find Joey in Hollywood. This one has can't miss written all over it.
Apprentice 2 ... NBC, 8:30 p.m. (90 min). The Donald's break-out TV series will première after the highly anticipated kick-off of Joey, the network's Matt LeBlanc-lead spinoff of Friends. More unwatchable TV.
Medical Investigation ... NBC, 10 p.m. The Practice's Kelly Williams will add heart to this otherwise confusing / confused series. Have a look at the preview and see what you think.
Saturday, September 11th
Cops ... FOX, 8 p.m. As journalist, curmudgeon, muckraker, political gadfly, atheist, linguist and conservative dissident H. L. Mencken once wrote, there's no underestimating the intelligence of the American public. Number one in its time slot each week for 17 years. Who'da thunk?
America's Most Wanted ... FOX, 9 p.m. At least this show helps capture the bad guys. Their evil-doer's hotline: 1-800-CRIME-TV.
Sunday, September 12th
Steve Harvey's Big Time ... WB, 7 p.m. (double half-hour episode). Award-winning comedian Steve Harvey teams up with Emmy award-winning executive producer Madeleine Smithberg (late of The Daily Show and Late Night with David Letterman), as the show searches for people across the United States who possess unusual hobbies or off-beat talents, and stories that are (hopefully) humorous, heartwarming, engaging and watchable.
Charmed ... WB, 8 p.m. Republican and staunch Bush supporter Nick Lachey will join the series this season as Alyssa Milano's new love interest. The big question: will we hear the 98° boy croon? Only time will tell. Late addition: former Dawson's Creek co-star Kerr Smith will join the series.
Jack and Bobby ... WB, 9 p.m. Taking place mostly in the present day, when it follows brothers Jack and Bobby McCallister (Matt Long and Logan Lerman), one of whom is destined to be elected president in 2040, the much-anticipated series from Dawson's Creek and Everwood creator Greg Berlanti also stars Christine Lahti (Chicago Hope) as the boys' mother.
Monday, September 13th
Las Vegas ... NBC, 9 p.m. The breakout hit show of the 2003-04 television season, this fast-paced, sexy drama follows the elite Las Vegas surveillance team charged with maintaining the security of one of "Sin City's" largest resort casinos. Big Ed Deline (James Caan), former CIA, is the head of the surveillance team for the Montecito Resort & Casino. Along with Nikki Cox and Josh Duhamel (in particular) in central roles Las Vegas has proved to be one of television's most watchable ensemble dramas.
LAX ... NBC, 10 p.m. You've had a look at the glossy preview, you just love Heather Locklear and Blair Underwood, and the whole idea of security breaches, tearful reunions, illegal immigrants, missing children, runaway animals, drug busts and drunken pilots at the world's 3rd largest airport ... I mean, can you wait for the première til Monday, Sept. 13th at 10 p.m.?
The Benefactor ... ABC, 8 p.m. Mark Cuban, the billionaire founder of Broadcast.com (purchased awhile back by Yahoo!) and owner of basketball's Dallas Mavericks, will give away $1 million to one of 16 lucky contestants on the show, to be aired at 8 p.m. on the East Coast or after Monday Night Football on the West Coast. The supposed criteria for winning the big bucks? Character, intelligence, heart and, maybe, just a little bit of luck. There's a 6 minute preview available here (you'll have to give the preview 10 minutes to load, though, as it's a large file).
Monday Night Football ... ABC, various start times across the country. The question going into Season 35 is Will ABC Sack Monday Night Football? Analysts say that ABC is losing about $250 million a year, and $150 million of that is due to the exorbitant $550 million annual fee ABC pays to the National Football League to air the programme. ABC, which is in contract renewal negotiations with the NFL, might be hard-pressed to swallow another gargantuan NFL fee increase — even though the programme has been the network's top-rated show for the last three seasons.
7th Heaven ... WB, 8 p.m. 7th Heaven returns for a record 9th season with a year of transitions. Teenage son Simon (David Gallagher) comes home from college ready to reclaim his place in the family, and the heart of former flame Cecilia (Ashlee Simpson). As for parents Annie and Eric, nothing announces the passage of time like the word grandchildren! After daughter Mary has her baby, will things return to normal? Not likely — because daughter Lucy (Beverley Mitchell) and husband Kevin (George Stults) are about to announce they will be adding another new Camden to the brood.
Everwood ... WB, 9 p.m. Lots of cast changes going into season three, with Anne Heche and Scott Wolf joining as series regulars. One of the better shows on TV, this will be one series to watch in the coming season.
Thursday, September 16th
Will and Grace ... NBC
Survivor: Vanuatu ... CBS
Drew Carey's Green Screen Show ... WB
Friday, September 17th
What I Like About You ... WB
Commando Nanny ... WB. Delayed indefinitely due to recent surgery for star Gerald McRaney. Will be replaced in the interim with Grounded for Life.
Reba ... WB
Grounded for Life ... WB
Third Watch ... NBC, 9 p.m. Lots of cast changes on this John Wells produced series, with Cara Buono and Josh Stewart joining full-time, while Aidan Quinn and Charles Haid are set for appearances.
Saturday, September 18th
MAD TV ... FOX
Monday, September 20th
Still Standing ... CBS
Listen Up ... CBS
Everybody Loves Raymond ... CBS
Two and a Half Men ... CBS
CSI: Miami ... CBS
One on One ... UPN
Half & Half ... UPN
Girlfriends ... UPN
Second Time Around ... UPN
Tuesday, September 21st
My Wife and Kids ... ABC
According to Jim ... ABC
Rodney ... ABC
NYPD Blue ... ABC
Law and Order: SVU ... NBC
Gilmore Girls ... WB
One Tree Hill ... WB
Eve ... UPN
All of Us ... UPN
Wednesday, September 22nd
Lost ... ABC, 8 p.m. This television season's new drama with the biggest buzz, Entertainment Weekly awarded Lost a much sought after "Best New Drama" designation. Zap2It.com's TV Gal says Lost is her favourite
show of the new television season, while California's Modesto Bee says the series can't miss, calling Lost "the best new network drama by far."
The Bachelor ... ABC, 9 p.m. (2 hours). ABC's sixth instalment of The Bachelor will open with a "Lady's Choice Ceremony" in which the twenty-five bachelorettes appearing on the programme will get to choose between one of two 40-year-old men to star as the programme's bachelor.
Veronica Mars ... UPN (preview show)
America's Next Top Model ... UPN
Smallville ... WB
The Mountain ... WB
Law and Order ... NBC
CSI: NY ... CBS, 10 p.m.

Thursday, September 23rd
Extreme Makeover ... ABC, 8 p.m. Going head-to-head with CBS' number-one ranked CSI programme. Good luck.
Primetime Live ... ABC
ER ... NBC
CSI: Crime Scene Investigation ... CBS
Without a Trace ... CBS
Friday, September 24th
8 Simple Rules ... ABC, 8 p.m.
Complete Savages ... ABC, 8:30 p.m.
Hope and Faith ... ABC, 9 p.m.
Less Than Perfect ... ABC, 9:30 p.m.
Joan of Arcadia ... CBS
JAG ... CBS
Dr. Vegas ... CBS
Saturday, September 25th
The Amazing Race 6 ... CBS
48 Hours Mystery ... CBS
Sunday, September 26th
America's Funniest Home Videos ... ABC, 7 p.m.
Extreme Makeover: Home Edition ... ABC, 8 p.m. Up against critical favourites Cold Case (CBS) and American Dreams (NBC) this reality-based programme which picks cash-strapped families for a seven-day makeover of their homes will struggle / is being sacrificed in this Sunday night time slot.
Clubhouse ... CBS (preview)
Crossing Jordan ... NBC
Law and Order: Criminal Intent ... NBC
American Dreams ... NBC
Tuesday, September 28th
NCIS ... CBS
Clubhouse ... CBS
Judging Amy ... CBS
George Lopez ... ABC, 8:30 p.m.
Veronica Mars ... UPN
Wednesday, September 29th
Wife Swap ... ABC, 10 p.m.
Kevin Hill ... UPN
The King of Queens ... CBS
Center of the Universe ... CBS
60 Minutes ... CBS
Read More...
August 18, 2004


With the premiere of the new television season about to commence (NBC kicks of the fall television season with the debut of the Dreamworks CGI animated comedy, Father of the Pride (Windows Media Player required), on Tuesday, August 31st and Hawaii, the next night, Wednesday, Sept. 1 at 8 p.m.) look for the full premiere schedule on VanRamblings next week.
In the meantime, sate yourself with the following tidbits of TV trivia ...
BAILEY RETURNS! Party of Five alum Scott Wolf — he was that liar-thief-drunk Bailey — has joined the cast of WB's Everwood. He'll play a California doctor who takes over Dr. Abbott's old practice. "Dr. Abbott and Dr. Brown have gone into practice together, so Scott comes in as the new doctor across the street," explains exec producer Mickey Liddell. "He starts stealing clients from Abbott and Brown [because] he's the new, young doctor in town." It's those damn dimples, I tell ya.
LEGAL MANOEUVER: David E. Kelley has added Mark Valley (Keen Eddie) to the cast of his upcoming Practice spin-off Boston Legal. Valley will star opposite fellow legal eagles James Spader and William Shatner.
CHARMING FELLA: Mr. Jessica Simpson, Nick Lachey, joins Charmed: Lachey will guest-star in six episodes of The WB's drama, which debuts Sunday, September 12. Lachey will play a man hired to ghost-write Phoebe's (Alyssa Milano) newspaper column when she takes some time off. The two eventually begin a romance.
August 4, 2004
Come this fall, Global TV intends to play much the same game with their schedule that
Fox
, south of the border, announced a couple of months back. Which means that, from week-to-week throughout the fall and winter, you won't be able to count on finding many of your favourite television shows in the same spots they were the week before.
As the Globe and Mail's Guy Dixon wrote in his piece on Global's upcoming fall 2004 television schedule ...
The old idea of a network simply débuting a fall lineup of programmes, which then repeats in the summer, has been laid to rest. In its place is a complicated schedule of show premières stretching into January.
As is the case with the two other private Canadian broadcasters — CTV and CHUM — Global's fall schedule is heavily laden with American imports.
As you've seen in the endless ads for Global's upcoming season, Friends spinoff Joey (Windows Media Player required); the new Heather Locklear - Blair Underwood airport drama, LAX; The Practice spinoff, Boston Legal; the John Goodman comedy, Center of the Universe; the hour-long drama, The Mountain; House, an ensemble hospital drama about doctors at a Boston medical clinic; Jonny Zero, a drama from ER and The West Wing-producer John Wells about an ex-con with ambitions of becoming a private investigator (January to June); and summer try-outs North Shore and One Tree Hill are among the 40 new shows that have made Global's fall schedule.

The Apprentice will anchor Global TV's Thursday nights when the new television season begins this fall.
In addition to The Apprentice and the similarly themed The Billionaire, Global will unveil a pair of boxing-based reality series over the coming year: The Contender, from Apprentice and Survivor producer Mark Burnett and Sylvester Stallone, and The Next Great Champ, featuring champion boxer Oscar De La Hoya and a roster of unknown prize-fighting prospects.
An ever-shifting TV landscape means changes for both Global and CH's (the latter, Global's regional network designation) primetime schedules.
Will and Grace and Malcolm in the Middle will return but at new times and, in Will & Grace's case, on a new day: Wednesdays at 8:30.
24 will return in January, when it will move to Mondays at 9.
Returning shows on familiar nights and times: The Apprentice, Crossing Jordan, Everybody Loves Raymond, Fear Factor, Gilmore Girls, JAG, Judging Amy, King of the Hill, Las Vegas, NYPD Blue, The Simpsons, Survivor, That '70s Show, Two and a Half Men and Without A Trace.
Returning Canadian shows include Andromeda, Doc, Mutant X, Train 48, Zoe Busiek: Wild Card, and the Burnaby-based Stargate SG-1.
Global's new Canadian reality series include The Block, a home renovation series based on a popular Australian original, featuring four couples competing to see who can best renovate a run-down apartment; Last Chance for Romance, a relationship dating programme set at a Caribbean resort hotel; and The Temps, a hidden-camera series about unsuspecting office temps compelled to cope with bizarre workplace situations.
And given the recent success of the documentary form, Global has announced that it will produce and air 30 new homegrown documentaries, including a profile of Canada's women's Olympic soccer team, a look at the Vivendi-Universal media merger between Jean-Marie Messier and Edgar Bronfman Jr., and a behind-the-scenes look at the inner workings of Vanity Fair, O, Playboy and Macleans magazines.
As for the remaining Canadian television network schedules: here's a peek at CBC's, CTV's and CHUM's fall television schedules.
For the major U.S. networks fall television schedules, click on the following direct VanRamblings' links: ABC, NBC, the WB, Fox and UPN, and CBS.
July 28, 2004
Once again, CHUM Thinks We're Chumps
CHUM Television has unveiled a prosaic (which is to say, a rather ho-hum) fall television schedule, heavy on reality programming (The Bachelor and The Bachelorette, both ABC shows) and returning U.S.-purchased family dramas, such as Everwood and 7th Heaven (both WB shows).
CHUM will continue to broadcast their usual amalgam of in-house programmes, covering a broad range of topics, from music, fashion, media, cinema and the arts, to sex and sexuality, new media, science fiction and beyond, as well as a glut of movies you've seen at the cinema or on video.
The most anticipated new in-house programme is the made-in-Vancouver The Collector, featuring Chris Kramer as a modern-day agent of the devil sent to collect lost souls; the programme has been playing this summer on CHUM's specialty channel, Space: The Imagination Station. The programme will début on Citytv, and other CHUM stations, early this autumn.
Returning series include the widely-acclaimed Monk, the filmed in Vancouver Smallville, and Enterprise (new day and time, Fridays at 9). Talks shows returning range from The Ellen DeGeneres Show, to the The Tonight Show with Jay Leno, Late Night with Conan O'Brien and Jimmy Kimmel Live.
CHUM's new programmes for Citytv include And Go!, a 13-week guerrilla-style improv series hosted by comedian Bruce Hunter, an alumnus of Second City, Puppets Who Kill and The Red Green Show.
Other new series, purchased from networks below the 49th parallel:
Moses Znaimer
, missing since 2003?
As for the remaining Canadian television network schedules: here's a peek at CBC's fall television schedule, as well as a glimpse of CTV's fall schedule.
For the major U.S. networks fall television schedules, click on the following direct VanRamblings' links: ABC, NBC, the WB, Fox and UPN, and CBS.
July 14, 2004
Welcome to Week Two of the Canadian fall television schedule. Last Wednesday, VanRamblings presented the CBC fall TV schedule.
This week, it's CTV's turn.
Promising fewer 'repeats' for the coming 2004-2005 television schedule, Bell Globemedia's CTV network says - just like Fox TV in the U.S. - it will offer new, original programming 52 weeks of the year, not just this fall.
"More titles, less repeats," pledges Susanne Boyce, CTV programming president. "Canadians have long demonstrated to us that if we build it, they will come." CTV also laid claim to being No. 1 in Canadian prime time and vowed to further widen the gap between itself and its main competitors, Global (by far the worst website for any Canadian TV network), CHUM (Vancouver's Citytv website, cuz the parent site is godawful) and the CBC.
Among the programme choices this autumn and winter are new additions to the import crime drama franchises, CSI and Law & Order; Rob Lowe's new series, Dr. Vegas; and the much-praised sex-and-the-suburbs prime-time soap, Desperate Housewives. In the reality department there's the British import Wife Swap; as well as The Benefactor, a $1 million giveaway programme, based on the 1950s anthology series, The Millionaire.
CTV also announced its fall daytime lineup, including the Vancouver produced Vicky Gabereau, long thought to be on the chopping block.
Recurring dramas and sitcoms include The Eleventh Hour, Degrassi: The Next Generation, Corner Gas, as well the HBO import The Sopranos, CSI and CSI Miami (plus the new CSI: New York with Gary Sinise), The O.C., According to Jim, The West Wing, ER, Third Watch, Cold Case,Joan of Arcadia and American Idol (and Canadian Idol, of course).
New For Fall Prime-Time
Some of the new prime-time series that CTV's unveiled:
all CTV shows
, A-Z.
For the major U.S. networks fall television schedules, click on the following direct VanRamblings' links: ABC, NBC, the WB, Fox, and CBS.
July 7, 2004


Welcome to the first instalment of VanRamblings' new Wednesday night TV feature. Each week, we'll publish the latest television news, hot watercooler gossip, as well as seek to provide insight into the role of TV in our culture.
Throughout the month of July, VanRamblings will publish the upcoming fall TV schedules for each of the Canadian networks (the fall 2004 schedules for the American networks were published earlier, in Television — all you have to do is scroll down). This week, we begin with an introduction to the CBC's fall television schedule, to be followed by CTV, Global and CHUM.
CBC Hopes For A 'Must See' Fall Line-Up ... shyeeah, right
Here it is, the beginning of summer and the Canadian television networks are just getting around to announcing their fall television schedules.
Decidedly less exciting that the American fall television schedules (because Canadian TV, for the most part, acts simply as a re-broadcaster of American sitcoms, dramas and specials), there are nonetheless a few pleasant surprises, particularly on the CBC 2004 TV schedule.
Even so, Canada's public broadcaster has unveiled a rather ho-hum fall schedule featuring familiar faces in unfamiliar places, a pair of new reality-based series, and an ensemble family comedy titled Ciao Bella (Adobe Acrobat required), about the trials and tribulations of an Italian-Canadian family in Montreal, from Mambo Italiano-writer Emile Gaudreault.
Something to look forward to: CBC will air a series of dramas, movies and miniseries this fall, titled High Impact, including a prequel to the successful miniseries Trudeau (Trudeau: The Prequel), and a sure to be groundbreaking, four-hour miniseries based on the life of five-time Saskatchewan premier Tommy Douglas (The Tommy Douglas Project).
CBC will also broadcast a drama based on the illegal trade in human trafficking across Europe, titled Sex Traffic, and H20, a futuristic political thriller. The British soap opera Coronation Street is scheduled to air four nights a week this fall, on Monday, Tuesday, Wednesday and Friday.
CBC's Sunday Report will expand to a full hour come September, will go by a new name, Sunday Night, and have as its new hosts, Evan Solomon and Carole MacNeil. The much-praised Marketplace and the watchable and intriguing business programme, Venture, will kick off CBC's Sunday evening programming this fall, at 7 and 7:30, respectively.
CBC's award-winning drama, Da Vinci's Inquest will move to Tuesdays, where it will follow Making The Cut, a reality TV series — a nationwide talent search for six of the best unsigned professional hockey players — at 9.
Returning series include The Nature of Things, the fifth estate, Royal Canadian Air Farce, This Hour Has 22 Minutes, On the Road Again, Just for Laughs Gags, The Red Green Show, Rick Mercer's Monday Report, The Wonderful World of Disney and Mary Walsh's Open Book.
Tom Stone and the investigative news programme Disclosure have been cancelled. The powers that be at the CBC ought to have cut the execrable This Is Wonderland from their schedule, but apparently this laughably awful programme will be returning after Christmas.
As for the remaining Canadian television network schedules: here's a peek at CHUM's fall TV schedule, as well as a glimpse of CTV's fall 2004 schedule.
For the major U.S. networks fall television schedules, click on the following direct VanRamblings' links: ABC, NBC, the WB, Fox and UPN, and CBS.
May 23, 2004

Daniel Pollera, Summer Place
Of late, what with the blog and all, VanRamblings' regular television-watching has tended to fall by the wayside. Not everyone, though, sits around in their underwear surfing the Net, hour after hour, in search of stories to post, or reflecting on issues of the day about which to blog. And, thank God for that, eh?
So, maybe, as was written mid-week last week, Fox's proposed programming schedule isn't all that confusing after all. As Alex Strachan wrote in the Vancouver Sun yesterday (and damn CanWest for not making The Sun available online to non-subscribers), "Summer used to be a time of reruns and low viewership, but the TV model has changed in recent months to a year-round schedule."
How so? Well, take The Jury, for example. A new drama from Oz and Homicide: Life on the Street-producers Tom Fontana, Barry Levinson and Peabody Award-winning writer James Yoshimura, which was originally set to air in the fall. Instead, it will d�but next Monday, June 7th, on Global (in Canada) and Fox (in the U.S.).
Other new series include:
Other summer programming includes a new airing of the Emmy Award-winning miniseries Band of Brothers, which will air on CBC beginning on June 22nd.
May 20, 2004

Click on the graphic above for more info on FOX TV's 2004-05 programming schedule.

Talk about confusing. In announcing their fall TV schedule this morning, Fox TV jettisoned the whole "gee shucks, here are the great programmes we've lined up for you this fall" mantra, in favour of offering three different, and dare we say confusing, programming schedules — June til October, November to January, and January to June — all of which you'll find here.
And, yes, there will be a test — so study Fox's programming schedule well.
Daniel Fienberg, at Zap2it.com, tries to make some sense of Fox's schedule for all seasons, as does David Bauder at Associated Press.
The Futon Critic weighs in, as does a beleaguered Gary Levin at USA Today.
The Mini Network: UPN's Fall Programming Schedule

Click on the graphic above for more info on UPN's fall programming schedule.

Update, at 6:30 pm.: The mini American network, UPN (owned by Viacom / CBS) released its none-too-thrilling fall schedule today. Zap2it.com offers network info here, as well as a link to UPN's fall programming schedule.
The Futon Critic offers insight, while USA Today's Gary Levin is excited. Well, not really.
For the remaining fall television schedules for the major U.S. networks, click on the following direct VanRamblings' links: ABC, NBC, the WB, and CBS.
May 19, 2004

CBS Fall Schedule, 2004-05. Click on the graphic above for more info.

Having excised middling fare, and middling actors, like David Morse in Hack, Craig T. Nelson in The District, and Dabney Coleman in The Guardian from their current schedule, this fall CBS introduces the tried-and-true, with more middling actors, like Emmy award-winner Rob Lowe in dr. vegas, John Goodman in Center of the Universe, and Gary Sinise in CSI: NY.
Otherwise, weighing in on CBS' fall 2004 schedule are Michele Gershberg and Steve Gorman, writing for Reuters; The Futon Critic; Rick Porter at Zap2it.com; and Andrew Wallenstein at The Hollywood Reporter.
Update, at 7:40 p.m.: Seems that, earlier today, the only Net-based info the CBS network could seem to muster, given their obvious paucity of intellectual and creative resources, was this Associated Press story by David Bauder. As of 1:24 p.m., CBS seemed never to have heard about the world wide web, and must have figured their audience hadn't heard anything about it, either (thus, up until only a few minutes ago, CBS had posted no schedule grid, or programme links). That circumstance, fortunately, has changed. You can see the CBS schedule grid above, or click here for more information on the depth and breadth of CBS' fall programme schedule.
For the remaining fall television schedules for the major U.S. networks, click on the following direct VanRamblings' links: ABC, NBC, the WB, and FOX.
May 18, 2004

The WB Fall Schedule, 2004-05. Click on the graphic above for more info.

For this viewer, of all the networks The WB (even though it's not available in Vancouver, most of the programmes find their way onto Canadian airwaves) has the most consistently watchable programmes, ranging from Everwood and Gilmore Girls, to Smallville and (the increasingly long in the tooth) 7th Heaven. Oh sure, The WB's programming is drama heavy and far from hip, but migawd it's mostly free of dreadful 'reality-based' programmes, and rarely talks down to you.
So, what does The WB have up its sleeve for the fall? Well, it seems that ratings are down, and as such The WB's grand poobahs, Jordan Levin and Garth Ancier, have had to do more than a little tweaking.
New shows include Jack and Bobby, the dramatic retelling of the childhoods of John F. and Robert F. Kennedy, and The Mountain, which some have described as 'Dynasty' on skis. Most of the rest of the new programming (designed to raise ratings) appears to be barely watchable, but at least The WB left their core programming alone. We thank God (wherever she is) and Messieurs Levin and Ancier for this small favour.
For further insight (such as it is) into The WB's 2004 fall season, we'll start you off with The Futon Critic. Then there's: Rick Porter at Zap2it.com, and Rachel Porter at some About.com site called ... oh, never mind.
For the remaining fall television schedules for the major U.S. networks, click on the following direct VanRamblings' links: CBS, NBC, ABC, and FOX.

The ABC Fall Schedule, 2004-05. Click on the graphic above for more info.

There's something decidedly anti-climactic and mildly dispiriting about the announcements of the fall television schedules — or should that read: 'soon to be cancelled shows' — for the major U.S. networks. For its part, ABC is doing everything it can to wrest itself from the bowels of the ratings basement. But what has new head honcho Stephen McPherson come up with? You can judge for yourself, but from VanRamblings' vantage point, aside from the humour that the Defamer brings to the situation ...
ABC's doing its part to make sure laughter stays dead by reducing their comedy load and by bringing back According to Jim, My Wife and Kids, and George Lopez. In any case, look for ABC to suffer another season in the toilet, looking up at Fox's pimply, third place ass.
there's not that much, unless you're excited about the prospect of six more hours of barely watchable, so-called 'reality' programming, a spinoff of The Practice starring William Shatner, or a new series titled Lost, about the survivors of a plane crash stranded on a remote island.
Want to know what others are saying about ABC's Fall Schedule? Not much, but here goes anyway. Zap2it.com offers this, while Gary Levin at USA Today writes about ABC's reality heavy programming.
David Bauder, writing for the Associated Press, and Bill Carter and Stuart Elliott, writing in the New York Times' Business section, compare the ABC and WB new fall schedules, while Kimberly Potts, at E-online, bemoans the loss of Alias this fall (not to worry, Kim, it'll be back mid-season).
For the remaining fall television schedules for the major U.S. networks, click on the following direct VanRamblings' links: CBS, NBC, the WB, and FOX.
May 17, 2004

Click on the graphic above for more info on NBC's fall schedule

From the Defamer: Happy to derive its laughs from aspiring actors devouring the genitalia of dead animals on Fear Factor and from hopeless nerds trying to lay third-place beauty pageant contestants on Average Joe, NBC's fall schedule will go light on the sitcoms.
The only new comedies on NBC will be the animated, Siegfried and Roy-inspired (and, disappointingly, mauling-free) Father of the Pride, and Friends spinoff Joey. NBC head Jeff Zucker is banking on Joey to deliver big ratings numbers in the Friends timeslot; if it falters, expect Matt LeBlanc to ingest a yak labia just before each commercial break.
For a somewhat less catty take on NBC's proposed 2004-05 television season read Daniel Fienberg at Zap2it.com, who writes that the motto for NBC's upcoming season ought to be 'Comedy Doesn't Live Here Anymore'.
Gary Levin, at USA Today, indicates that NBC seems to not to have much faith in their coming season, given the large number of mid-season replacements that are on order.
Kimberly Potts at E-Online offers this, while Lisa de Moraes, at The Washington Post, suggests that the proper way to appreciate NBC's fall schedule would be to have a stiff drink in hand.
For the remaining fall television schedules for the major U.S. networks, click on the following direct VanRamblings' links: ABC, FOX, the WB, and CBS.
May 7, 2004
When it comes to political jokers, David Letterman beats Jay Leno and critics' darling Jon Stewart hands down.
It makes sense that the late-night talk-show wars, just passing their 10-year anniversary, would continue to consume audience interest. With each passing day, David Letterman — who seems to have developed a comfort level at CBS, even as he continues to make ironic detachment a way of life for several generations of fans — becomes ever more honest and human, allowing for a darker, more mature side to his comic's take on life. More grounded than the competition, there's genuine power to his words, particularly since his recovery from heart surgery.
Jay Leno, meanwhile, remains the guy who will do anything for ratings, most obviously when it involves some degree of political partisanship, like the kind that gave Arnold Schwarzenegger's recall-candidacy, last year, the shove it needed to take California's governorship.
In a recent article published in L.A. Weekly, Nikke Finke (an archive of her work is available as a link, to your left, under Cinema) writes ...
Late Show has the brass balls to go where the cowardly White House news corps and corporate suck-up Leno fear to tread: presenting Dubya in all his dumb-ass glory.
Finke's article is well worth a read.
As always, Slate continues to publish regular Bushisms, a malaprop version of the U.S. president's accidental wit and wisdom.
May 5, 2004
Coming to a computer, a PDA or a cell phone near you: Internet TV!
According to a story in the New Zealand Herald, later this month the BBC will launch a pilot project destined to be the first step in a process that could lead to all television programmes, across the globe, being made available on the Internet.
Says Ashley Highfield, the BBC's director of new media and technology ...
"If we don't enter this market, then exactly what happened to the music industry could happen to us, where we ignore it, keep our heads in the sand and everybody starts posting the content up there and ripping us off"
Highfield indicated that the quality of the programmes on offer will be so high that the experience of watching a show on a PDA will be similar to that of viewing an in-flight film on the seatback of an aircraft.
May 4, 2004

Preparing for the final episode of Friends. Is life as we know coming to an end?

Zap2it.com (to your left, under Television) has put together a handy schedule of all of the 2004 season finales.
For instance, tonight is the last episode of Scrubs on NBC at 9:30 p.m. And, unless you've been hiding in a cave in Borneo, you are absolutely aware that Friends goes away — FOREVER — this Thursday. Read The Defamer's (the web's newest gossipy blog) spoiler-laden story on just exactly what's going to transpire on the final show.
April 14, 2004
There's a tectonic shift happening in television that will profoundly transform the way we receive news, the news we see, and our ability to access the news of our choice. Benefits for the public have been slow in coming, but suddenly "multicasting" — that's the hot new word — is on the lips of everybody in TV land.
In this new digital era, the so-called analog, one-channel version of television will soon be as archaic as a 1950 Studebaker. Besides local 24-hour all-news and all-weather channels, over-the-air broadcasters will be able to devise local versions of programming we currently find only on cable.
Programmes covering provincial legislatures and city councils, public hearings, community board meetings, court trials, school board sessions, school lunch menus, school closings, public event schedules, updates on terror alert levels, and disaster warnings, along with documentaries on issues of local concern, free airtime for office-seekers, children's news and educational shows, and almost anything else station owners can dream up — with simultaneous translation into other languages for the benefit of local non-English-speaking minorities, will be readily available.
Then there's the datacasting of text: stock market quotes, sports statistics, classified advertising, radio and TV programme schedules, and even electronic newspapers.
Public interest and other advocacy groups are keeping a close eye on the changes, and have expressed concern about the inability, thus far, of broadcasters to promote a variety of news voices, and points of view. In an era when over-the-air television is one of the most potent forces shaping public opinion, a process involving more democratic access to the airwaves will prove an absolute necessity if the collective interests of our communities is to be maintained.
March 6, 2004
One of the Vancouver Sun's most cogent writers — and consistently one of the most informed and readable journalists covering the television beat anywhere across the continent — in his latest column, published today, Alex Strachan explores the issue of the disappearing television sitcom.
March 4, 2004
A doctoral student at MIT's Computer Science and Artificial Intelligence Laboratory, and a researcher in the field of computer security and commentator on information technology, Simson L. Garfinkel's most recent column in the MIT Enterprise Technology Review suggests that "The latest anti-piracy move by the Motion Picture Association of America will prevent you from making high-quality copies of broadcast TV programmes ... and that their newly developed "broadcast flag" technology will enable all manner of other restrictions". This future is due to arrive on July 1, 2005, Canada Day.
February 9, 2004
American Dreams, NBC's relatively low-rated but eminently watchable Sunday night series has been picked up for a full 2004 - 2005 season.
There is a God in the heavens, and she is all right.