VanRamblings
November 26, 2017
In 1957, my mother gave me a transistor radio for my 7th birthday!
We lived at 2165 East 2nd Avenue in Vancouver, just off Garden Park, on Vancouver's eastside. I knew my neighbours, a polyglot amalgam of "displaced persons" (displaced from WWII), refugees from a Europe of destruction who had arrived in Canada to pursue a life for their families.
Although the television had been around for almost a decade in common use by the more well-to-do among the population, no one on our block had a TV — there were doctors, plumbers, nannies, seniors, construction workers, and no one thought to purchase a television, particularly given that TVs were going for around $400, or about 10% of a man's average annual wage (the average hourly wage for women: 35¢). When times were tight, and families were large, and folks were just simply trying to find a way to scrape by, purchasing a $400 TV (with an outlay of another $50 for a rooftop aerial) was simply beyond the means of the common folks.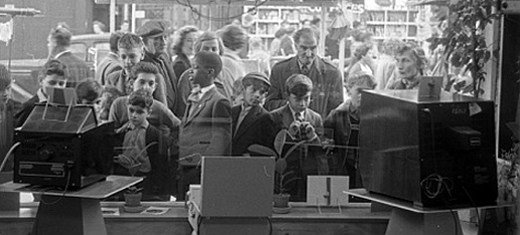 If we wanted to watch television, we'd head up to Commercial Drive, and watch the TV in the Magnet Hardware window.
Of course, all the kids on our block clamoured for a new TV (not that any of their friends owned one, mind you) — but, alas, that was not to be. Fortunately, the price of a black-and-white TV dropped dramatically in 1958 with the introduction of the colour TV (introduction of a new technology always results in a price cut for "older" technology), and most families, including mine, bought their first television that year, parents finally capitulating to the incessant, heart-rending pleas of their gentle children.
1957. I was about to go into Grade 2 at Lord Nelson Elementary School. My birthday fell on the 223rd day of that year, on August 11th, an otherwise inauspicious Sunday, except for the fact that at midday, thanks to my mother, I found myself in the possession of a brand new $49.95 (plus tax) leather-cased transistor radio! That's right, my mother worked more than 150 hours to get me my much-prized 7th birthday present — making me the only boy on the block with a portable transistor radio. I was thrilled!
On another day, I'll tell you what the impact of being the first to own a new tech toy had on me, what it meant for a career that I would pursue less than a decade later, and how it came to be that over the past 40 years, I have continually found myself on the cutting edge of new technology, as an early adopter. As I say, though, I'll leave that story for another day.
All of which brings me to Black Friday, a day I cannot resist even if it is Buy Nothing Day. On Friday, I purchased a new Acer Aspire Intel Core i5 desktop computer (even though I can't afford it, cuz I'm a pauper) — as a consequence of my 8-year-old, once state-of-the-art custom-built computer having been on its lasts legs for some months now. A friend assured me today that my new computer is a piece of junk. Oh goodie.
A fairly mundane picture of my new, much-needed computer may be found at the top of today's column — alongside my brand spanking new Google Home Mini which, truth to tell, I don't really need but it was half price at only $39.95, and I've been falling behind on my cutting edge tech persona. At about $40, I think I can indulge my techy side this holiday season.
As you may know, I love radio (even to this day). Just by saying, "Hey Google, play BBC Radio One", within seconds BBC Radio One will begin playing through the Google Home Mini speaker. The same is true of hundreds of other radio stations. I've used my Google Home Mini to set alarms and reminders, check sports scores, stream music from Spotify, or from my iTunes library (of more than 5000 songs) employing Bluetooth.
If I purchase a Logitech Harmony Hub I could control my home theatre by voice command. Or, if I purchase the Phillips Hue Starter Kit, I could also control all of the lights in my house, and set the lights to turn on at a specific time, so when I enter my Co-op apartment, I won't be entering into darkness. I could even set each individual light to a specific colour.
Yep — an indulgence. I won't be purchasing the Phillips Hue system or the Harmony Hub anytime soon, but it's nice to know that they're available.
November 3, 2017
Every year in late September thru mid-October, for 36 years now dating back to 1981, for 16 magnificent days the Vancouver International Film Festival brings the best of world cinema to our shores, offering as it has for so very long a humane, engaging window on our often troubled world.
But what of the remainder of the year?
Where will cinéastes find the best in world cinema over the remaining 50 weeks of the year? The answer is simple: the comfy-as-all-get-out 175-seat Vancity Theatre located at 1181 Seymour Street at Davie, designed by Hewitt and Kwasnicky Architects, and opened in September 2005 just in time for that year's tremendous-as-always annual Vancouver film festival.
Yes, the year-round venue of the Vancouver International Film Festival (VIFF) is a warmly inviting not-for-profit cinema, operated by the film festival society on a site leased to VIFF at a nominal rate by the City of Vancouver, the City extracting from the developer, the Amacon & Onni Group (in exchange for greater height of their two Brava condominiums), a community amenity contribution that led to the construction of one of Vancouver's most important year-round cultural resources, The Vancity Theatre — for which construction contribution you would have to think the late, celebrated Vancouver City Councillor Jim Green played a pivotal role.
br>The comfy year-round VIFF venue, the 175-seat Vancity Theatre on Seymour, at Davie
Unlike the Toronto equivalent of The Vancity Theatre — The Bell Lightbox Cinema — which is losing money and contributing to the many woes of the Toronto International Film Festival, our Vancity Theatre is doing just fine.
Globe & Mail Arts Editor Barry Hertz and Molly Hayes have reported ...
Audiences aren't showing up for screenings at the Lightbox building on King Street West, designed to provide a headquarters for TIFF year-round and serve as a draw for both local film lovers and tourists.

Conversations with more than 40 current and former TIFF employees, and two dozen other individuals close to the organization, present a picture of an institution whose vision is unarticulated and whose current business model appears to diverge with industry and audience trends.
Why is the Vancity Theatre doing so well in the era of streaming sites such as Netflix & Amazon Prime, which has viewers shifting their focus towards Dolby 7.1 surround-sound all-the-bells-&-whistles QLED home theatres?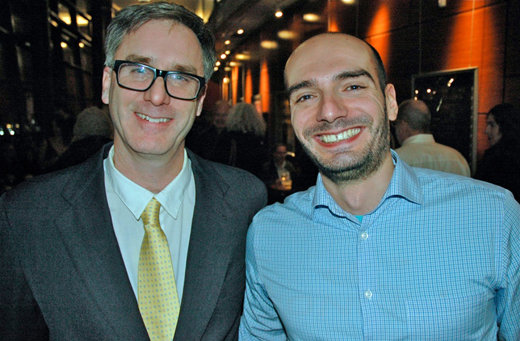 br>Vancity Theatre's Tom Charity, left, with the Italian Cultural Centre's Giulio Reccchioni
Two words: Tom Charity, who then VIFF Director Alan Franey (currently VIFF's Director of International Programming) identified as a potential saviour of a Vancity Theatre which had fallen on hard times audience-wise. Since 2012, the utterly calm and phenomenally astute Mr. Charity has tapped into the unconscious consciousness of every demographic of film lover who resides across the Metro Vancouver region, and programmed The Vancity Theatre to a dizzyingly captivating and undreamed of success.
The new film from acclaimed Australian director Benedict Andrews, Una (just click on the preceding link for dates and times) — which given the current, righteously angry #MeToo furore couldn't be more timely, given the film's sexual trangression subject matter, stars Rooney Mara, Ben Mendelsohn and Ruby Stokes in what can only be described as a challenging, transgressive film — opens today at The Vancity Theatre. There are only 7 screenings between this evening & Una's final screening, Saturday, Nov. 11th, so you'll want to purchase your tickets soon.
The Divine Order, one of VanRamblings' 5 favourite films at VIFF 2017, and Switzerland's Best Foreign Language Film Oscar nominee, opens two weeks from today, on Friday, November 17th. The Divine Order is simply a knockout, providing a gentle, humane, slice-of-real-life insight into the plight of Swiss women prior to 1971, when women were not allowed to vote, and were little more than chattel. The Divine Order, though, is as far as you could get from dour, this suffragette feminist film embracing hope, with a good deal of warmth and humour in the mix. We'll write more about Petra Volpe's The Divine Order on its opening day at The Vancity Theatre.
Click on this link for a full listing of all the films Tom has booked into The Vancity Theatre between now and December 3rd. Tom always books a rockin' holiday season programme (one could almost live at The Vancity Theatre from early December through early in the new year, and be all the better for it). The Vancity Theatre. Make a commitment to yourself: attend VIFF's year-round venue this month or next. You'll be mighty glad you did.
November 2, 2017
br>Newly-elected leader of the federal NPD speaks to the party's enthusiastic Vancouver supporters, in a speech given at The Imperial on Main, Wednesday night, November 1st
Young, energetic, articulate and clearly very bright, self-assured yet humble, charismatic, caring, Canada's first non-white federal leader, representing generational change, fearless, embraced by NDP party activists across the land, hopeful, thoughtful and decidedly not halting in his speech, necessarily possessed of a clear sense of social-justice goals based on egalitarian principles, a dapper young politician who currently represents an urban, ethnically mixed riding in the Ontario legislature and — maybe, just maybe — Canada's next Prime Minister, Jagmeet (pronounced Jugmeet) Singh made his way to Vancouver on Wednesday evening, introduced by NDP stalwart Constance Barnes, for a meet-and-greet at The Imperial on Main with a cross-section of party supporters.
Celebration. Good cheer. Singh = much-need change for the better, for all.
More Celebration

My friends, neighbours and NDP compatriots Bill Tieleman and Shirley Ross celebrated their 25th wedding anniversary this week, for which event VanRamblings wishes them a heartfelt congratulations on lives well-lived, and loved, and the respect, admiration and love of your many friends.
br>Shirley Ross and Bill Tieleman celebrate their 25th wedding anniversary at Bishops
More Cause for Celebration (on a somewhat less salutary note)

What did we do before the advent of streaming video on Netflix? Were we actually truly living life without the ready access Netflix affords to 5600 movies of quality and 3500 TV shows, all for as little as $10 a month?
br>Dee Rees' Sundance winner, starring Garrett Hedlund, Jason Mitchell & Carey Mulligan
One of the best reviewed films of the year, a smash hit at the Sundance Film Festival way back in January, and fortuitous for ye, me and thee, as it is set for a day-and-date release — which is to say, Mudbound will be available both at your local multiplex and on Netflix — on Friday, Nov. 17th.
Otherwise, there's Godless — a 7-episode oater from Oscar winning director Steven Soderbergh, set in 1880s La Belle, New Mexico, a town mysteriously made up entirely of women. Stars Downton Abbey's Michelle Dockery, Jeff Daniels, Jack O'Connell, Scott McNairy and a cast of hundreds.
Or, how about the fifth and final season of the peerlessly involving Longmire television series. Or, Birdman or (The Unexpected Virtue of Ignorance), Alejandro Gonzàlez Iñàrritu's 2015 multiple Oscar winner. Or, Logan — another in the Marvel Wolverine series, which sees Hugh Jackman reprising his signature role. Or Gold, starring a less than hirsute Matthew McConaughey, which proves to be a surprisingly involving watch.
Then there's the début of Spike Lee's update of 1986's She's Gotta Have It. Should you watch the New to Netflix in November video above, you'll find much, much more on offer from Netflix in the month of November.
Final tip: if you haven't watched Kornél Mundruczó's 2014 Cannes' Un Certain Regard award-winning masterpiece, White God (VanRamblings' favourite film this decade), you oughta. The Los Angeles Times says ...
This small, touching fable about a girl and her dog becomes an adrenaline-pumping thriller about animals against humans in Hungarian filmmaker Kornél Mundruczó's exhilarating radicalization allegory White God. By turns Dickensian, Marxist and dystopian, it's a movie as deliriously unclassifiable as it is expertly focused in its desire to provoke and entertain.

The films opens with beautifully dreamlike shots of 13-year-old Lili bicycling down the empty streets of Budapest until scores of dogs careen around a corner, their bodies in full, magnificent motion. Are they following her? Or chasing her? By the time Mundruczó returns to that scene as something literal, it's a powerful, pure-cinema reminder that the iconography of freedom and uprising needn't only belong to humans.
And, yes, White God is on Netflix — you'll want to add it to your list now.
September 13, 2017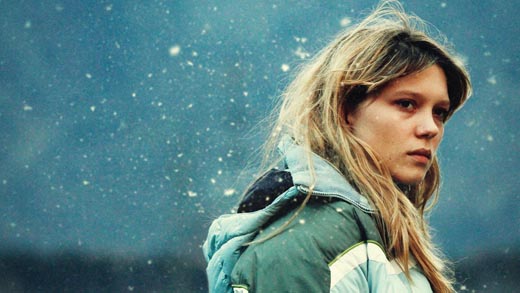 Almost a year to the day since VanRamblings last published a column, this 14½ year-old website returns with daily posts.
Where VanRamblings will go in the times to come only those gifted with divine foresight might reasonably project; as for us, we're not entirely sure what this restored publishing venture will bring, following a year responding to a diagnosis of terminal cancer — for all intents and purposes, we're fine now, a miracle having been visited upon us, for reasons still unclear but salutary. Only time and words on a screen will tell the tale to be told.
Chances are that it'll take some time for VanRamblings to find our voice.
For now, beginning tomorrow - Thursday, September 14th - VanRamblings will set about every second day through until the end of this year's VIFF on Friday, October 13th to provide our near usual coverage of the upcoming and gloriously humane 36th annual Vancouver International Film Festival.
Every other day through until Saturday, October 14th, VanRamblings will provide our usual (and troubling to many, it seems) idiosyncratic take on the political scene, most specifically the upcoming Vancouver City Council and Vancouver School Board by-elections. Readers can reasonably expect liberal use of hyperbole, for which VanRamblings is justly (in)famous.
September 18, 2016
With a British Columbia provincial election looming fewer than nine months away — on Tuesday, May 9th, 2017 — the time has come for VanRamblings to arise phoenix like from the ashes of the 2016 Canadian federal election.
In the coming months, there will be much that will be written on this blog as to why any thinking, socially aware, informed and compassionate British Columbian must choose to vote for the New Democratic Party of British Columbia over Canada's most right-wing, least responsive (except in the lead up to an election) Liberal-in-name-only provincial political party. That most important work will begin in November, in the weeks following the ...
35th annual Vancouver International Film Festival, to which VanRamblings will dedicate almost all of its energies over the course of the next month, with the first of 30 VIFF columns to be published Monday, September 19th.
Following the conclusion of Vancouver's annual film festival by the sea, chances are that VanRamblings will focus, mainly, on the upcoming U.S. election, offering opinion and reflection on what is to be wrought on Tuesday, November 8th south of the border, and the implications of the most important election in the United States in more than 50 years.
Although VanRamblings' primary focus following the U.S. election will be British Columbia's perhaps not quite so consequential provincial election, VanRamblings will also turn its attention to Vancouver municipal politics, focusing mainly on Park Board & School Board, as strong opinion abounds.
And, finally, in a departure from past VanRamblings practice, this blog will increasingly turn its attention to a personal journal, mordantly titled fixin' to die rag, more as a service to VanRamblings' two lovely children, Jude and Megan, so that they (and you) will come to better understand who it is that has composed posts on VanRamblings dating back to February 2004.
As has long proven to be the case, what you will find published on VanRamblings will please almost no one (opinion, fidelity and truth are hardly in vogue these days), least of all my children (and their mother) in respect of the fixin' to die rag, most political figures of every stripe (as always, one can expect much consternation from the good-hearted folks involved in COPE), and those who reside on the political spectrum far from the territory where VanRamblings has long found its philosophical home.
Welcome back to VanRamblings — a raucous ride is all but guaranteed!
December 25, 2015
September 3, 2015
VanRamblings has experienced a power outage (tree fallen onto power lines on block where VanRamblings resides, knocking out the transformer).
Posting to VanRamblings will resume either later today, or on Friday.
October 31, 2014
Wednesday evening, former Vancouver City Councillor and respected civic affairs barrister Jonathan Baker wrote to VanRamblings to apprise us of Schlenker v. Torgrimson, a BC Court of Appeals case heard in 2013, which ruled that Salt Spring Island Councillors were in a conflict of interest arising from a direct or indirect pecuniary interest, in respect of having voted to award two service contracts to societies of which they were directors (see Reason for Judgment in the Schlenker v. Torgrimson link above).
In the written reasons for Judgment in the BC Court of Appeals, the Honourable Mr. Justice Donald — concurred in by The Honourable Madam Justice Newbury, and The Honourable Mr. Justice Hinkson — wrote ...
[1] Elected officials must avoid conflicts of interest. The question on appeal is whether the respondents were in a conflict when they voted to award two service contracts to societies of which they were directors. In the words of s. 101(1) of the Community Charter, S.B.C. 2003, c. 26, did they have "a direct or indirect pecuniary interest in the matter[s]"?

[5] The penalty for conflict is disqualification until the next election.

[6] I would allow the appeal and declare that the respondents violated the Community Charter.
CityHallWatch has published a backgrounder on the case, with a link to a Fulton and Company LLP three-page summary of Schlenker v. Torgrimson.
Jonathan Baker advising Vancouver City Councillor Adriane Carr on a matter of the law
Arising from an at-length conversation VanRamblings had with the learned Mr. Baker, a determination was made that it may very well be that Schlenker v. Torgrimson could be the determining case law that, upon adjudication and a ruling on the matter before a Justice of the Supreme Court of British Columbia, could result in an order of the Court that would prevent Vision Vancouver City Councillors who are elected in the next term from seeking a further term of elected office, in 2018.
Mr. Baker offers this précis of Schlenker v. Torgrimson ...
The Court of Appeal said direct or indirect pecuniary interest doesn't just refer to money, that a politician has a fiduciary duty to the Council on which they sit as a member, without built-in bias.

The bias that arises from a member of Council serving two masters is, in Schlenker v. Torgrimson, one, perfectly benign in relation to the environmental group of which he is a member, and his duty to his taxpayers, which loyalties are divided and in conflict.

The Justices held that it was important the Court come down with a decision. Paragraph 34 of the Judgment reads, "to prevent elected officials from having divided loyalties" in deciding how to spend the public's money, one's own financial advantage can be such a powerful motive, that putting the public interest second leads to a conflict. The Court must then rule that the Council member could not run for a succeeding term of office.
The benefit — or direct or indirect pecuniary interest — potentially derived by Mr. Meggs, and Vision Vancouver City Councillors, would be the monies received in compensation for duties performed as an elected official.
A direct conflict link, and a decided conflict of interest by Vision Vancouver, might be made — involving the receipt of monies from CUPE 1004 in exchange for favours or benefit, the commitment made to CUPE 1004 by Geoff Meggs on behalf of Vision Vancouver that there would "no contracting out", this commitment to members of CUPE 1004 made in advance of the bargaining of the upcoming December 2015 collective agreement, and payment in the form of monies paid by taxpayers to elected officials, in this case the Vision Vancouver members of Vancouver City Council.
As per Bob Mackin's article in the Vancouver Courier, the CUPE 1004 local donated $102,000 to the Vision Vancouver re-election campaign, as was made explicit, in exchange for a commitment by Vision Vancouver not to contract out the jobs of city workers.
The Criminal Code of Canada, Section 123, reads ...
Every one is guilty of an indictable offence and liable to imprisonment for a term not exceeding five years who directly or indirectly gives, offers or agrees to give or offer to a municipal official or to anyone for the benefit of a municipal official — or, being a municipal official, directly or indirectly demands, accepts or offers or agrees to accept from any person for themselves or another person — a loan, reward, advantage or benefit of any kind as consideration for the official."
Mr. Baker suggested to VanRamblings that in the case of CUPE 1004's commitment to the payment of monies to Vision Vancouver — the details of which are explicated in an October 16, 2014 Bob Mackin article in the Vancouver Courier — the circumstance is worse, as in ...
"We're going to give you money. There are strings attached. And they respond, 'Yeah, we know.' So, it looks like you have a contract, which is a horrible breach of their fiduciary duty to those citizens who elected them to office, and the populace of the city, in general."
Section 38 of Schlenker v. Torgrimson was, in part, based on the Ontario Divisional Court ruling in Re Moll and Fisher, which reads ...
This enactment, like all conflict-of-interest rules, is based on the moral principle, long embodied in our jurisprudence, that no man can serve two masters. It recognizes the fact that the judgment of even the most well-meaning men and women may be impaired when their personal financial interests are affected. Public office is a trust conferred by public authority for public purpose. And the Act ... enjoins holders of public offices ... from any participation in matters in which their economic self-interest may be in conflict with their public duty. The public's confidence in its elected representatives demands no less.
Given all of the above, VanRamblings has now come to believe that Kirk LaPointe was right when he wrote in his opinion piece in The Province ...
Vision Coun. Geoff Meggs, speaking for Vancouver Mayor Gregor Robertson, recently told a meeting of CUPE Local 1004 that the mayor was committing to not contract out any other city jobs. In turn, Vision was given financial and political support. No wonder Vancouverites don't trust city hall under Vision. Corruption corrodes confidence and this commitment smacks of political backroom deals of yesteryear.

It puts Vision's interests ahead of the city's and taxpayers.

Being clearly beholden to the city's workers right now is an irresponsible service to the city. The union is approaching contract discussions, and any early definition of the city's bargaining position is a breach of fiduciary duty.
Once again, as happens on occasion, VanRamblings finds itself in the position of having to offer a mea culpa to an aggrieved party, in this case Non-Partisan Association candidate for Mayor, Mr. Kirk LaPointe.

We apologize, unreservedly, to you Mr. LaPointe. You were right, you are right. In fact, VanRamblings has now come to believe that the actions of Councillor Meggs represent, as you write, "an irresponsible service to the city", and that the verbal contract agreed to by Councillor Meggs, on behalf of the Vision Vancouver municipal political party of which he is a member, may and perhaps does, in fact, represent a breach of his fiduciary duty to the electorate, such matter yet to be officially determined in a court of law.
August 8, 2014
Approximately one week ago, Vancouver Magazine columnist Frances Bula casually asked me why I was covering Vancouver's civic election scene on VanRamblings — stating that, "I don't recall you doing that much before."
Now, Frances' query was framed as a simple question — she was curious, and given that we'd been corresponding, and I turned up at the NPA breakfast meeting with Kirk LaPointe on July 14th (unusual for me), the question seems a valid one, and deserving of a reply. Because the question Frances poses is a question that has been asked of me by many (not the least of whom was COPE's Sarah Beuhler), I'll use this forum to respond.
The primary reason VanRamblings revived itself on June 15th to commence in-depth coverage of the current civic election cycle was to create an alternative narrative to the one most often expressed by Vision Vancouver.
On VanRamblings, I want to hold Vision Vancouver to account for their decision-making, practice and conduct over the course of the past almost six years, and to remind VanRamblings' approximately 17,000 weekly readers of Vision Vancouver's position on a number of issues: development, community consultation, the arts, parks as well as green and environmental issues, affordable housing, and transit — and of how what Vision Vancouver says (or said in the past), and what Vancouver's majority municipal party actually does in practice are often two very different things.
As I've also written on VanRamblings many, many times before, I believe Vision Vancouver to be the worst municipal government that Vancouver has had since the hoary days of Tom 'Terrific' Campbell — and, what I've set about to do on VanRamblings is back up that contention with dogged research, and the regular breaking of stories on this blog, commencing with intensive coverage of Vancouver's civic scene some eight weeks ago.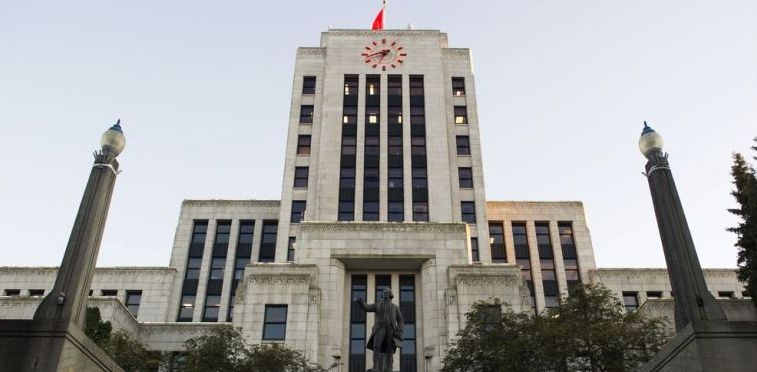 Now, to the second part of Frances' query (before returning to a continuing answer of the initial question): while it is true that VanRamblings has not had a history, over the past decade, of providing intensive coverage of the civic scene, as the last PoliSci / Anthropology / Sociology graduate from Simon Fraser's old PSA department, I can tell you that my interest in the art of politics captured me whole in the early days of my young adulthood.
At Simon Fraser University, where I undertook two undergraduate degrees throughout the 1970s, I developed an overweening interest in politics that was honed and academically informed through the guidance of professors and activists of political conscience. I was privileged to continue a process of a refining of my political understanding as I undertook a Master's degree in Policy Administration, again at Simon Fraser University, in the early 1980s.
The allure of politics, and of democratic engagement and empowerment dates back even earlier, to the first part of the 1960s when I marched with my father on postal workers' picket lines, on strike after strike after strike.
As I've written previously, I worked on my first political campaign in 1963, volunteering on NDP MP Harold Winch's Vancouver East campaign for re-election to federal office, and from those days until now, the allure of politics and democratic engagement has held a pull and a fascination for me, as part of a lifelong endeavour that has consumed me, as a good portion of my life has continued in dedication to building a fairer, more just and truly democratic society, an interest that sustains me until this day.
In additional answer to the query, although I've not covered civic politics to distraction on VanRamblings (I'll explain why in a moment), I have consistently covered the federal and provincial political electoral scene: for instance, in my Decision Canada coverage of federal elections, and last year's intensive Decision BC 2013 coverage of our BC provincial election.
As to why I turned up at the NPA breakfast meeting with Kirk LaPointe, or attend press conferences for the other municipal political parties? I've asked to be placed on the press contact list, and the various civic parties have kindly acceded to my request. I'm retired, I've got the time, I have the interest, and I have the forum — VanRamblings — to publish. Yes, we live in a new and different age. We now have citizen journalism on the web!
While it is true that there's not been all that much coverage of civic issues, on a regular basis, on VanRamblings, and certainly not intensive coverage of Vancouver's civic scene, there's good reason for that ...
During the course of the 2005 election, I was a member of Vancouver's Board of Variance. Given that the BoV is an independent, quasi-judicial body, I believed that it would have been unseemly for me to pronounce publically on civic election affairs — which doesn't mean that I, and other members of the Board of Variance on which I sat, didn't stump for and support civic parties running in the 2005 election; rather, it was that such engagement was quieter, and reflective of the position of trust we held as members of the Board.

During the course of the 2008 and 2011 Vancouver civic elections, I worked as a co-campaign manager on Tim Louis' campaign for office, designed, created and posted to his campaign website, and worked assiduously on the COPE campaign, as a whole, to elect members to Vancouver City Council, Park Board and School Board.

In 2008, given that I had a relationship of some longstanding with Aaron Jasper, I worked as a campaign organizer on the Vision-COPE Park Board slate (both at the request of COPE, and at Aaron's request, and with the support of Vision). Throughout both campaigns, I was busy working on Tim's / COPE's campaign for office, as well as engaging in grassroots campaigning, going door-to-door campaigning for COPE.
So, as you see, my interest in civic politics was always present — I have chosen in 2014 to direct that involvement in the life of our society, online.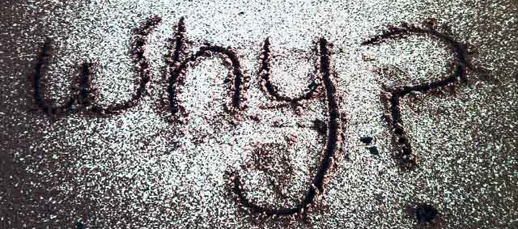 Back to the implicit question contained in Frances' initial query: why you, Raymond, why now — and, perhaps, how is your voice a valid one?
The answer is simple: although I have not previously acted as a journalist covering Vancouver's civic electoral scene, I believe I am in a unique position to cover the 2014 Vancouver municipal election: which is to say, I have a personal relationship with, and have had a personal relationship, with almost every civic politico in town, dating back a decade and much longer.
For instance, for a year-and-a-half, commencing in early 2012 through until the autumn of last year, one Sunday every month, I met with a group of progressives in COPE to help develop a framework for COPE policy — as such I was "inside" the process of decision-making for one of Vancouver's four main political parties. During that time I was afforded the opportunity to get to know Tristan Markle, Stuart Parker, Kim Hearty, and the nine others who sat around Dr. Penny Parry and Tim's Louis' dining room table.
I also worked closely with COPE Executive Director Sean Antrim, and was very much involved in various aspects of the COPE planning process.
Board of Education Chair, Patti Bacchus, and NPA BoE candidate, Christopher Richardson
Given my gregarious and curious nature (and much to the chagrin of my COPE colleagues), I have also come to develop a close rapport, verging on friendship, with a number of folks involved in the Non-Partisan Association.
For instance, for the past year and a half, I have met once a month with current NPA Council candidate Rob McDowell (one of my very favourite politicos in town, and my favourite of the NPA candidates for Council). As the Park Board watchdog (so named by The Courier's Sandra Thomas), in addition to speaking regularly with the Vision Vancouver Commissioners on Park Board — Chair, Aaron Jasper, Constance Barnes, Niki Sharma, Sarah Blyth and Trevor (each of whom I both like very much, and for whom I have much respect and admiration) — I have also had the privilege of speaking and meeting with the two NPA Park Board Commissioners, John Coupar and Melissa DeGenova. I like, admire & respect both John & Melissa, very much.
If I am over the moon about Rob McDowell (and I am), my regard for current NPA Board of Education candidate Christopher Richardson knows no bounds — he's not just one of the finest politicos I've ever met, Christopher is one of the best people I've ever met, period; it is a privilege to have the opportunity to speak with both Rob and Christopher.
In addition to Rob McDowell and Christopher Richardson, I've come to hold NPA Board of Education candidate Sandy Sharma, and NPA Park Board candidate Erin Shum in the highest personal regard. My admiration for NPA Council candidate Ian Robertson also knows no bounds — I think he's the smartest politico in town. I've also become more familiar with NPA Councillor George Affleck, and have long known NPA Councillor Elizabeth Ball, dating back to the days when I was the de facto arts and entertainment editor for a number of community newspapers, and regularly met with Elizabeth, in her capacity as Managing Director of Granville Island's Carousel Theatre.
That I believe that each of these candidates for the Non-Partisan Association to be principled, honest and humble, and deserving of the public's support at the polls should be considered a given — truth to tell, though, these are early days, and I have not as yet determined the list of candidates I will endorse in the final week of the current civic election cycle.
For Council, I can tell you that COPE's Sid Chow Tan and Tim Louis will be on my final endorsement list, as will the Vancouver Cedar Party's Nicholas Chernen. Clearly, the NPA's Rob McDowell and Ian Robertson are at the top of my list for Vancouver's natural governing party.
At this point, I can't imagine not endorsing Vision Vancouver's Andrea Reimer and Niki Sharma (tough, incredibly bright, principled women) — regardless of my somewhat untoward coverage of Vancouver's majority party at City Hall. And, of course, current Green Party City Councillor Adriane Carr, and her running mate, Pete Fry (about whom I feel as equally strongly as I do Tim Louis, Rob McDowell, Ian Robertson, Sid Chow Tan and Nicholas Chernen) will likely be on my final endorsement list.
Still, as I say, it's early days — the final civic election candidate endorsement list is three months away from publication date.
All of the above is by way of saying, I believe that the perspective I offer on Vancouver's civic scene to be fetchingly humane and idiosyncratic, as well as informed to a degree unusual among those who cover the civic scene.
Given my relationship of long duration with politicos from across the political spectrum, and based as well on my work with many of Vancouver's most activist politicos, I have most certainly developed a more intimate rapport than most reporters would allow to be the case, all of which provides me with a unique insight into the character of those who are running for office, and those mounting and backing the various municipal political campaigns.
As such, VanRamblings can, and will, offer a warmly idiosyncratic (and we hope, as well, often amusing) take on the civic scene, in the days, weeks and months leading up to the November 15th municipal election.
An aside, if I might, on two issues concerning VanRamblings ...
Humour. You'll notice above that I employ the phrase "natural governing party" to describe the Non-Partisan Association. Allow me to point out that use of such phrase does not constitute an endorsement of the NPA, nor is it meant to suggest in any way, shape or form that I am "in the tank" for the NPA — I am simply having a little fun (mostly at the expense of some of the folks in COPE, it would seem, although that was never my intention). Readers should know, as well, that I have fun with the headlines / titles of the various articles: surely, having read VanRamblings for awhile now, you must know that I indulge my penchant for hyperbole at almost every opportunity that is afforded; sometimes after I've finished writing a column, and read it back to myself, I laugh out loud at how outrageous and over-the-top my "seeming endorsement" of a candidate would be to the casual reader. That a good many of my readers read some of my writing as amusing (as is intended) is heartening for me; that the converse is also true is, well, unsettling for me — doesn't mean I'm going to stop from composing headlines that, as I wrote a couple of days back, are designed to "engage, enrage and misdirect (challenging the reader to actually read through the commentary below the 'meant to outrage' title)."

Pejorative attack: Although I believe that the politics of personal destruction is the modus operandi for both Vision Vancouver and Stephen Harper's federal Tories (an electoral strategy that has proved successful for both political parties, thus far), on VanRamblings you will never read an attack on someone's character. Ever. There's no one on Vancouver's civic scene that I dislike (I have some personal favourites, and some quite not-so-favourites) — I am admiring of those who are engaged in the civic political scene, & in service of the public interest.
Yes, it is true that I've had some fun at the expense of Vision Vancouver's campaign team, but let me tell you that not for one moment do I ever forget that a person I am writing about is someone's son, daughter, husband, wife, companion, beloved uncle or aunt, someone's father or mother, brother or sister, or cherished friend.
I do not, and will not, deny someone's humanity.
When I write about the Mayor's Chief of Staff, Mike Magee, I do not forget who he is as a man, as a husband and a father and a friend, in addition to his work as a politico of stature and much accomplishment. You will never see me going after someone personally on the VanRamblings blog — sure, I'll take Vision Vancouver to task, but you will never read personal invective or ad hominem personal attack on this website.
Today's post constitutes only the first part of my answer to the question posed by Frances; there's more that I have to say — but not today.

This is my pre-birthday week. This coming Monday, August 11th, is my — as a neighbour suggested to me — "Beatles birthday". I will be 64.
I may have one more post before, or on (or after) my birthday (nothing political), after which time I'll take a break from VanRamblings for one week, before commencing with posting once again on Vancouver's civic scene. I look forward to your return on Monday, August 18th, for VanRamblings' continuing coverage of the upcoming 2014 Vancouver municipal election.

July 26, 2014
VanRamblings would like to announce today, the creation of a Kickstarter campaign to Buy Vision Vancouver.
As part of VanRamblings' one billion dollar Kickstarter campaign, at the time of his resignation, on or before November 14th, Mayor Gregor Robertson would receive the sum of $5 million; thereafter, Mr. Robertson would receive the sum of $1 million per year, for a period not to exceed 75 years.
Current Vision Vancouver City Councillors, as well as the new Vision Vancouver Council slate member, and the lone incumbent Vision Park Board Commissioner seeking re-election in 2014, would receive an immediate payment of $1 million at the time of their resignations, plus the sum of $200,000 per annum for a period, again, not exceeding 75 years.
The campaign will also provide $10 million to Trish Kelly — just because.
The offers made above do not extend to the members of the Vision Vancouver Board of Education. Vision Vancouver members of the Board of Education will have to run under a banner other than Vision Vancouver.
At the conclusion of a successful Buy Vision Vancouver Kickstarter campaign to raise one billion dollars, in addition to the payments made to sitting members of the Vision Vancouver caucus, VanRamblings would seek to make available an immediate payment of $1 million to each of the core members of the Vision Vancouver campaign team.
VanRamblings is fully cognizant that such a campaign, and the proposed commitment of monies that is suggested above, would most probably find competition from Joel Solomon, the Tides Foundation, and Vancouver-based developers, including Wall Corp., Westbank, Polygon, Concord Pacific, and others, but we feel well assured that in raising the sum of one billion dollars that we would be fully able to meet any prospective competitive bid for the attention of members of the Vision Vancouver team.
As part of VanRamblings' Kickstarter campaign to Buy Vision Vancouver, and given that Vision Vancouver would no longer run for elected office in 2014, or in the future, and so as to ensure that come November 15th there is no municipal party that might gain a majority foothold at City Hall, the campaign would make available to each of the Coalition of Progressive Electors and the Green Party of Vancouver, the sum of $6 million, in order that both of these municipal parties would find themselves well-funded and able to compete fairly for the voters' attention — fair's fair, after all.
Just go to www.LetsBuyVisionVancouver.ca.
If you want to see this happen, if you want to be rid of Vision, make a pledge for whatever you can afford, $5, $10 — just keep in mind, we need one billion dollars! Gifts for those who donate: for $10,000, you can enjoy a 1-week summer vacation in Stanley Park; for $25,000 you get to spend the day with VanRamblings, which as we all know, is every person's dream.
With Vision Vancouver having withdrawn from the electoral process, on November 15th we could all look forward to the election of a government of municipal unity, most probably comprised of members of the Coalition of Progressive Electors, the Green Party of Vancouver, and the Non-Partisan Association — with no municipal political party gaining a majority at City Hall, or Park Board. Thereafter, the good citizens of Vancouver may well look forward to the return of good government at City Hall, and Park Board.
Addendum: In the interests of transparency, it is necessary contributors to the Buy Vision Vancouver Kickstarter campaign understand that VanRamblings would receive a small administrator's fee out of the monies raised from the Buy Vision Vancouver Kickstarter campaign, such monies not to exceed $1 million per year — adjusted for inflation, of course.
Settle down now. We're kiddin'. We're joshin'. Just havin' a little fun. There's no Kickstarter campaign to buy Vision Vancouver. What's that? Ah, all right, I see ("They're already bought-and-paid for" — hmmm, if you say so). That's it. Nothin' to see here folks, move along now.

July 22, 2014
Note to Trish Kelly, you may want to go directly to the message, the plea, I make to you, the forgive me, please bear with me, rambling discourse you'll find when you click on the link. That link will also take you to audio of the interview you did, on Monday, with your former college mate, Matthew Lazin-Ryder, on CBC's much-listened to afternoon show, On The Coast.
Today, VanRamblings issues a demand to Vision Vancouver to re-instate their top vote-getting nominated candidate for Park Board, Trish Kelly, to the 2014 Vision Vancouver slate of Park Board candidates.
I think it is unconscionable that Vision campaign members worked to convince Ms. Kelly to drop from the Vision Vancouver Park Board slate.
As West Coast LEAF Legal Director Laura Track tweeted out on Friday ...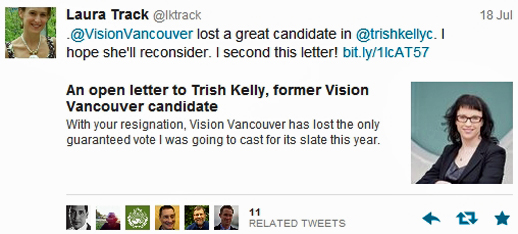 In her Open Letter, Georgia Straight journalist Miranda Nelson writes ...
Trish, you had my vote, one hundred percent. You're open, you're honest, you're funny, and you're unafraid. Those are the sorts of qualities I look for in my civic election candidates. Fearlessness. The ability to laugh at oneself. And the willingness to talk about a woman's body without a lick of shame.

Your resignation is a massive disappointment. I appreciate that you don't want to make the entire campaign from here on in about your work as a sex-positive activist. But, why not? Why not talk about women's sexuality and sexual health in addition to all that tired old blathering about view corridors and bike lanes?

Vision Vancouver lost a great candidate in Trish Kelly. Who am I supposed to vote for now?"
Exactly. As Ms. Nelson suggests, there are enough "dusty old men" who will run for political office this autumn. In 2014, Trish Kelly is the candidate of the moment, the game-changer candidate who will garner broad support from all quarters of the voting electorate, the funny, warm, engaging, progressive, politically acute, incredibly smart and articulate voice for a new and better age, for the Vancouver not as it was, but as it will come to be.
Surely there is, in all seriousness, no thinking individual who honestly believes that an under read, pipsqueak, misogynist, salacious, slut-shaming, and clearly delusional jerk of a white male amateur political blogger shamed Trish Kelly into stepping down from Vision Vancouver's Park Board slate — not that any of those things are true.
In case the concept eludes you, let me assure you that Ray Tomlin did not drop Trish Kelly from the Vision Vancouver Park Board slate.
Vision Vancouver dropped their top vote-getting nominee for Park Board.
A note to Vision Vancouver co-chairs Maria Dobrinskaya and Paul Nixey: in Trish Kelly, you now have the highest profile candidate for Park Board of any candidate running for office this fall. Over the course of the past week, since the "controversy" first began with the publication of the "offending" video, through until today, Ms. Kelly has gained broad community support — not to mention, immense sympathy — for her candidacy, from all sectors of the voting public, even among those who would not previously have considered voting for any Vision Vancouver candidate, but who are prepared now, and on voting day, to cast their ballot for Trish Kelly.
Let's face it, as the old maxim goes, "There's no such thing as bad press."
When voters head to the polls in November, many of them won't recall what the "issue" was that had brought Trish Kelly to greater prominence, what they will remember is her name, at which time when inside the poll booth, as they're marking their ballot, they're likely to say to themselves, "Well, I remember seeing her name quite a few places. Hmmm, I don't remember where, though. She's young, she sorta reminds me of my niece. It looks like she's got a good head on her shoulders. Oh god, what the hell, I can't make heads nor tails of this mass of names on the ballot. I'm just going to go ahead and place an X beside her name, and be done with it."
I know Vision Vancouver campaign chair Mike Magee to be an avid follower of social media. Surely Mr. Magee, and others on the Vision campaign team, must have noticed that social media sentiment respecting Ms. Kelly's continued candidacy has been running better than 100 to one, in favour.
Whatever kvetching there was in the early going, among a very small coterie of people, by week's end that sentiment had reversed.
In respect of the "offending" video that allegedly caused so much controversy, gimme a break: there's no nudity, there's absolutely nothing salacious or inappropriate about any of the video's contents, and as The Straight's Miranda Nelson writes (reflecting the overwhelming sentiment expressed on social media, the comments section of blogs, and online mainstream publications), the waywardwest.tv video is, "one of the best videos that's emerged during a municipal election cycle that I've ever seen."
Hello, Vision Vancouver: you can't buy press like that. And you dropped Trish Kelly from your Park Board slate because you thought she might be "a distraction"? Shyeeaah. A distraction of the best possible kind.
"It wouldn't even allow for a full discussion in which we could engage on some of these important issues, because the four-second sound-bite or pull-quote would not allow for the discussion she wanted to have," Maria Dobrinskaya said in the press release. "It was a very tough decision, and none of us is very pleased with where it all ended up."
Heartwrenching. Nonsense. Poppycock. Bring Trish Kelly back!
Another note to the Vision Vancouver campaign team: Vision Vancouver has courted the LBGTQ+ vote like mad the past year and a half. Now you've dropped Trish Kelly, the standard-bearer for that community. Surely you must realize the LGBTQ+ community is apoplectic at the decision that Maria Dobrinskaya and Paul Nixey announced last week.
After so successfully courting the LGBTQ+ vote over the past year and a half, and given how tight the upcoming election is likely to be, how is it that the Vision Vancouver campaign team has suddenly become so gun-shy, so conservative in their approach to the upcoming election that they feel they can afford to alienate a core constituency of their vote?
Longtime political activist Michael Geoghegan writing in response to Jarrah Hodge's article in The Tyee, titled Crap, I'm Ineligible for Public Office ...
"... all political parties are increasingly vetting out anyone who may be the least bit interesting or inspiring and people wonder why voter participation continues to decline. Either we as an electorate have to overcome our hypocritical views or increasingly be governed by the bland and / or those sociopathic enough to be solely focused on the pursuit of power since childhood."
Or as another commenter wrote, "... she should stay in. We need more voices, not just those approved by opinion leaders."
Why didn't Maria Dobrinskaya and Paul Nixey simply issue a press release last week stating, "Despite the hurtful, unjust, unprincipled and sensationalist campaign that was launched in recent weeks against Vision Vancouver's 2014 lead Park Board candidate, Trish Kelly, Vision Vancouver stands behind Ms. Kelly, our support for our outstanding community activist candidate for Park Board remains firm, remains strong."
Wouldn't such an approach be the more principled approach?
Vision had identified three core constituencies of support going into the 2014 Vancouver civic election: the LGBTQ+ vote, the cyclist vote, and the Union vote — each of which they expect to come out in droves at the polls on November 15th. Now Vision has set about to alienate their LGBTQ+ vote by dropping a powerful, feminist high-profile member of a constituency whose support, over the past year and a half, they've sought to garner.
I'll say it one more time: re-instate Trish Kelly to Vision's Park Board slate.
To all those who have called VanRamblings a prude (puh-leeze, gimme a break), I am well aware of what the response of the haters will be to today's VanRamblings column — as they set about to rewrite recorded history, and woefully misrepresent everything that has been written on VanRamblings about Ms. Kelly — how this alleged "changed" stance on Trish Kelly will be received, "Oh, so Ray Tomlin's issuing yet another mea culpa, now he wants to have it both ways, first he slut-shames Trish Kelly, now he wants her back on the Vision slate. Well, he's still an asshole."
Y'know what? Go for it.
I've got broad shoulders, and can take any criticism directed my way.
What I can't take, though, what I won't stand for is you sitting back and doing nothing to rectify what you rightfully perceive as a wrong — that Vision Vancouver, unilaterally, dropped Trish Kelly from their Park Board slate, and that you believe — as I do — that Vision Vancouver's decision was wrong, egregiously, unforgivably, verging on irredeemably wrong.
So, all you activists out there, here's my advice: start a Twitter meme that will bring Trish Kelly back into the political fray, force Vision Vancouver to re-instate Trish Kelly as their lead, top vote-getting candidate ...
.@trishkellyc Don't let any bastard blogger stop you from running. @VisionVancouver #trishkelly4parkboard #sayitloud #standproud #vanpoli

We demand that @trishkellyc be re-instated to @ParkBoard slate. @VisionVancouver #STOPslutshamming #TrishKelly #standproud #vanpoli

Hey @VisionVancouver folks. We want to vote 4 @trishkellyc 4 @ParkBoard #ReinstateTrishKellyNow #TrishKelly4ParkBoard #vanpoli
Demand that the Vision Vancouver women who have provided succour to Trish Kelly since she was forced to step down by Vision Vancouver, who have offered their personal and social media support to Ms. Kelly, that they insist that Trish Kelly be re-instated to Vision's Park Board slate.
Demand that current Park Board Commissioner / Council candidate Niki Sharma not only add her voice to the chorus of support for Ms. Kelly, demand that Niki Sharma insist that the Vision campaign team immediately re-instate Trish to the Vision Vancouver Park Board slate — and tell her that on Twitter, by e-mail (niki.sharma@vancouver.ca), on Facebook, or when you see her in person campaigning on the hustings with the Mayor.
Demand the same thing of Vancouver City Councillor Andrea Reimer, who first brought Trish Kelly's candidacy forward, demand action by Vision Vancouver eminence gris, Heather Deal, and demand action from Vision Vancouver Park Board Commissioners Constance Barnes and Sarah Blyth that their party's top vote-getting candidate for Park Board remain on Vision's 2014 Park Board slate, as the strongest, high profile — and wildly popular — candidate on this year's Vision Vancouver Park Board slate.
Call, write, or connect any way you can with Vision Vancouver's Maria Dobrinskaya and Paul Nixey, or Vision Vancouver Executive Director Stepan Vdovine (office:604-568-6913, Local 104 — which we have to believe is also the number, if not the local, to reach Maria or Paul). E-mail stepan.vdovine@votevision.ca — and tell each of them that the decision to drop Trish Kelly was wrong, and that if you were going to consider voting for Vision Vancouver this autumn, the chance of your casting a vote in their direction now has lessened considerably given the egregious decision that was taken by the party to drop Trish Kelly from their Park Board slate.
Read More...
July 20, 2014
Sarah Beuhler, Coalition of Progressive Electors Membership Engagement Co-ordinator
In today's VanRamblings column, I had originally intended to address Vision Vancouver's decision to drop Trish Kelly from their Park Board slate — but with your kind indulgence I will take leave of writing on that subject matter, and instead address the relatively small, yet virulently vocal, coterie of social media 'haters', who this week have waged a remorseless, verging on barbaric, campaign of harassment directed towards me, that previous to this week, I had only a bare academic understanding of, having read about the events that led to the suicides of Rehtaeh Parsons & Amanda Todd.
On Saturday afternoon, July 19th, Coalition of Progressive Electors (COPE) Membership Engagement staffperson, Sarah Beuhler, published the following Facebook post, a relatively innocuous, but well-written, 'attack' on me, one of the lighter condemnations to which I have been subjected.
Now, I think Sarah's post above represents fair comment — which is not to say that I am not somewhat taken aback by her dismissive "salacious jerk of a white male amateur political blogger" comment, but as I say, she writes well, and even though I am not the angry old white man that Gregor Robertson identified as his NPA opposition earlier in the year — I am old, I am white, I'll give Sarah that — I am nonetheless somewhat taken aback.
I am particularly flummoxed because for some 40+ years I have remained a member in good standing of the Coalition of Progressive Electors. Now, I understand that with the so-called Left Front in charge of COPE, and COPE having virtually expelled David Chudnovsky some months back, not to mention alienating Stuart Parker — each of whom are, heaven forbid, that most dastardly of creatures, a white man — that my membership in Vancouver's 2nd oldest civic party may very well be in jeopardy. I hope not.
Sarah continued to take me out to the woodshed, and give me what for ...
Ray, for Christ's sake, will you back off the martyr's pose. I do not know you "so well" nor am I questioning your bloody humanity ... your intentions are meaningless in this regard, I could only speculate about why you feel the need to play the role you've appointed for yourself in municipal politics. If you are also hoping to be treated as some kind of hero for the crap you post, you must be very disappointed. At this point your blog comes across as attention seeking and from the brain of a disturbed person ... I suggest you ask yourself if the world needs another straight white man blogging in such a hideous manner about the minutiae of municipal politics.
Oh, God — I am so grateful that Frances Bula and Emily Jackson are reporting on the civic political scene. Perhaps The Courier's Mike Howell and The Sun's Jeff Lee should step aside, as well. After all, they're white men, what could either have to say that would be of any possible interest?
And, too, I suppose there was no value in my posting the video, and the audio of the morning press briefing, of Non-Partisan Association mayoral candidate Kirk LaPointe's announcement that he was entering the 2014 Vancouver electoral race. And, clearly it was pointless to post Vision Vancouver's response to Mr. LaPointe entering the race for elected office — who could possibly be interested in that? Salacious material, indeed.
And who in their right mind could give a tinker's damn about the drama that's been going on at the Riley Park Hillcrest community centre association? And one has to imagine, as well, that there's not a single soul in the city of Vancouver who has ever given a passing thought to our city's poor park maintenance, and what that means for the livability of our city — well, not anybody in the Left Front, that's for damn sure. Maybe the rest of us, a handful of Vancouver voters — who knows? I suppose, though, as Sarah writes, all those columns constitute only the inconsequential blathering of the "salacious jerk of a white male amateur political blogger."
For those who are interested, I responded to Sarah in the following form ...
Of course, you're entitled to your opinion — but I think it is small-minded, and ill befits a person of character, as I have believed you to be. Earlier this afternoon, I wrote the following to a friend about you ... "I have had a fun, supportive and pretty darn terrific relationship with Sarah in recent weeks. We have spoken at various events — I am, and have been, explicitly supportive of her, we DM one another regularly on Facebook, and I have felt for some time now that it is Sarah who will keep COPE ED Sean Antrim in line during the course of the upcoming fall election campaign. Sarah is great, possesses an incredibly infectious sense of humour, and is more full of life than anyone I know in COPE. I would reasonably have expected that Sarah - being fair-minded - would have contacted me before setting about to publically call me a "salacious jerk", call me "a white amateur political blogger", after which, invoking the left's "right" to censorship of all which they don't approve, set about to recommend that I "shut down (my) bullshit" blog ... what is wrong with these people? Do they not know that words have consequences — does Sarah not know that she is explicitly calling for censorship of ideas ... what a rocky, unforgiving and dangerous road to go down.
To which Sarah responded: "Censorship? hahahaha. Yeah, okay Ray."
Upon sharing Sarah's correspondence, an associate replied as follows ...
Who are these uncouth, insensitive people? I think what you are thinking about and writing about is relevant. Don't get into a discussion with these type of folks. Address the matter shortly and to the point, then forget them.
Another friend simply said, "Raymond, don't take this stuff seriously."
Yes, that is current Vision Vancouver Park Board Commissioner, now a Vision Council candidate, Niki Sharma, offering advice. Here's my reply ...
Reasoned, responsible, serene — okay, okay, my reply wasn't any of those things. Still, I stand behind the sentiments expressed. Sometime soon, I'll address the "dumped @trishkelly" comment, at length, ad nauseum, on the subject that just doesn't want to seem to die (hint: I'm calling for the re-instatement of Trish Kelly to the Vision Vancouver Park Board slate).
Now, I could continue to write about the near constant, belligerent, abusive, inhumane, belittling, holier-than-thou schoolyard bullies, who from what I can tell are devoid of empathy or even the slightest degree of humanity, the cynical, destructive, & despicable creatures who have waged an unrelenting campaign of hate directed towards me this past week — but why bother?
In point of fact, those who daily write or call me, who stop me on the street, or greet me in a coffee shop, all of my closest associates — ranging across the political spectrum (you know, people of conscience, people possessed of wit) — and even, honest-to-God journalists in this town with whom I speak on a regular basis, remain encouraging and appreciative.
As the urban maxim goes, "Haters gonna hate." VanRamblings is not going anywhere, not now, not soon. I'll be here reporting out on civic issues through until election day, November 15th, and beyond. The 2014 Vancouver municipal election is, perhaps, the most crucial election in Vancouver's 128-year history — the more voices in the fray, the better.
July 18, 2014
(Update: Read Demand That Trish Kelly Be Reinstated to Vision's PB Slate)
On Thursday afternoon, Vision Vancouver Park Board candidate Trish Kelly made the very difficult decision to withdraw her bid for elected office.
Ostensibly, according to community buzz on social media, Ms. Kelly chose to drop out of the race for Park Board, resultant from a "shaming" campaign that it is alleged VanRamblings had commenced earlier this week, with the July 14th publication of a blog post on VanRamblings.
Ms. Kelly is quoted in the July 17, 2014 press release issued at 4:02pm by Vision Vancouver ...
"After 25 years of serving my community, I put my name forward as a Park Board nominee to move my life as a community activist fighting for social justice issues, to claiming a seat at the decision-making table. Unfortunately, my work in theatre and as a sex-positive activist is being sensationalized — and will clearly continue to be distracting from my efforts in the community and in the election campaign," said Trish Kelly.

"I have never hidden from this work. I hold no shame nor regret for the work I have produced," continued Kelly. "I have dedicated, and will continue to dedicate, much of my life to contributing to my community, to having difficult conversations, and to making myself vulnerable in order to make space for others."
I sincerely regret that Ms. Kelly has chosen to withdraw from what was certain to be a very difficult campaign for office for Vision Vancouver this autumn electoral season. I could not reasonably have expected, or imagined, nor did I wish for Ms. Kelly to withdraw from the Park Board race.
In laying out the next four months of VanRamblings posts, I had at least three posts that were to be published regarding Ms. Kelly's appropriateness for office, each one of which would be explicity supportive of her candidacy.
I anticipated endorsing Ms. Kelly, as I will current Vision Vancouver Park Board Commissioner Trevor Loke, because I think it is crucial that there are strong, reasoned and passionate voices on Park Board who are committed to advocating for the early implementation of the recently-approved Park Board Trans and Gender Variant Inclusion Policy. I believe that Trish Kelly would be a key advocate for moving the policy forward — hers was, and is, a powerful voice, on this very important issue. Ms. Kelly's withdrawal from the Park Board campaign race may jeopardize early implementation of the policy, and under no circumstance would I — nor would many, many other members of our community — wish that to be the case.
Perhaps you haven't read the VanRamblings post that in having gone viral has caused so much consternation in the community — you should. And, please, read past the inflammatory title, into the actual content of the post.
In making the decision to make the waywardwest.tv video available to the general public, and voting electorate of Vancouver, as I suggest in the post, I deliberated on "the morality and appropriateness" of publishing the video.
Finally, in the hours and minutes prior to the publication of the post, and Ms. Kelly's — as I say in the post, "entirely necessary" — video, I asked myself the question ...
If the Toronto Star were to be provided with a copy of a potentially controversial video of a top vote-getting candidate for civic office, would The Star act as a gatekeeper of such 'news', and forego the public interest in keeping the video to themselves, and therefore out of the public debate?

The answer was clear: in the interests of openness and transparency, and in the public interest, The Star would run with the video.
Thus, early on Monday morning — under the fair use provisions of Canadian copyright law — the post first appeared on VanRamblings.
Since publication, my many detractors on social media, and elsewhere, have called into question my integrity, my ethics, my commitment to social justice, and my humanity, one commenter on Facebook writing about ...
" ... the tripe that passes for prose in this sad little blog post ... I unfortunately live in South Surrey and can't vote for Ms. Kelly. But if she would pledge to introduce a bylaw banning VanRamblings I would happily organize friends and family to vote for her."
The comment above is one of the kinder things that have been written about me in recent days, and the worthiness of VanRamblings. You will find a sampling of social media commentary at the end of today's post.
Knowing of my penchant for writing at length, in recently commencing coverage of the upcoming Vancouver municipal election race, I made a conscious decision to keep the posts short and, wherever possible, pithy.
Not today.
I am a feminist. There is no more important issue to which I have dedicated my life than support of the women in my life, the promotion of women's rights, and the realization of an utterly safe and productive environment for all women and children, here and elsewhere across the globe.
The untoward suggestions that have been made about my character, and the notion that in publishing the "offending" July 14th post I, in any way, meant to shame, cause injury, or sought to inhibit Ms. Kelly's campaign for elected office, are anathema to the core beliefs that are fundamental to the way I have brought myself to the world, and the struggle in which I have engaged all of my adult life to promote the fair treatment of women.
I have a daughter who I love with my whole heart, who as a young girl was raised with feminist values that were incorporated into the very fibre of her being — an education on the role of women that was valiantly supported by her mother, who is among the strongest women I have ever known.
I say "among" because my daughter is the toughest-minded, the strongest, the most socially-conscious activist woman I have ever met, and she has been so from the youngest age, through her PhD, and beyond. There is no one of whom I am more proud — Megan's life, and how she brings herself to the world, is fundamental to hers, her mother's and my core principles on the absolute necessity of a more just world for women.
The notion that I set about to hurt Trish Kelly is akin to suggesting that I would hurt my daughter, or the women I love — such a notion is abhorrent.
In the pre-feminist days of the 1970s (yes, Betty Friedan had published the seminal feminist text The Feminine Mystique in 1963, and Simone de Beauvoir was an activist feminist writer from an earlier age, as was anarchist political activist Emma Goldman), in the days before the 1972 publication of Gloria Steinem and Letty Cottin Pogrebin's Ms. Magazine — which gave popular voice to the notion of women's equality and women's rights (yes, for you younger folks, there was actually a pre-feminist era when all that is now taken for granted was but a fairy dust dream) — Cathy, my once and forever beloved, and mother to our daughter — would each Wednesday meet with other women in a "women's consciousness raising" group.
During the course of those consciousness raising sessions, my job was to remain at home, to cook, to clean, but most importantly, to set about working with Cathy to create the conditions for a relationship that would be based on equality of opportunity and circumstance.
Throughout the early 1970s, Cathy and I picketed the aboriginal restaurant on Davie, whose Swedish flight attendant owners discriminated against and exploited their aboriginal female staff. Cathy and I would drive down from the Interior, where I was teaching and Cathy was working for the Ministry of Human Resources, to join the picket line at Bimini's on West 4th, when the owners refused to negotiate a first contract for their largely female staff.
As the first paid 'Co-ordinator' / Executive Director of the Tillicum / Fed-up Food Co-operatives, the realization of a workplace based on equality was central to the work I took on. In another post, I will write about my work with a pioneering group of lesbian feminist women — an activist adventure that was among the most satisfying political experiences of my life.
As an editor at the Peak newspaper, at Simon Fraser University, I wrote searing essays that resulted in the realization of The Association of University and College Employees Union, a union mainly composed of women, and from then on the negotiation of a first contract. Those essays also served to create the conditions to break the "glass ceiling" that then existed — where women were assigned to the "menial work" (when we all know such work is hardly menial), and never provided the opportunity for advancement — in the end, after months of activist advocacy writing, several men resigned their senior administrative posts, and in every case an able woman was promoted to take the place of her former boss.
In 1973, arising from my work with an activist NDP government in creating Student Employment Offices at post-secondary institutions across the province, rather than place myself in a senior administrative position, I took on the job of secretary — because, again, as we all know that is where the "real work" takes place, the typing of letters, the answering of phone calls, the arranging of schedules, the creation of a filing system, and all that goes into running an efficient and productive office.
In the latter half of the 1970s, as an activist BCTF Learning and Working Conditions Chairperson, support and promotion of the women with whom I worked was central to the work I took on. I consistently refused offered posts that would have enhanced my career, in favour of ensuring that a woman would be placed in that post. In my time as an L&WC Chair, I worked with Linda Shuto at the BCTF, as she set about to create the first Status of Women office in any non-governmental agency on the continent.
In 1977, I led a movement — later taken on by the BCTF, the BC School Trustees Association, and finally the provincial government — to ensure that women kindergarten teachers would not have to suffer classes of 30 or more, as the school district set about, as it was finally determined, to abrogate the Schools Act. In the end, the senior administration of the school district had their employment terminated for cause, and the School Board was placed into trusteeship, as the provincial government set about to establish a new, more just formation of that Interior school district.
And finally, for now, allow me to tell you about the single most rewarding activist venture in which I was engaged this past decade.
Hired as the IT person at First Student Bus Lines, I was called into a meeting with staff early one 2004 September morning, where all bus drivers and attendants were informed by management that henceforth the hourly wage of $10 - $12 would be converted into a contract wage of $36.25 for a 12-hour, or longer, day. School bus drivers and attendants are not covered under existing labour legislation in the province — leaving the employer to demand of their largely recent-immigrant women staff virtual serfdom.
Read More...
January 1, 2014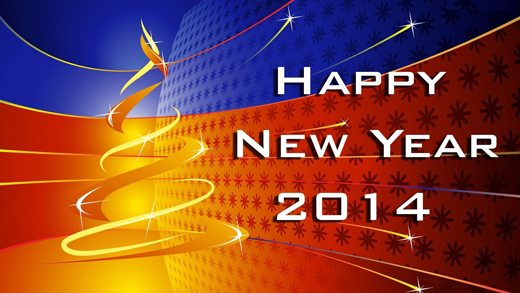 December 22, 2013
VanRamblings' two favourite times of year occur from mid-July through the end of August, a six-week celebration revolving around the anniversary of our coming to this Earth (at least in this incarnation, in this time and place and history of life on our planet), and the period beginning in mid-
November through until December 31st. We have long been a romantic about most aspects of life, and love the idea of simply taking a bit of time off from the hurly burly of our everyday, and often too busy, life to reflect on the conditions of our existence, a deep and abiding reflection, a process in which we seek to provide meaning, context and, perhaps, resolution.
Within that contextual framework is contained our love for the arts — dance (we love the ballet), music (mostly of the pop culture variety, although we love progressive country), film, anything tech-related, literature, television, and the art of politics, which is to say, the political maelstrom that is public engagement early in this new millennium.
In this first of five columns on the Best of 2013, we'll survey a cross-section of critical opinion on the best music of the year, much of which art you may have been utterly unaware of prior to the writing that'll appear below. As a means by which to introduce new music into your life, there is no more salutary event than that which occurs at year's end, as you (and I) become aware of the music of our age, through a survey of informed critical opinion — always a life-enhancing event offering steadfast insight, in the most propitious, enlightening and expedient manner possible. Yippee!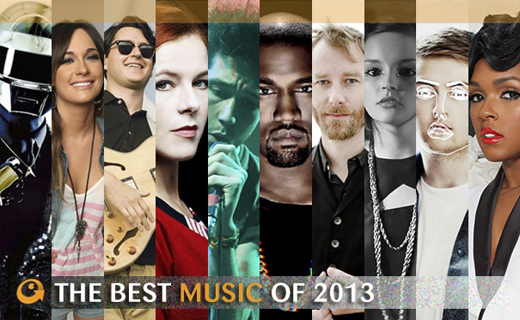 There was a time, in recent years, when we turned to Salon (in its heyday, in the late 90s through 2005), Rolling Stone, the now defunct and the much-missed Blender magazine, but since 2009, Popmatters has been the go-to place for insight into the Best Music of the Year. Yes, we know there's NME and Paste (now available online only), Q, Pitchfork, Mojo and more, but we'll stick with Popmatters, at year's end, for our annual hit of unexpected and oh-so salutary musical insight.
Here's Popmatters 'best of music' home page, detailing the 75 Best Albums of the Year, Best Canadian, Country, Metal, Indie-Pop, and more ...
Making Popmatters' 75 Best Albums of 2013 list, at 72. The Boards of Canada; at 63. the ever-present Lorde; at 47. David Bowie's The Next Day; 42. Julia Holter (a favourite of our friend, J.B. Shayne); 38. Rhye, to whom we introduced you earlier in the year; 27. Queens of the Stone Age; 24. Our very own Tegan and Sara; at 9 and 8, the breakout bands of the year, Haim and CHVRCHES, and at number one ... well, who else would you expect? But you'll have to read through to be sure you guessed right.
One of our favourite discoveries is a duo out of England, with whom our son Nathan has long been familiar, but is new to us this year: 4. Disclosure, who represent the very best danceable British garage house music of 2013.
Now, make no mistake, there's more, a great deal more ...
And, of course, much, much more.
In the The Best Country Music of 2013 category, we discovered a couple of artists with whom we were not previously familiar, Brandy Clark, and our favourite roots, working class, progressive country find of the year, Kacey Musgraves, who's making a whole tonne of Best Of lists in 2013.
We leave you, dear and constant reader, with a survey list of the Best Music of 2013, critical reception from some of our favourite publications ...
Lots to listen to, lots to grok. Good luck. Enjoy. Merry Christmas!
April 24, 2013
| | |
| --- | --- |
| Vancouver Courier journalist Sandra Thomas' article on the Kitsilano Community Centre AGM | |
Award-winning Vancouver Courier journalist Sandra Thomas has composed, as is indicated on VanRamblings' Facebook post above, a particularly well-conceived and researched article on last Thursday, April 18th's Kitsilano Community Centre Annual General Meeting.
In a town that is sometimes given to lazy journalism, that Thomas chose to interview (and quote) a broad cross-section of the 'players' in last week's delirious KitsCC passion play, that in a very short time (deadline looming) Thomas found her way clear to crafting a piece of writing not only seamless in its presentation of argument, but peerless in its command of the issues, emerges as an accomplishment worth noting and commenting on.
The original VanRamblings article to which Ms. Thomas refers, near the end of her piece, was published under the title, Besieged at the Kits Community Centre Annual General Meeting, and may be found here.
October 1, 2012
VIFF2012: Starlet director Sean Baker in a Q&A, Sunday morning, following film screening
Sean Baker, who brought his new film, Starlet — the provocative May-December friendship drama — to VIFF2012, at the Q&A following an early morning screening of the film (above) told the audience that the film had found a North American distributor in Music Box Films — who have acquired a number of films screening at our VIFF, for distribution in Canada and the United States, including Ira Sachs' well-reviewed, Keep the Lights On, and VIFF favourite Any Day Now. VanRamblings reader Joan Skosnik was kind enough to write to us with the information that the Alan Cumming / Garret Dillahunt period drama had been acquired for distribution.
Music Box Films acquired Canadian Best Foreign Language Film Oscar nominee Monsieur Lazhar last year, and took it right through the Oscar process, where the film emerged as an even odds prospect for a win. Will the same thing happen for Starlet, Any Day Now or Keep the Lights On? VanRamblings thinks not, and believes that these three films are unlikely to return to Vancouver, unless VIFF Vancity programmer Tom Charity picks them up for a one-week run. Distribution is a costly process, and when you're talking about distributing films that cost only $250,000 to make in the first place, although those films might find release to theatres there'll be next to no money for marketing and advertising the films, so who'll even know that they've found a home at a cinema in our town, post-Festival?
Maybe the three films referred to above will return to Vancouver, maybe they won't. Clearly, they're all worthy films. VanRamblings' advice? Why risk possible disappointment? See them as part of your VIFF2012 film schedule!
Read More...
September 30, 2012
The first three days of the 31st annual Vancouver International Film has proved to be nothing less than spectacular.
Although VanRamblings' Festival started out a bit on the meh side, Friday and Saturday were knockout punches in terms of film quality. As was mentioned yesterday, the counterintuitive (at least for us), heartfelt drama, Any Day Now , has emerged as the most well-acted, poignant, and accomplished piece of indie filmmaking we've seen thus far at VIFF2012.
Nuala (Grade: B+): Renowned Irish journalist, feminist TV producer and host, book reviewer, teacher and New York Times best-selling author Nuala O'Faolain, who passed on May 9, 2008, was the second eldest of nine children, the daughter of neglectful parents — a raffish social affairs columnist father, and a book-loving, alcoholic mother. Somehow, through her love of literature, a beauty which brought her many (many) lovers, and the undampened spirit she carried within her throughout her life, Nuala prevailed. As British poet Philip Larkin wrote, "They fuck you up, your mum and dad. They may not mean to, but they do." Odds-on favourite to win Best Non-Fiction Film at VIFF2012 (no mean feat that considering the superior quality of VIFF docs this year), Nuala is must VIFF viewing in 2012. One final screening, Wednesday, October 3rd at 11am, Vancity Theatre.
Any Day Now (Grade: A-): The Audience Award winner at Tribeca this year, winner of Best Actor (Alan Cumming) and Best Director (Travis Fine) at the Seattle Film Festival in June, among a raft of other awards, this touching, tragic, sentimental and (fortunate for us) at times wildly comic 1979-set apparently true period drama explores the discrimination to which gay men have long been subjected, and the lengths to which one must go to engender tolerance and civil rights. Far from pedantic or a polemic, the at all times honest and beautifully-etched story of Paul, a closeted deputy district attorney who falls in love with Rudy (Alan Cumming), a flamboyant, lip syncing drag queen, and the fight the two wage to adopt Marco (Isaac Leyva), a teen with Down syndrome, offers as intimate and nuanced a character-driven drama as you're likely to see this year. A film not to miss. Screens again next Saturday, October 6th at 11am at the Vancity Theatre, and on Monday, October 8th at 9:30pm, Empire Granville 7.
Read More...
August 18, 2011
Although the Flickr slideshow presentation above is not, as yet, complete, we'll offer somewhere in the neighbourhood of 70+ pictures as an interim photo instalment, covering our glorious, fulfilling 8-day sojourn to Montréal.
In the coming days, we'll add another 30 - 50 photos to the slideshow, so check in early next week for a more expansive presentation.
(For optimal viewing, you may want to take the slideshow full screen).
August 17, 2011
First thing in the morning, all VanRamblings wants is un café and a bit of breakfast. But where to do that cheaply and well in Montréal? Turns out that one can find your not-so-run-of-the-mill greasy spoon breakfast on Rue Milton, west of Avenue du Parc, a charming little bistro called Le Place Milton (a photo of the interior included in tomorrow's Flickr slideshow).
Following a great bacon and eggs petit-dejeuner, we hopped back on our Bixi, planning to head up to Mont Royal, when a thunderous rain storm came out of nowhere and just drenched us. Soaking wet (but warm), we made our way to our residence, changed and shot the following video ...
Soon enough, though, the weather changed back to the expected hot and sunny conditions, and off we were on our Bixi to explore Montréal.
We headed over to Mont Royal (almost all up hill), but thought better of hiking up the mountain to see the sights, so - as our vacation wends to a satisfactory close - we decided to simply spend the late morning / afternoon riding around town, down the backstreets, the neighbourhoods and main thoroughfares, from Mont Royal in the north through to all the streets south to Rue Sherbrooke, from Rue Saint Denis to the quieter Rue Saint Urbain, to the bustling Rue Saint-Laurent, and finally 'home'.
Of course, we stopped off for a cooling raspberry frappé, surfed the 'Net on our iPhone, took in the sights, and enjoyed a momentary rest.
Late afternoon saw VanRamblings headed towards downtown, riding our Bixi south and west towards old Montréal. Early evening found us, once again, at Dunn's Famous, where we supped on a smoked meat sandwich (they're succulent and delicious). The remainder of our day, prior to taking to bed at night, was spent making preparations for our triumphant return to the west coast where, of course, convivial plans are already in the works for VanRamblings to be fêted by our many friends and supporters.
Come on back tomorrow for a preliminary Flickr slideshow presentation, with more than 70 photos, covering everywhere from old Montréal and Chinatown, to Schwarz's Deli and Dunn's Famous, and a great deal more.
August 16, 2011
Even prior to our leaving Vancouver, VanRamblings had set aside Monday, August 15th for our sojourn to Québec City. You'll want to take the Flickr slideshow above to fullscreen mode to truly appreciate the travelogue.
Originally, we'd planned to stay overnight in Québec City, allowing us to roam to our heart's content, but the 'real life' considerations of which we have written previously played into our decision to make it a somewhat leaner visit than had previously been planned. In point of fact, though, we had an exceptionally good time, managing during our brief stay to take in everything we wanted to see, experiencing Québec City to its fullest.
We arose from an all-too-brief slumber at 5 a.m., made our way to the VIA Rail station by 6:30 a.m., boarding the train. By 7:10 a.m. were peacefully rolling on our way to Québec City for a 10:26 a.m. arrival time. The journey by train was uneventful, and relaxing (we just love train travel).
Upon our arrival and after disembarking from the train, we trudged up a very colline escarpée towards Rue Saint-Jean du Vieux Québec, closed off for pedestrians weekday evenings, weekends and holidays (although there were no vehicles on the rue during our midday visit). The warm, exquisite ambiance of the street allows passers-by to enjoy a unique shopping experience, while the many restaurants operate terraces which serve to showcase the 18th-century historical architectural to good advantage.
While exploring Vieux Québec, we overheard a couple planning a bus tour later in the day. Good idea! Next thing we knew, the Chateau Frontenac lay before our very eyes, and we were beckoned to book passage on an altogether comfy and air-conditioned 20-seat tour bus, as our garrulous driver / narrator Roland regaled us with enchanting tales of Vieux Québec.
During the two-hour tour, alighting at stops along the way, we visited l'Avenue Cartier, le Grande-Allée, La Citadel, le Vieux-Port du Québec, the Plains of Abraham, the Basilique-Cathédrale Notre-Dame, the Quartier Petit Champlain, the Parliament Buildings, le Jardin Saint-Roch, le Fontaine de Tourny, le Parc de l'Artillerie, le Musée National des Beaux-Arts du Québec, and more, many more sites! We were thrilled, and had a great time!
As far as possible, we covered most of what we experienced during our stay in Québec City with our Panasonic Lumix FZ-28, the results of which may be found in the Flickr slideshow at the top of today's posting.
August 15, 2011
During our eight day stay in Québec, so as not to disappoint our constant reader, and to get all out of our vacation sojourn that we might, we have packed in as much as possible 'to do' during our time in la belle province.
St. Catherine's Street. Check. Old Montréal. Check. Schwarz's Deli and Dunn's Famous. Check, and double-check. Montréal Botanical Gardens (Jardin Botanique de Montréal). Covered that and Saint Denis already.
Basilique Notre-Dame. Well, kind of. Québec City. That's coming today, with a report tomorrow. Mont Royal? Will ride my Bixi bike there on Tuesday. May, or may not, get to St. Joseph's Oratory. Between trips on the Métro all over town and getting off at stations to explore various neighbourhoods, 8 - 10 kilometres of walking each day, bus rides galore, and now riding on my Bixi bike all over creation, for what is in reality a relatively brief stay in Québec, we believe we've covered a great deal and, overall, feel quite satisfied with what our experience of la belle province.
Sunday was the day we'd set aside for the Hop-On Hop-Off Double Decker Montréal Bus Tour, which would assure us that at least we'd get to most sites on our 'must-see' list while visiting in Montréal. Alas it was not to be. We couldn't get hold of the office either Saturday or Sunday, nor could we confirm a reservation online. C'est la vie; sometimes these things happen.
Instead, VanRamblings opted to 'rent' a Bixi bike (you may want to change the language at the top to English on the website) for a 72-hour period. Bixi is a public bicycle sharing system available in Montréal's central core. Users rent a bike employing a 'subscriber key' obtained from a 24-hour a day touchscreen-operated pay station (employing a credit card): $5 for one day, $12 for three days, $28 per month or $78 annually.
A 'no extra charge time period' covers the first 30 minutes on every individual trip. An unlimited number of such included trips are covered per subscription period. A trip that lasts longer than the 'no-charge time period' incurs additional charges, on an increasing price scale: $1.50 for an extra 30 minutes, $3 for 60-90 minutes, and $6 each subsequent 30-minute period (the increasing price scale is intended to keep the bikes in circulation). Given that there are 400+ stations, it doesn't prove too much of an inconvenience to park your bike at a station, and after two minutes, recharge use of the bike for another 30-minute period at no extra charge.
Onto the travelogue portion of this Monday morning VanRamblings post.
Read More...
August 14, 2011
Saturday was a scorcher all day, with daytime temperatures ranging from 27° C to 32° C, Saturday somewhat more humid than we'd experienced earlier in the week, although a cooling breeze off the St. Lawrence provided some respite from the effects of sun, which beat down relentlessly from early morning through early evening. Still, as 2011 in Vancouver brought about the bummer summer, VanRamblings felt quite alright throughout the day, as we got our first taste of a 'real hot summer', and all that entails.
As in our previous post, we'll address issues in point form. Here goes ...
PC blues: VanRamblings brought along our 14" Toshiba laptop so that we might post memories of our visit to Montréal. Wouldn't you know it, PC 'glitches' abounded in our first couple of days: 1) we couldn't connect to McGill's computer network, so had to use our iPhone 3G; 2) our video editing software, Windows Live Movie Maker, failed just as we were ready to publish yesterday's video, and because we hadn't saved the video, we lost two hours work; 3) the screen orientation on our PC went kablooey; and, 4) our Movable Type blogging software has proved glitchy, troublesome and unresponsive. Problem 1 was resolved by a visit to McGill Tech Support, at 688 Rue Sherbrooke, Room 285, late Friday morning. We're hoping Problem 2 will be resolved with a download of the latest version of Microsoft's video editing software. Problem 3 was resolved following a Google search. And Problem 4 may be occurring as a consequence of our rather infrequent posting of late, which has caused us (perhaps) to forget some of the lessons we've taught ourself about how MT's html functions best.
On to VanRamblings' glorious, hot and perspiring Saturday, after the jump.
Read More...
August 13, 2011
Wending our way into a second full day in Montréal, having had two good night's rest, we are once again feeling energized and ready to explore the Québécois city where we will reside for the next six days.
Today's posting will seek to provide cursory impressions gleaned during our first 48 hours in Montréal, glancing observations under the Montréal sun, perhaps not particularly insightful, but not devoid of value, rather a wholly subjective take. Make of what follows what you will. Of course, there may be a bit of the travelogue, words about the Métro and the Jardin Botanique de Montréal, about Dunn's Famous and Royal Victoria College residence.
So, without further ado, let's get today's VanRamblings posting underway, as we tackle Montréal in point form, covering a whole gamut of topics ...
Royal Victoria College Residence: Call us parsimonious if you will, but when travelling and on vacation, VanRamblings has long made arrangements to reside on a university campus in the city of our destination. Royal Victoria College Residence is but one example. Last year, we spent about a week in total at Dalhousie University's Howe Hall. And, why not? Daily rates are only $45, a comfy bed in a spacious dorm room, wifi at the ready, centrally located, friendly students to serve your every need, professors participating in symposia, and young, energetic and friendly travelling students residing in groups. And, did I mention that there are family rates for family groupings? What's not to like? Inexpensive, fun, if you're not Harrison Ford or Brian Mulroney, residing at a university while on vacation is the way to go!
Read More...
August 12, 2011
Arising a bit late on our birthday morning, this after getting in late from our 13-hour journey from Vancouver to Montréal, and unpacking and readying ourself for sleep, subsequent to posting yesterday's entry from our McGill Royal Victoria College Residence dorm room, VanRamblings made our way over to Saint-Denis in the Plateau Mont-Royal neighbourhood.
According to Wikipedia ...
The Plateau-Mont-Royal neighbourhood takes its name from its location on relatively flat terrain north of Sherbrooke Street and downtown Montréal, and is located just east of Mont-Royal. Formerly a working-class neighbourhood, with the Eastern part being largely Québécois, and the Western part largely Jewish, the neighbourhood was the childhood home of Québec writers Michel Tremblay and Mordecai Richler where both have set stories in the Plateau of the 1950s and 60s.

Characterized by brightly-coloured houses, cafés, book shops, and a laissez-faire attitude, and home to Schwartz's Deli (famous for its Montreal smoked meat), and a weekend street fair during the summer that sees extremely crowded streets, in 1997, Utne Reader rated it one of the 15 "hippest" neighbourhoods in North America.

Due to its proximity to McGill University, in the 1980s the area's bohemian aura attracted gentrification, the area now home to upscale restaurants, nightclubs, and any number of trendy clothing stores that have taken their place along this strip of St-Laurent and St-Denis.
When considering the Plateau Mont-Royal neighourhood along Saint Denis, think Kitsilano's West 4th Avenue, in the area over by Caper's and Brown's Social, mixed with Robson Street, and you won't be far off the mark.
While ambling along Saint-Denis, we stopped in our for birthday Starbucks coffee (free!... a grande caramel frappucino), a breakfast sandwich, and surfed the 'Net on our iPhone. Now rested and sated, we next meandered towards downtown, and finding a nearby Métro station we employed our newly acquired STM card ($16 for unlimited travel for three days, a good idea BC's Translink should implement), landing nearby the gigantic Cinéma Banque Scotia Montréal, where we took in a 3 p.m. screening of The Help, the much buzzed about potential multiple Oscar nominee.
Set in early 1960s Jackson, Mississippi, The Help, Tate Taylor's adaptation of Kathryn Stockett's bestseller, tracks the stories of three women (Viola Davis, Octavia Spencer and Emma Stone), and their contemporaries, each of the three women attempting to come to terms with life in the deeply racist Deep South. An outstanding and emotionally wrenching film, and just the sort of moving, intellectually enlightening film VanRamblings would wish to see on our birthday, The Help's tough historical subject matter is occasionally leavened with humour. By movie's end there wasn't a dry eye in the (surprisingly packed) house, including those of VanRamblings.
VanRamblings is glad that we brought along our handkerchief.
After the film, we wandered around downtown for a bit, finding our way along Rue Sherbrooke, back to our McGill University 'resting place'.
For dinner we walked along Sherbrooke (and took the bus along St. Laurent) to Schwarz's Deli, where we enjoyed a humungous and authentic smoked meat sandwich. After dinner we took the Rachel bus back to Saint Denis, wandering the streets til just after 11 p.m., when we decided to take the Métro to the McGill station on Rue University, after which we made it 'home' by around 11:30 p.m. We were kind of tuckered, so read our Kindle for awhile — we're 24% of the way through New Yorker and Vanity Fair columnist Ken Auletta's altogether tremendous Googled: The End of the World as We Know It, a much-appreciated present from a friend.
By 1 a.m., we were truly ready for bed, and surprisingly, once again, we slept the sleep of angels right through to mid-to-late morning.
August 11, 2011
Thank you to one and all friends for the attendant and hearty Facebook congratulations in celebration of VanRamblings' august 61st birthday. Such warmly expressed salutations are appreciated, as anyone who is familiar with the inimitable and gregarious Mr. Know-It-All has long realized.
Although we've truncated our stay in Montréal — due to pesky real-life, if you will, considerations — this is, after all, our most anticipated celebratory birthday (today!), and despite those 'real-life' considerations we have every intention of enjoying ourselves during our 8-day stay in la belle province.
We will set about to explore Montréal, duly recording our experiences on photo and video (the photos due for a Flickr slideshow presentation mid-week next week). As we have not had our morning coffee, after the jump we will briefly — the term 'briefly' constituting a relative term when it comes to describing VanRamblings' perambulations, he of 'long of wind' and an adherent to the philosophy, "Why employ 100 words when 1000 deliciously exploratory observations will satisfy just nicely, thank you." — relate the events of yesterday, and today's early morning hours.
Steady yourself. Up next, we'll explore our August 10th Montréal flight.
Read More...
August 10, 2011
If it is 9 a.m. and you are reading this first travel post covering our journey to Montréal, we are somewhere over the Rocky Mountains, aboard WestJet Flight 366 (on a Boeing 737-800, seated near the front of the plane beside a window, in seat 6F), heading towards Toronto, where (the gods willing) we'll arrive at 3:20 p.m. Eastern Daylight Savings Time, before continuing what will be our Québec adventure. We will arrive in Montréal at 5:10 p.m.
VanRamblings has brought along two cameras: our trusty Panasonic Lumix FZ28 and our somewhat newer Canon Powershot Elph 300 HS, both of which shoot photos and video in glorious HD. Over the course of the next 8 days we hope to record anecdotal photos and video of our experience in la belle province. Yes, we're going to take in the sights: old Montréal; the world famous Schwarz's Deli (hey, VanRamblings is Jewish; oy vey, like we're not going to partake of an authentic smoked meat sandwich); the Notre-Dame Basilica; and ... well, you're just going to have to come back to VanRamblings either later tonight or tomorrow morning for a couple of photos, and maybe, just maybe, a brief, illustrious and spectacular video.
June 20, 2011
June 9, 2011
Produced by the Canadian Centre for Policy Alternatives and the Hospital Employees' Union, The Remaining Light takes the viewer inside the often invisible part of Canada's health care system — the community-based services that provide care to seniors as they age and prepare for death.
The film, which VanRamblings features above in full, presents a compelling narrative of the lives of seniors and their families, while exploring the themes of dignity, the progressive degeneration of one's physical health that often accompanies aging, plus the increasing sense of social isolation that is felt by many of our seniors, and the failure of the Canadian health care system to provide adequately for our burgeoning 'aging' population.
Set in British Columbia, where the province's Ombudsperson continues her investigation into "aging in place", the themes and stories explored in Goh Iromoto and Shannon Daub's 2011 film resonate as an indictment of an underfunded system of seniors care, where our elder population are not venerated as they should be and not afforded the respect they deserve.
May 28, 2011
Change, as we all know, is a constant. That may be so, but we don't have to like it. Thus, we record today the closure of the Hollywood Theatre, a Kitsilano cinematic institution dating back to the 1930s; the closure of what was a thriving neighbourhood Blockbuster video store; and the 'passing' of the West Side Bakery (which will stay open, but under new ownership ... and we all know how that usually goes ... which is to say, not well).
For anyone who has lived on Vancouver's west side, the Hollywood Theatre has for generations acted as a mecca for cinema-goers, the theatre's oddly-structured double-bills providing solace to the troubled soul, an opportunity to kibbitz with friends between the early 7:30 pm screening and the 'late' 9:40 pm screening, a bit of fun, and the unexpected.
David Fairleigh reportedly received $2.9 million for the sale of the theatre, the monies coming from an offshore Asian investor looking to redevelop the property (perhaps the entire north side of the block) for condominiums. Festival Cinemas' Leonard Schein apparently offered a million less than the final sale price — looking to repair and run the theatre long into the future — but clearly his financial offer came in on the low end. The Vancouver International Film Festival also showed some interest in acquiring the old Hollywood Theatre, but the asking price was just too much.
Thus, a cinematic institution passes, as cinema lovers are now left to troll the soulless cineplexes which dot the suburban landscape. An era passes.
Update: There's a late-breaking, but unconfirmed, report that Festival Cinemas' Leonard Schein met with Vince Fairleigh this past Thursday evening, and made an offer to Vince to keep the Hollywood Theatre open for a period of five years, a 'deal' which would have Mr. Schein's company assume responsibility for the payment of rent and business expenses associated with the operation of the Hollywood Theatre (the new owners had offered the Fairleighs the opportunity to keep the Hollywood open, at a monthly rental rate of $11,000, that offer refused), the deal on the table also offering a salary to Vince to continue to manage the theatre.
Clearly, the arrangement as outlined above is similar to the offer made to Corinne Lea of East Van's The Rio. No word as to whether Vince Fairleigh will book the Hollywood's double-bills, or whether Leonard Schein will step in to offer assistance on that front (unlikely, given the structure of the deal Mr. Schein has with the operators of both the Rio and Dunbar theatres).
Update 2, June 1st: The Hollywood is officially closed, the Fairleighs having turned over the keys late in the day on May 30th. At this point, a re-opening of The Hollywood Theatre appears unlikely.
Read More...
April 18, 2011
The weather on this third Monday in April was sunny, chilly and blustery.
Even so, after a long day's work on the Downtown Eastside, VanRamblings decided to walk the 11 kilometres home, through downtown Vancouver, over the Granville Street Bridge, through Kitsilano, and then home.
Of course, we were waylaid.
We stopped off at former City Councillor Tim Louis' place (to talk about a website we're creating for his upcoming COPE candidacy), and somehow found ourselves at David Eby's NDP campaign launch for the May 11th by-election in Vancouver Point Grey, where David impressed (as always), and newly elected provincial NDP leader Adrian Dix gave a rousing speech — how wonderful to finally have a leader of the NDP who is passionate, informed and articulate about the issues!
April 17, 2011
On a chill, blustery, cloudy and just a bit sunny late Sunday afternoon in the early spring of 2011, the winds blew, rain-soaked clouds hovered overhead, the North Shore mountains were snowcapped, wind surfers were out in force, lovers walked along the Spanish Banks beach path, and children frolicked in the sand under the watchful eye of their parents.
March 20, 2011
The following "stories" went 'viral' this past week, and are recorded below.
In Celebration of International Women's Day
Thirty-two-year-old copywriter Janet Champ, working on the women's fitness account for Nike, in 1999, wanted to appeal to women who weren't hard-core athletes. What struck her was how women took responsibility and time for everyone else but themselves. She wanted to get the message across that women need to care for themselves (preferably in Nikes).
Champ decided to write the life story of a woman: an eight-page ad, which read, in part "You wanted boys to notice you. You were afraid the boys would notice you. You started to get acne. You started to get breasts ..."
Nike worried that there was too much to read, Dolan says. A cardinal rule of advertising is to keep the copy short. Here's the ad Champ came up with ...
You were born a daughter. You looked up to your mother. You looked up to your father. You looked up at everyone.
You wanted to be a princess. You thought you were a princess. You wanted to own a horse. You wanted to be a horse. You wanted your brother to be a horse.
You wanted to wear pink. You never wanted to wear pink.
You wanted to be a Veterinarian. You wanted to be President. You wanted to be the President's Veterinarian.
You were picked last for the team. You were the best one on the team. You refused to be on the team.
You wanted to be good in algebra. You hid during algebra.
You wanted the boys to notice you. You were afraid the boys would notice you.
You started to get acne. You started to get breasts. You started to get acne that was bigger than your breasts.
You wouldn't wear a bra. You couldn't wait to wear a bra. You couldn't fit into a bra.
You didn't like the way you looked. You didn't like the way your parents looked. You didn't want to grow up.
You had your first best friend. You had your first date. You had your second best friend. You had your second first date.
You spent hours on the telephone.
You got kissed. You got to kiss back.
You went to the prom. You didn't go to the prom. You went to the prom with the wrong person.
You spent hours on the telephone.
You fell in love. You fell in love. You fell in love.
You lost your best friend. You lost your other best friend.
You really fell in love.
You became a steady girlfriend. You became a significant other.
YOU BECAME SIGNIFICANT TO YOURSELF.
Read More...
March 12, 2011
Photos of the devastation caused by Friday's 8.9 earthquake in Japan.
And videos ...
And these 10 videos (courtesy, the Georgia Straight), and 10 more videos.
March 11, 2011
Yes, it's another Friday morning. I mean, where does the time go?
So, this week's potpurri of articles of interest includes a video trailer of a summer blockbuster we're looking forward to, a throwback to the kind of films Steven Spielberg made back in the late 70s / early 80s, this time out, though, directed by J.J. Abrams, who didn't do a bad job with Star Trek (really, it was our favourite blockbuster in the summer of 2009).
Although it took awhile for VanRamblings to find her, we're pleased that we ran across British songstress Rumer awhile back, and thought we'd share some British soul music with you this inclement late winter Friday morning.
For those who find that Vision Vancouver has become, during their two-plus years in office, to be the worst civic government since the regrettable days of 'Terrific' Tom Campbell in the late 60s / early 70s, the following video from VanRamblings' friend / associate Michael Klassen.
Yes, it's true: a 75% turnover of senior administrative staff at Vancouver City Hall in the past two years, and devastatingly low morale among the remaining middle management and line staff. The November civic election cannot come soon enough to kick these ne'er-do-wells out of office!
And, finally for the week, Two and a Half Men's Jon Cryer responds to Charlie Sheen's accusation that he is a troll. From Conan O'Brien's show ...
March 8, 2011
March 4, 2011
As VanRamblings does most mornings, while sipping our morning coffee and finishing off a plate of scrambled eggs (one egg and free-run egg whites), we surf the 'Net to apprise ourselves of the day's events, all while attempting to gain some pungent insight into the daily cultural zeitgeist.
Here's what we've run across this chilly late winter Friday morning (a note: you'll want to take all videos below full screen for a proper appreciation) ...
Thom Yorke and the folks in R.E.M. have just released the video for their single "ÜBerlin" featuring actor Aaron Johnson (who starred in the breakout hit Kick-Ass, along with Chloë Grace Moretz, as well as the quite wonderful John Lennon movie Nowhere Boy, both released last year) who, dressed in a yellow T-shirt, tracksuit pants and sneakers, makes Fred Astaire-like dance moves, a wonderful life affirming feat which can only effectively be accomplished when hope springs eternal and you're in your early 20s.
Shot and directed by Johnson's fiancée Sam Taylor-Wood (the director of Nowhere Boy) in and around London's Brick Lane one recent afternoon, REM's new album, Collapse Into Now, will be released Monday, March 7th.
Also on our radar this morning, the new trailer for Water for Elephants, starring Academy Award winners Reese Witherspoon and Christoph Waltz, along with Twilight's Robert Pattinson, director Frances Lawrence's screen adaptation of Sara Gruen's best-selling 2007 romantic page-turner cum historical novel ...
Read More...
December 27, 2010
December 25, 2010
November 26, 2010
On this, our final day at the Middle Beach Lodge, along the coast of the Pacific Rim near Tofino, we chose to leave the door to the balcony open overnight in order to listen to the sounds of the storm raging outside, and the waves crashing on the rocks and the shoreline. There's something very elemental in being so close to the ocean and the power of nature, for once we came from the sea and it is near to us, within us, a part of us always.
We take our leave of British Columbia's western most region to return to the city, to our work, our home, our friends, and to prepare for the coming holiday season, our brief sojourn to the Pacific Rim almost at an end, at least for now. But we will return again next year, perhaps in the spring, perhaps in the summer, to experience once again life in the rainforest, and the primitive, unbridled, natural Pacific Ocean which beckons us always.