The 29th annual Vancouver International Film Festival will be over in just a matter of hours and, as usual, we (and the many hundreds of festival-
goers who've been attending, three, four, five or six films a day) are just a bit tuckered, and ready for the final film to be loaded into the projector. We'll miss the Festival when it's gone, but at least we've got VIFF's VanCity Theatre and Pacific Cinémathèque to tide us over until next year.
But, lo and behold, one of the VIFF 'audience favourites' (and a VanRamblings' favourite) opens at Cinemark Tinseltown this Friday. The Man From Nowhere will open at Tinseltown, playing daily at 1:45, 4:30, 7:35 and 10:25 p.m. Another VIFF audience favourite (and Cannes' award-winner), Uncle Boonmee Who Can Recall His Past Lives, opens for a five-day run at the VanCity Theatre this Saturday. Carlos, which screened at VIFF (all five and a half hours) will also be released in Vancouver later this month.
And, let's not forget, Waiting for Superman (VIFF's best documentary feature) opens at Festival Cinemas on Friday. We'll see Mike Leigh's Another Year this coming January (likely with projected Oscar nods), and Stephen Frears' Tamara Drewe will visit our shores, as well, before too long.
As for VanRamblings' filmgoing this Wednesday, October 13th ...
The Tree (Grade: B+): A lovely wide-awake dreamscape of a film, Julie Bertucelli's (Since Otar Left) sophomore film offers a meditation on death, grieving and family set amidst the gorgeous, panoramic, wind swept rural landscape of Boonmah, Queensland (Australia), southwest of Brisbane. Bertucelli sets a melancholy tone almost from the outset, the driving force of the film eight-year-old Simone O'Neil (Morgana Davies) who, more than any other member of her family grieves and mourns the loss of her father. That Simone believes she hears the voice of her father in the branches of the huge, sprawling fig tree in her home's back yard offers a moving and ethereal response to her personal tragedy, one we might all identify with. Screens for a final time Thursday, Oct. 14th @ 3:30 pm, Granville 7, Th7.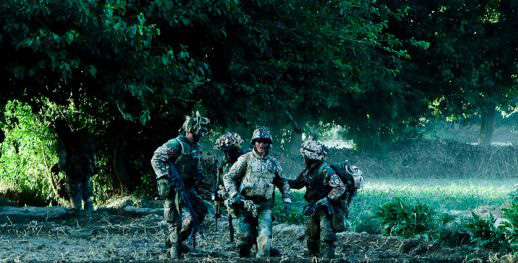 Armadillo (Grade: A-): In February 2009 a group of Danish soldiers accompanied by documentary filmmaker Janus Metz arrived at Armadillo, an army base in the southern Afghan province of Helmand. Metz and cameraman Lars Skree spent six months tracking the lives of young soldiers situated less than a kilometre away from Taliban positions. The result? A gripping, gut-wrenching, frontline insight into the war in Afghanistan, a counterpoint to Restrepo, which some critics felt failed to provide context for the war, and this year's Academy Award winner, The Hurt Locker, which offered an unflinching look at the war. Armadillo shows just how right Hurt Locker director Kathryn Bigelow 'got' the war, the boredom, the machismo, the reverie, and the grit. Winner of the Critics' Week Grand Prize at Mexico's prestigious Morelia International Film Festival, Armadillo is a must-see should it return to Vancouver for an engagement.
Posted by Raymond Tomlin at October 13, 2010 11:50 PM in VIFF 2010