VIFF 2010
October 17, 2010
Although the 29th annual Vancouver International Film Festival has come to a close, the good folks at VIFF, and the fine folks at the VanCity Theatre, have come up with a way to alleviate the pain of festival's end, by programming a series of favoured features and Festival highlights, all of which will screen this week, few though the number of those films may be.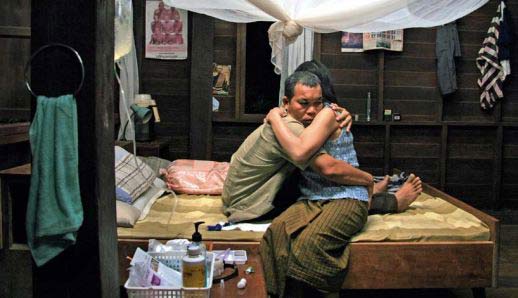 Cannes Festival Palme D'or winner Uncle Boonmee Who Can Recall His Past Lives screens through Friday, October 22nd. You can catch a screening of Uncle Boonmee on Sunday, Oct. 17th @ at both 6:30pm and 8:45pm; on Monday, Oct. 18th @ 6:30pm; Tuesday, Oct. 19th @ 6:30pm; Wednesday, Oct. 20 @ 6:30pm; and for a final time on Friday, Oct. 22nd @ 9pm.
Other than Uncle Boonmee, Kinshasa Symphony, VIFF's 2010 Most Popular Nonfiction Film, Claus Wischmann and Martin Baer's documentary about a Congo orchestra who play European classical music, screens for a final time this Tuesday, October 19th at 6:30pm.
The remaining programme highlights, screening at VIFF's VanCity Theatre are available here, including the very lovely Snow White.
October 16, 2010
Lucy Walker's Waste Land — depicting the rich subculture of Rio de Janeiro's scavengers who swarm the world's largest landfill to extract recyclable materials for re-sale and economic sustenance — won the Rogers People's Choice Award, presented at the closing Gala ceremony of the 29th annual Vancouver International Film Festival on Friday, October 15th.
Meanwhile, Denis Villeneuve's Canadian Foreign Language Oscar nominee, Incendies, won the Best Canadian Film, while most promising director of a Canadian Short Film, went to Halima Ouardiri, also of Québec, for her short Mokhtar, the moving 15-minute short about a young Moroccan goatherder.
The remaining award winners at the Closing Gala included ...
Just as an aside, and incidentally, Côté was a juror for the Dragons & Tigers For Young Cinema award that, mid-Festival, presented $10,000 to Hirohara Satoru for his début film, Good Morning to the World!
Dave Hewitt, from the VIFF Board of Directors, provided a guesstimate as to 2010 VIFF attendance, based on estimates of attendance in 2009. Mr. Hewitt suggested that approximately 10,000 people per day attended the 29th annual edition of the Vancouver International Film Festival, totaling approximately 140,000 to 150,000 attendees, and tickets sold.
Final figures on attendance will be provided at a later date, as will a list of the titles of the narrative features that found most favour with patrons at VIFF 2010. In our next posting, VanRamblings will provide a list of our favourites, a compendium from Mr. Know-It-All and J.B. 'Showbiz' Shayne.
October 14, 2010
Tangshan, China
Berlin, Germany
Seoul, Korea
Paris, France
Boonmah, Queensland (Australia)
Tehran, Iran
Lashgar Gah, Afghanistan
Vienna, Austria
Prague, Czech Republic

Lima, Peru
Chiang Mai, Thailand
Warsaw, Poland
Aracataca, Colombia
Marzabotto, Italy
Salonta, Romania
Tokyo, Japan
Barcelona, Spain
Oslo, Norway
Degenham, England
The cities, towns and villages listed directly above represent just a mere handful of the locales within the more than 80 countries that sent cinema from their lands to the 29th annual Vancouver International Film Festival.
This year's film festival is drawing to a close, Thursday, October 14th the final full day of the 29th edition of our beloved little film festival by the sea.
And what a Festival it's been: 256 tremendously involving feature-length films, 150 shorts, 87 Canadian films, 30 British Columbia productions, 43 features and 21 shorts from Asia, 32 films from France, 9 films from Africa (Chad, Congo, Kenya, Ethiopia, Malawi, Tanzania, South Africa, Zanzibar), 98 feature-length documentaries, and more, much more. Each autumn for 16 days, those of us who reside in the northwest corridor of our continent are allowed the opportunity not just to visit countries across our far flung globe, but to gain an insight into the values, the wants, the needs, the politics, the education system, the grimy poverty-ridden streets and pristine beaches, and gain too a keen, and deep and abiding insight into the people, the men and woman and children who live in some little town or thriving metropolis located in every corner and landscape of our vast world.
On this last full day of the Festival, we managed to catch three films ...
Echoes of the Rainbow (Grade: B): A loving family fable about a mother, father and their two young sons, director Alex Law's Hong Kong Oscar nominee employs an almost surreal, magical realist construct to tell its romantic story of love and loss. Set in 1969, just before the first landing on the moon, this semi-autobiographical yarn is filled with whimsy, pathos, laughter and the ties that bind us, one and all, together into our family pact of life on this planet. All and all, quite wonderful, and even moreso because VIFF brought Mr. Law to Vancouver for an informative audience Q&A.
Incendies (Grade: B+): Vancouver Observer film critic Volkmar Richter's favourite film at the Festival, Genie award-winning director Denis Villeneuve's follow-up to Polytechnique goes deep inside the lives of twins Jeanne (Mélissa Désormeaux-Poulin) and Simon (Maxim Gaudette), who receive two letters after the death of their mother Nawad (Lubna Azabal) — one to deliver to the father they thought was dead, the other to deliver to a brother they never knew existed. Set amidst the civil war in Lebanon in the late 1950s, between the Christian Phalangists, Fatah (PLO) and Sunni Muslims, Villeneuve offers twisty, turny fare in a film that is evocative, lyrical and sometimes viciously violent on the road to delivering an unexpected ending that, while moving, seems to this writer to be just a little too stagily off-kilter in its cinematic / theatrical resolution. Powerful, though. Incendies recently became Canada's best foreign language Oscar nominee for 2010.
October (Grade B): A laconic story of redemption with enigmatic, almost verging on mute characters, October fascinates because of its setting amidst the slums of Lima, Peru (after all, how often are we provided with an insight into life among the poor in Lima?), but as to the bittersweet story itself, this 2010 Un Certain Regard Cannes' winner fails to involve sufficiently as it relates its tale of middle-aged, cold-hearted moneylender Clemente (Bruno Odar) and maternal spinster neighbour Sofia (Gabriela Velasquez), who collaborate to raise a 3-month-old baby girl who has been left at Clemente's door by a hooker he had made pregnant. Syrupy and perfunctory, with subtle strains of religious imagery throughout, October proved winning enough at the screening, but not necessarily memorable (although, one never knows what impact a film has had until days later).
October 13, 2010
The 29th annual Vancouver International Film Festival will be over in just a matter of hours and, as usual, we (and the many hundreds of festival-
goers who've been attending, three, four, five or six films a day) are just a bit tuckered, and ready for the final film to be loaded into the projector. We'll miss the Festival when it's gone, but at least we've got VIFF's VanCity Theatre and Pacific Cinémathèque to tide us over until next year.
But, lo and behold, one of the VIFF 'audience favourites' (and a VanRamblings' favourite) opens at Cinemark Tinseltown this Friday. The Man From Nowhere will open at Tinseltown, playing daily at 1:45, 4:30, 7:35 and 10:25 p.m. Another VIFF audience favourite (and Cannes' award-winner), Uncle Boonmee Who Can Recall His Past Lives, opens for a five-day run at the VanCity Theatre this Saturday. Carlos, which screened at VIFF (all five and a half hours) will also be released in Vancouver later this month.
And, let's not forget, Waiting for Superman (VIFF's best documentary feature) opens at Festival Cinemas on Friday. We'll see Mike Leigh's Another Year this coming January (likely with projected Oscar nods), and Stephen Frears' Tamara Drewe will visit our shores, as well, before too long.
As for VanRamblings' filmgoing this Wednesday, October 13th ...
The Tree (Grade: B+): A lovely wide-awake dreamscape of a film, Julie Bertucelli's (Since Otar Left) sophomore film offers a meditation on death, grieving and family set amidst the gorgeous, panoramic, wind swept rural landscape of Boonmah, Queensland (Australia), southwest of Brisbane. Bertucelli sets a melancholy tone almost from the outset, the driving force of the film eight-year-old Simone O'Neil (Morgana Davies) who, more than any other member of her family grieves and mourns the loss of her father. That Simone believes she hears the voice of her father in the branches of the huge, sprawling fig tree in her home's back yard offers a moving and ethereal response to her personal tragedy, one we might all identify with. Screens for a final time Thursday, Oct. 14th @ 3:30 pm, Granville 7, Th7.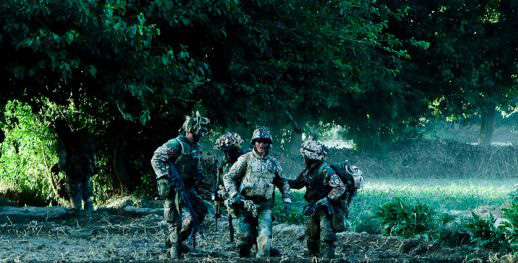 Armadillo (Grade: A-): In February 2009 a group of Danish soldiers accompanied by documentary filmmaker Janus Metz arrived at Armadillo, an army base in the southern Afghan province of Helmand. Metz and cameraman Lars Skree spent six months tracking the lives of young soldiers situated less than a kilometre away from Taliban positions. The result? A gripping, gut-wrenching, frontline insight into the war in Afghanistan, a counterpoint to Restrepo, which some critics felt failed to provide context for the war, and this year's Academy Award winner, The Hurt Locker, which offered an unflinching look at the war. Armadillo shows just how right Hurt Locker director Kathryn Bigelow 'got' the war, the boredom, the machismo, the reverie, and the grit. Winner of the Critics' Week Grand Prize at Mexico's prestigious Morelia International Film Festival, Armadillo is a must-see should it return to Vancouver for an engagement.
October 12, 2010
Here we are in the final week of the 29th annual Vancouver International Film Festival, as an absolutely glorious presentation of the finest cinema the world has to offer — screened and enjoyed by VIFF's more than 150,000 patrons — draws to its inevitable (and soon very much missed) conclusion.
The folks at the Fest would like to draw your attention to a few salutary, sure to be enjoyed, 'under the radar' films yet to be screened, including ...
Mamas and Papas: Encompassing joy, loss and love, Czech Republic director Alice Nellis' award-winning new drama (Best Narrative Feature, Hampton International Film Festival) explores the fundamental act and art of parenting though the different permeations of modern families. The interlocking story of four couples profoundly affected by having - or not having - children emerges as both intimate and emotionally powerful. Thursday, October 14th @ 2:30 pm, Empire Granville 7, Th4.
October: When two solitary souls join together via the unexpected appearance of a newborn, a minor miracle unfolds. While Clemente searches for the baby's mother (an erstwhile prostitute), his neighbour Sofia gradually discovers her latent maternal instincts. Winner, Prix de Jury (Un Certain Regard), Cannes. Thurs, Oct 14 @ 6:20, Gr 7, Th 3.
As to screenings that have been added, you should know about ...
Garbo The Spy (Grade: B+): A tremendously intriguing documentary, offering a fascinating account of an extraordinary Spanish double agent during World War II who helped change the course of history, this Best Documentary winner at this year's Spanish Goya Awards, is must-see viewing on the final day of this year's VIFF. You can catch Garbo The Spy, Friday, Oct. 15th @ 7:00 pm, at the Vancity Theatre.
The Two Escobars (Grade: B+): One of the breakout 'hits' at this year's VIFF The Two Escobars, the sordid legend of drug lord Pablo Escobar may have eclipsed that of fellow Colombian (though no relation) Andrés Escobar, the captain of the national soccer team, but Jeff and Michael Zimbalist's illuminating doc links the two through the sport's former dependence on narco-funding. The testimony of Andrés's former teammates — particularly their memories of the 1994 World Cup game against the U.S., in which their captain accidentally scored for the opponent (leading to his murder 10 days later) — in spite of the doc's brain-numbing score and tendency towards slickness restores the gravitas. Screens two more times: Thursday, Oct. 14th @ 3:30 pm, Gr 7 Th 1, and Friday, Oct. 15th @ 9 pm, Vancity Theatre.
With less than 72 hours to go, now is the time to catch a VIFF film.

October 11, 2010
At the Empire Granville 7 theatre, VIFF's hard-working exhibitions assistant, Iulia Manolescu
On this Thanksgiving Monday, VanRamblings would like to give thanks to the folks who, each year, make our annual Vancouver International Film Festival possible, focusing accolades on the volunteers, and the hard-
working theatre 'administrative staff' hired for the duration of the Festival.
VanRamblings is certainly grateful to the Festival's full-time administrative staff: longtime Festival Director Alan Franey and able Programme Manager / Senior Programmer, PoChu AuYeung, as well as all of the other fine programmers, administrators and board members, publications, box office, film handling, film and television forum, hospitality, and publicity and promotions folks who make our annual Film Festival a joy for us. Theirs is a sacrifice made for each of us, and for that we should be especially grateful.
In this posting, though, we want to focus most particularly on Iulia Manolescu (pictured above), the so-called VIFF 'exhibitions assistant' (we think her contribution merits a title more grand than that of 'assistant'), at the Empire Granville 7 Theatre. Iulia, quite simply, has made VanRamblings' Festival; we believe most heartily that Iulia represents everything that is right and good about our local, annual Vancouver International Film Festival.
Iulia may be designated the exhibitions 'assistant', but throughout the first twelve days of the Festival, this year and last and previous to that, she has been so front-and-centre — as she works one arduous 18-hour day after another, keeping VIFF volunteers, her fellow theatre staff, and grateful (and sometimes difficult) VIFF patrons happy and calm, directed and appreciative of their contribution to our annual Vancouver International Film Festival — that her contribution has proved to be invaluable, and near transcendent.
Certainly VanRamblings (who tends to be a little over-enthusiastic during the Festival, well-meaning with a tendency to exuberance) acknowledges Iulia's contribution to our personal appreciation of the annual Festival.
Always present with a ready smile, calm in the midst of what seems at times to be madness, ensuring that lines of communication are always kept open, and patron lines move in properly, ready with a kind and thoughtful reply to any question posed to her (we try not to be a bother to Iulia and limit our questions to her, as we see just how 'in demand' and available she is to her fellow staff and to patrons), Iulia is a wonder and a miracle of kindness and becoming serenity during the often hectic days of our Film Festival.
Thank you Iulia.
And thank you, once again, to every one of the hundreds of administrative and volunteer staff who continue to make our annual Vancouver International Film Festival the première social and cultural event of the year.
October 10, 2010
Vancouver International Film Festival Director, Alan Franey, at VIFF's opening press conference
VanRamblings is just a bit tuckered and overwhelmed by our five-plus film a day pace, set since the opening day of the Festival on September 30th. So, we're gonna take a bit of a break from posting (Thanksgiving weekend / family / work also come into play), but we'll be back reviewing on Tuesday.
While we're away, we'll direct your attention to fellow reviewers, including ...
We'll see you back here in a couple of days. In the meantime, enjoy your holiday Thanksgiving weekend (and save a bit of turkey for us, won't ya?).
October 9, 2010
The 29th annual Vancouver Film Festival continues into it's second week (and second, and final, weekend) with much more world cinema débuting during the next seven days, including this Thanksgiving weekend.
The folks on the programming team at the Vancouver International Film Festival — through a series of press releases — are pointing filmgoers towards the following noteworthy films in particular ...
Jacques Rivette's Around a Small Mountain, screening for a final time at 1 p.m. on Sunday, at the Park Theatre. The NY Times' lead critic, A.O. Scott calls the film, ""a short, late minor gem from (the) French master of long-form cinema ... transporting and graceful ..."
Director Benjamin Heisenberg's Bourne-like thriller The Robber, a hit at both the New York and Chicago Film Festivals, both currently underway. The Robber screens on Sunday, Oct 10th @ 7:00pm GR2; Tues., Oct 12th @ 3 pm @ GR4, and Fri., Oct 15th @ 11 am, GR7.
Charles-Olivier Michaud's 2010 Slamdance winner, Snow and Ashes. Writing form the 2010 Newport Beach Film Festival, critic Elliot V. Kotek called Snow and Ashes, "a formidable first effort by (the Québec-based) 30-year-old writer-director." Snow and Ashes screens for a final time on Sunday, October 10th @ 10:45am, Pacific Cinémathèque.
As to a film VanRamblings loved, we took in a screening of Sophie Letourneur smashing début film, Chicks (which should have more appropriately been titled Life at the Ranch, the name for the communal house shared by the film's outré female protagonists).
An entirely fetching anthropological examination tracking the lives of a half-dozen twenty-something young women, La Vie Au Ranch (Chicks ) offers an entirely fresh and authentic take on GenY culture, the sex, the sensuality, the drinking, the drugs, the dancing and clubbing, amour (and falling out of love), and the general joie de vivre with which most twenty-somethings approach life. Chicks is a wonderful, life affirming film, and definitely worth catching this holiday weekend, the film screening for a final time on Thanksgiving Monday, Oct 11th @ 7 pm, at the Vancity Theatre.

October 8, 2010
After seven consecutive 20-hour days, VanRamblings hit a wall last night (we're talking figuratively here, but with VanRamblings you never know). We stayed home during the day on Thursday, attending only two evening films, the Chinese blockbuster, Aftershock (which, truth to tell, we found kind of cheesy in a Michael Bay sorta way, although we liked lead actress Jingchu Zhang, who we fell in love with last year in the film Night and Fog), and the quite extraordinary Spanish documentary, Garbo the Spy.
Prior to the screening of Aftershock on Thursday evening, the folks at the Vancouver International Film Festival announced Good Morning to the World! (Sekai, Good Morning!), directed by Hirohara Satoru of Japan, as the winner of the 17th annual Dragons & Tigers Award for Young Cinema. It'd be safe to say that Mr. Satoru was excited about his win, as can be seen in Ariane Colenbrander's photo of the award's event.
This year, the Dragons and Tigers jury was comprised of Bong Joon Ho (The Host, Mother), Quebec-based producer-director Denis Côté and Jia Zhangke, whose 1998 film Xiao Wu was a Dragons & Tigers winner. Mr. Côté presented the award, along with a cash prize of $10,000.
We'll likely post more later on today.
In the meantime, though, if you're looking for something to see on Friday, you couldn't possibly go wrong with a 2:30 p.m. screening of the captivating Polish film Reverse, or a 4:15 p.m. screening of Cell 211, one of the most powerful films we've seen at this year's Festival.
As for ourselves, we'll be taking in an 11:40 a.m. screening of Chicks (see picture above), and a 9 p.m. screening of Thomas Arslan's In The Shadows, one of the buzz films at this year's Berlin Film Festival.
Although we intend to catch a couple of screenings early in the day on Saturday, VanRamblings will be returning to our 'regular work' later on Saturday through until late Monday night, to return to the Festival first thing on Tuesday morning (probably even more tuckered than we are now but, hey, somebody's gotta dedicate their life to film ... hmmm).

October 7, 2010
Greta Zuccheri Montanari directed by Giorgio Diritti in The Man Who Will Come
Coming out of a screening of The Man From Nowhere late on Wednesday evening — that this was our second screening of the film should tell you how highly we regard Jeong-beom Lee's well-wrought South Korean film — J.B. 'Showbiz' Shayne commented that "The three best films we've seen at this year's Festival all involve young girls in the lead role." And so it is.
In today's posting we'll focus on the film that is at the top of our list of young distaff cinema, Italian director Giorgio Diritti's sophomore film ...
The Man Who Will Come: With pensive power, director Giorgio Diritti crafts a heartwrenching historical tragedy that places Greta Zuccheri Montanari, the eight-year-old girl who plays lead character, Martina, as the axis of the film's portrait of a rural Italian provincial life rattled by war, the feeling of danger and impending dread at odds with the bucolic lives lead by the people of the Bolognese rural commune in which she and her family reside. Bambini neorealist cinema (based on true events), we observe Martina wandering freely between civilians and warriors, partisans and invaders, in 1944 war torn Italy, even as the brutal struggle between Italian partisans and German soldiers takes place in the forest just outside her village.
We watch, too, as the film's pocket-sized heroine moves from passivity into desperate action, as marauding Nazi patrols pierce the commune's shield leading to the climactic massacre which claimed the lives of almost 800 Italian civilians, mostly women and children. That Martina is mute, not having spoken since the death of her little brother (in her arms), allows us to see the child's dawn-fresh perception of the world and the horrors descended upon it by war. Martina emerges as the film's rooting interest, as she gravely ponders her father's (Claudio Casadio) diligent toil, and her mother's (Maya Sansa) developing pregnancy. The Man Who Will Come is all the stronger for placing the pint-sized Ms. Montanari at its centre.
Given how natural, sympathetic and irresistible Ms. Montanari proves to be during the running time of the film, one cannot imagine how else helmsman Diritti could have as effectively portrayed the events the film depicts.

Read More...
October 6, 2010
Nearing the end of the first week of the Film Festival, and VanRamblings finds itself firmly ensconced within the 29th annual Vancouver International Film Festival. And we're mighty glad we chose (very) well again on Tuesday.
Our usual routine goes something like this: up at 8 a.m. for breakfast, and by 9 a.m. we're on the bus heading downtown to the passholders' lineup to pick up our tickets for the day. First screening of the day at 10 a.m., followed by 12:30 p.m., 3 p.m., 6:45 p.m. and 9:15 p.m. screenings. On the bus home by 11:30 p.m., home by midnight and writing til 3 a.m. And then it's up again 5 hours later to do the whole thing over again.
On Tuesday, the first rewarding film of our VIFF 2010 movie day was ...
Waiting for Superman (Grade: A): A miracle of a film, one of the most heartrending, hopeful and inspirational 'change agent' films we've seen at this year's Festival, director David Guggenheim (An Inconvenient Truth) offers a scathing indictment of a failed American education system in one of the most moving and emotionally resonant films we're likely to see this year. Allowing the audience inside the lives of dispossessed young kids, each of whom becomes a rooting interest for the filmgoer, Guggenheim's sure-to-be Oscar nominated documentary (and probable winner) subtly and with trenchant power sets the agenda for the next two years of Obama's term in office (at least, Obama better be listening, because there are some very powerful truths being told here). Screened for a final time at VIFF on Tuesday, but due to open at Fifth Avenue Cinema on October 15th.

Read More...
October 5, 2010
The skies were overcast, the rains fell in little droplets and then only sporadically. Yet how would VanRamblings know what was going on in the outside world when we found ourselves comfortably sequestered inside the Empire Granville 7's largest screening room (that'd be the Visa Screening Room / Theatre 7) from 10 a.m. til 9 p.m., where we saw four different films which we admired to varying degree but none more 'likeable' than ...
The Man From Nowhere (Grade: A): A Korean take on American films like The Professional and Man on Fire, Korea's redemptive mob action movie, The Man From Nowhere, does have a taciturn 'last principled male hero' setting out to rescue a young girl, but everything else about this propulsive film is utterly original and compellingly watchable, an irresistible sub-genre revenge flick that emerges as the must-see film at this year's Festival. Evocative, suspenseful, lushly appointed and glossily designed as the film may be, as director Lee Jeong-Beom and cinematographer Lee Tae-Yoon set about to unravel the film's web of layers of evil, it's the film's brooding sympathetic hero's (Won Bin) warm, humane interplay with marvelously fresh and natural child actress Kim Sae-ron that pulls you into the film, holding you in its grip for its entire two-hour running time. Easy to see why The Man From Nowhere is Korea's top-grossing film this year. Plays again, Wed., Oct. 6 @ 6:20pm, Gr 7, Th3, & Sat., Oct. 9 @ 10:30am, Gr7, Th7.
Read More...
October 4, 2010
On Sunday, the early part of VanRamblings' movie day turned out to be a bust. Which is not to say that the films that we saw throughout the morning and afternoon were 'bad', per se, it's just that they were not our cup of tea. We made a promise to ourselves: from here on in no more comedic crime caper melodrama (we're talking about you Cold Fish, Down Terrace and A Somewhat Gentle Man). From here on out, it'll be the 'Cinema of Despair' for us, human scale dramas, films with mothers and children, and wildly inventive cinema but wildly inventive film with a heart.
So, what did we like, what were we swept away by, what measured up and exceeded our expectations, what made the Film Festival worthwhile for us on Sunday? First off, at 7:15 p.m. there was ...
The Sleeping Beauty (Grade: A-): An absolutely enchanting, naturalistic and human scale take on the folkloric Sleeping Beauty fairy tale, writer-director Catherine Breillat finds her heart in this rapturous, provocative and compelling adaptation of Charles Perrault's classic 17th century folk tale. Her visually sumptuous, epic coming-of-age fantasia sets about to track the transition from childhood and adolescence into adulthood through the realm of fantasy. In the film, Breillat explores the notions of male and female socialization as well as regressive, ideological notions of femininity and masculinity in conflict with social convention. Setting aside academics, if we might, The Sleeping Beauty emerges, simply and beautifully, as an elegant and picaresque adventure, and always involving and heartfelt cinema. Screens again Oct 6 @ 10:30am, Gr7, Th 7, & Oct 7 @ 4:15pm, Gr7, Th 7.

Read More...
October 3, 2010
Day Three of the 29th annual Vancouver International Film Festival, and the Fest held two movies in store ...
Cold Fish (Grade: B-): A wacky, phantasmagorical and generally sort of wigged out take on a gruesome and bloody murder spree that occurred in Japan earlier in the decade, Japanese writer-director Sono Shion introduces us to a typically unhappy Japanese family, a recently remarried father, his none-too-happy bride and his even unhappier teenage daughter. Enter the owner of a local tropical fish store who employs the business as a front for underworld crime, not the least of which revolves around his delight in 'making people invisible', an avocation consisting mainly of cutting his victims into pieces and disposing of them. Want some sushi? Grisly, sexy, brash and ultimately pointless, Cold Fish is just about as dark as they come (we're referring to the comedic elements in the film), and apart from the bloodbaths splattering the screen during the film's overlong 144-minute running time there's some actual cinematic inventiveness at work in the film. (No more screenings planned, which may not be such a bad thing)

Read More...
October 2, 2010
Day Two of the 29th annual Vancouver International Film Festival proved to be everything that Day One was not. Which is to say that VanRamblings loved each of the three films we took in on Friday, our most favourite ...
The Man Who Will Come (Grade: A): A devastating tone poem, winner of the Jury Prize and Audience Award at last year's Rome Film Festival, The Man Who Will Come tracks six months in the lives of the inhabitants of a small Bolognese Apennines village circa 1944, almost all of whom were massacred in reprisal for the village's support of partisans fighting against their Nazi occupiers. As observed through the eyes of 8-year-old Martina (Greta Zuccheri Montanari, in a spellbinding performance), the young girl acts as a mute but powerful agent for her family and a 'narrator' for our perception of the film's events. With engaging, naturalistic performances, a superb musical score and lambent cinematography by Roberto Cimatti, The Man Who Will Come emerges as a tragic tour-de-force and one of the must-see films at this year's Festival. (Screens again on Mon., Oct 4th @ 11:40 am, Gr. 7 Th3, and Tue., Oct 12th @ 9:30 pm, Park Theatre)

Read More...
October 1, 2010
The Man Who Will Come, Hilda Hidalgo's Of Love and Other Demons, and SIFF winner, Reverse
Ordinarily, we'd post upon arriving home from a day of filmgoing at the Vancouver International Film Festival, but Thursday, September 30th turned out to be such a strange day, and the films we managed to get to so underwhelming that we're simply going to wait til Friday, Day 2 of VIFF, to have our socks blown off, as the inimitable Mr. 'Showbiz' Shayne and Mr. Know-It-All (aka VanRamblings) take in screenings of ...
The Man Who Will Come, a dense historical drama that earned the Silver Grand Jury prize at the Rome fest, as well as the Audience Award (12:15 pm, Gr7, Th7).
Reverse, a darkly comic story about three women, set in both the present and in 1950s Warsaw. Winner of the Grand Jury Prize at the recent Seattle International Film Festival. (6:45 pm, Gr7, Th2), and
Of Love and Other Demons, about which Andrew Barker wrote in his Variety review: "In her startlingly assured debut ... Costa Rican writer-director Hilda Hidalgo has seemingly unlocked the key to translating the cerebral sensuality of Gabriel Garcia Marquez's writing into film, providing one of the few screen adaptations worthy of the Colombian novelist's source material." (9:15 pm, Gr7, Th4)
Read More...
September 30, 2010
The Vancouver International Film Festival will celebrate its 29th birthday September 30th thru October 15th, all across Vancouver.

For the first time, VIFF will offer screenings at the Park Theatre on Cambie Street, which replaces longtime Festival venue The Ridge. Otherwise, venues operating throughout the entire fest are the same as last year: the Empire Granville 7 (again, 'home' to VIFF), Pacific Cinémathèque on Howe Street, and the VIFF's own Vancity Theatre on Seymour.

On those screens, VIFF will unspool 600 screenings of 230 feature-length films and 150 shorts, from 80 countries. And, as always, 80% of the films screening at VIFF will never screen in Vancouver again (so see them now).
As Canada's largest Festival venue for Canadian film, in 2010 VIFF will present 87 Canadian films, including 20 dramatic features, 16 nonfiction features, one mid-length film, and 50 'shorts'. Selected from 700 submissions, VIFF will also present 115 non-fiction films, of which 98 are feature-length. The Non-Fiction Features series represents Canada's second-largest "documentary festival," with an estimated 63,000 of VIFF's total 150,000 admissions last year attending this portion of the fest.
As in past years, in 2010 overall VIFF will present 85 premières: 12 world, 23 international, and 50 North American.

This year's Festival officially kicks off this evening with Barney's Version, Mordecai Richler's acclaimed 1997 satire, which tracks the life of Barney Panofsky (Paul Giamatti), a Montreal Jewish mensch, marital philanderer, foul-mouthed social liability, hard drinker, self-hater, low-grade TV producer and possible murderer, through four decades of his messily authentic life. Directed by Richard J. Lewis, Barney's Version arrives in Vancouver after débuting at the Venice Film Festival earlier this month.

VIFF will close two weeks later with a gala screening of master animator Sylvain Chomet's The Illusionist (Gala, Fri, Oct 15 7 pm, Empire Granville Th7; & Fri, Oct 15 9:45 pm @ Empire Granville Th7), a follow-up to his award-winning 2003 tour-de-force, The Triplets of Belleville. Bathed in self-aware melancholy and lightened by slow-burn humour and a sensibility rooted in silent-era filmmaking, The Illusionist offers plenty to look at, all of it magnificently rendered, as it deploys superb hand-drawn imagery to bring to life an unproduced screenplay the late Jacques Tati finished in 1959.

In between — during the 17 days of the Festival — are numerous special events and multiple daily screenings, as many or more screenings, says VIFF artistic director Alan Franey, than in previous years.

In 2010, VIFF places a focus on a Best of Cannes 2010 film series, including Palme d'Or winner Uncle Boonmee Who Recalls His Past Lives, which screens next Wednesday, October 6 at 9 p.m. (Granville 7, Theatre 3) and Tuesday, October 12th at 4:15 p.m. (VanCity Theatre).
Read More...