A knock-out sizzler, pulling you in to the 33rd annual Vancouver International Film Festival
The 2014 Vancouver International Film Festival is much-changed.
Oh sure, there are the same folks involved this year as in recent years, the venues will be the same as they were last year, but the films that will be screened at this year's Festival (more A-listers than in years!) ... and the utter loveliness that is newly-installed Executive Director Jacqueline Dupuis. And let's not forget about that knockout 'sizzler' VIFF prelude video above, created by the folks at post pro media (I mean, like wow, wow, wow!).
As I have written previously, Alan Franey stepped down from the day-to-day running of the Festival, just after last year's Festival came to a close. Alan, and Festival staff with whom I was in contact last autumn, insisted that there was a succession plan in place — and lo and behold, the successor was right in their midst, in the form and person of Jacqueline Dupuis, who had already worked with the Festival for a couple of years, in a (perhaps?) more 'restricted' Executive Director capacity.
In 2014, Ms. Dupuis has put her stamp on the festival, emerging very much as the reigning intelligence of VIFF 2014. Who'da thunk? Certainly not me, if you read last autumn's October 13th VanRamblings column.
(By the way VIFF folks, mea culpa — I was wrong)
VIFF Executive Director Jacqueline Dupuis talking with VIFF Media Manager, Justin Mah
What were the chances that Jacqueline Dupuis, arriving from Calgary three years back, would find a family in the programmers and staff at VIFF, and in 2014 would emerge as the eminence gris of the Festival? In person, Ms. Dupuis possesses the charm and lack of guile you would find in a 22-year old, an openness to experience, and an almost wide-eyed wonderment in the living of a life encompassing the hours of her day — and here she is now, today, the matriarch of the Festival — lovely, strong, bright and principled, the leader in whom festival staff have vested their faith.
For those who are not familiar with the staff of the Vancouver International Film Festival, let me tell you about my observations: there is about the folks who work with VIFF an uncommon kindness, integrity and humanity, as well as an intelligence matched with an unerring sense of purpose.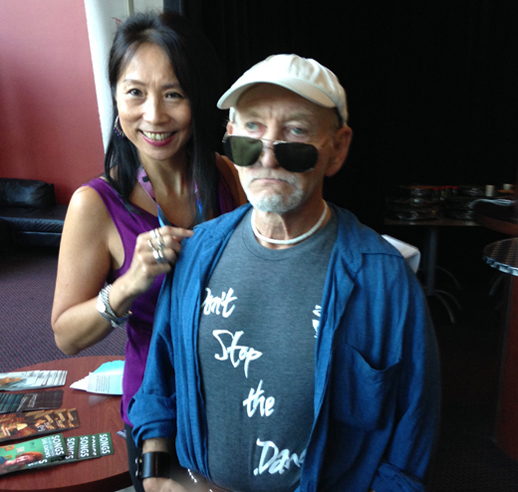 VIFF Programme Manager PoChu Au Yeung, and retired broadcaster, J.B. Shayne
There is amongst the fine folks who work with the festival, a feeling that is palpably shared among all those who are associated with the festival, of a higher purpose, a humanity and warmth and caring — not just for the city, or for those of us diehard cinephiles who live for our festival-by-the-sea each and every autumn, but for one another, full-time and part-time administrative staff, and volunteers. VIFF may be possessed of the most functional administration of any arts organization on the continent.
There is the quiet, zen-like presence of the festival's Director of Programming, Alan Franey, right on through to Alan's longtime second-in-command PoChu Au Yeung (a relationship of equals that has sustained for years), through to this year's kind and generous programme guide editor Curtis Woloschuk, as well as longtime Canadian Images programmer Terry McAvoy, the entirely magnificent Shorts International programmer Sandy Gow — about whom we wrote a couple of years ago — with longtime VIFF stalwart Jack Vermee back from France for another go-round, and Vancity programmer Tom Charity very much a part of the family, all of whom share a common sense of purpose, but more, oh so much more.
As per the title of this blog post, you probably want to know how it is that VIFF33 is different from all of the previous VIFFs. Okay, here we go ...
It would appear that with the Toronto Film Festival engaged in a dispute with the Telluride Film Festival, the Vancouver Film Festival has snuck in and snagged a record number of A-list Hollywood films — a welcome departure in programming orientation from years past.
From Jean-Marc Vallée's Wild — starring Reese Witherspoon, Laura Dern, Gaby Hoffmann — the Opening Gala film at VIFF 2014 (the film played to raves at Telluride, and is also on the TIFF schedule), to the closing Gala Film, Whiplash — the breakout film at Sundance earlier in the year, and also on the TIFF schedule — through to certain Oscar nominee, Bennett Miller's incredibly well-reviewed Foxcatcher — débuted at Cannes, just screened at Telluride, and screening at TIFF; Olivier Assayas' Cannes stunner, Clouds of Sils Maria; David Cronenberg's Maps to the Stars; Jason Reitman's much-anticipated Men, Women & Children; Xavier Dolan's Mommy; to the five-star, scalp-prickingly scary It Follows, the 33rd annual Vancouver International Film Festival will be a festival to be savoured and appreciated.
Second, in all the years I've covered VIFF, I've never heard Alan Franey wax as poetically enthusiastic about as wide a range of the films that are scheduled to screen at VIFF. When video of Alan's address to the VIFF Launch / Media Conference is made available (apparently, a week Monday), I'll post it on VanRamblings. Believe me when I write that Alan's "guide" to VIFF33 could very well prove to be the definitive guide to this year's Fest.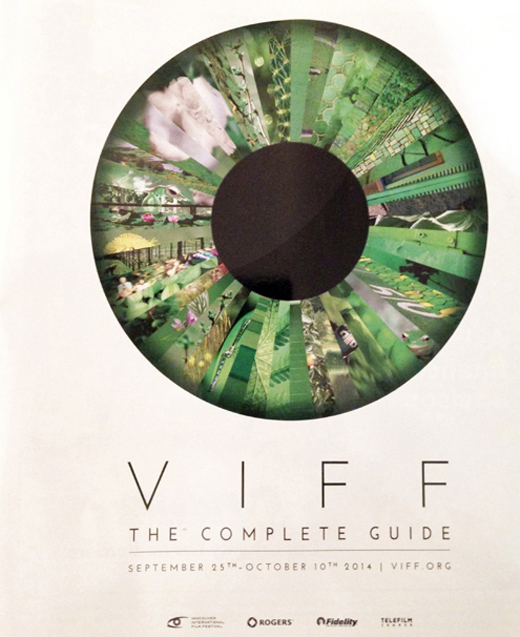 This year, for the first time, the VIFF guide will be FREE (yes, you read that right: free). The guide is glossy (forgive the photo above — the guide is actually a brilliant white), may be found at your favourite video store or book store, at libraries and all around town, as well as at the Vancity Theatre, and is available now, at least a couple of weeks earlier than usual, just as valuable as ever, and an absolute must cinephile acquisition.
What is the same about this year's Festival, compared to previous years?
Fabulous, mind bogglingly beautiful films, a great team of VIFF administrative staff and volunteers, incredible venues (The Centre for the Performing Arts is back again this year!), and the best (if, often, most challenging) time you'll have in a darkened cinema all year long, as well as a window on our diverse world that provides a par excellence experience.
What is different?
Well, I'd say a brighter, more contemporary, more business-like and almost aggressively engaging spirit that is just going to draw you in like never before, incredible 'of this age' sizzler videos that will drive business to the Festival like mad (I'll post them as they become available), a renamed and focused VIFF Industry Conference (more on this in the days to come), a raft of new sponsors, that great new free VIFF programme guide — and more, of course, but you're just going to have to check it out for yourself.
Tickets are now available online, and as of September 13th will be available in person at the Vancity Theatre box office, from noon til 7pm daily.
On the weekend, I'll write more about the specific VIFF 2014 series and films, will post more video, provide more information on venues, and will publish much much more. This is gonna be a great festival — see ya there!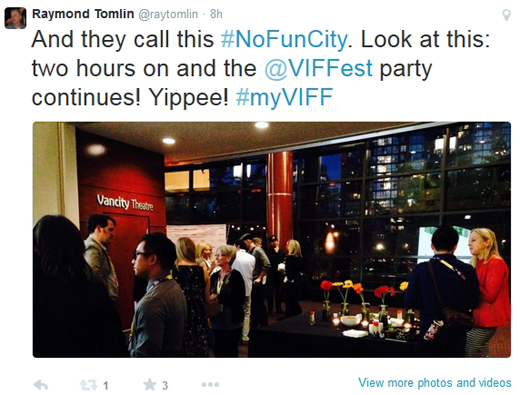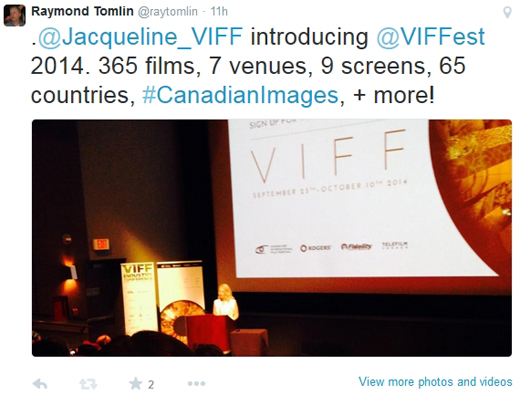 Posted by Raymond Tomlin at September 4, 2014 4:14 AM in VIFF 2014