VIFF 2014
October 6, 2014
Although only days remain until our beloved Vancouver International Film Festival shutters its doors for another year, there are still a great many recommendable films on tap that are worthy of your attention.
In today's VanRamblings, a potpourri of items to intrigue your sensibilities.
VIFF Repeats: VanRamblings received a note from the splendidly wonderful VIFF and Vancity programmer, Tom Charity, this morning (there must be a very special additive that's been placed in the water a VIFF HQ, for VIFF admin staff constitute an incredibly great group of folks!) where he informed that, "There will be 2 full days at The Cinematheque plus half days at SFU, and a couple more matinées on Monday."
The Festival published the list of VIFF Repeats on Tuesday afternoon, films that will screen ...
... over the long weekend, Saturday October 11th through Monday, October 13th. Festival passes, exchange vouchers and ticket pack redemptions are not accepted for these screenings. A VIFF or Vancity Theatre Membership is required.
Enjoy VIFF's encore series. See ya there.
Still Life: To date VanRamblings has failed to give Uberto Pasolini's new film, Still Life — by far the consensus best, under-the-radar English-language indie film at VIFF 2014 — its full due. Let's rectify that: Still Life is an absolutely superb, low key wonder of film, the success of which emerges from the performance of the festival: Eddie Marsan not only plays his most sympathetic character to date, his emotionally-nuanced performance of humane integrity absolutely rivets the attention of the viewer to the screen.
The film's synopsis reads, "As a modest council case worker in a London suburb, John May's (Marsan) job is to find the relatives of those found dead and alone. Despite his efforts, he is always on his own at their funerals, having to write their eulogies himself. When his boss intends to fire him, John decides to double his efforts on a case that will change his life and prove that he hasn't said his last word."
That Still Life takes us on an utterly unexpected, yet always human-scale journey, and that Downton Abbey's Joanne Frogratt (who plays the PBS series' most sympathetic character, Anna Bates) is just as wonderfully tender on the big screen as she is the small, catapults this film into the first rank of VIFF 2014 entries, a film always of tremendous poignancy, a sublime and delicate story about loneliness, sadness and death, yet utterly inspiring and uplifting in a counter-intuitive way. Disarmingly emotional.
Go prepared: you're in for an unexpected treat.
Still Life screens twice more, both times at The Playhouse, this afternoon at 4pm, and on Wednesday, October 8th, at 7:15pm. Not to be missed.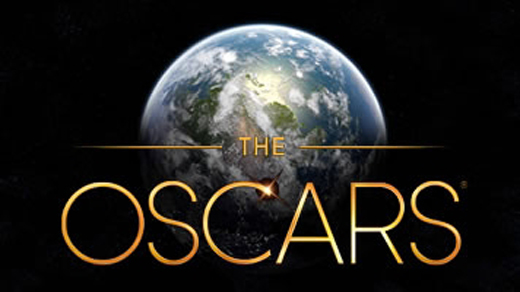 VanRamblings has updated our Best Foreign Language Oscar nominees post that provides insight into the nominees that are screening at our 33rd annual festival by sea. Click on this link to be taken to the updated page, or if you're on the front page of VanRamblings, just scroll down the page.
Perhaps the untold story of the 33rd annual Vancouver International Film Festival is the rampant homophobia, intimidation and discriminatory practices that has been directed towards VIFF volunteers working at The Centre, specifically those volunteers who have been perceived by members of the Westside Church (owners of The Centre) as living an "alternative lifestyle", the volunteers made to suffer while working their shifts at VIFF's Centre for the Performing Arts, which conduct by The Centre's church members has led to multiple resignations of VIFF volunteer staff.
As readers may recall, an evangelical church purchased The Centre in the spring of 2013. In respect of homophobia, as reported in Xtra West ...
The pastor of the Westside Church (owner of The Centre for the Performing Arts) cautiously yet unambiguously reaffirmed the stance that homosexuality is a sin in his June 17 sermon ... Norm Funk, 46, offered the sermon on homosexuality as part of a series titled "You Asked. Jesus Answers." ... Before founding Westside in 2006, Funk was youth pastor at Willingdon Church, whose members spoke out against the Burnaby school board's anti-homophobia policy last year.

Evangelical churches, particularly Baptist churches, are notorious for their fire-and-brimstone message that homosexuals will go to hell ... "It is never okay to respond in any way that is not loving to whomever, regardless," he told followers. But Funk didn't embrace gay people, either, grouping homosexuality with "temptations" like greed and lust.
In 2013, Vancouver City Council — at a meeting best remembered for the tears of the young children whose hopes to dance in the Goh Ballet's Christmas production of The Nutcracker were dashed when the church purchased The Centre — "forced" the Westside Church to allow the film festival and Goh Ballet to use The Centre for their scheduled programming.
In 2013, VIFF supplied all the volunteers at The Centre, during the Festival.
In 2014 it was reported to VanRamblings, the pastor insisted that church members join VIFF's volunteer staff, VIFF never suspecting that such practice would lead to the present intolerable circumstance.
When volunteer staff at The Centre first apprised VanRamblings of the unconscionable situation described above, we approached VIFF admin staff to enquire as to what measures were being taken to rectify the improvident circumstance. Although VIFF admin were clear that "negotiations are ongoing to remediate the clearly unacceptable practices of some members of the church who are volunteering at The Centre this year", as of this writing the situation has not been rectified; it seems doubtful that there will be resolution before the festival comes to a close on Friday evening.
To wrap today's post, before we head out to the festival for this evening's screenings of Force Majeure and the French policier 24 Days, please find below a list of a few of the must-see films in the final days of VIFF 2014.
Of course, there are many more Vancouver International Film Festival films that VanRamblings will take in over the course of the next few days, but the films above offer a starting point for superb VIFF films to consider.

October 5, 2014
Here we are in the final stretch of the 33rd annual Vancouver International Film Festival, and VanRamblings has let down our regular VIFF followers.
To some degree we'll try to make amends with a longer than usual VIFF post tomorrow. Today's post attends to VIFF logistics "business" that may, or may not, be of interest to readers looking for rave film reviews.
Could Still Very Well Be: Paradise at VIFF's Cineplex Tinseltown Site

Note: The following represents a note to VIFF Tinseltown exhibition staff.
Prelude. Honest, warm, human communication involving volunteer and VIFF theatre management staff at the Cineplex site has been at a premium in 2014; which is to say, palpable human connection has been, thus far, an uncommon feature of the interaction of staff and patrons. In the final five days of VIFF at the Cineplex site, that unholy circumstance must change.
Trust. VIFF exhibition staff must trust that patrons have the best interests of the Festival at heart, that patrons and staff are in this whole big VIFF schmozzle together — that all of us want the experience to be as pleasurable, memorable, efficient and friendly as is humanly possible.
VIFF staff at Cineplex: patrons are not your enemy; they're your allies.
[Note to VIFF admin, esp. Mickey and Brie: you've got a darn wonderful management person in Kaen, and Aubyn seems to connect surprisingly well, given how such friendliness seems not to be supported this year and, oh yeah, when it comes to volunteers Janet Smith is just aces]
[Note to VIFF admin, Part II: Congratulations on appointing Sean Wilson as Exhibitions Manager. I cannot imagine a better choice than Sean]

As VIFF exhibition management staff your primary duty is to see patrons gain entrance into the theatre complex in as reasonably efficient a manner as possible. And on that level, VIFF Tinseltown logistics has worked fairly well, outside of the first couple days (which is, of course, to be expected).
In response to a litany of concerns expressed to VanRamblings by VIFF patrons (for some time now, we've been VIFF's unofficial Ombudsperson — something thrust upon us, & not assumed), please find recommendations intended to enhance your experience, and lighten your load.
1. Smile. That's right, no matter how busy you are, take a moment to recognize that the patrons who are in the lines, or are making their way in or out of the theatre are real, live human beings, moms, dads, brothers, sisters, members of familes of every description. No matter how busy you are, no matter how stressed you feel, smile — it'll lighten your load, and vastly improve the patron experience. Honest ...;

2. Trust. Expanding on the paragraph on trust above: most of the VIFF exhibition staff at the Cineplex are new this year to the maelstrom that is the VIFF exhibition experience at Tinseltown (just ask the hero of VIFF Tinseltown 2013, Mr. Human Dynamo himself, Alan Franey — I'm not kiddin', Iulia and Alan working together last year was nothing short of wondrous!). Please keep top of mind always that most of the patrons in the lines love the film festival, have been attending for years and years and years (even before many of you were born!), travel hundreds of miles to get here in many cases, and have lives that revolve around our 16-day film festival each year. Trust always that VIFF patrons have the best interests of the Festival at heart. Think about it, incorporate it into your management style. And smile, actually look at people & smile;

3. Communication. When you're speaking with someone, smile, a genuine smile, a warm and warming smile, a reassuring and calming smile. Make eye contact. Seriously, make eye contact. Connect. And never forget to let the patrons know what's going on: communicate with them, keep them in the loop — that's part of your job.

Acknowledge the patrons' humanity. Look for their names on the pass, or if they have tickets, ask for their name, and say hi. Remember their faces so that the next time you see them, you can greet them. Ask the patrons if there's anything you can do for them. Humanize the management experience for yourself — you'll be glad you did, & you'll get the job done even better.

Now, I know you're thinking to yourself, "Is he out of his cotton pickin' mind? Does he have no idea about how busy we are, how many different facets of exhibition management for which we are responsible?" Yes, I do, and I say: smile, be friendly, be welcoming, smile some more, connect, hear what patrons have to say, acknowledge that we're all in this together, that your primary responsibility revolves around ensuring the best patron experience possible, and part of achieving that goal involves consciously acknowledging the humanity of the patrons you see milling about the Tinseltown complex each and every day;

4. Emulate Brie Koniczek, your boss, well-experienced VIFF exhibition management staff person, and provider to VanRamblings of the most transcendently wonderful experience of exhibition management to which we have been witness in our 33 years of attending the Vancouver International Film Festival — and that's going some, because VanRamblings loves, I mean really loves, Iulia Manolescu's exhibition style — in the centre of an early morning storm at the Cineplex site one morning this past week Brie, and Brie alone, working with volunteer staff, remained calm, always smiling, always genuine (utterly, utterly genuine and humane), always lovely and engaging beyond words, communicative, warming, welcoming and reassuring.

No wonder Brie's smiling: with the most beautiful baby, and wonderful husband, in the world
Brie Koniczek. How one assumes the onerous responsibility of taking virtually sole responsibility for overseeing the ingress of three long lines of patrons, distributes the tickets, directs volunteer staff quietly, efficiently, and humanely, all the while interacting with and re-assuring patrons (who would seem to be at the bottom of the list of priorities for some other of the exhibition management staff) in all three lines, and down in the will call / rush line-up, that all was well, outlining the exhibition dynamics of the morning, working towards the movement and ingress of patrons into the theatre, all the while smiling — it wasn't just the warm, reassuring smile that lit up Brie's face and her whole countenance, it was the near magical transfer of that warm, reassuring and calming energy into the crowd, an Alan Franey-like zen countenance, a warm Iulia Manolescu communication style with everyone she ran across, and a commitment to and the actual achieving of a logistically pristine exhibition management experience.
Honestly, if I attend the Vancouver Film Festival for another 30 years, I am sure I will never be witness to as transcendently lovely a VIFF exhibition experience as was the case one morning this past week, involving Brie Koniczek's utterly in control, and utterly humane exhibition management.
October 1, 2014

The criteria that cinephiles set for which 40+ films they'll take in at our annual autumn Vancouver International Film Festival varies.
Some folks want to make sure that they see every one of the films that took the 2014 Cannes Film Festival by storm, while other folks feel that taking in all of the screenings of award winning films arriving from festivals that span our globe — Sundance, San Sebastián, Tribeca, Instanbul, Seattle, Shanghai, Karlovy Vary, Berlin, Newport Beach, and Venice, just to name a few — rank as must-sees at our beloved festival by the sea.
Others, looking ahead to the 2015 87th Academy Awards — set for Oscar Sunday, February 22, 2015 — want to ensure that they're part of the "in crowd" that has seen more than a handful of the films that have been nominated by their respective countries for the prestigious Best Foreign Language Film Oscar. And thus we set our VIFF task for the day ...
Best Foreign Language Oscar Contenders Screening at VIFF 2014
Haemoo (South Korea)

Turning a real-life human trafficking tragedy into a comment on social inequality and the cost of survival, Haemoo dramatizes a stark nautical ordeal fraught with tension, the meticulously crafted production having generated widespread critical acclaim and healthy domestic box office, even if the subject did spark associations with the Sewol ferry disaster. Produced and co-written by internationally recognized Korean auteur Bong Joon-ho (Snowpiercer, The Host) this directing debut by helmer-scribe Shim Sung-bo echoes Bong's trademark cynical vision of human nature. A gripping cinematic ride, with powerful imagery, a simple and accessible story and a stellar performance from Kim Yoon-seok, Haemoo is set in 1998, three years before the Sewol incident, and offers a journey into darkness that begins when trawler captain (Kim) finds himself broke (and broken), his fortunes hit hard by the fallout of the Asian financial crisis.
Living Is Easy with Eyes Closed (Spain)

In David Trueba's whimisical feature début, a trio of misfits set out to meet the Beatles, traveling across Spain in 1966 to meet their idol John Lennon on the set of How I Won the War, in hopes of clarifying some lyrics they couldn't quite understand. Inspired by the true story of Spanish schoolteacher Juan Carrión Gañ án, as Stephen Farber writes in the Hollywood Reporter, "This small gem offers a lovely evocation of Spain as well as a touching tribute to an unforgettable moment in time when the Beatles seemed to offer brand new possibilities, the idea that strawberry fields might indeed go on forever."
To Kill A Man (Chile)

A quiet drama that cares as much about familial alienation as with getting away with murder, Alejandro Fernandez Almendras retells a true story of last-ditch self-defense, about a timid man who does what he must to protect his family. To Kill A Man is a grim, fat-free revenge thriller that extracts an impressive degree of moral equivocation from its exceedingly simple premise of a family man, tormented by neighborhood thugs, who resorts to unseemly measures when the authorities fail him. Almendras' début feature is a slow burner, bearing some of the eerie social disquiet of pre-eminent Chilean auteur Pablo Larrain's work. A grand jury prize winner at Sundance, this hard-edged best foreign film nominee has emerged as one of the early favourites at VIFF 2014.
The Golden Era (Hong Kong)

Ann Hui's ambitious, lustrously mounted biography of eminent feminist Chinese novelist, poet and essayist Xiao Hong declares its intentions right from the outset, opening with a black-and-white shot of Xiao Hong (played with gleaming intelligence by Tang Wei), who directly addresses the audience, stating her name and when and where she was born and died. Crucially, it is the only time Xiao herself breaks the fourth wall. The Golden Era's title refers to a more introspective sense of time and opportunity, but can also be taken as an ironic comment on the 1930s, an especially tumultuous period in Chinese history that saw the rise of the Communist party and the invasion by the Japanese. Handsomely mounted with a score that resists a ripe opportunity for excess romanticism, The Golden Era offers sophisticated storytelling, narrative and historical sweep, and a meticulous re-creation of a China long since passed.
The Gambler (Lithuania)

A feature début so self-assured as to really only ever only be marred by its show-offiness, the Latvian/Lithuanian co-production, The Gambler, which played in competition at the Marrakech Film Festival earlier this year, marks director Ignas Jonynas' emergence on the scene as a talent to keep an eye on. Taking a skewed, and ever so slightly surreal story about a team of emergency medics who develop a highly successful and lucrative game involving betting on when patients are going to die, and basing the odds on complex and arcane analyses of the medical information to which they have access, the film, to its credit, is less interested in this high concept than it is in its lead character, the bearlike Vincentas (Vytautus Kaniusonis), his moral descent and eventual redemption.
Rocks in My Pocket (Latvia)

A very personal animated film that explores depression and suicidal tendencies with wit, surreal invention and insight, New York-based Latvian director Signe Baumane (Teat Beat of Sex) gets personal in her depression-themed feature that combines paper-mache sets and hand-drawn animation. This partially autobiographical tale chronicles the lives of three generations of Baumane's family, covering roughly a century of history, during which the small Baltic state (current population: just under 2 million) was occupied several times. But though the film's historical-political background provides texture and interesting parallels — since depression could be seen as an undesired subjugation of the mind — Rocks in My Pockets is mainly concerned with a very subjective personal history of three generations of women, all prey to depression and dark thoughts. Animated in a striking combination of real paper-mache sets and props and hand-drawn 2D figures, the film explores with wit, surreal invention and insight something left far too often undiscussed.
The Liberator (Venezuela)

An impressively mounted, but perhaps overly truncated take on a great historical figure about whom much more needs to be known, the extraordinary story of Simon Bolivar onscreen in two hours represents a Sisyphean struggle of the first order. This physically impressive Venezuelan-Spanish co-production clearly lays out both the ideological forces at play in the early 1800s and the nature of the physical challenge of pushing the Spanish out of South America after 300 years of control. Edgar Ramirez does an entirely respectable job limning Bolivar's idealism, bravery and natural leadership qualities, although the man himself remains elusive , more icon than flesh-and-blood being. Still, a compelling film to watch, and a VIFF film the audience appreciated with rapt attention, and appreciation.
Two Days, One Night (Belgium)

In this impassioned and moving new film by Belgian sibling directors Jean-Pierre and Luc Dardennes brothers, another excellent social-realist working-class drama, Marion Cotillard appears in every scene as the frantic Sandra, who learns in the opening minutes that she's been laid off from her job at an energy plant just before the weekend. Fighting off tears in the mirror, she discovers a semblance of hope in the promise of a new vote among her co-workers come Monday. A mesmerizing odyssey, with no soundtrack or melodramatic confrontations, the Dardennes plunge viewers into a terrifying world of unknown variables. Two Days, One Night emerges as another hugely admirable entry in the Dardenne canon: thoughtful, humane and superbly composed.
Sorrow and Joy (Denmark)

Danish auteur Nils Malmros (Tree of Knowledge) revisits a personal tragedy, turning the camera on his own tragic backstory in Sorrow and Joy, a deeply personal auto-biography about how the director's wife murdered their infant daughter in 1984. In this drama starring Jakob Cedergren and Helle Fagralid, Malmros paints an unflinching portrait of himself as critical and emotionally neglectful, the story told through the device of a psychiatrist's questioning, and in flashback to the start of the couple's relationship. At the same time, we watch the director attempt to ensure his wife receives treatment in a psychiatric hospital rather than a prison.
Mommy (Canada)

A funny, heartbreaking and utterly original work from 25-year-old Canadian enfant terrible Xavier Dolan — the writer and director of five critically acclaimed movies, and co-recipient of a jury prize at Cannes — Mommy is a blast of pure cinema, an intense, intimate drama about a harried mother and her troubled teenage son that vividly captures a range of exhilarating emotions from elation to despair. Dolan plays with well-chosen music and strategic silence, demonstrating a more experienced filmmaker's technical proficiency, coupled with the bold exuberance of youth. With Mommy, Xavier Dolan has solidified his standing in the pantheon of great directors with his new work, a film of explosive freshness, offering a delicate balance between humour and tragedy that's simply intoxicating. Dolan's Mommy is a beautifully realized film that is certain to speak to the VIFF crowd.
Corn Island (Georgia)

A virtually wordless, elegant tone poem — and all the more captivating for its quietness — Georgian director George Ovashvili's top prize winner at Karlovy Vary is, as Variety's Peter Debruge suggests, "an astonishing feat of cinema", a life and death fable that tracks the lives of an aging Georgian farmer (Ylias Salman) and his innocently flirtatious granddaughter (Mariam Buturishvili), who work together to build a rudimentary wooden shack and plant a crop of corn on a temporary island in the middle of the Inguri River, amidst the warring factions of Georgia and the republic of Abkhazia. Audacious, powerful, utterly compelling, and melancholy, Corn Island represents the best of foreign language film at the 2014 Vancouver International Film (we saw it in preview), and is a must-see at our festival.
Winter Sleep (Turkey)

Palme D'Or winning Turkish photographer, screenwriter, actor, and film director Nuri Bilge Ceylan can do no wrong, his latest — Winter Sleep — masterful and multi-layered, inspired by a Chekhov short story, the film — at three hours and sixteen minutes (not an unusual length for a Bilge Ceylan film) — offering a richly detailed, subdued and mesmerizing depiction of the full spectrum of the human condition.
Novelistic in structure, Winter Sleep revolves around Aydin, a retired stage actor (Haluk Bilginer) — a bearded, middle-aged grouch who operates a hotel in Cappadocia, high on a hill above inherited land owned by his late father — and his much younger wife, Nihal (Melisa Söezen), who spends her days gazing out the window, bored with their empty, privileged lives.
From Eric Kohn's review on Indiewire ...
Winter Sleep contains a few surprising moments of levity, from scenes of drunken men dueling with Shakespeare citations, to the peculiar nature of Aydin's relationship with a disadvantaged horse. At one point, a rabbit-hunting session leads to one of the movie's darker signifiers, while conveying a strange feeling of existential uplift on the character's terms. Such signifiers are never forced, however, as each telling moment arrives in the context of the movie's enthralling pace.
In its broadest terms a character study, as Ben Croll writes on Twitchfilm:
The film can be easily criticized as being too talky, overlong and a tough sit. All of which is entirely true! But there is some kind of cumulative value in the stacks of minutes and words that pile up and topple onto each other. Something that is also reflected in Ceylan's rather agoraphobic decision to keep things mostly indoors for the duration of the film. Twisting the familiar, a simple interaction or the inside of a living room, into something heightened and uncanny highlights the film's final verdict on Aydin. To turn the idiom around, he is proof of the evil of banality.
Winter Sleep. Another can't miss at our Vancouver International Film Fest.
Beloved Sisters (Germany)

An exquisitely detailed period piece, as Variety's Scott Foundas writes ...
An enthralling, gorgeously mounted depiction of the complicated relationship between the post-Enlightenment writer and philosopher Friedrich Schiller and the sisters Charlotte von Lengefeld (who would become his wife) and Caroline von Beulwitz (his eventual biographer), Beloved Sisters maintains novelistic narrative density in its enveloping canvas, as director Dominic Graf sets about to create an unusually intelligent costume drama of bold personalities torn between the stirrings of the heart and the logic of the mind, all the while casting his revealing gaze upon Western Europe's bumpy transition from the 18th to 19th century.
Be forewarned: another long sit (171 minutes), but very much worth it.
Force Majeure (Sweden)

One of the key films about which VIFF's Director of Programming, Alan Franey, waxed poetic at the opening press conference of the 2014 Vancouver International Film Festival, as Boyd van Hoeij writes in The Hollywood Reporter, "An avalanche does no bodily harm but leaves a Swedish family entirely wrecked nonetheless" in Force Majeure, an ice-cold Swedish drama about a family torn apart by cowardice. Director Ruben Östlund's new film comes across like Ingmar Bergman with a wicked streak.
Writes Peter Debruge in Variety ...
In its very calculated way, the film serves to document all that will inevitably be omitted from the family's official record of their five-day ski vacation, as suggested from the first shot, in which this seemingly perfect clan — father Tomas (Johannes Bah Kuhnke), mother Ebba (Lisa Loven Kongsli), son and daughter (real-life siblings Vincent and Clara Wettergren) — poses for a contrived group portrait on the slopes. Whereas they self-edit their memories to fit their own narrative, Östlund observes the minutiae, right down to the bathroom breaks.
The film uses the daily structure of life on vacation to show us small variations in how things work between Tomas and Ebba. Once the fractures begin to appear in their marriage, things fall apart very quickly over the five-day skiing holiday in the French Alps, a pricey-looking getaway for a well-heeled couple.
Theatrically structured, yet a bracingly cinematic film, Force Majeure takes the family, and us, on a ski trip down a black run into a blacker chasm.
Have we mentioned that the film festival is not about force-fed, mindless Hollywood pap, but is rather all about offering an honest reflection on the human condition (ain't no passive-aggressiveness goin' on here), and that chances are the films screening at VIFF are likely not to be an easy sit?
Bottom line: either you love film, or you don't. Either you're willing to confront your demons (the characters on screen often represent a disturbing, and often unexplored, aspect of the deepest, inner core of your being, your id), or you're not. VIFF as therapy: you better believe it.
Final note: we'll update the list of Best Foreign Language Oscar nominees screening at VIFF 2014 as the information becomes available, and point you back in this direction periodically over the course of the next four weeks.
September 27, 2014
The first couple of days of the wonderfully overcast, and cooly-inviting 33rd annual Vancouver International Film Festival brought everything and more that had been promised: great cinema of consequence offering cinephiles a window on the world, seamless entry into the cinemas, a couple of glitches here and there (the subtitles for the films screening at The Rio on Friday night were out of sync), the well-attended Opening Gala screening of Jean-Marc Vallée's Wild (rumour has it that Matt Damon was in the audience) going off without a hitch — screening at 3pm today for a final time at The Centre for the Performing Arts on Homer Street, plus there've been enthusiastic conversations galore while waiting in the lineups full of tales of shared memories and enthusiastic analyses of the films on offer.
Waiting for August (Grade: A+): My favourite film the first couple of days at VIFF was the very first film I saw at 10 a.m. on Thursday morning at The Cinematheque, Waiting for August — Teodora Ana Mihai's Karlovy Vary / Hot Doc's Fest best doc winner, the intimate, wondrous, fabulously humane slow-boil Romanian social non-fiction feature about a 15-year-old girl who cares for her six siblings while her mother earns a living abroad.
At its essence, Waiting for August is a film that examines the Christian doctrine of original sin, and the true nature of man. The film poses the question: will the seven young children left to fend for themselves and their own devices become feral, or will a finer sense of humanity and the collective interests of the family predominate? The defining characteristics of the nature of the siblings' relationship that emerges? Love, and honour.
Alone in the world except for one another, the three girls and four boys in the family arise each morning for breakfast, attend to their hygiene, dress well in togs sent to them from their mother living in Italy, and attend school (except the youngest) — where they do well, socialize and have friends — all set amidst the safe and caring community of Bacau, within one of the Romania's poorest provinces. Sleeping collectively on a large mattress placed on the floor, the bodies of the children tangled together possesses the innocence of puppies all snuggled together in blissful repose.
An incredibly lovely film full of hope and charity, there are two more screenings of Waiting for August: today at 4pm, and next Thursday, Oct. 2nd at 9:15pm, both times at Cineplex International Village, Cinema 8.
VanRamblings is on record as liking this year's free, glossy film fest guide.
Despite VanRamblings' salutary appreciation of the guide: a smattering of folks (some getting on in years, which is a category — one supposes — into which we would seem to fit these days) much preferred last year's full catalogue "book", with its larger print, more expansive content, and fuller presentation of information on the 350+ films screening at VIFF.
Here's what Curtis Woloschuk, Editor and Publications Co-ordinator for this year's VIFF programme had to say on the matter, when we approached him on Thursday: last year's VIFF programme catalogue did not sell well enough to warrant this year's publication of another VIFF programming "book" — research indicated, as well, that most patrons depended on the free VIFF guide that was distributed three weeks prior to fest kick-off. Note should be made that the type font in this year's programming guide, Curtis told us, is a font-size larger than last year's free preview guide.
Still and all, Curtis took note of the concern, and committed to us that at fest's end, as senior festival staff are conducting their annual administrative review of the festival, the issue raised above will be given due consideration.
Some pics of VIFF's 2014 Opening Gala, + VIFF videos

Filmmakers Laurence Keane, Elvira Lount, and Sandy Wilson, with VIFF's Alan Franey
VIFF's Alan Franey and Jacqueline Dupuis, with VIFF co-founder, Leonard Schein
Hey's it opening night at the 33rd annual glorious Vancouver International Film Festival
September 25, 2014
For lovers of cinema, happy, happy days are here once again!
Yes, the spectacular, gorgeous, incredibly moving 33rd annual Vancouver International Film Festival commences today for a glorious 16-day run of the world's best cinema, brought to our shores by a first-rate programming team, headed by longtime VIFF Artistic Director, Alan Franey.
More than ably aided by well-experienced Programme Manager and Senior Programmer, PoChu AuYeung, and her programming colleagues, the Vancouver International Film Festival once again presents more than 350 films, from more than 65 countries across our globe, and as you have read above: the very best in world cinema has been brought to our shores.
As VanRamblings has reported previously, the Vancouver International Film Festival is a much-changed film festival in its 2014 iteration. The Georgia Straight's Craig Takeuchi would seem to agree (ahem, supplemented by some commentary from me), writing about VIFF's ...
Digital revolution: "This is the first year in our history that we're not actually showing a film," Franey announced. In 2014, none of the selections will be presented on celluloid — all the films are digital.
Festival guide: In previous years, a free, brief preview guide was released prior to the official print guide, which was available for purchase. This year, the two have been amalgamated into one free, glossy guide, available all across Metro Vancouver.
Marketing: Have you seen that knockout 'sizzler' ad above highlighting the 33rd annual Vancouver International Film Festival? And wait til you see the BC Spotlight sizzler video below. The film festival is marketing itself like never before — and that's all to the good. I'm willing to bet that those 'ads' translate into a much-increased box office for the Festival in 2014.
Best New Director award: For 20 years, the Dragons and Tigers Award for Young Cinema was given to an emerging director from Pacific Asia who had not yet won significant international recognition. This year, that award has been expanded to the Best New Director (International) award.
VIFF Industry: A re-branded and revamped VIFF Film and Television Forum, a singularly important industry conference that coincides with the fall festival each year that will in 2014 engage more with the local film industry, including Vancouver's booming visual effects and animation industry. The four-day VIFF Industry Conference offers professional development for registered participants, and wide-ranging industry-relevant topics, from content creation and financing, to marketing and direct distribution, to storytelling and audience engagement. Betcha NPA mayoral candidate Kirk LaPointe will be interested in knowing more about the re-imagined VIFF Industry.
Style series: VIFF Executive Director Jacqueline Dupuis announced that a new series, Style in Film, will showcase six films covering the themes of fashion, style, art, iconoclasts, and aesthetics. VIFF will partner with Eco Fashion Week to produce Q&As and events, such as a VIP post-event screening at Holt Renfrew (October 5).
Gala films and special events: From the wow, wow, wow Opening Gala Film, the Reese Witherspoon-starring Wild (yes, we're talking Academy Award nominations here), to the closing Gala Film, Whiplash, the film that took the Sundance Film Festival by storm earlier this year, to the incredibly moving Special Gala presentation of The Vancouver Asahi (about which we will write again very soon), VIFF 2014 has absolutely outdone itself this year in booking films of special merit that will resonate with filmgoers like mad!
In 2014, how is the Vancouver International Film Festival the same?
Venues are the same this year as last (nine screens, 7 venues, including the 1727-seat Ford Centre for the Performing Arts across from the Vancouver Public Library, on Homer). Full venue information is available here.
The festival will run 16 days as per usual — kicking off today and running through until late night, Friday, October 10th. There are 355 films from 65 countries, in a programme that includes 26 non-fiction (documentary) features, 9 films in the Spotlight on France series, 27 films in the Dragons & Tigers (Cinema of East Asia) series, with more Canadian and U.S. films than ever in 2014, and a first-rate BC Spotlight film series, with 14 features.
As always, there are all sorts of ticket options: from single tickets at $13 to a range of ticket packs. Call the VIFF Info line at 604-683-FILM (3456) for more information. You can also get more info, and buy your tickets, online. Ticket acquisition is generally easy peasy, nice and easy.
What are the highlights in 2014, films that are must-sees?
Leviathan: The single most talked about film at Cannes this year, the film that took the critics by storm, Andrei Zvyagintsev's extraordinary tragic drama of corruption and intimidation in contemporary Russia is the must-see of VIFF 2014, and not just because Jeff Wells loved it, writing ...
It's a drop-dead brilliant, awesomely-composed-in-every-respect melodrama and moral tale that concurrently serves as a microcosm of (or metaphor for) a morally compromised, ruthlessly malevolent, bare-knuckled Russia. Vladimir Putin will love it! (Kidding.) Political corruption, lust and infidelity, way too much vodka, blackmail and thuggery, gunshots, bromide-dispensing priests who kowtow to powerful scumbags, huge whale skeletons, crashing waves, rotting ships — this puppy has it all plus the aura of a majesterial art film plus opening and closing musical passages by Phillip Glass plus the most beautifully lighted, handsomely composed widescreen photography (by Mikhail Krichman) I've seen in a long time.
Or, because The Guardian's Peter Bradshaw gave Leviathan a paltry five stars, writing that the picture is "full of extraordinary images and magnificent symmetry, a film acted and directed with unflinching ambition. Leviathan is a forbidding and intimidating work, and a film of magnificent ambition, scope and grandeur." Aw, shucks. Me, I'm taking in the Friday night, October 3rd, 9pm screening at The Playhouse. See ya there!
The Wonders. Alice Rohrwacher's Cannes Grand Prix winner, the film which I've most looked forward to seeing, and the picture I'd prayed to the gods (and to Alan Franey) to please, please bring to 2014's Vancouver International Film Festival, will indeed screen at VIFF 2014! VanRamblings absolutely loved Rohrwacher's début film, 2011's exquisite, resonant, melancholy, tremendously lovely, authentic, quiet and beautifully observant Corpo Celeste. The Wonders in Vancouver — I am in heaven! See you at Friday night's 9pm screening at The Rio!
[Digression: yes, yes, it's true. My entire year revolves around the film festival. I am in love with the film festival, in love with the volunteers, in love with the administration and staff, in love with the films that screen at VIFF, in love with my fellow filmgoers, cannot wait to shed buckets and buckets of tears, and feel more emotionally-wrenched during the 16-day run of the film festival than I am at any other time of the year (no wonder I am so crazy in the lead up to, and during, our annual Vancouver International Film Festival — I am in love, completely, utterly out-of-control, as if I am 19-years-old again, and I am in love with the love of my life!)]
Oh yes, where was I?
Here's a quick rundown of the films that are at the top of my list as must-see five-star films screening at VIFF 2014, each of these films garnering immense praise and recognition from the critic cognoscenti ...
And, oh yes, my two favourite films in VIFF preview, also rush-right-out and get your tickets must-sees, two of the most unusual, groundbreaking each in their own way, moving and gratifying films at VIFF 2014: Uberto Pasolini's wondrous Still Life, and the doc (well, kind of "the doc") of the festival thus far for me, Hope and Wire, about the aftermath of the Christchurch, New Zealand 6.7 earthquakes in 2010 and 2011. Me, if I am brought to tears while watching a film, if I am pulled in that much, I am sold, the film goes into my memory bank forever and forever — a feat achieved by both these films, as was the case with Ishii Yuya's entirely magical The Vancouver Asahi, which is a must-see for baseball fans, and anyone who professes to — and really does — love the city of Vancouver.
Of course, there are many more films about which I could write — but you'll just have to wait til Saturday (this year, in a departure from past practice, I will cover the Vancouver civic election one day, and VIFF the next).
I'll see fewer films this year, it's true, but there's a job to be done to save the city (I'm not kidding) — the 2014 Vancouver civic election is a critical election that will determine Vancouver's future.
Do you want a city consisting almost solely of green-glass towers, energy-inefficient, soon-to-crumble highrises that cater only to the (often non-resident, sorry to say) wealthy, or do you want a livable, sustainable city for the rest of us, and our families? That's what it's all about in 2014.
Make no mistake. The 2014 Vancouver civic election is a legacy election.
September 4, 2014
A knock-out sizzler, pulling you in to the 33rd annual Vancouver International Film Festival
The 2014 Vancouver International Film Festival is much-changed.
Oh sure, there are the same folks involved this year as in recent years, the venues will be the same as they were last year, but the films that will be screened at this year's Festival (more A-listers than in years!) ... and the utter loveliness that is newly-installed Executive Director Jacqueline Dupuis. And let's not forget about that knockout 'sizzler' VIFF prelude video above, created by the folks at post pro media (I mean, like wow, wow, wow!).
As I have written previously, Alan Franey stepped down from the day-to-day running of the Festival, just after last year's Festival came to a close. Alan, and Festival staff with whom I was in contact last autumn, insisted that there was a succession plan in place — and lo and behold, the successor was right in their midst, in the form and person of Jacqueline Dupuis, who had already worked with the Festival for a couple of years, in a (perhaps?) more 'restricted' Executive Director capacity.
In 2014, Ms. Dupuis has put her stamp on the festival, emerging very much as the reigning intelligence of VIFF 2014. Who'da thunk? Certainly not me, if you read last autumn's October 13th VanRamblings column.
(By the way VIFF folks, mea culpa — I was wrong)
VIFF Executive Director Jacqueline Dupuis talking with VIFF Media Manager, Justin Mah
What were the chances that Jacqueline Dupuis, arriving from Calgary three years back, would find a family in the programmers and staff at VIFF, and in 2014 would emerge as the eminence gris of the Festival? In person, Ms. Dupuis possesses the charm and lack of guile you would find in a 22-year old, an openness to experience, and an almost wide-eyed wonderment in the living of a life encompassing the hours of her day — and here she is now, today, the matriarch of the Festival — lovely, strong, bright and principled, the leader in whom festival staff have vested their faith.
For those who are not familiar with the staff of the Vancouver International Film Festival, let me tell you about my observations: there is about the folks who work with VIFF an uncommon kindness, integrity and humanity, as well as an intelligence matched with an unerring sense of purpose.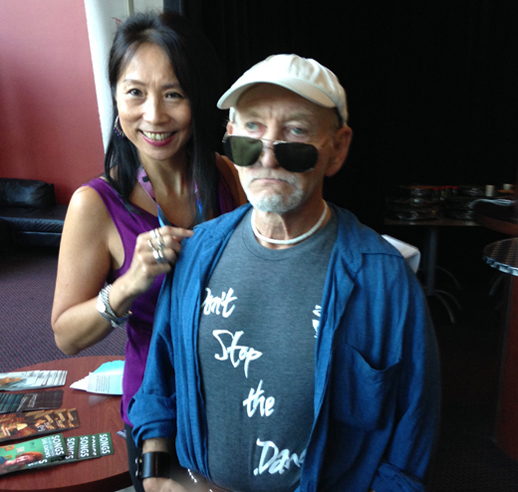 VIFF Programme Manager PoChu Au Yeung, and retired broadcaster, J.B. Shayne
There is amongst the fine folks who work with the festival, a feeling that is palpably shared among all those who are associated with the festival, of a higher purpose, a humanity and warmth and caring — not just for the city, or for those of us diehard cinephiles who live for our festival-by-the-sea each and every autumn, but for one another, full-time and part-time administrative staff, and volunteers. VIFF may be possessed of the most functional administration of any arts organization on the continent.
There is the quiet, zen-like presence of the festival's Director of Programming, Alan Franey, right on through to Alan's longtime second-in-command PoChu Au Yeung (a relationship of equals that has sustained for years), through to this year's kind and generous programme guide editor Curtis Woloschuk, as well as longtime Canadian Images programmer Terry McAvoy, the entirely magnificent Shorts International programmer Sandy Gow — about whom we wrote a couple of years ago — with longtime VIFF stalwart Jack Vermee back from France for another go-round, and Vancity programmer Tom Charity very much a part of the family, all of whom share a common sense of purpose, but more, oh so much more.
As per the title of this blog post, you probably want to know how it is that VIFF33 is different from all of the previous VIFFs. Okay, here we go ...
It would appear that with the Toronto Film Festival engaged in a dispute with the Telluride Film Festival, the Vancouver Film Festival has snuck in and snagged a record number of A-list Hollywood films — a welcome departure in programming orientation from years past.
From Jean-Marc Vallée's Wild — starring Reese Witherspoon, Laura Dern, Gaby Hoffmann — the Opening Gala film at VIFF 2014 (the film played to raves at Telluride, and is also on the TIFF schedule), to the closing Gala Film, Whiplash — the breakout film at Sundance earlier in the year, and also on the TIFF schedule — through to certain Oscar nominee, Bennett Miller's incredibly well-reviewed Foxcatcher — débuted at Cannes, just screened at Telluride, and screening at TIFF; Olivier Assayas' Cannes stunner, Clouds of Sils Maria; David Cronenberg's Maps to the Stars; Jason Reitman's much-anticipated Men, Women & Children; Xavier Dolan's Mommy; to the five-star, scalp-prickingly scary It Follows, the 33rd annual Vancouver International Film Festival will be a festival to be savoured and appreciated.
Second, in all the years I've covered VIFF, I've never heard Alan Franey wax as poetically enthusiastic about as wide a range of the films that are scheduled to screen at VIFF. When video of Alan's address to the VIFF Launch / Media Conference is made available (apparently, a week Monday), I'll post it on VanRamblings. Believe me when I write that Alan's "guide" to VIFF33 could very well prove to be the definitive guide to this year's Fest.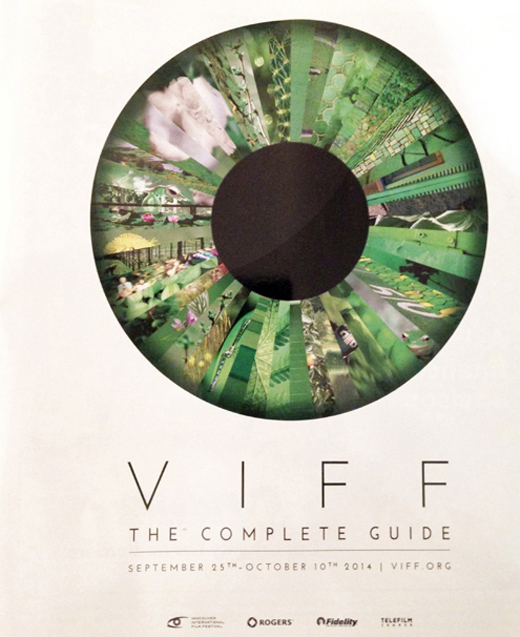 This year, for the first time, the VIFF guide will be FREE (yes, you read that right: free). The guide is glossy (forgive the photo above — the guide is actually a brilliant white), may be found at your favourite video store or book store, at libraries and all around town, as well as at the Vancity Theatre, and is available now, at least a couple of weeks earlier than usual, just as valuable as ever, and an absolute must cinephile acquisition.
What is the same about this year's Festival, compared to previous years?
Fabulous, mind bogglingly beautiful films, a great team of VIFF administrative staff and volunteers, incredible venues (The Centre for the Performing Arts is back again this year!), and the best (if, often, most challenging) time you'll have in a darkened cinema all year long, as well as a window on our diverse world that provides a par excellence experience.
What is different?
Well, I'd say a brighter, more contemporary, more business-like and almost aggressively engaging spirit that is just going to draw you in like never before, incredible 'of this age' sizzler videos that will drive business to the Festival like mad (I'll post them as they become available), a renamed and focused VIFF Industry Conference (more on this in the days to come), a raft of new sponsors, that great new free VIFF programme guide — and more, of course, but you're just going to have to check it out for yourself.
Tickets are now available online, and as of September 13th will be available in person at the Vancity Theatre box office, from noon til 7pm daily.
On the weekend, I'll write more about the specific VIFF 2014 series and films, will post more video, provide more information on venues, and will publish much much more. This is gonna be a great festival — see ya there!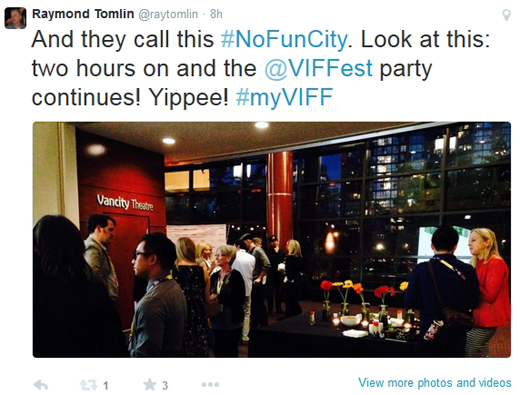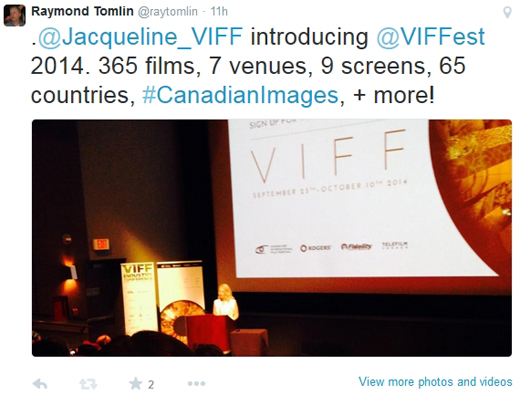 August 5, 2014
For VanRamblings, for 30+ years now, the première cultural event of our calendar year sustains as the annual Vancouver International Film Festival.
Earlier today, we ran into Curtis Woloschuk — VIFF programmer, publications editor, and programme logistics co-ordinator (each title of which deserves capital letters) — at the Starbucks at Davie and Seymour, nearby the VIFF offices. Curtis, along with all the other adventurous, dedicated staff of VIFF, is working hard at it, preparing for VIFF 2014, as has been the case for many months now. Curtis was saying that today, VIFF will post its first VIFF 2014 programming announcement, the 2014 Cannes highlights and award winners that will arrive at our VIFF in 2014 — which, of course, can only cause VanRamblings to whoop with joy!
Imagine, Leviathan is on its way! And Bennett Miller's Best Director winner at Cannes, Foxcatcher, which is certain to emerge as not only one of the prestige pictures of the year, and a certain Best Picture Oscar contender, but as well, as an all-but-certain Best Actor Oscar nominee in Steve Carell.
Alice Rohrwacher's Grand Prix winner, The Wonders — the Cannes winner to which we were most looking forward, and the picture we prayed to the Gods (and to Alan Franey) to please, please bring to 2014's Vancouver International Film Festival — will arrive at VIFF 2014. Yippee! VanRamblings absolutely loved Rohrwacher's début film, 2011's exquisite, resonant, melancholy, tremendously lovely, authentic, quiet and beautifully observant Corpo Celeste. The Wonders in Vancouver — we are in heaven!
Read all about the remaining 2014 Cannes highlights, and winners, that will arrive in Vancouver in late September and early October — and you will, as does VanRamblings, find yourself more than a little bit over the moon.
Mid-afternoon, VanRamblings was pleased and surprised to find an e-mail in our iPhone inbox announcing the revamping of the VIFF focus, and the ascension of Jacqueline Dupuis to the position of VIFF Executive Director.
Last autumn, indulging our penchant for hyperbole and titles for articles that are meant to engage, enrage and misdirect (challenging the reader to actually read through the commentary below the 'meant to outrage' title), we published what we felt to be a warm tribute to longtime Festival Director, Alan Franey (who, by the way, remains with VIFF 2014 as its chief programmer) that, much to our surprise, met with some foul reception by the good folks at VIFF. Thank God VanCity programmer Tom Charity, and longtime VIFF Board of Directors member Colin Browne, intervened to quell concerns, lest the ire felt by some VIFF folks might be maintained for many years to come, forever prejudicing VanRamblings' relationship with VIFF.
Which is all by way of saying that VanRamblings loves the Vancouver International Film Festival, has always loved the Vancouver International Film Festival, and believes that long, long, long into VIFF's salutary future that we will continue to love the Vancouver International Film Festival.
Today, VanRamblings welcomes the news of the appointment of Jacqueline Dupuis as the new leader of the Vancouver International Festival Festival, allowing us the opportunity to say that we are thrilled with her appointment (Ms. Dupuis, against all rationale thought, has always treated VanRamblings kindly and well, in each of our engagements — for which we remain most grateful and appreciative) as the de facto Chief Executive Officer of VIFF.
No tumult here, as the Vancouver International Film Festival moves from strength to strength to strength. Congratulations, Jacqueline Dupuis!
(Please find below, the press release issue by VIFF, on Tuesday afternoon)
Vancouver International Film Festival, New Leader & New Direction
In its 33rd year, the VIFF Society Makes A Bold Transition
Change is a good thing — especially when it is built upon a foundation of past success and positioned to take an organization to the next level. Marking its 33rd year, the Vancouver International Film Festival Society has gone through a leadership transition, naming Jacqueline Dupuis as Executive Director.
With over 10 years of leadership experience with various international film festivals, Dupuis brings a strong focus on strategic business planning, policy development and fundraising to the VIFF Society. Prior to joining VIFF, Dupuis served as the Executive of Director of the Calgary International Film Festival (CIFF) and was a former member of the CIFF Board of Directors where she headed up CIFF's (first-ever) strategic planning initiative. Dupuis's leadership during this initiative resulted in the financial turnaround of the organization, building CIFF's destination value by differentiating the Festival from others around the world.
"We are so proud of the cultural impact that VIFF has created over the past three decades," says VIFF Society Board Chairman David Hewitt. "As we enter our 33rd year, we are looking to grow and take the organization to the next level. Our goal is to make the Society not only a cultural icon of cinematic intrigue but also a leader in industry and the business behind entertainment. Jacqueline is the perfect person to do this. Her private sector background, along with international film festival experience, makes her the ideal candidate to transition the VIFF society to realize its potential."
"I'm honoured to be taking the reins as Executive Director of an organization that is so well respected both in Canada and the cinematic community around the world," says VIFF Society's Executive Director, Jacqueline Dupuis. "I will be working with its three year-round business units; the Vancouver International Film Festival, VIFF Industry and the Vancouver International Film Centre."
In 2013, prior to the official leadership transition, Dupuis launched the VIFF BC Spotlight programme, which featured 12 BC-made feature films, a dedicated marketing campaign and slate of awards, resulting in the highest attended series in the history of the festival. The Georgia Straight lauded the programme "best cheerleading for BC filmmakers".
As part of VIFF Society's go-forward direction with the official leadership transition, Dupuis is focusing immediate efforts on facilitating the business of entertainment in BC and Canada. In 2014 the VIFF Film & Television Forum, a four-day business conference that takes place during the festival, is rebranding to VIFF Industry.
Some elements of the expanded focus: in 2014, VIFF Industry will have:
An increase of 20% in industry guests and speakers attending from LA to leverge Vancouver's unique proximity to Hollywood
A greater focus on the local BC service industry, as it is a large driver of our economy and ends with
An expansion from film and television to broad-based screen entertainment recognizing the strategic importance and growing contributor visual effects, animation and gaming, provides to BC's screen-based economy (it is the 3rd largest production centre of this kind in the world).
Dupuis replaces Alan Franey who has served as CEO and Festival Director for the past 26 years. Franey, who has played an instrumental role in making VIFF Society the iconic cultural organization it is today, will remain involved with the Festival as Director of Programming.
About VIFF Society
The Greater Vancouver International Film Festival (VIFF) Society is an established not-for-profit cultural society that produces year-round programming at the Vancouver International Film Centre in addition to the 16-day International Film Festival, and four-day VIFF Industry Conference.
The VIFF Society is a charitable not-for-profit arts and cultural organization, employing over 100 staff and 750 volunteers in British Columbia, with an annual operating budget of approximately $5.0 million. Its mandate is to encourage the understanding of other nations through the art of cinema, facilitate the meeting of entertainment professionals from around the world and to stimulate the motion picture industry in BC and Canada.
In its 33rd year, VIFF welcomes the world to Vancouver from September 25 - October 10, 2014. VIFF gratefully acknowledges the generous support of our major partners: Rogers Communications, Fidelity Investments Canada, and Telefilm Canada. VIFF also extends its thanks and appreciation to the Province of British Columbia through the Ministry of Community, Sport, and Cultural Development's Community Gaming Grants program, as well as the Government of Canada through the Department of Canadian Heritage's Building Communities through Arts & Heritage.
About Jacqueline Dupuis
Prior to joining VIFF, Jacqueline served as the Executive of Director of the Calgary International Film Festival (CIFF) for 3 years and former member of the CIFF Board of Directors for three years. Jacqueline took the reins of CIFF after enjoying a very successful 10-year career in business development and management in the high tech sector working for companies such as Xerox and Sun Microsystems where she won numerous awards and accolades.
Throughout her career, Jacqueline's passion for volunteerism and community support led her to organizations such as the United Way, The Mustard Seed, Theatre Calgary, Betty's Run for the Cure and the Children's Cottage, & most recently the Vancouver Downtown Business Improvement Association. Jacqueline is also a proud recipient of the Downtown Vitality Award from Downtown Calgary (Business Revitalization Zone) and recent participant of Executive Lab leadership program at Vantage Point.
An experienced arts administrator with a strong focus on strategic and business planning, policy development and fundraising, Jacqueline's goal is to leverage her private-sector background and world-class training in business development and management, to enhance quality of life and advance opportunities for creative expression through the proliferation of screen-based media.