The 34th annual Vancouver International Film Festival kicks off Thursday, September 24th with the Opening Gala screening of the probable Oscar contender Brooklyn, at the sumptuous 1800-seat Centre for the Performing Arts (see viff.org for details), offering a dizzying 16-day array of movies — 355 of them to be exact, from 70 countries across the globe.
Here's some advice on how to navigate the madness.
Wondering what movie to choose? VIFF has conveniently sorted its many offerings into six major themes this year: Deep Time, First Nations, The Great Divide, VIFF Impact, Hidden Past, Digital Futures, and On Comedy.
As has long been the case, you can browse film listings by programme or category: Non-Fiction, Canadian Images, BC Spotlight, Dragons & Tigers, International Shorts, Altered States, and Cinema of Our Time.
VIFF Executive Director Jacqueline Dupuis' 7-film Style series returns for a second year, as does the annual Spotlight on France series, which in 2015 features 12 outstanding Gallic features. Word out of VIFF has it that the five Romanian films are all excellent, and deserving of cinephile attention.
Wondering about how and where to buy tickets? There's no one central box office; you can, however, purchase tickets anytime online at viff.org, and print out your tickets at home. Note that there is a service charge for online and phone orders: $1 per single ticket, up to $5 per order. Purchase of the annual $2 membership is required by law before ordering tickets.
Tickets are also available at all of the theatre box offices.
The venues this year are, once again, The Centre for the Performing Arts, on Homer at Robson; Cineplex's International Village, on Pender Street (the old Tinseltown); the eastside's Rio Theatre, Commercial Drive at Broadway; SFU's Goldcorp Theatre for the Arts, at 149 West Hastings, at Abbott; the Vancouver Playhouse, on Hamilton Street at Dunsmuir; The Cinematheque, on Howe; and the always inviting and oh-so-comfy Vancity Theatre, on Seymour (VIFF's year-round venue!).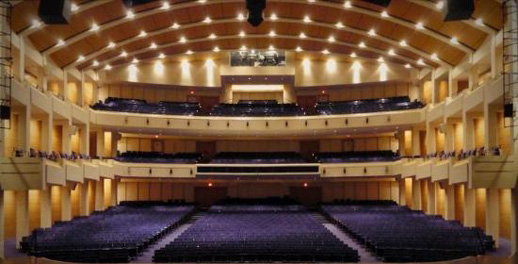 Please note: you can buy tickets for any Film Festival screening at any one of the seven Festival venues (during hours of operation). Tickets prices range from $10 for youth to $14 for adults, with Gala screenings priced at $22. There are a range of discount ticket packs, as well as passes that may be acquired, ranging in price from $180 for the Matinee Pass to $330 for the student or senior pass, and the $420 full 16-day Festival pass.
Patrons can find out how busy a screening is expected to be by going online, and checking tickets.viff.org.
Confused? Any questions you may have can be answered by e-mailing the Festival at info@viff.org, or by calling 604-683-FILM (3456), anytime between 10am and 7pm. Most questions can be answered, as well, simply by going online to viff.org/festival, or by taking a gander at the gorgeous, absolutely free booklet, VIFF - The Complete Guide, available almost everywhere across Metro Vancouver.
Once again this year, a VIFF app will be available on Apple's App store, or through Google Play, for Android phones. Twitter will also prove a good resource for Festival information (@VIFFest).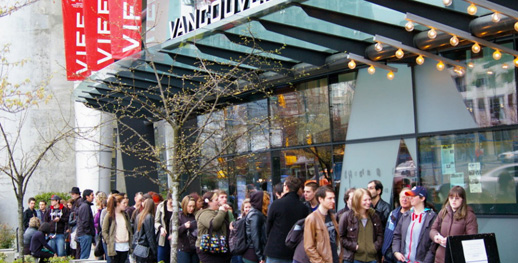 Wondering about all those lines? Each VIFF screening will have three: a pass-holder line (for those with passes hanging around their necks; you know who you are), a ticket-holders line (for those with tickets in hand), and a rush line. Standby tickets, for screenings that are sold out, go on sale 10 minutes before showtime, at full price (cash preferred). No matter which line you're in, arriving at least 30 minutes early is a good idea, particularly if you're picky about where you sit.
Wondering about food and drink? Though most VIFF venues serve standard cinema fare, there are a great many eateries nearby all of the venues where you might purchase a snack, or sit down to a meal. Outside food is officially not allowed, but VIFF-goers have been known to get away with it; be discreet and tidy (absolutely no food to be taken inside at The Centre, though).
Wondering about travel to, and around, the Festival? Transit is best, walking is second best. Parking is spotty, and expensive. All of the venues are located in the downtown core, so getting around shouldn't prove too much of a challenge.
Room, Audience Award winner at the Toronto Film Festival, and certain Oscar contender
Wondering which movies will be back post-VIFF? Here are just a few VIFF movies that will return soon for regular runs: the Telluride / Toronto Film Festival stunner Room, certain Oscar nominee Brooklyn, I Saw The Light, Youth, Cannes Palme d'Or winner Dheepan, multiple Berlin Film Festival award winner 45 Years, Brazil's 2015 Best Foreign Film Oscar nominee, The Second Mother, the film that took Cannes by storm Son of Saul, Meru, The Assassin, and doubtless many more. You might, of course, want to see these movies at VIFF because of the possibility of special guests, or the fun of catching something early — but you also might want to wait and see the films without the VIFF crowds.
Most years, VanRamblings presents a list of the 20 must-sees; this year we'll depart from our usual practice by presenting the favourite, can't miss films as identified by the Vancouver International Film Festival's retired Festival Director (who has now taken on the title of Chief Programmer), Alan Franey.
"A central mandate of the Vancouver International Film Festival is to entertain, but more than that we want VIFF films to enlighten," says Franey. "We're different than any other film festival because of our commitment to the multi-cultural mosaic. VIFF patrons have told us over the years that they're not interested in the big Hollywood films, or the presumed Oscar contenders, although we have programmed a handful of those often worthy films, titles that you'll find in this year's VIFF Guide."

"VIFF is a community-based Festival serving the broadest cross-section of the 2.4 million of us who live across Metro Vancouver, in every ethnic community, from every part of the world. No other Canadian festival brings in 355 films, or more, from 70 different countries, with as strong an emphasis on the films of East Asia, and world cinema. Vancouver's continued dedication to the dynamic of multi-cultural films has contributed greatly to VIFF's ongoing success."
Here they are then, Alan Franey's favourite "under the radar" films screening at VIFF 2015 ...
France's The Measure of a Man. Vincent Lindon picked up the Best Actor award at this year's Cannes Film Festival, in a film the VIFF guide describes as "Stéphane Brizé's profoundly humanist and exceedingly timely film," various critics stating that Measure is social drama similar to the work of the Dardennes Brothers (or even Ken Loach), a film that spares no harrowing detail in this working-class chronicle of an unemployed father trying to make ends meet, his unemployment benefits soon to run out, his income so reduced that there is not enough money to pay the mortgage, and maintain his wife and handicapped teenage son. In the film, Brizé seeks to evoke the resistance in the working class to the wave of factory closures and mass layoffs since the outbreak of the global financial crisis in 2008.
Also among Alan's favourites, there's New Zealand's A Flickering Truth, Holland's Schneider vs. Bax, Iceland's Rams, Ireland's One Million Dubliners, the U.S.A.'s 3 1/2 Minutes, 10 Bullets and Experimenter, Lithuania's The Summer of Sengalié, Poland's Body, Israel's Tikkun (a multiple award winner), Brazil's Absence (which Alan said knocked him out), and all three volumes of Portuguese director Miguel Gomes' triptych, Arabian Nights (which Alan recommends not be watched back to back, but over a period of days ... three screenings of each film in the series has been scheduled).
Commencing Thursday, September 24th, VanRamblings will provide daily coverage of the Festival, which will continue right on through until Festival's end on Friday, October 9th, as has been the case in past years.
Now you know almost all there is to know about the 34th annual Vancouver International Film Festival, save actually sitting down to watch two dozen or more of the very best in world cinema, a process that offers always a necessary and invaluable window on our ever-changing world.
Happy VIFF-ing!

Posted by Raymond Tomlin at September 21, 2015 12:37 AM in VIFF 2015