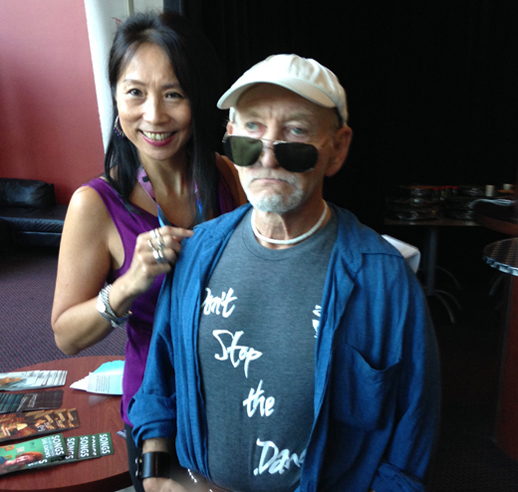 Senior VIFF Programmer PoChu AuYeung, and the ever dour and oh-so-weary J.B. Shayne
Well, here we are into Day Four of the 34th annual Vancouver International Film Festival — the most logistically pristine Festival in all of its 34 voluptuously triumphant years — and the films just keep on comin'. And what a great Festival for world cinema VIFF 2015 has proven to be ...
Non-Fiction (America) | In Transit

In Transit | Albert Maysles' visionary new film | VIFF Canadian Premiere | a VIFF must-see
In Transit (Grade: A+): A non-fiction film that revels in the search for the authentic self, celebrated documentarian Albert Maysles' final film is all at once: groundbreaking, masterful, chillingly powerful, thoughtful, intimate, engaging, philosophical, and an extraordinarily humane chronicle on the narrative power of our everyday lives. As Ronnie Scheib, in Variety, writes, "a fitting farewell to an American ethnographer." Showtimes: October 5th, 10:30am, Cin8; Oct. 7th, 7pm, Cin10; Oct. 8th, 2pm, Cin10. A must-see.
Canadian / Quebeçois | Ville-Marie

Ville-Marie (Grade: A-): Guy Édoin's lushly appointed film keenly observes four characters: Pierre (Patrick Hivon), an ambulance driver coping with PTSD, Marie (the luminous Pascale Bussières), an ER nurse at the understaffed Ville-Marie Hospital, Sophie Bernard (Monica Bellucci), a European actress who's in Montréal to shoot a semi-autobiographical film, and Thomas (Aliocha Schneider), her gay son, who is increasingly insistent that she reveal the name of his father and the circumstances of his birth. Captivating from beginning to end as it comes to focus on the mercies of the protagonists' past tragedies, Ville-Marie moves from strength to strength to strength, from movie's outset to its relevatory denouement. Showtimes: October 1st, 9:15pm, Cin10; Oct. 4th, 10:30am, Cin8.
Non-Fiction (Iranian) | No Land's Song

No Land's Song (Grade: A): Three years ago, the Iranian singer and composer Sara Najafi came up with the idea of hosting a concert in Tehran, her hometown. It was a plan so audacious, it seemed slightly crazy. The concert would be "a festival of the female voice" featuring solo singers — not just Iranians, but artists from France and Tunisia, too. Nothing like it had been attempted in Iran for 35 years: after the Islamic Revolution of 1979, women were banned from singing solo in public.
No Land's Song review: Tender, undeniable, deeply affecting (or, as one critic wrote, "incredibly emotional"), provocative, risky, occasionally hugely depressing and, in the end, thrillingly heartbreaking and heart-stoppingly redemptive, No Land's Song is one of the must-see documentary films at this year's Vancouver International Film Festival. Showtimes: September 29th, 10:30am, Cin8; October 3rd, 9pm & October 5th, 4pm, Playhouse.
Posted by Raymond Tomlin at September 27, 2015 12:10 PM in VIFF 2015