It's that time again — Vancouver's yearly 16-day immersion in films from across the globe.
The 35th annual Vancouver International Film Festival is as always a daunting prospect. This year's edition of VIFF, which begins today and runs through until Friday October 14th, will screen 365+ films, including 219 full-length features, from 70 different countries.
Here are some tips on navigating it.
Programme, tickets and venues
As you get ready for a cinematic onslaught, you'll want to pick up a copy of the glossy 2016 VIFF programme, available at no charge all across Metro Vancouver, at the Vancity Theatre, as well as at libraries, bookstores and coffee shops.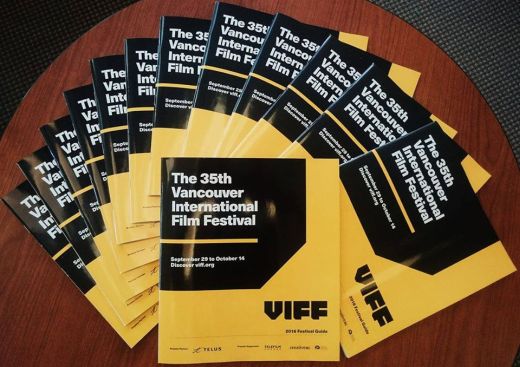 You can skip the box office lines and buy your tickets online at viff.org, or simply by pressing on the buy option when choosing of a film of interest to you, and then simply print the ticket at home. Note that there is a service charge for online orders: $1 per single ticket, up to $4 per order. Patrons can save by purchasing ticket packs or all-access screening passes.
Tickets or passes can be bought in person at the Vancity Theatre, or at any of the Festival venues: The Centre for the Performing Arts, The Cinematheque, the Rio Theatre, SFU's Goldcorp Centre, the Vancouver Playhouse or Cineplex International Village. The box offices will be open daily, one half-hour before the day's first screening.
Throughout the Festival, VIFF offers a helpful customer service line, open daily 9am to 7pm, staffed by friendly and informed volunteers, who can answer any of your questions. Simply call 604-683-FILM (3456) for assistance.
What about all those lines?
Each VIFF screening will have three separate queues: a pass-holder line (for those with passes hanging around their necks; you'll know them when you see them), a ticket-holders line (for those who've purchased tickets in advance, and have the tickets in hand) and a rush line. Standby tickets, for screenings that are sold out, go on sale 10 minutes before showtime, at full price (cash preferred). No matter which line you're in, arriving at least 30 minutes early — or for popular screenings (the VIFF website will let you know which screenings are popular and almost sold-out) is a good idea, particularly if you're picky about where you sit.
Food and drink, parking, bus routes
Though most VIFF venues serve the usual popcorn/candy/soft drinks fare, some have a few extras (there's wine at the Vancity, and beer and wine at The Rio, for example). Most venues have a wealth of restaurants just steps from the door.
Outside food and drink is officially not allowed in the theatres, but VIFF-goers have been known to get away with it; be discreet, considerate and tidy (and, please, please, do not eat during the course of a film screening).
VIFF is pretty much a no-car zone — transit is definitely the way to go. Still, there's free parking available at Cineplex International Village for VIFF patrons, with a fair bit of parking in the area around The Rio. Otherwise, you're best taking advantage of Vancouver's transit system. Typing m.translink.ca into your smartphone browser will give you all the information you need to navigate between venues.
What movies should I choose?
There is always something new to see at the Vancouver International Film Festival.
Many of the 365+ films have already screened elsewhere, though, either in their home countries or at other festivals such as Cannes, Sundance, Berlin, Telluride, Locarno and Venice, among other far flung places across the globe.
As a service to readers, for the past nine days, VanRamblings has published previews of award-winning and lauded films that have been scheduled as a part of VIFF 2016. Just click here to read 36+ previews of celebrated VIFF feature films (most with trailers, all with reviews from erudite critics).
Several of these titles — among them Kenneth Lonergan's Manchester by the Sea; Jim Jarmusch's Paterson; Ken Loach's I, Daniel Blake; Asghar Farhadi's The Salesman; Olivier Assayas' Personal Shopper; Jean and Luc Dardennes' The Unknown Girl; Paul Verhoeven's Elle; and Barry Jenkins' Moonlight will look to build on their enthusiastic early acclaim. All of these films have been previewed by VanRamblings.
Another one, Nate Parker's Sundance prizewinner The Birth of a Nation, although it has become a lightning rod for controversy given director Nate Parker's 1999 sexual assault charge, promises an unflinching look at slavery, and emerges as a must-see at VIFF 2016.
And those are just the movies everyone recognizes and talks about. That the Festival programme contains still more multitudes - that it counts short masterworks, below-the-radar genre items and avant-garde mind-blowers among its essential offerings each year is a fact that can sometimes be lost amidst the deafening reams of Oscar hype that can issue forth throughout the fall season.
A massive annual confluence of art and industry, as well as a cinematic buffet of tremendous cultural and aesthetic diversity, is invariably reduced to just a handful of heat-seeking titles.
As much as we may look forward to the more lauded VIFF entries, many of which will reach our local multiplex in the weeks and months to come, there are many more VIFF films worth seeking out than the films VanRamblings has highlighted in our nine-day preview. But when a Festival boasts nearly 365+ films to choose from, a critic must start somewhere.
Posted by Raymond Tomlin at September 29, 2016 12:33 AM in VIFF 2016