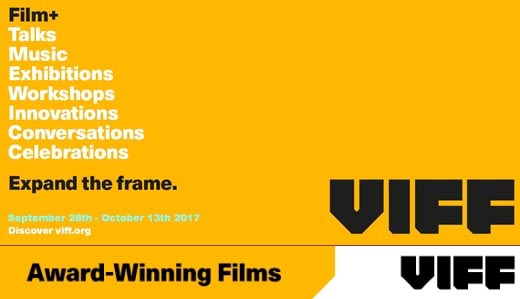 Cinéastes of the western, eastern, northern and southern world are counting down the days to the start of next Thursday's much-anticipated 36th annual edition of the glorious Vancouver International Film Festival.
Today for your edification, VanRamblings presents a preview of three much-lauded films: Call Me by Your Name, the film that took Sundance by storm and won the Audience Award at the Melbourne Film Festival; BPM (Beats Per Minute), the 1990s-set AIDS activist drama, the celebrated Grand Prix and FIPRESCI award winner at Cannes this year; and Léa Mysius' Ava, the coming-of-age story about a young girl who goes blind, which won the SACD Cannes Critic's Week Award supporting new writers.
The smash at Sundance in January of this year, and equally lauded at Telluride earlier this month, Call Me by Your Name is a lock for several Oscar nominations, the film picked up at Sundance by Sony Pictures Classics (to be distributed by Mongrel Media in Canada), and set for a wide release on Thanksgiving weekend in the U.S. (and Canada), on Nov. 24th.
At VIFF, sometimes you want to be the first person among your group of friends to see a film early, and not have to wait a couple of months to catch it in regular theatres. For VanRamblings, and for many others, that's probably the case with Call Me by Your Name, which will screen three times at VIFF, each time at The Centre for the Performing Arts: Thurs., Oct. 5th at 9pm, Sun., Oct. 8th at 9pm, and Thurs., Oct. 12th at 3:15pm.
Almost as celebrated as Call Me by Your Name, as Guy Lodge wrote in his Cannes review for Variety, Robin Campillo's BPM (Beats Per Minute) jumps off the screen as a "sprawling, thrilling, abrasive, consoling and emotionally immediate portrait of 1990s Parisian AIDS activists, melding the personal, the political and the erotic to heart-bursting effect."
And, as we wrote above, BPM (Beats Per Minute) was the Grand Prix winner at Cannes this year, not to mention the Cannes 2017 recipient of the prestigious International Federation of Film Critics FIPRESCI award.
As Peter Bradshaw writes in his five-star review in The Guardian ...
Robin Campillo's passionately acted ensemble movie about ACT UP in France in the late 80s - the confrontational direct-action movement that demanded immediate, large-scale research into AIDS, compellingly combines elegy, tragedy, urgency and a defiant euphoria, ACT UP's goal to rouse the gay community from fatalism and torpor — and strike back against the hostile complacency of the political and Big Pharma.

The extraordinary power of the ACT UP campaign has assumed in cultural history is that it was something that valued life, but also made people think about death — the last taboo. It made staring into the sun not merely possible but necessary. For most people in their twenties, death is just a rumour. For the gay generation of the 80s and for ACT UP, mortality, illness and bereavement were facts they had to confront, without help from the agencies of the state.

This film has what its title implies: a heartbeat. It is full of cinematic life.
BPM (Beat Per Minute) screens twice at VIFF, both times at The Playhouse, Saturday, Sept. 30th at 3:15pm, and Monday, Oct. 2nd, at 6:15pm.
Part of the annual 10-film Spotlight on France VIFF series, the North American première of Léa Mysius' celebrated La Semaine de la Critique (SACD) award at this year's Festival de Cannes, Ava tracks 13-year-old Ava in the months following the information that she will lose her sight sooner than expected, and as she confronts the attendant problems in her own idiosyncratic way. Okay, that wasn't very articulate: let's try this ...
Jessica Kiang, Variety. Ava's (Noée Abita) loss of sight perhaps mirrors her loss of innocence and coming of age. Ava is a film that doesn't simply explore the textural possibilities of 35mm film for the hell of it, it makes thematic use of them, to stunning, evocative effect. Co-screenwriter, along with director Mysius, cinematographer Paul Guilhaume's visually exquisite storytelling provides a compelling resonance in a story about vision, creating images of a peculiar richness in which the colours are saturated but the lens seems progressively more stopped-down so that even the brightest sunlight can feel portentous. "She's blonde and sunny, and I'm dark and invisible" says Ava, self-pityingly comparing herself to her fair-haired love rival. But Ava's darkness is anything but invisible; it has a glowering luminosity in a film that shines darkly.
Wendy Ide, Screen Daily. A 13-year-old girl fights back against her impending blindness with guns — literally — blazing full bore in this insouciant tale of adolescent rebellion, the arresting visual sense of Léa Mysius' feature début boasting a robust resistance to the cinematic clichés of the usual portrayal of disability, the film's cello-infused, brutalized score providing a sense of menace, the film seeded with black: the dog, the police horses & the circles that Ava paints on her bedroom wall evoking both the fear of and fascination with her loss of sight.
That's it for today. You may expect more previews of award winning (and lauded) films set to play VIFF 2017 this weekend, and next week.
Full VanRamblings coverage of VIFF 2017 is available by clicking here.
Posted by Raymond Tomlin at September 22, 2017 4:04 AM in VIFF 2017