Thursday evening late, the first (somewhat truncated) day of the 36th annual Vancouver International Film Festival ended, VIFF officially having gotten underway, the lineups of patrons awash with good feeling ("What a lineup - so many strong films this year"), and audiences once seated at The Rio, SFU's Goldcorp Theatre or The Centre for the Performing Arts (the three opening night venues, with four more venues being added today) wildly enthusiastic, with welcoming hugs all around, and an appreciation that our little festival by the sea has once again returned to our shores to open a humane window on our often troubled, yet still hope-filled, world.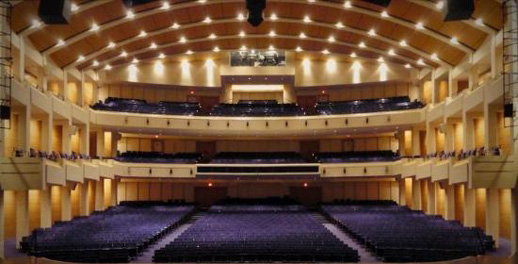 br>The Centre, VIFF's Opening Gala venue for Mina Shum's new film, Meditation Park
VanRamblings was simply swept away by a VIFF opening night film, the Canadian première of Alexandra Dean's exceptionally fine Bombshell: The Hedy Lamarr Story, a film which employs extensive research on Lamarr's life conducted by Pulitzer Prize-winning author Richard Rhodes, published in his book Hedy's Folly: The Life and Breakthrough Inventions of Hedy Lamarr, the Most Beautiful Woman in the World, the documentary also relying on first-person accounts from stars who knew Lamarr in her day, including a poignant yet humorous account by comedian Mel Brooks.
VanRamblings asked the permission of VIFF (and VanCity Theatre) programmer, Tom Charity, to publish his list of VIFF 2017 favourites ...
"From Germany (and Bulgaria), Western, an observant film about men, without question one of the best films from Cannes this year, Valeska Grisebach's third feature the long-awaited follow up to VIFF 2016 favourite, Longing. A Season in France (which screens tonight at The Rio, at 8:45pm), the latest film from Chad's acclaimed auteur Mahamat Saleh Haroun, moving and deeply empathetic, the film's compelling narrative presented from the too often ignored migrant point of view. Then there's B.C.'s Never Steady, Never Still (Kathleen Hepburn), one of the strongest Canadian début features I have seen in years, the work of a natural filmmaker. Luca Guadagnino's Call Me by Your Name manages to make the first love / coming of age story feel like it's never been done before."
So, there you go, a panoply of can't miss VIFF 2017 films from Vancity Theatre programmer, Tom Charity. I mean, don't you just love the films Tom programmes year-round at Vancouver's most welcoming cinema.
Meanwhile, VanRamblings' very own Mathew Englander — who this year, as he does annually, attended Toronto's film festival, where he screened 29 films — is over-the-moon enthusiastic about Michael Haneke's new film, Happy End, his very favourite at TIFF 2017, about which he has written, "Happy End is my favourite movie of 2017 so far. Haneke's new film is being compared to Amour because it has some of the same cast, but it kept reminding me of Benny's Video, only updated for the social media era."
Mathew also highly recommends two more films screening at VIFF 2017:
Directions (dir. Stephan Komandarev). Six taxi rides in Sofia, each shot in a single take. Komandarev's previous film, The Judgement, emerged as one of my VIFF 2014 favourites, but whereas that film had wide-open precarious mountain settings, Directions has an urban modern-noir look. The two films do, though, share a sophisticated sense of irony.
Sami Blood (dir. Amanda Kernell). This is a compelling début feature about a 13-year-old Swedish, indigenous Laplander, Sami (Lene Cecilia Sparrok), an under-the-radar film that met with an enthusiastic reception at TIFF 2017, and should be considered a must-see at VIFF.
VanRamblings' David House has screened writer / director / star Yilmaz Erdogan's Sour Apples saying, "Raymond, you are going to love this film from Turkey, not only a visual feast of colours, costumes, light and locations — not to mention, Turkey's entry for an Academy Award for Best Foreign Language Film — but because, well, I mean ... just look ...
VanRamblings also recommends you keep an eye out for the new film from Agnès Varda (who directed VanRamblings favourite film of all time, Vagabond, starring the exquisite Sandrine Bonnaire, for which she won the Best Actress César) — Faces Places, part of the Spotlight on France series, and a featured film at this year's prestigious 55th annual New York Film Festival, which kicked off yesterday and runs through Sunday, Oct. 15th.
Today, VanRamblings will catch the 1pm screening of Joachim Trier's Thelma, at Cineplex International Village (which we also refer to as "Tinseltown", which it used to be and is a much better name), in Cinema 9, followed by a break for a late lunch before catching Petra Volpe's The Divine Order, at Tinseltown, Cinema 10 at 4:30pm, after which we intend to wander around town aimlessly bothering people on the street before lining up at The Centre for the 9pm screening of Ruben Östlund's Palme d'Or winner at this year's Cannes Film Festival, The Square. Oh yes, VanRamblings has already written about these three films on our blog.
Now, Andrew Poon — VIFF's Gateway / Dragons & Tigers media co-ordinator (we visited the whole VIFF publicity team yesterday, at the Sutton Place Hotel, and what a fine group of folks they are) — will have our head if we don't write about the 65+ films from Asia that will screen at VIFF this year. So, we'll set about to do that very soon. In the meantime ...
Full VanRamblings coverage of VIFF 2017 is available by clicking here.
Posted by Raymond Tomlin at September 29, 2017 4:44 AM in VIFF 2017