Vancouver International Film Festival tickets are on sale daily at the Vancity Theatre on Seymour Street, just north of Davie. This year's festival will run from Thursday, September 29th through Friday, October 14th where 365+ films, including 219 full-length features, from 75+ countries will screen.
Get ready for a cinematic onslaught: Tickets and passes for the 35th annual Vancouver International Film Festival have been on sale since the first part of the month. This year's edition of VIFF, which takes place September 29-October 14, will screen upwards of 365 domestic and foreign films, including 219 full-length features and 130 short or mid-length films from 75+ countries which will play on nine screens at seven venues.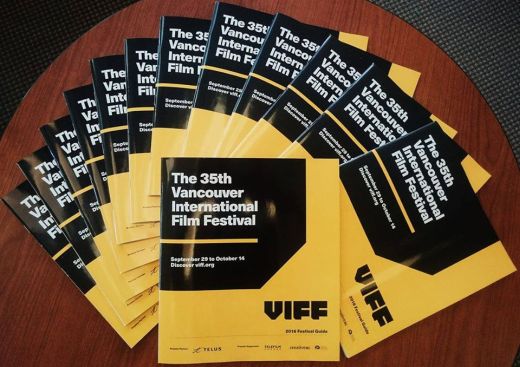 This year's glossy programme (once again, available at no charge) may be found at the Vancity Theatre, as well as at libraries, coffee shops, community centres and VIFF sponsors all across the Metro Vancouver area.
And as per usual, films will screen (mostly) throughout the downtown core, from the Vancity Theatre (185 seats) on Seymour Street in new Yaletown, to the Cinematheque (194 seats) on Howe Street, in the burgeoning South Granville area. Many VIFF screenings will occur in the thriving, relatively new Crosstown neighbourhood, nestled in between the hustle and bustle of downtown, the new-money flash of Yaletown, the historical character of Gastown, and the colourful grit of Chinatown, with screens available to patrons at the 350-seat SFU Goldcorp Centre for the Arts (in the Woodwards building, at Abbott and Hastings), the nearby Cineplex International Village Cinema, in Cinemas 8, 9 and 10 (799 seats in total), and the Vancouver Playhouse, on Hamilton Street (668 seats).
Perhaps the most glorious (as well as largest, and most comfortable) venue is The Centre for the Performing Arts, on Homer Street, between Georgia and Robson (1800 seats, 900 on the main floor), due west of the Vancouver Public Library. The Rio Theatre, at Commercial and Broadway (420 seats), will also play host to a wide range of VIFF 2016 films.
Beginning Tuesday, VanRamblings will publish insight into 25+ films which arrive at our 35th annual VIFF having won awards and critical acclaim at film festivals spanning the globe, from Venice and Berlin, to Cannes & Locarno, from Tribeca and Toronto, to Seattle, Los Angeles, Palm Springs, London, Park City Utah's Sundance Film Festival, and more, as we attempt to provide you with insight into what may emerge as worthy entries, among them films which are likely to gain Oscar recognition early in 2017.
Full, daily VIFF coverage — which began on Monday, September 19th — will be available here through and beyond Festival end on October 14th, or by simply returning to VanRamblings each day. Commencing on Tuesday, September 20th, 2016 VanRamblings will provide 8 straight days of coverage of the 25 - 30 award-winning and under the radar films that will screen at the 35th annual Vancouver International Film Festival that may be worthy of your interest and your consideration.
VanRamblings will also provide coverage of the International Shorts programme (thank you Sandy Gow!), and will publish an interview with the tremendously gifted Vancity programmer Tom Charity that we hope readers will find both informative and heartening. Looking forward to seeing you back here at VanRamblings regularly and often, as we seek to provide VIFF 2016 coverage we hope will be of ongoing and consuming interest to you.
Posted by Raymond Tomlin at September 19, 2016 10:55 AM in VIFF 2016