There was so much that was not published on VanRamblings in the lead up to Decision Night 2014, on issues involving the Mayor's personal life, the details of which we found to be sordid, and in consequence had decided some while ago not to publish or speculate on, despite many entreaties to do so, even by members of the mainstream media — and, quite honestly, if publishing allegations of moral wrong-doing, and an attack on the Mayor's character was to be a determinative factor in how voters were to decide on how to cast their ballot for a Mayoral candidate, while not focusing on the issues of the day, the primary focus of VanRamblings, then, this past five months, the raison d'être of this blog, would come to mean nothing more than VanRamblings as a disquieting, scandal-mongering tabloid, full of rumour, speculation and innuendo. Not for me, thank you very much.
Anyone who reads VanRamblings on a regular basis knows the site means to inform — and entertain — that while creating content and writing in what it is hoped you find to be a "readable form," there is quite often contained in the words before you, a tendency to employ hyperbole, which is done for effect, so as to engage the readers' attention on matters of import.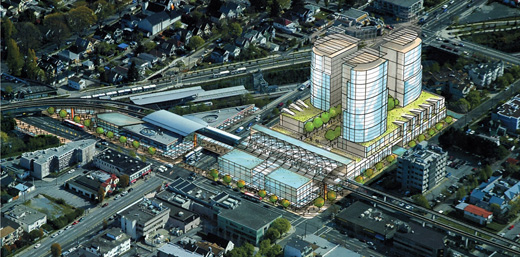 The 'reduced' Commercial & Broadway 'plan', to get MUCH 'towier' with Vision back in power
For weeks, there's a "story" that's been making the rounds that, pre-election, Vision Vancouver had cut a deal with Christy Clark's provincial government, and the feds, for the subway down the Broadway Corridor, which would involve developers contributing half the cost (about $1.92 billion), through Community Amenity Contributions, which would be put towards the costs of the construction of the subway line down Broadway out to UBC, a "deal" that was allegedly brokered by Bob Rennie — real estate broker extraordinaire, and both Christy Clark's and Gregor Robertson's best friend — that would serve the interests of Clark's and Robertson's developers-friends and funders, at the expense of the interests of residents in neighbourhoods all along the Broadway corridor.
The deal wasn't announced because there was an election going on.
Vision Vancouver was concerned proclamation of the deal would incite the residents of Grandview-Woodland. Leave well-enough alone until after the election, when Mayor Gregor could announce that he had secured the funding to build the subway, and out to UBC, at that! There would be rejoicing throughout the city, Mayor Gregor would fulfill a campaign promise central to his re-election bid, and all would be right with the world.
In the Kitsilano neighbourhood where I have lived for thirty years, 52.8% (6,018) of residents voted Vision Vancouver, while 37.9% (4,319) voted for Kirk LaPointe and his Non-Partisan Association candidate team.
VanRamblings has a question to ask the residents of Kitsilano ...
What part of, "If Vision Vancouver is elected to a third term of majority municipal government, a deal will be struck with developers for construction of a subway line, and stations, all along the Broadway Corridor — on the west side, in the Kitsilano neighbourhood, Oakridge Centre-style developments will be imposed at Arbutus, Macdonald and Alma, where developers will move into the neighbourhood to purchase properties at double the assessed market value, and for those business or homeowners who won't sell, the municipal or provincial government will expropriate properties on each of the four blocks surrounding the proposed subway stations," did Kitsilano residents not understand?

What part of, "When the developers build the massive four-square-block-radius, greenhouse gas consuming, neighbourhood-isolating, junctions at Arbutus, Macdonald and Alma, in our Kitsilano neighbourhood — that will consist of 40, 50, 60 and 70-storey highrises in Oakridge Centre-style like developments at each of the station junctions, the massive, out-of-scale to the neighbourhood "town centre" towers will cast a permanent shadow over single family and multiple-dwelling apartment buildings throughout Kitsilano, in the process creating a permanent, overshadowing darkness for nearby residents," did those Vision voters in Kitsilano not understand?"
Neighbours and friends look at me like I'm crazy when I say things like the above — and I say, "Come back to me in 10 years, and let's talk again."
Progress? Neighbourhood friendly? 11 'tower centres' planned for the Broadway Corridor
The difference between a Vision Vancouver civic administration, and the one that Non-Partisan Association mayoral candidate Kirk LaPointe would have led, is that a Kirk LaPointe administration would consult with residents before taking a decision about development in a community, and act on the developed consensus of the neighbourhood's residents, ensuring a form of responsive democracy that would prove satisfactory to residents.
Vision Vancouver, on the other hand — and all you have to do is speak with anyone who lives in the Grandview-Woodland neighbourhood, or Mount Pleasant, the West End, Dunbar, Marpole, and listen to their experience of "working with" Gregor Robertson and his Vision Vancouver colleagues ...
"We worked on a community plan for two years, met regularly with city planning staff. When the community consultation had drawn to a close, and we had signed off on a visioning plan for our neighbourhood, the consensus plan was submitted for review to the Director of Planning, Brian Jackson, and to Vancouver City Council. When those of us who had worked on the community visioning plan appeared before Council to speak in support of the developed-consensus plan, rather than the neighbourhood development plan we had so painstakingly worked on over many, many, many months, what we heard and saw presented was arbitrary, unilateral, dramatic and disturbing changes made to our much-beloved community plan, a "new plan" that bore virtually no relationship to the plan we had carefully developed and signed off on."
However you felt about Kirk LaPointe, and those who ran with him on the Non-Partisan Association ticket, Kirk LaPointe would have listened, and acted on the community consensus, as would have his colleagues.
In municipal politics, we call that democracy.
Vision Vancouver, on the other hand, never listens, or adopts the community plan developed by residents in neighbourhoods across the city, and doesn't feel it has to, or as Geoff Meggs is so often wont to say ...
"After all, a majority of Vancouver residents elected Vision Vancouver to consecutive terms in office. We must be doing something right. Why change a good thing? Residents don't really want to be consulted, they know that our Mayor, Gregor Robertson, and our committed, hard-working Vision Vancouver councillor team, are better-informed than ill-informed, uneducated, visionless residents. That we're better able to make appropriate decisions on the residents' behalf, that to listen to residents would be to give away our power.

The residents of Vancouver voted for the Vision Vancouver team so that we could exercise our power, even if some residents across the city accuse us of abuse of power. What do they know, those whiners & complainers, that rent-a-crowd bunch? We'll do what we think is best, and damn those ill-informed, unsophisticated and uneducated residents, those NIMBYs who don't have the best interests of the city at heart. We're the electeds, don'tcha know — we'll do as we damn well please!"
And so it goes. Given all of the above, given that the Vision Vancouver administration will not consult, given that Vision Vancouver knows what is best, given that a subway line will be built no matter what the residents want, no matter the protests, given that businesses and family homes will be expropriated, given that residents don't know what they want, and Kitsilano residents voted in overwhelming numbers for Vision Vancouver — damn the consequences to the livability of the Kitsilano neighbourhood.
With an arrogant, newly-elected Vision Vancouver civic administration in office for a four-year term, with the prospect of a subway line cutting through Kitsilano's tree-lined neighbourhood, residents are well on their way to living the nightmare scenario of a DC Comics-style, Vision Vancouver dystopia, through and across the very heart of the Kitsilano neighbourhood, where residents in the future can all look forward to our Vision Vancouver civic administration spinning the line to us that ...
"Your children will do fine growing up in the darkness. Sun causes melanoma. We're your elected civic government. We're just trying to help them, to keep them safe. And to create a better tomorrow."
All together now, let us sing in chorus as we salute the gigantic wall mural of our once and forever leader, the one true profit, Gregor Robertson ...
The sun won't come out tomorrow

Bet your bottom dollar that tomorrow
there'll be darkness
Just thinkin' about tomorrow
Don't clear away the cobwebs and the sorrow 'til there's none

When I'm in luck and there's a day that's grey and lonely
I just stick up my chin and grin and say, oh ...

The sun won't come out tomorrow
So why wait to hang on
'til tomorrow, come what may!
Tomorrow, tomorrow, I love ya, tomorrow
You're only a day away!

Tomorrow, tomorrow, I love you tomorrow
You're always a day away.
Soon enough, and not so long into the future, Vision Vancouver will move to rename Vancouver, Gotham City. The difference between the newly-renamed Vancouver version of Gotham City, and the DC Comics version of Gotham City is that, unlike the comic and the Christopher Nolan movies we have all come to love so much, in the renamed Vancouver version of Gotham City, there will be no Batman-like figure to come to our rescue.
Alert, people of Vancouver! Batman will not come to rescue us from Vision Vancouver
No, Vancouver residents, given that you did not awaken from your Vision Vancouver, cult-like, drug-induced slumber we are, all of us, doomed to live in the forbidding and ominous gloom to follow, a creation of a once-and-forever Vision Vancouver, with no prospect of any help on the distant horizon, a hero-like figure who might rescue us from ourselves, and the decision we took last evening to vote Vision Vancouver back into power.
Forgive us, dear Father, we did not know what evil lurked. Please save us!
Soon, the wise ones will look around them, and in time to rescue themselves and their families, they will seek to leave the city, to find order and something akin to a quality of life that was once available to all citizens of Vancouver, for such no longer will exist in the city we once called home.
LEAVE NOW: The dystopian future with Vision Vancouver elected to a third term in power
In electing Vision Vancouver last evening to a third consecutive term of majority power in city government, we have consigned ourselves to the torment of the dystopian nightmare that will come to pass, a permanent, perpetual, gloom-filled agony that will become the Vancouver that we once loved so much. For its has come to pass that thoughtless, uninformed, if well-intentioned citizens of good-heart, voted for a Vision Vancouver civic administration to a determinative, destructive and ultimately city-destroying third-term in the seat power where all decisions, mostly bad, are made.
Posted by Raymond Tomlin at November 16, 2014 8:09 PM in Decision 2014