Web & Tech
November 26, 2017
In 1957, my mother gave me a transistor radio for my 7th birthday!
We lived at 2165 East 2nd Avenue in Vancouver, just off Garden Park, on Vancouver's eastside. I knew my neighbours, a polyglot amalgam of "displaced persons" (displaced from WWII), refugees from a Europe of destruction who had arrived in Canada to pursue a life for their families.
Although the television had been around for almost a decade in common use by the more well-to-do among the population, no one on our block had a TV — there were doctors, plumbers, nannies, seniors, construction workers, and no one thought to purchase a television, particularly given that TVs were going for around $400, or about 10% of a man's average annual wage (the average hourly wage for women: 35¢). When times were tight, and families were large, and folks were just simply trying to find a way to scrape by, purchasing a $400 TV (with an outlay of another $50 for a rooftop aerial) was simply beyond the means of the common folks.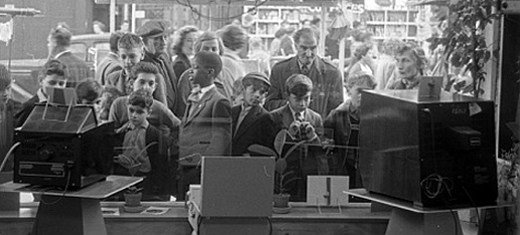 If we wanted to watch television, we'd head up to Commercial Drive, and watch the TV in the Magnet Hardware window.
Of course, all the kids on our block clamoured for a new TV (not that any of their friends owned one, mind you) — but, alas, that was not to be. Fortunately, the price of a black-and-white TV dropped dramatically in 1958 with the introduction of the colour TV (introduction of a new technology always results in a price cut for "older" technology), and most families, including mine, bought their first television that year, parents finally capitulating to the incessant, heart-rending pleas of their gentle children.
1957. I was about to go into Grade 2 at Lord Nelson Elementary School. My birthday fell on the 223rd day of that year, on August 11th, an otherwise inauspicious Sunday, except for the fact that at midday, thanks to my mother, I found myself in the possession of a brand new $49.95 (plus tax) leather-cased transistor radio! That's right, my mother worked more than 150 hours to get me my much-prized 7th birthday present — making me the only boy on the block with a portable transistor radio. I was thrilled!
On another day, I'll tell you what the impact of being the first to own a new tech toy had on me, what it meant for a career that I would pursue less than a decade later, and how it came to be that over the past 40 years, I have continually found myself on the cutting edge of new technology, as an early adopter. As I say, though, I'll leave that story for another day.
All of which brings me to Black Friday, a day I cannot resist even if it is Buy Nothing Day. On Friday, I purchased a new Acer Aspire Intel Core i5 desktop computer (even though I can't afford it, cuz I'm a pauper) — as a consequence of my 8-year-old, once state-of-the-art custom-built computer having been on its lasts legs for some months now. A friend assured me today that my new computer is a piece of junk. Oh goodie.
A fairly mundane picture of my new, much-needed computer may be found at the top of today's column — alongside my brand spanking new Google Home Mini which, truth to tell, I don't really need but it was half price at only $39.95, and I've been falling behind on my cutting edge tech persona. At about $40, I think I can indulge my techy side this holiday season.
As you may know, I love radio (even to this day). Just by saying, "Hey Google, play BBC Radio One", within seconds BBC Radio One will begin playing through the Google Home Mini speaker. The same is true of hundreds of other radio stations. I've used my Google Home Mini to set alarms and reminders, check sports scores, stream music from Spotify, or from my iTunes library (of more than 5000 songs) employing Bluetooth.
If I purchase a Logitech Harmony Hub I could control my home theatre by voice command. Or, if I purchase the Phillips Hue Starter Kit, I could also control all of the lights in my house, and set the lights to turn on at a specific time, so when I enter my Co-op apartment, I won't be entering into darkness. I could even set each individual light to a specific colour.
Yep — an indulgence. I won't be purchasing the Phillips Hue system or the Harmony Hub anytime soon, but it's nice to know that they're available.
December 22, 2013
VanRamblings' two favourite times of year occur from mid-July through the end of August, a six-week celebration revolving around the anniversary of our coming to this Earth (at least in this incarnation, in this time and place and history of life on our planet), and the period beginning in mid-
November through until December 31st. We have long been a romantic about most aspects of life, and love the idea of simply taking a bit of time off from the hurly burly of our everyday, and often too busy, life to reflect on the conditions of our existence, a deep and abiding reflection, a process in which we seek to provide meaning, context and, perhaps, resolution.
Within that contextual framework is contained our love for the arts — dance (we love the ballet), music (mostly of the pop culture variety, although we love progressive country), film, anything tech-related, literature, television, and the art of politics, which is to say, the political maelstrom that is public engagement early in this new millennium.
In this first of five columns on the Best of 2013, we'll survey a cross-section of critical opinion on the best music of the year, much of which art you may have been utterly unaware of prior to the writing that'll appear below. As a means by which to introduce new music into your life, there is no more salutary event than that which occurs at year's end, as you (and I) become aware of the music of our age, through a survey of informed critical opinion — always a life-enhancing event offering steadfast insight, in the most propitious, enlightening and expedient manner possible. Yippee!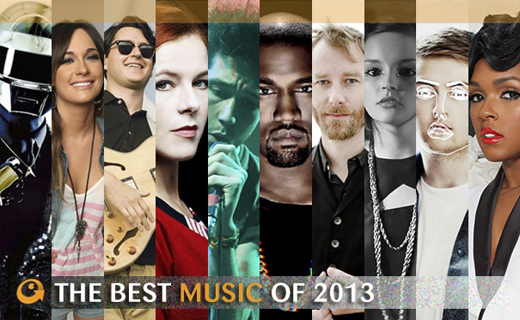 There was a time, in recent years, when we turned to Salon (in its heyday, in the late 90s through 2005), Rolling Stone, the now defunct and the much-missed Blender magazine, but since 2009, Popmatters has been the go-to place for insight into the Best Music of the Year. Yes, we know there's NME and Paste (now available online only), Q, Pitchfork, Mojo and more, but we'll stick with Popmatters, at year's end, for our annual hit of unexpected and oh-so salutary musical insight.
Here's Popmatters 'best of music' home page, detailing the 75 Best Albums of the Year, Best Canadian, Country, Metal, Indie-Pop, and more ...
Making Popmatters' 75 Best Albums of 2013 list, at 72. The Boards of Canada; at 63. the ever-present Lorde; at 47. David Bowie's The Next Day; 42. Julia Holter (a favourite of our friend, J.B. Shayne); 38. Rhye, to whom we introduced you earlier in the year; 27. Queens of the Stone Age; 24. Our very own Tegan and Sara; at 9 and 8, the breakout bands of the year, Haim and CHVRCHES, and at number one ... well, who else would you expect? But you'll have to read through to be sure you guessed right.
One of our favourite discoveries is a duo out of England, with whom our son Nathan has long been familiar, but is new to us this year: 4. Disclosure, who represent the very best danceable British garage house music of 2013.
Now, make no mistake, there's more, a great deal more ...
And, of course, much, much more.
In the The Best Country Music of 2013 category, we discovered a couple of artists with whom we were not previously familiar, Brandy Clark, and our favourite roots, working class, progressive country find of the year, Kacey Musgraves, who's making a whole tonne of Best Of lists in 2013.
We leave you, dear and constant reader, with a survey list of the Best Music of 2013, critical reception from some of our favourite publications ...
Lots to listen to, lots to grok. Good luck. Enjoy. Merry Christmas!
October 16, 2013
At the 32nd annual edition of the Vancouver International Film Festival, smartphones were more prevalent than had ever been the case, previously, at our Festival, the iPhone seemingly the smartphone of choice.
One could see the occasional Blackberry, a few Android-based Samsung phones were in evidence, but no Windows 8-based Nokia Luminas (actually, a great phone). Yes, it was the Apple iPhone in all of its platinum glory — and version 5, at that — the so-called 'smartphone for dummies' (they're so easy to use, seamless in their operation, VanRamblings employing an iPhone 5 as our means of social communication) that held sway at VIFF.
Social media, and twitter use in particular, was up, way up (how else to discover, in real time, the VIFF winners this past Friday night — a big thank you to the Globe and Mail's Marsha Lederman), VIFF patrons plugged into the news online prior to the unspooling of VIFF cinematic splendour, text messaged their friends — and moreso than in previous years, kindly observed the instruction of those VIFF staff introducing films to "shut off your smartphones, so as not to disturb your neighbours"). All to the good.
Just prior to the start of VIFF 2013, Apple introduced a near revolutionary change to the iPhone: the introduction of the iOS 7 operating system, a transformation of functionality and process greater than any that has occurred since Apple first introduced the iPhone into the market, in 2007.
Apple has decided to do away with its skeumorphic app design, the "traditional" look employed in the design of Apple's mobile apps — a design which mimicked "real world" objects — as it moves away from the three-dimensional candy-coated icons with which iPhone / iPad users had become familiar, in favour of flattened icons and a more minimalist design, the "new" flat design of iOS 7 closer to the new industry stand in the mobile market, a style employed by Google on all its Android-based phones.
In fact, the "new" iOS 7 — featuring uncluttered interfaces, and the deliberate use of white space — ought to make use of the iPhone and iPad faster and more intuitive (and more likely than not, prolong battery life). Apple is getting rid of the bloat attendant in the skeumorphic graphical user interface. Of course, a major change of design such as that undertaken in iOS 7 involves something of a learning curve, and an adjustment for users, and as we noticed at the Festival, many iPhone owners were struggling with their adjustment to iOS 7 (whereas, VanRamblings loves the new, almost poetically slippery, Apple operating system).
During the run of the Festival, VanRamblings had promised to publish an introductory column on iOS 7, directing readers towards a few tips, tricks and innovative changes that are incorporated into iOS 7, replete with links galore, a complete explanation on the nature of iOS 7's innovation.
Today, we'll go some way to fulfilling that commitment.
19+ Tips, Tricks & Innovations iPhone/iOS 7 Users Ought to Know
As above, in this post we'll commence our exploration of iOS 7, with the 19+ new and innovative features that will be of most interest to iPhone users. In addition, here's a link to an article on iOS 7 battery saving tips, and another link on how to resolve petty iOS 7 annoyances. We intend that this article will help iPhone / iPad users ease their adjustment to iOS 7.
1. Disable the activation lock code on iOS7
A built-in security feature, not necessarily new to iOS 7, but definitely more annoying, is the default setting that insists iPhone / iPad users establish a passcode for entry into the Apple device. Most users employ the passcode lock for their iPhones, but if you pretty much use your iPad as a stay-at-home device, with very little or no sensitive information stored on your tablet, you'll want to disable iOS 7's activation lock code. Here's how:
Settings > General > Passcode Lock - Turn Passcode Off
2. Silence Is Golden: Blocking Calls / Texts in iOS 7
Users can now block calls, which is a great way to avoid unwanted contacts. Just go to a contact's entry and scroll down to the bottom and select "Block this Caller" to block a certain number or contact. Tapping this "button" will prevent the person from being able to call you, send you text messages, or reach you over FaceTime, as well. A handy new innovation.
3. Undelete e-mails
If you accidentally deleted an email, simply shake your phone to undo it.
4. Settings: make iOS 7 easier on the eye
We like the new interface, but it isn't for everyone. If you have problems with your sight or just want to make iOS 7 more legible, you'll find some useful settings in Settings > General > Accessibility. You can make all system text bold, increase the size of text in apps that support Apple's Dynamic Type, scale down motion effects such as the parallax effect, or invert the colours to make iOS 7 look like a 1980s electro-pop album cover.
5. Disabling the Parallax Effect, and Why
Are you, as an iOS 7 user, experiencing vertigo, headaches or nausea while using the recently-launched iOS 7? Surely, most users won't have a problem with iOS 7's latest innovation, but reports are already coming in that the new parallax effect in the homescreen (making the background move as if it's far behind the icons) is making some people experience a similar feeling to having car-sickness.
Although the effect of the moving background is quite cool, there's no doubt that if it's going to cause users some discomfort while using their iPhones and iPads, they'd gladly do away with it. And thankfully, there is a way to disable the iOS 7 parallax effect! You just have to follow these simple steps to disable parallax in iOS 7, simply navigate to ...
Settings > General > Accessibility, and turn the "Reduce Motion" option on.
One simple setting and you can use iOS 7 Gravol-free!
6. Apps: Automatic Updates
With iOS 7, users can now update apps automatically, a great new functionality for those with a decent data plan. Control this function either way by going to ...
Settings > iTunes > App Store, and slide the Updates option under Automatic Downloads.
7. Swipe Down For Search
Gone are the days of having to swipe or tap your way to iOS' dedicated search page. You can now access Spotlight search from anywhere on the homescreen. Just swipe down in the middle of the screen to quickly search across your device's apps, e-mails, and contacts — but curiously, it seems that Apple has removed Spotlight's ability to search the web. We're pretty sure we never actually used that now missing functional capability, but this is the Internet so we're supposed to complain now that it's gone.
8. Siri: now reads your e-mails, and much, much more
Siri makes light work of not only listing e-mails in your inbox, but also reading them out to you. Hold down the Home button and say, "Read my e-mails" and Siri will give you sender, time and date sent, and the subject of each in turn. When asked if you want Siri to read out your mail, just say "Yes". Or you could simply say, "Siri, read my last three e-mails", and voilà, that's what Siri will do.
And, Siri does even more. If you have your hands really full, you can ask Siri to access apps and features in your iDevice such as Settings.
One of the new changes to Siri that came along with a host of technical upgrades is the chance to switch between a male and female voice for your digital assistant. If you're interested in trying out a different voice behind the same info, go to the Settings app, and then navigate to General > Siri > Voice Gender, and tap on whichever gender you'd prefer.
9. iOS 7's Control Center: Swipe Up For Toggles
Fixing what is perhaps one of iOS' most glaring, long-lasting omissions, iOS 7 puts one-click access to things like Airplane mode and Wi-Fi/Bluetooth toggles just one swipe away, instead of hiding them in Settings.
To get to the new Control Panel, just swipe up from the bottom of the screen anywhere you might be. You'll get buttons for Airplane mode, Wi-Fi, Bluetooth, Do Not Disturb, Orientation lock, and sliders for brightness and media control. Oh, and there's a readily accessible flashlight — much used in recent days by VanRamblings, as we searched for our cap after the end of VIFF films — available to you, as well. The Control Panel is also accessible from the lockscreen.
10. Flashlight as notification
Go to Settings > General > Accessibility > scroll down and tap "LED Flash for Alerts".
Read More...
October 27, 2012
British Columbia's New Democratic party, under the leadership of Adrian Dix, has enunciated a policy position in favour of fracking, a dangerous, environmentally unsound, and wholly unsafe natural gas extraction process.
In 2010, Josh Fox's Gasland, a Special Jury Prize winner at Sundance, documented the health concerns of citizens affected by the fracking industry, and featured a flammable water scene which caused quite the stir.
The Huffington Post published this story last April ...
"The feasibility of protecting the health of Americans while conducting hydraulic fracturing operations is debatable. Dimock, Pennsylvania has been at the heart of this discussion. The small town's wells were tainted by fracking operations, and the drilling company and the EPA have (at times) delivered clean water to the residents. According to ProPublica, recent EPA tests of Dimock's water reveal "dangerous quantities of methane gas" and "dozens of other contaminants, including low levels of chemicals known to cause cancer and heavy metals that exceed the agency's "trigger level" that could lead to illness if consumed over a period of time. The EPA's assurances suggest that the substances detected do not violate specific drinking water standards, but no such standards exist for some of the contaminants and some experts said the agency should have acknowledged that they were detected at all."
We would imagine that should recently-nominated Vancouver-Fairview NDP candidate George Heyman be elected to government next May, that inside the NDP caucus, Mr. Heyman will emerge as a powerful voice against the destructive environmental practice. Fracking arose as an issue dividing the two candidates seeking the NDP nomination in Vancouver-Fairview. Candidate Vancouver City Councillor Geoff Meggs didn't rock the boat ...
"The party position is we will allow fracking," Meggs explains. "I personally don't like it. I wish we would examine and study it. But I accept that our party has taken a position on it. George [Heyman] is saying he wants to change the party's position. And while I might prefer a different position, I'm not campaigning to have it changed."
Meggs' opponent in the race, George Heyman, has this to say ...
"I'm not proposing that we don't sell any gas," says Heyman, who is currently the Executive Director of Sierra Club BC. "I am proposing that we stop the expansion of new frack wells until we have an appropriate public study on the health impacts, the community impacts, the water impacts, and the climate, greenhouse-gas-emissions impact."
Note should be made that Heyman quite handily won the contested Vancouver-Fairview nomination. A shot across the bow to the more conservative interests in the provincial NDP, a message to the party elite that in a democracy it is the members of the party who direct policy, not the electeds divining policy from on high, ignoring the wishes of the people?
Sometimes, though, if reason fails to convince, film has the power to transform political positions, that despite all evidence to the contrary, are wrong. Film can inform, and cause a person / political party to change an enunciated — and, perhaps, not fully considered — position on an issue.
To that end, for the first time since 1997's Good Will Hunting, actor Matt Damon and director Gus Van Sant have re-united, this time to produce a screenplay written by Damon and co-star John Krasinski, based on a story by Dave Eggers. The film Promised Land tracks the work of two corporate salespeople who visit a rural town in an attempt to buy drilling rights from the local residents, in order to commence a fracking operation — although the salespeople are not upfront about the consequences of the 'rights' sale by farmers — a decision that would destroy the townspeoples' livelihoods.
Promised Land will be released in the United States in December — in New York and Los Angeles — in order to qualify for Oscar consideration. The film is set for wide release, opening in Vancouver, Friday, January 11th, 2013.
Earlier in the week, and we can't remember how, we became aware of RebelMouse, a social media aggregator that connects your Twitter, Facebook, Instagram and other social media accounts all together on a dynamic and very graphically pleasing web page — created absolutely free-of-charge by the folks who both created and operate RebelMouse.
Ben Popper, from The Verge, writes ...
Paul Berry is famous in tech and media circles as the brains behind The Huffington Post's incredible success with social media and search engine optimization. On June 6th of this year, he took the wraps off RebelMouse, a social publishing platform that hopes to replicate that success on an individual level. "People are getting very good at Twitter and Facebook, but they are embarrassed about their personal websites," says Berry, when we visited him recently at Soho Labs. "RebelMouse takes all the content from your social streams, and transforms it into a dynamic homepage."
Users sign up for RebelMouse and connect it to their Twitter, Facebook, Tumblr, Pinterest and Instagram accounts, the service pulling all photos, text and links from these feeds. The page updates with each new social media post, arranging the posts in an easy-to-read format. RebelMouse also affords the user the opportunity to rearrange, edit items, or remove them entirely if that is their wish, the editing not restricted to the 140 character limit often placed on social media forums, such as Twitter.
Here is our RebelMouse page, a compendium of our recent Instagram, Facebook and Twitter feeds. Convenient, gorgeous: you may want to try it.
May 8, 2011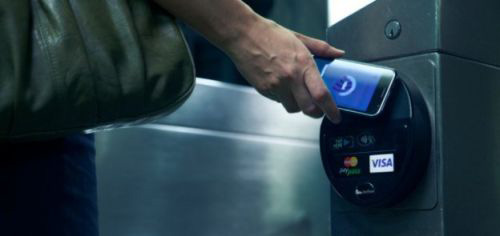 Near Field Communication is coming to your smart phone this fall.
What does that mean to you?
Among other things, NFC-enabled devices (think smart phones or tablets) will enable the user to make mobile payments (have a look at the VISA video below), replace your passport, with one swipe open your home, car or hotel door, allow you to buy your theatre tickets online, replace the bracelet you have to wear when you go to the hospital, demystify your prescriptions when you're at the pharmacy — and all that's just for a start.
So, VISA is about to create and implement an effective, secure digital wallet service that'll make all the above payment innovations real, set to arrive in a digital device near you at some point this autumn.
VISA's idea is to let you store your VISA accounts, non-VISA accounts and even online payment services like PayPal into one digital wallet.
This way, you can pay for goods online with this do-everything wallet, with one account rather than various cards and different accounts allowing you, of course, to customize which cards you want, thereby simplifying how you pay for the goods you purchase.
Google has also announced a digital wallet, arriving first on Android phones, but due to expand onto all smart phones later this autumn.
A chip inside new Android phones — for now, only one model has it — will allow shoppers to wave their devices in front of a reader to pay for clothes and food at the mall or grocery.
Responding to privacy issues, Google said it will not have access to users' financial information or purchase history.
Google's electronic wallet will launch over the summer, with trials beginning in American cities on either coast. Users will need to download the Google Wallet application to begin using the service. Security will be paramount: Google said the chip cannot be accessed by passersby or by malicious software applications designed to steal information.
Users will need a PIN to access the app, and financial data will be stored on a tamper-resistant chip isolated from the phone's hardware and software. At the point of purchase, the transmitter sends a unique, dynamic account number to verify the transaction.
"At the end of the day, it's the same as a card," says MasterCard spokeswoman Joanne Trout. "If there are fraudulent purchases, customers have zero liability."
The success of MasterCard's PayPass system — which allows shoppers to simply tap their cards on a reader rather than swipe — shows there is demand for "contactless" payments.
"There will be demand for this technology as long as there are enough retailers and enough phones," Google announced upon introduction of the digital wallet concept.
January 18, 2009
For the past month, VanRamblings has volunteered four hours a week at Free Geek Vancouver ...
"a nonprofit community organization that reduces the environmental impact of waste electronics by reusing and recycling donated technology ... (which also acts as) a place for people to share technology, and to work together to build healthier, more empowered communities ..."
Through community engagement Free Geek provides education, job skills training, Internet access and free or low cost computers to the public.
The impetus for travelling down to Free Geek, initially — aside from meeting co-founder Ifny Lachance, with whom we'd made contact while working on various political campaigns this past fall — occurred as a consequence of VanRamblings' desire to both volunteer with a worthwhile non-profit providing service to the community, as well as to transform 24 hours of work at Free Geek into a PC (Pentium 4, 60GB hard drive, 1GB RAM, 64MB graphics card) that we could donate ourselves to a deserving social agency.
As Ifny points out in this video ...
"If you commit to 24 hours of volunteer time with Free Geek, you earn a free computer. We also provide computers to non-profits; we have a Hardware Grant Foundation for organizations that are serving the community ... they can fulfill their mandate more effectively if they have not only the equipment that they need, but they don't have to scramble for money to buy brand new computers."
Free Geek supports free and open source technology, including Ubuntu, a community developed, Linux-based operating system that supplies all the applications you need — a web browser (Firefox), presentation, document and spreadsheet software (OpenOffice), instant messaging and much more.
Soon, we will have earned a free computer through our volunteer work — disassembling computers, picking up old computer equipment from schools across the city, receiving shipments, packing e-waste for responsible recycling, testing equipment and building computers — with Free Geek.
Even though we at VanRamblings consider ourselves techies, there's a surprising amount of information we weren't aware of — what a wonderful learning experience, then, that we've had at Free Geek this past month. If you're in the market for a computer and money's tight, or if you're looking for a worthwhile, educational volunteer opportunity, Free Geek is the place for you. Or, if all you're looking for is a 'new' computer, for only $100 you can pick up a custom built PC from Free Geek's computer thrift store.
January 14, 2009
As the grand prize winner at the 2009 Consumer Electronics Show, just wrapped this week in Las Vegas, VanRamblings has found the smartphone of our dreams: the Palm Pre, replete with ...
a 3.1-inch (480x320 pixel) multi-touch screen, easily outpacing Apple's iPhone in capability
a slide-down QWERTY-type keypad
802.11b/g WiFi, 8GB of internal storage, GPS, Bluetooth, a powerful processor, accelerometer and a wireless charger
a 3.2 megapixel camera, with flash (alas, no video)
a handset that gently curves so that it fits snugly against your ear while placing the microphone right near your lips
a quick, efficient browser (powered by Linux) that renders pages beautifully
As to the question of which carrier will introduce the Palm Pre in Canada, because the Pre, at present, is designed for a CDMA network, either or both of Telus and Bell — both of which currently employ CDMA — will likely be the lucky Canadian carrier(s). Later in the year, Palm will introduce a GSM model, which will allow the Pre to expand to Rogers' customers.
No details are yet available on pricing, but early expectation is that a Canadian carrier would mimic the $400 upfront charge that exclusive U.S. carrier Sprint has indicated they will charge for the Pre. Although, given the competition in the market from Apple's iPhone ($199) and RIM's Blackberry Storm ($249), the final Pre introductory price in Canada may be reduced to remain in line with existing A-list smartphones available on the market.
July 6, 2008
Have you ever tried to visit a web page only to get the 404 error or another message, even though the site was working just fine an hour ago?
Down for everyone or just me does one thing. Type an URL into the site, and you'll find out if the whole world is seeing what you're seeing. Yep, it's easy to determine if if that web site you're trying to reach is actually down, or if your busted-up computer or network filters is the problem.
So much for the benign reputation of Google. A report in the New York Times Saturday, July 5th, suggests that not all is well with the search engine behemoth. Google co-founder, Sergey Brin, recently told Google staff that he had no sympathy for the parents who were upset by a 75% increase in Google day care fees — to a whopping $57,000 a year! — and, further, that he was "tired of 'Googlers' who felt entitled to perks like 'bottled water and M&Ms'."
That's what we love in our billionaire corporate entrepreneurs — a kind heart, an ability to relate to the concerns of line staff, and the milk of human kindness. Whoa, Mr. Brin, just what's up at Google? Fifty-seven thousand dollars in annual daycare fees? Way to value your staff, Google.
A few weeks back, corporate anti-virus company, AVG, notified subscribers that their free AVG 7.5 workhorse would become defunct June 1st (the company later changed that date to June 25), although even as of this writing AVG 7.5 (the free version) seems to be performing well, as the company continues to provide virus definition updates to the supposedly defunct software.
Soon after AVG made the new version announcement word began to filter across the Internet that the free version of AVG 8.0 would work to full capacity for only 30 days, after which the e-mail scanning facility would become defunct, requiring subscribers to update to AVG 8 PRO.
AVG recently published an announcement that ...
Contrary to rumours circulating on the Internet, AVG Free 8.0 does not include any "trial" or "time-out" functionality. Every option provided in the program is fully functional for the life of the product.
So, for those who loves them some free AVG, you can safely download the fully functional, and absolutely free, 8.0.1 version of AVG anti-virus here.
Microsoft has released Windows XP Service Pack 3 currently rolling out to customers across the globe. Online tech company, CNET, warns users to hold off on downloading the massive Windows XP hotfix update until the 'bugs' have been worked out.
To prevent Windows XP from automatically installing, you can surf to this site, following the directions to block the installation of the service pack.
VanRamblings brings you this announcement in the hopes of preventing potential havoc on your PC. We advise you to wait until 2009 to download Windows XP SP3, when Microsoft will make the update mandatory.
June 27, 2008
Here it is summer, the days are warm and the sun shines, and what has VanRamblings all excited? HDTV. That's right, High Definition Television.
Yes, in the sweltering days of summer, VanRamblings has signed on to the Telus HDTV package, replete with 57 channels and nothin' on (well, actually, there are more like 175 channels, and nothing to watch). Be that as it may, we're still pleased that we switched to Telus TV.
And why might that be? Because we've saved money on our home phone, Internet and TV package -- with more goodies than we had before -- over what we'd been paying previously. Here are the Telus TV packages ...
Being cheap, VanRamblings went for package number 1, including ...
Telephone: Telus IP phone with crystal clear reception; call waiting and call display (including call display on the TV when someone phones); 200 minutes of long distance free, and 7¢ a minute after that
Telus high speed enhanced, which doubles the speed of downloads, and makes surfing perceptibly quicker
Telus HDTV, with the essentials, and two theme packs. There's an additional $15 charge for HDTV.
Total cost of the package: $95.95 + $15 = $110.95, plus tax.
Telus Optik TV Channel Guide, June 8, 2011
Well, hold on a minute. Things aren't quite what they seem at first glance. There were some hiccups that occurred on the way to achieving HDTV bliss.
First off, according to the somewhat confused folks who initially answered the phone at Telus TV in late June, if you want almost all of the HDTV channels available in Canada (the few of those that are currently offered), as well as most of the U.S. networks that are broadcasting in HDTV, we were told, latterly, that you have to sign up for theme packs that include those channels. HDTV for those channels is not automatic. Well, if you have a look at the Telus HDTV page all of the HDTV theme packs come in at $15. Which is where Telus gets its $15 HDTV subscriber "come on" from.
But the Telus TV folks told VanRamblings that subscribers have to subscribe, at a cost of $6 for each theme pack, to the conventional digital theme packs that include those HDTV channels. And pay $15 more to watch those channels in HD. Confusing. Misleading. And off-putting.
So, if you want the Discovery Channel, the Time Choice channels, Movie Central HD, TSN and Sportsnet HD (which broadcast out of Toronto), you'll end up paying another $24, plus another $15 for those channels in HD! Telus HDTV isn't quite what it seems, then. Not good. We were not happy.
On top of that, Global TV Vancouver HD is not (currently) available on Telus HDTV, although it is available to Shaw and Bell satellite subscribers.
Locally, only CBC broadcasts the local news in HD. Global news programmes may go HD in the autumn, BCTV's engineer told VanRamblings; hopefully Telus will have initialed a broadcast agreement with GlobalBC by then. CTV Vancouver broadcasts most American programming in HD, but not their news programmes. CTV Vancouver promises full HD by 2010, in time for the Olympics, which will likely mean sometime towards the end of next year.
Telus also does not currently offer a PVR, as Shaw does, so subscribers cannot record HDTV programming for viewing later.
Shaw, if you indicate that you're leaving them for Telus will offer you a bundle package, including Shaw High Speed and IP Home phone with unlimited long distance in North America, for $95, plus $29 more for the HDTV package. But VanRamblings did not want to move to Shaw at this point, although we were most recently on Shaw's digital TV package.
VanRamblings called Telus TV to express concern about their confusing and misleading advertising, and commitments not met, and was forwarded to Telus' Loyalty and Retention division (where we found some fine folks).
Telus finally stepped up to the plate, and during the course of a quite pleasant discussion about what we had been promised at the time we signed up for Telus TV in May, not to mention the information that appears on their website, we arrived at a joint agreement which offered VanRamblings: 3 months of Telus TV (including HDTV) for free -- so VanRamblings won't begin paying for TV til October -- with an additional $144 in credit on VanRamblings' Telus account, for a total saving of $330.
Beginning October 1st, VanRamblings will pay $136, plus tax, each month, for the phone (with call display and call waiting, plus 200 minutes of long distance, monthly, in North America), high speed enhanced Internet, and the essentials TV package, plus 5 theme packs. VanRamblings will receive almost all of the HDTV channels available in Canada with this agreement.
If VanRamblings deducts the $144 credit offered by Telus, as well as the $186 three month saving on the TV / HDTV that was agreed to by the Loyalty and Retention division, VanRamblings' monthly HDTV / telephone / Internet package, in reality, will come to only $108.50 per month.
VanRamblings can live with that. Cheaper than Shaw, with a decent service.
Come fall, though, when we switch to the five theme packs from the full-meal deal that VanRamblings is receiving for the next three months for free, we expect trouble with Telus (not to mention, we're not sure that we want five theme packs).
So far Telus has not been great at keeping their word, or being consistent from Telus salesperson to Telus salesperson as to what Telus offers respecting HDTV, and how much that will cost a subscriber. Come late September, chances are that we'll end up writing more about Telus TV and what shenanigans, if any, Telus may be up to at that time. Stay tuned.
February 14, 2007
Aiming to patch 20 critical vulnerabilities, Microsoft yesterday delivered its monthly batch of security updates — including 11 critical issues in the Windows operating system, Microsoft Office (Word, Excel, etc.), Internet Explorer and even its own anti-virus tools — matching its all-time high for monthly security fixes, its largest security batch since August 2006.
Now, it's true, you could wait for the fine folks at Microsoft to notify you about the absolutely critical updates — say tomorrow, or next week, or whenever you're on their notification list of one billion computer users. But do you really want to wait? Should you? VanRamblings thinks not.
Among the factors contributing to the unusually high volume of February patches could be the discovery of four vulnerabilities Microsoft had planned to address in its January 2007 security bulletins, but didn't.
Okay, so now is the time for you to surf on over to Microsoft's Update site (in Internet Explorer), and download and install the patches. Immediately.
February 9, 2007
What is Web 2.0?
According to the entry in Wikipedia, Web 2.0 is all about online collaboration and sharing through wikis (like Wikipedia), social networking sites (think Friendster, Nexopia, Stumbleupon or Windows Live Spaces), and certainly blogging fits nicely into the definition of Web 2.0.
In other words, what you knew about the Web when you first went online has transformed from a relatively static 'push-button' experience to a more collaborative, engaged and engaging experience ...
Got a few minutes to procrastinate? You might like the following "digital ethnography" video that VanRamblings found courtesy of CNET News. It's all a little bit techno-utopian, but nevertheless pretty cool.
February 6, 2007
Although it's taken a number of years to get to the point where there are now a few, half-decent mp3 players on the market to consider (despite the prominence and ubiquity of the Apple iPod), it's now safe for consumers to walk in to their local Best Buy and purchase an mp3 player that will do pretty much everything they need it to do, from playing music and video, to voice recording, calendar work and everything in between.
The newest, and according to C|NET, best mp3 player is the 8GB SanDisk Sansa e280R Rhapsody, a flash-based mp3 player which (unlike its iPod competitor) includes an FM tuner, a voice recorder, access to music downloads through Rhapsody, a user removable battery, an expansion card slot, and great battery life.
They're not calling the Sansa e280R an iPod killer for nothing.
Why buy SanDisk's e280R, or Creative's 4GB Zen V Plus — also a C|NET Editor's Choice, just like its Sansa cousin (and, in the interest of full disclosure, currently VanRamblings' default mp3 player) — rather than one of the many hard drive-based mp3 players on the market?
The answer to that question is many. First off, battery life. Because it's a flash-based player and there are no moving parts inside, battery life is two to four times as great as you'd experience with a hard drive-based player.
Next up, again because it's a flash-based player (with no moving parts), whether it's Sansa, Zen V or iPod Nano, it is pretty much indestructible.
Creative and SanDisk are one up on the iPod given that they play Microsoft's proprietary WMA format, allowing for almost double the number of songs to be moved onto the player (up to 4000 mp3s on the e280R — and, really, how many people have more than 4000 songs they want to load onto their mp3 player, and carry around with them to the gym, the beach, or in the car?). Four thousand songs? Sounds great to me.
Both the 8GB SanDisk Sansa e280R Rhapsody and the 4GB Creative Zen V Plus (pictured right) offer a host of features at a price below $250.
Aside from the 1.5" colour OLED display, it's scratch resistant, has a built-in voice recorder and 32-channel FM tuner, you can play several different video formats, view photos and album art, record directly from a CD, play audio books — and the player is not only light (at barely 35 grams, or an ounce and a half), it's portable and won't skip no matter how hard a workout you give it (or yourself) at the gym or on the beach.
February 4, 2007
Ran across this article earlier in the day, written by Christopher Null for PC World magazine (and, by the way, if you own a PC, and don't most of us, you oughta subscribe to PC World).
The article covers everything from how to improve font legibility on your LCD screen, to surfing anonymously, tweaking your Internet connection, and securing your WiFi connection, and much much more.
For those who are curious about how to capture streaming media (including Windows Media, Real, QuickTime and Flash media, like YouTube and Google Video), Null points you towards Replay A/V and KeepVid.com, although for the latter you'll want to download the latest version of the VLC player.
Otherwise, Null covers moving big files across the Internet (VanRamblings likes Pando, a sort of e-mail insert which allows you to send files up to 1GB), creating keyboard shortcuts, and a bunch of other useful "tools".
February 2, 2007
With Toronto, Paris, San Francisco, Philadelphia (who were the first to jump on board, way back in 2004), Chicago, Miami Beach, Fredericton (that's the sleepy village in New Brunswick, by the way), and a host of other North American and European centres offering free, state-of-the-art broadband wireless networking citywide across their jurisdictions, the forward thinkers on Vancouver City Council have finally capitulated to the public's will, and on Thursday announced a free, citywide wireless broadband network by 2010.
What does this mean for you? Well, for starters, by 2010 you'll be online, free-of-charge with a state-of-the-art high speed Internet connection 24/7 anywhere (and I do mean anywhere) across the City of Vancouver. Chances are that your cell phone (at least the new Apple iPhone) will connect through a WiMax network, which will forever do away with land-based telephones. You'll be able to surf the 'Net and send e-mails wherever you are (in your car, in the park) at will, wherever and whenever you choose.
Free. (Although, to be perfectly honest, it'll probably be ad-supported)
According to Bruce Clayman, a Simon Fraser University Physics Professor and a member of the SFU Centre for Policy Research and Technology establishing a wireless network in Vancouver could yield a wide range of opportunities, including ...
providing residential and business computers with unlimited Internet access for a one-time fee of under $50;

automating hydro, gas, water and parking meter reading;
equipping transit, commercial and private vehicles with global position system (GPS) devices, which could expedite retrieval of information on stolen vehicles and help drivers determine their locations and find addresses;
providing tourists with instant access to maps and travel information;
providing city staff in the field with access to building inspection schedules, parking ticket details and other information;
delivering maps, mugshots and other information to emergency response teams travelling to accident sites;
providing a "smart" transit system that can advise commuters about bus and other transit schedules; and
providing free Internet access to residents of the Downtown Eastside, those on low or fixed incomes

Remember that Telus ad that ran a couple of years back, the 'story' of a young woman shopping for a birthday present for her mother? She held the phone up so her sister could see the present she was considering for purchase. There was about the ad an eerie 'brave new world' quality.

Welcome to that future. And much, much more. It's here now.




February 1, 2007

| | |
| --- | --- |
| Click on the picture above for a complete guide to Windows Vista | |

Microsoft's newest operating system, Windows Vista, has finally arrived.

From here on in, if you're going to purchase a new PC computer, Windows Vista will be the operating system your computer will come loaded with. For those PC users who have are currently running Windows XP, lucky you — Microsoft has extended the life of Windows XP through til April 2009, with security updates available til April 2014.

So there's no great need to rush out and by the latest iteration of the world's most popular operating system (currently resident on more than 98% of the world's computers).

Now, there are those who take take umbrage with Vista's bloatware, and there are those who are so far outside the computer loop (i.e. those people who are still running Windows 95 / 98 / ME / 2000) that the issue of which operating system they are running is of little consequence.

For the rest of us, though, Window Vista portends the future of computing and democratic communication, wherein your computer becomes a hub that does everything from answering your phone and taking messages, to providing you with information on which food items you're running short of in your refrigerator and your cupboards, and everything in between.

Computers as the broadcast engine for personal video and corporate broadcast television onto your HDTV, and high-end streaming audio into every audio device in your home. Computers as seamless integrated machines that are invested in every part of your home and in your life.

A quarter of century on, we're still at the beginning of a communications revolution, a revolution that will give voice to the many, and a democratic future of involvement in the everyday decisions which impact on our lives.

Maybe not in this generation ... but soon, very soon.




January 31, 2007

Even though, according to esteemed, but seemingly addled, U of Calgary Political Science professor Michael Keren "bloggers are lonely people who live in a make-believe world" (such shallow analysis of the role of independent voices in the blogosphere, one might think, designed to act as a disincentive to bloggers to continue our posting written and multimedia materials), VanRamblings has decided to begin posting daily — most likely, shorter articles than previously — for the next while. Take that, Dr. Keren (hey, you wanna pay for our therapy?).

First up today, we'll point you to an article in the Vancouver Courier about Shallom Ly (pictured above), a Vancouver-based fashionista who publishes a weblog (or blog, if you will) called Stylefinds, a subjective, local (if you're living in Vancouver) and quite readable shopping and lifestyle guide.

Next up, you'll notice if you look down a bit, and to the right that there are two other new blogs in VanRamblings' blogroll — local photographer Alex Waterhouse-Hayward's "A Thousand Words", gorgeously conceived and updated daily; and the Vancouver Housing Market Blog, which offers an anonymous and engaging take on the local real estate development scene (all the while causing much consternation among various government agencies, and all those involved in one way or another in the real estate development market).

Well, that's it for today. Who knows what we'll come up with for tomorrow?




February 5, 2006

Long thought to be a particularly insecure web browser, Internet Explorer has finally gotten the makeover long promised by Microsoft.

This past Tuesday, Bill Gates and company made their next generation browser available to the public, and although some critics are not thrilled, other critics are taking a wait and see attitude.

With Firefox's dramatic inroads into the browser market this past year (now installed on 25% of user's computers as their primary browser) Microsoft had to do something. And they have.

So, what's the big whoop about Internet Explorer 7?

Well, there's tabbed browsing for a start, with an interface that seems to this observer to be a tad friendlier than Firefox's much earlier entry into the realm of tabbed browsing. There's the new Zoom feature (just like Opera, the favourite next generation browser of many VanRamblings' readers). Readily accessible zooming allows old fogeys (like me) to zoom in and out of a page and not have to strain to read the often tiny print on a web page.

There's also a whole bunch of other new features, including security protection (with a built-in phishing filter and a one-click browser history delete facility). Mention should be made, too, of IE7's much enhanced search feature, which now includes Google, Yahoo and AOL.

Internet Explorer 7 is now available for download, so you may want to become the first person on your block to download IE7 (caveat emptor).

Note: A reader takes VanRamblings to task for not mentioning that IE7 is in beta version, and as such is itself insecure. Thanks to Sara for helping to keep VanRamblings on the straight and narrow (and by the way, IE6 or IE7, VanRamblings' rendering in either Microsoft product sucks. We recommend either Firefox 1.5 — long our default browser — or Opera 8.5). The final version of Internet Explorer 7 is set to be released in June 2006.

Update ... users report that Internet Explorer 7 is riddled with bugs: Now, Sara isn't saying I told you so, although she might. Web maven and master of all he surveys — that would be VanRamblings' webmaster, Michael Klassen — passes along this timely ZDNet article detailing the many, many bugs that early adopters of IE7 have found, ranging from a denial of service vulnerability to a conflict with McAfee security software, and so much more.




December 26, 2005

Click on Enter above. There's a 'wonderful' story to be told.


November 8, 2005

As is the case the second Tuesday of each month, today Microsoft will deploy the latest set of critical patches for your Windows XP operating system. These "patches" — as indicated in the latest Microsoft Security Bulletin — include critical system components and security fixes to keep those dastardly hackers out of your computer, and the regular monthly updated version of the Microsoft Windows Malicious Software Removal Tool. In order to keep your computer secure, it is necessary to download these updates at your earliest possible convenience.

What is that you say? You've set your Windows Update facility to download critical patches automatically? Well, according to Stephen Manes at PC World magazine, "Microsoft's Automatic Updates service may be automatic, but it is definitely not instantaneous ... The only way to ensure that you'll get updates immediately is to surf to Microsoft's Windows Update Web site and explicitly request them."

According to a Microsoft product manager responsible for this stuff, up to five days may elapse before every PC with Automatic Updates turned on actually gets updated. There's no way to know whether your machine is at the front of the line or the back; the only way to jump the queue is to head directly for Microsoft's update site. It's also the only way to collect "optional" updates, such as new versions of Windows Media Player, which never arrive automatically.

So there you go. You've got your PC security work cut out for you today.

Create a Windows CD for Your Computer If You Don't Have One

Why many computer manufacturers insists on selling computers that require you to create up to nine recovery disks rather than selling you a computer that comes with a certified version of Windows, on disk, VanRamblings will never know (a word to the wise, never purchase a computer which doesn't come bundled with an OEM copy of Windows).

If you're one of those unlucky folks who are stuck with a computer without an available Windows XP OEM disk, help is at hand.

Lincoln Spector, writing in this month's edition of PC World, suggests that you download Bart Lagerweij's free Preinstalled Environment Builder to create a bootable Microsoft Windows XP installation disk. Having this self-made disk on hand is worth anywhere up to $300 to you, and may serve to rescue you from potential disaster should your Windows XP OS go on the fritz. Save yourself a world of heartache. Create the Windows disk if your computer didn't come bundled with a standalone Windows XP disk.




August 9, 2005

This week in Tech Tuesday, a brief potpourri of items, mostly revolving around PC security issues — everything from the latest security patches from Microsoft to a work-around for Microsoft's Genuine Microsoft Software Check facility, and the prospect of a catastrophic attack on the Internet.

Critical Windows Patch Arriving Today

Heads up to all Windows users. The monthly patch scheduled for today includes six security updates affecting Windows, one of which is rated "critical."

In addition, via its Windows Update process, Microsoft plans to release a refresh of its malware removal tool — the Microsoft Windows Malicious Software Removal Tool — to add detection for new virus and worm variants. Microsoft has also reported it will release one non-security but high-priority update. It is already known that a fix for a denial-of-service flaw in Windows XP will be included in the August patch batch.

Bypass Windows' Genuine Check

Bypassing Microsoft's automated check for pirated software may be as simple as inputting one line of code. Within 24 hours of Microsoft officially requiring users of its Windows XP software to validate the authenticity of their software, the validation method was allegedly cracked and disclosed in a public blog.

Late last week, the code snippet appeared on popular blog site BoingBoing claiming to be a way to bypass Microsoft's Windows Genuine Advantage check. A user only needs to paste the code into the address bar of one of the Microsoft update services before pressing either the 'Custom' or 'Express' button. The code snippet allegedly disables the key check by turning off the code trigger for the check.

Microsoft Windows Genuine Advantage (WGA) is an effort to prevent users from running pirated non-licensed versions of Microsoft's software. When visiting one of Microsoft's update services, users are prompted to download an ActiveX control, which validates their software. Only validated WGA users have full access to Microsoft's update services; security updates are still available to non-validated users as well.

A Credible Plan To Take Down The Internet

According to CNET Reviews' Senior Editor, Robert Vamosi, "a credible threat to the infrastructure of the Internet exists that will give everyone who uses the Internet a rough ride ... all indications suggest that the clock is ticking toward some kind of showdown between criminal hackers and the good guys."

At stake is the exploitation of flaws affecting the once-invincible Cisco router hardware, which currently carries most of the Internet's traffic on a daily basis.

Cisco tried to silence Internet Security Systems Inc. researcher Michael Lynn who was scheduled to reveal a serious flaw in Cisco Systems Inc.'s IOS (Internet Operating System). When Cisco and ISS intervened to prevent Lynn from speaking, he quit his job and gave the speech anyway.

"I admire the guy for being brave," said Lisa Bickford, president of InReach Internet, and a board member of the California ISP Association. "It's not easy to quit your job, but he stood by his principles. I think Cisco has some egg on its face."

e-week contributing editor David Coursey writes that if "Cisco were doing its job, we might not need Michael Lynn to tell us about the company's shortcomings. But, because the bad guys already know — or could be presumed to know — about the problems, only Cisco's customers are out of the loop. Or were, until Lynn arrived on the scene."

Needless to say, Cisco was far from thrilled with Lynn's disclosure and quickly filed suit in the Supreme Court. This past week, Lynn and his attorney agreed to a permanent injunction that prevents him from using any Cisco code in his possession for further reverse engineering or security research. The permanent injunction does not prevent Lynn from doing further research on Cisco products provided it is done legally.




July 24, 2005

The next Windows operating system, previously known by the code name Longhorn, will be called Windows Vista.

With a developers test release of the new operating system scheduled for August 3rd, and a broader consumer beta release expected later this year, Microsoft allegedly took eight months researching potential names for the upcoming version of Windows. The new name débuted this past Thursday before roughly 10,000 attendees of a Microsoft sales conference in Atlanta (here's a short video presentation of the event).

Among the key features of Vista are a new searching mechanism, lots of new laptop features, parental controls and better home networking. There will be visual changes, ranging from shiny translucent windows to icons that are tiny representations of a document itself, as well as the ability to launch applications 15% faster (and boot up 50% faster) than Windows XP does, and resuming from standby in only 2 seconds. According to Microsoft, Vista's three design goals also include enhanced security, new ways to organize information, and seamless connectivity to external devices.

Given that 90 percent of the world's personal computers run Windows, and given that Windows XP will become obsolete late next year, chances are that you'll be switching to Windows Vista over the next 18 months.




February 22, 2005

Just when you think you have Microsoft's Bill Gates' next move figured out, he goes and does the opposite.

Reversing a longstanding Microsoft policy, Gates told those attending the RSA security conference in San Francisco this past week that the company will ship an update to Internet Explorer separately from the next major version of Windows, currently using the code name Longhorn. A beta version of a secure and fully featured Internet Explorer 7 will début this summer, Gates said in his keynote address to conference participants.

In announcing the plan, Gates acknowledged something that many had been arguing for some time — that the browser itself has become a security risk. "Browsing is definitely a point of vulnerability," Gates said.

Gates also ended speculation about whether Microsoft would shift to a paid model for their recently released (and invaluable, it turns out) AntiSpyware tool, when he announced that the company will continue to provide customers with its new anti-spyware software free. The pledge comes after the company had been testing its AntiSpyware application — technology it acquired with its purchase of security software maker Giant Software.

"Just as spyware (Windows Media Player video) is something that we have to nip down today, we have decided that all licensed Windows users should have that protection at no charge," Gates said.




January 11, 2005

Although a little late in arriving, VanRamblings offers insight into 7 essential pieces of free software that will enhance your computing life.

Irfanview: Who says that altruism is dead? Certainly not Irfan Skiljan, that's for sure, the creator of one of the web's most popular free downloads. A compact, fast and friendly image viewer that supports all major graphic formats (including bmp, dib, jpeg, gif, animated gifs, png, pcx, multipage tiff, and tga), Irfanview offers a free, scaled down Photoshop-like tool featuring drag-and-drop support, directory viewing, TWAIN support, slide shows, batch conversion, and modifications — such as colour depth, crop, blur, and sharpen — as well as plug-in support for most video and sound formats, including mp3, avi, audio CD, and wma. IrfanView wraps just about every feature you could desire in an image viewer in a free download. Heck, it's the best image viewer around.

Adobe Reader: This nifty little piece of software allows you to read the common pdf (portable document format) files that are created by Adobe's Acrobat software. In addition to the standard features found in the standalone Acrobat Reader client, Acrobat Reader offers PDF viewing from within your Mozilla Firefox (plug-in technology at work once again) or Internet Explorer (via ActiveX technology) browsers.

Tweak XP Pro: Tweak-XP Professional adds more than 56 time-saving productivity improvements to Windows XP. In addition to tuning Windows XP to run faster, Tweak-XP has easy-to-use functions that allow you to tailor Windows XP to meet your personal needs. This useful utility provides you with the opportunity to remove My Network Places, or other icons, from your desktop, prevent Shortcut to from being appended to new shortcuts, offers a memory optimization function and supports as many system enhancements as you'll require to ensure a safe and satisfying computing experience. Click here to download.

PowerDesk: Absolutely the best file management utility available, and a must have alternative (or replacement) for the cumbersome and annoying built-in Windows Explorer, PowerDesk offers a simple, fast and easy way to organize and manage files, digital photos, MP3 music files and web images on your PC. In just one, two or three clicks, you can customize your PC: rename, move, copy, zip, label, colour code, search, view, prioritize, convert, and use your files the way you want to use them. Try the fully functional free version of PowerDesk 5 — you won't be sorry you did.

Windows XP IP Config Tool: Windows XP offers several methods for finding out your IP address and performing other tasks that help you troubleshoot network settings, but some are easier than others. This free tool identifies your IP address, subnet mask, and default gateway, and allows you to easily verify the IP-address assigned to your system, as well as release and renew your IP address when your network broadband connections goes on the blink. Think you don't need it; just see how much easier life is the next time you phone your Internet Service Provider for assistance and s/he asks you for your IP address. Here's an essential tool that'll give you the answer with one click of your mouse. To download this free utility, click here.

WinZip: The reigning essential utility tool of the PC world, WinZip's Classic interface accommodates both first-time and experienced users. With WinZip you can quickly and easily compress and decompress files, folders, and entire folder trees to save storage space and reduce e-mail transmission time, as well as encrypt and decrypt your sensitive documents. WinZip 9.0 features tight integration with Windows Explorer, support for most Internet file formats, and one-click zipping and e-mail.

And, last but not least, the ...

DivX Player (with DivX Codec) 5.2.1: Although the latest version seems to be a bit glitchy, and as the folks at Download.com suggest, you may wish to wait for a version later than 5.2.1, the DivX player remains, nonetheless, an essential PC download. If you read through the reader reviews you'll run across a pretty happy bunch of campers who praise the DivX player for possessing just about every codec necessary to properly play audio or video you download off the 'Net.




December 28, 2004

The first order of business when purchasing a new computer — or in keeping your existing computer safe — revolves around ensuring that your computer is saved harmless from external malicious intrusions: malware of all sorts, including viruses, Trojan horses, worms, spyware, adware and any other sort of infection which might impact on your computer's ability to perform the tasks you set for it.

Herewith, then, six pieces of essential free software to download and install.

Anti-Virus Software: Now, you could go out and purchase Norton Anti-Virus and pay anywhere from $35 to $99. Or, you could download and install a very effective Anti-Virus alternative, AVG Anti-Virus Free Edition 7.289, which includes automatic update functionality, the AVG Resident Shield (which provides real-time protection as files are opened and programmes are run), free Virus Database Updates for the lifetime of the product, and AVG Virus Vault for safe handling of infected files.

A firewall: Perhaps the most effective free firewall is ZoneAlarm 5.5.062.004, which includes four interlocking security services: a firewall, an application control, an Internet lock, and Zones that control the 'door' to your computer, allowing only traffic you understand and initiate. Just be sure that during setup that you don't opt for the paid version.

Anti-Spyware programmes: The two best free anti-spyware programmes are Spybot - Search and Destroy and Ad-Aware 1.05, which together will eliminate spyware from more than 22,000 different companies spying on you through your computer. Another must-have security tool, and recent addition to the anti-spyware arsenal, is Bazooka Adware and Spyware Scanner v1.13.02, which detects a multitude of spyware, adware, Trojan, keylogger, foistware and trackware components — in only seconds.

In addition to the programmes above, smart computer users run the latest version of the McAfee Stinger, a stand-alone utility used to detect and remove specific viruses. McAfee Stinger is not a substitute for full anti-virus protection, but will root out viruses, Trojans and worms missed by the programmes above. Stinger utilizes next generation scan engine technology, including process scanning, digitally signed DAT files, and scan performance optimizations. If your computer is acting up, and you've run a scan employing the programmes mentioned in the first part of this article, McAfee Stinger will likely find the malicious miscreant that has infected your system, even when the other programmes haven't.

On Tuesday January 11, 2005, return for more essential programmes to install in order to take full advantage of your computer's capabilities.




September 14, 2004


Problems mount with Windows XP Service Pack 2

Since first alerting you to the release of Windows XP Service Pack 2 in the August 17 edition of Tech Tuesday, a number of glitches with the upgrade have surfaced. This isn't surprising. As VanRamblings has noted previously, people are going to have some problems with SP2, one of Microsoft's most intrusive and potentially disruptive updates ever.

In today's Tech Tuesday, we'll examine some of these concerns.

An Information Week story written by Techweb's Gregg Keizer, quotes an interesting statistic: According to asset-monitoring firm AssetMetrix, about 10 percent of the PCs upgraded from Windows XP to SP2 in their test universe experienced some problems. That figure comes from a study of over 44,000 upgrades at over 340 companies.

Statistically, 10% might not sound like a particularly high number. But that will be of little comfort if you're among those who will experience these difficulties. For complete details, read this press release about its test.

Microsoft acknowledged on August 31 that the browser's pop-up blocker in SP2 can cause the Windows Update site to halt with an HTTP error 500. (Other pop-up blockers can cause this, too.) The solution is to add the Windows Update site to the browser's list of sites that are allowed to use pop-up windows, explained in Knowledge Base article 883820.

Last week, Microsoft revealed that between 15 and 17 million people have updated to SP2. This is far short of the more than 300 million Windows XP users in the world and the 100 million people Microsoft hopes will upgrade by the end of October. eWeek reports that many IT managers are delaying the installation of SP2 for months because it may break applications.

Meanwhile, a survey of 32 IT managers published in Computerworld reveals that none have installed SP2, except for two who were part of Microsoft's early-adopter programme. The reason for the delay is the requirement for application-compatibility testing. If you're interested in testing your own applications against SP2 you should check out the Application Compatibility Testing and Mitigation Guide for Windows XP Service Pack 2.

As of this writing, there are still dozens of common software programmes which are incompatible with Windows XP SP2, from Norton AntiVirus 2003 to WordPerfect Office 11 and ZoneAlarm 5.0.590

If you haven't installed Windows XP Service Pack 2 yet, you may want to delay installation until the vast majority of compatibility problems have been ironed out. As VanRamblings has written previously, Microsoft has made available a downloadable tool that will temporarily block delivery of Windows XP SP2 to a PC through its automatic Windows Update feature. Simply download the SP2 blocker, extract the file to a temporary folder, and click on the supplied XPSP2Blocker.exe file. Good luck, and safe computing.




September 7, 2004


The Need For Speed: Alienware Releases a P4 4GHz

Want the hottest computer on the block? Have a ramped up Pentium IV 3.6 GHz, but it just ain't good enough? Well, games system specialist Alienware has hot-rodded one of its desktop PCs with a homegrown version of Intel's Pentium 4 processor that runs at 4GHz. Because overclocking a processor can cause it to overheat, the desktop also includes a special liquid-cooling system devised by Alienware.

The launch lets fans get a jump on getting a machine with a 4GHz chip. Intel recently pushed back introduction of a 4GHz Pentium 4 to the first quarter of 2005, having earlier announced plans to introduce it this year. The fastest current Pentium 4 runs at 3.6GHz.

In addition to the 4GHz Pentium 4 and a liquid-cooling system, the most basic Area-51 ALX desktop comes with 1GB of RAM, a CD-burner, ATI Technology's Radeon X800 graphics card, a 74GB Western Digital Raptor 10,000 rpm hard drive and a Creative Sound Blaster Audigy 2 ZS High Definition sound card.

Pumping up the machine with 4GB of RAM, nvidia's GeForce 6800 Ultra graphics card, twin 74GB Raptor hard drives and a DVD-burner increases the price to about $5,700 U.S.

Microsoft Faces The Music

In one fell swoop last week, Microsoft announced a new service, new software, and new hardware — a trio that aims to change the way you buy, manage, and transport music. MSN Music is a direct competitor to online music services such as Apple's iTunes Music Store. Windows Media Player 10, a major update, is the jukebox for MSN Music and other audio and video services. It also syncs with more than 75 portable devices, including the new Zen Portable Music Player (pictured).

Question of the Week

How can I totally remove Norton SystemWorks? I have tried most of the recommended methods, but when I try to reinstall it, the PC says that it is already installed and takes the process a bit further, but none of the tools work. It is worse than a virus!? — Submitted by: Mike Ricci, Burnaby, B.C.


Unfortunately, Symantec Norton products have various hooks in the Windows system registry and elsewhere that are not removed even if the Windows Add / Remove feature is used. Instead, you'll need to download special removal tools from Symantec in order to completely remove Norton SystemWorks from your PC.


August 31, 2004

Another brief Tech Tuesday column from VanRamblings this week. As we recently traded in our old Nokia phone for a somewhat fancier, higher fidelity LG 5450, our interest in cell phones has been somewhat piqued.

According to The Economist, the phones pictured above are what cell phone users have to look forward to in the coming months, while C|NET offers images and video of the Top 10 cell currently available on the market.

ZDNet has reviews of all of the LG phones available, as well as reviews of the top Samsung, NEC, Motorola, Siemens, Nokia and Sony Ericsson cells. There's even insight into the popular cell phones in the Asian market.




August 24, 2004

Note: VanRamblings has been down for much of the past 24 hours due to ongoing technical difficulties being experienced by Telus, VanRamblings' Internet Service Provider. We're back now, though, so read on ...

Internet meltdown predicted for Thursday

A few news services are reporting that a Russian computer expert, Aleksandr Gostev from Kaspersky Labs, is predicting that a large chunk of the Internet will be shut down August 26 (Thursday) by cyber terrorists.

The executive director of Dr. Web antivirus lab, Mikhail Bychinsky, quoted by Lenta.ru web agency said he had not heard of such an attack. "I do not believe in mass internet attacks because the main servers are defended, and Kaspersky Labs has been foretelling doomsday for a long time."

Who's In Charge Here — You or Your Mouse?

Rafe Needleman, writing for C|Net, wonders why it is that most computer users fail to avail themselves of the myriad keyboard shortcuts that are available to make computer tasks that much more seamless.

Plus, the fewer buttons you press and the less time you spend moving between keyboard and mouse, the less strain you're putting on your hands and wrists and the less likely you are to get repetitive stress injury.

Mr. Needleman reminds computer users of Alt+Tab to switch between applications, and Windows+D to minimize all windows. In Word, there's Ctrl+A to select all text, Ctrl+C to copy, and Ctrl+V to paste, not to mention Home and End to move to the beginning and end of a line, and Ctrl+Home and Ctrl+End to move to the beginning and end of a document.

A Canadian Wi-Fi Horror Story

Greg Gazin, who writes for Canada Online's Tech News department, suggests that, perhaps, we techie folk in Canada have not yet quite reached that much hoped for Wi-Fi nirvana.

"Yes, Mr. Gazin, our hotel does have Wi-Fi (wireless) High-Speed Internet." I'm beginning to firmly believe that this statement should rank right up there with: "Your cheque is in the mail." If your existence depends on getting a decent high-speed connection at some of our finer accommodation providers, you better have a backup Plan B. And if they tell you it's free I'd be concerned all that much more.

Although Mr. Gazin, like many, has succumbed to wireless addiction ("my laptop, wireless and all, became like Linus and his trusty blanket," he writes) taking his 'wireless blanket' on the road proved to be a whole other story.

From Hogtown to Cowtown and back, Gazin's Wi-Fi adventures yielded one Seinfeld episode after another. The solution? Tap into Wi-Fi 411, a compendium of Wi-Fi hotspots across the globe, plus listings of Wireless Internet Service Providers (WISP — now there's a new acronym for you), Wi-Fi HotSpot Service Plans, and more.

Question of the Week

I am considering a hard drive MP3 player such as the Rio Carbon or iPod. I currently use RealPlayer 10 to listen to music on my computer. Do I need to determine where I will be getting my music from prior to purchasing an MP3 player? Do any of these work with RealPlayer? — Submitted by: Don Cubitt, Langley, British Columbia


The player you choose will dictate what music services you can use. Generally, the iPod works with iTunes and the iTunes Music Store, though RealNetworks is challenging that with its Harmony technology. For more, on players and music stores, have a look at the compatibility chart posted at the C|Net Music Centre.


August 17, 2004

Go Slow With Windows XP's Service Pack 2

As per the advice given by many cyber-pundits (including Fred Langa, in his latest column), when Microsoft's Windows Update service offers you XP Service Pack 2, do nothing; wait a bit.

If you visit the Windows Update site, you'll see that the look, and architecture of the site, has changed, as per information supplied earlier by VanRamblings. Be careful, though: Steven J. Vaughan-Nichols suggests that implementing Windows XP SP2 is almost as much work as installing a new operating system, and that Microsoft needs to get the word out — the sooner the better.

Thor Larholm, a senior security researcher with PivX Solutions, downloaded SP2 last Friday and continues to analyze it. The true test for the update will likely come in the next few months, he says, once those researchers' efforts bear fruit.

"Give it a few weeks, or a few months, and you will see the first vulnerability announcements regarding Service Pack 2," Larholm says. "Give it a month or two and we will also see worms that affect SP2."

Meanwhile, IBM has told its employees not to download Windows XP SP2, which they feel could render existing applications inoperable.

Earlier today, Microsoft issued a list of nearly 150 software applications and games that may encounter problems with the Windows XP SP2 update, including Norton AntiVirus, and Macromedia Flash and Shockwave. e-Bay has announced XP SP2 conflicts with eBay toolbar & picture services.

Microsoft offers specific advice on the deployment, download and installation of Windows XP Service Pack 2. Of paramount importance: make a backup copy of all of your personal files, including documents, music, bookmarks, favourites, e-mail, and all other important data before installing SP2.

Here's the C|NET editor's initial review of Microsoft Windows XP SP2 ...

"Like the Titanic's passengers, Windows XP users often find themselves in choppy, dangerous waters — instead of hypothermia, think Web viruses; instead of circling sharks, quickly crawling worms."

"Unfortunately, Microsoft's lifeboats have been, until now, just dinky security patches that saved us from only a few attacks at a time.

"Last Friday, burlier rescue boats arrived in the form of Microsoft's long-delayed Service Pack 2 (SP2), which will help all of us keep our heads above water. SP2 tightens your PC's security with a new Windows Firewall, an improved Automatic Updates feature, and a pop-up ad blocker for Internet Explorer. Plus, the newly minted Security Centre gives you one easy-to-use interface for keeping tabs on your PC's security apps. We suggest you pause before jumping ship, however."

"We downloaded and installed SP2 and weren't surprised to find a handful of conflicts with existing apps and wireless network settings on some of our test machines. Wait until SP2 is made available to your PC via Microsoft's Automatic Updates service, expected later this month for most users. By then, Microsoft should have had enough time to work out the kinks."

C|NET provides installation advice, and insight into new SP2 features. Well worth reading before considering the download of Windows XP SP2.

Here's what commentators at the Seattle P-I blog have to say about SP2.

For more Windows XP Service Pack 2 installation experiences, click here.

If your using dial up and wish to install Windows XP SP2 but don't want to wait around for hours to download it, you can always order it on a CD. In order to successfully install Windows XP SP2, you must order the CD in the same language as the version of Windows XP that is currently running on your computer. For Windows XP SP2 English the date available to order will be August 25th, so check back at the site link above on that date.

Toolkit to Temporarily Block Delivery of Windows XP SP2

Having read all of the above, if VanRamblings has scared the pants off you in regards of the deployment of SP2, in all good conscience we should let you know that Microsoft has provided a downloadable tool that will temporarily block delivery of Windows XP SP2 to a PC through its automatic Windows Update feature. Download the SP2 blocker, extract the file to a temporary folder, and click on the supplied XPSP2Blocker.exe file (or, alternately, in IE, simply click Open, and the patch will install automatically).

The mechanism to temporarily disable delivery of Windows XP SP2 will be available for a period of 120 days (4 months) from August 16. At the end of this period, Windows XP SP2 will be delivered to all Windows XP and Windows XP Service Pack 1 systems regardless. Blocking the download of SP2 will not affect the download of other Windows XP critical updates.

Newest Ad-Aware Personal SE Exposes PC Users To Grief

Just days after Lavasoft launched new versions of its popular Ad-Aware security programme, PC World tests revealed a significant security issue that may leave consumers vulnerable.

Lavasoft posted Ad-Aware SE Plus and SE Pro 1.0, as well as its free version, Ad-Aware SE on August 9. The company revised the release on August 10, renumbering it to v1.02, and addressed the reported hole in its Ad-Watch component with the release of v1.03 on August 13.

Critical information: users who are running versions of Ad-Aware SE Plus or SE Pro earlier than the current v1.03, which is available now for download (see below), should re-download Ad-Aware, upgrading to the latest version of the application. This is Ad-Aware's third update in a week's time, but the most urgent. Simply running the software's Web Update feature — which downloads the latest definition files — will not correct the problem.

Ad-Aware SE Personal Edition 1.03 is located here, ready for download.




August 10, 2004

Internet chaos was caused by one boy

According to a story in Britain's Daily Telegraph, Sven Jaschan (pictured to your left), an 18-year-old German boy, is responsible for 70 per cent of all viruses received worldwide in the first half of 2004.

Not only did Jaschan create the Sasser worm, he is also behind all 28 variations of the Netsky virus that continues to be sent out in millions of infected e-mails each month. Jaschan told the German magazine Stern that he spread the viruses to gain his peers' respect.

"I felt as if I had written a first-class essay. How Netsky spread, I think it's terrific, and my classmates thought I was terrific. Then it was reported on TV. That was cool. Only occasionally did I wake up in the middle of the night and think, yikes, there might be trouble."

Jaschan is currently seeking employment with a computer security company, hoping to turn from poacher to gamekeeper in the still nascent computer industry.

Just What Is a Virus, Anyway? Below, a Boot Camp on Malware

A virus reproduces, usually without your permission or knowledge. In general terms they have an infection phase where they reproduce widely and an attack phase where they do whatever damage they are programmed to do.

From Bagle.AC to Agent.AE, from Netsky.P, Sasser.B, MyDoom.P and Beagle.AO, to a myriad of other malware intrusions, there's a war going on in your computer life.

What to do? Well, for one, you can protect yourself from those miscreant malware intrusions. Two, you can keep yourself well informed; and, a good place to start would be with the Computer Knowledge Virus Tutorial.

The virus tutor map will provide you with an introductory insight into the topics covered in the tutorial, which range from the common behaviour of most viruses to hardware and software threats, to the types of viruses (polymorphic, camouflage, stealth, and a dozen more varieties), how they infect your computer, the history of viruses, virus protection, current threats, logic bombs, and more than you ever thought you wanted to know (but need to know) about viruses, and keeping your computer safe.

Never again will you find yourself hard up for an answer to the question, "Just what is a virus, anyway?" when you're queried by a friend. Read on.

New Versions of Necessary Software — Download 'Em Now

There's a new version of Ad-Aware that was made available to the public just yesterday. As was the case with the previous edition of Lavasoft's Ad-Aware, the new Ad-Aware 1.02 SE Personal Edition scans and cleans your computer's RAM, registry, hard drives, and external storage devices for known data-mining, advertising, and tracking components, allowing you to maintain a higher degree of privacy while you surf the Web.

The new Ad-Aware 1.02 SE Personal Edition provides advanced protection from known Trojans, Dialers, Malware, Browser hijackers, as well as tracking components, taking the fight against Spyware to the next level. If you haven't downloaded and installed Spybot 1.3 (the latest version) you'll want to do that, as well. And, while you're at it, you might as well download and install the latest version (2.3.8) of McAfee Stinger.

Windows XP Service Pack 2 Only Days Away

Last, but certainly not least this week, the official roll out of Windows XP Service Pack 2 has begun, creating fear and trepidation among the computer cognoscenti.

Microsoft released Windows XP SP2 to original equipment manufacturers last Friday and released the network installation version of SP2 on the Microsoft Download Center on Monday. The consumer download will be available via Windows Update within days, according to a Microsoft spokesman.

"There's buzz out there about it," says Roger Moffat, senior director of product marketing for ASAP Software. "This is the biggest and most significant OS upgrade before Longhorn, so the customer might view this as a major stepping stone."

Advice, Be Safe Not Sorry: DO NOT download SP 2 until you've performed a complete backup of your important files (e-mail, photos, browser favourites / bookmarks, your entire My Documents folder, and any other precious data on your computer that you would not want to lose).

Later in the week, VanRamblings will publish a full column on Windows XP Service Pack 2. In the meantime, surf safe.




August 3, 2004

Scan Your Computer for Trojans, Worms and Viruses, For Free

The Japanese antivirus company, Trend Micro, has come up with an effective online virus scan, called Housecall. Just click on the following link, and Housecall will scan your computer for intruders. Depending on the size of your hard drive(s), and the relative power of your computer's CPU, the process should take anywhere from about half an hour to an hour. Trend Micro updates the virus definitions each time you activate the scan.

You can also run Trend Micro's Hackercheck, simultaneously, to check for possible hacker intrusion points, or open (which oughta be closed) ports.

In addition, the company offers their Damage Cleanup Engine.

Here's how to set it up: Create a folder called sysclean on your C:\ root directory. Click here to download the Sysclean package (bottom of the page), and save the sysclean.com file to the C:\sysclean folder. Next (and this is important), click on latest pattern file. You'll be taken to a new page. Scroll down and click on HTTP, and save the file to your sysclean folder.

You'll have to unzip this file, and extract it to your sysclean folder. Finally, click on the sysclean.com file; the engine will start. The Sysclean package:

terminates all malware instances in memory

removes malware registry entries

removes malware entries from system files

scans for and deletes all malware copies in all local hard drives
The Damage Cleanup Engine will take about an hour, or so, to run.

While you're at it, you might as well download the latest version of Network Associates' McAfee Stinger to scan your computer for the 45 newest Trojans and worms. McAfee Stinger 2.3.7 installation instructions are here.

Of course, scanning for viruses using Housecall and Hackercheck, and running the Damage Cleanup Engine does not obviate the need for an effective, always on, antivirus programme. Grisoft continues to offer AVG as an effective, free, antivirus programme for non-commercial users.



July 27, 2004
MyDoom Worm Variant Causes Internet Storm
A pesky new variant of the MyDoom worm — dubbed MyDoom.m or MyDoom.o — clogged e-mail accounts and crippled Internet search engines Monday with messages posing as either a returned e-mail notice or an alert from an IT administrator. MyDoom.m usually arrives as an executable programme file attachment that launches when you open your e-mail.
The newest variant of the MyDoom worm then sets about to search your address book for e-mail domains (e.g. @telus.net), in the process launching an Internet search using various search engines (Google suffered a major attack). Once MyDoom has located additional e-mail addresses, it sends out a denial-of-service attack across the Web. Note to corporate workers: Have your morning coffee before opening your e-mail.
And Below, VanRamblings' Newest Tech Tuesday Feature
As is the case every week, the security news just doesn't stop. Microsoft's Internet Explorer browser was practically on the 10 Most Wanted list as a bank robber, thanks to malicious code that uses advertising pop-ups to steal data from bank Web sites. Not surprisingly, VanRamblings will provide you with the information you need to know.
The Internet Explorer onslaught continued unabated this past week, and the message that IE is somewhat less than a safe browser seems to be getting through to an increasing number of Internet surfers. Maybe it's the constant reports of vulnerabilities, culminating in last week's news about pop-up ads that can actually harvest password and other data from bank Web sites. Either way, according to Google and C|NET, searches for browsers — most particularly Mozilla, and Firefox — dominated network traffic last week, providing evidence that Microsoft's stranglehold on the browser market may be coming to an end.
Last week, Google announced that it had purchased Picasa, a company that makes software for organizing digital photos. Almost immediately, Google made the software available for free, resulting in a massive download of the programme by computer users worldwide. At first glance, the purchase seemed a tad puzzling. Picasa makes a desktop product; Google is a Web search engine. But Google would appear to have big plans for Picasa's Hello peer-to-peer photo-sharing application, which already works seamlessly with Google's Blogger Weblogging service. Google is also likely preparing to compete with Microsoft, which has already touted advanced image-search features in its upcoming Longhorn operating system.
Is KaZaA totally over? Although it's too early to draw broad conclusions about KaZaA's future, for some months now the search has been on for file-swapping alternatives that are less hassle than KaZaA. What pieces of software are emerging as the early favourites in the peer-to-peer sweepstakes? eDonkey and its cousin eMule (VanRamblings uses the latter) have gained a loyal following. BitTorrent is the alternative for the tech savvy. Over a period of six months, network management company CacheLogic found that KaZaA had slipped far behind rival BitTorrent, which accounted for 53 percent of actual peer-to-peer network traffic. And, arising Phoenix-like from the dead, WinMX, which has moved into a Top 10 position at Download.com.
Want more information on BitTorrent? Here's the scoop: BitTorrent is peer-to-peer software that makes it easy to share huge files quickly and reliably. Remember, with earlier file-sharing networks, waiting behind 15 other people to download a file from some poor sap with a 384Kbps DSL upload pipe? BitTorrent avoids that bottleneck by splitting files into chunks and having people download different chunks from one another. Everyone downloads and uploads at the same time. Inevitably, people discovered that BitTorrent is a dandy tool for swapping movies and TV episodes. Beware, though: The entertainment industry is watching; BitTorrent also exposes your IP address.
Question of the Week
I accidentally unchecked the 'Always ask' option in the File Download dialogue box when I downloaded a .zip file. Now I'm no longer asked about whether I want a downloaded .zip file opened. How do I get that choice back? — Submitted by: Jonathan Kwan, Edmonton, Alberta

As always, we'll assume that you're using Windows XP. Here goes, then: In Windows Explorer, select Tools / Folder Options. Click the File Types tab. In the 'Registered file types' list, select the appropriate type (zip, or WinZip File, in your case). Click the Advanced button. Check the Confirm open after download box, and click OK.

July 13, 2004
For several months now, VanRamblings has been writing about the imminent release of Windows XP Service Pack 2 (Window Media Player required). Now, we can report officially — thanks to a tip from Michael — that Microsoft has confirmed Windows XP SP2 will arrive in August. Arguably, Microsoft's biggest service pack yet, and the company's most important security project since the Trustworthy Computing initiative, there are those who feel SP 2 will cause chaos in the computing world.
Scot Finnie explores the positives and pitfalls associated with XP 2.
All things said, Windows XP Service Pack 2 is a mandatory download, and as such it is important that you know as much about SP 2 as possible in order that you might avoid, as far as one can plan for these things, problems related to its release. With this in mind, have a look at the next item, and the accompanying article by Fred Langa. VanRamblings particularly appreciates the pop-up graphics that accompany the article below, which provide visual insight into the new Windows Update facility.
The Promise — And Problems — Of The New Windows Update
A new version of Windows Update is about to début. It first appeared as part of the beta pre-release versions of Windows Service Pack 2 for XP. The new Update process (comprising both the new Windows Update site and a new software applet, titled Windows Security Center) has different defaults and behaves differently from the Update you're probably used to.
Next month, the final form of this software will be offered to you as a normal Windows Update for XP and Windows 2000. You might want to take a look at the preview, in Fred Langa's expansive Information Week article, for the full story. Not only does Fred provide the information you'll need to adjust to the new Windows Update facility, he provides graphical pop-up screens, which take you through the new update process.
Test Your Popup Blocker
Auditmypc.com has released a page that will hammer your browser with every conceivable method of popup window and rate your popup-blocking software. On VanRamblings' PC, Internet Explorer's Google Toolbar received a Very Good rating with a score of 85, while the default popup settings in VanRamblings' Mozilla received an Almost Perfect! rating with a score of 95. This is a good tool if you want to test the efficacy of your blocker, or gain insight into the methods used by popup companies.
In Tech News This Week
Associated Press writer Sam Cage reports that the United Nations is aiming to bring the modern day epidemic of junk mail (spam) to an end. Spam and anti-spam protection cost computer users some $25 billion last year, according to the UN, so they're organizing a global anti-spam campaign.
Despite privacy concerns, school authorities in the Japanese city of Osaka have decided the benefits outweigh the disadvantages and will now be chipping children in one primary school, which is to say, that they'll be attaching RFID chips to kids' schoolbags, name tags or clothing in one Wakayama prefecture school. Denmark's Legoland introduced a similar scheme last month to stop young children going astray.
Question of the Week
I had to reformat my hard drive, and I cannot find a code for Microsoft Word 2000. I have documentation for only Dell software and Windows XP. The Windows XP product key was located on a tag on the bottom of my Dell, but it doesn't work for MS Word 2000. What do I do in order to install my Word 2000? Any help would be greatly appreciated. — Submitted by: Bob Whitecrow, Estevan, Saskatchewan

Software keys are much like keys to a car: a car key will work in only one particular car, so it can't be shared. The same can be said for a software key. Dell should supply them with a phone call, but also beware that you can't install Dell's Office 2000 software on a machine other than what Dell sold you. Supplied Dell software is proprietary.

For most computer users a good rule of thumb would be: when you first receive your PC and all of the attendant software, take a wide-tip permanent marking pen, and write the product key for each piece of software you've had installed, right onto the software programme CD. Once this task has been completed, take extra special care to store all of the CDs you received with your PC in a secure location, preferably in one of those pocket CD organizers, available at most retail computer stores.
You know the old saying, "an ounce of prevention, is worth a ... "
July 9, 2004
Ran across this San Francisco Chronicle story the other day.
SomaFM is a commercial-free, listener-supported, underground Web radio network broadcasting from a garage in the Bernal Heights neighbourhood of San Francisco.
Dedicated to high quality MP3 internet broadcasts reaching across the globe, SomaFM's founder, Rusty Hodge — working with four other Bay Area residents whose music tastes have spun off stations like the indie-rock — broadcasts six RealAudio webcasts 24 hours a day.
The radio stations available range from the ambient beats and grooves of Groove Salad (RealPlayer / WinAmp required for each link), indie pop rocks, and the post-modern mysterioso of secret agent, to the blips 'n' beeps (backed w/beats) of cliqhop, the very tasty, atmospheric textures of drone zone, and the deep-house and downtempo chill of beat blender.
Among the salient features of the site (apart from the great music): a song history for each of the webcasts, linked to artist information; introduction to music you won't hear elsewhere; and ... the broadcasts are all perfectly legal, given an arrangement SomaFM has negotiated with the RIAA.
Donations to SomaFM, through Paypal or Amazon.com's Honor System, are gratefully accepted.
July 6, 2004

This week, a potpourri of items, mostly revolving around PC security issues, everything from security flaws in Internet Explorer to the latest variant on the Bagle / Beagle worm, and what Microsoft is planning to do about it.
U.S. Steers Consumers Away From IE
Was reading fellow Vancouver blogger Darren Barefoot the other day, and ran across this EE Times story in which the U.S. Department of Homeland Security's Computer Emergency Response Team (CERT) "recommended for security reasons using browsers other than Microsoft Corp.'s Internet Explorer."
Whether the forthcoming release of Windows Service Pack 2 (Windows Media Player video) will resolve the IE security flaw is yet to be seen.
In the meantime, as Darren suggests, you might consider downloading the latest version of the Firefox browser, which among its other features offers pop-up blocking and tabbed browsing (an amazing and addictive innovation), as well as, with its Thunderbird add-on, a next generation e-mail client that makes "e-mailing safer, faster and easier than ever before with features such as intelligent spam filters and a built-in spell checker."
VanRamblings employs Firefox parent Mozilla as our default browser.
An Oxymoron: Microsoft Customer Service?
Allison Linn, an Associated Press business writer, in a story titled Microsoft Beefing Up Customer Service, writes that in response to "increased grumbling over its litany of security flaws (Microsoft will be) paying more attention its customers." About time, wouldn't you say?
Question of the Week
My PC takes about 5 minutes to shut down. What's causing the problem, and how can I fix it? — Submitted by: Georgia S., Annapolis Royal, Nova Scotia

Remember when turning off an electronic gadget meant flipping a switch? Shutting down a PC is much more complicated. Sometimes Windows takes an extremely long time to close, and too often the operating system doesn't shut down at all.
First, the more programmes you have running on your system, the longer it takes for Windows to close each one before shutting itself down. You should simply close your programmes manually before exiting Windows.
Second, here's some general advice: Bugs in hardware drivers cause most shutdown difficulties. Before you do anything else, go to the Web sites of your hardware (i.e. graphics card, network interface card, sound card, modem, printer) manufacturers and look up the latest updates.
Third, you might try restoring your Windows registry to an earlier point, when your computer was functioning properly (you will lose the use all programmes installed since that restore point, but you will not lose data).
Close all programmes, and return to your desktop. Select Start / Programs / Accessories / System Tools / System Restore. 'Restore my computer to an earlier time' should be selected. Click Next. Choose an earlier restore point. Click Next. On the following screen, click Next again. Wait. Your computer will restart in about 5 minutes, and your computer registry will have been restored to an earlier, hopefully pristine, restore point.
Fourth, the root of the s-s-l-l-o-o-w-w shutdown problem could be a software conflict. You might try updating the programmes you use (e.g. Irfanview, Quicktime, RealPlayer, Mozilla, Spybot, Acrobat Reader) to the latest versions. Oftentimes this will resolve a shutdown problem.
Otherwise, you might try this: to verify that you're not clearing your virtually memory (swap file) whenever you exit Windows. Select Start / Run, type in gpedit.msc, and press Enter. Navigate the left pane as if you're in Windows Explorer to Computer Configuration \ Windows Settings \ Security Settings \ Local Policies \ Security Options. In the right pane, scroll to Shutdown: Clear virtually memory pagefile. If the option is enabled, double-click it, select Disabled, and click OK.
For additional shutdown tricks, surf to PC World for more hints.
Security: Bagle/Beagle Variant Includes Source Code
According to a ZDNet story, "two new Bagle worm variants and the worm's original assembler source code were spreading around the Internet on Sunday — a dangerous development, according to security experts."
The gist of the story is this: infected PCs download a Trojan that effectively enlists that computer into the worm author's Zombie army, which can be used to distribute spam and other malware and to launch distributed denial-of-service (DDoS) attacks.
Because the Bagle worm's author has included the source code comments, the fear is that several new variants could be authored and distributed, employing tricks to bypass mail filters and antivirus scanners, thus disabling our computers when their nefarious work has been completed.
By the way, Network Associates has just released their version 2.3.0 of McAfee Stinger which will rid you of several of the Bagle / Beagle variants. The latest version of McAfee Stinger is your best defense against Trojans.
June 29, 2004
Darl McBride: The Linux Killer

Tech's most hated man
Wonder why your computer is under almost constant attack by worms, Trojans and malicious code of all kinds? Meet Darl McBride (pictured to your right), the chief executive officer of the widely unpopular SCO Group. For most of the past year, hackers across the globe have set about to hijack computers (including yours) in order to launch a devastating web attack on SCO to physically and psychologically destroy the company. The MyDoom Trojan, in particular, was designed specifically to launch attacks on SCO and Microsoft (more on Microsoft in a moment).
Friends (as well as detractors) comment to McBride that in just two short years, he has displaced Bill Gates as the most hated man in high tech. It took Gates decades of hard work to achieve that distinction.
What has the son of a farmer, a devout Mormon, and the father of seven done to so swiftly earn the honour? In the past year, McBride has transformed SCO — the late 70s developer of the UNIX® operating system — into a legal missile aimed at the heart of the open source software movement. His strategy threatens to undo the progress of Linux and other free operating systems developed by programmers who believe that their selfless efforts have produced a free, robust and reliable operating system.
SCO claims it owns the intellectual property rights to the Unix operating system and that contributors to Linux — the free, open source operating system of the future, and the OS that many believe will transplant Windows in the not-too-distant future — have pilfered that code. Every Linux user, now and into the future, SCO has concluded, owes or will owe it money.
What does this mean to you? First, while at the moment, every three years, or so, most computer users are forced to purchase the latest iteration of Microsoft's Windows OS — which is bloated with code, expensive and unstable — most techies believe that in the near future a free, lean, stable, widely available and consumer-friendly version of Linux will come onto the market, displacing Microsoft's core software development business.
Second, because most open source programmers know that they have created Linux and that it is not based on Unix source code, and given that these programmers wish to preserve domain over Linux as a free and available operating system, for months now hackers and programmers worldwide have launched continuous attacks on SCO and Microsoft, compromising not only those two companies, but every computer user in the world whose computer system risks infection and hijacking, in order that our computers might be employed to launch concerted attacks ...
"It seems to me that the battle isn't really SCO versus IBM (a supporter of Linux), or SCO versus Linux," McBride says. "I think there's a war going on. The war is around the future of the operating system, and whether it's going to be free or not."
What do SCO and Microsoft have to do with one another? Earlier in the year, VanRamblings published an article on the ties between the two.
The Wired article on the SCO-Linux controversy is well worth reading.
Will XP's Service Pack 2 Cause Chaos?
With the anticipated release of Windows Service Pack 2 just around the corner, the major changes Microsoft has made to Windows XP through the release of Service Pack 2 (SP2) will almost inevitably cause major headaches for most computer users.
In an article published on Monday, PC World's Joris Evers suggests that the automatic SP2 download will create a raft of problems, from application breakdown (your programmes won't work), to disruption of your network access (you won't be able to get onto the 'Net), as well as misconfiguration problems with your computer's operating system and 'Net access, arising from inappropriate responses to prompts by Windows XP. Yikes !!!
At the moment, Microsoft doesn't know how it will deliver the required support to computer users experiencing major glitches with XP2. The company could establish a dedicated, toll-free support line. At present, in North America, Microsoft offers the (866) PCSAFETY support line for issues related to computer viruses; that line could be extended to cover SP2.
Otherwise, make sure you're on very good terms with your techie friends. Chances are, you're gonna need their help.
Question of the Week
When I use Internet Explorer for Windows, I often get a message that says "Runtime Error has occurred. Do you wish to debug?" What does this mean, and is there a way to avoid it? — Submitted by: James S., Vancouver, B.C.

An Internet Explorer runtime error — one that occurs when a programme is running — can be caused by several problems. Some older versions of the Internet Explorer browser will display the message if you try to open a Web page that contains an apostrophe in the title.
Runtime errors are frequently caused by a mistake in the programming for a script on a Web page.
Compared with early sites, today's Web pages can be quite complex, with pop-up windows, animations and programming scripts designed to enhance your Web-browsing experience. With all of those bells and whistles, it is possible for a page's author to make a programming mistake that goes unnoticed during testing. Typically it is only programmers who need to use the debug option in the error box.
Some types of spyware (particularly the subset known as adware), may be trying to open windows or run other types of scripts, and some of these programmes may be causing the runtime errors. If you have installed 'pop up' blocking software to cut down on distractions while you browse, the programme may be zapping the extra windows before the rest of the Web page's intended script can run, thus causing the runtime error message.
You can adjust your settings so that you are not alerted every time the browser programme trips over some bad code. In Internet Explorer, go to the Tools menu, select Internet Options and click on the Advanced tab. Check the box next to "Disable script debugging," uncheck the box next to "Display a notification about every script error" and click on O.K.
June 22, 2004
Summertime, And The Livin' Is Easy. Or Is It?
Summertime, and the living is supposed to be easy — unless you happen to be an IT worker employed in any kind of security-related capacity. In that case, it was just new kinds of trouble this past week, as worms, hacker attacks and other threats made life miserable.
The biggest of the headaches was last Tuesday's attack against Web infrastructure company Akamai, which knocked Yahoo, Google, and various Microsoft and Apple Computer sites offline.
Akamai executives said the denial-of-service attacks initially targeted four large Akamai customers, rendering their sites inaccessible. But the effects quickly rippled across the company's network, causing a failure in its domain name server (DNS) system, which translates word-based website addresses into numeric Web addresses to link surfers to websites.
Akamai later determined that the attack was launched by a herd of zombies — computers infected with a Trojan horse that programmes the machines to launch Web attacks at specified times.
Sleep tight, knowing that there are potentially millions of zombies out there, programmed to wreak mischief ranging from spam spewing to attacks such as the Akamai caper.
Those more concerned with old-style threats pondered Microsoft's potential entry into the antivirus market. Representatives from the software giant said it'll happen, but details on when and how are still being worked out.
Updating Your ZoneAlarm Firewall
ZoneLabs releases an update to their firewall product
As mentioned in a previous Tech Tuesday column, ZoneLabs — the company which produces the ZoneAlarm firewall product — was recently purchased by an Israeli company. The company, upon purchase of ZoneLabs, made a new version of ZoneAlarm available, and required of owners of the Pro version that they either re-register their ZoneAlarm product, or purchase the new ZoneAlarm v.5.0.590.015 iteration.
Today, ZoneLabs released a necessary update to the initial version of ZoneAlarm v5, which resolves a number of problems that were occurring with the first iteration of ZoneAlarm 5 ...
As ZoneLabs points out, the new ZoneAlarm Pro version v 5.0.590.043 ...
fixes conflict issues with Norton AntiVirus, particularly as it affects scanning of incoming e-mail for Trojans, worms, viruses, malware, etc.

fixes issues with SSH timeouts, which may have compromised the integrity of your online communications protocol

fixes installation issues with the McAfee Security Center, and conflicts with the McAfee AntiVirus programme

fixes stability issues on your computer associated with the ZoneAlarm product

resolves routine maintenance items associated with the ZoneAlarm product
Most software on your computer is a work in progress (this is particularly true of your operating system, be it Windows, MAC OS or Linux). Computer users must be aware that most of the software programmes on their computers are updated periodically, and that it is necessary (and often imperative) to download and install the updates.

If you have the ZoneAlarm firewall installed on your computer, in order to avoid all of the re-register, re-license rigamarole entailed in updating your ZoneAlarm, simply click on this link, and follow these directions. And remember: slow and easy does it.

Question of the Week

Hi, I have Norton Internet Security 2003, valid until October 2004, set on my Windows 98SE desktop. Do I need any other spyware or adware, such as Spybot Search and Destroy or Ad-aware 6.0? Do I need to upgrade to Norton Internet Security 2004 now or wait until October 2004? — Submitted by: David C., Edmonton, Alta.


Norton Internet Security 2003 did not contain anti-spyware software, so you will need an anti-spyware app, such as Spybot: Search and Destroy. You should also download Ad-Aware, and McAfee Stinger.

As for Norton Internet Security renewal, you can re-subscribe in October 2004 for another year. Symantec offers updates for two years after the release of a product. So, in October 2005, you will need to upgrade to the company's latest offering.

All efforts on your part to make your surfing life secure will likely go for naught, though, as a consequence of the fact that you're running an unsupported, insecure operating system. As of January (and, actually much earlier than that) Microsoft discontinued support for Windows 98.

You may want to read Fred Langa's article, Microsoft's 'Product Lifecycle' Plans for more information on why you should consider upgrading your computer's operating system to Windows XP (or, for a challenge, Linux).

And, by the way, just in case you're considering 'borrowing' a copy of Windows XP from a friend to install on your computer — you could, but an unregistered copy of Windows XP will almost immediately be identified as being pirated, and you run the risk of having your machine 'locked' by Microsoft, and enjoying an impromptu visit from the local constabulary.

Even if the above Windows XP issue is of no concern to you, pirated copies of Windows XP will not allow you to download Windows Service Pack 1 or 2 — and without those 100, or so, critical operating system security 'patches' you might as well be running Windows 95 / 98 / ME for all the security support you'll be afforded by Microsoft ... which is to say, none.

For more information on related Windows XP issues, have a look at Fred Langa's article on Windows Product Activation.



June 15, 2004
A Simple Plan
Virus-proof your PC in 20 minutes, for free.
One can never be too secure when it comes to computing. Viruses, trojans, worms, malware, spyware, and any number of malicious intrusions impact minute-to-minute on our ability to surf the web in a safe and salutary manner.
In the past, VanRamblings has written about the pre-conditions necessary to surf safely. This past week, Paul Boutin, writing in Slate, offered even more advice to protect yourself while online, beginning his article with this piece of disquieting news:
The antivirus company Sophos reported last week that it sighted 959 new viruses and worms on the Net in May. Some of them, like the Sasser worm that infected a million or so computers, connect to idle home desktops, rather than arriving as e-mail attachments. Others aren't viruses but sneaky spyware that's bundled with popular programs like KaZaA. Sophos also claims that up to a third of spam is sent by PCs that have been infected with remote-control programs that can turn a computer into a spammer's zombie slave.
Specifically, Boutin suggests that you ...
Set your browser and e-mail security
Get Microsoft's security updates, and
Check for spyware (read this week's Tech Tuesday question below)
First of all, though, warns C|NET editor Robert Vamosi, you'd better make sure that your antivirus application is working, given that "many new viruses have been shutting down antivirus and firewall apps, or, in other cases, disabling the software's automatic update feature."

Speak Up

The immense popularity of the Apple iPod has had an unintended side effect: we're at risk of becoming a nation of zombies wandering the streets plugged in to those omnipresent white earbuds. If you recognize these signs, do not panic. There is a cure for iPod-itis: pick up one of these portable speaker systems for MP3 players. The cool, one-piece designs fold up, and they're perfect for sharing your tunes at a party.

Question of the Week

Recently, while downloading, my computer advised me that I had received a Trojan horse. I immediately ran my Grisoft AVG antivirus. It told me that the Trojan horse was "ms\lagent.exe" and advised me to put it in the AVG Vault as it could not delete it. How do I get rid of the Trojan horse? Appreciate any help you can give me. —Submitted by: Harry S., Langley, B.C.


Run another free application often recommended by VanRamblings, Spybot: Search and Destroy, to remove "lagent.exe." Spybot specifically removes Trojan horses and spyware. Other good choices include Ad-Aware, and McAfee Stinger (there's a new version just out this week).

You might also consider surfing to the Symantec security response site. Locate the specific virus or Trojan that's infected your system (or place the name of the virus / Trojan in the search box), and follow the directions for removal. Most often, Symantec (who make Norton Anti-Virus) will have created a clickable 'removal tool' which will automatically scan your hard drive, and your computer's registry, removing all incidences of the virus or Trojan offender. Your computing life should then return to normal.



June 8, 2004
Welcome to the June 8th edition of Tech Tuesday. Today we tackle a number of items, beginning with that most noisome problem, spyware.
The following is excerpted from a recent column by ZDNet's David Berlind:
When spam first started showing up on the technology radar as a problem, it was mostly a problem for consumers and individuals whose personal data (especially e-mail addresses) was easy pickings for spammers building databases. But it wasn't long before corporate e-mail systems were overwhelmed as well. Now, spyware is apparently following in spam's footsteps ... Spyware is a genre of malware, which, when taken together with viruses, worms, and spam, is seen by many as completing the ecosystem of unwanted and surreptitiously installed software.
VanRamblings offers a gentle reminder to update your Spybot to version 1.3, if you haven't already done so. You'll also want to update to the latest version of McAfee Stinger, following the setup instructions.
Is the dust on your computer toxic?
From Matt Hines at C|NET ...
According to new research into chemical residue found in the dust collecting on computers and other electronics devices, the PC that you're using to read this story could pose a long-term threat to your health.

In a report published by Clean Production Action and the Computer TakeBack Campaign, two groups studying environmental and health issues related to computers, researchers contend that potentially dangerous elements of brominated fire retardants are turning up in dust samples swiped from computers. The research indicates that the most commonly found example of these substances, widely used fire prevention compounds known as polybrominated diphenyl ethers, or PBDEs, have been found to cause health problems in lab animals.

Perhaps of greater concern is the report's contention that PBDEs ... present reproductive and neurological risks ... these (PBDEs) are found not only in computers, but also in other commonly used electronics devices, including televisions and radios.
Apparently, the problem described above occurs only at the time that computer users discard, or recycle, their old PCs / TVs / radios. Further, in the case of PC maker Dell, company officials were quick to point out that the company has prohibited the use of PBDEs in any of its products since 2002. Dell has worked closely with groups such as the Silicon Valley Toxics Coalition to help promote increased, and proper, computer recycling.
Question of the Week
When I use Microsoft Word (XP), the programme constantly underlines my sentences to alert me to possible bad grammar or other errors. While working on drafts, it's annoying; how do I stop the nagging? —Submitted by: Joel A., North Vancouver

In Microsoft Word, go to the menu bar, select Tools > Options. The resulting Options window allows you to tailor pretty much every part of Word's performance. Under the Spelling & Grammar tab are two control areas, one for spelling and the other for grammar. The first check box in each area is "Check spelling as you type" or "Check grammar as you type." Remove both of their check marks, and you'll get no more ongoing distractions while typing a document. When you are ready to check spelling and grammar in a document, just go back to the menu bar, select Tools, and click Spelling And Grammar. A shortcut key for it is F7. Hope this helps.
Privacy Concern: Now you'll know if they've read your e-mail
A new service promises to pull back the curtain on anyone hiding behind the common white lie "I never got your e-mail." The DidTheyReadIt? service can clandestinely track when and where an e-mail you've sent is read.
The service, which has already drawn complaints from privacy advocates, offers a new and quiet way to harvest behavioural information about friends, colleagues and potential consumers.
E-mail programmes like Eudora and Outlook have long offered an optional return-receipt feature, which prompts the recipient of a message to inform the sender that they have opened the message. But DidTheyReadIt? is the first such service to keep itself a secret from the recipient, as well as the first to report on where the message was read.
In a USA Today article on the new Internet service, Mitchell Kertzman says ...
"It violates our electronic space in a way that's as uncomfortable as someone violating our physical space ... Add this company to the long list of people who are making the Internet a less attractive place to live and work."
Although the company offers a free trial of the service (the free account allows users to send five tracked messages a month), DidTheyReadIt? is a US$50 a year subscription service, so widespread adoption is unlikely.
Still, this new (and intrusive) Internet service is definitely pushing the line of the U.S. Electronic Communications Privacy Act (in Canada, access to electronic communication is protected through the Office of the Privacy Commissioner), although it probably doesn't violate it. The privacy act and wiretapping statutes impose restrictions on the recording, storage and sharing of the content but not on the circumstances of communications.
June 1, 2004
Microsoft XP Service Pack 2 Still In Flux
The release of Microsoft's Windows XP Service Pack 2 has been delayed yet again. According to Mary Jo Foley at Microsoft Watch officials at the software giant have "targeted late July as the release-to-manufacturing date for XP SP2, with a revitalized Protect Your PC marketing campaign" set to launch in September.
For a broader insight into XP SP2, click on this link, from Eldergeek, or watch this ZDNet video (Windows Media Player required).
ZoneAlarm Security Suite: the new one to beat?
For those of you who have chosen ZoneAlarm as the firewall to protect your PC from hackers, worms, trojans and all of the security detritus on the 'Net, you've probably noticed that ZoneAlarm v.5.0.590.015 requires a re-registration of your product. Why? Is there a money grab at work here? Is ZoneAlarm attempting to make updating your firewall as difficult as Sygate has made their update procedure?
Turns out that ZoneAlarm is now owned by an Israeli software conglomerate (even though the company says its head office is in San Francisco), and yes they do want you to re-register, and yes they probably do want more money from you for the new product, if your existing product is more than a year old.
Is the update worth it? And what does the new ZoneAlarm do that the old ZoneAlarm didn't do?
According to Robert Vamosi, a ZDNet senior associate editor, the recently-released ZoneAlarm Security Suite "puts Norton Internet Security and McAfee Internet Security to shame with its easy-to-use features."
Not only does the new ZoneAlarm thwart "would-be hackers with its excellent firewall and viruses with its solid antivirus software", he says, it ...
encrypts instant messages for ICQ, AOL, MSN, and Yahoo

protects you against IM spam (a.k.a. spim)

filters Web e-mail scripts

suppresses TCP/IP responses on unused ports to better hide your system from Internet scanners, and

monitors all inbound and outbound Web contacts, alerting you to any unauthorized access
But, you're asking, is it worth it? Even though VanRamblings has employed the new version of ZoneAlarm, to good advantage, on the machine used to publish Internet content — so far, all has been well — most C|Net users seem far from thrilled with the new product, their comments ranging from "the latest upgrade to Version 5 has caused more problems than all the previous versions put together," and "the worst upgrade I've ever come across in over 20 years of P.C. use," to "pile of horse dung" and "you might as well down load a virus." There are positive reviews, however.

Read the commentary, both positive and negative, and decide for yourself.